Anniversary Game Questions
So if you are like most couples, an anniversary date usually involves dinner and a movie. Now there's nothing wrong with that, but sometimes it's fun to switch things up and try something different (OR, add in something NEW along with the usual.) So The Dating Divas want to share with you the Anniversary Game Questions to help you reminisce during your special day. Because with these anniversary questions, it will lead to deeper, more meaningful conversations. And, of course, we're providing FREE printables for you to pull it off in a snap. Because you know we Divas like free printables and we LOVE our readers! So what are you waiting for? Let's get started on all of the questions to ask a couple on their anniversary!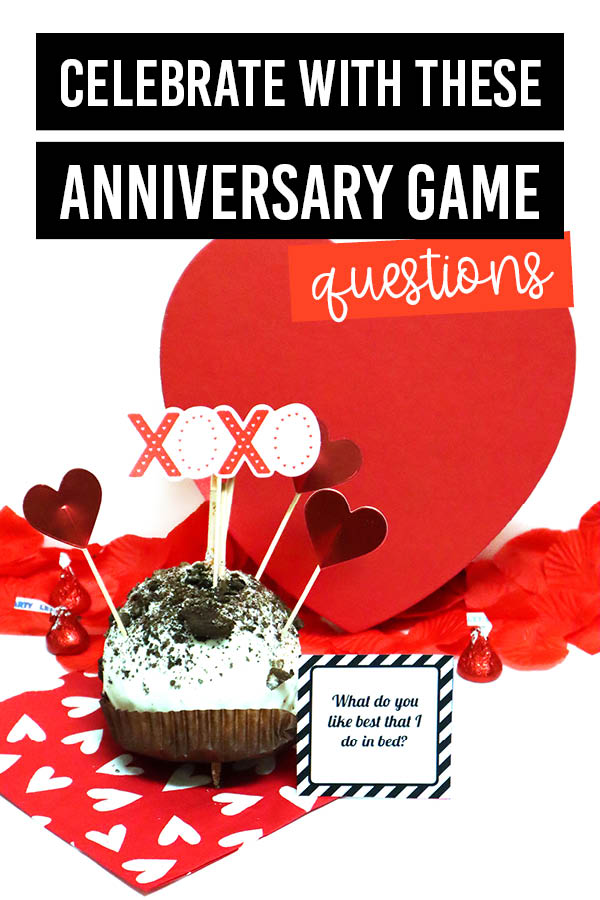 Disclaimer: This post contains affiliate links. To learn more about 'em, click here.
Because we love you, we commissioned the lovely Amanda from A-Manda Creation to design these bright, fun Anniversary Question Cards as FREE printables!
Anniversary Questions
With these anniversary questions trivia, you and your sweetheart will have a great time talking and reflecting on your last year of marriage together. But why do you need meaningful conversations on your anniversary? Because your anniversary is a huge celebration! It's an important turning point in your relationship, and it's a celebration of your love for each other. Strive to take some time beforehand to plan out your anniversary together! And don't forget to include these fun anniversary quiz for couples!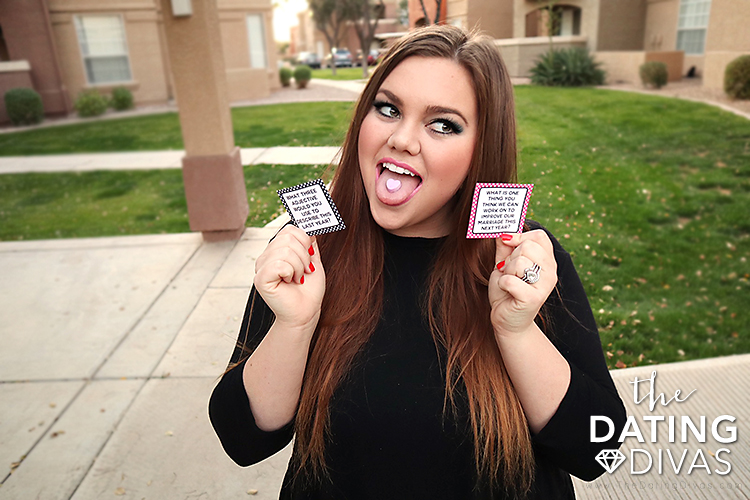 Anniversary Questions Trivia
Now all you have to do is print and cut out the anniversary game questions. To help make those lines super straight use this paper cutter, then hole-punch each card, and connect them with a binder ring like this one. You can also cut them messy with no binder ring and your sweetie will still LOVE these anniversary questions trivia just as much. After you are done, you will now have so many questions to ask on your anniversary! When you are ready, take turns to ask and answer all of these creative anniversary game questions. There are 59 different question cards to get you talking, laughing, and reminiscing on your anniversary!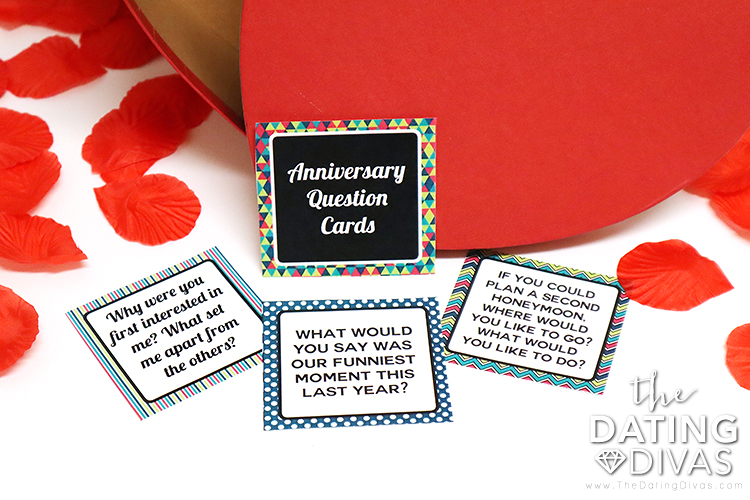 Questions to Ask
Questions to ask a couple on their anniversary can be tricky! You've been together for a year or maybe even 20 years! What more can you ask your sweetheart? But trust me, there are so many more conversations to be had especially anniversary game questions! With all of these free anniversary quiz for couples printables, you are sure to have the best anniversary ever and continue to learn more about your spouse! And that's not all, we also added an anniversary quiz for couples too! Just wait until you see ALL these other anniversary questions! We can't wait for you to see them!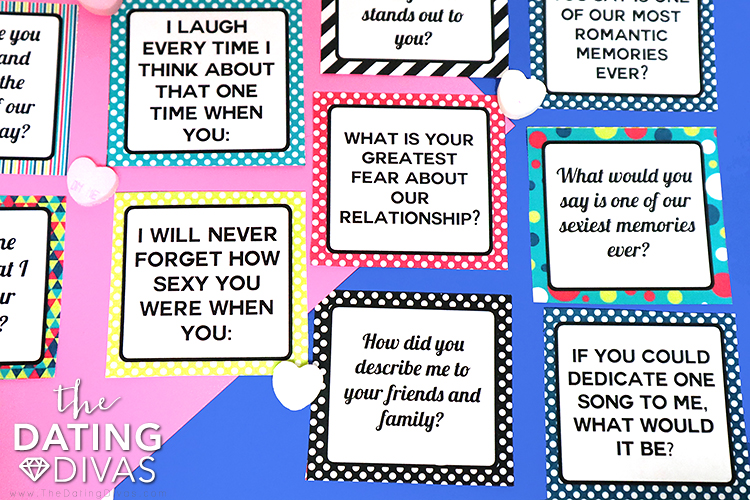 Here are just a sampling of some anniversary game questions that are included:
If you could only use one adjective to describe our first kiss, what would it be?
What was your favorite gift that I've ever given you?
If you could have three wishes for our future, what would they be?
If you bought a yacht and wanted to name it after me, what would you name it?
What would you say were the top 3 moments of this last year?
When did you feel the most loved this last year?
What do you know now about marriage that you didn't know when we got married?
Conversation Cards
When it comes to your anniversary, you always want to make sure the mood is set and the conversations are meaningful. But sometimes it's hard to keep the conversation flowing and that's where the cutest anniversary questions trivia came to life! Picture this – you sit down at your table and begin to eat. And silence begins to take over… well not anymore! With these questions to ask a couple on their anniversary, you and your sweetheart will have a dinner to remember all while learning more about each other. With these anniversary game questions, you and your sweetheart will be flirting, laughing, and maybe even happy crying together. Get ready, this is all coming your way because of these anniversary questions trivia!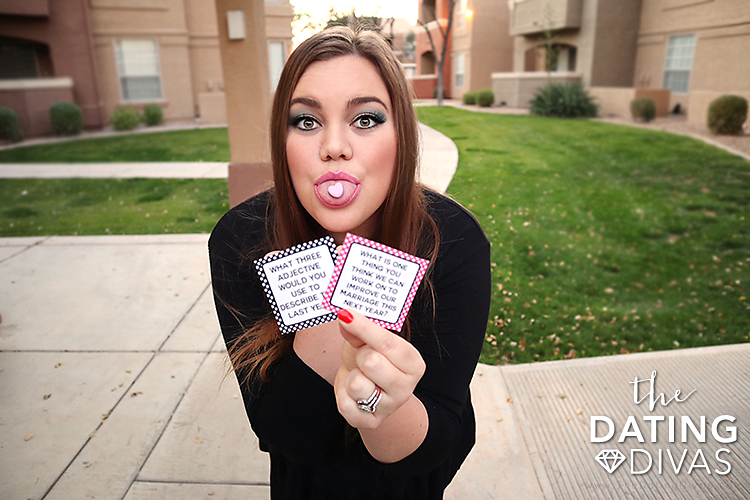 Anniversary Quiz for Couples
You might be surprised how romantic a little anniversary quiz for couples with your spouse can be! Communication is one of the most important things in a lasting relationship. And as an added benefit, learning more about who they are and what they like is the cherry on top for your marriage. But coming up with the right anniversary game questions to ask can be a bit tricky. Luckily, with all of these questions to ask a couple on their anniversary you are equipped with the BEST anniversary game questions!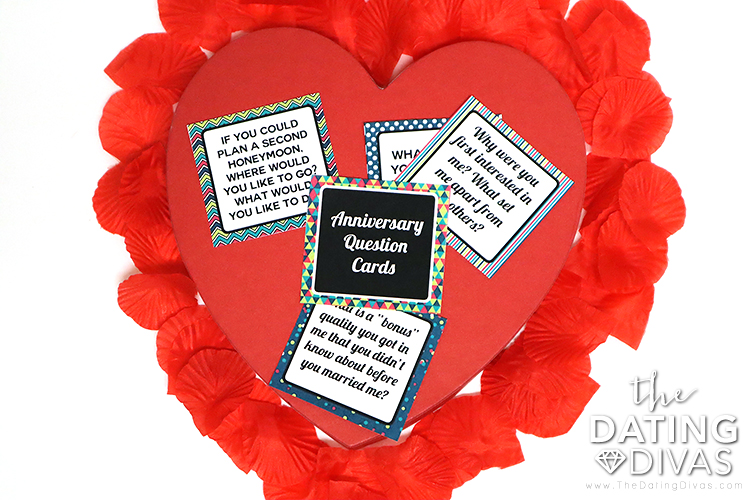 Needing more game ideas to spice up your anniversary? Check out this sexy date Make-Out in Car Date and Have Fun with the Aphrodisiac Blind Taste Test!