Kiss in Car with Your Sweetie
Hop in the car and turn the A/C on blast! Because your night is about to get steamy! With the Kiss Me, I'm Yours Date, you are prepared to have the best make-out-in-car session with your lucky man. This sensual date night involves driving to fun make-out spot, a flirty game to show you how to kiss in a car, a truth or dare game called Kiss & Tell, and a yummy dessert activity called Sealed with a Kiss! This kiss in-car date may be the sweetest date yet! The ultimate kissing in-car session has no stop signs! So what are you waiting for? The light is green, it's time to pucker up!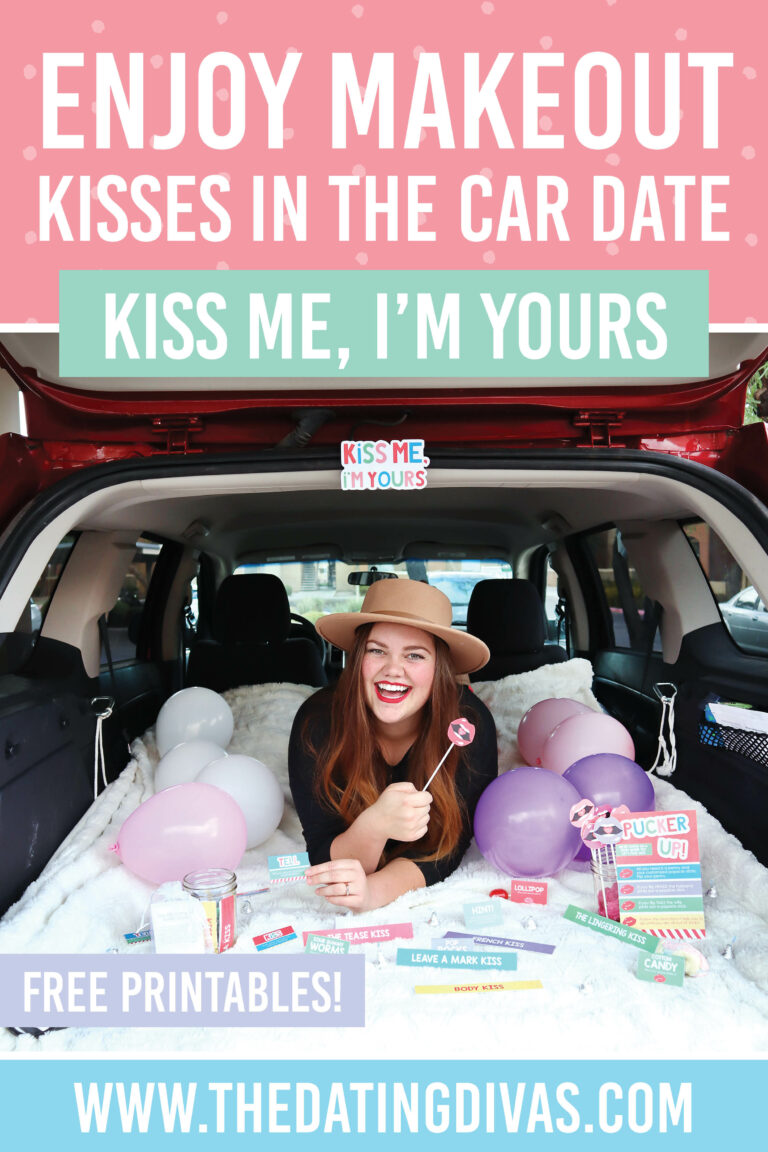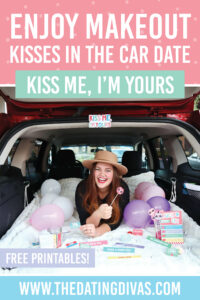 I cannot get over the amount of TALENT the beautiful Elizabeth from The Dating Divas has! She created these fun and flirty kiss in car printables that will spice up your Make-out-in-Car Date to a whole other level!!!
Kiss Me, I'm Yours
When it comes to a free and flirty date, you may not have thought about a kiss in car date night. So we are here to confirm that this make-out-in-car session will keep your romance in DRIVE! Even if you are not sure how to make out in a car, these fun ideas will show you a few ways to make this kissing in the car date unforgettable. First, make sure your car is sparkling clean! Second, plug in the aux cord and cue the music! Create a make out in-car playlist before you get smooching. And last but not least, dress to impress! Wear something sexy to boost your confidence and please your man so he can't keep his hands off of you during this epic kissing in car date.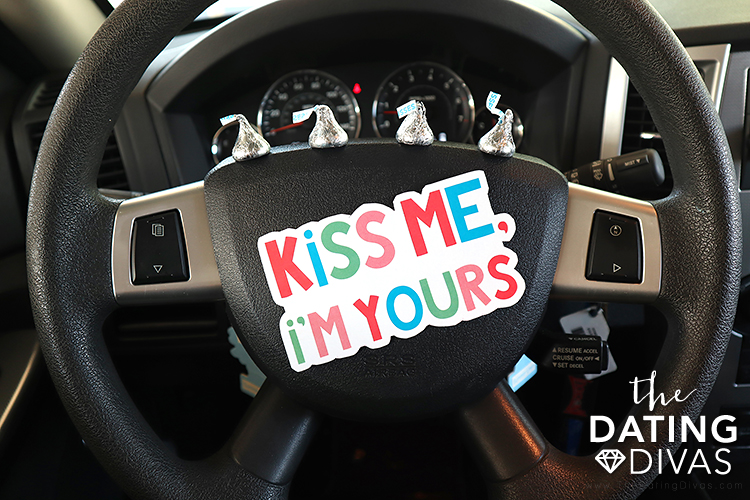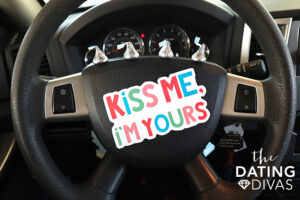 Pucker up – We Going on a Ride!
Now, the first step on how to make out in a car is selecting a location! With these Pucker Up popsicle stick printables, you will no longer have to worry about where to go for your kissing in-car session! Yes, you read that right, we got you covered! All you will need to do is download, print, and tape the printables onto the back of a popsicle or lollipop stick. This will provide a fun and simple way to select your location by guiding you to a random spot to kiss in the car. So to find the perfect make-out in-car spot, you will need your darling pucker up printables sticks and a penny!

Make out in Your Car
Once you have your cute lips printables and a penny, you are ready to buckle up on your kissing in-car date! Flip the penny and see what it shows. If you flip heads, the man picks out the from the jar. If tails, the women choose! Now read your lip printable and follow the directions. As a result, when all of the lip's printables are gone, you have found your location to kiss in the car! If you find yourself not in the most ideal area, don't fret! Head to the nearest park or open parking lot to get your make-out-in-car started! If you are wondering how to make out in a car, we've got all you need! Finding a private place to kiss in the car will help make this date take a turn for the better!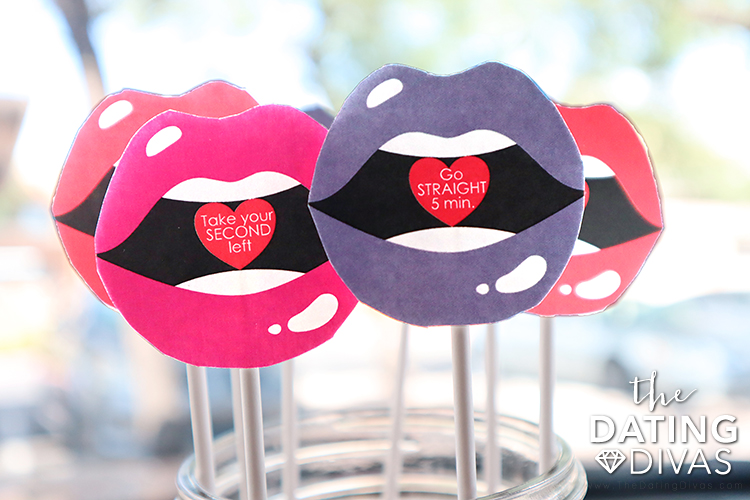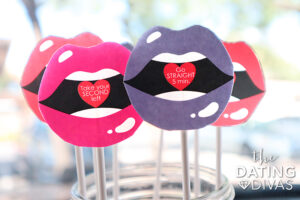 Strip into Action – What Kiss Will You Be Giving?
Now that we have found the perfect location for your kissing in-car date, the Strip Into Action game will show you how to make out in a car! First, fold the cut out printable strips and put them into a small jar. Next, place it in a cup holder and get ready to begin smooching! But if you are still wondering how to kiss in a car, these strips will help you navigate your date's lips! Once you are comfortable, let's get the make out in the car started! Take turns picking out a printable strip and see which type of kiss in the car you will be giving your sweetie!

Kiss and Tell
Because nothing makes you feel young again like truth or dare! With this twisted game, Kiss and Tell, you will be able to make out in the car together. First, take turns choosing a card and doing the "Kiss" or "Tell"! If kissing in a car intimidates you at times, you are not alone! Here are some ways to help you have more confidence in how to kiss in a car with your sweetheart! Look into their eyes! Engage with them, face your sweetheart, and let them know you are very interested! As a result, they will feel like a million bucks knowing you want to kiss in the car with them!

Sealed with a Candy Kiss
End your make out in-car date night with The Sealed with a Kiss blindfold dessert activity! Once you have these adorable printables cut out, fold them in half to create a stand-up card. Don't let your sweetie read these cards just yet! Blindfold him and begin the game! If you choose the card "Pop Rocks", underneath will have directions on what to do with it. In this case, it says, "Have your sweetheart transfer it your mouth!" After he has done the action, your partner must guess what he thinks the candy is! But if he gets it wrong, he must give you a kiss in the car! Win, win right?! This tasty kissing game answers the question of how to kiss in a car and goes far beyond! Now buckle up for a good time with this exciting car make out date!

A Must Know – How to Kiss in a Car
To have a hot steamy make out in the car session, you must know how to kiss in a car! First, keep your car as open and spacious as possible. At times kissing in the car can be uncomfortable. Don't let it be! Lay those seats back and think the closer together, the better! Not only does the Sealed With a Candy Kiss come with fun ways to feed delicious sweets to each other, but it also has a surprise! Now check out the back of these foldable cards. Here you will find a clever clue for your sweetheart to help them navigate what the answer is! Not only do you get a treat of kissing in the car but also so many sweet candy tastings as well!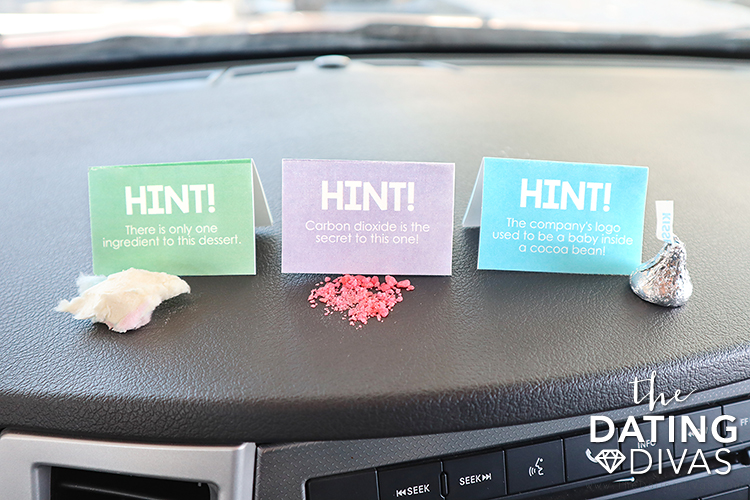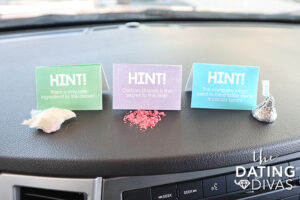 Wanna Make Out Forever?
Why is it when you're dating, making out in your car is the only thing you want to do? But then marriage comes and making out, in general, is no longer a thing!? Kissing in the car can make you feel those fireworks again! If you don't know how to make out in a car anymore, we hope this gives you a nice refresher! The Kiss Me, I'm Yours date will give you the opportunity to get romantic and break up the monotony of being sensual in the house. Even if you question how to kiss in a car, the time spent together will strengthen the love you share! After a heated make out in the car, your heart will be racing! As a result, you will want to get home as fast as you can! Above all, it's time to seal this happy marriage with a KISS!

If you want more flirty and sexy dates with your sweetheart, check out our steamy Aphrodisiac Blind Taste Test and The Sexy Cootie Catcher. You will be sure to have an intimate and fun night with your love!
Enjoy Make Out Kisses in the Car Date
Printables Designed by Elizabeth Exclusively for The Dating Divas