LOOKING FOR FUN BACK TO SCHOOL IDEAS?
Build excitement for the new school year with our SUPER fun Back To School Ideas Celebration Kit! Can you believe how fast summer has been flying by? The new school year is right around the corner! Our Back to School Celebration Kit is full of the CUTEST ideas to say goodbye to summer days and say HELLO to a brand new year of fun and learning!
See the adorable Back to School Ideas Printables in action in this quick video and read more about the pack below!
Find more fun videos at the Dating Divas YouTube channel (go ahead, subscribe if you want!).

Disclaimer: This post contains affiliate links. To learn more about 'em, click here.
School is almost in session, so we worked with designer Erin from Strawberry Mommycakes to create a back to school printable pack containing everything you need to be ready for the big day! Erin has done an AMAZING job creating these adorable printables, full of bright colors and happy patterns. They are perfect for making the first day of school something special.
Check out what's inside the Back to School Ideas Celebration Kit:
Back to School Countdown
Back to School Celebration Banner
First Day Breakfast Surprise Ideas & Printables
School Supplies Printable Post-It Notes
Lunch Box Love Notes
First Day Teacher Gift Tags
First Day of School Photo Memory Sign
First Day Memory Survey
What kid wouldn't be excited to go back to school with all of these fun ideas? Wait until you see what else we've included in this pack, you're going to LOVE what we've come up with! This celebration pack is stuffed with Back to School ideas and hacks to make your preparation FUN and EASY!
Back to School Countdown
Advent calendars aren't JUST for Christmastime! The week before school starts, create a new Back to School tradition by opening an envelope a day. We've come up with fun activities, ideas and printables to go inside this cute back to school countdown.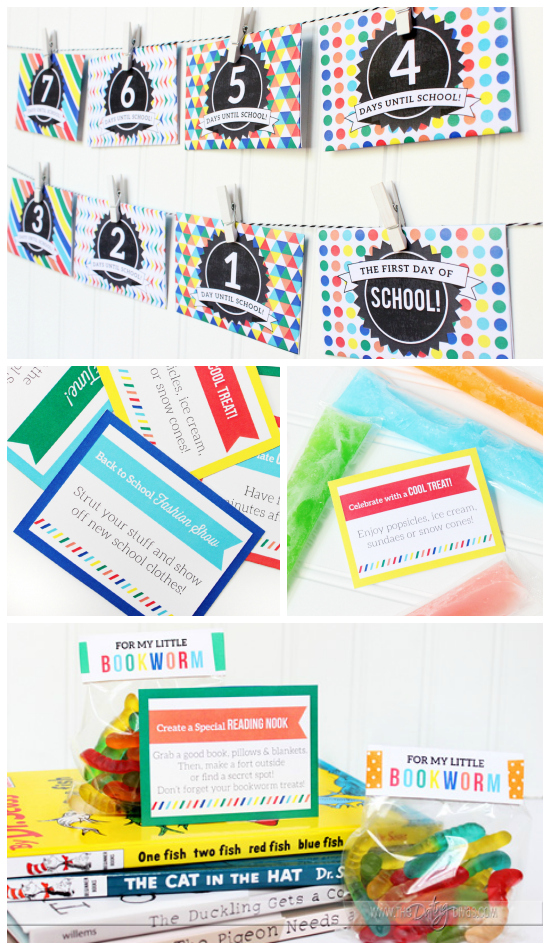 Back to School Party Banner
The colorful back to school party banner can be used to decorate for a "Back to School Eve" dinner the night before the first day! We've included some back to school tips on how to create the festive feast. It will be a perfect night to make goals and celebrate together! The banner would also be a perfect backdrop for your first day of school photo, using the printable sign (see below)!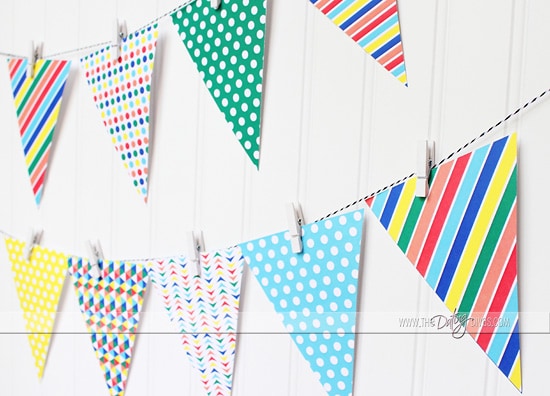 1st Day Breakfast Surprise
It's easy to be a little anxious on the first day of school, so we've added printables, tips and ideas to create a special breakfast surprise that morning. The kids will be having so much fun, they'll forget to be nervous!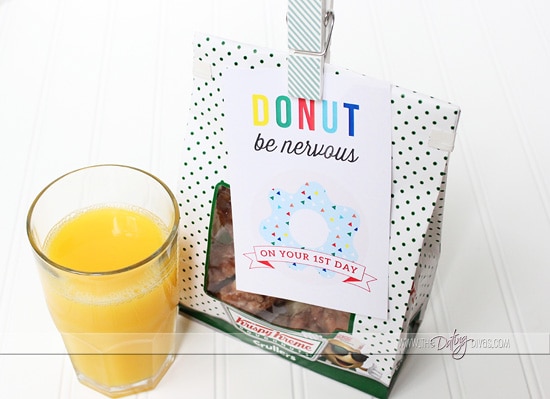 School Supplies Printable Sticky Notes
Once the kiddies head off to school, they will feel loved and excited as they open up their backpacks and find sweet notes on their school supplies! Plus, you can print these daring designs onto STICKY NOTES!! How cool is it that?!?!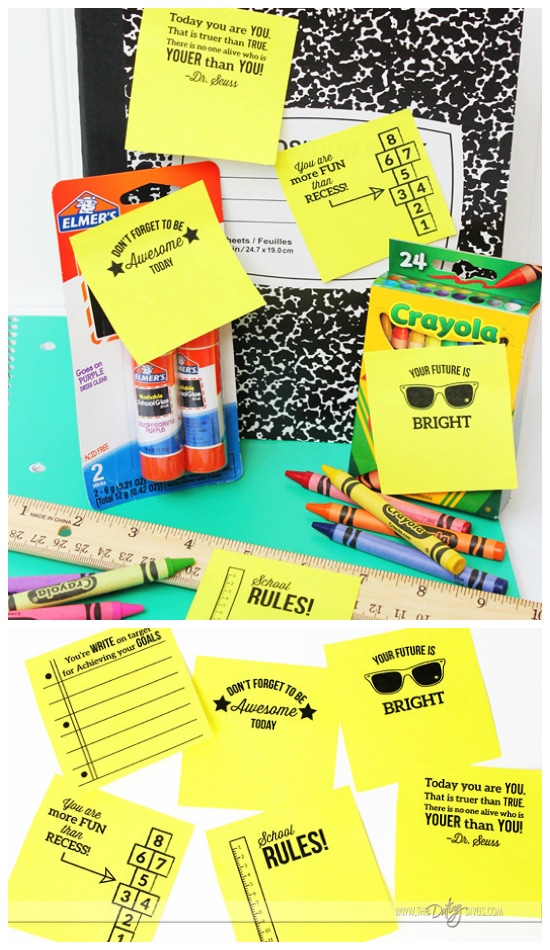 Lunch Box Love Notes
The fabulous back to school ideas don't stop there! Fill your child's lunch with fun foods and Lunch-themed Love Notes, giving them a little confidence boost for the rest of the day.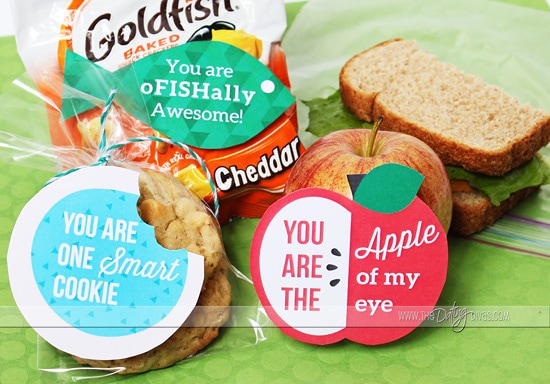 1st Day Teacher Gift Tags
We have quite a few Divas who used to teach school, and we can tell you– the first day is a doozy! All the fun, excitement and planning can be exhausting. The teachers that work hard to help our kids learn deserve LOTS of love! Start off the year right by creating a unique gift with our Teacher Gift Tags.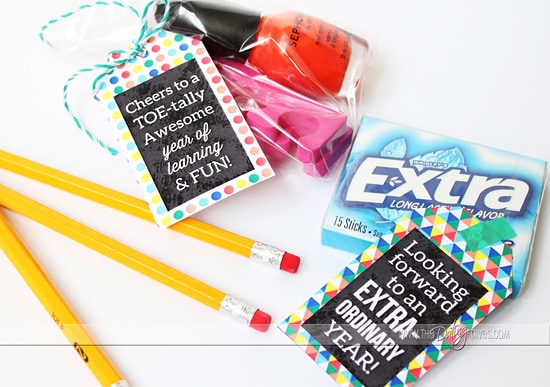 First Day of School Printable Sign
Each year and new grade is a milestone for your child that you want to remember! Have a First Day of School Photoshoot with our printable First Day Sign. See? So many awesome back to school ideas!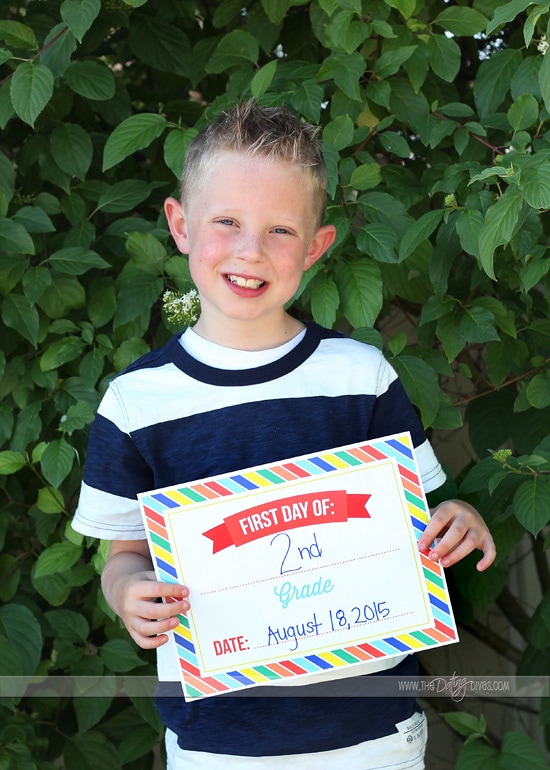 First Day Memory Survey
Have the kiddies fill out their First Day Survey to remember the cute stages and personalities at the beginning of each school year. You will want to preserve these sweet keepsakes!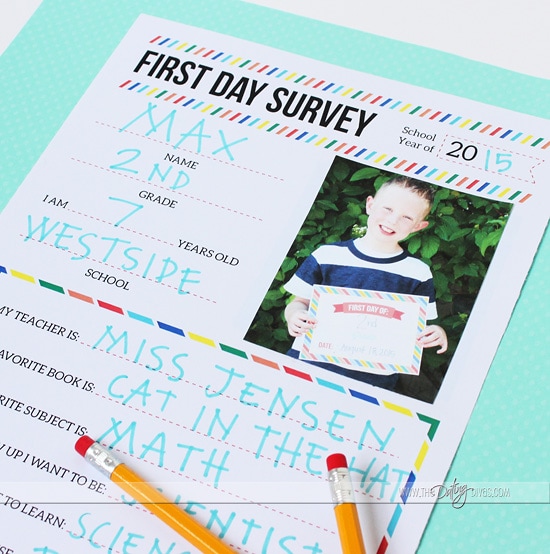 Now, are you getting excited for back to school time?! These Back to School Ideas are the perfect way to celebrate and prepare for an awesome year full of learning and fun! The Back to School Celebration Kit is here just in time for the bell to ring… you'll be ready to send off your loved ones with these done-for-you printables.
Get your

Back to School Celebration Kit

for just $9.97!!

Want MORE fun & easy ways to surprise your family and make them feel special? Give them with one last summer vacation before school starts– using our Perfect Staycation Kit! Create memories and have a relaxing getaway from life, all in the comforts of your own home. For all those birthdays throughout the year, our Family Birthday Party Pack will help you create a fabulous celebration for your special birthday boy or girl. The done-for-you pack is full of creative ideas and simplifies your celebration prep, just print and you're ready to PARTY!
Have a FABULOUS school year!