A Date for your Italian Stallion 
I have to preface my date with the fact that my husband and I LOVE to travel. We've been to some exotic, interesting, exciting, and historical places, but the best part is seeing these things together. Wherever we may be, we try to make the most of it.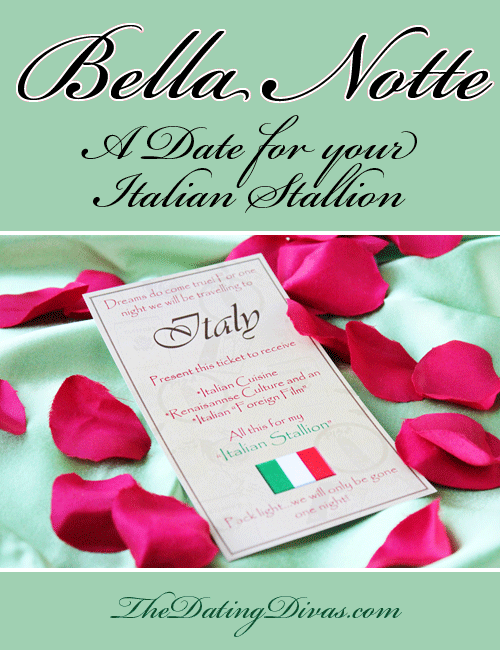 Disclaimer: This post contains affiliate links. To learn more about 'em,
click here
.
One of the ways we've done this is with the help of this (not so) little book: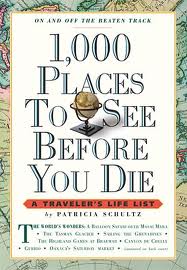 Ever seen it? It is an AMAZING resource for all your travel needs. (We also have the "US & Canada Version" because those travels are more realistic these days.) Both books have must see's, unique finds, and some lesser known places that are amazing, all over the world.
A few years ago, my husband gave me these books along with a photo book he'd created of all the places we've been together and left blank pages to include photos and captions of our travels to come! We also write the date we visited the "place" in the book once we've been there. It is such a fun thing to do together and makes for easy date planning. Wink. And in the end, we'll be able to say we've traveled the world TOGETHER!
With that said…our date night is all about one of our dream destinations. ITALY!
You'll want to print off this little card (download below) to give to your hubby: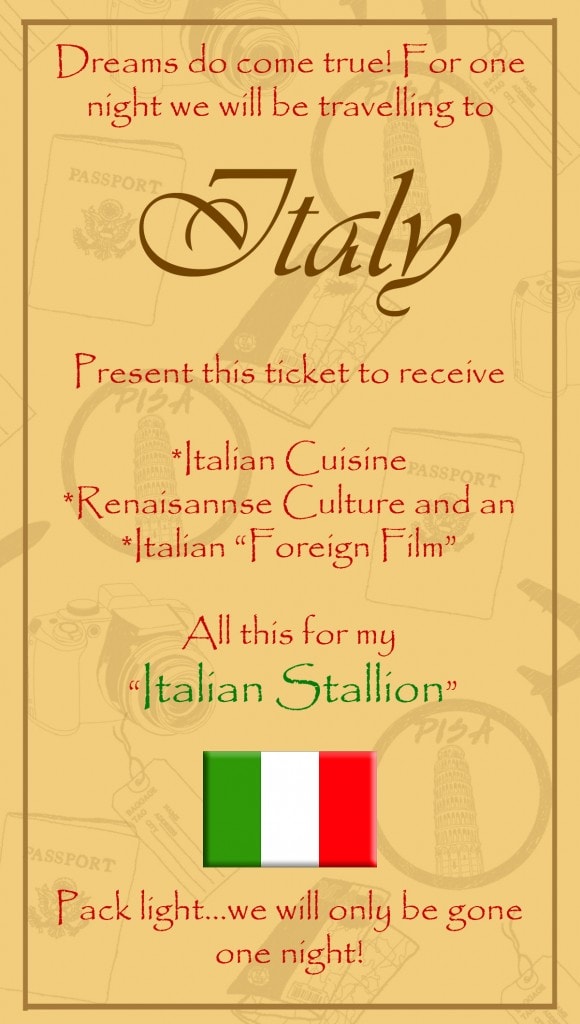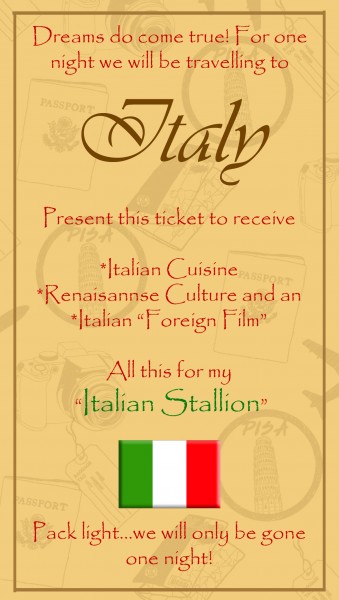 You can leave it on his pillow, in his shoes, on his plate, or wherever! (If you have a cute little courier like I do, you can have them give it to Daddy in the morning so he can anticipate his "trip" all day!)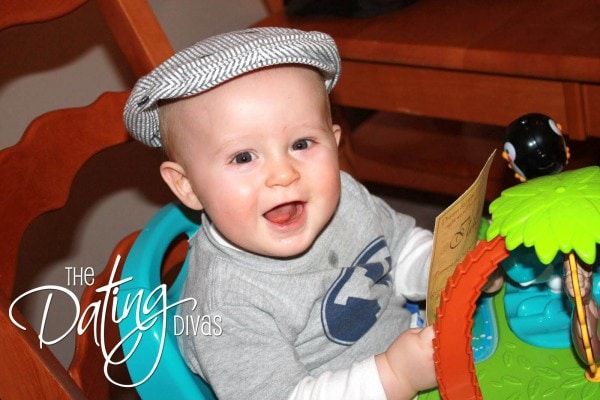 Now there are MANY Italian cuisine's you could put on the menu. But I had my husband in mind when I decided on Calzones. (Doesn't that just scream 'man'!) I have a super easy recipe for the dough that you'll need to whip up earlier in the day (or you'll have be waiting on dinner for a while if you are letting it raise!)
Calzone Dough
1 c. warm water
1 T. yeast
1 t. salt
1 t. sugar
1 T. oil
2 ½ c. flour
Combine yeast and water. Mix till dissolved and bubbles. Add salt, sugar, and oil. Add flour, stirring until dough pulls away from bowl. Turn onto floured surface and knead in remainder of flour. Form ball and place in greased bowl. Let rise till double in size. Roll dough out. Cover half the dough with sauce and desired toppings. Fold over dough, seal edges, and place on baking sheet. Bake in 375 degree oven for 15-18 minutes.
I set the mood by playing some songs by Andre Bocelli on our laptop as we put together our calzones. You can put whatever you want in yours. Ours consisted of pepperoni, olives, peppers, mushrooms, cheese, and sauce.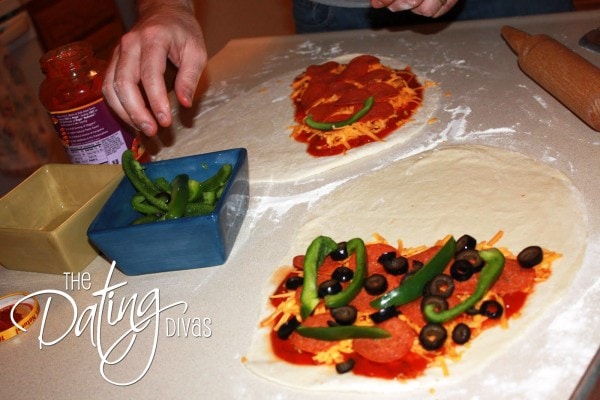 This is what it looks like all cooked. So good! Tell me your husband wouldn't want to eat that!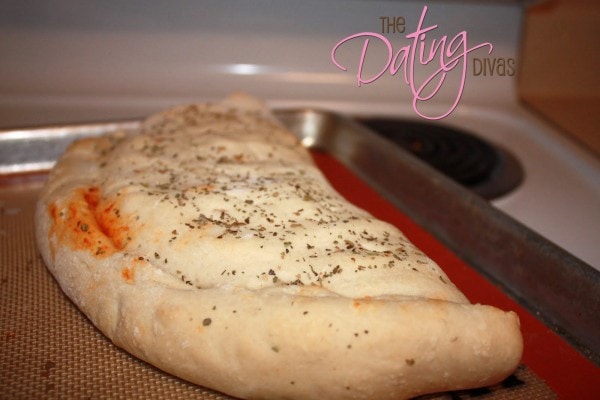 While our calzone's were cooking, we took part of all the "art" that you can find in Italy. Using good ol' Crayola Watercolors we channeled our inner Michaelangelo as we painted scenes of what we imagine Italy to look like.
Justin is obviously dreaming of Venice:
(yes, that says "Luigi's Pizza Hut!)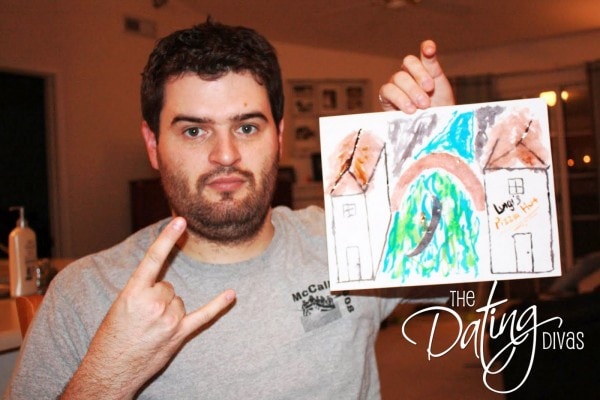 while I was going more for Tuscany.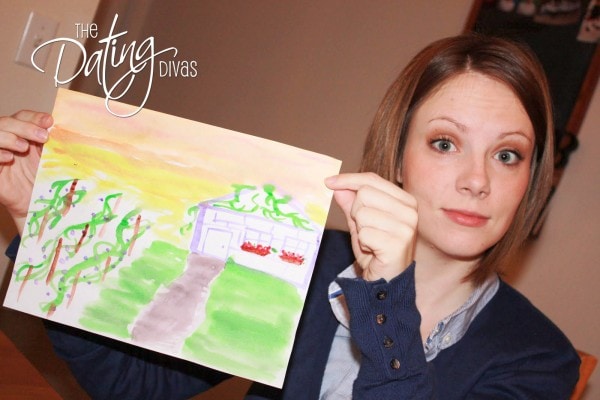 Now Italy is not just famous for the paintings. They also have a lot of sculptures. Michaelangelo's "David" comes to mind. So, I told Justin that we each had to sculpt something representing your spouse. Using playdough, we both went to work. You could tell your husband to sculpt anything…be creative!
This turned out pretty funny because
A) we're playing with playdough
B) my husband asked if it could be "symbolic"…oh great.
I tried to create "Thinking Justin" with a mini Jazz hat on, for my Jazz lover.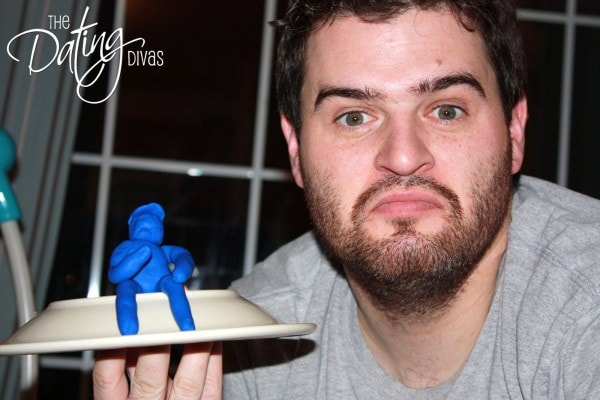 Justin on the other hand sculpted this.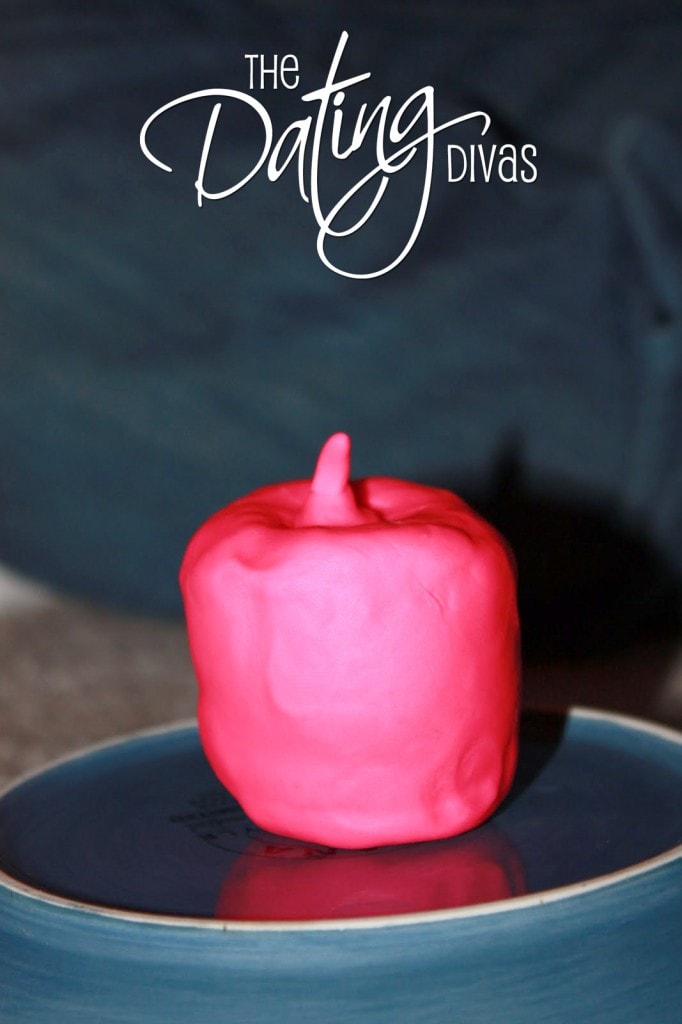 What is that you ask? (So did I.) It is an apple. Huh. He explained that it was because I was a teacher! (Symbolic, remember.)
When I laughed at it he quickly squished it together and whipped up something new. This one wasn't much better.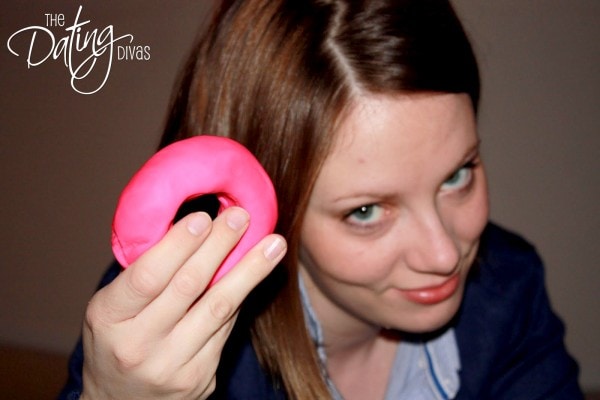 Yep, a donut. I'd been telling him for days that a donut sounded good. So that is what he made me! Silly guy. We are obviously not master artists, but it was fun to "play" silly things together.
At this point our calzone's were finished cooking, so we put aside our "culture" and dined in candlelight.
We are not all that "artsy." However, I wanted to watch an Italian film…or at least one ABOUT Italy. My husband was thrilled when I pulled out this goody that we hadn't seen in a while: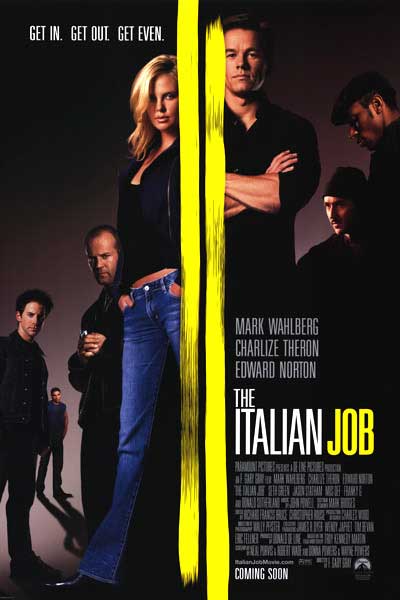 This is a great pick because it is "manly" yet enjoyable, in my book. Some other movie suggestions are:
Life is Beautiful, Under the Tuscan Sun, Roman Holiday, Much Ado about Nothing, Angels & Demons,
or any other Italian "themed" movie. I really wanted to watch the original version of
The Italian Job
but couldn't locate it. That would have been fun!
So snuggle up to your "Italian Stallion" as you watch your flick. Oh, but don't forget the famous Italian treat, GELATO: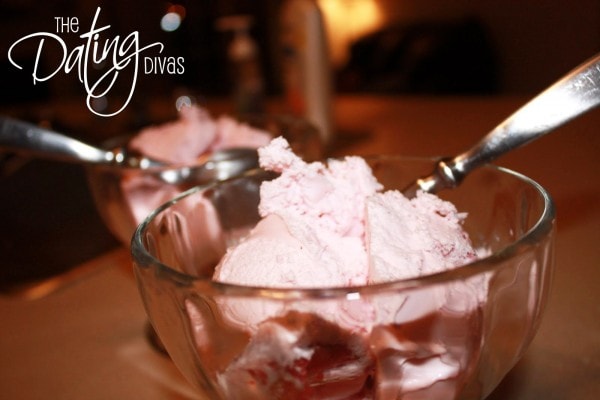 Once the movie is over, you better rest up. It is a LONG flight back to the States!
Bella Notte
Printables Designed by Erika Banks @ The Dating Divas Exclusively for The Dating Divas