Black and White Date Night
We are SO excited to be partnering up with I Heart Naptime today for a dinner and a movie date! What?! Never heard of I Heart Naptime??? …oh my, are you MISSING out!
Jamielyn from I Heart Nap Time shares easy and delicious recipes, free printables, DIY crafts, and lots more! She loves to inspire others to get their creative juices flowing.  When she's not creating… Jamielyn loves to chase her two little monkeys and snuggle up on the couch with her man.  And today, we've teamed up with I Heart Naptime to bring you a special treat…
Dinner and a Movie!!!
We all know the best date in town is dinner and a movie date! The Dating Divas kick it up a notch with a fun movie, amazing ideas, gorgeous printables, and an easy dessert idea for a date by I Heart Naptime. You are seriously going to be blown away by all of these ideas and you're going to impress your friends with this romantic dinner group date night.  Are you ready to hear all about it? Of course you are, hold onto your seats (we don't want you to blow away) and get your read on!!!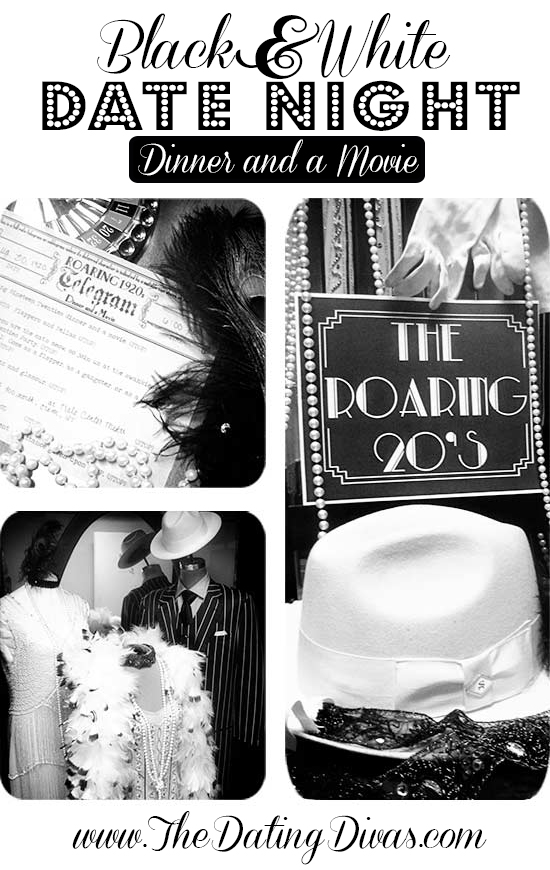 Disclaimer: This post contains affiliate links. To learn more about 'em, click here.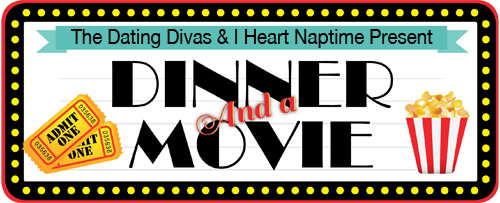 The Black and White Movies
Call me crazy but I love old black and white movies and after today's date you are going to be ga-ga over them too! You could pick any black and white movie, a few of my favorites are A Trip To The Moon, The Great Train Robbery, The Kid, and Dracula.  If you know how to change your color settings on your TV, you can make any favorite movie black and white, fun huh?!
The Theme
This isn't just any dinner and a movie, this is a "Roaring 20's Black and White" party.  The whole scene will be set up in black and white, so get out all of your black and white decorations, pearls, feathers, antiques, platters, etc. The menu is a collection of all the favorite foods of that era. Everyone will dress to kill in their best flapper or gangster garb. This date from start to finish is all about the 20's. With the Great Gatsby in theaters the 20's are all the rage and your party will be too. There is something about this era that is just magical and this date is going to help you bring the magic back to date night!
Before we get into the rest of the date, I need to give a BIG shout out to Kristen with C Dot Love for rocking these fabulous printables!  Go check her out! There are 3 separate pdf's to aid in easier downloading and keeping the printables organized. Print off all printables on card stock.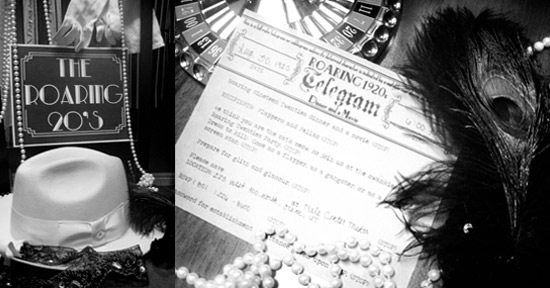 Send your best friends a telegram, yes that's right a telegram. Do they even have telegrams anymore? Lucky for you, we've made a telegram invite for you, all you need to do is print them off, fill in the blanks (time, date, location, and contact information), and send them off to your guests. When your guests RSVP give them a password for admittance to your party such as "swanky," "bootleg," "dive", etc.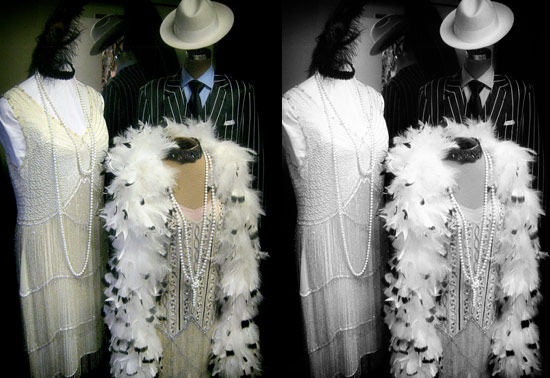 The Costumes
I am so lucky to have a sister-in-law who works at Archive Costumes with the Hale Center Theater of Orem. They have the most beautiful costumes and they seriously have anything you need to dress up for any occasion. Some of these pieces are authentic and the real deal, I just had to show you a colored picture so you could see the fine beading detail on the stunning dresses. The best part about these costumes is that you can rent them any time of the year at a very decent price. If you live in Utah this is the place to go for your 20's digs.  Thank you Melissa and Archive Costumes with the Hale Center Theater of Orem for putting these outfits together and allowing me to borrow them!
You can't have a 20's themed party without dressing up! Make your party come alive by putting on a fabulous 20's themed outfit. Dress up as your favorite movie star, a flapper, or a gangster. Add a little flair to your new character by adding a bit of 1920's slang to your vocabulary. Follow fabulous makeup tips by Pixiwoo to create a glamorous 1920's look to match your outfit. Before you know it, your home has transformed into the Speakeasy.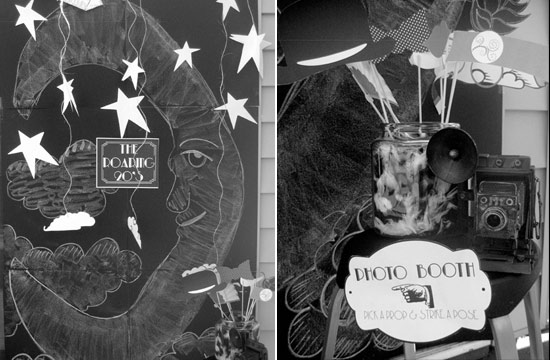 The Photo Booth
You can't expect your guests to dress up and not have a photo booth. In staying consistent with the black and white theme, change your camera setting to black and white before snapping any pictures. If you're as good of an artist as I am, remember, your guests will cover up most of background anyway, wink!  The background is inspired by the silent film A Trip To The Moon, with the moon, rocket, stars, and clouds, it's amazing you've got to see it.
Use black butcher paper for the photo booth canvas and use white chalk for drawing. To make the moon life sized, print off the picture of the moon, cut out the picture of the face, and take it to Fed Ex or any copy shop that can print on huge paper. If you've got skills then skip the copier and free draw the moon and the face. Draw a few different sized clouds around the moon. Whew, the drawing part is o-v-e-r.  Now onto gluing. Glue a few of the stars on the photo booth. Create a few 3D stars by folding two stars in half and gluing the middle of the stars together.  Glue clouds, stars, and the rocket ship to white string or fishing wire and hang them at different lengths and different spaces from the ceiling to give the photo booth dimension.
.The props are my favorite part of the photo booth and we have every single prop you need for a 20's theme! Print the props on card stock, cut each one out, and hot glue the corner to skinny dowels. Within these printables you will find 2 mustaches, a feathered headband, a hat, spectacles, bow tie, lips, and cigarette paraphernalia.  Set the props up in a fancy jar right next to the photo booth to encourage your friends to use them in their photos.
The last pages of the props are aged Polaroid photos. Use these printables as a boarder for the pictures you take during your party. Easily transfer photos onto the Polaroid's by using digital copies of your photos or printing the photos and gluing them onto the Polaroids.  These would be great gifts to send as thank you's to your friends.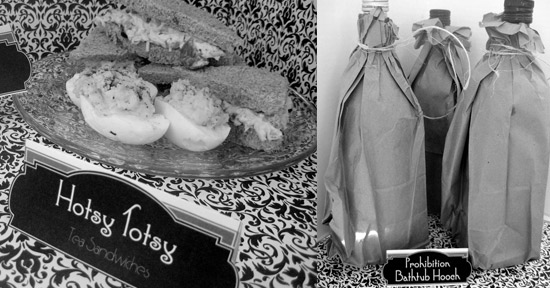 The Food
The popular foods in the 1920's were pretty simple and somewhat surprising. I couldn't decide on a menu because the popular foods were so diverse, so you'll have to pick what suits your party group. The food labels are:
Finger foods and salads were on the top of the best foods list in the 20's.  Even fancy restaurants served tea sandwiches, Jello salads, deviled eggs, and Waldorf salads, crazy right?!
Dive Deviled Eggs, Cats Pajamas Fruit Kabobs, and Hotsy Totsy Tea Sandwiches.
Italian meals were all the rave during this era as well so we've got an Italian menu too.
Dive French Bread, Hotsy Totsy Spaghetti and Meatballs, and Racketeer Caprese.
Appetizers, Treats, and Drinks Menu
Packing a Piece Salted Nuts, Prohibition Bathtub Hooch (Pick a few favorite bottles of bubbly and wrap it in brown paper lunch sacks), and Sweets (old fashioned candies such as Charleston Chews, Chick O' Sticks, Baby Ruths, Candy Cigarettes, Gummy Bears, and Milk Duds).
Create your food labels by following the directions on the printables.
The Dessert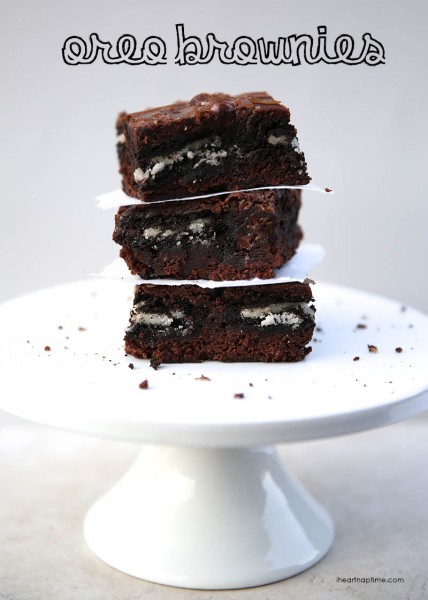 Doesn't this black and white dessert look divine?  They are the perfect fit for our 1920's theme, these would have been on the menu at all the hot spots! Go snag the yummy recipe and be sure to leave a Jamielyn with I Heart Naptime a little love.
After Party
Once your guests go home, spend a little one on one time with your spouse and burn a hole in the dance floor. Get out the computer and speakers and tune into "Mugsy Spanier and His Ragtime Band" station on Pandora.  Need a little dance lesson?  Before the date secretly print off a downloadable PDF file that teaches you how to dance the Charleston and tuck it away for this very moment. End the night in romance by boogying the night away!