12 Months of Date Night Movie Ideas
Movie night is either the best or the worst, am I right? Sometimes it can feel so great to relax with your sweetie at the end of a long week, watching that movie you've been dying to see – of course, with a cozy blanket and big bowl of popcorn! Other times, it can feel like the last resort when the date night plans fall through—it takes forever to choose the movie, and you end up falling asleep halfway through anyway. If you could, you'd ALWAYS take the special, fun version of movie night, right? Obviously!! We are SUPER excited to share our solution to the boring movie night—the Year of Movie Dates! It's full of date night movie ideas to make sure you are connecting and strengthening your relationship, all from the comfort of your own couch!
This is a series of 12 dates, giving you tons of fun ways to take your movie night to the next level. Choose from romantic and funny activities, sexy ideas, a few treats and a big list of movie titles to help make the movie-picking easier. Each of these 12 date night movie ideas are based on a specific genre, so throughout the year, you'll make sure to see a variety of films to appease BOTH of your tastes. You can even wrap it up into an adorable movie gift basket to give to your spouse or another lucky couple!!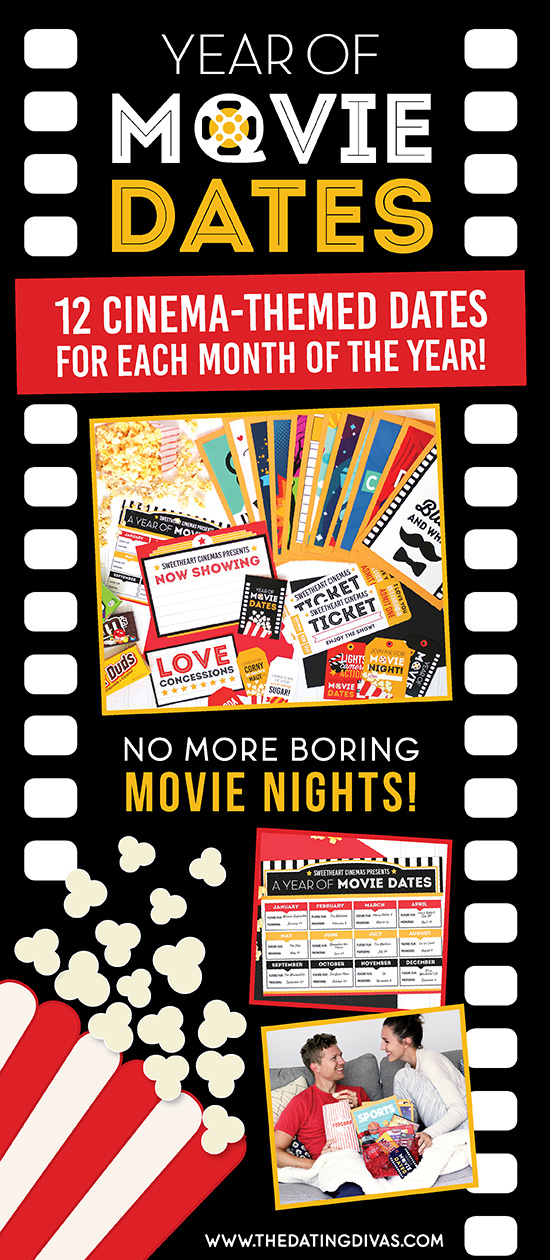 These B-E-A-U-tiful printables were designed by our awesome graphic designer Courtney of Paperelli designs. She really captured the magic of the movies and the feel for each specific genre. They are bright, colorful, and just gorgeous, fun packaging for a gift!

What I love about these date night movie ideas…
Flexible and customizable – Each date is themed on a movie genre, so you and your spouse can pick ANY movie that fits in that genre! Whether it's the favorite classic you've seen 50 times, or a brand new film just out of theaters, all the date night movie activities will work with the flick of your choice!
So much variety – HE might be super into sports movies and comedies, and SHE might prefer musicals and dramas. This is a great way to explore ALL types of films. It will probably push you outside your usual comfort zone as well, and you might find a new favorite genre!
No need to pay for babysitters – While you can choose to use these date activities before or after seeing a movie in the actual theaters, they were designed specifically for at home movie nights! You don't even have to leave the house or hire help to watch kiddos!
So easy to pull off – Once you print and prep these babies, the work is done! If you don't already own the movie you want to watch, you will have to figure out HOW to watch, either through streaming, Redbox or borrowing from a friend, but that's pretty much it! You can put all of your activities inside the coordinating manila envelope for each date and grab them when date night rolls around.
Unique & fun gift idea – The cute envelope covers make this idea great to package up for a gift! Whether it's for Valentine's Day, birthday, Christmas, anniversary or just because, you can throw together a movie gift basket that can't be bought anywhere else!
What's included in the Year of Movie Dates…
Movie Date Gift Basket Packaging – 

Everything needed to wrap all 12 dates up for a darling gift, either for your spouse or another couple.

Love Concessions & Home Theater

Printables –

Create your own cinema atmosphere with a concessions stand and fun theater-themed printables.

12 Movie Genre-themed Dates – 

 

A date night for almost every type of movie out there! 
Date Night Movie Gift Basket Packaging
The movie gift basket packaging printables contain gift tags to tie up your cute basket, and a card explaining the gift! This is the perfect gift for your spouse on Valentine's Day, an anniversary or even a sweet bridal shower or wedding gift for newlyweds! Don't forget to pack your gift basket with movie candy and popcorn too!

Love Concessions & Home Theater Printables
To set the stage for your year-long "home theater," print out the Sweetheart Cinemas tickets. These could be really fun to include in the gift basket too. Plan out your year with the calendar to make sure your date nights happen each month. Laminate the movie marquee to update it each month with your current showing!

The Love Concessions come with two types of gift tags for your treats – romantic if you are gifting to your spouse, and more generic if you are gifting to someone else!
12 Movie Genre-themed Dates
Each of the genre-themed dates has a cute cover that fits on a manila envelope. Aren't they just adorable laid out in a row like this?! You'll get to experience new movies from the Science Fiction, Black & White, Drama, Comedy, Scary, Sports, Romance, Action, Animated, Musical, Documentary and Fantasy genres. There are date night movie ideas for everyone!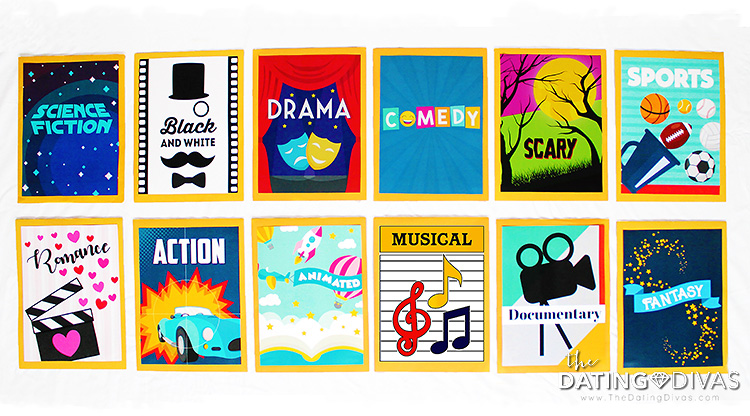 Along with the cute cover, each genre date includes
a digital text invitation you can send to your honey
romantic, silly, or funny activity printables 
a sexy idea related to the movie genre

On our website, some of our MOST popular dates are the movie-themed dates, so we are giving y'all more of what you want! You'll never look at movie night the same with all of these date night movie ideas.
Get ready to push play and enjoy the show!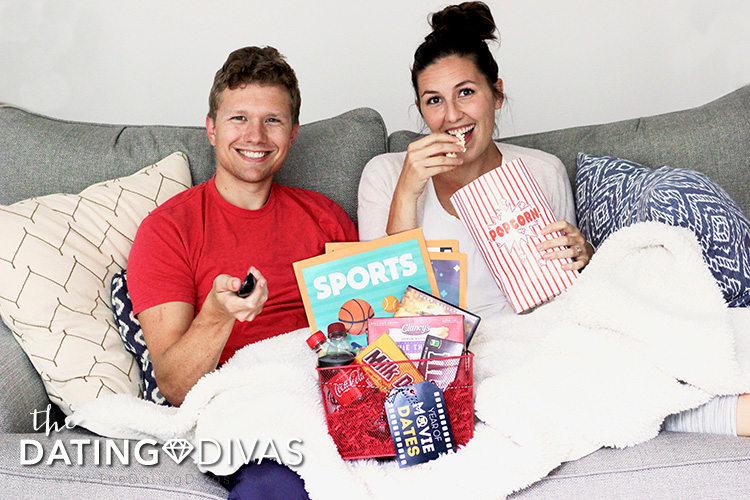 Snag the
YEAR OF MOVIE DATES
for just $34.97!
Each of these dates sells for $10.97, so this whole pack has a $131 value! Buying in the bundle gives you HUGE savings. And a year of connection with your spouse – that's priceless!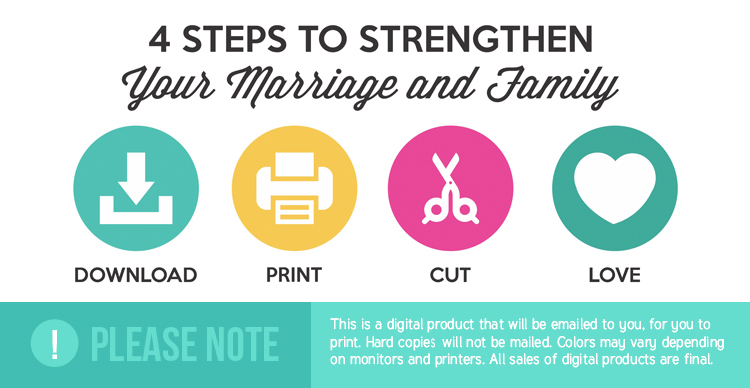 To get a more in-depth look at the printables for each of the movie genres in this Year of Dates set, click over to the post ideas below!
Check out all 12
MOVIE DATES in this series…
#1. Action
#2. Romance
#3. Fantasy
#4. Comedy
#5. Drama
#6. Sports
#7. Science Fiction
#8. Musical
#9. Documentary
#10. Scary
#11. Animated
#12. Black & White
SaveSave