Funny & Clever Cards To Give To Your Spouse 
Part of having a great relationship and marriage is being able to laugh. Marriage does not have to be so serious—and neither do the cards you give! Whether you are looking for a card for your upcoming anniversary, for Valentine's day, your spouse's birthday, or just because—we have a card for you that is unlike any you have given before. These cards are hand-picked as our favorite cards to produce a giggle, a chuckle and most of all, a smile!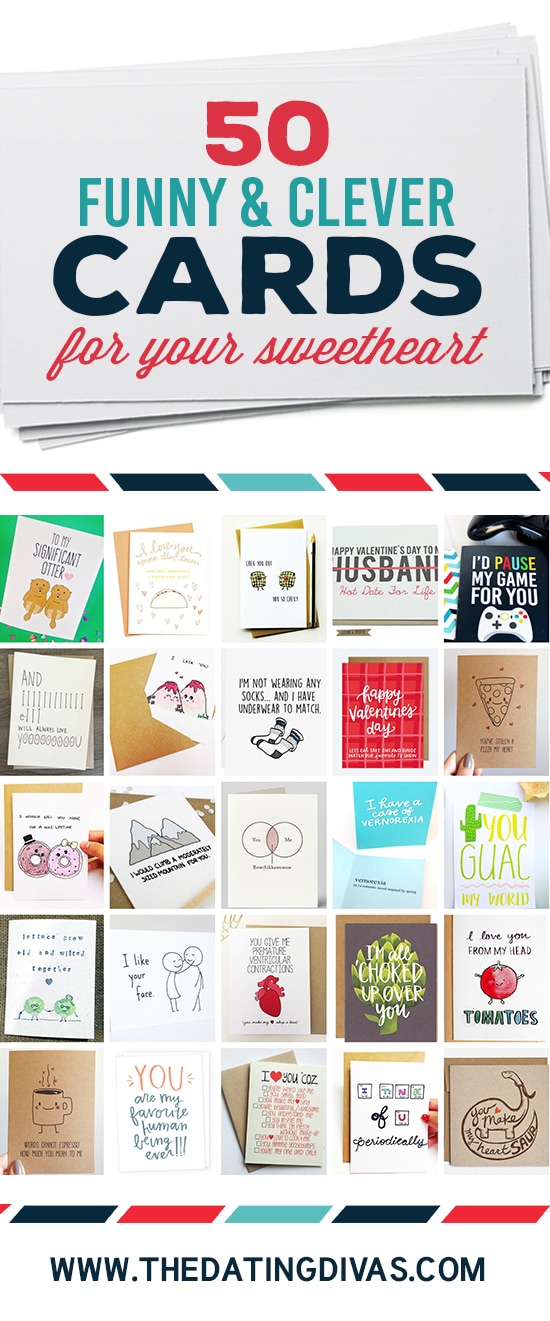 Disclaimer: This post contains affiliate links. To learn more about 'em, click here.
We give cards for almost every special occasion in a marriage—why not make them fun? For the couple with a healthy sense of humor, we have cards just for your type of marriage! For your spouse's next anniversary, birthday, or for Valentine's day, give your spouse a unique card, one that will make them laugh! We have scoured the internet to share with you our favorite cards to give to your spouse that are funny, witty, clever and yes, even PUNny! 
We have funny and clever cards for: 
An Anniversary

Valentine's Day 

A Birthday 

Just Because
To see the card in more detail or for download information, just click on the link in the title. Some of the cards will link to stores where you can purchase the card, but many of the cards are free! We included the current pricing in the descriptions below, but please know that pricing and availability may change! You can check them out here:
Anniversary Card Ideas 
Celebrate another year with your sweetie with any of these unique cards. Although these cards would work for many different occasions, we thought they were particularly fitting for an anniversary!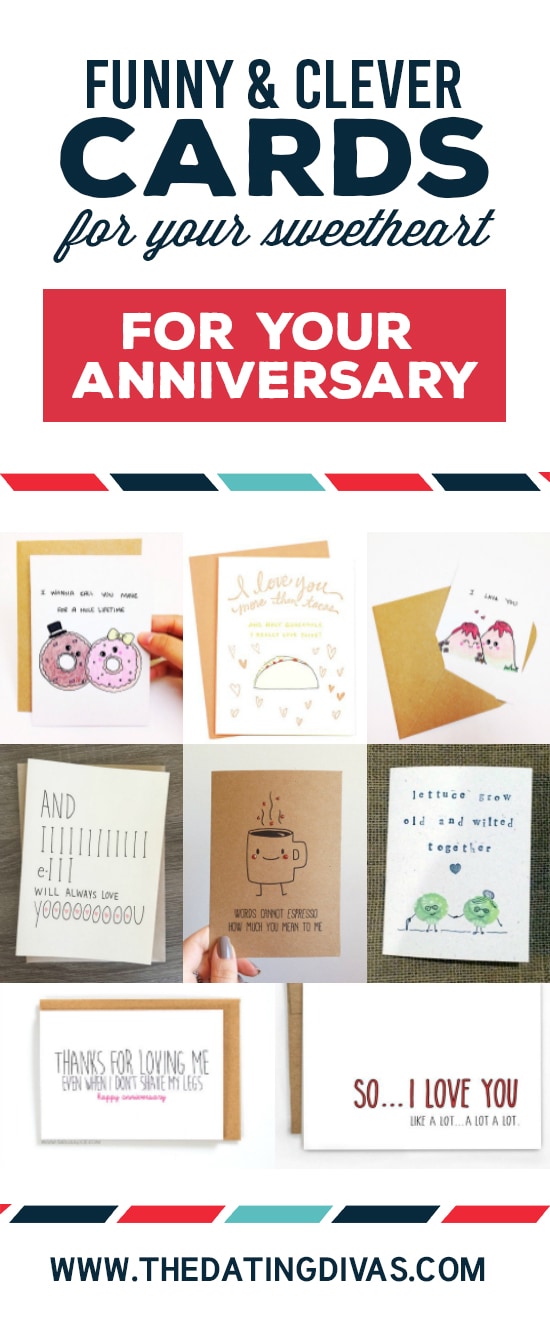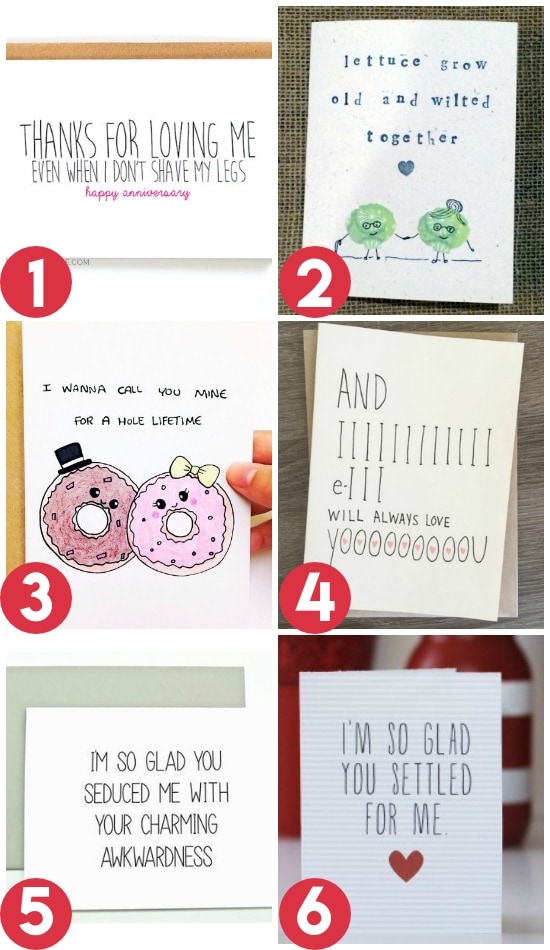 1. When I Don't Shave My Legs (Sioux Alice) – (Cost: $3.06) Now, this is true love right here! Loving your spouse for who they are and as they are—hairy legs and all.

2. Lettuce Grow Old (Gidget & Kacy) – (Cost: $4.25) Aren't these wilted lettuce heads the cutest? Let your spouse know you want to wilt together.

3. A Hole Lifetime (Love N Creativity) – (Cost: $4.50) For the doughnut lovers out there, this card is cute AND sweet!

4. I Will Always Love You (Fine A** Lines) – (Cost: $5.00) Sing it Whitney! Even in writing the message is dramatic—and perfect for an anniversary. Perhaps you can celebrate later with some karaoke.

5. Your Charming Awkwardness (Cheeky Kumquat) – (Cost: $4.50) This is so my relationship! We met in high school and we were both so awkward, but he was so charming. This card is perfect to describe so many couples!

6. Real Life Cards (Landeelu) – (Cost: Free) This pack of six funny cards for the realist puts your love in perspective. And the best part is these clever phrases are a free download!!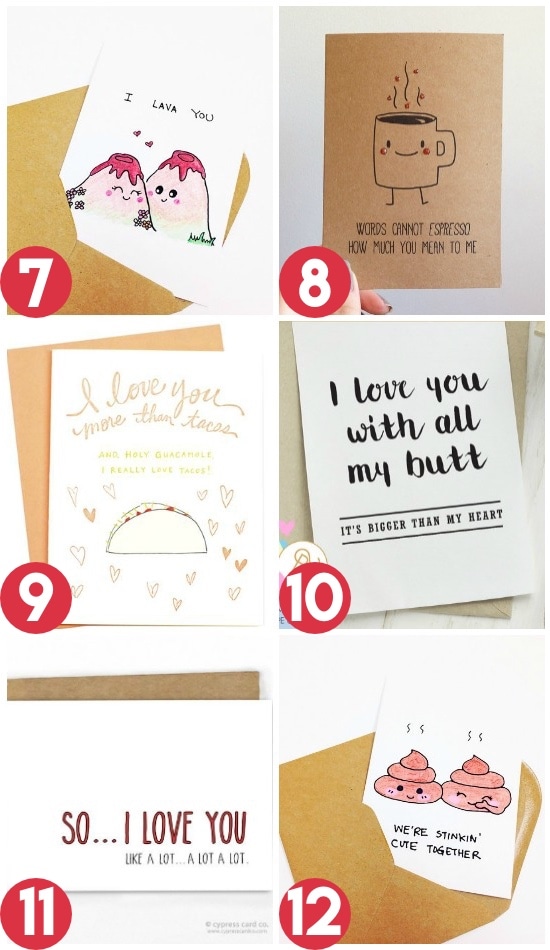 7. I Lava You (Love N Creativity) – (Cost: $4.50) This hand-drawn card is just beyond cute! It reminds me of the Pixar Short with the two volcanoes. So sweet!

8. Cannot Espresso (SubstellarStudio) – (Cost: $4.45) For the espresso-loving spouse, this card has a clever play on words. I think it would be sweet paired with a gift card to their favorite coffee shop!

9. More Than Tacos (Moorea Seal) – (Cost: $5.50) Holy Guacamole! I DO love tacos, if you do too, this card would be perfect to your show your spouse the extent of your love.

10. I Love You With All My Butt (The Little Piper) – (Cost: $3.20) This instant download includes more than just the clever card. You can get matching gift wrap, tags, an envelope and more!

11. I Love You a Lot (Cypress Card Co.) – (Cost: $4.50) Remember in elementary school when you "like liked" your crush? This card reminds me of that!

12. We Are Stinkin' Cute (Love N Creativity) – (Cost: $4.50) A stinkin' cute card with a play on everyone's favorite emoji.

Valentine's Day Cards 
The ultimate day to show your spouse love! These clever cards are funny, witty and send a message of love!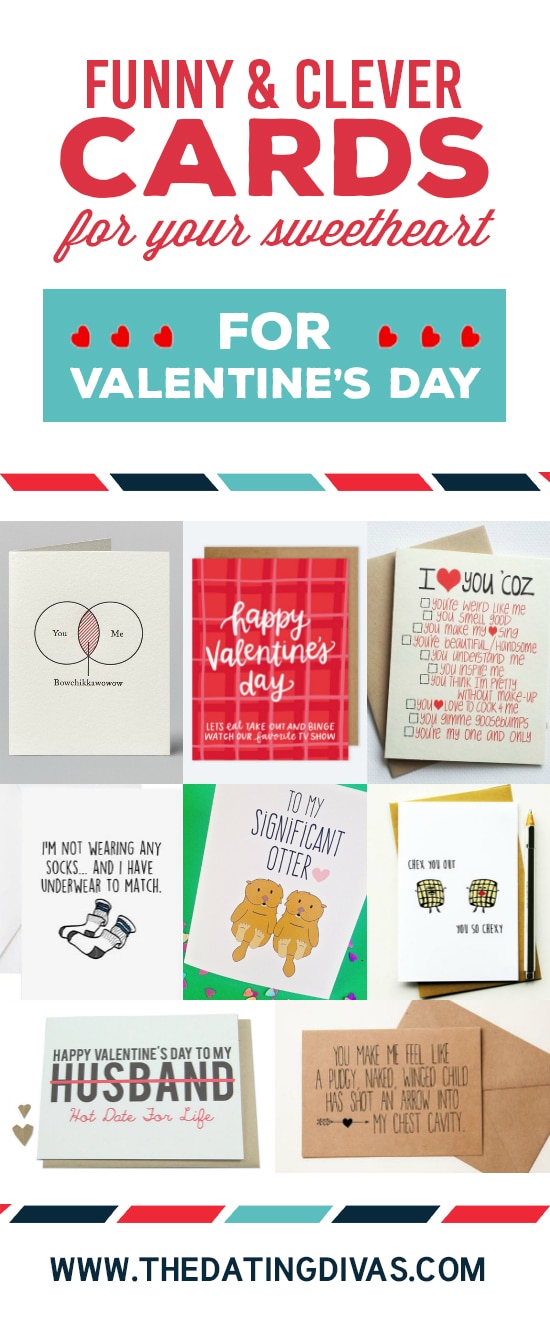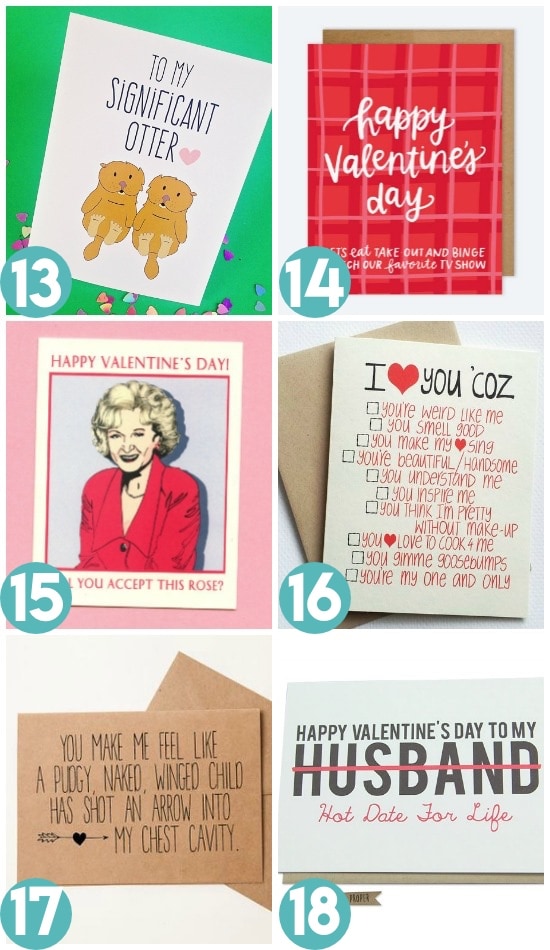 13. To My Significant Otter (The Dating Divas) – (Cost: Free) This post has not one, but 14 unique Valentine's Day cards for your sweetie! Each one has a fun twist to it!

14. Valentine's Day Binge Watch (Alexa Z Designs) – (Cost: $4.50) For the casual couple who loves a cozy night in with take-out and a Netflix binge, this card is for you! #truelove

15. Will You Accept This Rose? (Seas and Peas) – (Cost: $4.50) Any Bachelor/Bachelorette fans out there? Combine The Bachelor with the Golden Girls and you have a hilarious card!

16. I Love you 'Coz (Green Bean Things) – (Cost: $4.50) One reason isn't enough. Let your spouse know several reasons you love them, including my personal favorite "you are weird like me"!

17. Cupid's Arrow (The Farmhouse Charm) – (Cost: $3.25) Have you been hit by Cupid's arrow? This description is the best—this might be my favorite Valentine card yet!

18. Hot Date For Life (Grimm and Proper) – (Cost: $4.50) We are all about dating your spouse and this card sums it up perfectly! And don't worry husbands, there is a wife version of this card, too! You are welcome!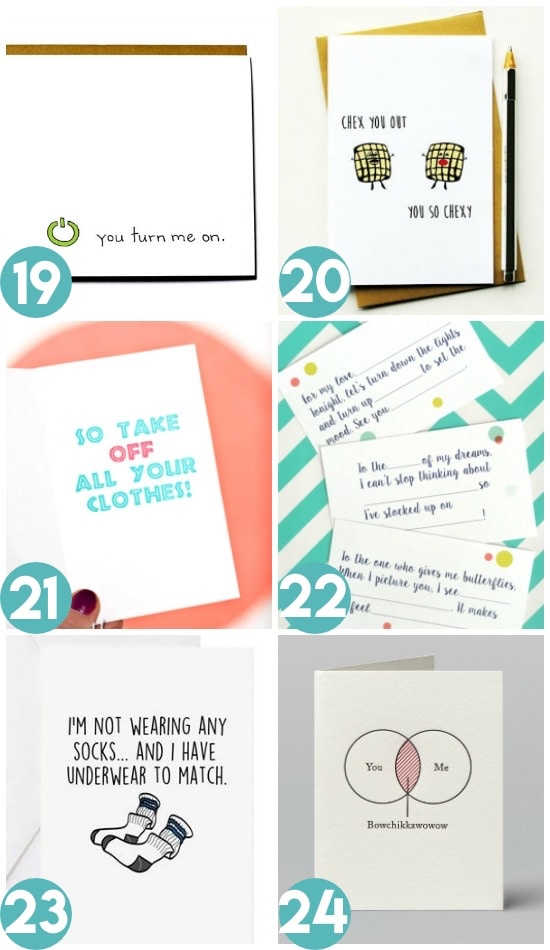 19. You Turn Me On (Darkroom & Dearly) – (Cost: $4.00) With all of the smart devices we have today, let your spouse know that they have the power to turn you on!

20. Chex You Out (Nocturnal Paper) – (Cost: $4.50) This Valentine's day let your spouse know they are all kinds of chexy… err sexy!

21. It's Getting Hot in Here (The Dating Divas) – (Cost: Free) This free card download is inspired by the song "Hot in Here" and we all know what comes next in the lyrics…

22. Lunchbox Love Letters (The Dating Divas) – (Cost: Free) These cards have unique fill-in-the-blanks to personalize your love message.

23. Underwear to Match (Cafe Press) – (Cost: $3.49) A sexy and suggestive card for a hot Valentine's evening!

24. Bowchikkawowow (Goodness) – (Cost: $5.00) Ow! Owww! I foresee a sexy evening with your sweetheart after this card is given!

Birthday Cards 
This is the time to make your spouse feel special! These cards show the love and appreciation that they were born!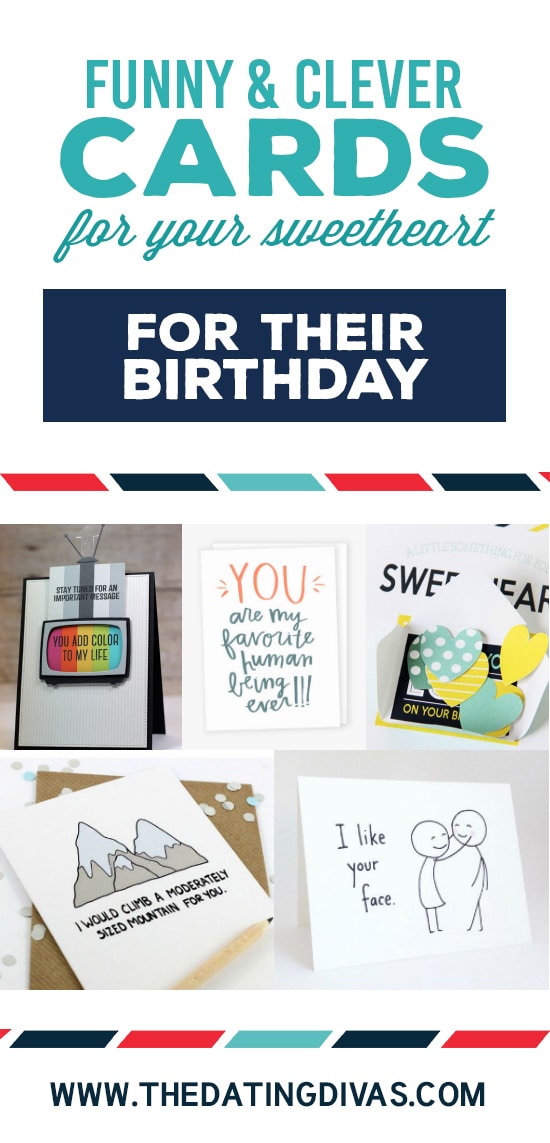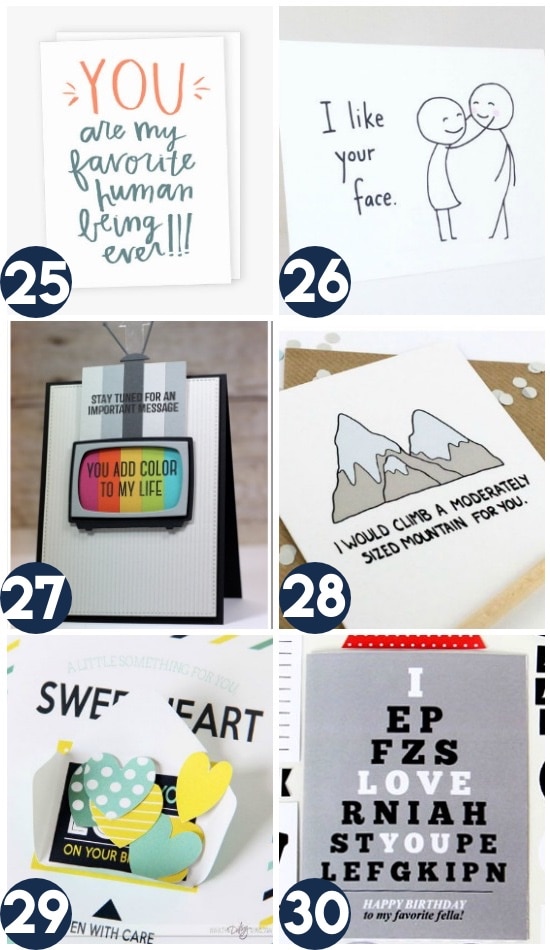 25. You are My Favorite Human Being Ever (Alexa Z Designs) – (Cost: $4.00) It is your spouse's special day! Let them know that of all the humans on the earth they are your favorite!

26. I Like Your Face (Euclid Street Shop) – (Cost: $4.00) This simple card is super sweet. Make your spouse feel extra special by sharing your admiration for that face you fell in love with.

27. You Add Color to My Life (Paper Therapy) – (Cost: Free) This DIY tutorial shows you how you can make this clever card. The black and white TV screen actually lifts to reveal the colorful message below. Super cool!

28. Moving Mountains (Post Love Designs) – (Cost: $3.83) Let's be honest, sometimes traditional cards have messages that are grand beyond scale. This card is more realistic and honest.

29. Birthday Envelope Surprise (The Dating Divas) – (Cost: Free) This post includes 10 DIY Birthday cards for your spouse. This particular card has your spouse open an envelope to reveal heart-shaped confetti. So clever!

30. Looking Good on Your Birthday (The Dating Divas) – (Cost: Free) Show your spouse you only have eyes for them with this clever twist on an optometry sign.

Cards For Any Occasion 
You don't have to wait for a special holiday or a big event to leave a love note for your spouse! In fact, these cards are perfect examples of cards you could give any time!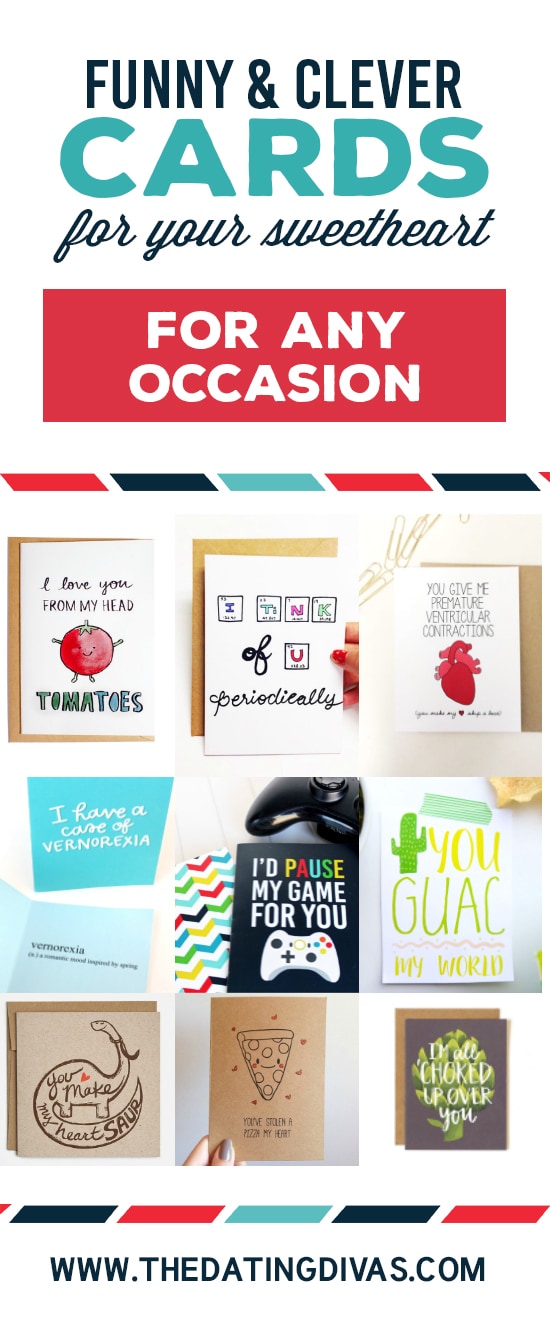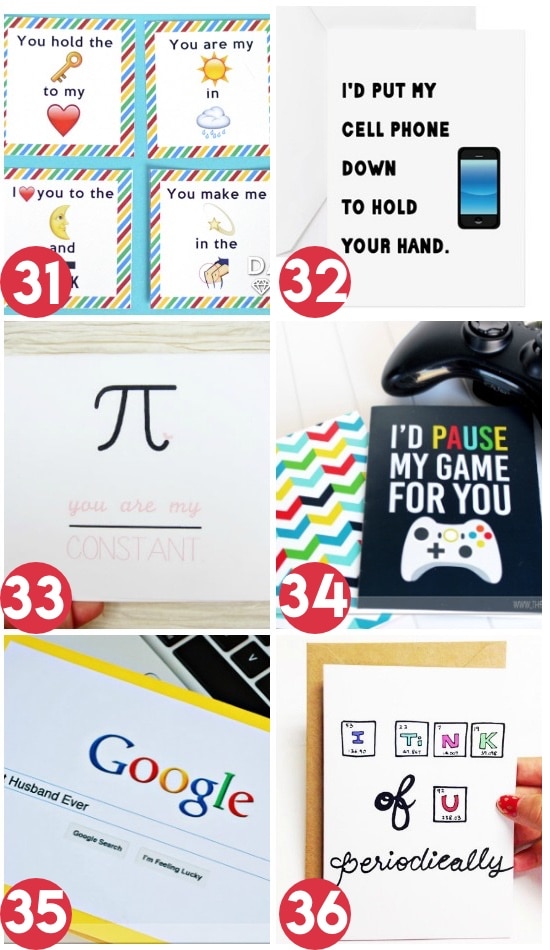 31. Emoji Cards (The Dating Divas) – (Cost: Free) Emojis are all the rage right now and this post has a variety of cards made up of classic text emojis.

32. I'd Put Down My Cell Phone (Cafe Press) – (Cost: $3.49) Cell phones are always in our hands now a days, but make sure you leave your hand open for some hand holding with your sweetie!

33. Pi Card (Little P Studio) – (Cost: Unadvertised) For the math nerd in your relationship. They will understand.

34. I'd Pause My Game For You (The Dating Divas) – (Cost: Free) You know you are loved when your major gamer spouse pauses that important video game—even if it were for only a moment!

35. Google Card (The Dating Divas) – (Cost: Free) This unique card lets you personalize a "google search" with attributes of your spouse!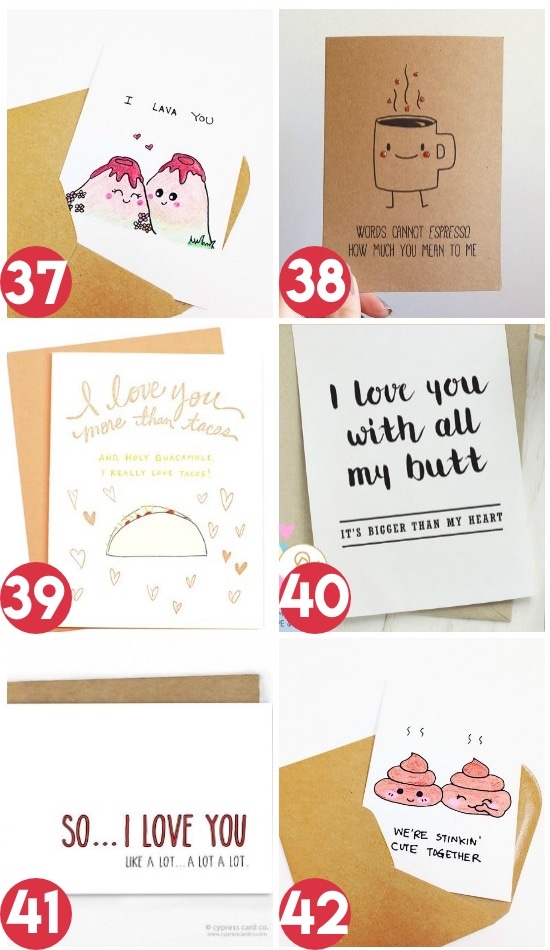 36. I Think of You Periodically (Love N Creativity) – (Cost: $4.50) For the science-minded couple—they would totally appreciate this play on words

37. I have a Case of Vernorexia (The Dating Divas) – (Cost: Free) Don't know what that is? Your spouse isn't likely to either. You can enjoy looking it up together and having a good chuckle!

38. Ventricular Contractions (Belly Flop Designs) – (Cost:$4.50) Ah, yes. Those ventricular contractions. They get me every time.

39. Punny Love Notes (The Dating Divas) – (Cost: Free) This post has 12 totally free love note cards that all have incredibly punny messages.

40. Love You a Whole Punch (The Dating Divas) – (Cost: Free) This clever DIY card includes an entire set. It lets your spouse know that you notice all the wonderful things they do for you.

41. Thanksgiving Sexy Love Notes (The Dating Divas) – (Cost: Free) Although these sexy love notes are geared toward Thanksgiving they could really be used any time of the year!

42. You Make My Heart Skip a Beet (BHLDN) – (Cost: $4.00) If your spouse is a foodie (or a farmer) this card will be especially fun.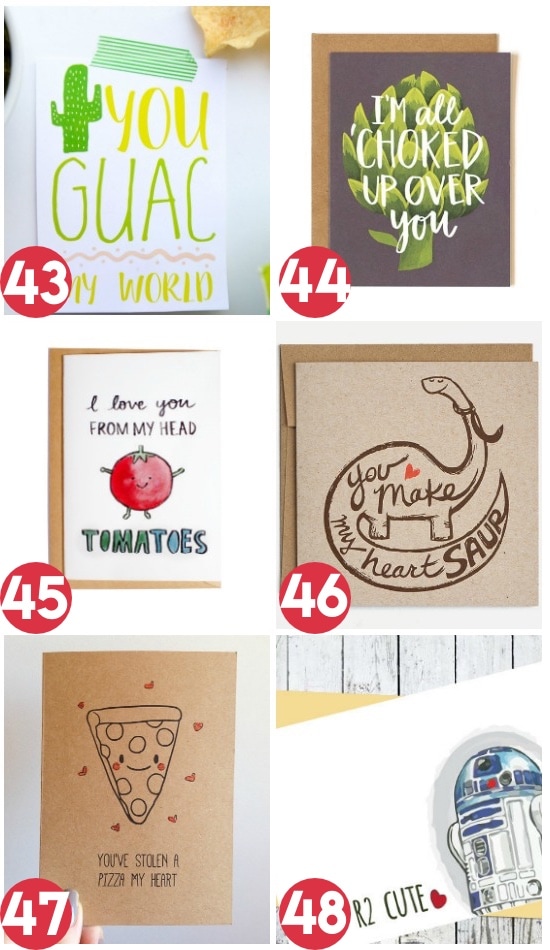 43. You Guac My World (Love the Day) – (Cost: Free) This free card download is deliciously inspiring!

44. Choked Up Over You (One Canoe Two) – (Cost: $4.00) Let your spouse know they are the artichoke to your heart. This would be a sweet card to give any time and for any occasion.

45. From My Head To-ma-toes (Suely Lu Designs) – (Cost $3.83) You don't even need a special occasion to give this sweet card. I love the play on words!

46. You Make My Heart Saur (Mud Splash Studios) – (Cost $5.00) There are several dinasaur love cards in this series, but this one was my favorite.

47. You've Stolen a Pizza My Heart (Substellar Studio) – (Cost: $4.45) You probably love pizza and you should love your spouse so… this seems like the perfect card.

48. You R2 Cute (White Rose Writers) – (Cost: $2.74) Star Wars fans R2 excited about this card idea.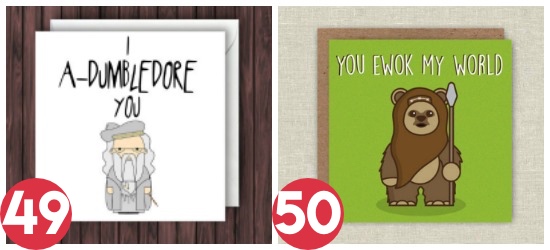 49. I A-Dumbledore You (The Dandy Lion Designs) – (Cost: $4.00) And we can't forget our Harry Potter fans with this Dumbledore Card. P.S. This designer has lots of cards like this. They are all clever and it was hard to select just one to share!

50. Ewok My World (Magically Crafted Shop) – (Cost: $2.45) Finally, more Star Wars. This one was too cute not to share. Ewoks are the cutest.
So many options, right? The hardest part will be choosing one. And these are just cards! Here at the Dating Divas we have TONS of clever, witty and funny love notes like our printable Sticky Love Notes (normal AND sexy version!) and our Candy Bar Love Notes.
Which one is your favorite card? Which one would give your spouse a good laugh? Comment below to share with us!