Love Note Easter Messages
A simple little DIY craft that your spouse will love. These chalkboard eggs are the perfect grown up way to celebrate easter. Write your love message on eggs and present to your spouse on Easter.
EEEK! The cat is out of the bag and it's time for me to admit that I am having a little affair… WITH CHALKBOARD PAINT!  To say that I am in love with chalkboard paint, prints, crafts, etc. is an understatement! I'm sharing a little of my crush with you today!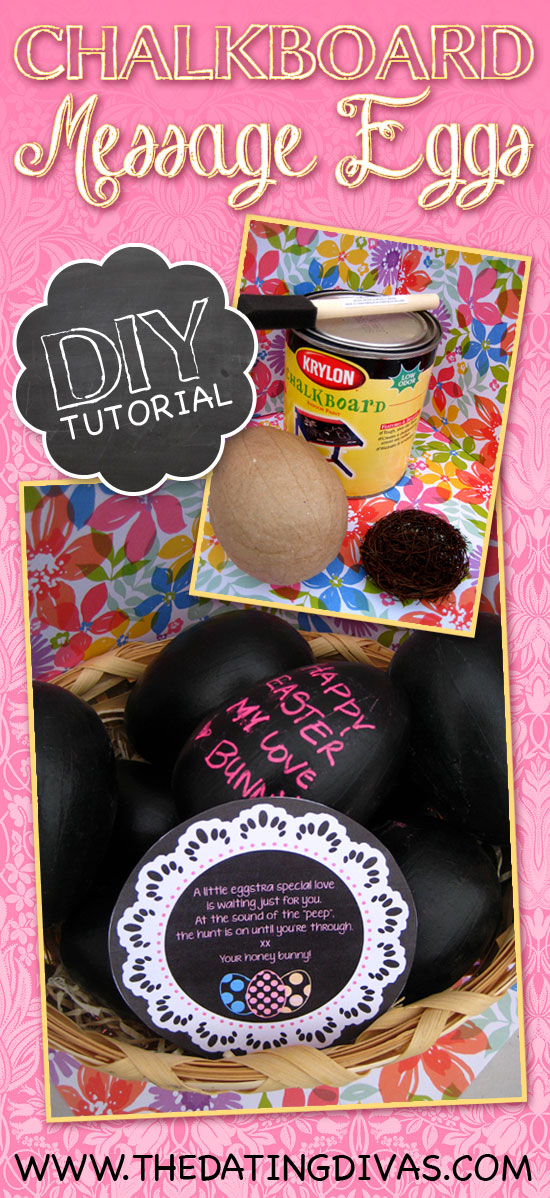 Disclaimer: This post contains affiliate links. To learn more about 'em, click here. 
These message eggs are sooo much fun, darling, super easy to make, and perfect for a special occasion like Easter! If you're like me you're going to use these all year round because they are that fun!  Best of all, these can be reused year after year, too! Ready to learn how to make these?! Of course you are, so let's jump right in.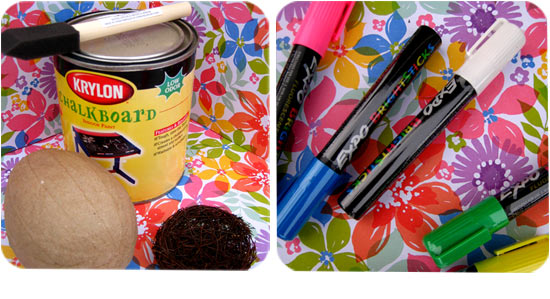 Materials Needed:
The best thing about this list is that you probably have some of these items already on hand! Take a peek at the links below, and get ready to purchase my favorite and least expensive picks!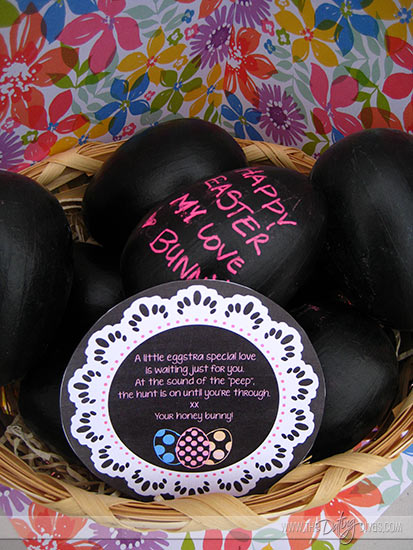 DIY Message Eggs
Making your eggs is going to be easy peasy! First paint your eggs, follow the instructions on the paint can for the drying time and number of coats needed. I painted my eggs twice, just so you couldn't see any traces of the brown paper mache peeking through. Once all the eggs are dry, write cute, sexy, fun, romantic messages or doodle on the eggs using the liquid chalk markers. I like the liquid chalk markers because they have a fine point tip, the message stays put until erased, and the colors are more vibrant than regular chalk.  Once you try them, you'll never go back!
Printables
We can't just stop there, right?! These darling chalkboard eggs when paired with these lovely printables, will add that eggstra special touch to your Easter or anytime gift! A huge thank you to Whimsicle Design Studio for rocking these, I just love her! Check her out and you will see just how amazing she is! There are two printables in this pack, one with a lovey dovey poem and one blank. You can either use the cute poem that leads to a hunt or fill in the blanks to write the perfect message for your sweetie!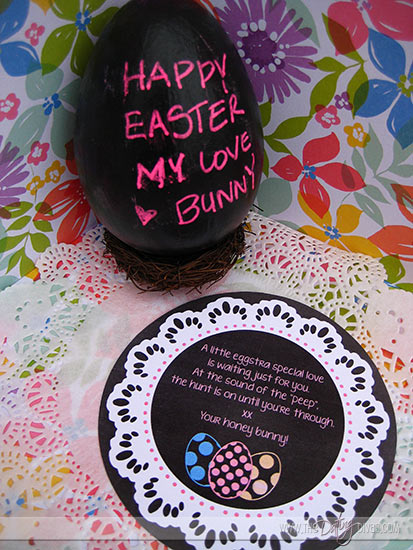 Eggstra Special Love
Maybe you're mind is ticking and you are thinking of ways to surprise your honey with these adorable eggs and printables. Call it your lucky day because I have a few rockin' ideas to help you with your surprise.
Breakfast Delight- Give the "Hunt Is On" printable or your customized printable to your honey with a scrumptious breakfast in bed. Take a peek at A "Hearty" Breakfast for a cute and easy idea that your honey is sure to love!
Egg Hunt- On the day of the hunt, hide the message eggs around the inside of the house, your honey's car, inside their favorite cereal box, in their underwear drawer, around a park to discover during a stroll, or in your backyard. At the start of the hunt give your sweetheart an empty and Darling Basket
 with the hunt printable. Be sure to take pictures to record their surprise along the way!
Impromptu Surprise– Maybe you want to surprise your honey in a subtle way. Subtle surprises, that happen out of the blue, are my sweetie's favorite. To pull this off you will need a Birds Nest
, a basket, and a lovey dovey note written on the blank printable. Draw these impromptu surprises out over a week. Write a message on one egg, place it in the nest, and leave it somewhere your darling is sure to find. Places could be on top of the bathroom counter, in the driver's seat, in the egg container in the fridge, on a pillow on your bed, on the book shelf, or on top of the remote control. When giving your first egg leave an empty basket next to the egg with hints of more eggs to come, or leave an empty basket next to the night stand on their side of the bed.
Lovin' Yo Hunny Bunny- I like to end my surprises with a little bit of romantic fun! If you are like me then you are going to love this idea! Add a little sexy twist to your message eggs by filling up a basket with sexy goodies. Write flirty, sassy, romantic, or sizzling messages on the eggs. These message eggs could also be used as sexy coupons for special bedroom treats that can be fulfilled all month long. Take a peek at Lovin' Yo Hunny Bunny for more steamy ideas!
I *heart* it when a craft turns into a special surprise for the one you love! Makes all the hard work worth it…Alright these aren't that hard but your sweetheart doesn't need to know that! lol Enjoy surprising your hunny bunny and Happy Easter!!!
Chalkboard Message Love Notes
Printables Designed by Tasha @ Whimsicle Design Studio Exclusively for The Dating Divas