Valentines Box Ideas
It is that time of year again. The time when children in schools everywhere set out their carefully crafted Valentine box and anxiously await Valentine cards from their classmates. And candy. Who are we kidding? What they are really anxious for is that candy! Treats galore and sweet notes from their classmates (hopefully their crush leaves them a special one!) all housed in that perfect box that represents their interests and their creativity. They all want that unique box, but where to start? Start here! We have collected the best Valentines box ideas from the internet to help at least make the inspiration side of things easier!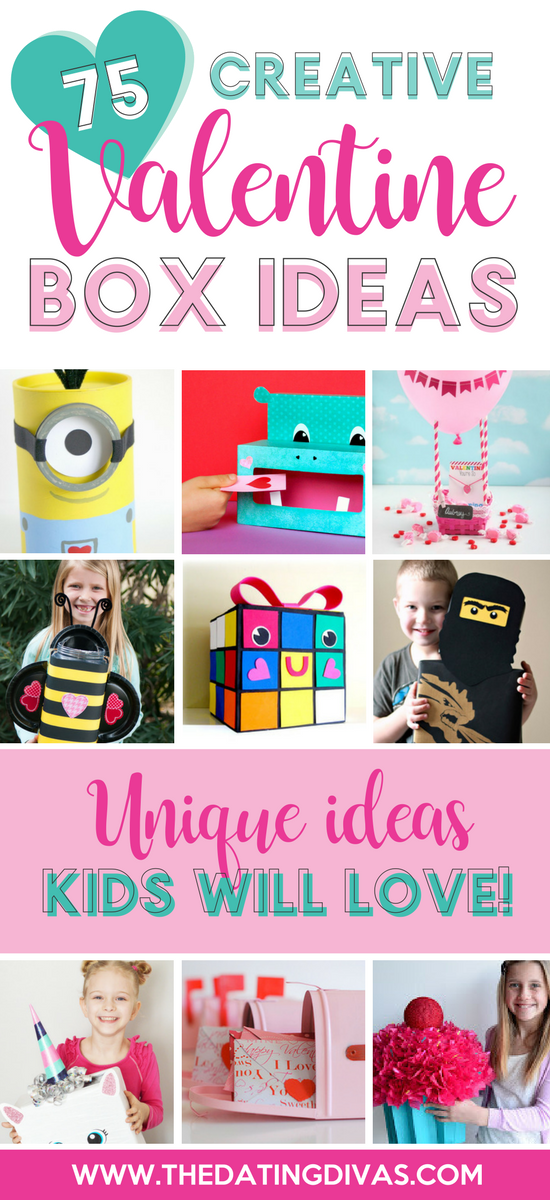 Disclaimer: This post contains affiliate links. To learn more about 'em, click here.
Is it just me or are these Valentine boxes getting more and more elaborate each and every year? Right? Blame Pinterest, but then thank Pinterest because it is likely what brought you here – to the most amazing collection of Valentine box ideas that you will ever need. 75 super creative Valentines box ideas to take all the work out of coming up with a creative idea AND making your little one proud!
We have:
Basically, we have got you covered! All of the Valentines box ideas include a link back to the original source and many include tutorials to help you recreate the same look!
Super Easy Valentine Box Ideas
Just because you want to simplify, does not mean you need to sacrifice creativity or cuteness. If you are a mom who is short on time but high on creativity, then you've come to the right place. Here are a few Valentine boxes that shouldn't require too much work, but are still winners! And the best part? Your kiddo will never know you spent no time at all on their Valentines box. If there's one idea you get from this post, this should be it! Save these ideas on your Valentine's Day Pinterest board RIGHT NOW!
1. Bullseye (Homemade Interest) – This idea is right on target! It is simple to put together and cute.

2. Valentine Jail (A Girl and a Glue Gun) – This one won't require too many supplies and the labor is mostly cutting and gluing.

3. Monster (Giggles Galore) – Convert a tissue box into an adorable Valentine monster.

4. Rubiks Cube (Peppermint Plum) – This idea is super cute and easier than you would think! Get any square box and add colored squares to the sides!

5. Penguin (Mommyapolis) – A cereal box and some colored paper. Boom—done!

6. Shark (Christian Book and Toys) – Baaaaabyyyyyy shark, duh duh duh duh duh, baby shark duh duh duh duh…. It doesn't get any easier than this, you can BUY this Valentine box online! No crafting required at all!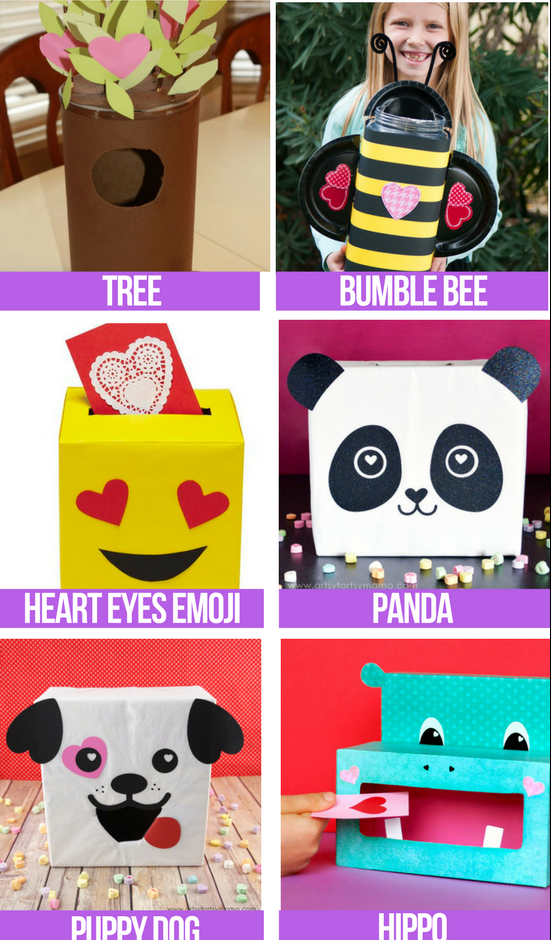 7. Tree (Make It Do) – I would never have thought to make a tree, but with the right container this would be no problem to whip up at all!

8. Bumble Bee (Life With Fingerprints) – What a smart idea to use paper plates!

9. Heart Eyes Emoji (Real Simple) – Another tissue box idea with a total modern flair!

10. Panda (Artsy Fartsy Mama) – Simplicity is sometimes the cutest! Look at those heart eyes!

11. Puppy Dog (Artsy Fartsy Mama) – How cute are those little heart-shaped ears?

12. Hippo (Fiskars) – This hippo box is totally doable and different too! Just grab a tissue dox and some craft paper!

The Most Creative Valentine Box Ideas Out There
Ok, calling all creatives! If you want to really knock their socks off and win "mom of the year", listen up! We searched high and low on the interweb to find the most creative Valentines box ideas out there. If time, effort, energy and maybe even a little bit of money are no big deal, PIN THIS RIGHT NOW! These will likely require significantly more effort but are totally worth it for that "wow" factor!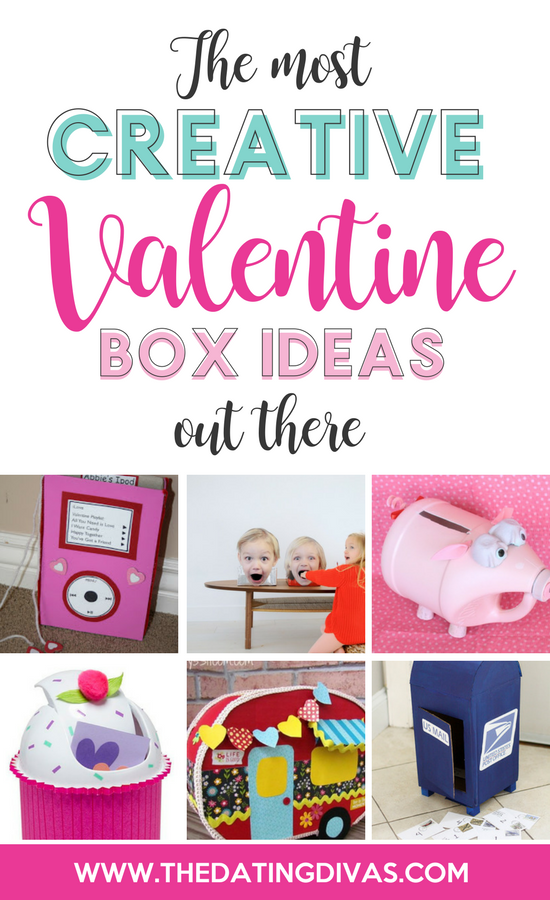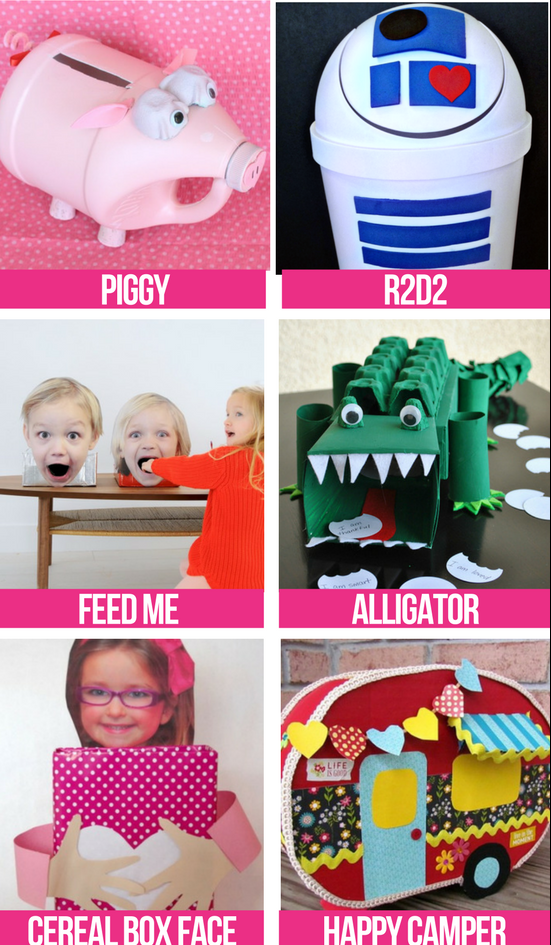 13. Piggy  (Giggles Galore) – This little piggy was made out of an old Clorox bottle. So clever!

14. R2D2 (The Joys of Boys) – A white trash bin with a swinging lid? How do people come up with this? Pure genius!

15. Feed Me (Small Fry) – Enlarge a photo with your child's face and cut our their mouth. This post includes all the details to create your own!

16. Alligator (Crayon Box Chronicles) – How cool is this? Never have a boring Valentine's box again! With just an egg carton and some toilet paper rolls repurposed into this really cool reptile.

17. Cereal Box Face (Meaningful Mama) – Another fun one with your child's face. How unique!

18. Happy Camper (Suzy's Artsy-Craftsy Sitcom) – Whoa. Someone went all out with this one! So cute and so creative!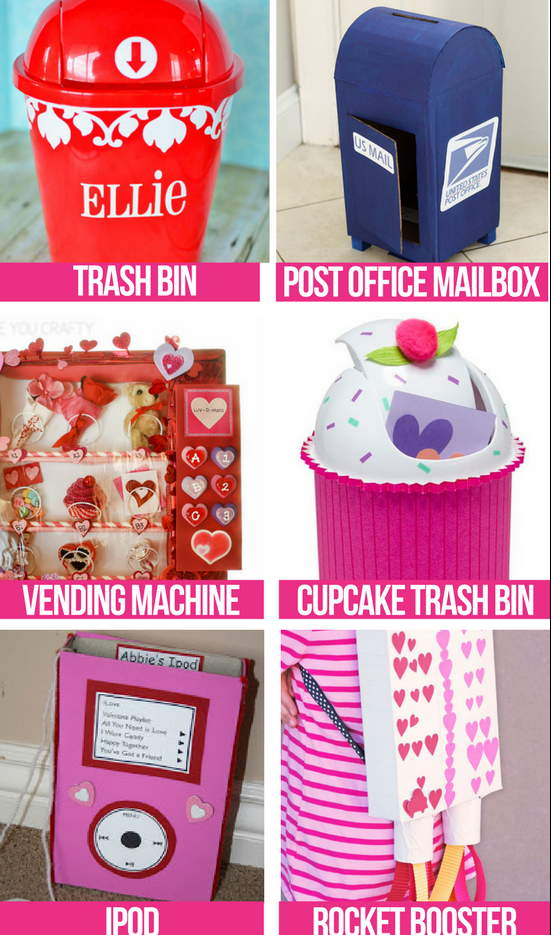 19. Personalized Trash Bin (U Create) – If you have access to a vinyl cutter, this would be a fun way to personalize a box.

20. Post Office Mailbox (Little Red Window) – They really took MAILbox literally with this post office mailbox replica.

21. Vending Machine (Orange You Crafty) – This one has so many details to it, it is worth a click. People are so creative!

22. Cupcake Trashbin (Real Simple) – Mind is blown with this idea. A swinging lid trashbin turned cupcake. So cool.

23. iPod (Mommy Lessons 101) – You could really have a lot of fun with the playlist on this one.

24. Rocket Booster (One Creative Mommy) – Here is a box that they could wear to school, not just carry it. Maybe it could even be repurposed as a dress-up toy later.

Valentine Boxes For Boys
For all of the boy mamas out there – not all valentine boxes are cutesy hearts and pink! In fact, some of the best ones aren't that at all! Here are some Valentine box ideas for boys that are mom-approved, and heck most girls would totally love, too! And what's even cooler is that they can be repurposed for later, too! Use them as cute decorations in their room or a fun gift box at the next birthday party. I mean… take a look at that Pikachu Valentines Box… my kiddos would LOVE to have that in their room!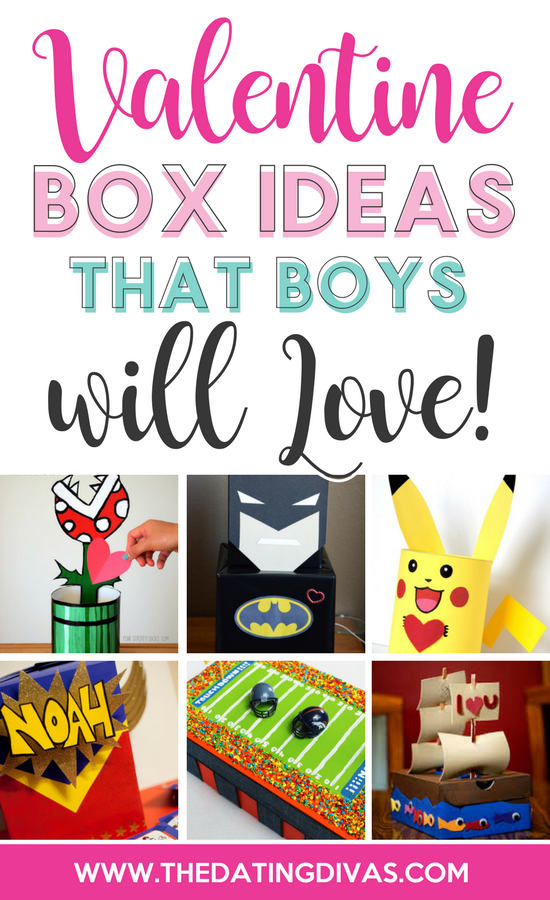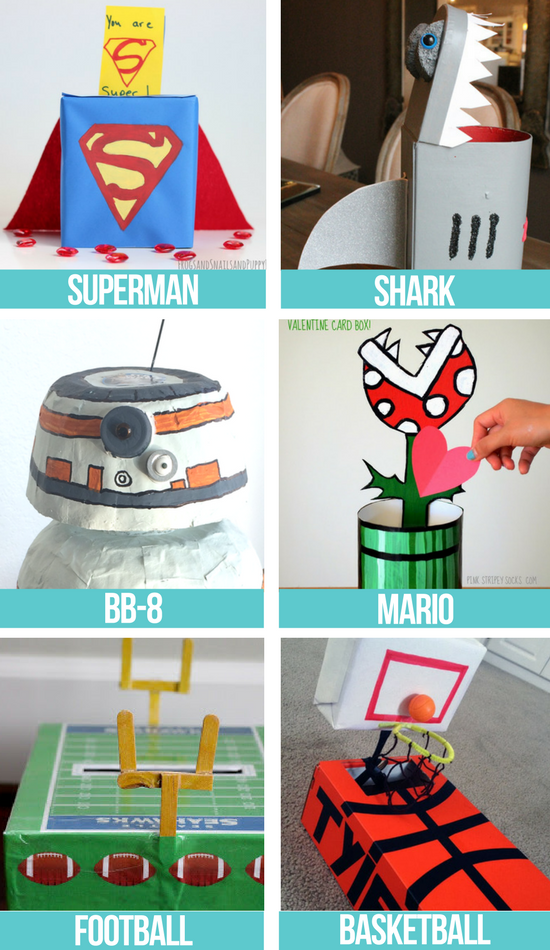 25. Superman (Frogs and Snails and Puppy Dog Tails) – What little boy doesn't love a good superhero theme? And Superman is a classic.

26. Shark (Paper Lust) – I love the added thrill of putting your hand in the shark's mouth to drop off the card!

27. BB-8 (Bandit Lifestyle) – Anything Star Wars is #1 going to be popular and #2 never gonna get old.

28. Mario (Pink Stripey Socks) – For your favorite little gamer—this one is a classic!

29. Football (The Contemplative Creative) – If your little guy is totally into football this is a really fun way to do a football theme.

30. Basketball Hoop (It's All About Ty and Ashlee) – For a little boy that loves the game of basketball, this one is simple but fun!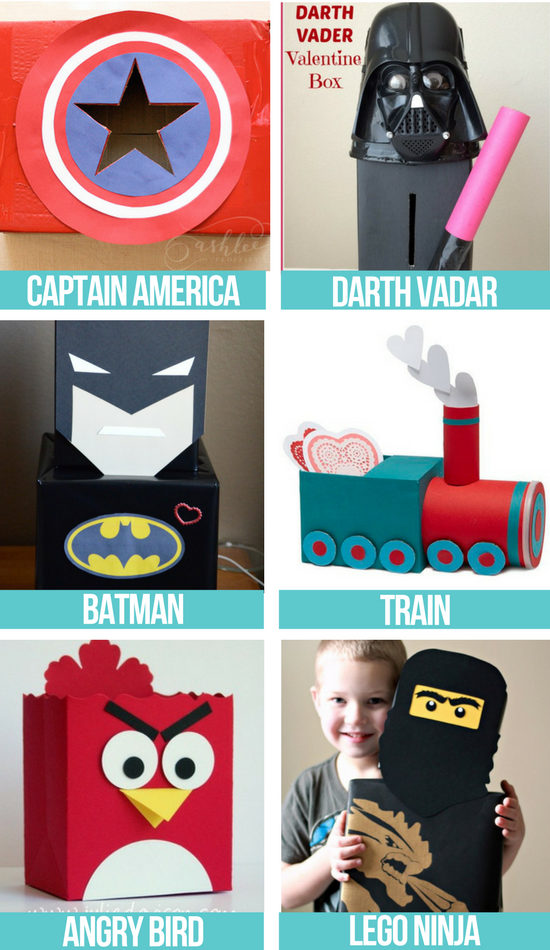 31. Captain America (Ashlee Proffit) – The Captain America symbol is sure to be recognized and not too hard to make!

32. Darth Vadar (Foster 2 Forever) – I always love me a good villain and no one tops Darth Vadar! What color lightsaber would your kiddo choose?

33. Batman (Sweet Paper Trail) – You can't go wrong with Batman!

34. Train (Real Simple) – Most boys love trains. I love the detail of the hearts coming out like smoke.

35. Angry Birds (Julie's Stamping Spot) – This post has not one, but several of the Angry Birds used for Valentine boxes.

36. Lego Ninja (Just a Girl and Her Blog) – Inspired by the movie, this is a fun idea!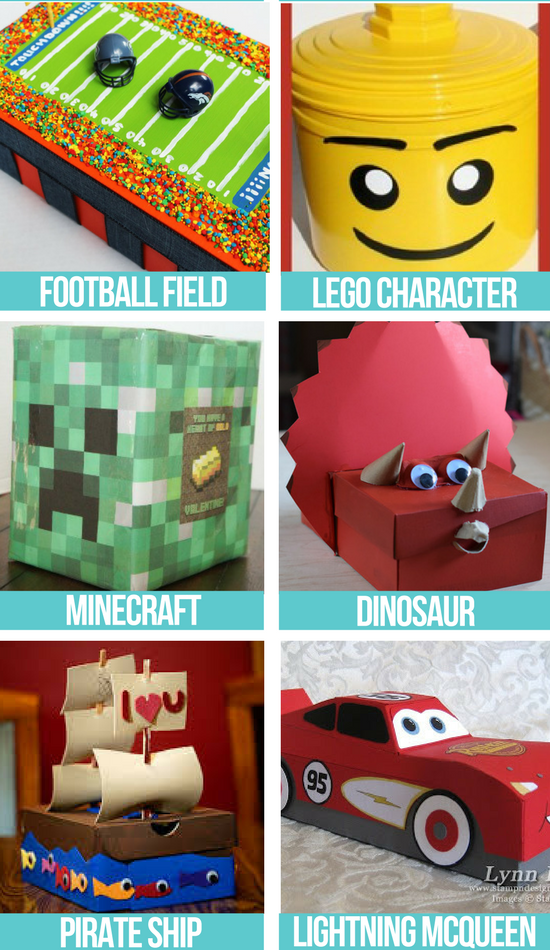 37. Football Field (Worth Pinning) – Another, more colorful, football field for the kid that loves the game!

38. Lego Character (ObSEUSSed) – This Lego character box is made out of a large red vine container. So creative!

39. Minecraft (Rays Of Bliss) – If your little guy loves this game, this might be a great one to choose!

40. Dinosaur (Adventures of Mel) – Here is a fun way to do a dinosaur valentine box. I love the little horns.

41. Pirate Ship (Artistic Expressions) – This might be my favorite one for the boys! The masts add so much visual appeal and who doesn't love pirates?

42. Lightning McQueen Race Car (Stamp-n-Design) – Whoever made this one definitely put a lot of time and effort into this intricate depiction of this famous character from Cars.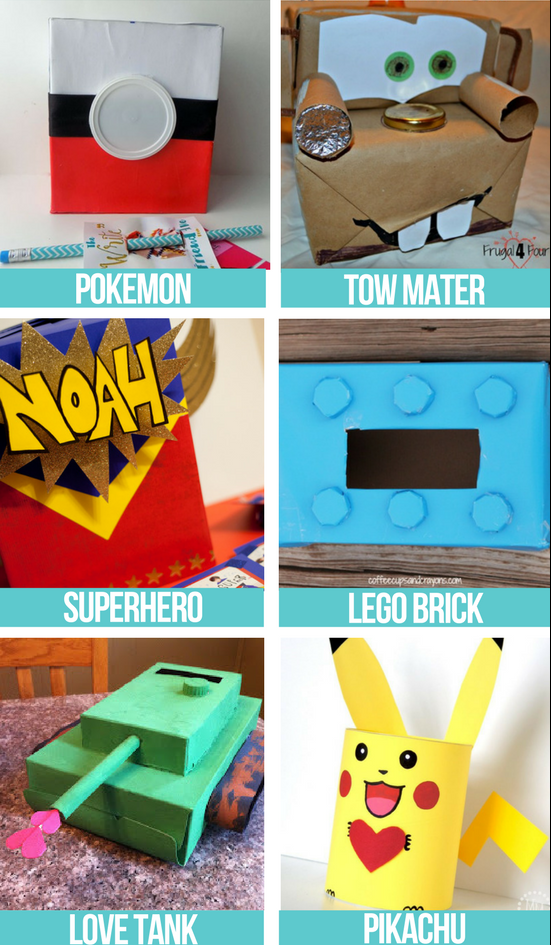 43. Pokemon (DIY Adulation) – This one is super simple but would be recognized by all. If you are going for simple – look no further!

44. Tow Mater (Frugal 4 Four) – Look how clever they were with Mater! They even included the detail of one headlight!

45. Superhero (Rhonda Elm) – Boys love the idea of being a superhero. This post's idea includes a generic superhero look and you can personalize it with your child's name.

46. Lego Brick (Coffee Cups and Crayons) – You may hate stepping on them, but it makes for a creative (and easy to make!) Valentine box.

47. Love Tank (Show Tell Share) – A super manly box with a sweet flair! I love the heart ammo!

48. Pikachu (The Scrap Shoppe) – Just look at that cute face! I would choose you, Pikachu!
Valentine Boxes For Girls
Let's hear it for the giiiiirls! For the girly girls out there – the pink overload and the cuteness are about to get real. We are NOT holding back on this one folks! We're talkin', a Trolls Valentine box, a unicorn… there's even cupcake Valentine box! Check out these super adorable boxes and better yet, pin them for later so you have ideas for years to come!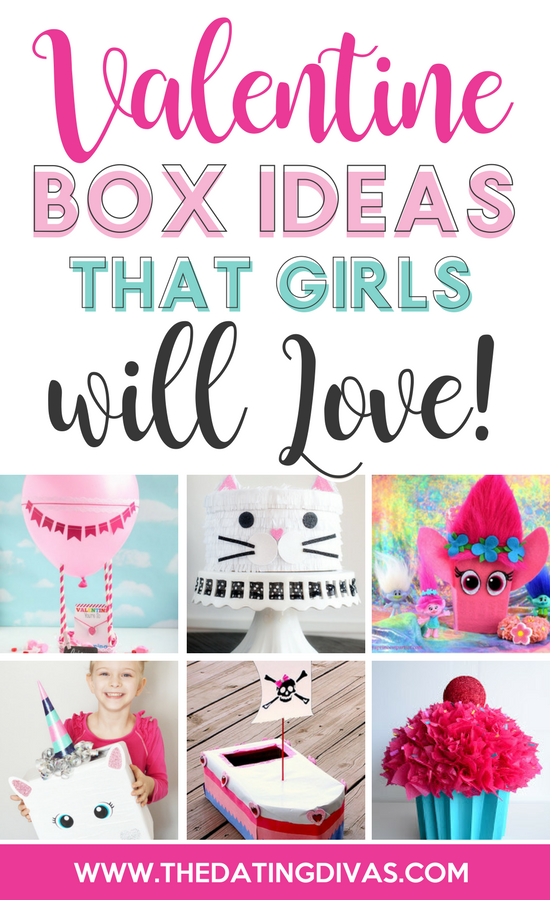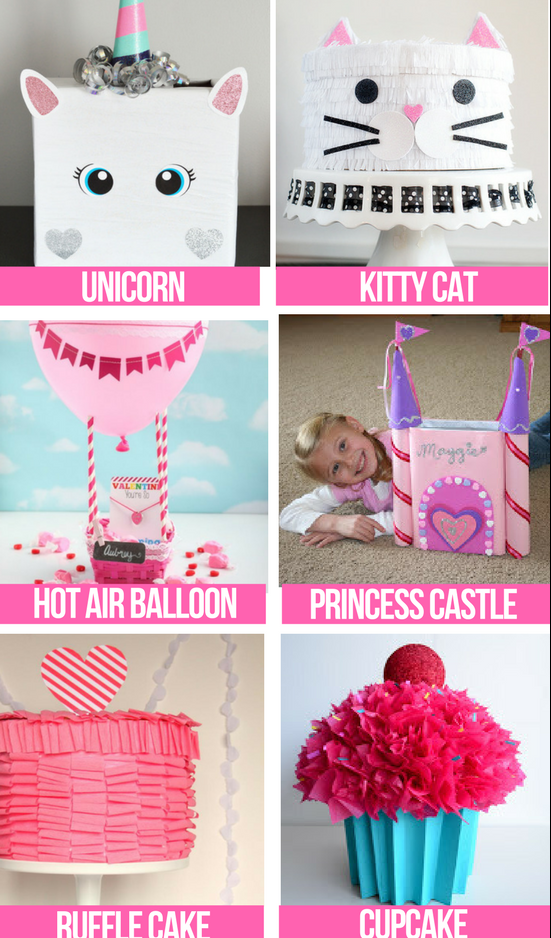 49. Unicorn Card Box (Arsty Fartsy Mama) – So cute. Just search "unicorn valentine box" and the results are magical. I loved this one for its simplicity.
50. Kitty Cat (Pretty Plain Janes) – This is the cat's meow. I love everything about this one, especially that it is on a cake stand.

51. Hot Air Balloon (Giggles Galore) – All the heart eyes for this one! This one is cute and unique!

52. Princess Castle (Mommy Lessons 101) – There are so many things you can do with a castle box! You can personalize it for your own little princess.

53. Ruffle Cake (Craft That Party) – A crepe paper masterpiece! This is so clever and cute!

54. Cupcake (Adorn Event Styling) – A bucket, some styrofoam and tissue paper make up this darling cupcake!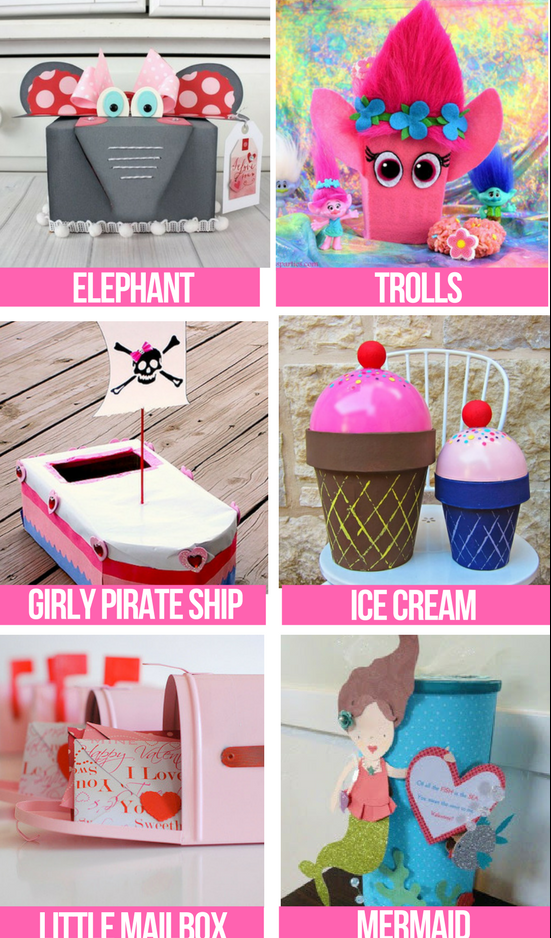 55. Elephant (Scrapbook & Cards Today) – I love the use of the trunk to "open" the box. A very fun idea!

56. Trolls Poppy (Made By a Princess) – Trolls are super popular right now and this Poppy party favor would totally work for a cute Valentine box.

57. Girly Pirate Ship (One Creative Mommy) – Yes, that pirate flag's skeleton has a pink bow. It totally adds some girly flair to the pirate ship.

58. Ice Cream (Morena's Corner) – This mailbox is just delicious!

59. Little Mailbox (No Biggie) – A traditional mailbox is a simple idea that is also super cute!

60. Mermaid (A Little Sparkle) – Every girl loves mermaids. You could easily make this with some paper and an oatmeal container.

More Valentine Box Ideas
And, just because we couldn't resist – here are just a few more of our favorite valentine boxes. You can never have TOO many inspirational ideas, am I right? How cute is that emoji Valentine box??! Or the panda, or the robot… How are you ever going to choose?!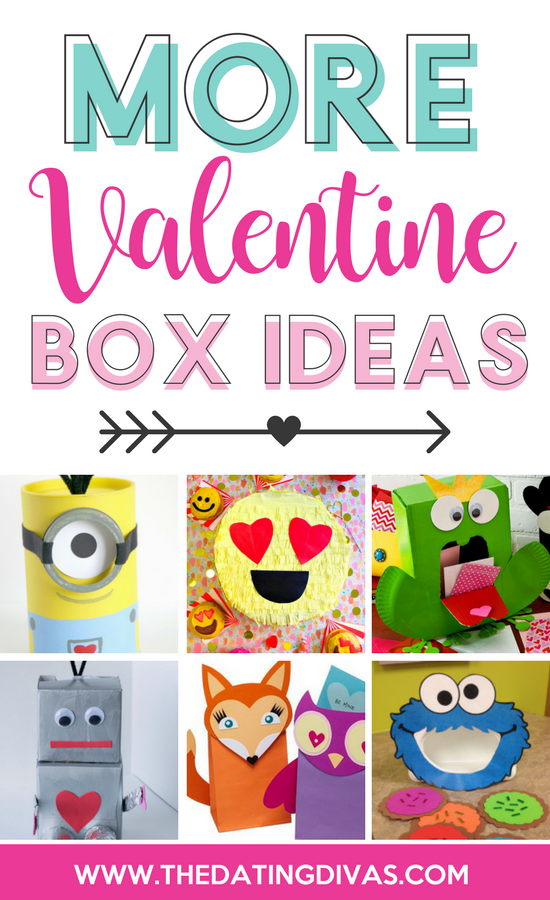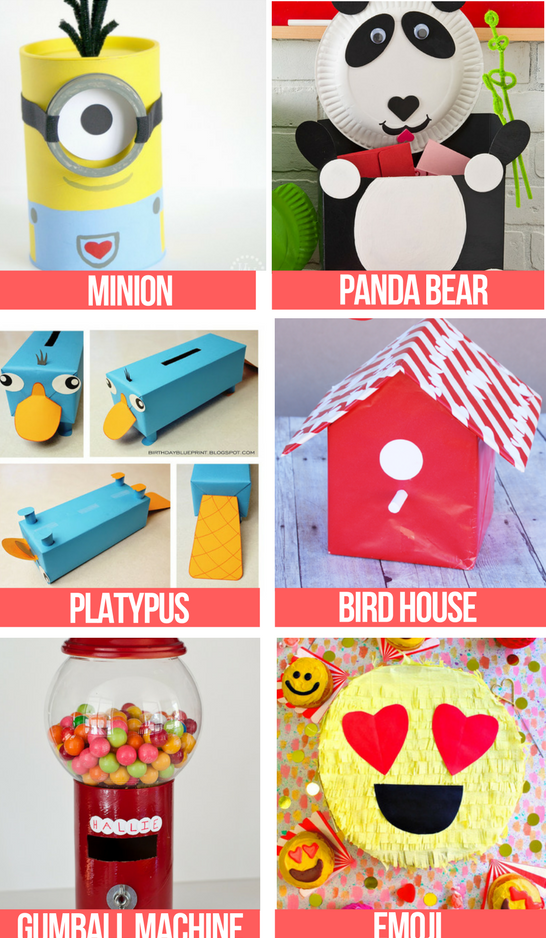 61. Minion (The Scrap Shoppe) – There are a lot of minion box ideas out there, but this one was my favorite. They totally captured the lovable character!

62. Panda Bear (Plaid ) – I love how this one has you feed the panda bear's belly with the cards. And using a paper plate? Genius!

63. Perry the Platypus (Birthday Blueprint ) – This one is pretty clever and not too tricky to replicate. Those raised feet are so fun!

64. Bird House (One Creative Mommy) – How cute is this? The roof actually lifts for the cards to go inside.

65. Gumball Machine (Life With Fingerprints ) – I love all the details on this one. So creative!

66. Emoji (Brite and Bubbly) – This is technically a piñata, but would make such a cute valentine box – especially for older kids.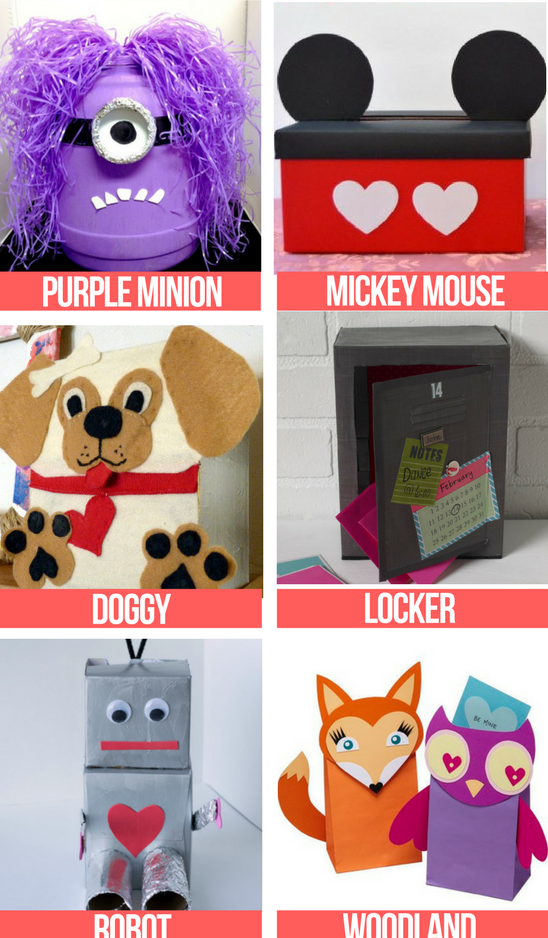 67. Minion (Purple) (The Joys of Boys) – How fun is that hair? It is purple Easter grass! Fun!

68. Mickey Mouse (Mouse Ears Mom) – Anything Disney is a win in my book! This post includes a Mickey and a Minnie box idea!

69. Doggy (Belle of Dirt) – A lot of boxes use paper, but I love how this one used felt. Great idea!

70. Locker (Plaid) – This could be a really fun idea for older kids!

71. Robot (Glue Sticks and Gumdrops) – Robots are always a popular idea for a Valentine box. There are so many ways that you can customize it based on what you already have around the house.

72. Woodland Creatures (Real Simple) – Made from a paper bag, these animals are adorable!


73. Mike & Sulley Monsters Inc. (Disney Family) – This would be so cute to do as a pair. Either for your two kids or if your kid wanted to buddy up with a friend. So fun!

74. Cookie Monster (Sunflower Story Time) – This idea is technically a cookie toss game, but I think it would be perfect for a Valentine box!

75. Frog Prince (Plaid) – Notice that the tongue flaps down to reveal an opening! So clever!
Are you ready to rock that Valentine's Day classroom activity or what? Send your kid with a stylish box that totally represents them and, most importantly, enjoy the time together working on the project. Do you need to save these ideas for later? Don't forget to pin them to your Pinterest board.
And for even more awesome Valentine's Day ideas for kids, check out our Kids Valentine's Ideas post! I especially love all of the gorgeous Valentine crafts!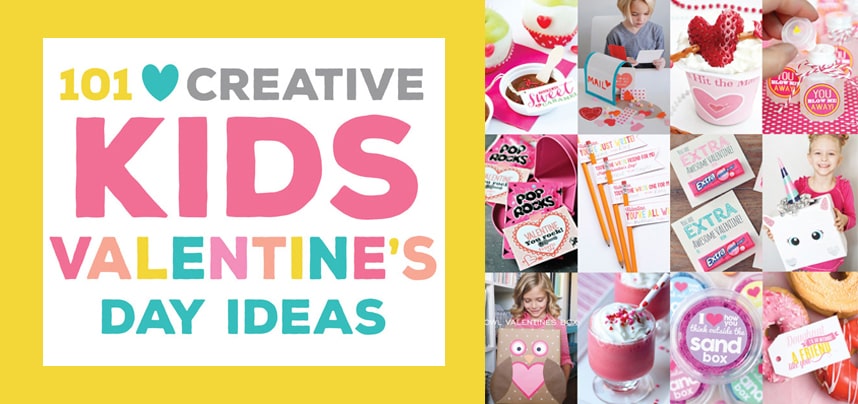 Happy Valentine's Day!  
SaveSave
SaveSave
SaveSave
SaveSaveSaveSaveSaveSave
SaveSaveSaveSave
SaveSave
SaveSave
SaveSave
SaveSave
SaveSave