Les Miserables Date- Dinner & A Movie
We are thrilled to be partnering up with Two Peas & Their Pod today! You are probably already in LOVE with Two Peas & Their Pod, but if they are a new site for you then you have GOT to go and check them out!!
Two Peas & Their Pod create (and share!!) recipes that are fresh, simple, and family friendly. They have more delicious recipes than you can believe – everything from vegetarian dishes, to sauces, to an incredible variety of cookies! We love that they are a husband-wife team and that they run this site together. What a fun marriage they must have thinking up and sampling each others tasty recipes all the time! You will not want to miss checking out their site!
Today is your lucky day, because we have teamed up with Two Peas & Their Pod to bring you a very special treat…
Dinner and a Movie!!!
There are few things better than a fun date with some tasty food!! You will love these great ideas we have for your next movie date at home and Two Peas & Their Pod have a delicious dessert to take your taste buds over-the-moon! Keep reading and get ready for a special night that is all planned for you!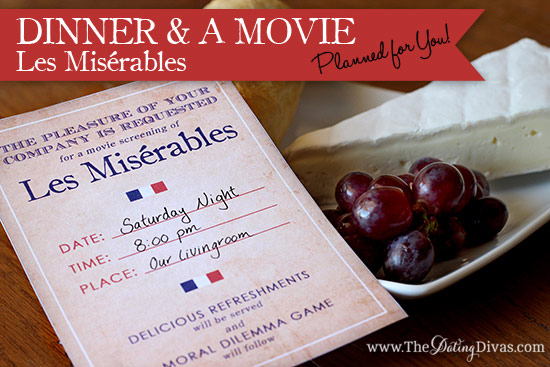 Disclaimer: This post contains affiliate links. To learn more about 'em, click here. 

We wanted to welcome in spring with some romance and somehow anything FRENCH just oozes romance. So, get your best French accent ready and enjoy a special night with your spouse!
The Movie
We LOVED the new Les Misérables
 movie that just came out on DVD starring Hugh Jackman, Ann Hathaway, and Russell Crowe. If you want to try out a different movie to go along with this date you could watch French Kiss
,
The Devil Wears Prada
, The Hunchback of Notre Dame
, or even The Da Vinci Code
. Anything with a bit of French flavor will work great!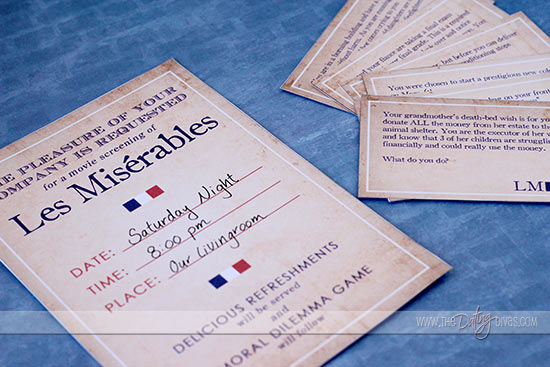 The Invite
Make your spouse feel important by planting this fabulous invitation our super-talented designer Tasha from Whimsicle Design Studio created for us. This beautiful free printable is easy to print and fill in with your own specific information.
The Date
This date is designed to be done in the comfort of your own home!  Just pick the version below that suits you & your sweetheart's current situation the best.
Limited Time AND No Sitter?
Say a sweet 'bon nuit' to your 'petit enfants' and once they are sleeping, snuggle up on your couch together and enjoy your show and delicious Chocolate Mousse from Two Peas & Their Pod.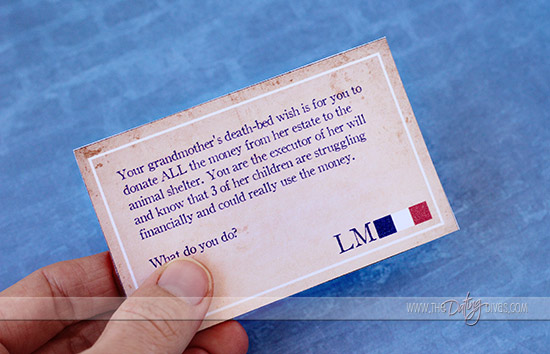 Got Some Extra Time BUT No Sitter?
Enjoy your show AND try out the Moral Dilemma Game that is another FREE printable designed by the amazing Tasha from Whimsicle Design Studio! Discuss how you would handle these different situations with your spouse. It will be fun to see what your spouse & you see eye-to-eye on.  If you really enjoy this type of game, you can hunt down the old-school board game Scruples to play on your next date! Enjoy your mouth-watering dessert from Two Peas & Their Pod while you think about how you would handle each situation.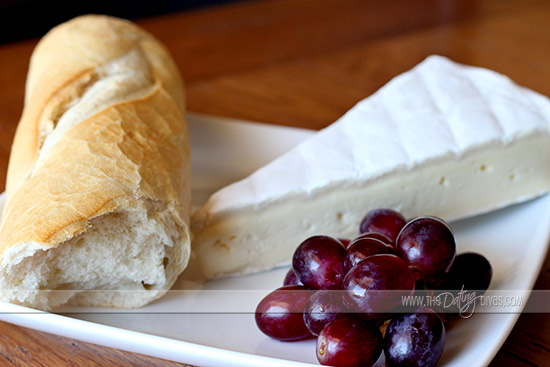 Got Extra Time AND A Sitter?
Picnic Time! Pick up some romantic French foods like grapes, a baguette, and of course soft cheeses to enjoy on the quiet grass together. Then head home for your movie and dessert.
A Little Later On…
I compiled a list of sweet phrases in French that you may want to try out on your spouse…
1. I love you.  ~ Je t'aime.  Or Je t'adore.
2. You make me the happiest person in the world. ~  Tu me rends la personne la plus heureuse du monde.
3. I want you to be with you forever. ~ Je désire passer ma vie avec toi.
4. You are my sun, moon, and stars. ~ Tu es le soleil, la lune et les étoiles.
5. May I kiss you, please? ~  Puis-je t'embrasser, s'il te plaît.
6. Your beautiful eyes melt my heart. ~  Tes beaux yeux font fondre mon cœur.
7. It is wonderful being married to you. ~  Se marier avec toi – quel plaisir.
8. May I hold your hand, please? ~  Puis-je prendre ta main?
9. My heart is so full of love it may explode. ~ Mon cœur est si plein – il risque à s'exploser.
10. Your passion for life thrills me. ~  Ta passion pour la vie m'excite.
The Food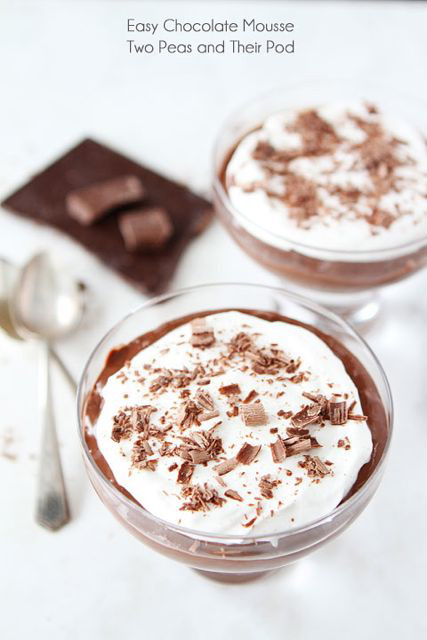 To get to the 'Dinner' portion of this Dinner and a Movie, head on over to Two Peas & Their Pod right now! You are going to love the delicious chocolate mousse they created JUST for this date.
Doesn't it look amazing?! My mouth is watering just looking at the picture!! Zip on over to their site and get the recipe and make sure to give them a little Diva love! 🙂
If you enjoy foreign-themed dates, then you will want to try Michelle's romantic post Je T'aime Hotel, Rebecca's Passport to Love, or Trips Around the World.
Or, for amazing delicious recipes that OUR husband's love, check out our Dating Divas Recipes Revealed Cookbook!