Festive Sexy Santa Date Activities
Is that a candy cane in your pocket, or are you just happy to see me?! This holiday season, don't forget to carve out some time for you and your spouse to turn on your Christmas tree… as well as each other 😏. If you've ever dreamt about playing Mr. & Mrs. Claus in the bedroom, you've come to the right place. We have put together the ultimate sexy Santa date night for two! A magical night that will allow you to tell Santa exactly what you want for Christmas and fulfill your spouse's steamy wish list!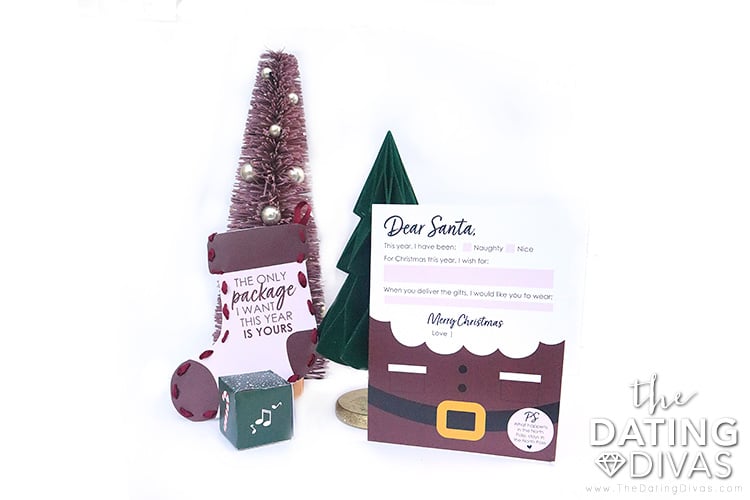 Disclaimer: This post contains affiliate links. To learn more about 'em, click here.
Sexy Christmas Date Night Printables
We imagine you're super excited to get to the sexy Santa details, so we'll keep this brief. Included in your FREE printables are:
Steamy "Christmas Wish" Letters for Him & Her
Spicy DIY Christmas Stockings
A Sexy Santa Dice Game
Without question, each of these items are deliciously festive and sexy. Keep scrolling for the full details and click that big pink DOWNLOAD button at the end when you're ready.
You will not want to miss the suggestive rules and requirements!
Steamy Letter To Your Santa
Go ahead, be naughty… it'll save Santa a trip! 😉 To begin prepping for your sexy Christmas date night, both of you will fill out a letter to your very own Santa Claus. In the letter, you'll describe exactly what you want for Christmas–in the bedroom, of course! You can tell your partner what you want from them intimately and what you want them to be wearing when they jingle your bells. After reading this, your spouse will be dying to get you out of that ugly Christmas sweater!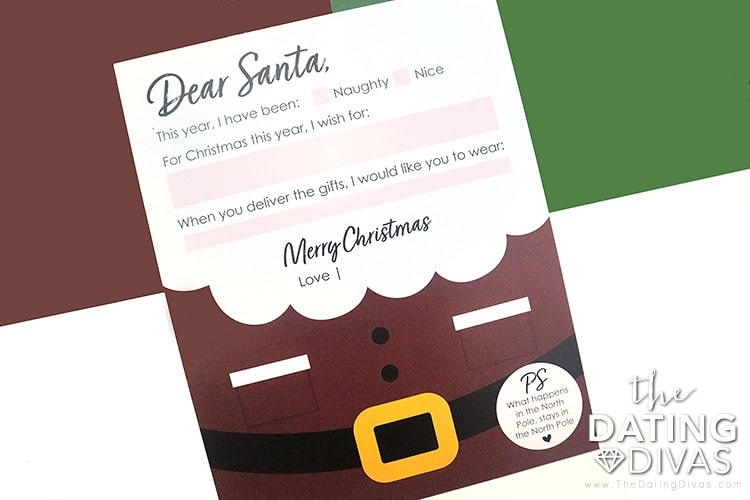 Spicy Christmas Stockings for Him and Her
After you each have finished your hot Santa letters, you'll need somewhere to stuff them for your partner to find! So we created these sexy printable stockings you can put together and hang up in your bedroom. Then, stick your steamy letters inside when you're ready and wait for your spouse to fulfill your wish list!
To make your prep super easy, we created a front and back so you can put together your own sexy Christmas stocking! Cut both pieces out, put them together, punch holes along the edges (leave the top open so you can stuff it), string some ribbon through, and then tie it off at the end! Oh, and there's a steamy stocking option for Him and Her!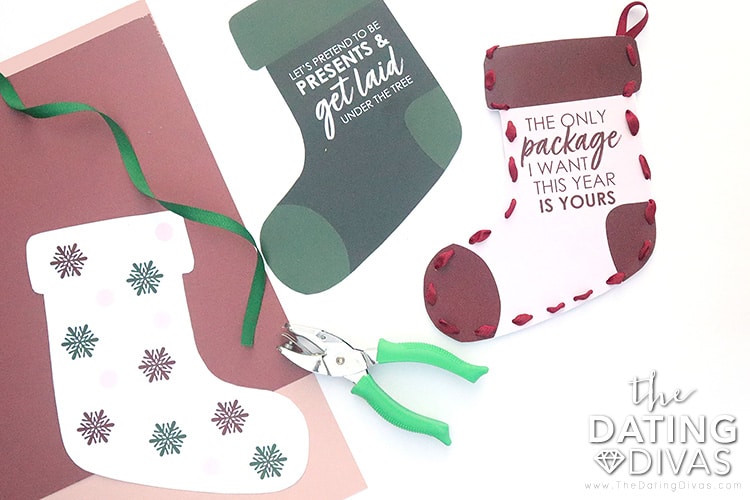 Sexy Santa Dice Game
To turn up the holiday spice for your sexy Christmas activities, we designed this Sexy Santa die for you and your spouse to use together!
Here's how it works: the die contains 6 "extras" that Mr. or Mrs. Claus must use when fulfilling their spouse's intimate wish list. Things like jingle bells, snow/ice, candy canes, Christmas lights, music, and a wildcard of Santa's Choice. Before you tackle your spouse's bedroom wish list, you'll roll the dice to see which option you get. Then, it's up to you to figure out how to incorporate this holiday-themed item into your sexy plans!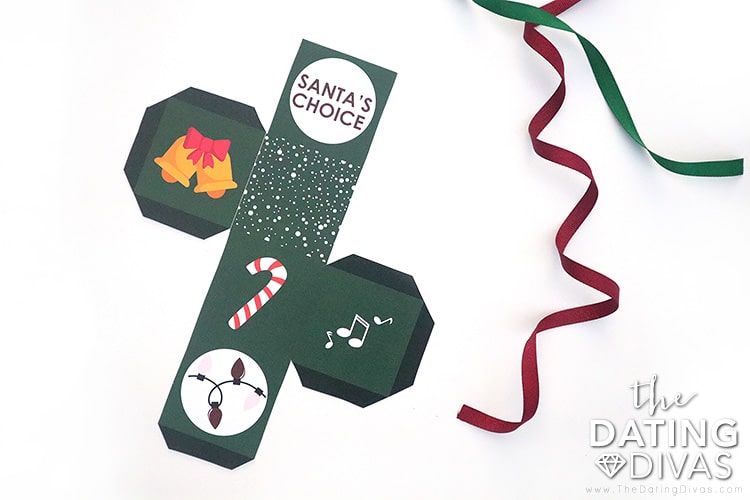 Sexy Christmas Lingerie
Well, if you're playing hot Santa and fulfilling some sexy Christmas wishes, it only makes sense to dress the part, don't you think?! So we've gathered some of our favorite sexy Christmas pajamas and outfit options for Him and Her. It's safe to say your spouse will never look at Santa Claus the same after seeing you in one of these! Ow, ow!
For Him:
For Her:
If you don't want to go full out with sexy Santa lingerie, or a sexy Santa costume, that's okay! Just add one of these Santa hats to your existing red nightgowns, boxers, or pajamas for some added fun.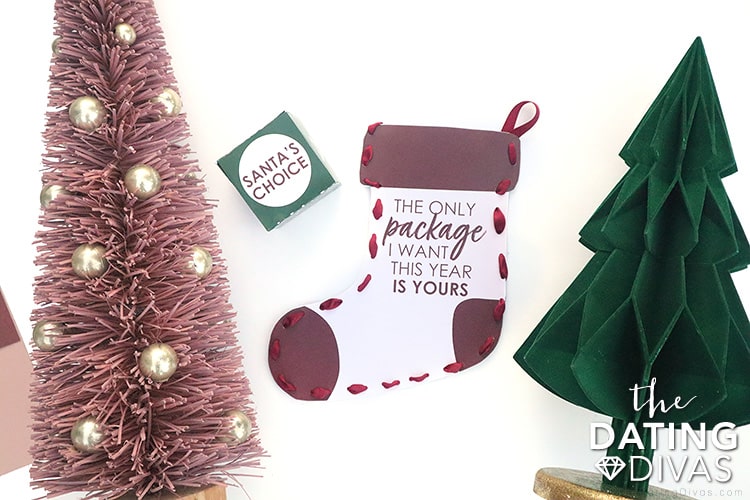 As if the holidays weren't tiring enough, we bet this steamy holiday date night will keep you both up and steal away some of those precious zzzs. But go ahead, plan your sexy Christmas at-home date night. Because Santa's lap isn't the only place wishes come true!
Looking for more sexy Christmas ideas? Check out our Jingle Bell Panties or our Sexy Secret Santa idea! All of these steamy ideas are guaranteed to make for a not-so-silent night!
Happy Holidays!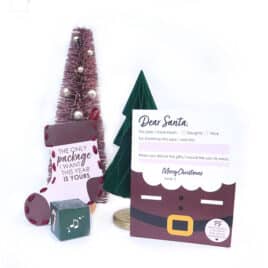 Sexy Santa Date
Printables designed exclusively for The Dating Divas by Courtney at Paperelli.com