Father's Day BBQ GRILL celebration
An outdoor grill and Father's Day … I mean, they kind of go hand-in-hand, don't they?! Just talking about Daddy's Day, and I can already smell the BBQ ribs, grilled chicken, and yummy pasta salad. It's the ideal Father's Day activity, in our opinion!
So, if you're planning on hosting a BBQ get-together this Dad's Day, we can help you make it one to remember! We have created a complete Father's Day "BBQ Grill" family experience that Dad will find flipping' great!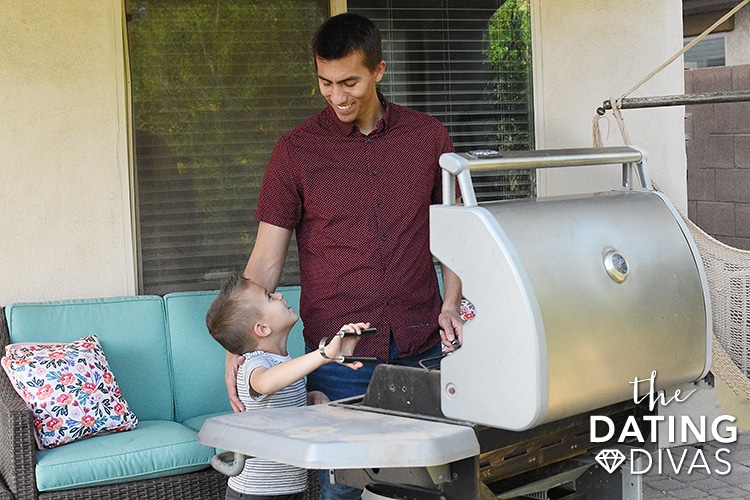 Disclaimer: This post contains affiliate links. To learn more about 'em, click here.
"BBQ Grill" Game & Gift
Dads deserve the best BBQ, don't they?! So, in order to give Dad the most memorable Father's Day EVER, we have put together a little bundle of things you can print, prep and whip up come Father's Day!
We have also included printable options for GrandDAD! Because your favorite grandfathers could probably use a little fun as well!
Take a look at the FREE barbecue grill printables below, and keep reading for a closer look at how to use them.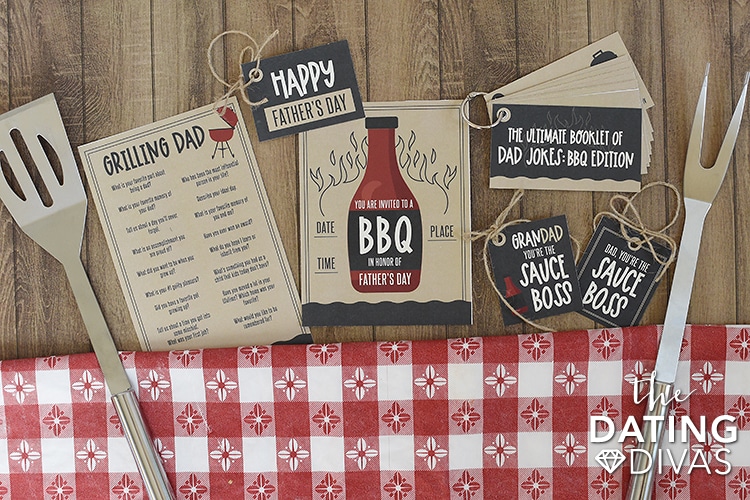 Invitation
We have created this un-grill-ievable invitation that you can use to invite Dad to the best BBQ celebration of all time! Just fill in the date, time, and place before you hand it over to the greatest Dad ever! If you're having a larger celebration with the whole family, you could even send one out to everyone that will be invited!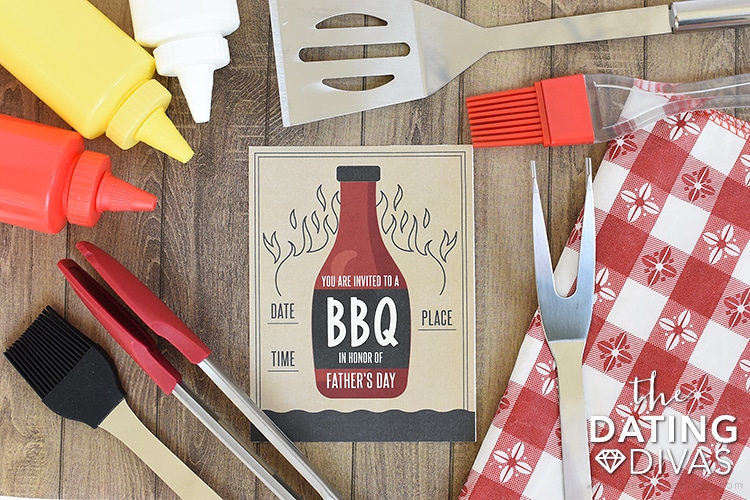 Grilling dad game
Okay, so usually, the honoree of the day wouldn't be the one cooking away for everyone in attendance. However, we all know that Dad probably won't be able to stay away from flipping burgers, searing steaks, and whipping up some BBQ ribs. But let's be honest, we probably wouldn't want it any other way! So, while Dad is busy firing up the outdoor grill and hanging around with the family, you can pull out the "Grilling Dad Game!"
"Grilling Dad" contains a series of questions that can be used to grill Dad in order to get to know him better! Everyone can take turns asking Dad one of the provided questions, and Dad will have to answer things like, "Tell us about a time you got into some mischief" or, "What do you hope I learn or inherit from you?" This would also be such a fun way to get to know GrandDAD!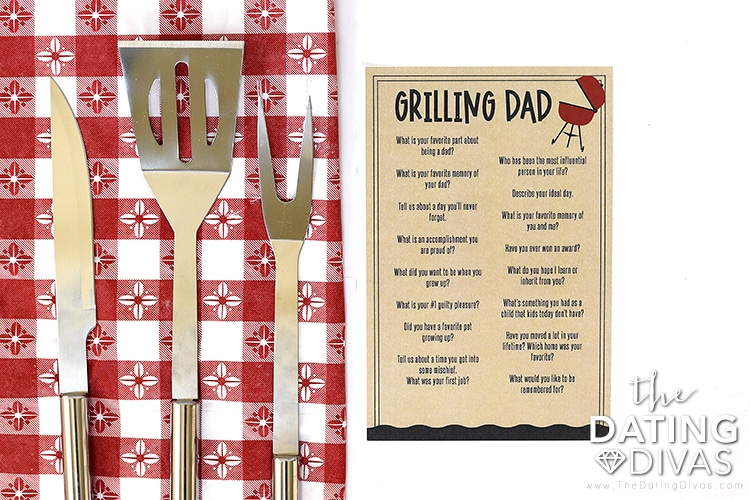 BBQ Themed gift tags
For Dad's special gift this Father's Day, you can give him the gift of some BBQ sauces or rubs! We have included some awesome little gift tags that you can tie and attach to the bottles and jars. If you're feeling the DIY route, just grab some mason jars, whip up these easy-peasy sauce recipes and tie on your tags! Whether you're gifting this to Dad or GrandDAD, they are guaranteed to love it!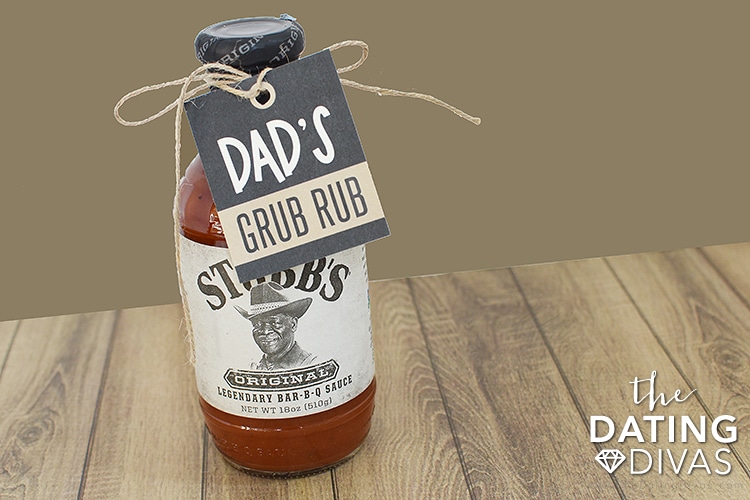 The Ultimate Booklet of Dad jokes
Alright, let's be honest here … who doesn't love a good Dad joke? Sure, maybe they're a bit cheesy sometimes, but you can't deny that they don't put a big 'ol smile on your face! We created this awesome little booklet of Dad jokes that are purely BBQ Grill-themed for you to gift to Dad along with the jars of BBQ sauces or rubs! Simply hole-punch the pages and use a little book ring to secure it all together. We created a title page for Dad as well as GrandDAD, so both men can enjoy the laughs!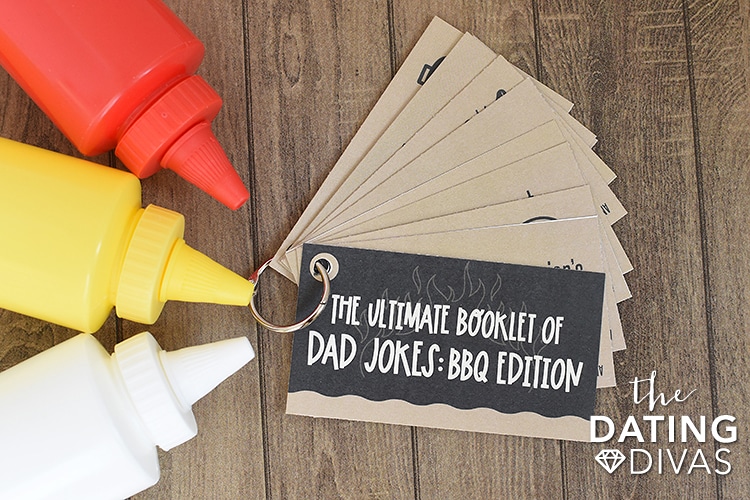 Nothing says love to a father more than some spoiling, treating, and surprising on Father's Day, especially when it comes to the barbecue grill! But be sure to check out our Father's Day archives to browse additional suggestions from our amazing list of gift ideas and free printables!
Happy Father's Day!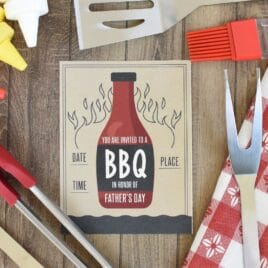 Father's Day "BBQ Grill"
Printables Designed by Courtney @ Paperelli Exclusively for The Dating Divas