St. Patrick's Day Punch Poster
Alright ladies – even if Valentine's Day is over, the lovin' does not have to stop! We can find any excuse all year long to bring some spice to the marriage. We have an idea for you that just might make St. Patrick's day the steamiest holiday of the year! Who knew? Over a year ago, Becca introduced us to the 12 Days of Christmas Punch Poster and we fell in love with the idea. Now, through Becca's inspiration we bring you a St. Patty's Day version: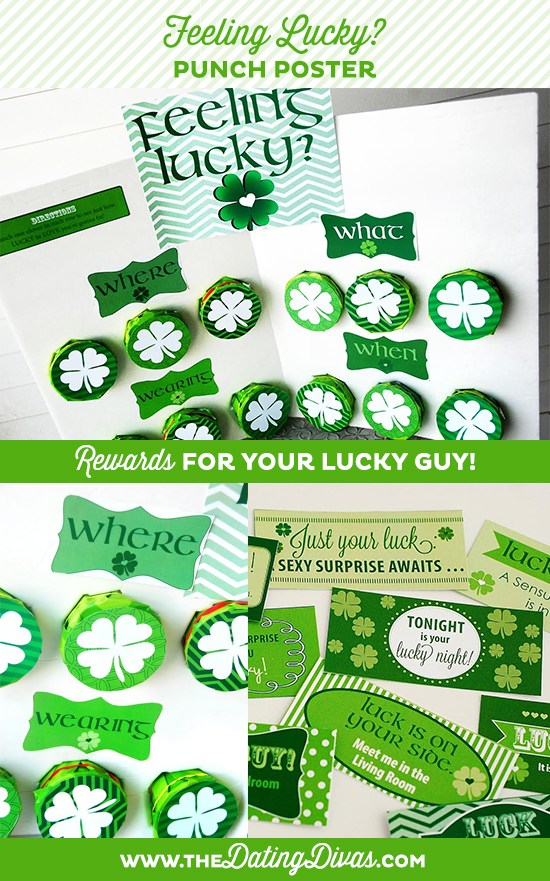 Disclaimer: This post contains affiliate links. To learn more about 'em, click here.

While the Christmas Punch Poster gives your spouse little sweets and treats, for THIS poster, YOU are the sweet treat! This suggestive gift takes it straight to the bedroom. After making the poster, your spouse chooses one of three options from EACH of the following categories:
What
Maybe a sensual massage is in store, an edible treat or perhaps a sexy surprise.
Where
Location! Location! Location! These different choices might mix up the routine a bit!
When
Maybe tonight will be his lucky night or maybe it will be a middle of the night surprise. If he is lucky he might not even have to wait.
Wearing
This will be left up to your own imagination. You can fill the cups with an intimate clothing item or just leave it empty (that will get the message across!)
There are lots of combinations, and with the adorable printables made by Leah from Leah Aldous Designs – everything is ready for you! AND depending on his lucky streak, this game could last several different nights . . .
So are you ready to try your luck? Are you ready to make your very own poster? It is fairly simple and fun to make – let's get started.
YOU WILL NEED:
Poster board OR foam board
12 plastic cups
Pencil
X-Acto Knife OR scissors
12 rubber bands
Green tissue paper or wrapping paper
Tape

Our printable Feeling Lucky? materials
HERE IS WHAT YOU DO:
For my poster I decided to use foam board so that it would stand up on its own. I used my scissors to create a slice down the center of the board. As I made my slice, I was very careful to only cut half way through the foam – not all the way through. After the slice was made, I bent the board at the sliced section and – voila!- it could stand up on its own!
Next, I took my 12 cups and placed them up-side-down how I wanted them on the board. I used my pencil to trace around the rim of each cup.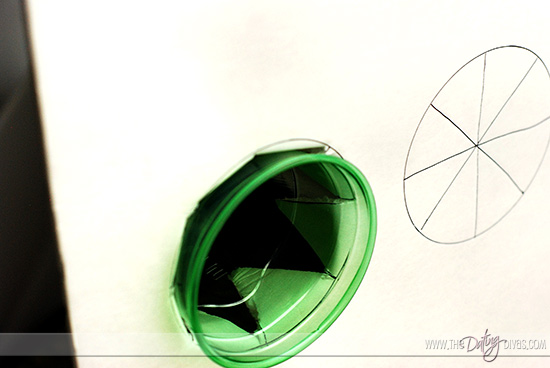 I then drew pie pieces in the circle (just like in the picture above) and used my scissors to cut along the lines. Make sure you don't cut around the circle – cut on the lines. You want those "pie pieces" to help hold your cup in place! When you are done place the cup in the hole you created and make sure it fits!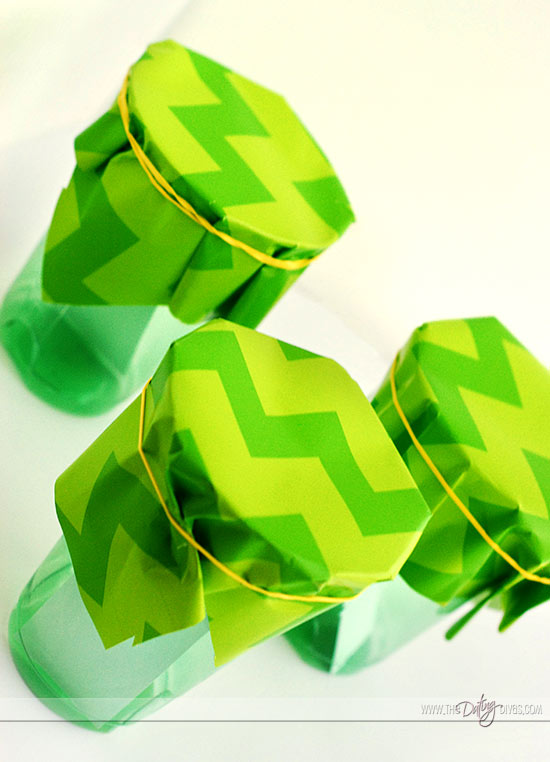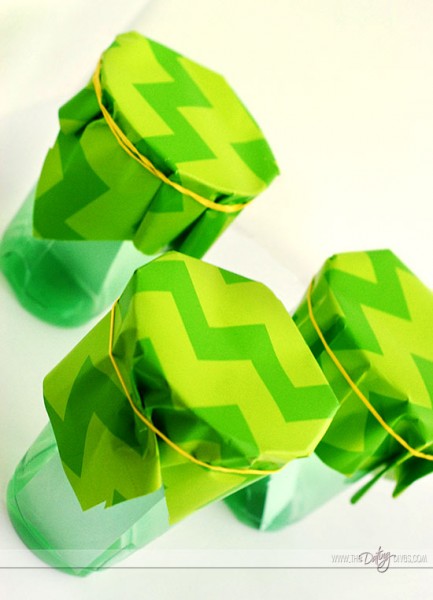 In each cup, place 1 of each of the Feeling Lucky printables cards inside. You will want to keep the cards together by type: The WHAT cards, the WHERE cards, and the WHEN cards. With the wearing cups – you can add in a little outfit suggestion OR you could always leave it empty. That says enough!
Place tissue paper or wrapping paper over each cup and wrap a rubber band around the rim.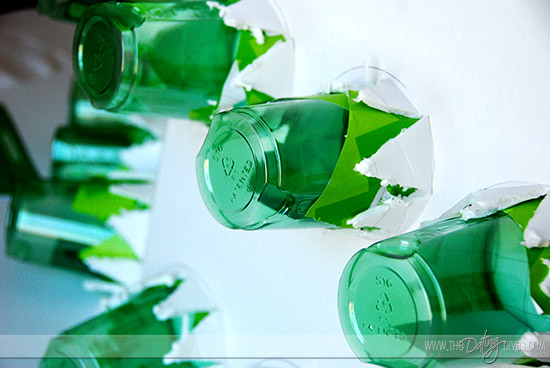 Place the cups (still in their categories) into the holes that you created. The back of the poster should look something like this.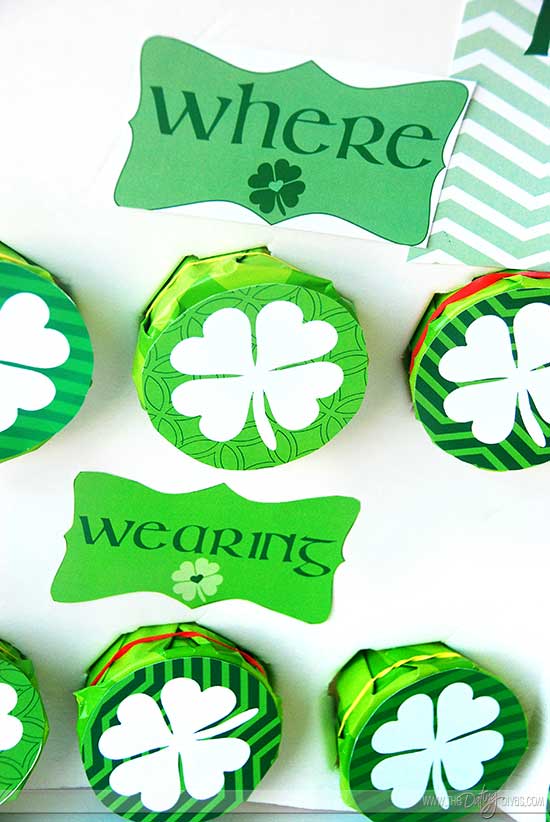 No you can add the decorative trim! Add your category signs to each of the different areas. Make sure to match it up with the cards inside the cups. Then add the round clovers to the outside of each cup.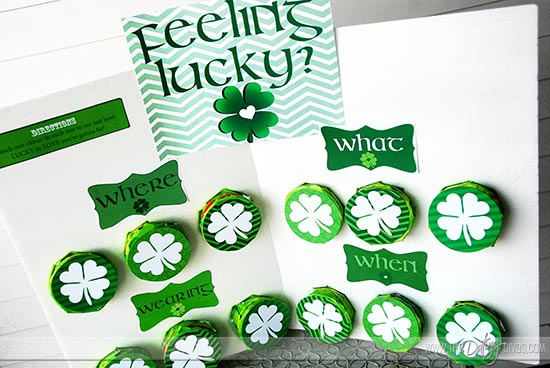 Finally, add your sign: "Feeling Lucky?" and your directions and ta da! You are done! Let the fun begin!
Present the poster to your spouse and I can almost guarantee that he will feel like the LUCKIEST guy in the world! Have him punch out ONE from each category and then whatever combination you get – make it come true!
Feeling Lucky Punch Poster
Printables Designed By Leah @ Leah Aldous Designs Exclusively For The Dating Divas