Grey's Anatomy 
Need a heart-stopping date STAT?
This episode of
The Dating Divas
brings you an all new date brought to you by one of our very own readers – Mary! Not only was she super creative in her date idea, but she provided TONS of free printables for you to recreate this idea on your own!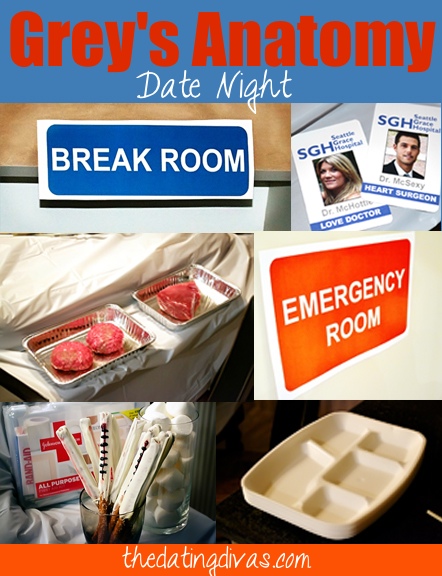 *       *       *       *       *       *       *       *     
I purchased some scrubs from Walmart in the appropriate light blue and dark blue colors.
Upon entering, there were all different signs:
Hospital Sign
 X-ray room
MRI room
Emergency room
Break room
 Seattle Grace logo
and I even made badges to top it off!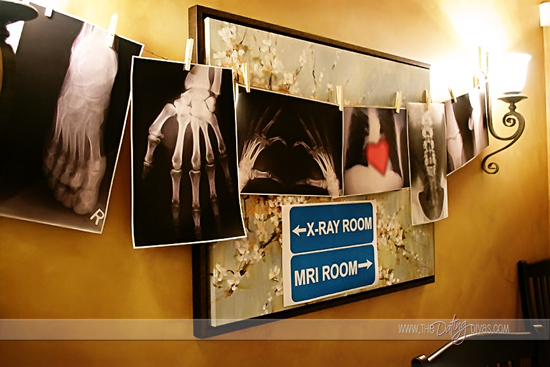 I found a ton of awesome x-ray pictures on Google images. I printed them on 11×17 paper and hung them from twine, with clothespins.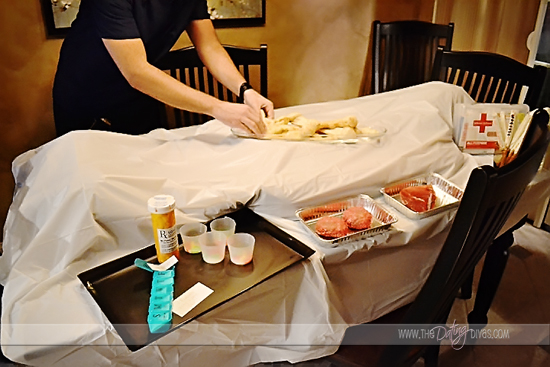 I found a shower curtain at the dollar tree, to use as a tarp, and rolled up towels to look like a person under the blanket.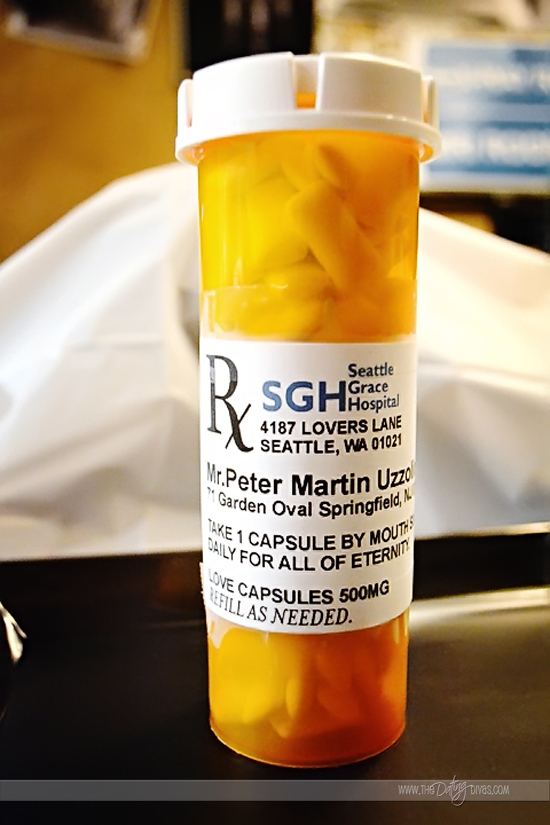 Next to the pill container, I placed the prescription bottle I put together inspired by your
Prescription for Fun post.
 I asked the lady at Walmart for an empty one and she gladly gave me an extra large one! I made a label and filled it with chicklets.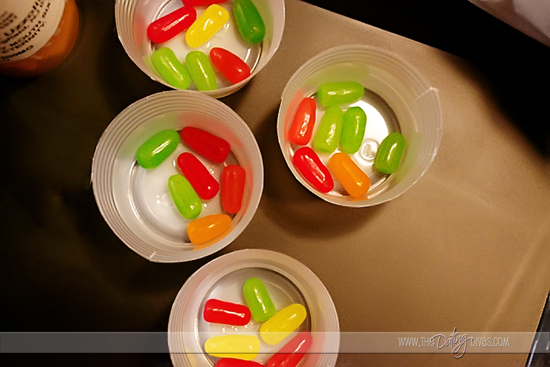 Also on the same tray, I had little cups with "pills" (aka candy) that I put in mini dixie cups.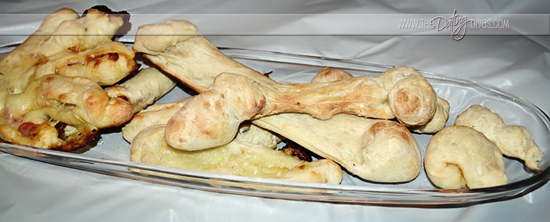 I went to whole foods and bought pizza dough because I wanted to make a hand filled with pepperoni and cheese. I had extra so I made some bones out of the dough, too. The bones came out better than the hand. The hand really expanded a lot but it looked cool anyway and it tasted delicious!
I also created a thermometer treat using pretzels dipped in white chocolate from inspiration I found 
HERE
.
Finally, I used The Dating Diva 
pill container idea
 and filled it with "7 reasons I love you"… all starting with the letter of the week the paper was in.
*       *       *       *       *       *       *       *
Wow! What an impressive date Mary! Thank you so much for sharing!
Grey's Anatomy Printables
Printables Designed By Reader Mary Exclusively For The Dating Divas
Grey's Anatomy X-rays
Printables Designed By Reader Mary Exclusively For The Dating Divas