A Romantic Love Note Gift For Your Spouse!
I am so excited to introduce a simply fabulous blogger!  Her name is Jenn and she heads up the most delightful fashion blog, B LOVELY. You can find the best fashion tips, clothing deals and so much more. Without further delay, we are thrilled to welcome Jenn.  Enjoy!
I am so honored and excited to be able to be a guest on the Diva's Blog. My name is Jenn and my blog is called B LOVELY. I believe that every woman deserves to be her best self. I love to share things that I love and inspire me. Hopefully as I share, someone will benefit as I have learned and been inspired by others. Sometimes all it takes is one simple idea to be turned into something truly fantastic!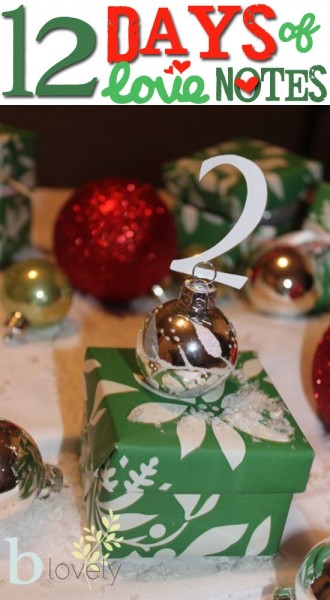 I believe Christmas time is one of the most romantic times of the year. There's nothing like being bundled up in cozy sweaters, while enjoying the lights, weather, and music of the holiday season.  As I reflect on the past couple years, sometimes that feeling of romance gets lost amidst the hustle and bustle that the holidays can bring. I am so excited for them this year! I have decided I'm going to take some time to truly enjoy them, no matter how hectic they may become. It seems like for the past few years for Valentine's Day, my husband Tyler and I take turns (by accident) turning Love Day into Love weeks or even months. It's so great! So I ask, "Why does that only have to be a Valentine's thing?" I love the potential for romance that the holidays provide. With that, I've decided to do some Christmas Love for Tyler this year. I decided to do it it for 12 days. There are so many fun and cute ways to do this. I had a hard time deciding on just one. I ended up with a box theme. Who doesn't love opening a gift every day? 🙂  The best part is…I have done
MOST
of the work for you!  At the bottom of this post, you can download 
ALL
12 days ideas/love notes that go in the box!  Your spouse will love the thoughtful note, saying, or date idea!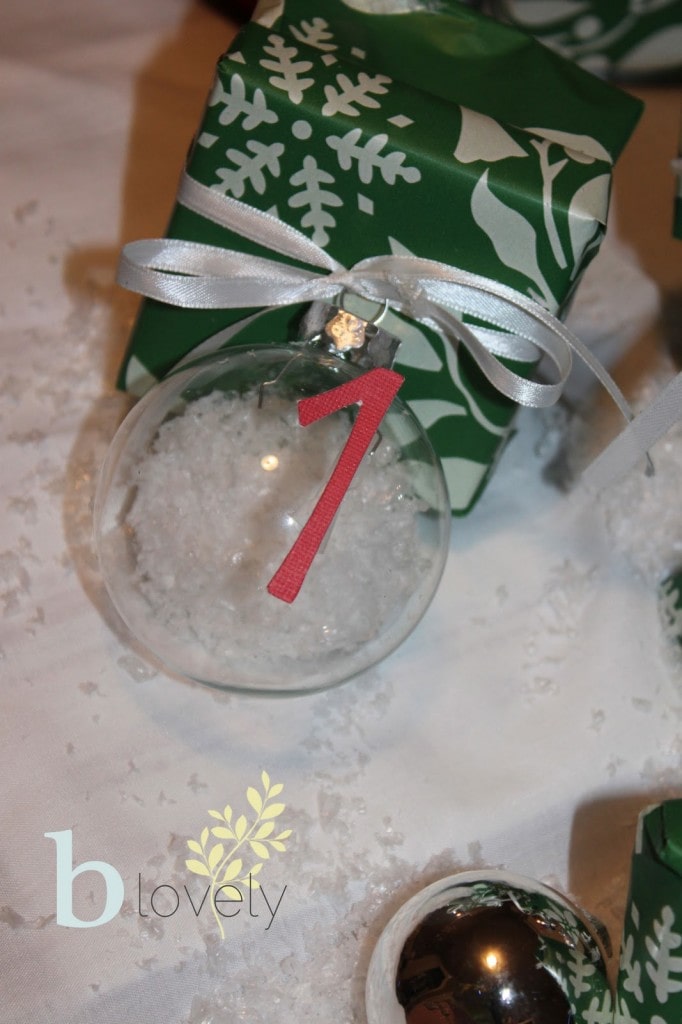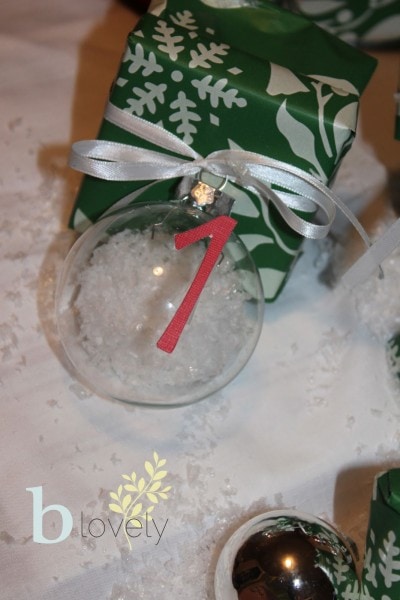 I wanted to keep it bank account friendly- I found some boxes I had lying around the house and wrapped them in Christmas paper.
I gathered bulbs from everywhere. Some I had, some I bought.  I arranged them and added numbers that I cut out with my Cricut.
I then filled the boxes with faux snow and cut and placed the daily cards into the boxes.
I finished off the boxes with ribbon and bulb/letter of choice.
I am married to a big time peeker, so when I do things like this I have to hide them and give them one at a time. I think they look great together or by themselves!
This bulb I found at Big Lots- a box of 6 (glass) for $3. Michael's also has plastic ones on sale right now in many shapes and sizes.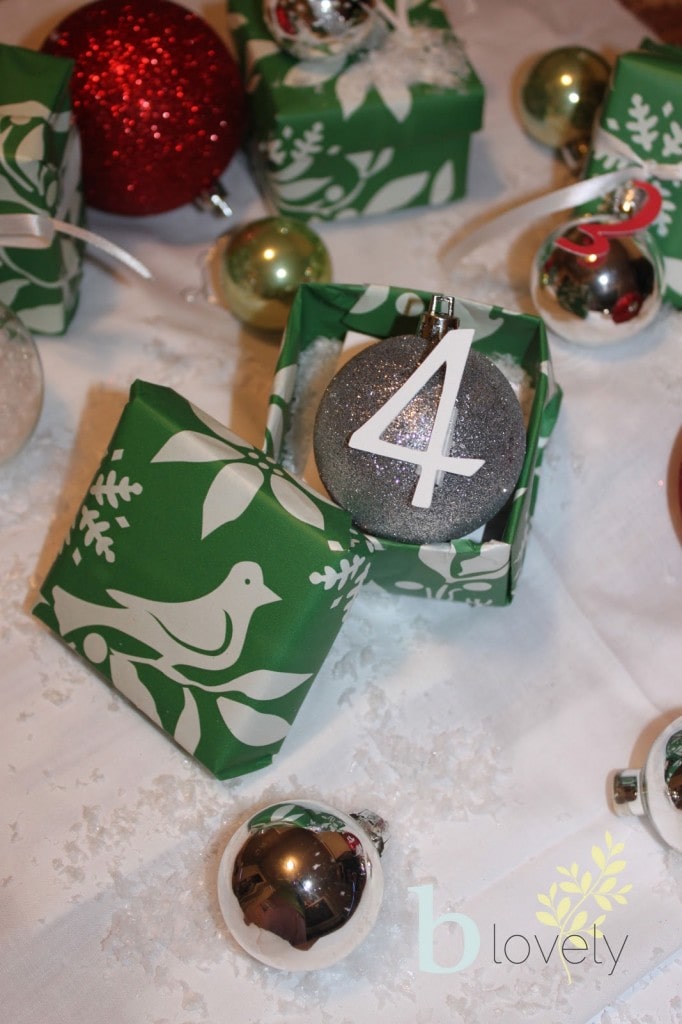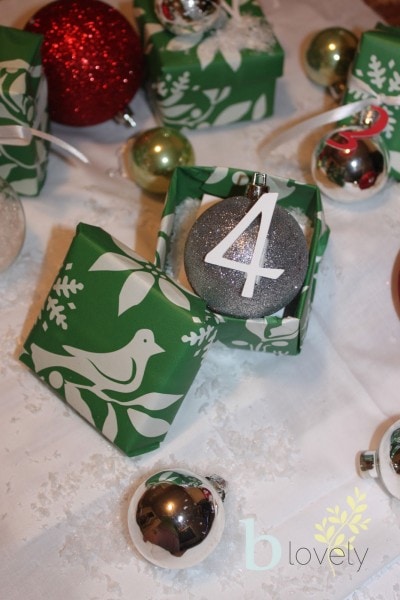 This bulb I found at Target in the $1 spot. I got 6 for $1. They have some mini ones as well.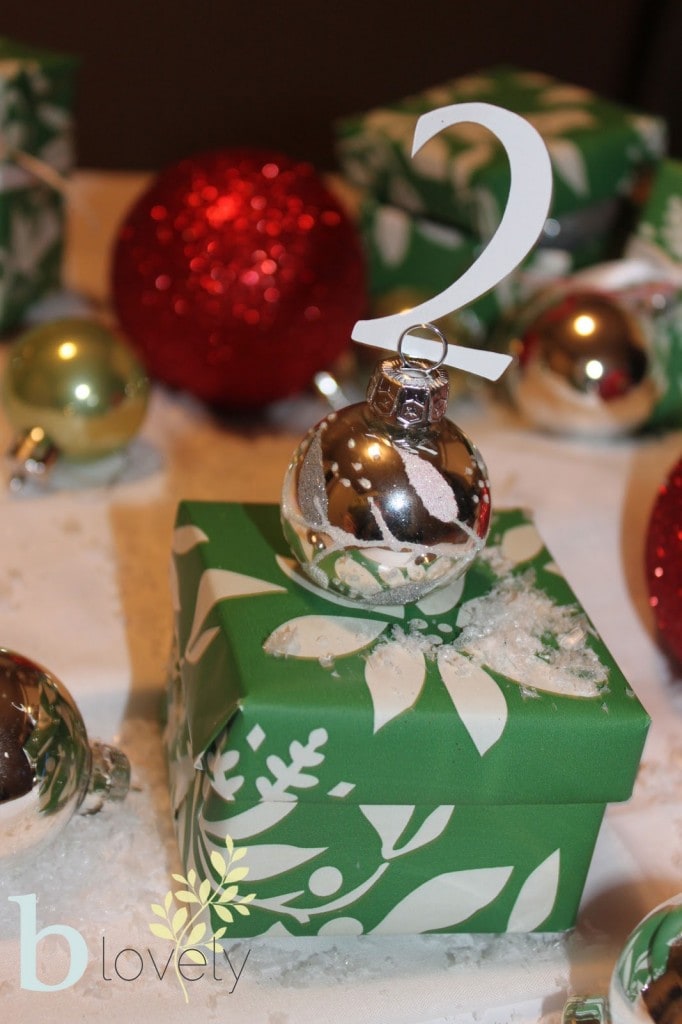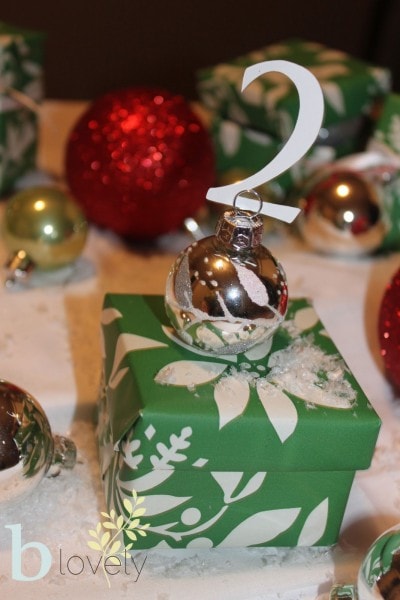 I found this bulb last year at Michaels-but they still have them! You get 2 for $1!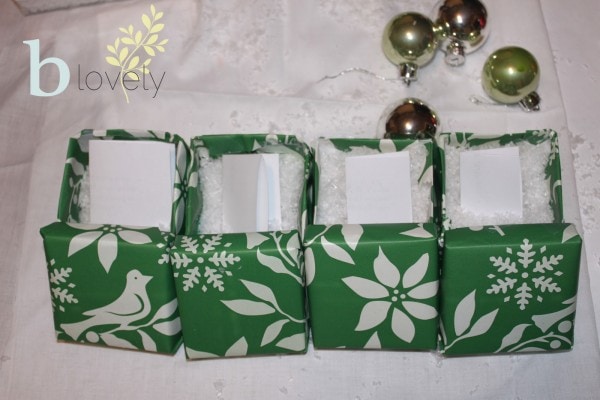 The wrap I got last year at Target in their $1 spot. I love their paper. They come in mini rolls, but have tons on them! They will wrap a lot of gifts. I also thought it would be fun to paint and decorate the boxes instead of using wrap.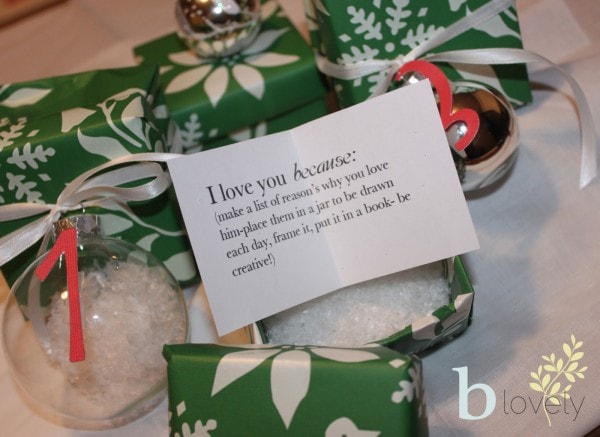 Hope you all get to experience some romance this Holiday Season!
XOXO,
Jenn
See!  I told you this girl is AMAZING!  Thanks for sharing your time and talents with us, Jenn!  Also, be sure to check our her great blog, B LOVELY !  This blog will get you ready for any holiday party and keep you looking good for your spouse!
12 Days of Love Notes
Printables Designed by JEN @ BLOVELY Exclusively for The Dating Div