The Iron Chef Date
Any food network fans out there?? This is the perfect date for you! I'm not gonna lie, my husband and I are slightly obsessed with cooking shows! We personally love to cook in the kitchen together because it always makes for good quality time. Add in the Iron Chef challenge and another couple to make it a double date and you have the perfect date night! Plus, after you cook, you get to enjoy some delicious food and fabulous company. Now go grab your aprons and get ready for a good time!!

Disclaimer: This post contains affiliate links. To learn more about 'em, click here.
For those of you who haven't seen Iron Chef, first off – you should check it out! And second, let me tell you how it works. In this show, chefs engage in a timed cook-off to create a dish using a themed secret ingredient. The chefs have to use their creativity to come up with a delicious recipe pretty much on the spot! It's pretty amazing to see what the chef's come up with!
We decided to take this idea and turn it into a fun date night. Messes to Memories helped us create some adorable Iron Chef printables to make your date a smashing success. Invite your spouse and one of your favorite couple friends to join you on this date to make it a fun double date where you can create a delicious meal and then judge each other to determine the Iron Chef champion!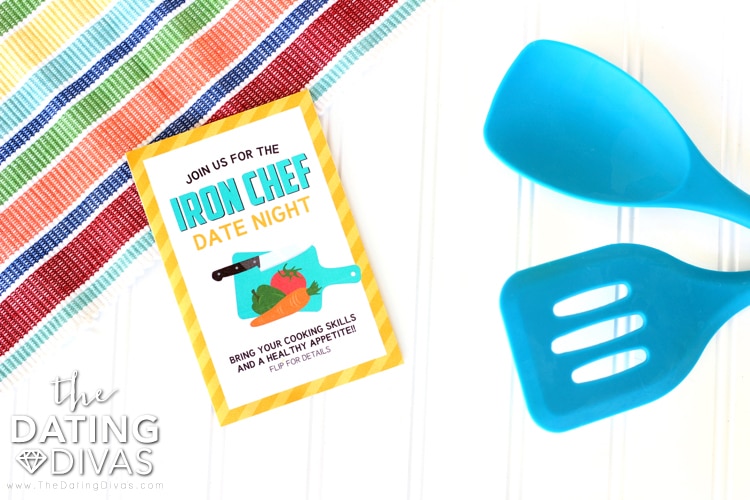 We have the perfect invitation! Choose a theme for your date night like Chinese, Mexican, Italian, Greek, Island, or All-American. Once you choose a theme for your date night, you can come up with your secret ingredients. Just add a little slit in the back of your invitation to create a pocket when you fold it in half and glue it. Then you can slip your secret ingredient right into the invite! *hint* Using good quality cardstock for your invite will help the special ingredient card slide better and give you a more sleek look.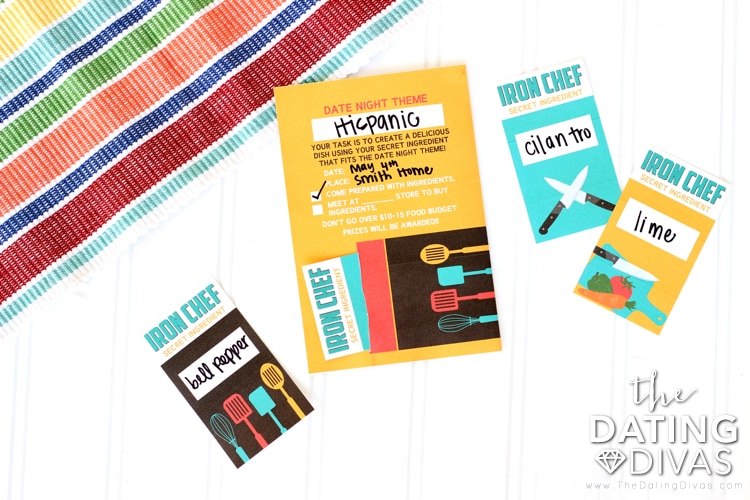 You can choose whether to have your guests come prepared with their ingredients and ideas or you can meet at the grocery store and make collecting the ingredients a challenge. If you have the time, it would be fun to meet up and give each other a time limit to grab all the items they might need for the night's festivities. We also put a budget limit on the invitation, just to make it a tiny bit more challenging! At the end of the night, you can get extra points for staying in the budget.
Of course, we used some basic pantry items that we already had on hand as well!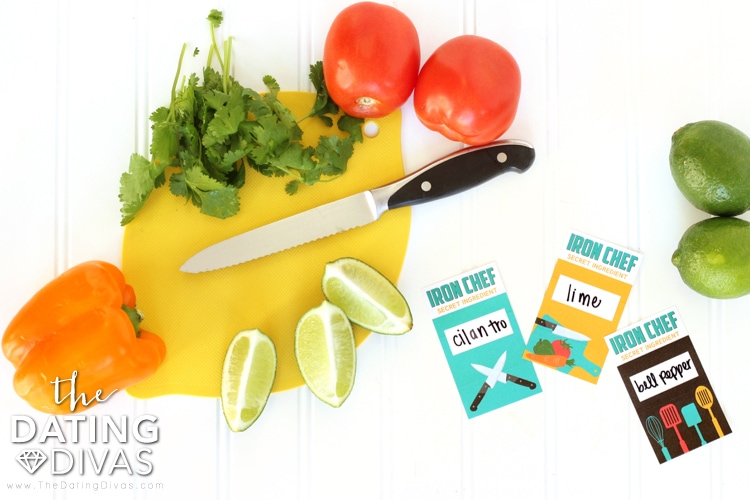 Once you have all your ingredients, let the cooking begin!! Get ready to turn all your ingredients into a scrumptious masterpiece. If you want, you can add a timer for pressure… but cooking under pressure just doesn't seem as much fun, so we took it easy and just enjoyed each other's company while cooking!
We definitely worked up an appetite preparing our meal… we could hardly wait to dig in!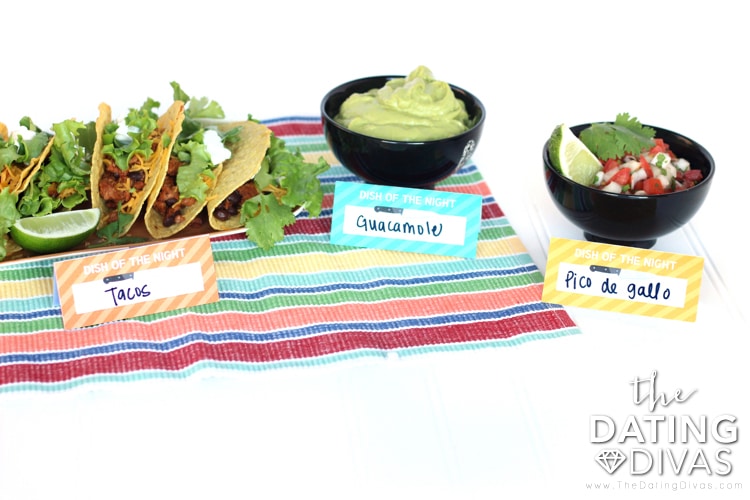 Dinner is served! Pull out your Iron Chef judging cards and get ready to give points for taste, presentation, originality and cost!!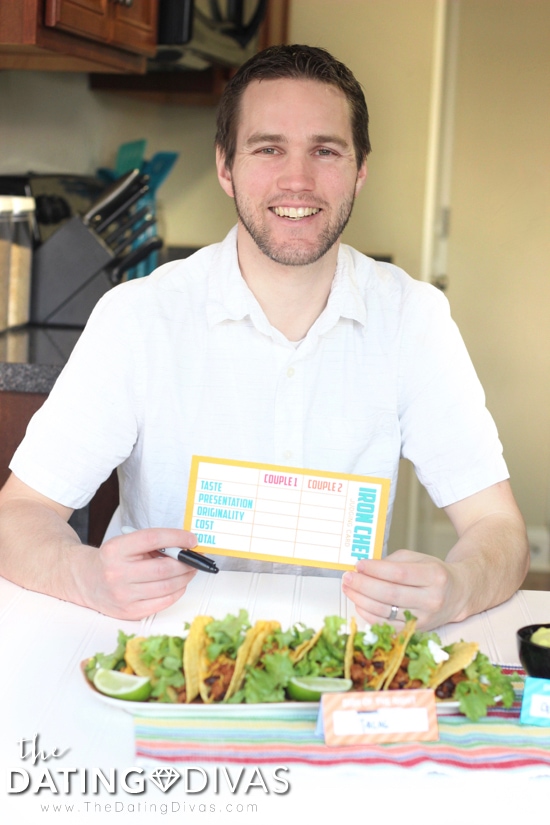 Don't forget to enjoy your dinner and capture a few pictures of the special evening, as well!!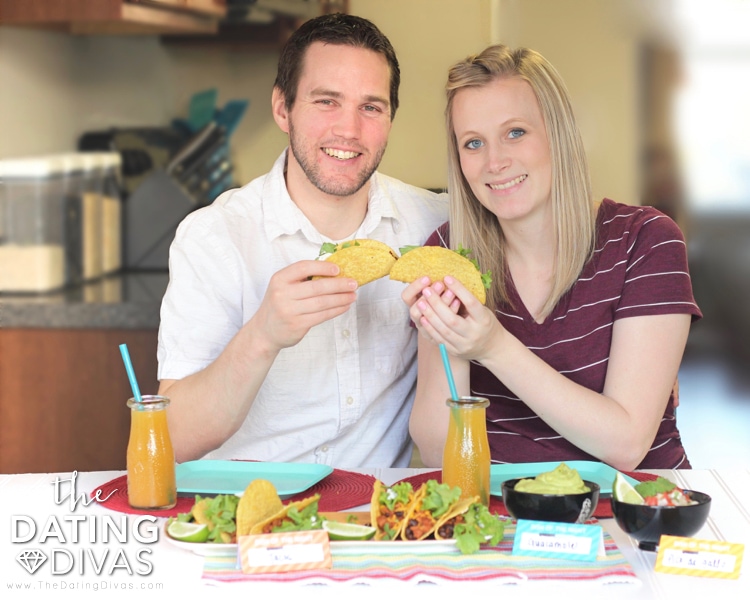 Oh! And save room for dessert! Every good meal should end on a sweet note, don't ya think?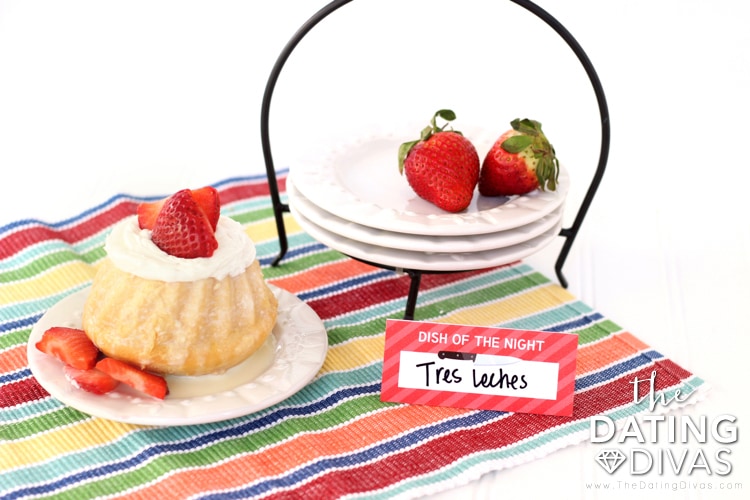 This date is definitely one you could repeat for different delicious results! Make sure to grab these fun Iron Chef printables below and start planning your cooking challenge today!
Iron Chef Date Night
Printables Designed by Carisa @ Messes to Memories Exclusively for The Dating Divas