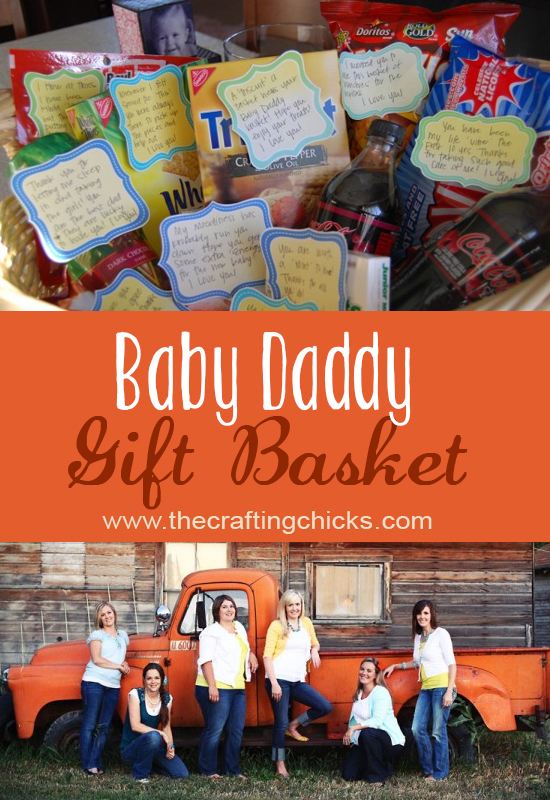 We are SO excited to have the Crafting Chicks here Guest Blogging for us today. I have been following their site forever and LOVE all their creative ideas. They are a wonderful group of women and today they are sharing an amazing idea of something you can give your husband!
************
Baby Daddy Gift Basket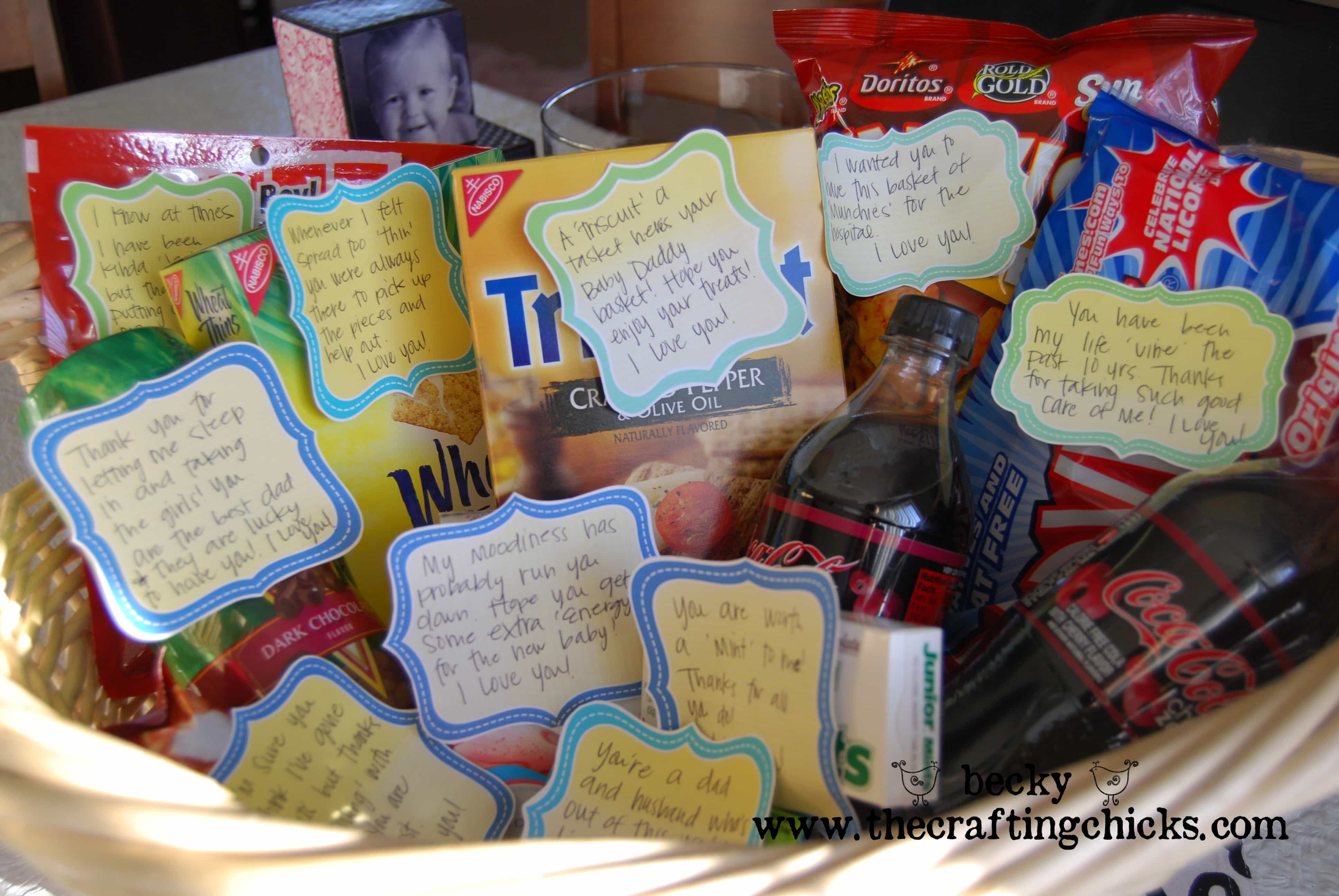 Hello! I'm Becky, one of the 5 "Chicks" who writes on The Crafting Chicks. I am so excited to share one of our crafts with you on this fabulous site. We get inspired whenever we read fun blogs like The Dating Divas! It is filled with so many great treats and ideas! We, at the Crafting Chicks, love to inspire you as well!
The Crafting Chicks began with friends sharing crafty ideas and along the way, we are excited to say, we have gained a whole community of friends that also share our passion for Motherhood and all things Crafting!
Between the 5 of us, we have 15 kids, and just like many of you, are very busy! We often get asked, "How do you do it?" We all have this in common, we would go crazy if we couldn't craft or get creative. It truly is our therapy. Here is something that I have been working on that I wanted to share with you. I am about ready to give birth to my third baby girl. (I have most likely had her by the time you are reading this.) This pregnancy has been a little more difficult since I've had to chase after my two older girls and have not had as much time to myself for the rest that is needed. I am sure that I have focused tons on my needs and demanded more from my sweet husband. He has been great going above and beyond in order for me to get that extra rest I've needed. Since birth and pregnancy are mostly about the mom and new baby, I was thinking that he needed a special treat. I decided to make him a fun little goodie basket to take to the hospital. I'm sure the guy in your life would love it too .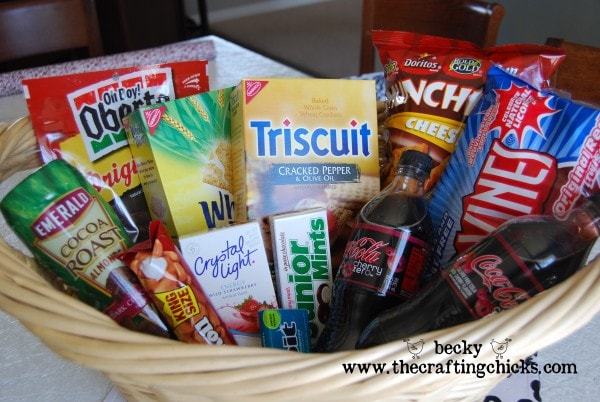 Here's what you will need:
My hubby is always bored at the hospital and sometimes gets hungry. Now every hospital I have delivered at has had a fun little goodie room for the dad's waiting, but my hubby feels awkward going in to get himself a treat. I wanted him to have all the fun treats he loves right in the room with us!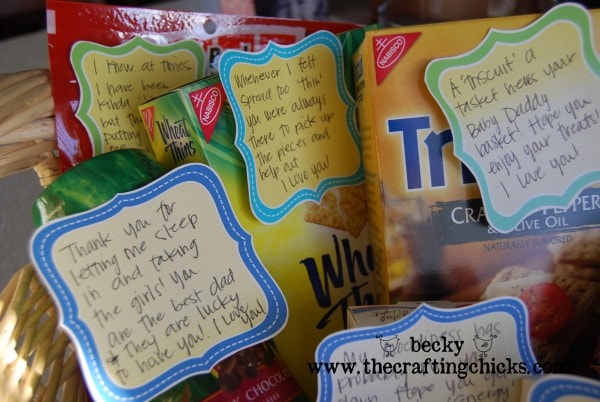 So here goes. Pretty simple stuff. Just go find all the fun treats your hubby loves. Mine loves crackers, Coke, beef jerky, Junior Mints, Red Vines, and Nut Rolls. I tried to think of something clever to add to each note that attached to the treat. Some ended up with me just telling him how much I loved and appreciated him. I made sure to include examples of things I had noticed he had been doing. (The best way to keep them doing what you want is to let them know how much you appreciate it. Just a small tip from me!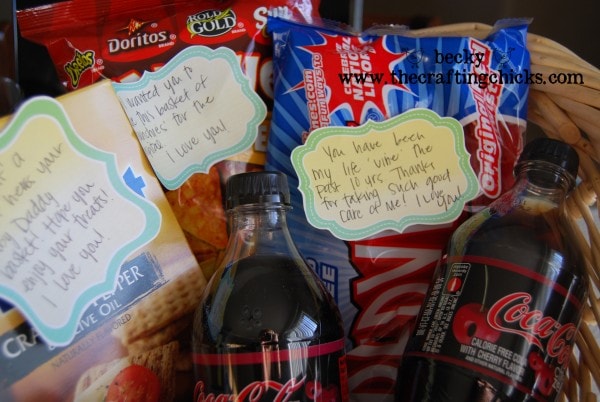 Give the basket to your "Baby Daddy" and watch him smile. Remember ladies, you don't have to wait for a huge moment like having a baby to let the guy in your life know that you love and appreciate him. You could make this basket any time for any reason. Thanks so much to the Dating Divas for letting me guest post!!! Come stop by The Crafting Chicks to see what we are up to!
xoxo–Becky
***********
Thanks again, Becky and The Crafting Chicks! Becky is so amazing, she sent this to us the night before she had her baby. How on top of it is she?! I can't wait to use this idea this coming June when my baby is due – definitely a great way to make your husband feel important too! Make sure to check out the Crafting Chicks for other great ideas.