Learn How to Make Chocolate Fondue Together!
Thanks to the chocolate fondue recipes below, learning how to make chocolate fondue will be SO easy and SO romantic! Why not ignite your love by cozying up together at home eating some delicious treats covered in delectable chocolate for date night? 🍫
Lucky for you, we've gathered the best tips, tricks, and ideas for a chocolate fondue date night that will leave both you and your sweetheart in a romantic chocolate daze! 💕 Keep scrolling for chocolate fondue recipes, free printables, and a sexy chocolate date night activity!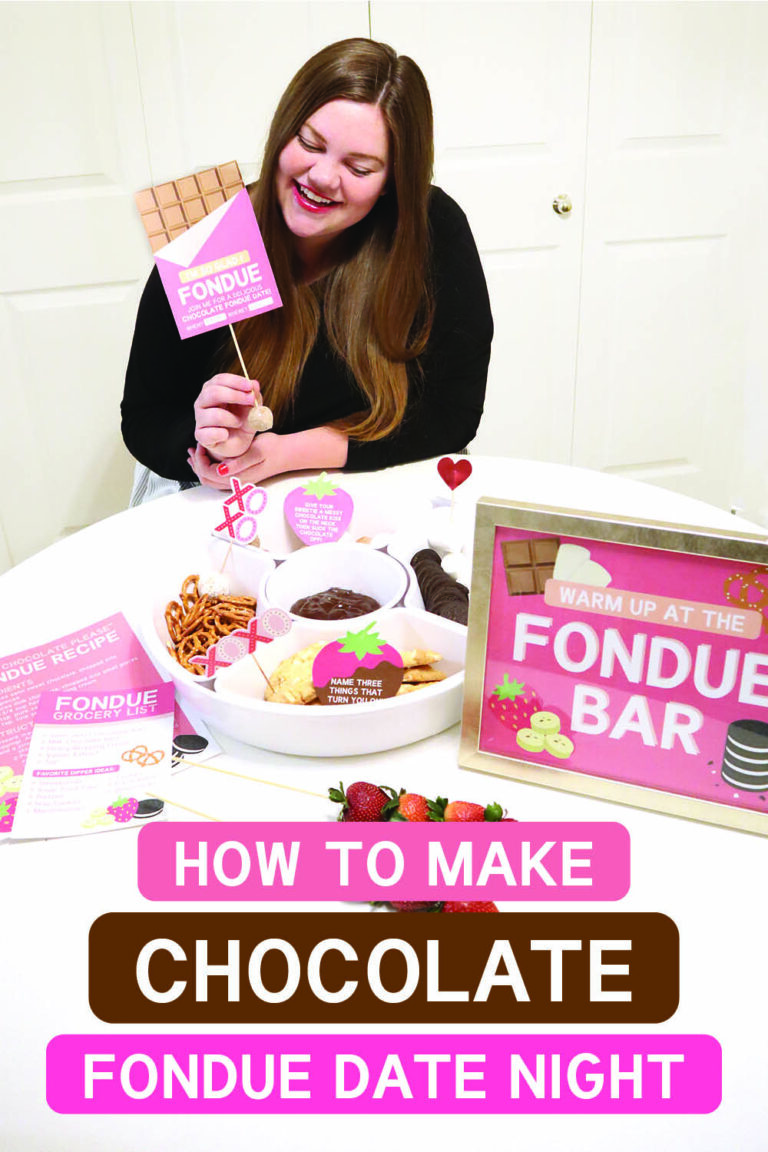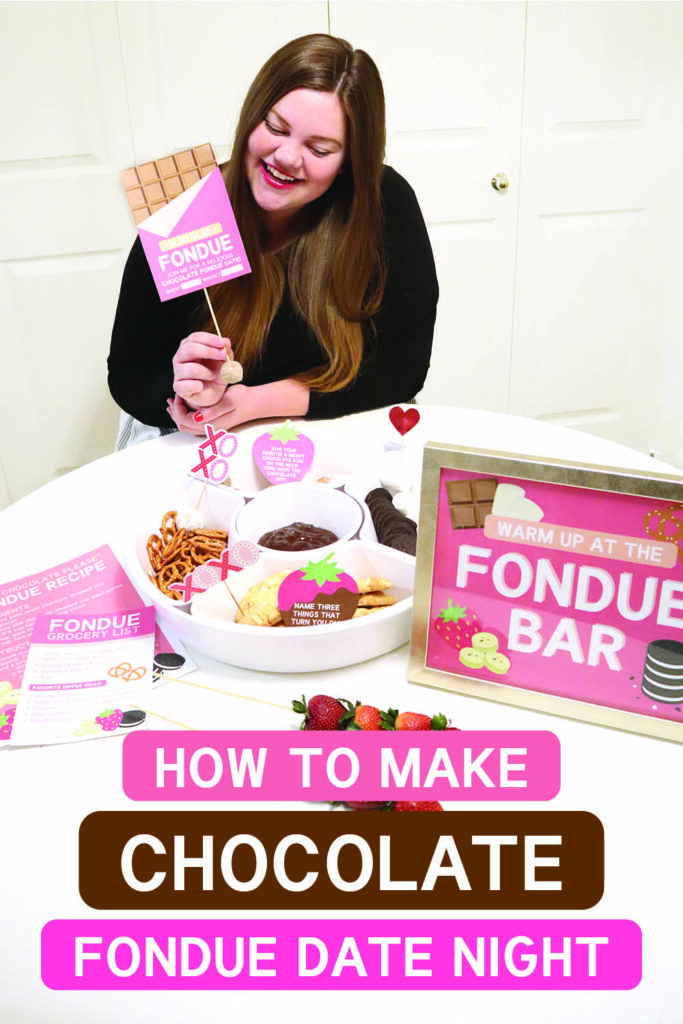 Ingredients: What You Need to Make Chocolate Fondue
Semi-sweet chocolate bars
Milk chocolate bars
Heavy whipping cream
Vanilla extract
Salt (optional)
For the full recipe and amounts, keep scrolling!
How to Make Chocolate Fondue
Put fondue ingredients in a medium-sized saucepan.
Whisk on medium heat until all ingredients melt and incorporate together. Add more heavy whipping cream if needed for a creamier texture.
Serve immediately with toppings loaded on skewers or hand dipped.
Favorite Chocolate Fondue Dipper Ideas
Strawberries
Angel food cake
Pretzels
Nilla Wafers
Marshmallows
Store-bought Cookies
Homemade Cookies
Donut Holes
Other Fresh Berries
For a fun twist, you could order this Chocolate Fondue Fountain! It makes for a super fun chocolate dipping experience! We also ADORE this Chocolate Fondue Date Kit from Krush Dates. Use KRUSH10 for 10% off!
Best Chocolate Fondue Recipe
Thanks to Made to be a Momma, you can learn how to make chocolate fondue with her super simple recipe! Just follow the steps below:
Ingredients
6 ounces semi-sweet chocolate, chopped into small pieces
4 ounces milk chocolate, chopped into small pieces
½ -¾ cup heavy whipping cream
½ tsp. pure vanilla extract
⅛ tsp. fine sea salt, optional
Instructions
Prepare skewers using small skewer sticks (easier dipping). Add a marshmallow, a piece of angel food cake, and a strawberry. Repeat until the desired amount of skewers are completed. Set aside.
Put chocolate fondue ingredients in a medium-sized saucepan. Whisk on medium heat until all ingredients melt and incorporate together.
Serve immediately with dipping items on skewers. If the chocolate begins to thicken or cools, just pop it in the microwave for 10-second increments to warm it up again.
For more chocolate fondue recipes, check out these ideas below:
White Chocolate Fondue – For dipping sliced apples, bananas, strawberries, crisp cookies, pretzels, and cubed pound cake.
Dark Chocolate Fondue – Offer your sweetheart a rich, and decadent dessert!
Caramel Fondue – Easy 3-ingredient caramel fondue dip you can whip up either in the microwave or in a crockpot. Rich, gooey caramel sauce for dipping all of your favorite treats!
Free Fondue Date Night Printables
Okay, we couldn't resist! We just have to add a few little touches to our date nights, and these themed chocolate fondue printables are the BEST! A huge shoutout to the one and only Courtney at Paperelli for designing them! Check out the adorable ideas below!
1. Chocolate Fondue Date Night Invitation
Start off your romantic fondue date night by inviting your sweetheart! Use this adorable (and free) "I'm So Glad I FONDUE" invitation! 💕 (Download link at the end of this post!)
2. Grocery List Print
Prepping before your fondue date night is a MUST! And the best part? We made the prep SO EASY for you! We created a fondue grocery list to take with you to the store to help you gather up your items!
3. Chocolate Fondue Recipe Print
With our "More Chocolate Please" recipe printable, you will know exactly how to make chocolate fondue without having to check your phone for every step. This darling printable can be right next to you as you make your delicious fondue chocolate! YUM!
4. Fondue Bar Decor Print
Decorate your fondue bar with an adorable sign that reads, "Warm-up at the fondue bar." Your sweetheart will love it!
Sexy Chocolate Fondue Date Activity
Now, this is where the romance really begins! End your epic chocolate fondue date with our sexy chocolate printable challenges! Take turns choosing a printable and complete the action.
Here are a few of the actions you must complete with your sweetheart!
💕 Close your eyes and let your sweetheart feed you a surprise!
💕 Dip your finger in the chocolate and feed it to your spouse!
💕 Give your sweetie a messy chocolate kiss on the neck then suck the chocolate off!
💕 Throw a treat in the air to your partner and see if they can catch it in their mouth!
And there you have it! Scroll down and click on the "Click to Download" button to score your FREE printables! We would LOVE to see your darling chocolate fondue date in action, so snap a picture and tag us on Instagram @datingdivas! We hope you love this date a CHOCO-LOT! 🍫🍓💕
Fondue Date Night
Printables Designed by Courtney @  Paparelli Exclusively for The Dating Divas