How to Have a Digital Internet Scavenger Hunt Date Night at Home
Get cozy, and enjoy this super simple date night. For this internet scavenger hunt all you need is each other and the digital download found at the bottom of this post–just click the pink button! Normally for date night we encourage putting the screens away and focusing entirely on your spouse for the night. Surprise! Not this time! THIS  date night internet scavenger hunt game encourages you to focus on your spouse while using those electronic devices! Together you and your spouse will scour the inter-web in search of specific items, find answers to questions, maybe learn a new skill and complete unique tasks. So power up those devices because this date night is going to need 'em!
Click on the pink download button at the end of this post to download this digital scavenger hunt on your device!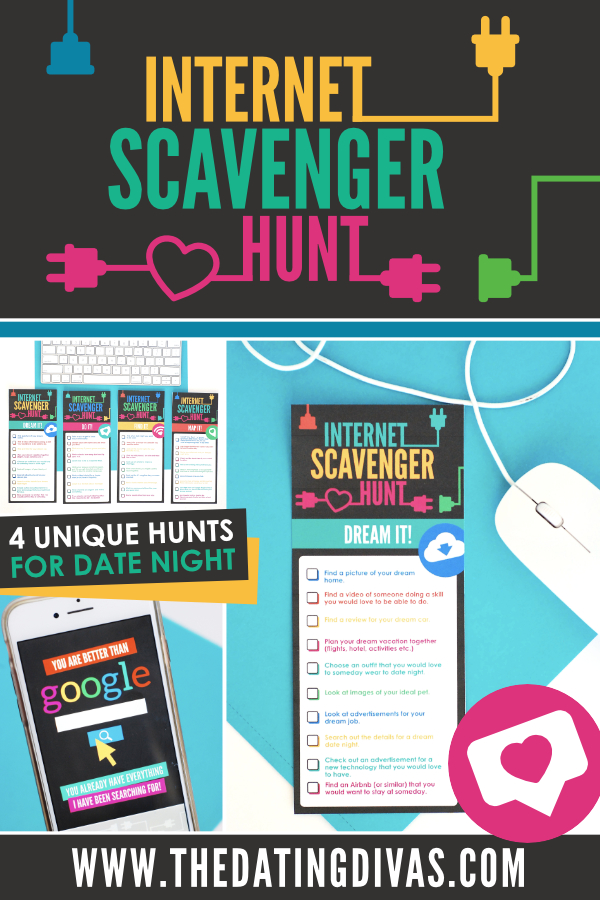 Disclaimer: This post contains affiliate links. To learn more about 'em, click here.
There is so much out there in the world of the internet. Fun facts to learn, fascinating things to see and you can do it all right from the comfort of your couch! That might be what we love most about this date night, all of this fun can happen as you and your honey cuddle up close and experience the world at your fingertips.
This date night is:
Free – all you need is a phone or computer and you are set.
Can be done at home – no babysitter? Say what!? PJs – no problem!
Easy to prepare – just print on cardstock and start thanks to the printables design by Carisa at Messes to Memories.
Interactive – you and your spouse not only work together to find things, but you have to complete some tasks too!
4 dates in 1 – there are four different hunts included in the set and each one could be their own date night!
Invite Your Spouse to the Internet Scavenger Hunt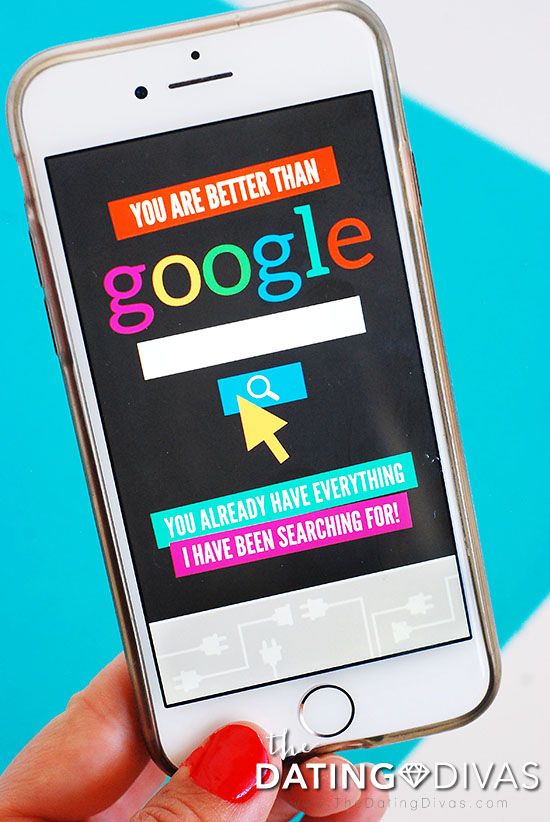 For a date that is technology involved, you won't be surprised that our invitation for this date night includes your device! But don't stress – you don't have to be tech-savvy to send this little love note to your sweetie. Simply download the jpg file below and send it via email or text along with the details for your date.
Internet Scavenger Hunt Date Night Idea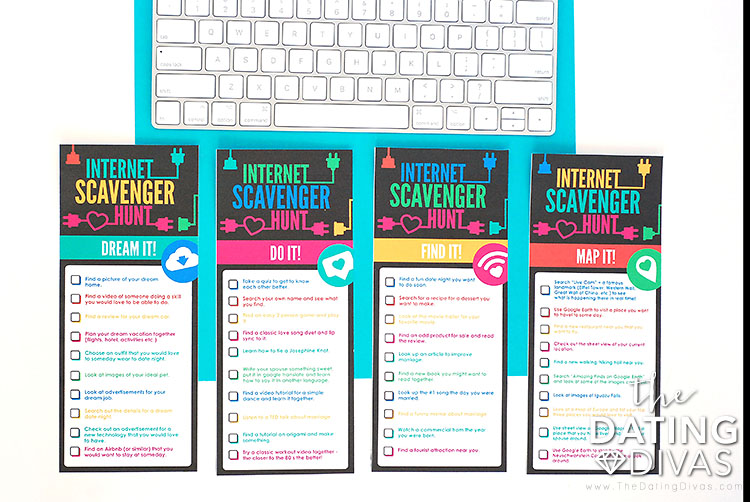 This date night is seriously so easy to do. Start by printing off one (or all) of the internet scavenger hunt checklists. There are four completely different lists, all with a different theme. With four different lists this will likely take you several date nights to complete. Each list has ten unique things to find or complete all with a different theme. These include:
Dream It –  In this hunt, you and your spouse will search websites to find and show each other items and experiences you someday hope to have or do. This is a great way to get to know each other and maybe even make some goals for the future!
Do It – This hunt is the most interactive. The list includes tasks to complete together. Some are silly, some are educational but all of them include doing something together.
Find It – This internet scavenger hunt will require a lot of googling! You have a list of 10 things that you need to find and share with your spouse. You will be surprised what you find out.

Map It –

 This might be my personal favorite. Using a lot of google maps and google earth, you and your spouse can virtually discover places from your own front yard to around the world.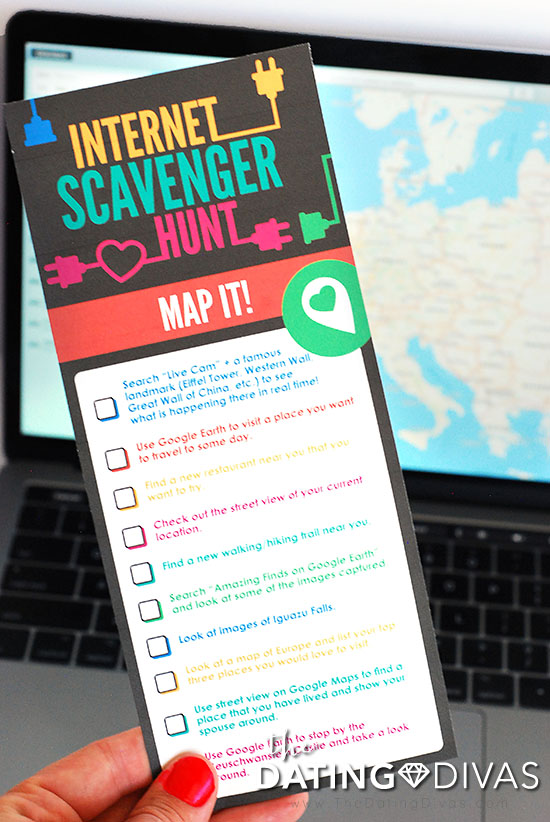 To do the hunt, simply take your list and your preferred electronic device and start searching! You can decide if you want to each find the items and then share them with each other OR if you prefer to divide up the list. You can do either option.
Tips for Your Internet Scavenger Hunt Date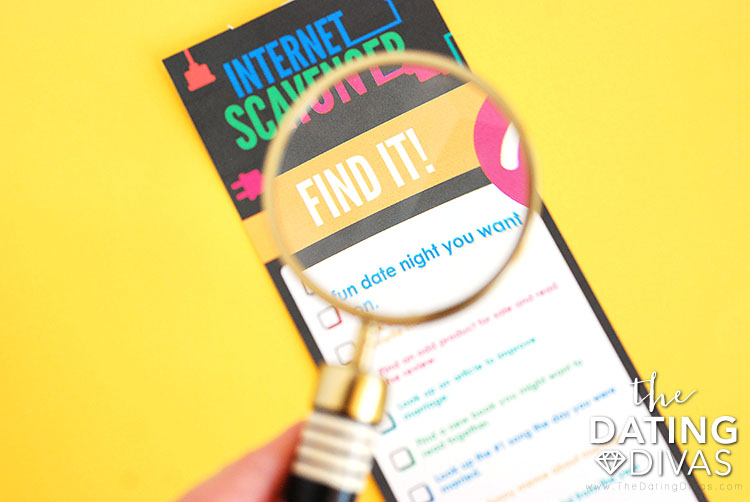 Take your time. This isn't so much of a race, but an activity. Find the items on your list and take time to really look at it carefully and have fun exploring.
Encourage conversation. Really take time to talk about the items that you find. More than just checking off a list, this date night is all about bonding with your sweetie.
Add some treats. To make this date night even more special consider adding some favorite snacks and treats. That is always a win for date night!
Having a prize for when you finish a list is definitely recommended! A little motivation is always fun and it can range from silly to sexy—you decide!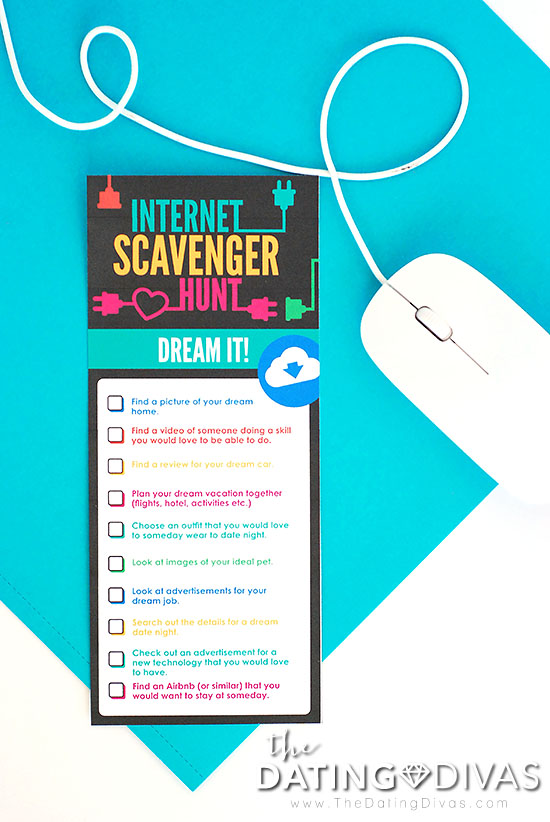 We hope you love this fun, interactive date night that you can do right from your couch! We love to see you on your dates! Make sure to snap a picture during your internet scavenger hunt date night and tag us @datingdivas!
Internet Scavenger Hunt
Printables Designed by Carisa @ Messes to Memories Exclusively for The Dating Divas
Internet Scavenger Hunt Digital Invite
Printables Designed by Carisa @ Messes to Memories Exclusively for The Dating Divas