Easter Egg Bouquet
Ready to get crafty today?!… AND show your man how much you care in the process? This tutorial will show you how to make a darling egg bouquet for your sweetheart that is filled with secret love notes for HIS EYES ONLY!
Introducing the Love Note Easter Egg Bouquet: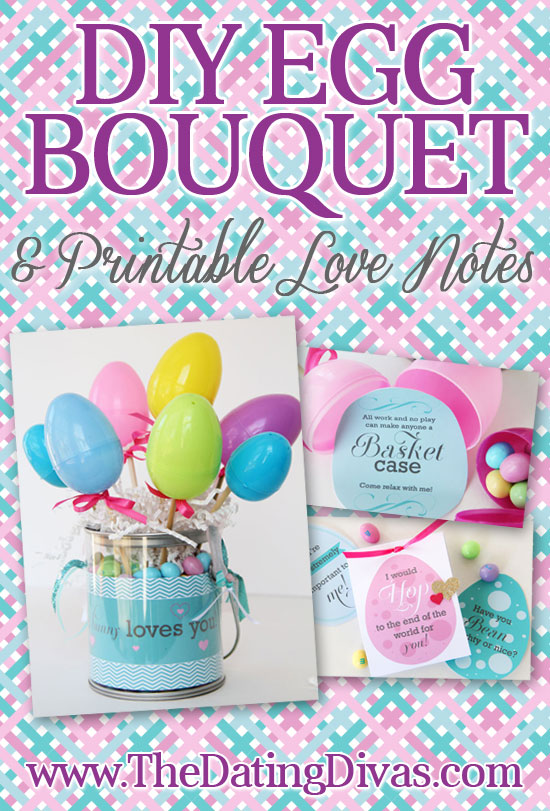 Disclaimer: This post contains affiliate links. To learn more about 'em, click here.
This idea is inspired by Ms. Not So Perfect's Egg Bouquet, which we fell in love with on Pinterest. We turned this cheerful decoration piece into a romantic gift for him this Easter season. To get started, you will need:
7-10

wooden skewers

7-10 plastic eggs
Egg Note Printables
Jellybeans, Skittles, or M&M's
Scissors
Ribbon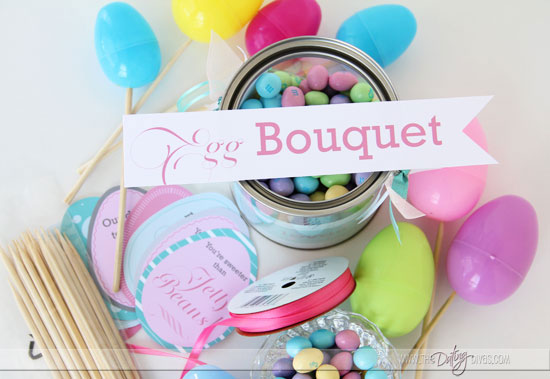 To start, download your set of Egg Note Printables created by the amazing Leah Aldous. Didn't her Easter designs turn out beautiful!? After you've printed this collection, cut out each egg and the title banner: Somebunny Loves You.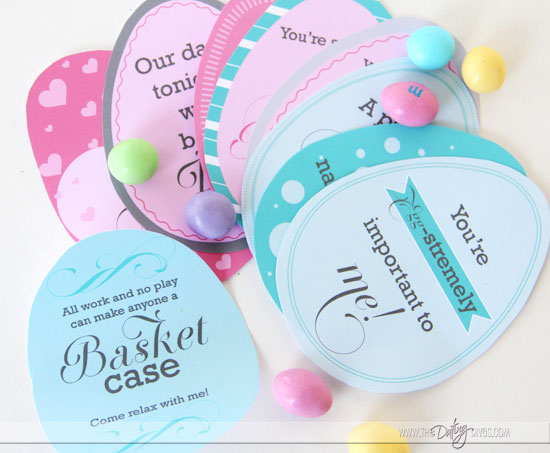 Then, just follow these easy steps:
Place the banner inside the plastic pail so it is positioned front and center. My paper wrapped easily around the inside edge so I didn't even need to tape it to keep it in place!
Fill up the bucket with your hubby's favorite kind of Skittles, Jellybeans, or M&M's. To add some flair, I tied ribbon pieces to either side of the pail's handle.
Here's the fun part!  Pick out which notes you would like to surprise your hubby with and tuck them in an empty plastic Easter egg.
Attach the Easter eggs to wooden skewers. (The sharp, pointed end should fit into the bottom hole of the egg.)
Add any additional embellishments to your bouquet (ex: ribbon).
Position the eggs in your container.  The candy pieces should keep everything secured.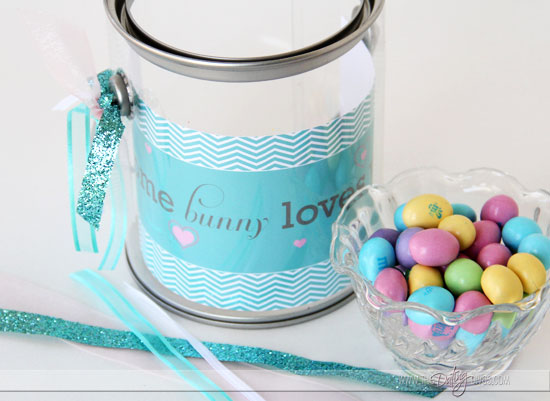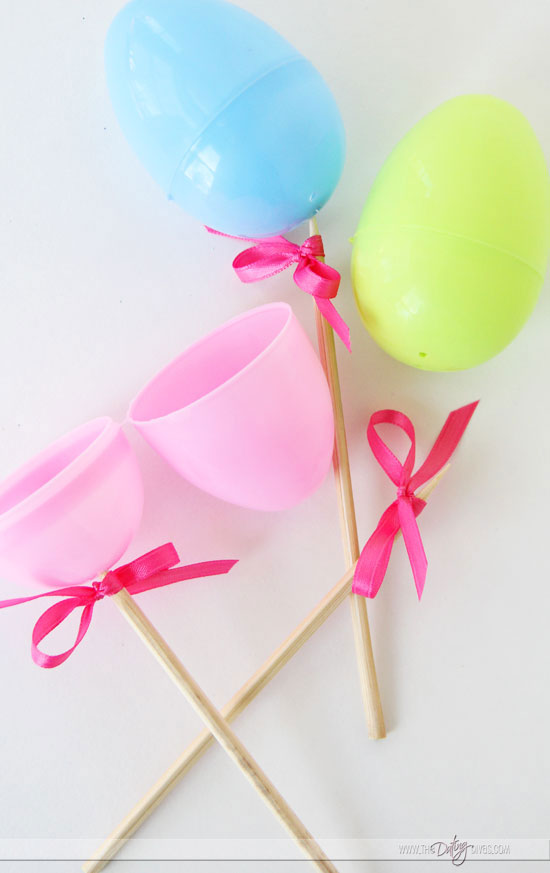 A couple of notes:
I used a mixture of larger and smaller plastic eggs for my bouquet.  I tucked notes into the larger eggs and my hubby's favorite candy into the smaller eggs. Be creative! You could even tuck a spicy, intimacy item into one of the eggs for a date later that night!
You could turn this little bouquet into a countdown where your spouse gets to open one egg per day for a week!
I added just a little bit of

crinkle cut paper shred material

to the top of the container to finish my bouquet (completely optional!)
I found 6-inch wooden skewers worked great.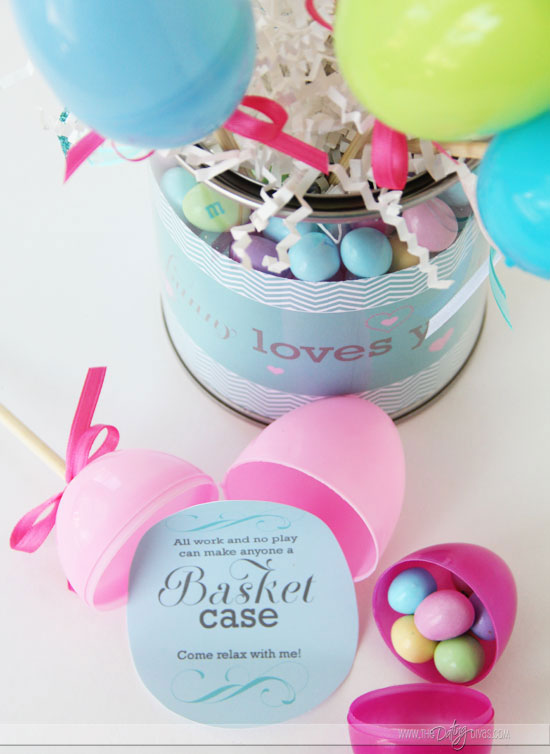 If you are running short on time, no worries!  Simply use Leah's printable collection as the basis for creating a fun love note.  You could create an Easter themed scavenger hunt in a matter of minutes by sprinkle these cute sayings around the house.  I turned one of her egg notes into a little candy container as a surprise treat for my hubby.  The possibilities are endless!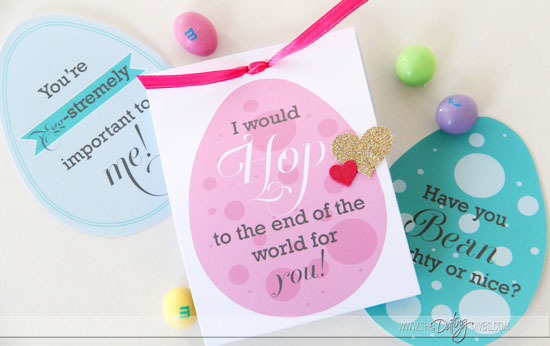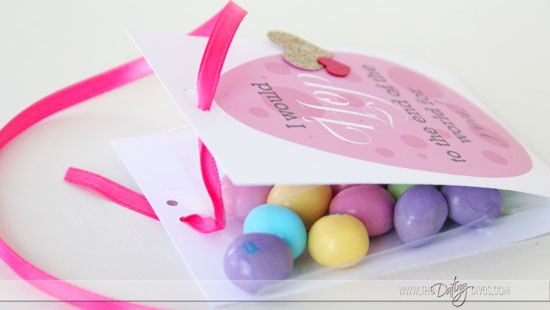 We hope you enjoyed this DIY art craft that doubles as a fun Easter gift for your spouse!
Easter Egg Bouquet Love Notes
Printables Designed by Leah @ LA Sync Exclusively for The Dating Divas