Since I've been pregnant, James and I have had fun discovering new nonalcoholic drink recipes.  So – for those of you who are expecting or don't drink… here is a quick and easy date to cook up some fun in the kitchen with your sweetheart when you are in the mood for something besides water or the classic Shirley Temple during this Holiday season.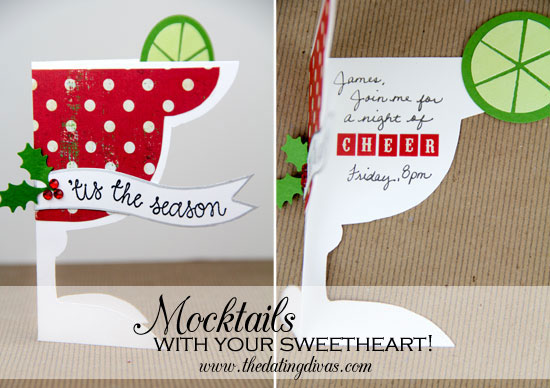 This post contains affiliate links. To learn more about 'em, click here.
Your date begins with a tasting party!  I set the scene by leaving this little invitation for James.  I spied a downloadable template at Paper Crafts Magazine that I knew could be adapted to fit a Holiday theme.  After creating the card base, I cut out some fun red paper to add to the drink shape and attached a little banner I made with a rubber stamp.  Small red gemstones instantly became "berries" next to a punched out Holly leaf.
Your next task: research drink recipes and narrow your choices to 2-3 mocktail concoctions!  I looked for recipes that didn't have a lot of artificial ingredients and were relatively healthy (think more Vitamin C and fruit juices!).  Here were the 3 contenders for our night: mock champagne, Blackberry Lemonade, and the NYC Maternitini.  Click on the drink name to view the specific recipe.
(Allrecipes.com)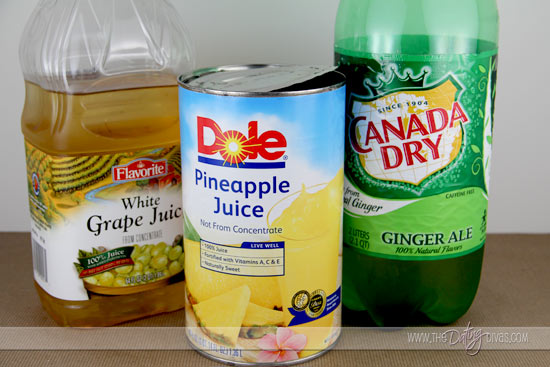 When I googled, "Best Mocktail," this drink from AllRecipes.com appeared at the top of the list with rave reviews.  I was eager to try it since it only really required 3 ingredients and would be a perfect way to toast the New Year in December!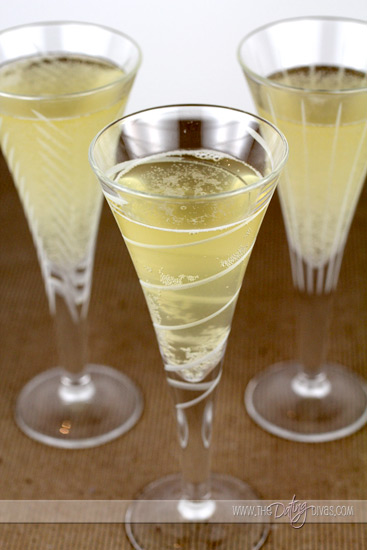 The verdict:  We thought this drink had potential.  However, the pineapple flavor was a bit strong for my taste.  Since we didn't add the ginger-ale ice ring on our small taste test, our proportions might have been a bit skewed.  For a smaller batch, I would increase the ginger-ale and decrease the pineapple juice.
Blackberry Lemonade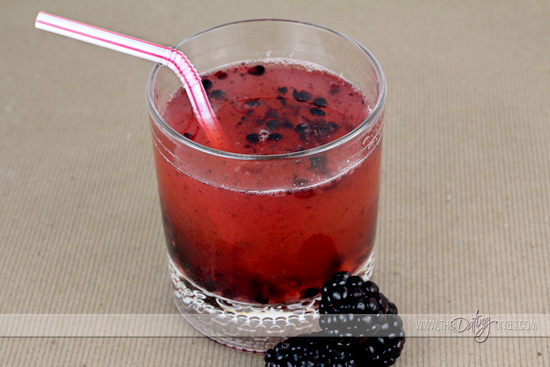 When James and I went out to dinner for our anniversary recently, I ordered this drink off their mocktail menu.  It was absolutely delicious!  I immediately asked our waiter, "What's in this!?" with the hope I could recreate it at home.  It couldn't be more easy: just add 5-6 muddled blackberries to your favorite lemonade mix.  I will definitely be making this again!
(by Al Lopez and featured on Parenting.com)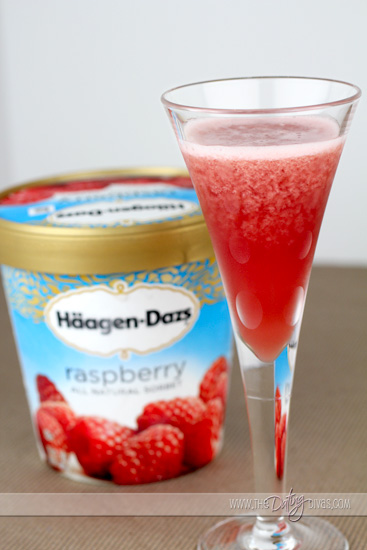 This recipe was by far my favorite (probably because of the raspberry sorbet!)  It was was like a guilt-free mini dessert!
If you are craving classic Christmas peppermint flavors, check out these 2 recipes I found via Pinterest: Candy Cane Milkshake by The Dashing Dish and the North Pole Strawberry Smoothie by Betty Crocker.  They look scrumptious!  I also have my eye on this adorable recipe book: Preggatinis: Mixology for the Mom-to-Be
It looks like it would be a great source of inspiration for any Holiday parties that you might be hosting in the next month… or a fun stocking stuffer for all those mama's-to-be!
After your tummy is filled with a delicious treat, snuggle up with your sweetheart to a classic Christmas movie.  We had a hard time deciding between Love Actually, Elf, and The Holiday.  In the end, The Holiday won out- I just loved some of Kari's ideas of how to flirt and turn up the romance while watching this movie- check out her tips in this post.  Cheers to creating a fun date night at home!