Batman Themed Date Night
Don't you love when the new summer flicks come out? Well, my husband and I are both VERY excited for the newest Batman movie, "The Dark Knight Rises" to be released. So in anticipation for this movie to come out, I put together this Batman themed date night that could work for any of the movies in the series.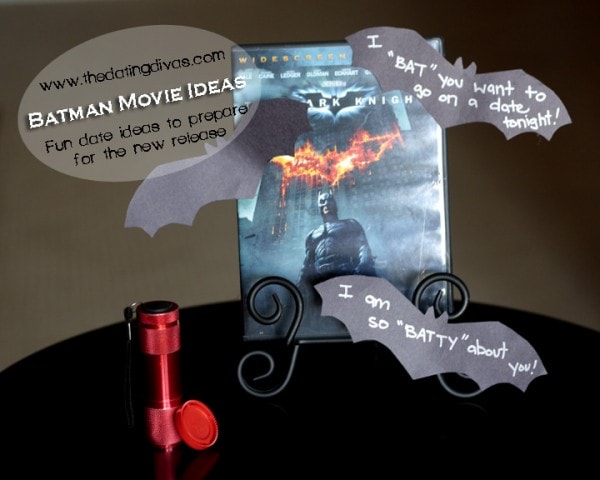 Disclaimer: This post contains affiliate links. To learn more about 'em, click here.
To get us excited and our minds refreshed I thought we'd do a movie date night and watch "The Dark Knight
." However, most of these ideas would work for ANY of the Batman movies, so pull out an old classic if you like. So let's get to the ideas…to the batcave!
The Invite
Cut out a shape of a bat with the invitation written on it, and shine a flashlight on it – like the bat symbol.
 Tape black paper bats all over the garage door so when he pulls in the car, he sees that….makes him smile, then walks in and sees the invite on the flashlight.
You could write an invite that says, "I'm not "jokin" I "bat" you want to go on a date tonight with me!"
Setting up the "Bat Cave"
Decorate the room you are watching the movie in with paper bats to make your own bat cave, including snack bowl, drinks, etc.
Instead of "Egging" or "Heart Attacking" your house, cut out black bats with a template and have the kiddos help you (with a white crayon) write FUN messages on them. "I am so BATTY about you!" or "I would go BATTY if you weren't in my life." or "I would FLY across the country just to get a kiss from you!" could work for these. Hang the bats from the ceiling with the string for a cave like feel.
Food
Although Robin hasn't made his appearance in these series, you can do a throw back to the original series and get some Easter Robin eggs.
Get Laffy Taffy's to eat and read the jokes on them in honor of the Joker.
During/After the Movie
Make a paper bat and place it on the light of a flashlight. Tell your spouse each time you flash it throughout the movie you have to kiss. Remember how they shine the Bat symbol to call Batman?
Flip a coin to see who has to come up with/make a treat.
Dress up as cat woman or have him as Batman.
Rent a super fast "Bat-mobile" type car for the evening.
Throughout the movie, whenever Batman is in his get-up, your husband has to stand up with his hands on his hips and in his most serious voice say, "I am Batman!" and every time you see cat woman, you have to make the sound of a cat (either sexy or feisty.)
Grab a pair of batman masks from the toy section and wear those the entire movie.
BLACK LINGERIE!!! Heck, you gotta plan for AFTER the movie, right? Get some sexy black lingerie, use the mask idea if you dare and backlights.
Find 10 quotes from super heroes and see if you and your spouse can match it to the right hero.
Dress in all black, watch the movie without any lights and kiss in the dark.
Dress up in  fancy ballroom gowns and attire, and throw a dinner party with friends.