Disclaimer: This post contains affiliate links. To learn more about 'em, click here.
On Stranger Tides
I am a HUGE fan of The Pirates of the Caribbean movies. I love to have Pirate Marathons and watch them all at once. Hehe…so naturally I wanted to have a collaboration of super fun date night ideas for the upcoming release of The Pirates of the Caribbean: On Stranger Tides which releases to theaters on May 20th. Perfect timing to get in all the Piratey action you can before it hits theaters! Aye, Matey?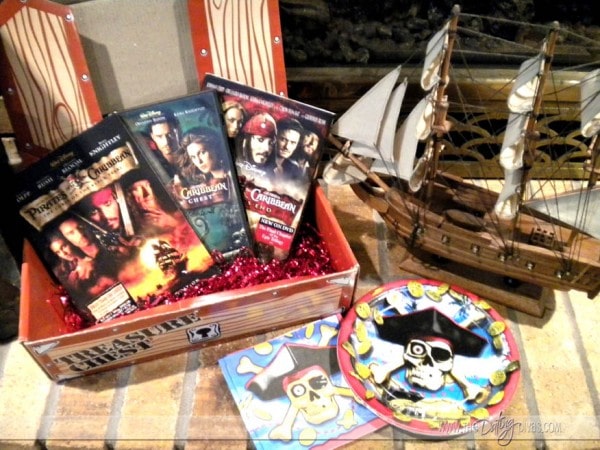 Meet Me Fer A Shipmate Night
Leave an invitation that morning as a message in a bottle. You can use the printable below to write your message on using Pirate Lingo. Or, pick up a pirate hook from The Dollar Store and leave it with a cute note on the DVD's you will watch that night saying "I be 'hook'ed on ye watchin' these movies wi' me".
Food Fer Gentlemen O' Fortunes

Pirate Meal

– Here are some D-E-A-licious Caribbean recipes to wet your pirate appetites! If you don't want to cook your piratey meal, try some to-go items that you can eat with your fingers (pirates aren't polite, you know) such as: fried chicken or chicken wings, root beer in a bottle (like IBC Rootbeer), green apples (Captain Barbosa's favorite), and blue jello in cups with a gummy shark. Rename everything you are eating for dinner with "pirate" themed names. Such as….instead of your drink….call it "Pirate's Grog", etc. Here is a link to more name ideas. You could also make little signs to display with each food item.
Goodie Bags – Gotta have yer bag of "LOOT!" This would be a brown lunch sack with the top inch cut off zig zag to look ragged and maybe skull and crossbones drawn/printed on it with snacks inside to enjoy the movies with. (Make sure to include those chocolate gold coins, some Hershey's NUGGETS, lifesavers, gummy worms to represent Davey Jones' face…etc.)
Fun Wi` Sea Dogs
Have a treasure or scavenger hunt complete with a Treasure Chest Box at the end! You can make up a simple treasure map or have all of the clues written in pirate lingo (You can use this link: See How A Pirate Would Say It). The treasure can include everything you will need for your date night at home including the goodie bags listed above.
Grab some fake gold coins and a Pirate Mug then during the movie have a contest – listening for the 'secret' word (which could be anything relating to the movies – treasure, pirates, Jack Sparrow, compass, ship, etc). Whoever shouts out the 'secret' word first when they hear it gets to add a coin to their pirate cup. Then whoever has the most at the end of the night gets a prize – back rub, treat, etc. OR instead of using gold coins this could be the perfect opportunity to get in some kissing time. Every time the 'secret' word is heard…that's right! You two have to kiss. (And no pecking please. Make it a good one! Haha)
Play Pirates of the Caribbean trivia (Click HERE for that link). The winner is awarded a temporary skull tattoo to mark his (or her) accomplishment.
A Wee Lovin' After Wards

If you really want to spice up your movie night…you could always end the evening with a "Pirate-themed" lingerie outfit! You could put one together with what you have in your house already or HERE is one you could purchase online…
If you have never seen any of The Pirate's of the Caribbean movies…you are missing out! You can get started on the first Pirate's movie for this date night below:
Pirates of the Caribbean: The Curse of the Black Pearl