All Aboard The Polar Express
Every year we have a checklist of movies to watch and the Polar Express is always on it! This Christmas, we decided to create a fun and exciting night based off the movie to make some fun family memories!

Disclaimer: This post contains affiliate links. To learn more about 'em, click here.
If you love The Polar Express, then this will soon become one of your favorite, family Christmas traditions! And this printable pack will make this night so easy to pull off!
I cannot even believe the talent gushing out of Kristin. Can you!? These printables are amazing and beautiful and will definitely make this a family night to remember! Check out her work!
What you'll find in The Polar Express Printable Pack:
Polar Express Tickets

Polar Express Themed Hot Chocolate Bar Printables

Polar Express Themed 8×10 Framed Art

4 Fun Polar Express Inspired Family Games

Polar Express Themed Photo Props
 This is a family night that you can totally customize to fit you. No matter what age your kids are, or even if it's just you and your spouse, you can enjoy some fun and games, then cuddle up for movie night!
Are you getting excited???
Polar Express Ticket
These tickets look legit!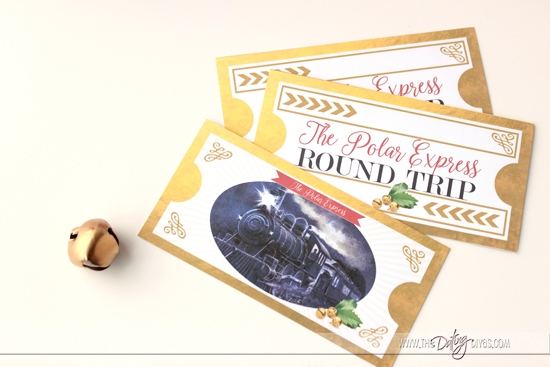 To create anticipation for the night, let the family know that their Polar Express tickets have been hidden somewhere around the house and they need to find it during the day so they can board "The Polar Express" in the evening.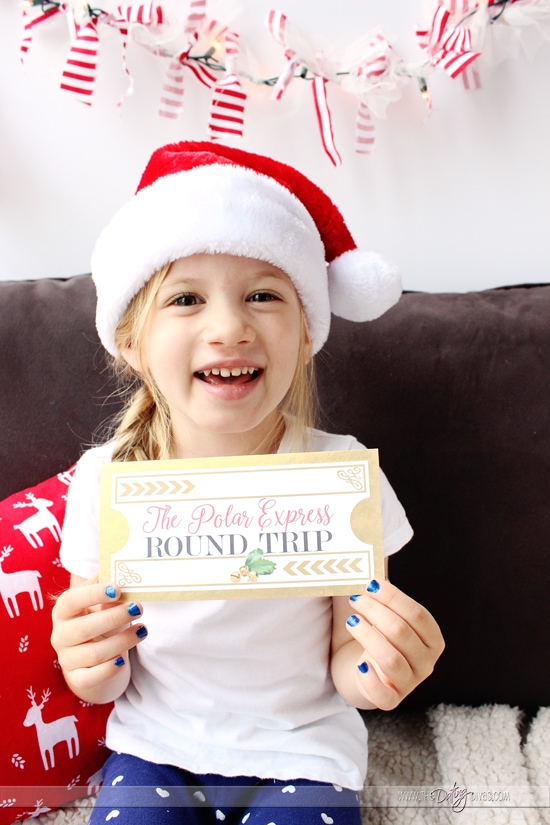 Polar Express Themed Hot Chocolate Bar
To start out the night right, make sure you have your Hot Chocolate Bar all set up.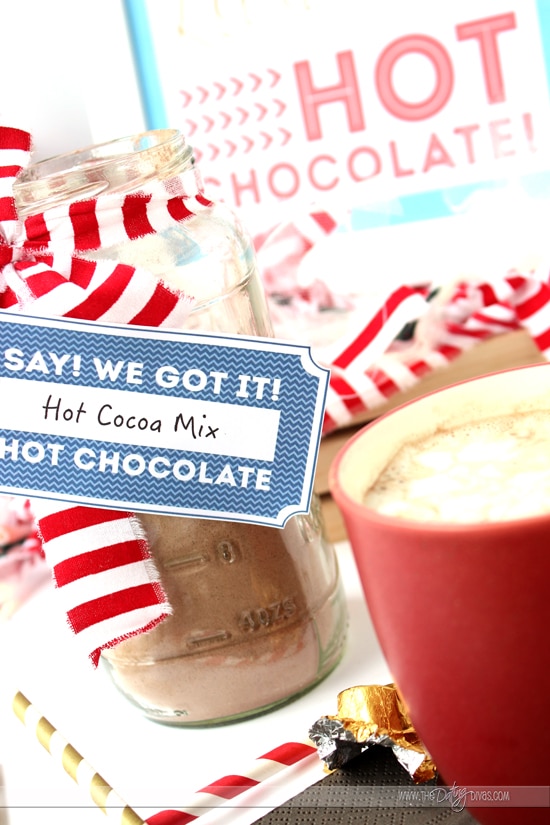 I love the idea of doing a hosting this family night right after you make and decorate sugar cookies. That way you can just use leftover cookies for your refreshment bar! Let's keep it simple!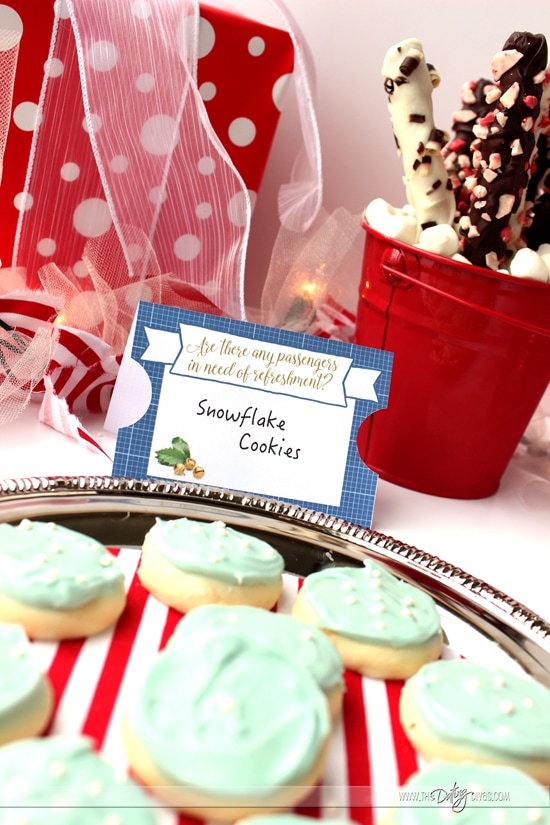 Another fun and super easy refreshment is chocolate covered pretzels with Christmas sprinkles. They take about 5 minutes to throw together and then they just need to chill in the fridge.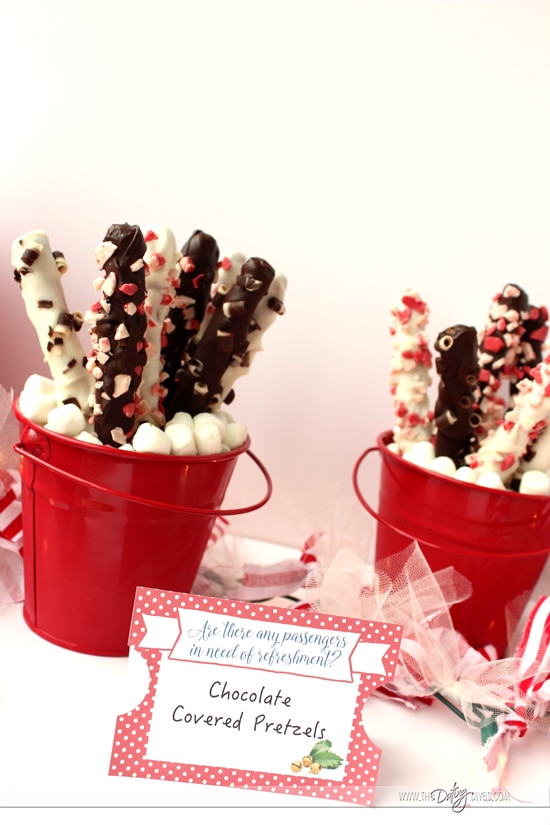 And of course you need to have some fun mix-ins for your Hot Cocoa.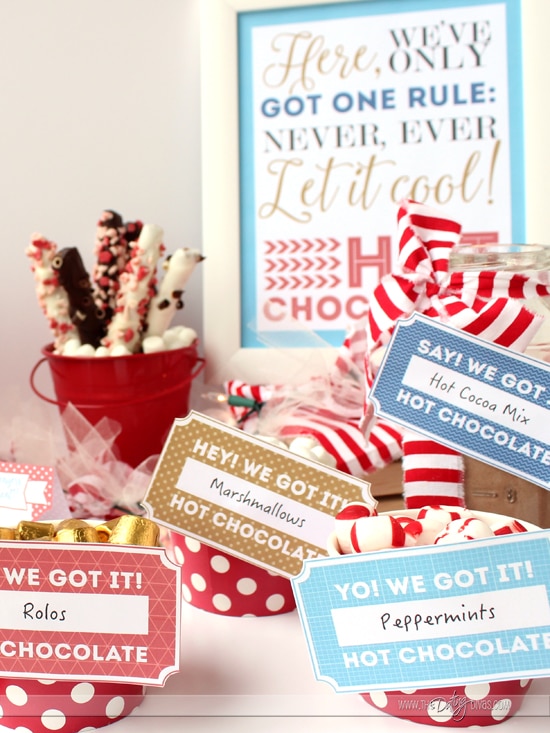 Some of our favorites are Rolos, Reese's Peanut Butter Cups, kisses, peppermint candies and marshmallows!
Polar Express Themed 8×10 Framed Art
I am in love with this fun hot chocolate framed art that you can set out to add to your themed Hot Cocoa Bar!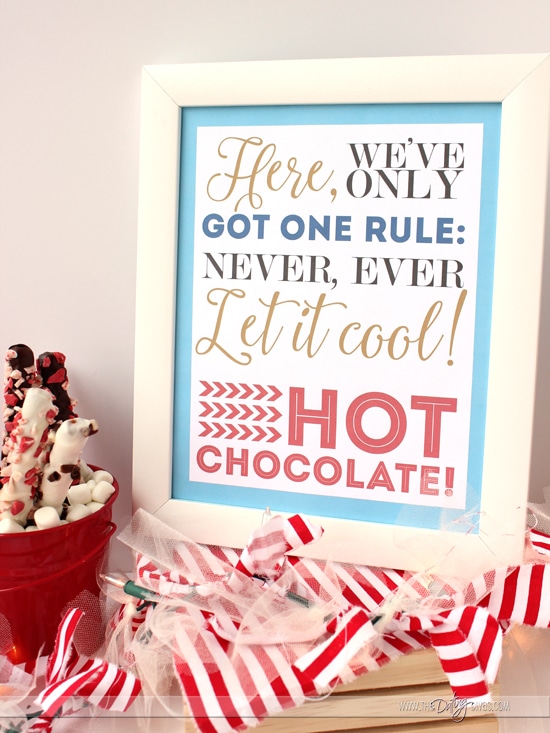 Family Games
Now for some family fun… We came up with 4 fun games all based off of the classic movie.
You'll have to check out the printables (scroll to the bottom of the post) for all of the details… But let me just say that these games are great! Again, they are customizable for all age levels and will definitely provide some laughter!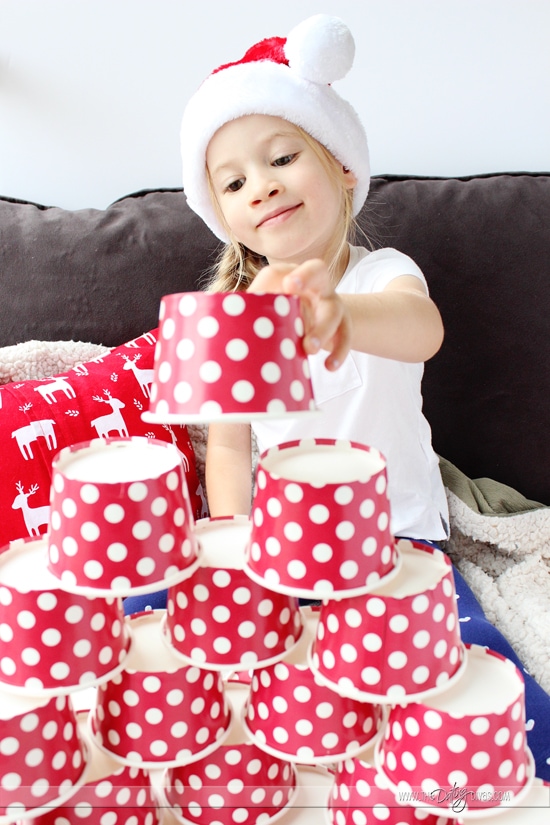 Remember how the boy in the Polar Express receives a bell, but then loses it because of the hole in his pocket? Now its your turn to find The Missing Bell.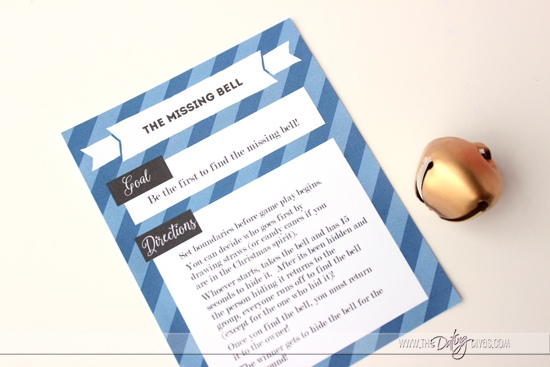 Find out how quickly you can stack the cups in the Cocoa Cup Challenge! I love the scene where all the waiters bring out the hot cocoa and refreshments! They do some crazy cool tricks with those cups… Maybe you can figure out how to do some tricks of your own.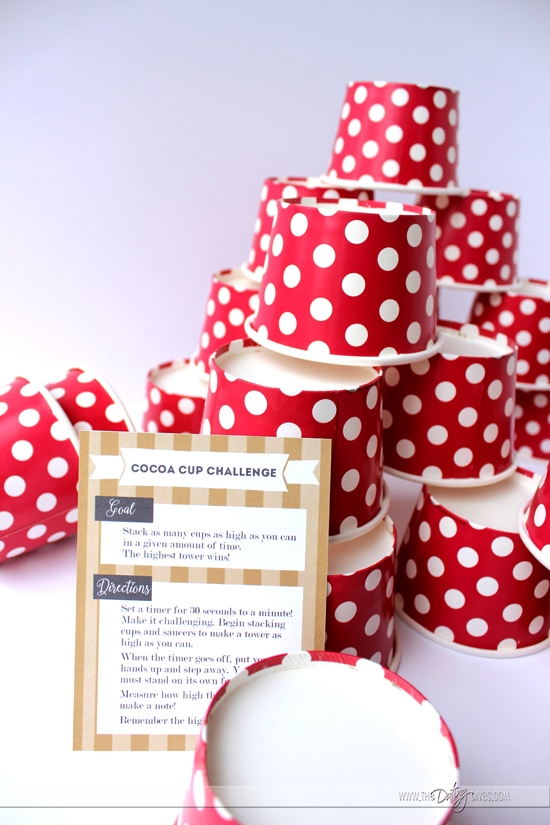 This game is inspired by the elves. They all throw their hats into the air and cheer when the Christmas celebration begins! The Santa Hats Game will definitely involve some elfish sneakiness and cheering!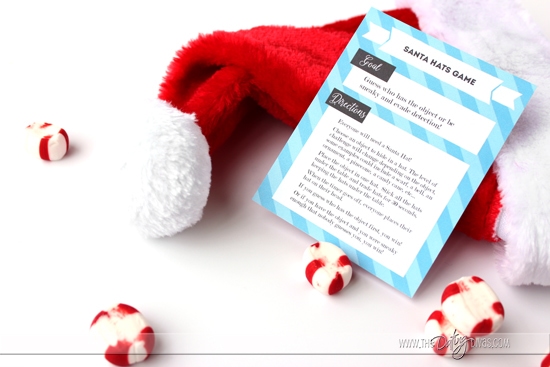 And last but not least, Christmas is all about giving, right? Pass the Present will require some thinking and creativity, but maybe you'll be the one to receive the first gift of Christmas this year.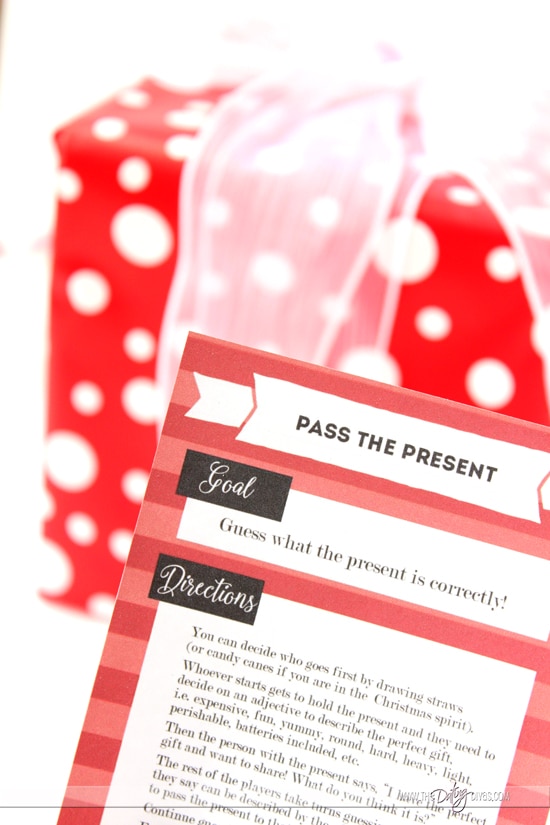 Photo Props
Make some time for make-believe play and take some pictures! The characters in The Polar Express are so fun.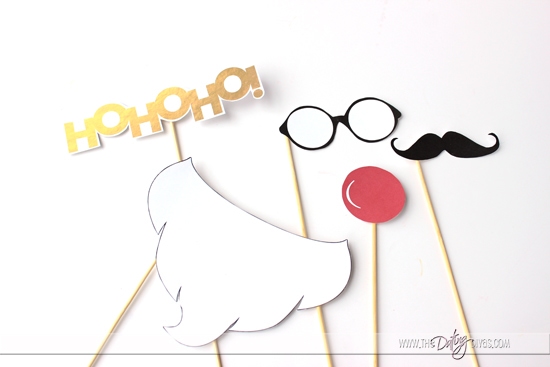 Your kids can pretend to be Santa…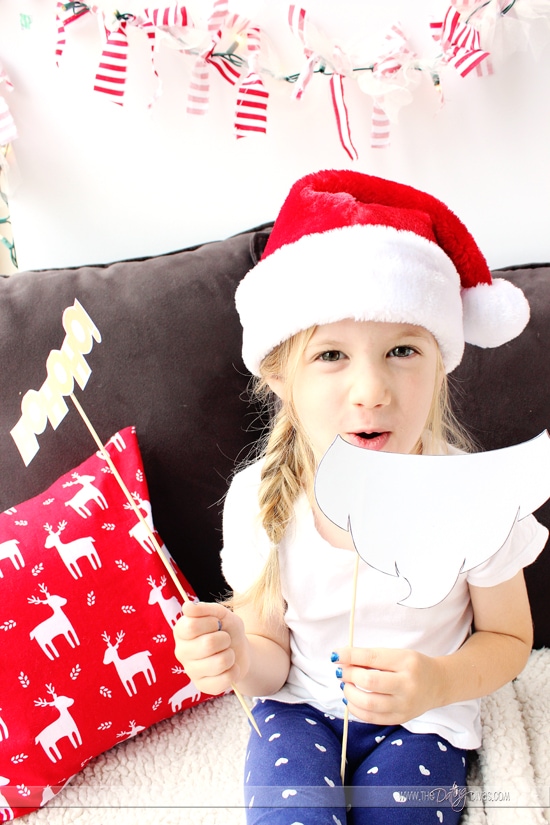 Or the train conductor.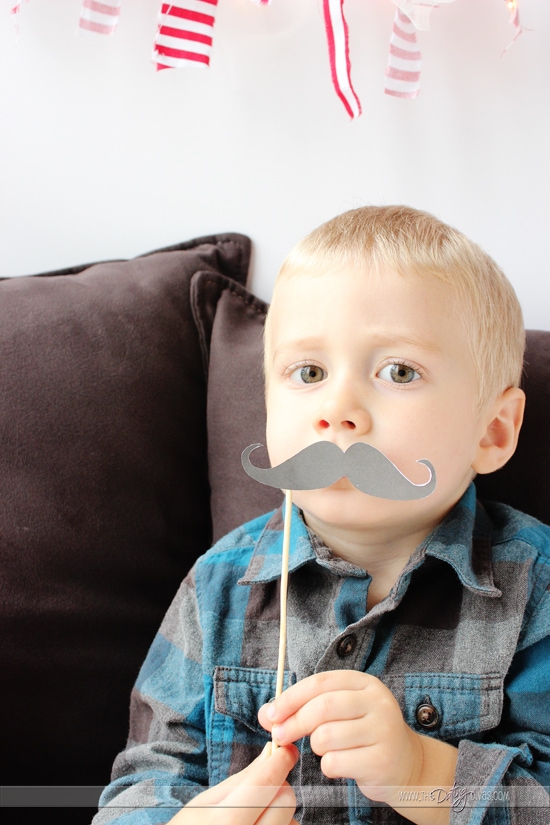 By the end of the night, everyone will be ready to settle down and watch the movie, but not before grabbing refills from the hot cocoa bar!
Polar Express Night
Printables Designed by Kristin @ CDotLove Exclusively for The Dating Divas