Oh, how I love thee… let me POST the ways!
Last week I was going through a box and came across a stack of sticky notes. Each one had a sweet message my husband had written to me while we were dating. He had my roommate let him in and secretly put them up all over my apartment while I was busy at work. Seeing these notes brought back a flood of great memories!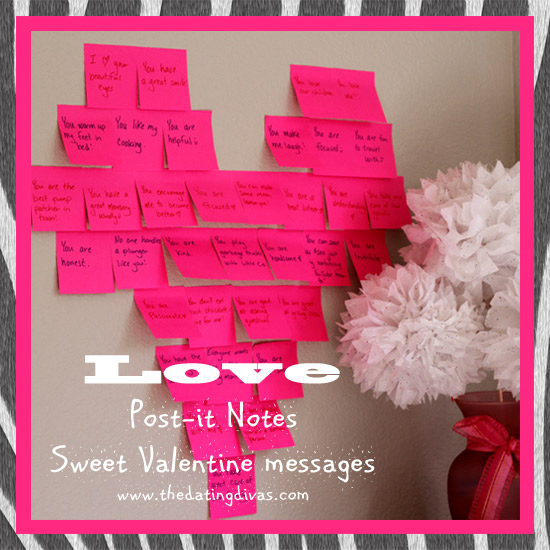 This post contains affiliate links. To learn more about 'em, click here.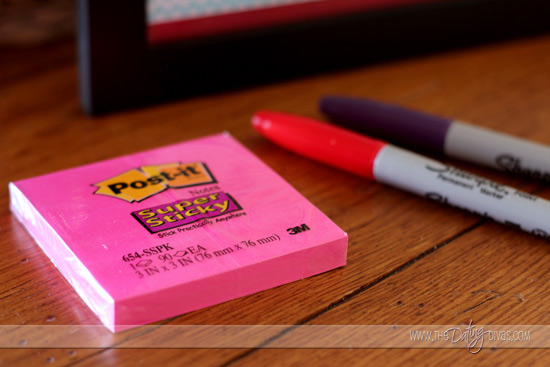 I thought it would be fun to write some notes to him to remind him how important he is to me. I picked up a pack of Sticky Notes
 the next time I was out and pulled out my red and purple Sharpies. I know it's a little girly, BUT since Valentine's Day is fast approaching, I figured it would be perfect. 🙂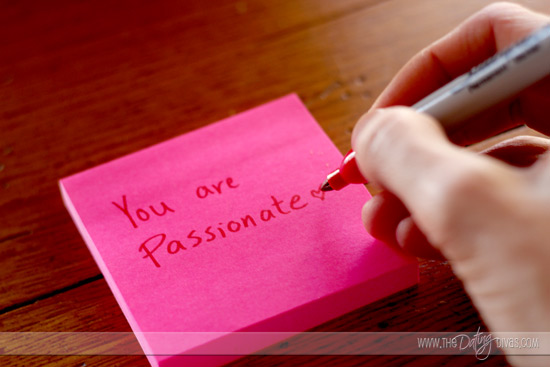 It was really easy to come up with a list of reasons why I love my husband.  Some were serious and some were a little silly… like one that referred to him saving us $500 by watching a YouTube Video. I have to share this with you all because I think it is so awesome! Somehow, a big dent ended up on the back trunk part of my car. (I swear I did NOT back into a pole- it looked like some giant football crashed into it!!) Anyway, I had it assessed at the collision repair shop and they gave me an estimate of $500 to fix it. Yipes! Once I heard that, I figured that dent was in for life. My brilliant husband decided to do a little research about our problem online and thanks to a few YouTube videos, he got the idea to use our PLUNGER to pull the dent out. That is right, our $2.98 plunger got the job done and pulled the dent right out! Good job, honey!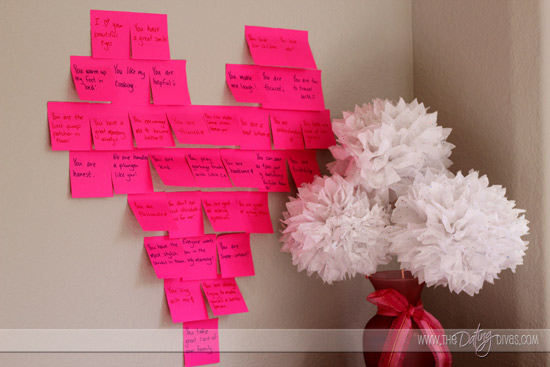 To make my Sticky notes just a little more special, I decided to form them into the shape of a heart. You can see by my picture how easy it was- you could make yours nearly any size.  I was thinking it would be really cool if you had a glass enclosed shower to put them on the outside of your shower so they can be read while showering.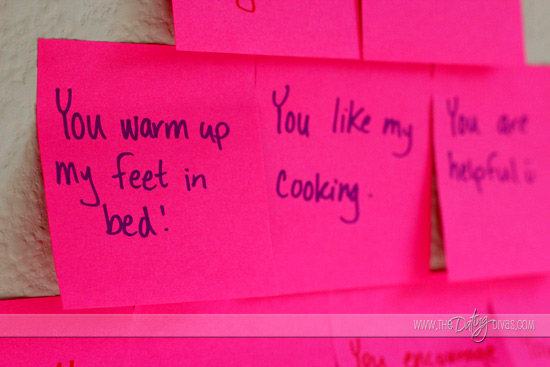 This is a super inexpensive and easy way to remind your spouse that they are loved! This heart shape works perfect for Valentine's Day or your anniversary, but I think it would be fun to try different shapes and Sticky Notes
 colors for all the different holidays. A green shamrock, a pastel Sticky-note egg, or what about a Sticky-note watermelon for the summer? The possibilities are endless!  Just be creative and let your sweetheart know how much you care. If you are looking for more ideas to show your love, check out Tara's post How Do I Love Thee? that uses a muffin tin and free printables to make a count-down that won't be forgotten or try Sarina's Love Poem in an Instant.