Our Favorite Couples Sex Toys to Use for Valentine's Day
"Buzz. Buzz. Buzz." This is your new bestie speaking… or shall we say, your two newest besties speaking. Whether you're already a toy connoisseur or a complete newbie to buzzing sex-cessories, our Diva-approved Sexy Sweetheart Set is the epitome of couples sex toys!
This Valentine's Day, treat your sweetie AND yourself to a Valentine's gift that is way better than any chocolates or roses. You can gift your spouse the hottest new bedroom box while also planning a spicy night together–at home or out on the town. Let's just say this year's experience will give a whole new meaning to the word, "V-Day!"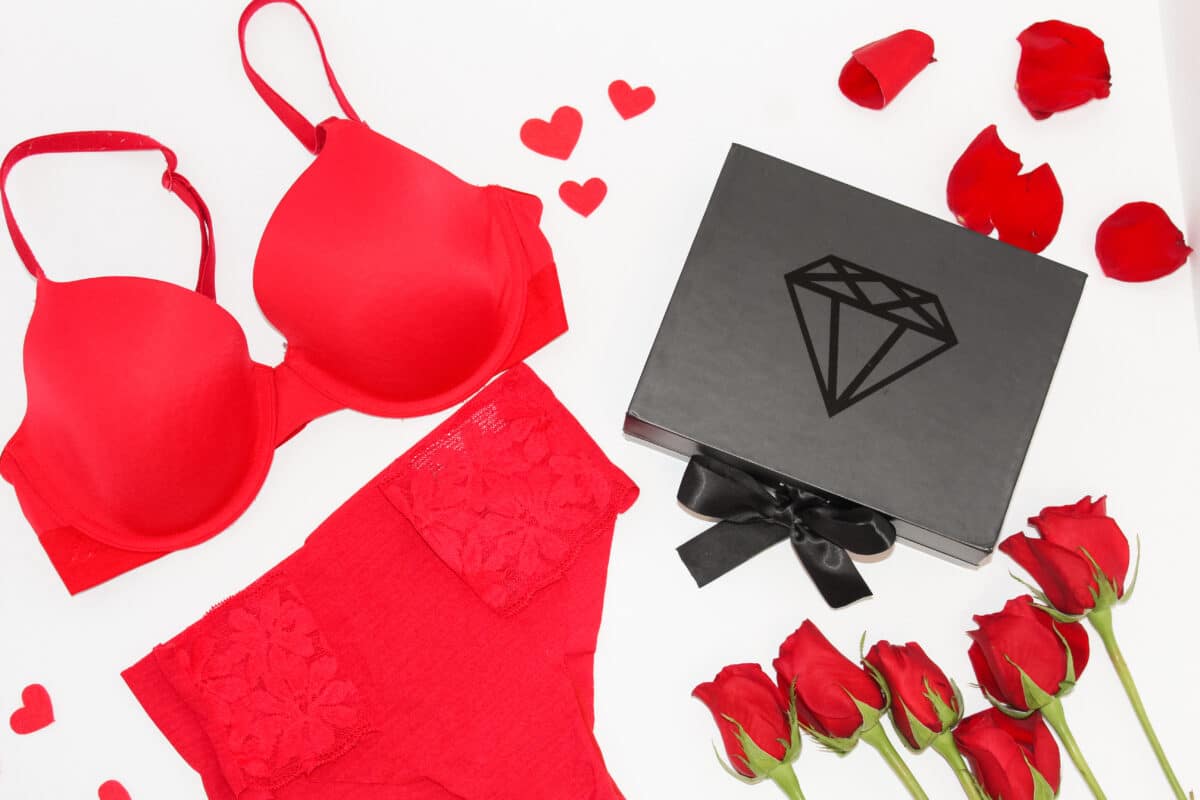 Meet Our Sexy Sweetheart Set
Turn off the lights and turn this on…
A V-Day Bedroom Box for couples–featuring the BEST sex toys for couples!
HIS & HERS sex toys to be used TOGETHER with app control.
It's the perfect way to get closer than ever… in the bedroom!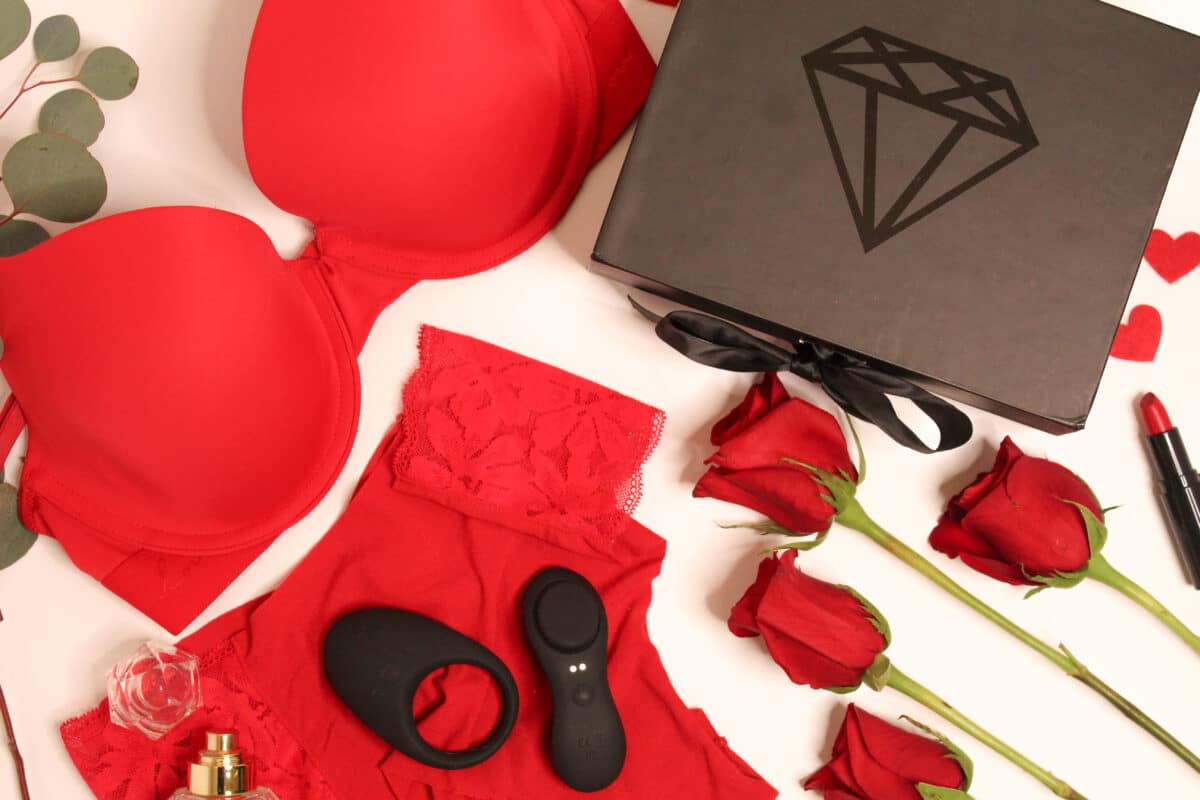 While this set DOES include products for between the sheets, you can feel confident that it is still "Diva Approved!" This means that you know you can count on us to keep our sexy products classy and clean! Oh… and they are also 100% tried and true.😉
Using Adult Toys Within Your Marriage
First things first… we are definitely NOT the bedroom police! It is not our job or place to tell you what is and isn't okay to do or to use within your marriage. You, as a couple, get to decide together for yourselves what you BOTH feel comfortable with in and out of the bedroom.
We understand that some individuals think of sex toys and vibrators only as tools for solo use in secrecy. However, here at The Dating Divas, we believe that marriage should be a mutually satisfying sexual relationship between both partners.
Sex should be a relational, connecting aspect of marriage. Any tool or product that helps to foster better connection and mutual pleasure within marriage is DEFINITELY Diva approved!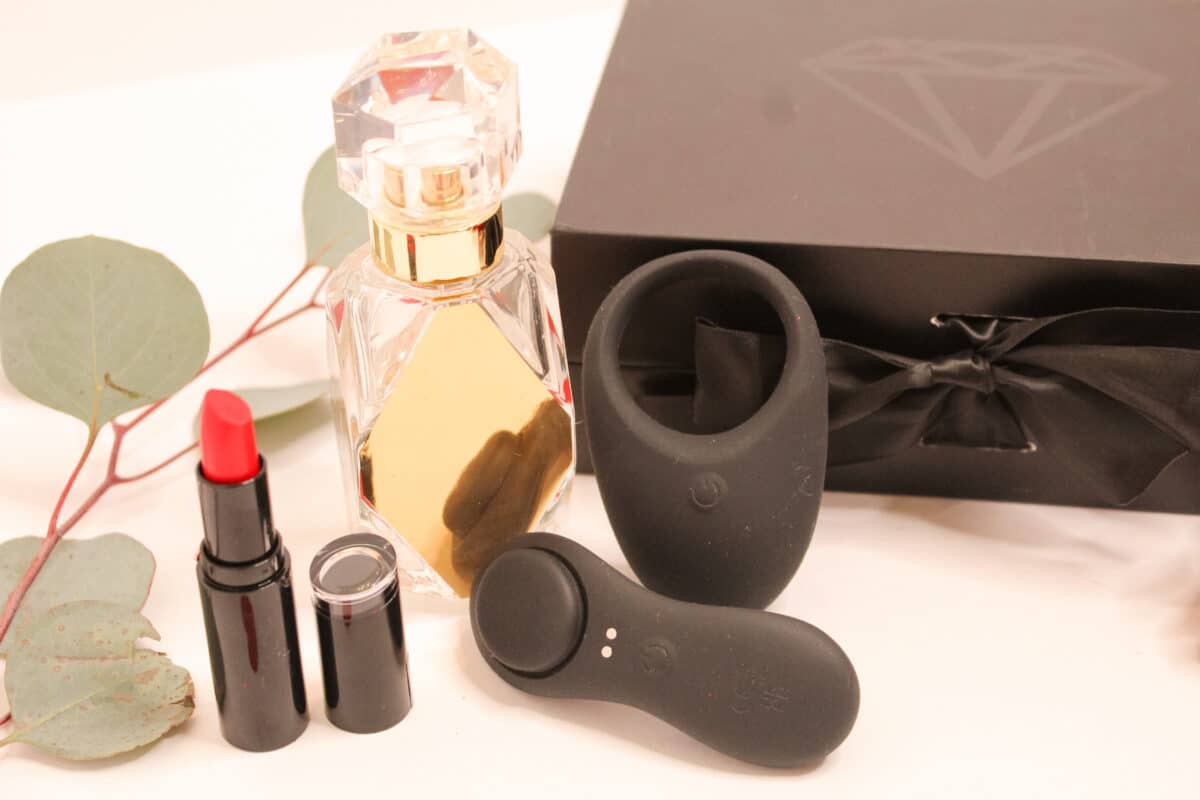 Benefits of Using Sex Toys in Marriage
It's no secret that many emotions are involved when it comes to sexual intimacy and the use of couples sex toys. Many individuals struggle with the thought of bringing outside assistance into the bedroom. Or, maybe you think it's weird, uncomfortable, or even "not allowed." But, once you hear about all the benefits of using sex toys for couples, we are confident that any fears or doubts you had will be squashed right on the spot! The secret lies in an open mind and a willingness to explore and have fun!
It opens up communication about sex and starts a discussion about what feels good for each of you.
Trying something new together adds variety, excitement, playfulness, and FUN to the bedroom–even if you already have a great sex life!
Toys can make it a lot easier to orgasm which makes sex more enjoyable and pleasurable. When it's more pleasurable, you're more likely to want it more!
People with responsive (not spontaneous) desire often need touch and sexual contact first in order to spark desire. A couples vibrator can be a great way to "warm up" and awaken your desire.
If intercourse is not an option due to medical reasons, adult toys can be a great way to stay close and connected.
The best couples sex toys can also aid in managing sexual dysfunctions.
Now these are the kind of V-Day VIBES that both you and your spouse will love!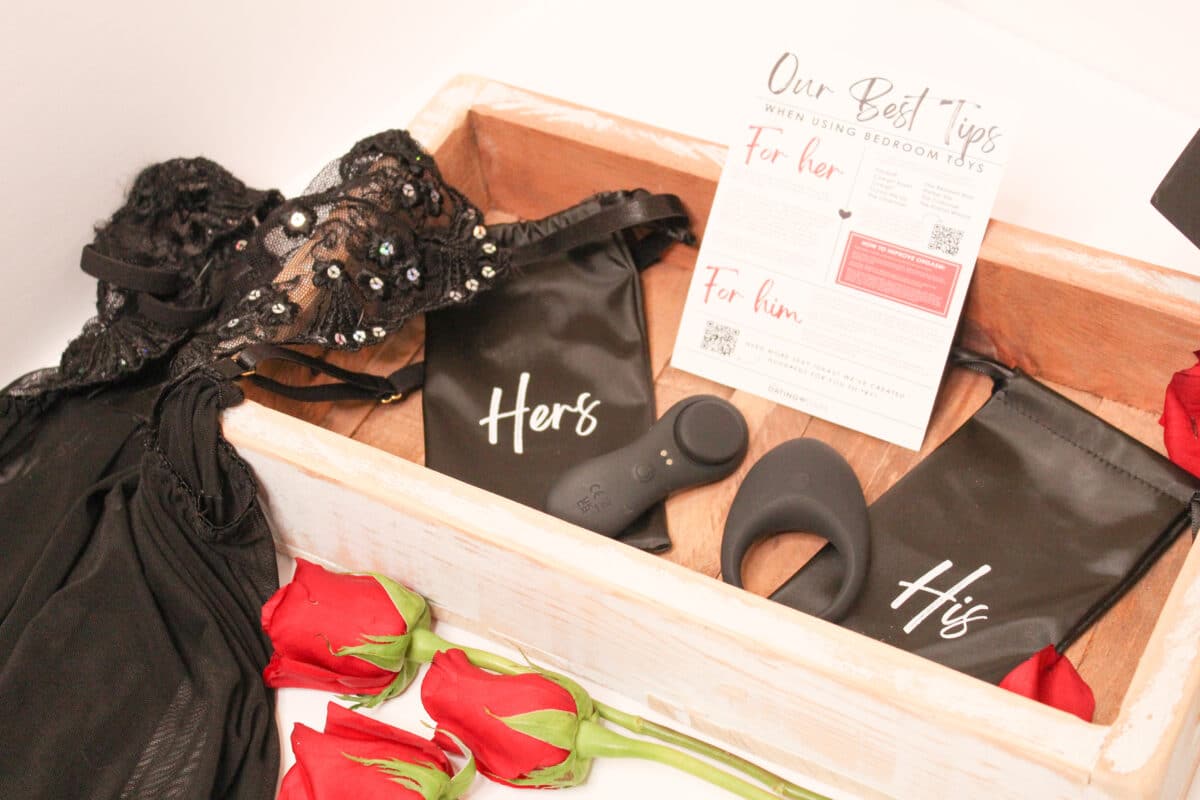 What's Included in the Sexy Bedroom Box
The steamy combination of two Diva-customized sex toys is perfect for any couple desiring mutual, playful, passionate, connection-based pleasure.
Our Sexy Sweetheart Set includes:
1 Panty Bullet for HER: a small black vibrator complete with magnetic keep-in-place technology
1 Vibrating Ring for HIM: a black vibrating ring designed for his and her stimulation
Sleek His & Hers storage bags
His & Hers charging cords
Informational cards: includes benefits of using couples sex toys, tips and tricks, sexy date ideas, and more!
Access to a secure, encrypted app for each toy

Each toy in this sexy set is controlled via a sex app by your spouse!
This feature allows the wife to control the vibration and pattern of the husband's and vice versa. You can even create your own vibration playlists!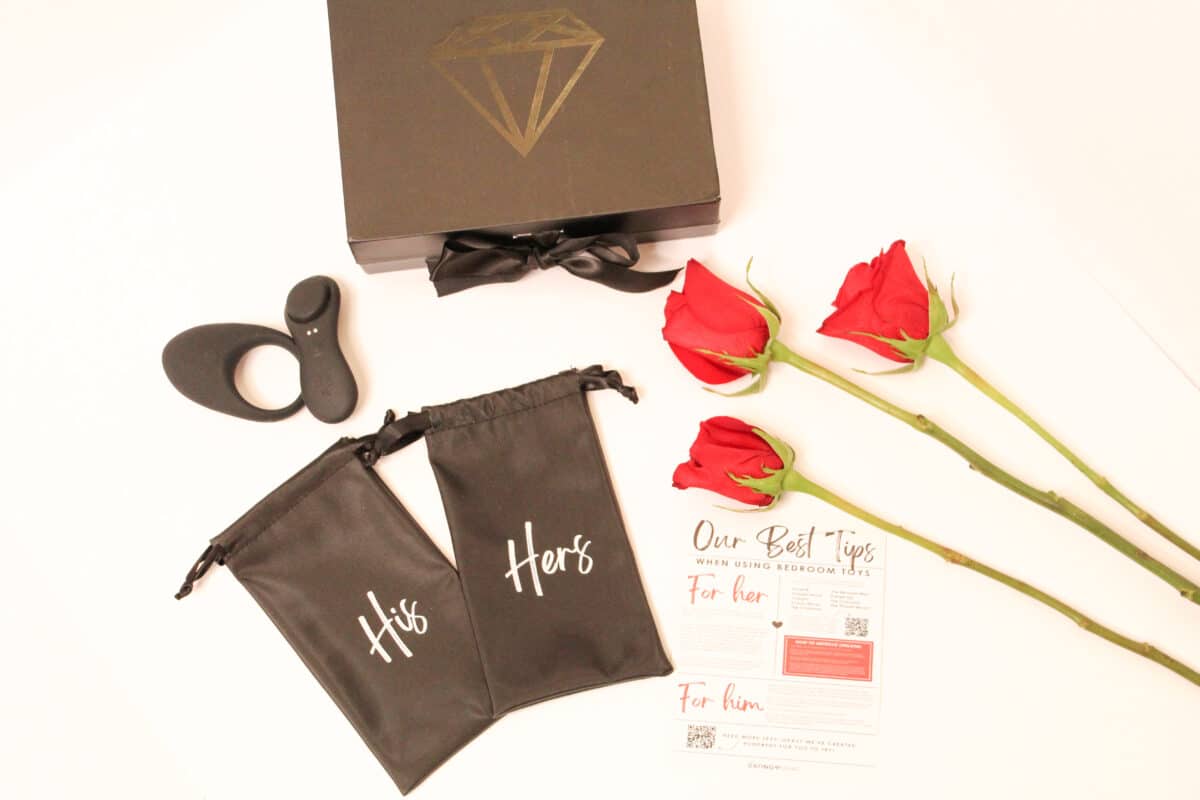 Designed for HIS and HER use, these sexy, sensational toys really are the best vibrators for initiating more teamwork and pleasure between the sheets!
The Perfect Valentine's Day Gift
So hey, before testing out your new vibes, maybe consider buying your spouse dinner first, right?! Or better yet, take your V-day vibes with you and have dinner all together! 😏
This Valentine's Day, you and your spouse can share your evening with your two newest sex-cessories regardless of what you have planned!
Want to stay in? Prep a movie night with snacks and a little buzz!
Feel like going out? Head to the movies and see which one of you can hold out until the end!
Spending this year apart? Not a problem! With our app-controlled toys, you can enjoy these from ANYWHERE… even when you're not together. Say, "Hello" to your newest long distance vibrator!
This is a sexy gift for your HOTTEST Valentine's Day yet!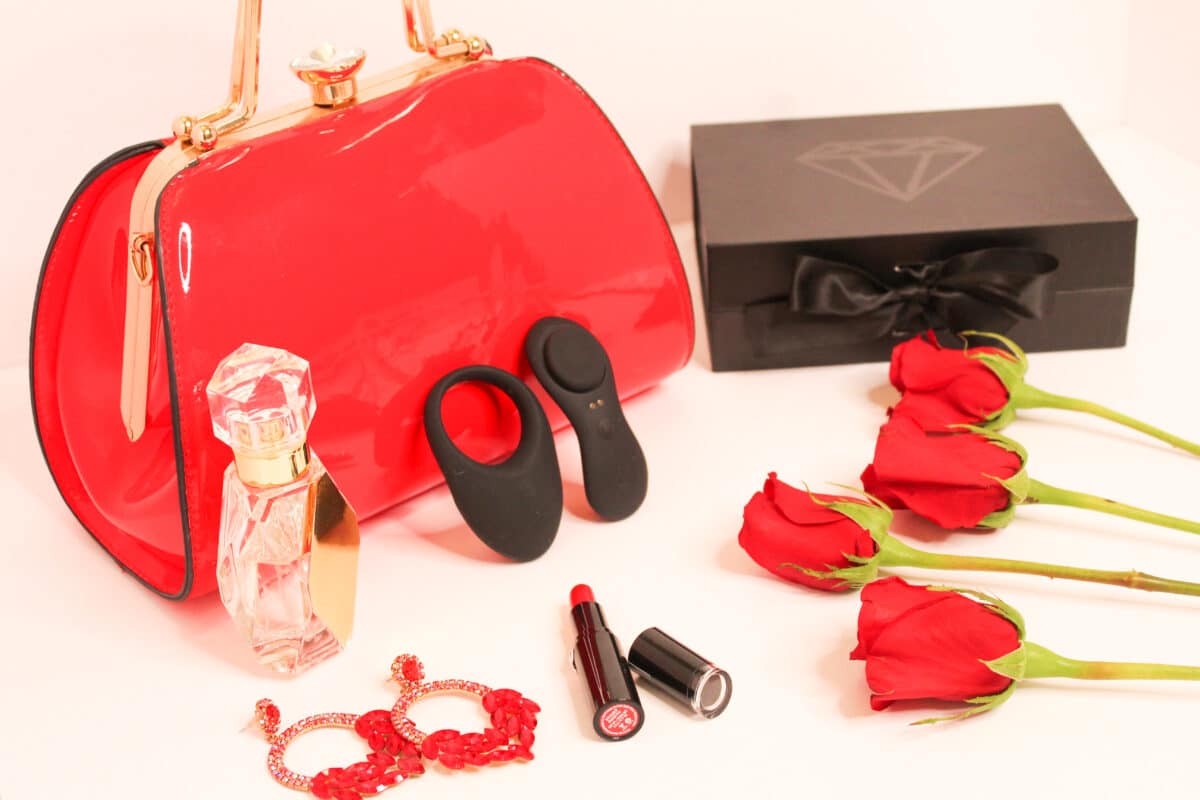 Grab your Sexy Sweetheart Set and put the PLAY back in FOREPLAY!
PRICE: $200
**We are currently SOLD OUT of the Sexy Sweetheart Set, but watch your email & text messages for a restock announcement!!**
*IMPORTANT: U.S. SHIPPING ONLY*
*This is a PHYSICAL PRODUCT that will be shipped to your door!*