A well-thought-out and very creative idea for an anniversary, birthday or just because! Nicole sent us this ah-mazing idea!
*     *     *     *     *     *     *     *     *     *
First, let me tell you first of all that I am in a Women's Bible Study class. Most of us though are actually married and yesterday I shared a message on dating your spouse. The girls loved it!  The first question they had after I told them some ideas and some dates I had done was, "is he reciprocating?" and my answer, "no he's not, yet." But he loves the dates we've done and it's teaching me to be more giving, love unconditionally, and appreciate the ways he does show his love (he's very practical – no Lloyd Dobbler and a boom box here….) rather than expect him to adopt my over the top romantic sensibilities!
Second, a long time ago, a friend of my sisters that was a newlywed at the time had told her how they had a day of the month that focused on each of them. Like my husband's birthday is the 27th of July, so the 27th of every month is his day – a day devoted to celebrating the gift that he is in mine and my son's life!!
So this year, I decided to do a whole theme, "It's a Wonderful Life." Each month I am highlighting a reason why his life is wonderful. My most recent project was cutting out over 200 raindrops and wrote a blessing on each one and them taped them to our ceiling, and scattered them around the bed  so when he came home from work there was a note on our bedroom door that said "It's a Wonderful Life because God's blessings pour down on us like rain" and when he opened the door it was "raining God's blessings" in our bedroom!  He totally LOVED it!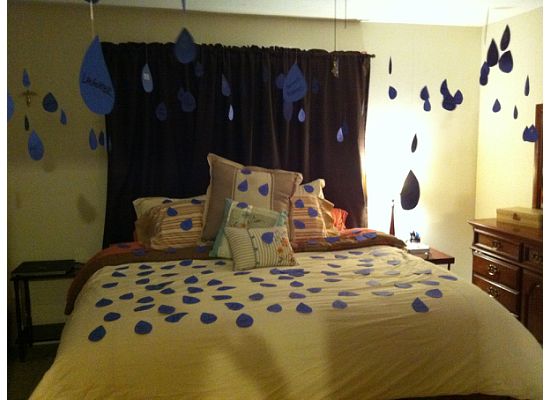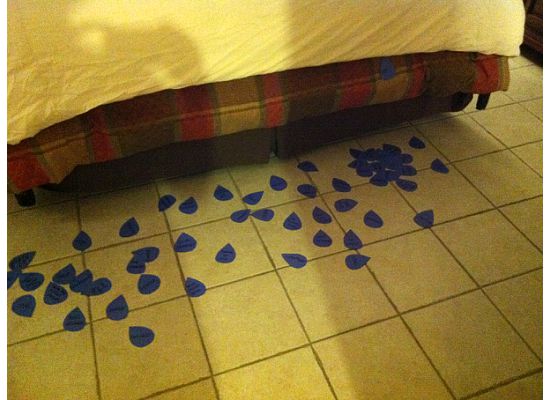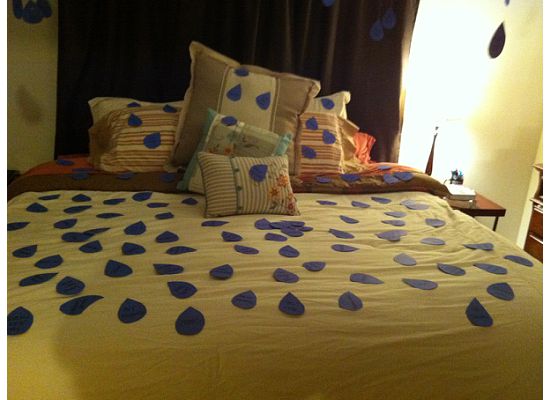 *     *     *     *     *     *     *     *     *     *
Is that not so creative! I think everyone needs to shower their hubby with love soon! You can even pair it up with Corie's Shower Him With Love gift basket!! Thanks Nicole!!