3 Romantic Wall Art Ideas for Valentine's Day
This year make Valentine's extra special by creating a beautiful piece of artwork that you can display to show your loved one how much they mean to you!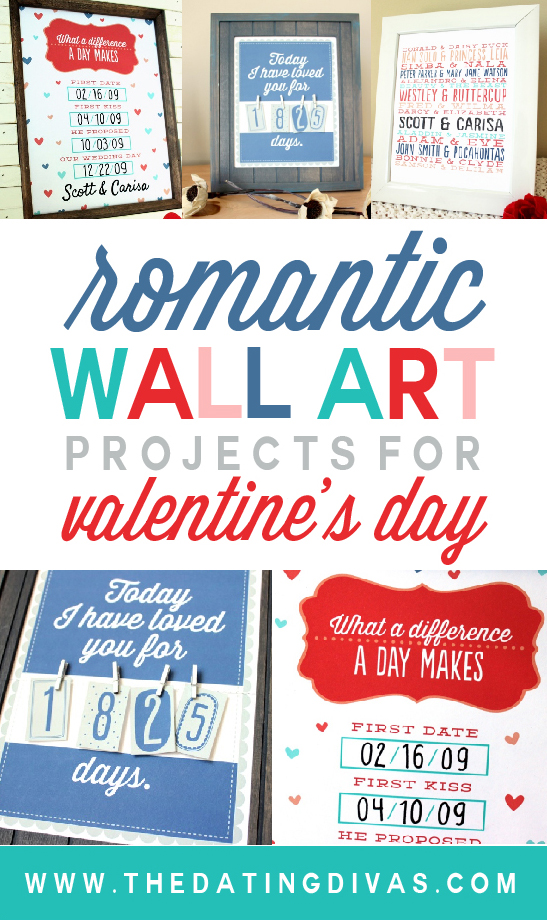 Disclaimer: This post contains affiliate links. To learn more about 'em, click here.
I love how many different and creative DIY Art projects there are out there to inspire us.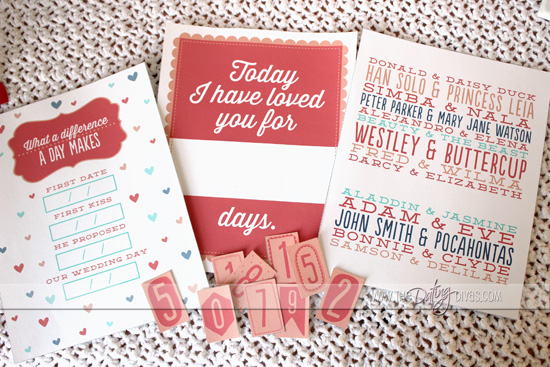 Together, with Kensie Kate's amazing talent, we've created 3 different FREE printables to help you get your inner diva on and create some romantic Wall Art for your man!
First, you will need to decide which of these fabulous printables you want to use.
Print out your chosen wall art and then choose a frame that you think compliments that printable!
Each poster is customizable, so you get to decide how you would like to finish it off.
Let's check out all the printable wall art designs….
What a Difference a Day Makes
Remember those special moments that helped you and your loved one get to that special day!? Now you can frame them with this fun and romantic wall art printable…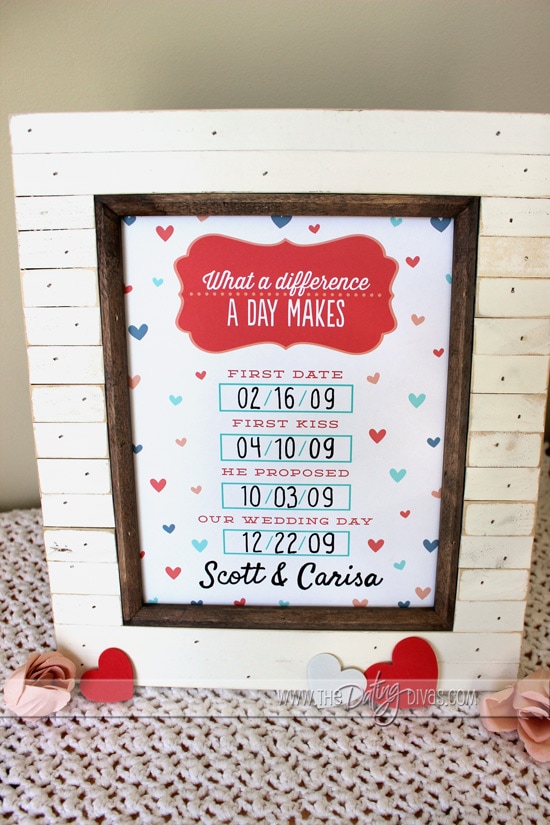 If you have beautiful handwriting, you can simply write your names in.
Or if you are more like me, you can trace your names!
I just found a font I liked and typed our names up, printed it out and centered the font behind my printable. Then I held it up to the window so that I could see it easily and trace the pretty font!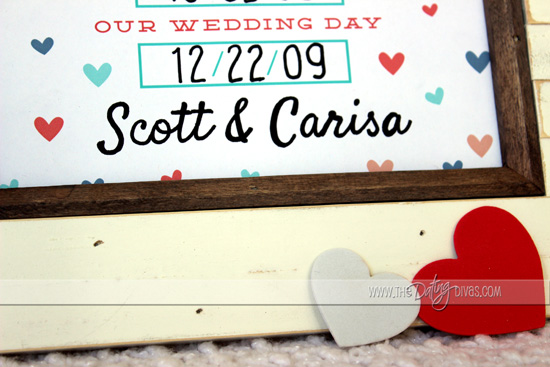 If you want to be even more crafty you can make a stencil or use stamps to put names and dates in!
Today I have loved you for…
I love how this Romantic Wall Art piece turned out! The printable numbers look adorable and make this piece an interactive one that you can change on special occasions like Valentine's Day or your Anniversary!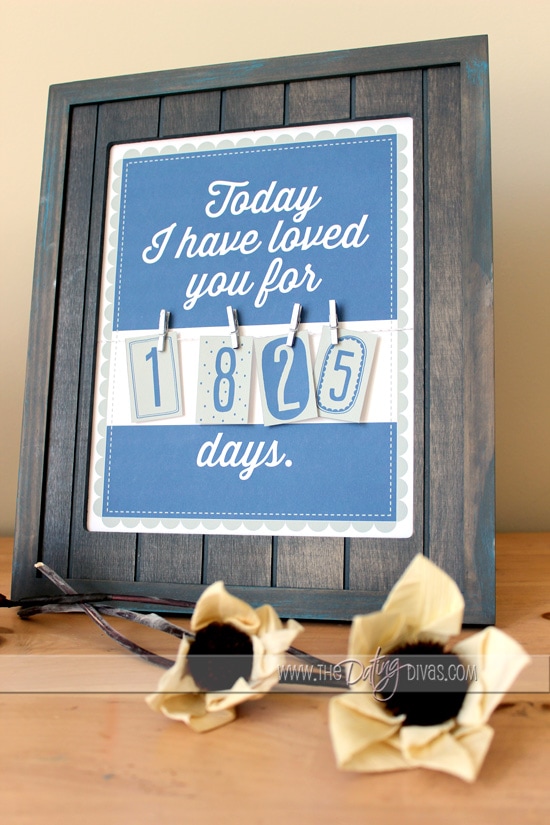 We designed this printable in both red and blue so you can choose which color you'd like and put this one together. You will need to grab a couple extra things to put this one together.
I used little mini clothespins and spray painted them silver. I grabbed some white and silver twine, pulled it tight across the picture frame and taped it to the inside before putting my printable in the frame… after checking to make sure it was in the right place, I put the printable in and sealed it all up. Then I placed the numbers where I wanted them and used the clothespins to attach them to the twine!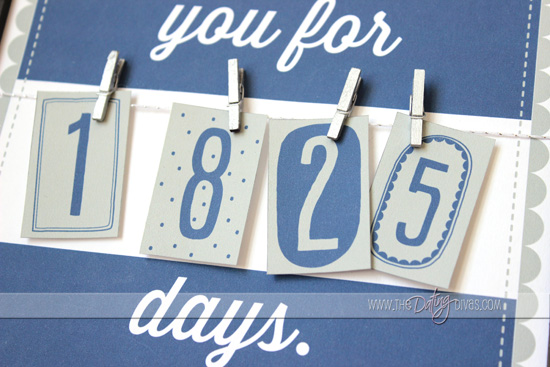 Aren't those numbers adorable??
Crazy in Love Couples Poster
We created 2 different designs in this poster so you can choose the one that has the couples that you love the most. Then just trace or stencil your names in the space provided!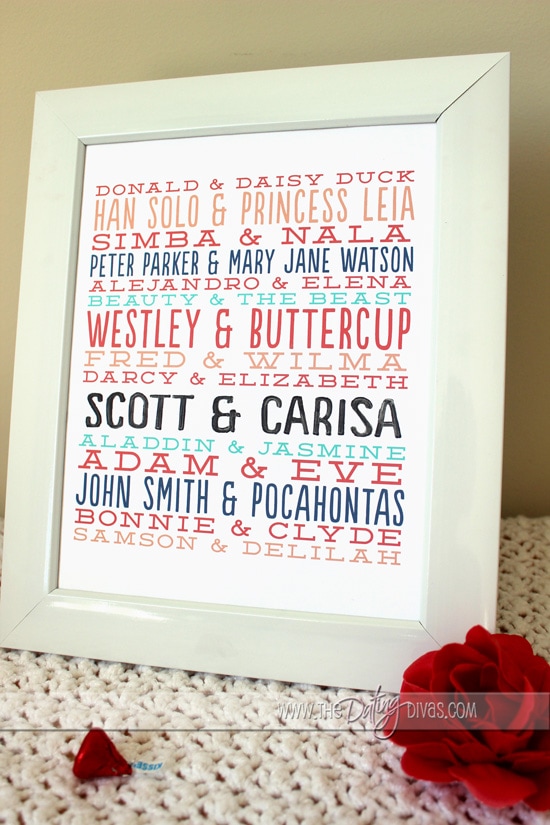 This printable is also super easy to customize. I used a stencil I created to write our names in so that the font of our names would match up to the rest of the couples!
If you want to create a stencil with the same fonts, they are Populaire and Deming.
Now let's get printing!!
Romantic Wall Art
Designed by Kensie @ Kensie Kate Designs Exclusively for The Dating Divas