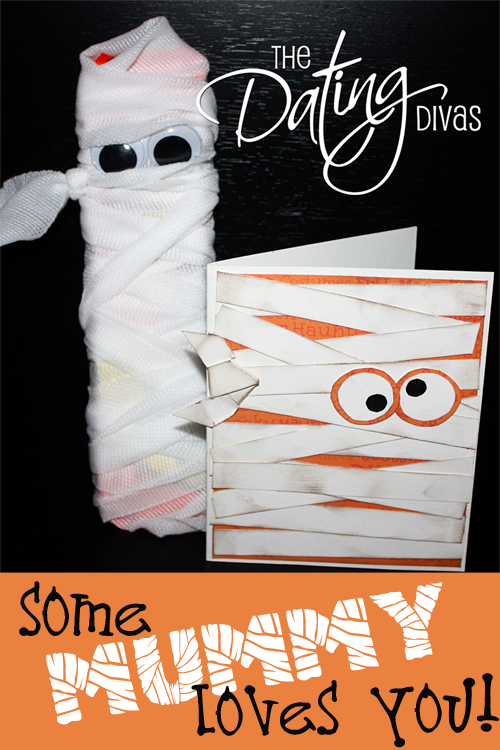 I think every Holiday is a reason to celebrate and Halloween is no exception. I think it's fun to surprise my husband and son with a little something on Halloween morning. It doesn't have to be expensive – get creative! Last year my husband got a Spider musical tie from the Dollar Store with his favorite pack of candy – classy, huh! This year, I decided to do a mummy theme.
For the card I used white card stock, black card stock, orange paper – whatever you have in your stash (mine had Halloween words printed on it,) glue stick/glue dots, paper cutter, and some ink to distress.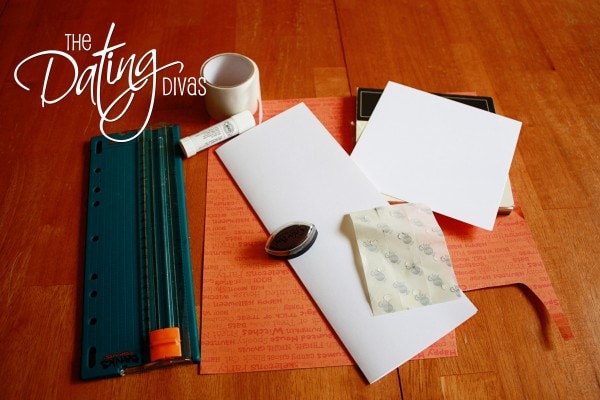 Start by cutting your orange paper a little smaller than the front of your card. Use your ink pad (mine is bronze) to distress the edges. Glue the orange paper to the front of the card.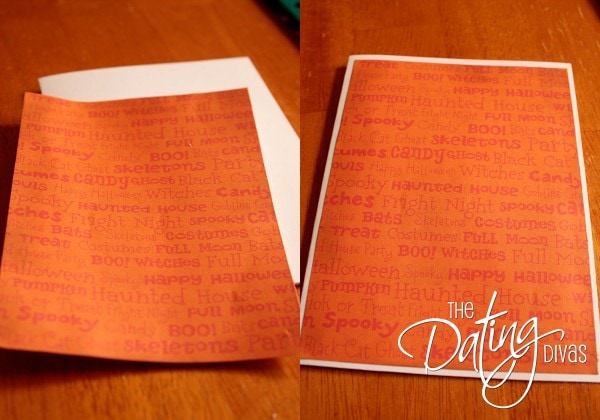 Next cut a bunch of ½ inch strips from your white card stock. Then use your ink to distress the edges making it look old – like a mummy!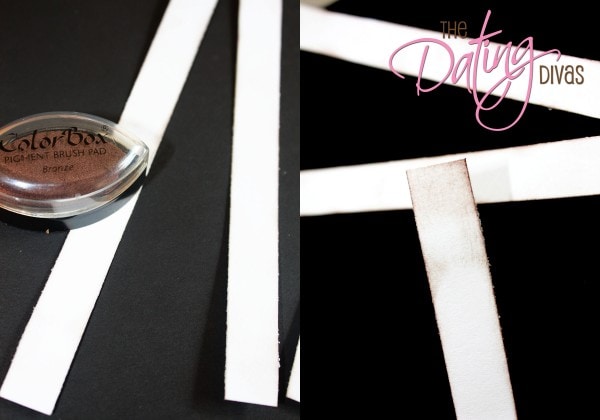 Once your strips are ready, begin placing them on the card and gluing them down. I started from the top and the bottom, working my way in. I also let the strips hang off the edge until I was finished and then cut them all off once all the white strips were in place. I chose to leave some of the orange poking through. If you want to cover more of it up, glue more white strips on.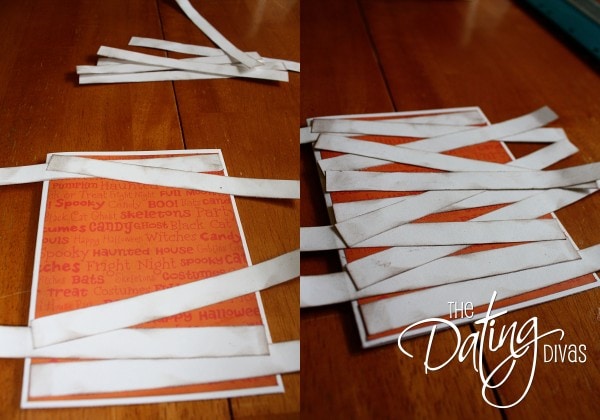 Then cut out two large orange circles, two smaller white circles, and two small black circles. Glue them together to create the crazed mummy eyes.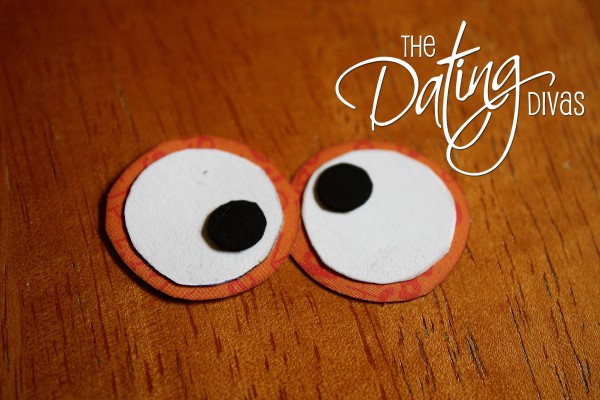 Lastly, attach the eyes to the mummy card. I also used my last white strip and tied it in a knot, trimmed the ends, and stuck it on the side of the card to make it look like the mummy's head bandage.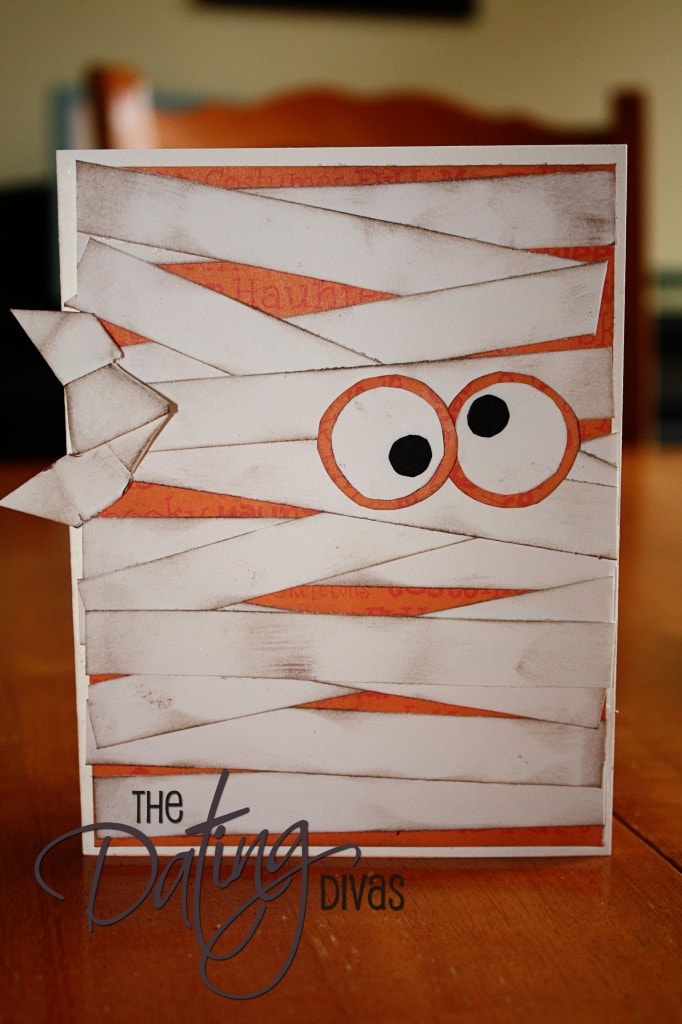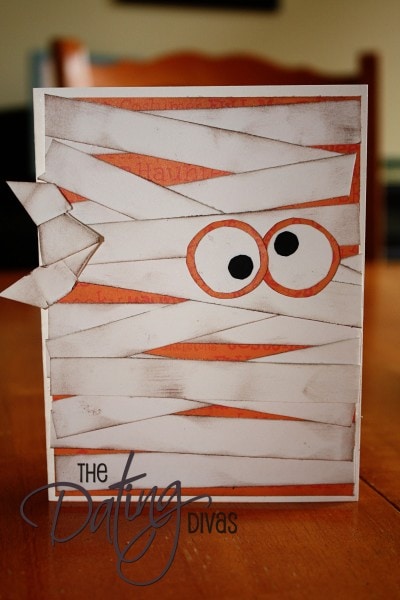 You can then write whatever you want for the message. In mine I wrote, "Some 'mummy' loves you!"
Here are the materials for the mummy treat:  a hot glue gun, your man's favorite king size candy bar, giant google eyes, and medical gauze (I got mine at the Dollar Store).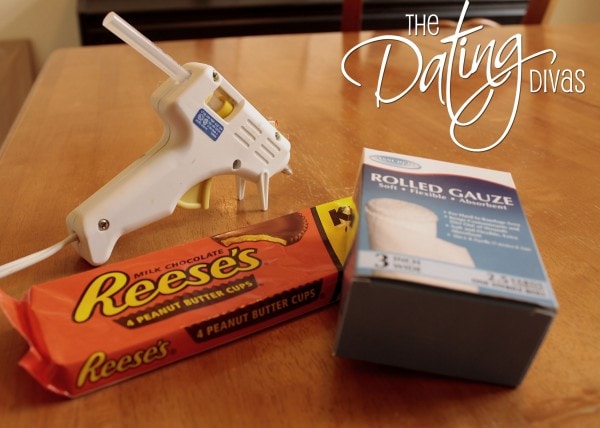 (I had originally seen a similar idea
here
. However, after being unable to find Sugar Daddy suckers and realizing my husband would like a Reese's better, I changed it up a bit.)
Start by putting a dot of hot glue on the back corner of the candy bar. Then place the end of your gauze on the glue.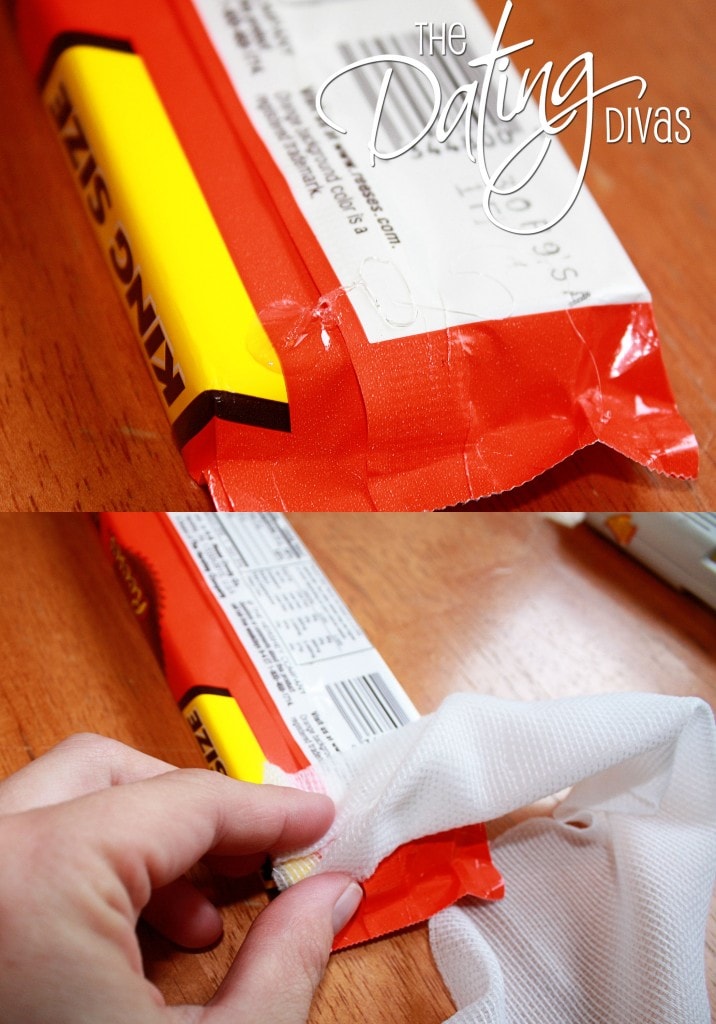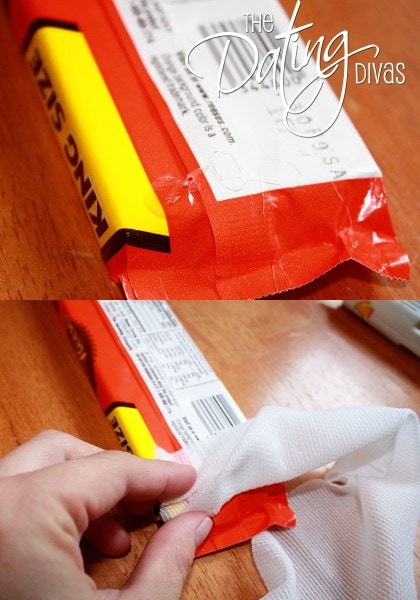 Then just wrap up the candy bar, twisting and moving the gauze as you go. Also, put a dot of glue here and there to hold the gauze in place. One 3 yard roll of gauze is the perfect amount to completely cover your candy bar and tie off the end.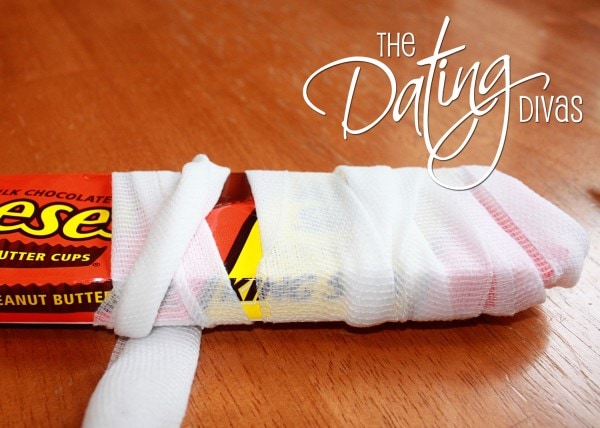 Once I had covered the entire candy bar, I tied a quick knot in the end to make it again look like the mummy's head bandage. Lastly, I added giant google eyes with a dot of hot glue on the back. I adjusted the gauze to come over the eyes a bit to make it look like they were underneath.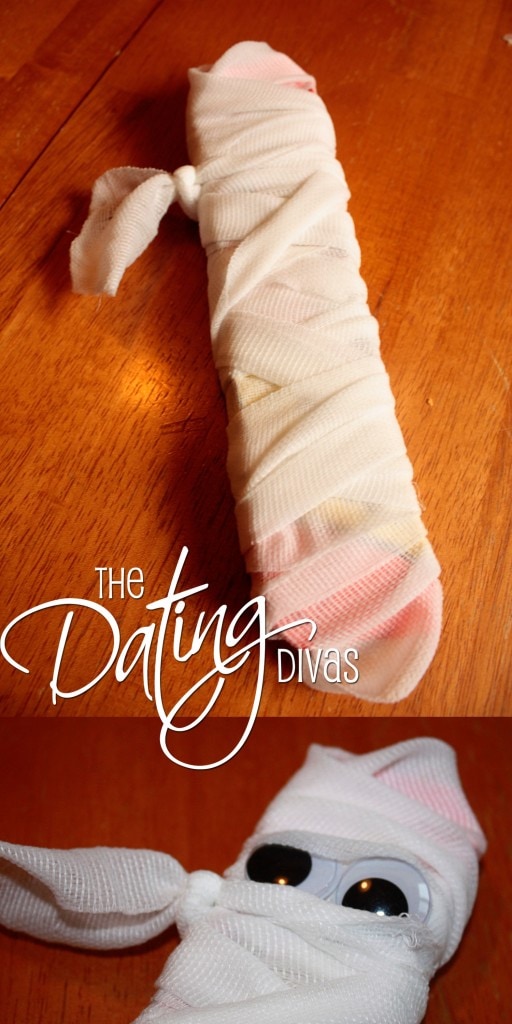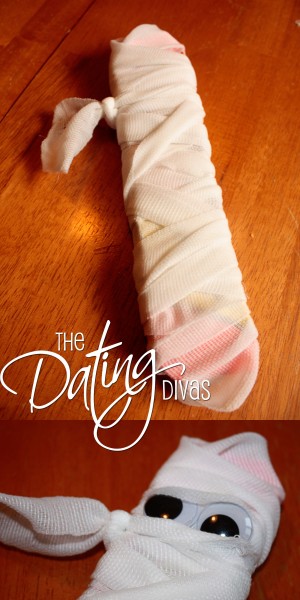 And there you have it! A simple and inexpensive treat for your man or kids this Halloween.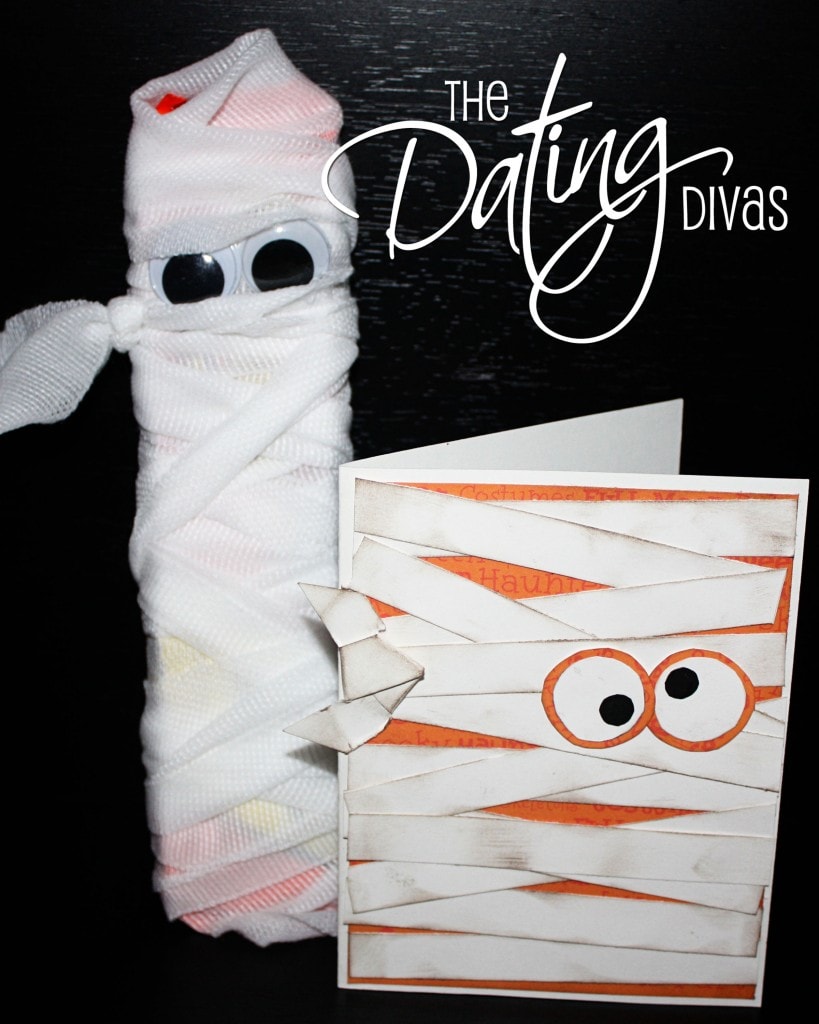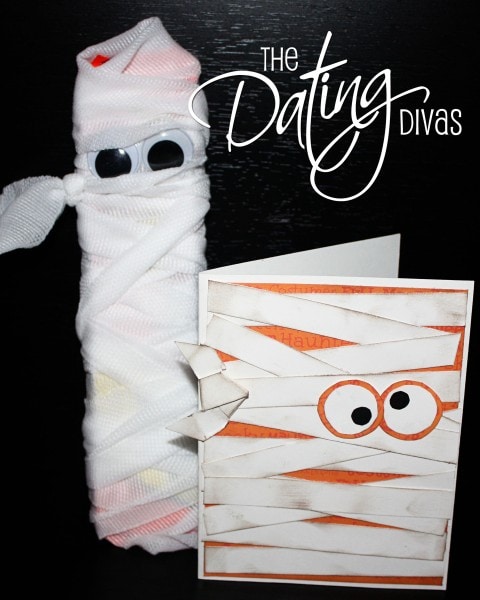 THIS IS LINKED UP TO:
The Shabby Chic Cottage Fireflies & Jellybeans Life as Lori Somewhat Simple Paisley Passions 733Blog Katies Nesting Spot Its Sew Stinkin Cute The Shabby Nest Fingerprints on the Fridge Just a Girl Blog Saw Dust and Paper Scraps Simply Sweet Home A Little Knick Knack Home Sweet Farm Punkin Seed Productions My New Life as Mom Finding Fabulous Kojo Designs Its a Hodge Podge Life A Few of My Favorite Things Funky Junk Interiors Craft Envy A Vision to Remember Along for the Ride