We Don't Need Luck, We've Got Love!
This GORGEOUS care package will surely make anyone GREEN with envy this St. Patrick's Day!  We're all about love over luck and we've got the printables to help YOU celebrate!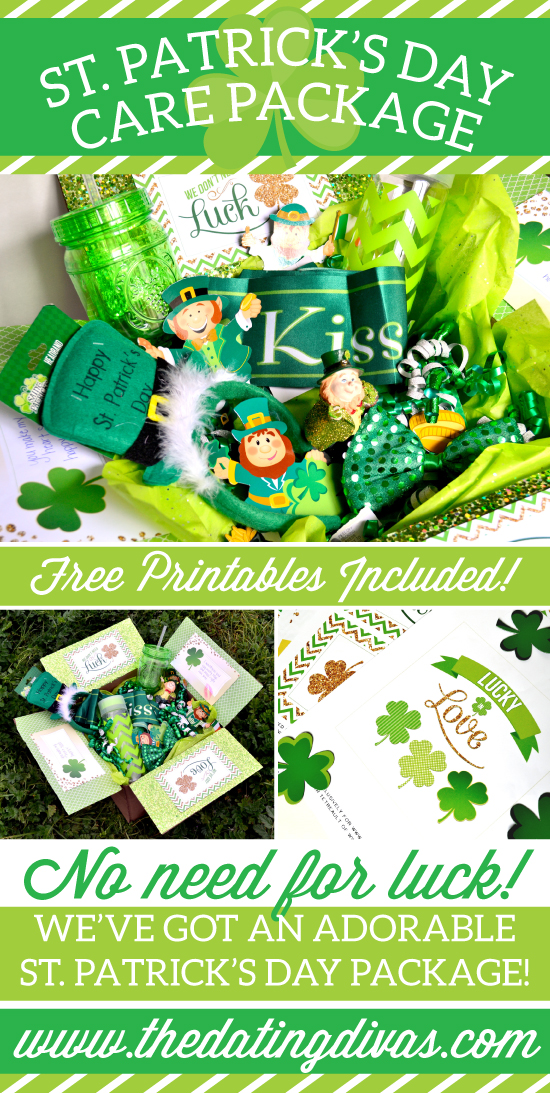 Disclaimer: This post contains affiliate links. To learn more about 'em, click here.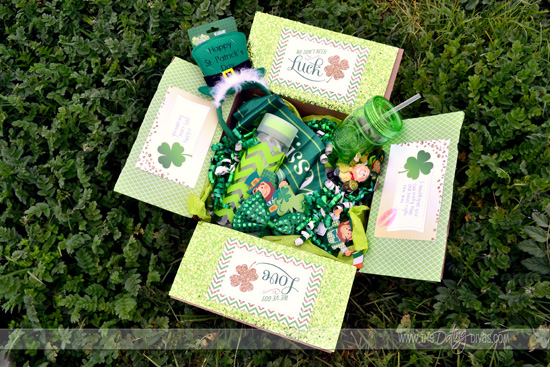 While this festive Irish holiday focuses a lot on luck, many of us realize that marriage can be hard work but sooo worth it!  This care package printable is a great reminder that marriage needs more than luck, it needs LOVE!  Bringing this concept to life would not have been possible without the amazing designer, Jen from Jen T by Design.  It was so fun discussing the design concept with her and the green and SPARKLY gold is so swoon-worthy! Love that combo!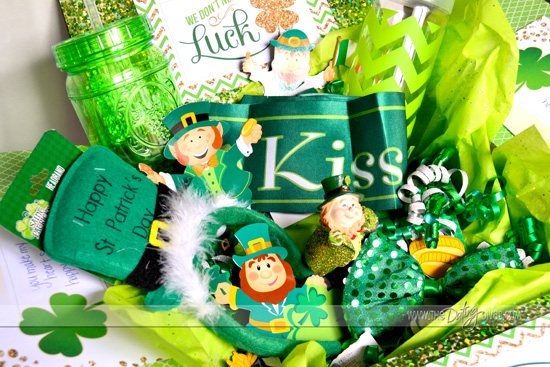 My husband chose to propose to me on St. Patrick's Day because both of our families have an Irish heritage, so the holiday is both a fun and romantic time for us.  My husband loved this idea!  I made this care package while I was away on business, so I chose items that are fun, inexpensive, and GREEN!  These are perfect for your loved one who enjoys celebrating St. Patrick's Day festivities with friends or already has their spot marked for a local parade!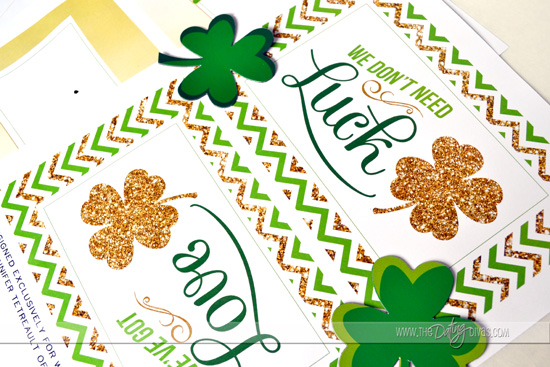 The FREE printable comes with four pages of gorgeous designs from Jen T by Design.  You can choose between decorating a box or a gift bag.  Love me some options!  From there, all you need are scissors, glue or tape, and fun items that your spouse will have a blast with!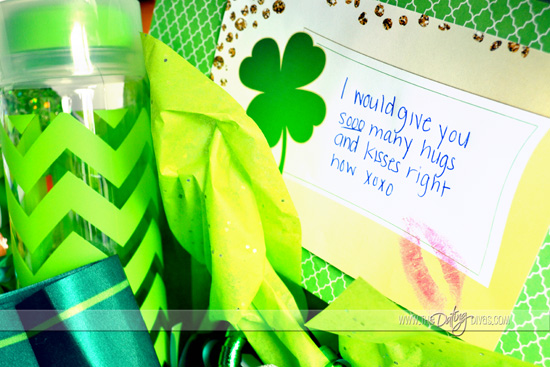 Two pages are dedicated to decorating the opening sides of your box.  All you need to do is cut and paste!  One of the designs says "We Don't Need Luck, We've Got Love" and and the other printable gives YOU the freedom to write down a sweet message.  I added a little kiss mark because well, my hubby is Irish! 😉 #KissMeImIrish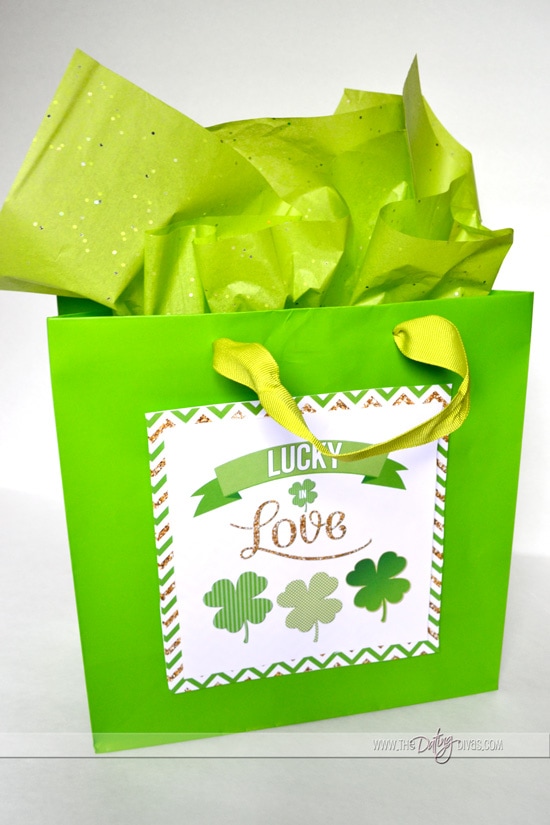 If you would rather put together a bag, we've thought ahead!  Two pages of the printables include a background and decorative topper.  We're all about simplicity with this idea! This is a great idea for turning an old bag from a birthday party or other event into a wonderful pot o' gold for your sweetheart.  This Irish printable can take a plain bag from drab to fab in minutes!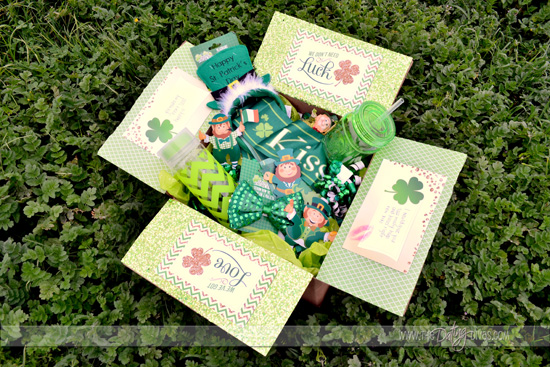 Some great ideas to fill your care package include:
Green Drinking Glass
Green Waterbottle
"Kiss Me I'm Irish" Sash
Green Bow Tie
St. Patrick's Day Headband or Hair Accessory
Leprechaun Magnets
St Patrick's Day Chocolate Coins
Leprechaun Figurine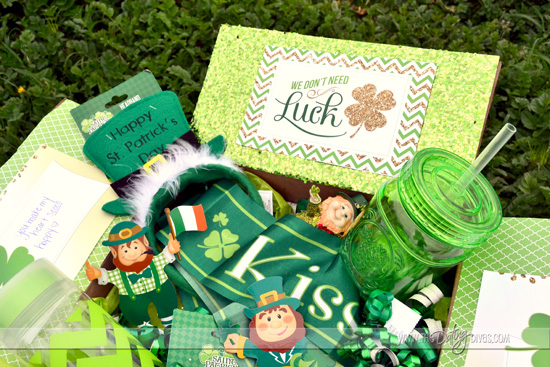 All of my items were really inexpensive and I scored them at a local dollar store, but you can find these at many party supply stores or even Amazon.  Remember, if you choose to use a flat rate box you can fill it and as long as it closes, you're good to go!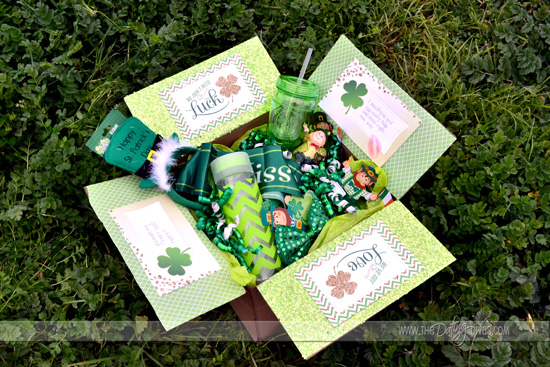 You can enjoy this fun and entertaining holiday whether you are surprising your spouse before they come home from work or want to show that distance means so little when they mean so much!
St. Patrick's Day Care Package Printable
Printables Designed by Jen @ Jen T by Design Exclusively for The Dating Divas