Put on an Intimate Lap Dance Show for Your Spouse
Did we just turn a lap dance into a sexy yet tasteful date idea?! Yes, yes, we did! And don't worry, putting on your lap dance show will be easy-peasy and nothing sleazy. {Wink!}
For this date, you will only need our FREE printables, a chair, a jar (or some sort of container), and your spouse. Interested in this fun idea? Keep reading!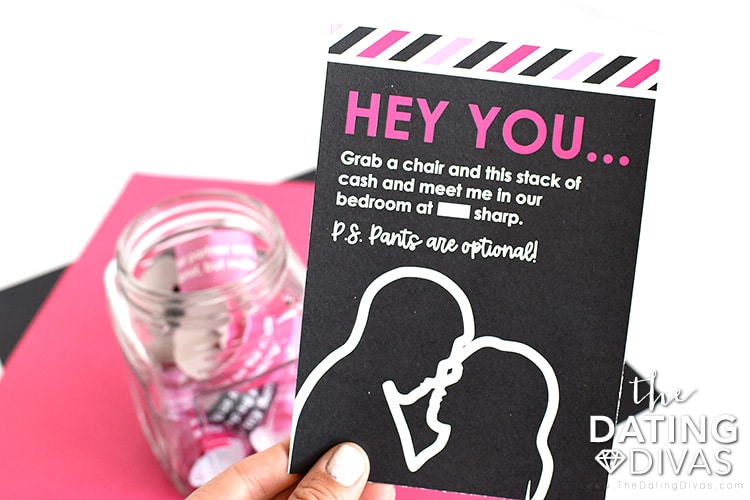 Disclaimer: This post contains affiliate links. To learn more about 'em, click here.

Table of Contents
Step One: Download and Prep the FREE Printables
We have everything you need for an intimate evening with your sweetie. Your FREE printable pack (located at the bottom of this post!) will include:
1 sexy lap dance invitation – Use this to invite your spouse to your private lap dance show!
7 "Lap Cash" bills – This stack of cash is for your spouse to use as "payment" for your lap dance. Each lap dance experience costs at least one Lap Cash. Feel free to charge more! Your sweetie can decide how to "pay" you, but here are a few ideas: doing a load of laundry, taking care of yard work, a massage after you've had a long day, prepping a bubble bath just for you, making your favorite meal, taking over planning date night, etc.! Each Lap Cash can be tailored to YOU!
15 lap dance/chair prompts – We've come up with 15 ideas for how to give a lap dance, as well as sexy ways to use a chair to your advantage!
5 blank prompt cards – You (or your spouse!) can write personalized ideas on these blank prompt cards. Feel free to print as many blank cards as you like, and be sure to get creative!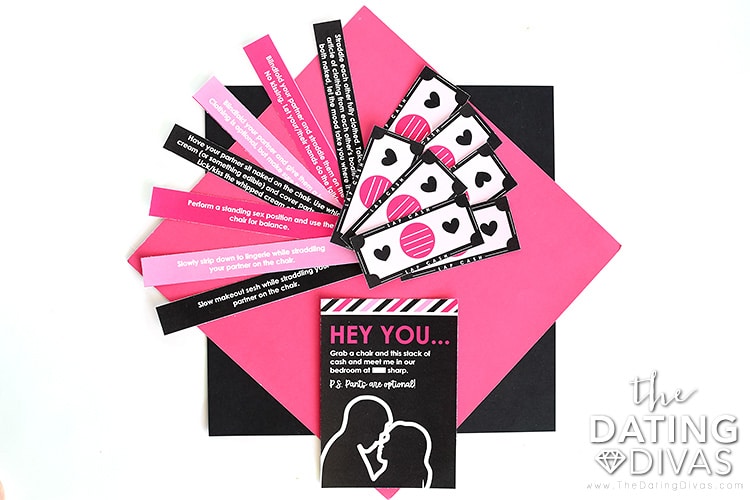 Step Two: Invite Your Spouse to a Private Lap Dance
Once you pick a date and time, leave this invitation out on the bed for your spouse, along with the stack of Lap Cash. This is their exclusive ticket to your private lap dance show, not to mention a night chock full of exciting and mind-blowing sexy time!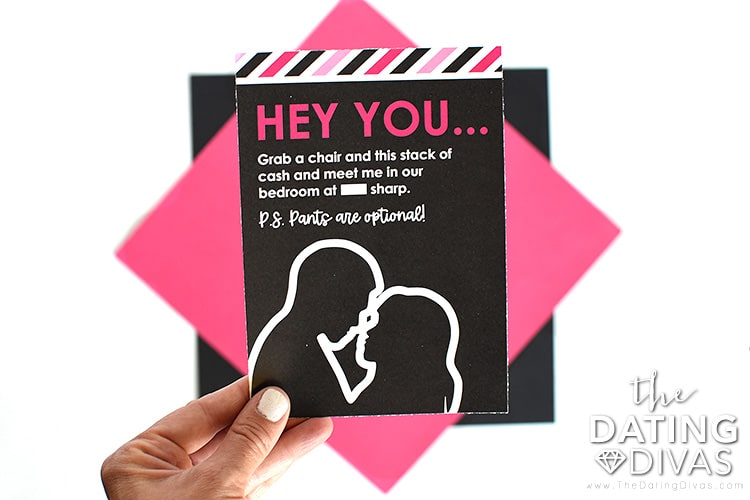 Step Three: Place the Prompts in a Jar
We chose to use a jar, but you can use whatever you'd like to store the prompts. When it's time for the show, you and your spouse will decide who gets to draw the prompts from the jar. You can even take turns!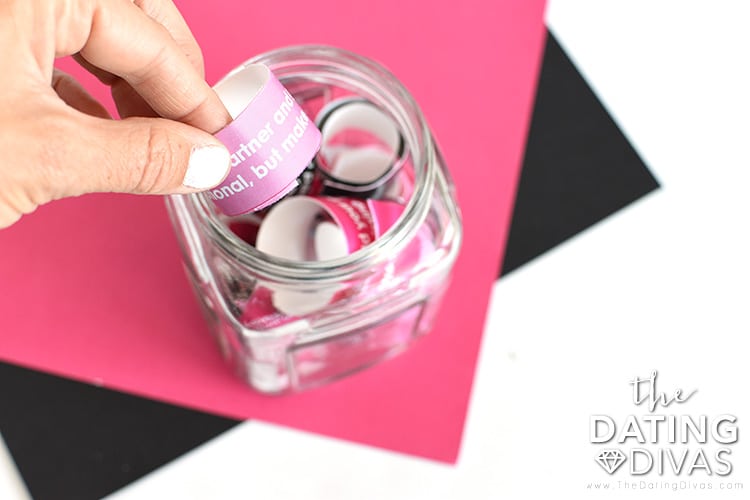 Step Four: Grab a Chair (And Maybe a Few Other Things)
We weren't kidding when we said all you really need is a chair! However, there are a few prompts that may require something extra. These suggestions are completely optional, and you can easily switch out our suggestions for your own!
If you want to use our prompts, you will need the following for four of them:
whipped cream
lingerie (psst … use our discount code DATINGDIVAS for 10% off your Mentionables order!)
Step Five: Enjoy!
Now that you have everything ready, it's time to set everything up and enjoy the experience!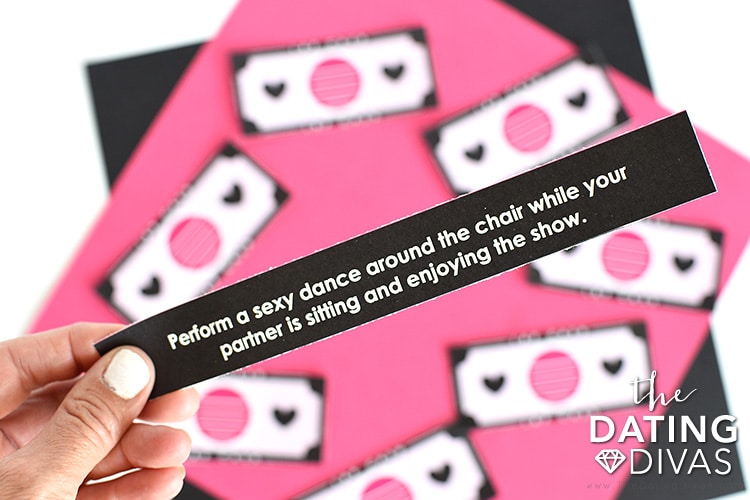 Our Top Tips for How to Give a Lap Dance
You may be wondering how to give a lap dance, and to be honest, we can't really give step-by-step instructions for that. Why? To put it simply, everyone's comfort level is different, and we don't feel comfortable going into detail for something so intimate. We want to remain the place where married couples come for tasteful sex ideas while allowing them to feel comfortable searching through our site.
However, we have two quick tips for giving lap dances that we hope will help!
Be CONFIDENT!
Have FUN!
You may feel silly at first, but that's okay! Lean into the humor and focus on enjoying the experience. Trust us, your spouse will love anything you do!
Enjoy, lovebirds!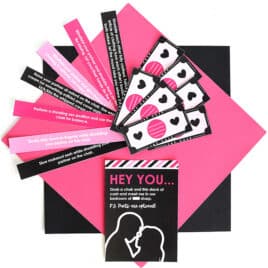 Private Lap Dance Show
Printables Designed by Elizabeth Edwards Exclusively for The Dating Divas