12 Days of Christmas Gift Ideas
'Tis the season for giving! Who doesn't look forward to the most wonderful time of the year? The presents, the parties, the food!! Sooo much JOY! With this time of year, there is also a whole lot of giving going on. Food drives, Toys for Tots, Giving trees! How do we choose which one to contribute to? Or do we just do them all??
Every year I really make an effort to donate. Whether it's a buck at the register or my leftover change dropping in Santa's bucket as I'm leaving the store. This year I want to do something more personal. Something more close to home. My solution??? 12 Days of Christmas Gift Ideas for Friends or Neighbors!

Make Memories with the 12 Days of Christmas
One of my all-time favorite memories of Christmas as a child was planning for and implementing the 12 Days of Christmas secret service to a neighbor. My siblings and I would prepare the gifts and sneak over to their house in the dark. We took turns ringing the doorbell and running — hoping to not get caught! Then we would try to hide in a way that we could still see their faces light up when they discovered our surprise. We did this night after night for the 12 days leading up to Christmas and it never got old!
Looking back, I am so grateful to my parents for instilling in me the desire to serve during the holidays, and not just focus on receiving.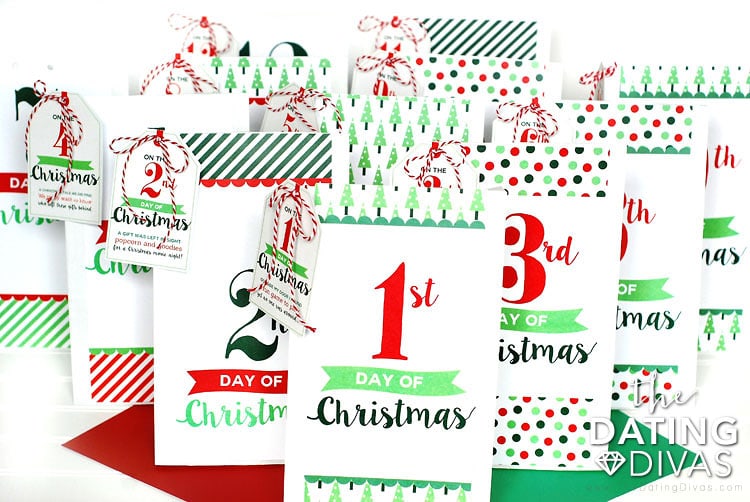 Now, I am so excited to continue the 12 Days of Christmas service tradition with my family with this beautiful printable pack designed by the talented Alexa Zurcher from Alexa Z Design. Everything we request of her turns out fabulous and these 12 Days of Christmas bags and tags are just that!
12 Days of Christmas Gift Ideas for Friends
Get your family in the holiday spirit with our 12 Days of Christmas gift packs. Each night for the 12 nights leading up to Christmas, you can use this festive printable pack to leave little surprises for a lucky recipient. We have created not one, but TWO options for your holiday service spree. Our printables include an entire pack of tags, poems and more for gifting to a neighbor, as well as an entire set of poems designed specifically for gifting to your spouse!
Here is what the 12 Days of Christmas download will include:
Shopping List & Organizer – Gather all the daily gifts in advance with this super easy shopping list.
Bag Covers – Deliver each daily gift in a festive holiday bag.
Gift Tags – 12 poems explaining the gifts inside.
12 Days of Christmas Gift Ideas Organizer
Gathering the daily gifts in advance is super easy with these printable shopping lists and organizers. Both sets of 12 Days of Christmas poems are broad, so you can personalize your gift choices to best match your special recipient. The shopping list includes several ideas for gifts that correspond to the poem.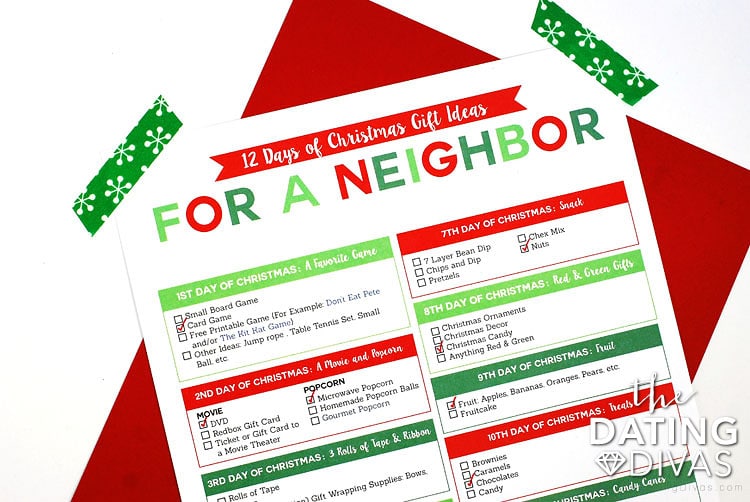 Choose the best fit and then put your final selections in the 12 Days Gift Organizer to keep track of everything and have a quick, easy reference while shopping!
12 Days of Christmas Bag Covers 
Leave your secret gifts in style with these printable bag covers! There are 12 festive and fun designs – one for each day of your secret service. You can print these designs onto cardstock and attach them to paper bags (like these) or you can use the bag cover template to print the festive design right onto a paper bag (instructions are included).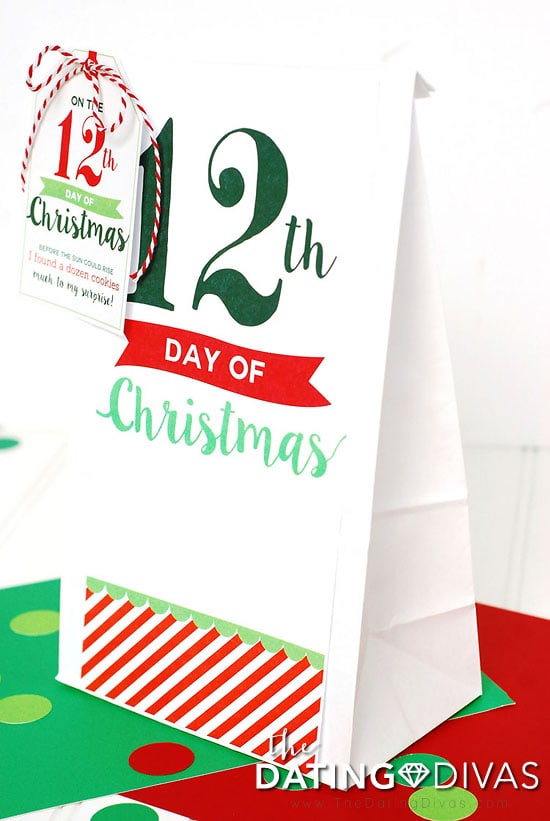 12 Days of Christmas Gift Tags
Label your daily gift with one of the 12 Days of Christmas poem gift tags. The pack includes two versions: one for a neighbor and one for your spouse. Each poem corresponds to the song "The 12 Days of Christmas" and alludes to the gift to be given.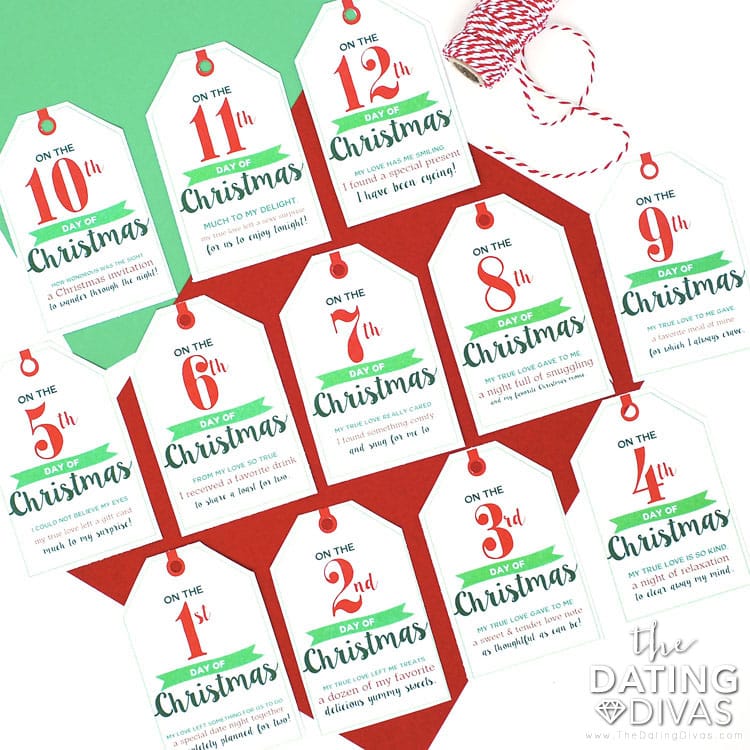 Can you imagine the face of your lucky neighbor when something like this is secretly left on their porch night after night? Or how loved your spouse will feel after 12 days of thoughtful surprises?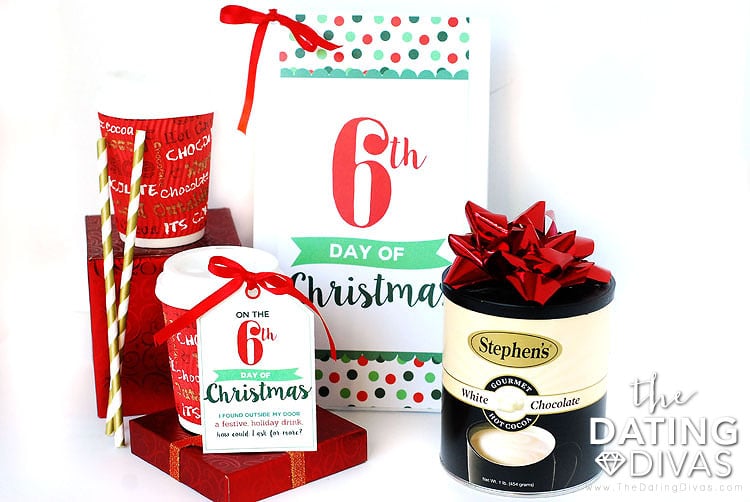 12 Days of Christmas Gifts
The 12 Days of Christmas is a perfect gift idea to share with anyone in need at Christmas time! It works well for friends, neighbors, your spouse… maybe even your kids or a stranger. It is such a fun way to serve and love those around you at Christmas time and a great way to get your whole family involved in giving!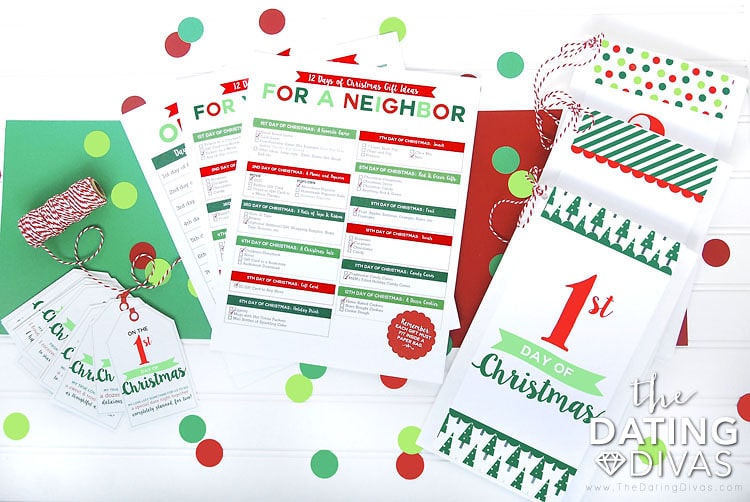 This printable pack makes it SO EASY to serve this Christmas season in a fun and unique way! Everything you need to organize this memorable service project is in one quick, printable download.
Snag your printables to help make someone special's holiday merry and bright!
12 Days of Christmas 
for just
$9.97!

There are so many fun things you can do with your family and for your spouse during the Christmas season! Another fun tradition that I LOVE is doing a Family Christmas Countdown with fun activities to do each day leading up to Christmas day (and we also have a spouse version!).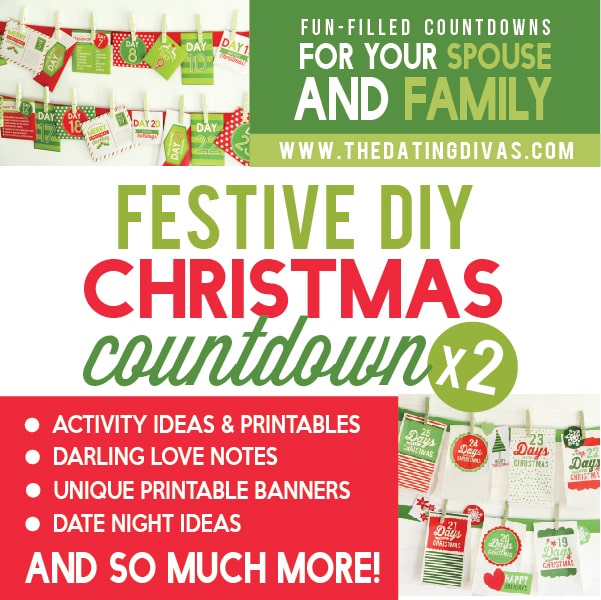 and for spreading the cheer to all your other neighbors check out our Christmas Neighborhood Gifts Kit: