DIY Date Night Cookie Bowl Ice Cream Sundaes
When my husband and I got engaged a friend of ours did one of those surveys where they ask us questions about each other and then the other person has to see if they get the same answer. It's kind of like that show, The Newlywed Game – which we just so happen to have our own version of, The Not-So Newlywed Game. Anyway, one of the questions was about our favorite desserts and there was no way we were getting that one wrong because the best, ultimate, most amazingly delicious dessert of all-time is a cookie sundae. At least that's my opinion and my husband knows better than to argue with me on sweets. The only argument that could be made against the cookie sundae is a brownie sundae but that's a 'fight' for another day. Needless to say, we nailed it on the quiz, so when we came up with this sinfully delicious idea for a date night, we were both hooked—it's a cookie cup ice cream sundae. Are you drooling yet?! We're about to break down the exact steps you need to create this decadent dessert AND turn it into a fun date night, too!

To get these Chocolate Chip Cookie Cup Sundaes going, you'll want to print the ice cream shoppe place mats and table card that were just beautifully designed by Joanna at Cutify Creative.
After that, you'll just need to grab a few more items:
Cookie Dough
Ice Cream
Muffin Pan
Plastic Wrap
Aluminum Foil
Place Mat Printables
Table Card Printable
Spoons
Cookie Dough
Now, let's talk about cookie dough. I am a baker. It's what I do. It's what I love and I like to think I'm even a little bit known for my cookies BUT pre-made, refrigerated cookie dough is just so easy. Sometimes (ahem… today) I choose quick over homemade and it's still wonderfully delicious. If you really want to go all out, I totally applaud you. Use your favorite cookie recipe or try this favorite from Amy at The Idea Room:
¼ c. brown sugar
½ c. sugar
1 egg
¼ c. butter
¼ c. butter flavored shortening
1 ⅛ c. flour
½ tsp. baking powder
½ tsp. salt
½ tsp. vanilla
¼ cup semisweet chocolate chips
To make the cookie cups, beat together the shortening, butter, and sugar in a large bowl.
Add the egg and vanilla extract, beating until combined.
In a separate bowl, sift together the salt, baking powder, and flour, then gradually stir them into the batter. Stir in the chocolate chips.
Cookie Cups
Alrighty, got your dough? Let's get going on turning it into cups that are perfect little ice cream bowls!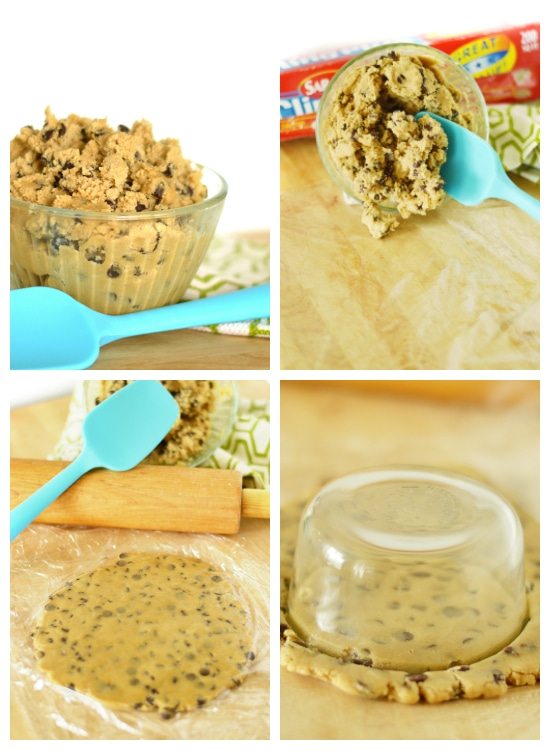 Grab your cookie dough (fresh from the tube is perfect, or you can put it into a bowl first to make it look like you toiled over it a little longer – haha!).
Take out a cup (okay, okay a heaping cup) of the dough and shape it into a flat disk, and wrap it in plastic wrap. Use a rolling pin to flatten it out a bit (about 1/8-inch thick).
Chill the dough in the refrigerator for at least 2 hours. Here's a lazy girl's hint for ya: the freezer speeds up that chill time! (While you're waiting, it's a good time for you to sample the remaining cookie dough, just to make sure it's as delicious as it looks. I guess I should remind you that the raw eggs mean you shouldn't actually eat it, but sometimes a girl just can't help herself.)
Unwrap the disk of dough. Cut out two 4-inch circles of dough. Re-roll and reuse any scraps to make additional cups (or ummm… eat the scraps… whatever floats your boat.) Another yummy option is to bake the remaining dough as cookies and then use them for topping!
Heat the oven to 375°. Turn a regular-sized muffin tin bottom side up and cover 2 of the cup bottoms with squares of aluminum foil. Leave a cup between the ones you're using so there's room for rising dough! Place each one of the circular cookie dough pieces over a cup bottom, smoothing out any cracks. It's a good idea to leave a little bit of room and not push the dough all the way to the bottom of the cup, so there's room for the cookie to expand in the oven. (Although, a little bit of a 'lip' on your bowl is no problem either!)
Bake the cookie cups for 10 to 12 minutes or until light brown. I'm a firm believer in under-baking cookies for soft, chewy deliciousness but you are going to want to let these get more towards the crispy side so they hold up to the ice cream!
Let them cool for 10 minutes, then remove the foil and cookies together from the muffin pan. Peel off the foil and let the cups cool completely.
Fill up your cookie bowls with ice cream and load on the toppings!
Date Night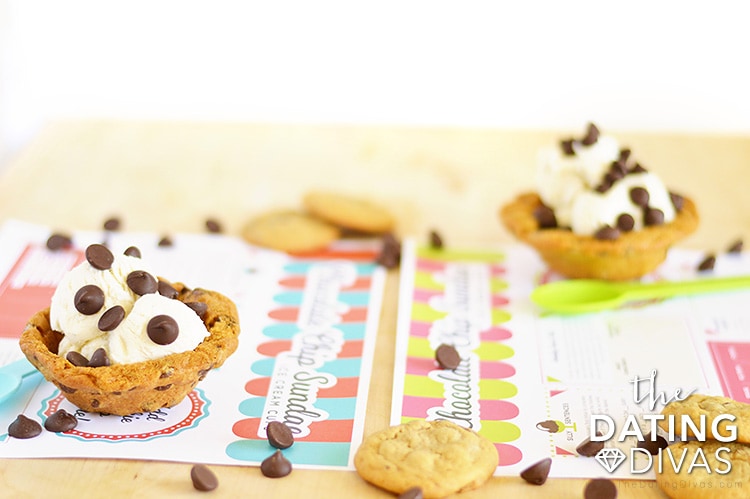 It's time for the main event!! The part where you not only get to eat dessert (you know, besides those little snitches of cookie dough you definitely ate while making these, or was that just me?!) but you also get to spend some quality time with the love of your life! Setting up the rest of the date is ridiculously simple.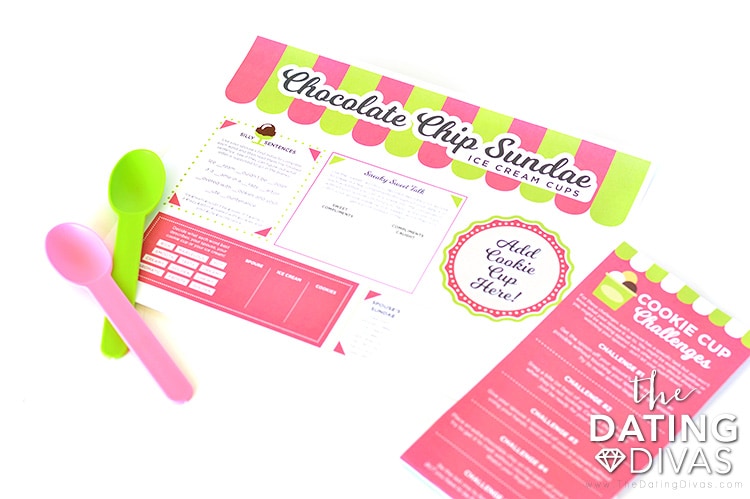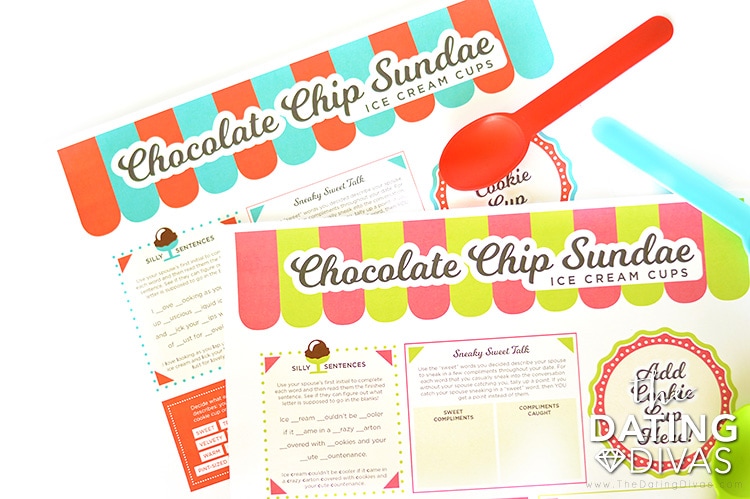 Just print out the place mats (there's a his and hers version) that are filled with adorable conversation-coaxing games, grab a pen and get playing (and eating)!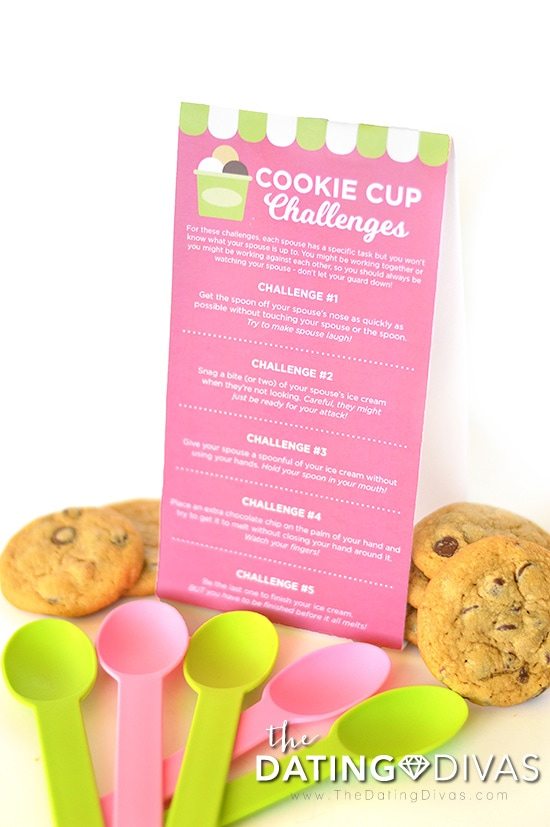 If ice cream, cookies and cute games aren't enough, try the challenges on the table card. The design was inspired by those old-fashioned ice cream parlors and you can simply cut a couple of slits to put it together as additional table decor.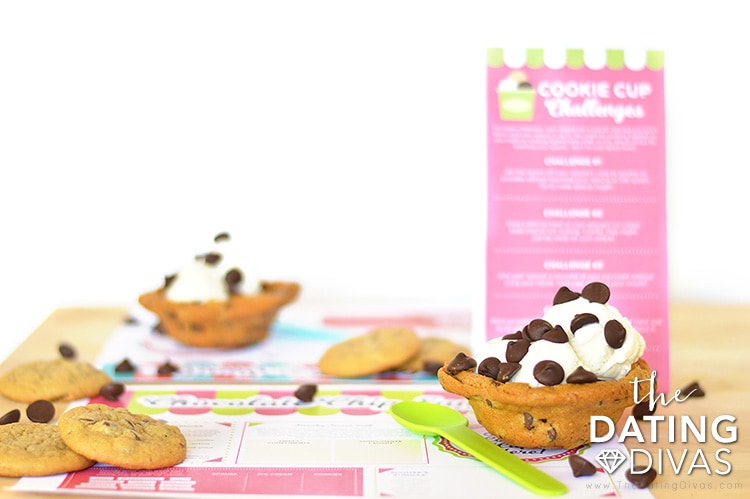 In true competitive fashion, the challenges on each side of the of the table card are different, so see who can complete the most! Fair warning, there's no way you won't laugh through these challenges.
Variations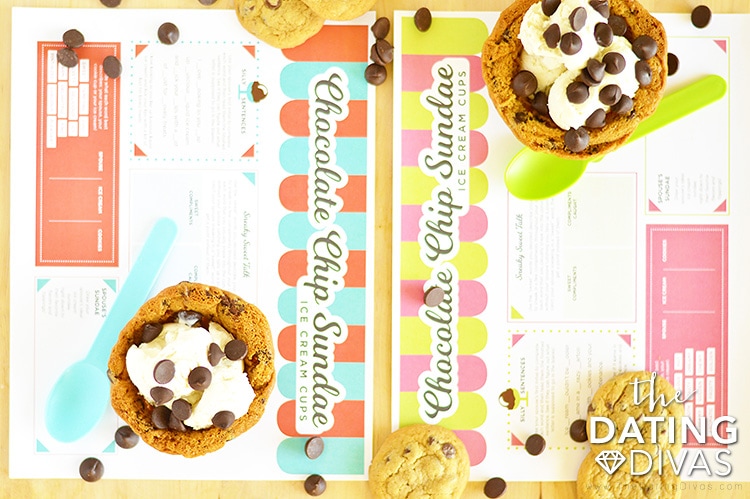 The possibilities are seriously ENDLESS—Try different cookie dough, different ice cream flavors, add toppings, add friends and make it a cookie cup ice cream sundae bar! Please tell me you see why this is the BEST dessert ever!
Cookie Bowl Ice Cream Sundae Date Night
Printables Designed by Joanna @ Cutify Creative Exclusively for The Dating Divas