Take the Marriage Challenge!
No matter where your marriage stands, we can all do something more to better our relationship with our spouses and communication is key. Strong relationships are built upon good communication and marriage is no exception. But what do you talk about and how can you bring up subjects that are difficult to discuss? How do you start?
That is where the book "The Marriage Challenge – 52 Conversations for a Better Marriage"
comes in.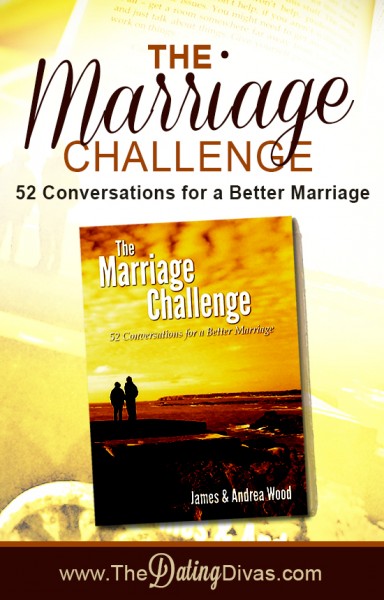 Disclaimer: This post contains affiliate links. To learn more about 'em, click here.
***Giveaway has ended – see below for winner or for the link to purchase your very own book***
Here is how this book works: there are 52 relationship conversations – one for each week of the year. The goal is find one hour, once a week with your spouse to read the section and discuss the topic. One conversation a week for a year, and the results? A better marriage.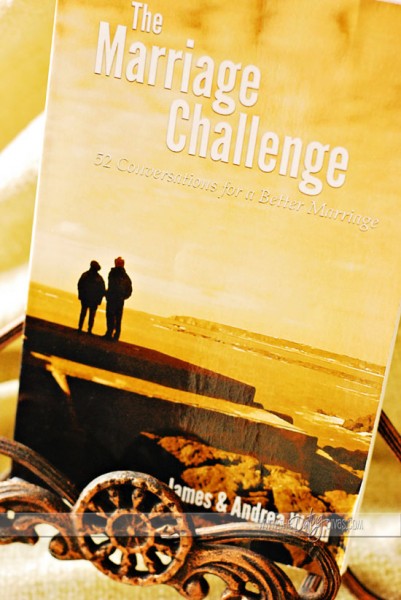 Each section is fairly short (3-4 paragraphs) and very simple to read. The reading is followed up by discussion topics, questions or conversation starters to get the communication flowing.Topics include discussions of money, children, boundaries, vacation, romance and more. The idea is to never feel limited by the suggested conversations, but to let it be a starting point for  your own topics and thoughts.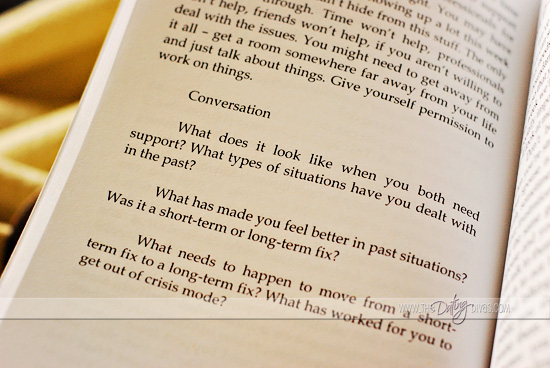 Here is what I love about this book: 
The challenge can be applied to ANY marriage. In fact, it is suggested that this be used by marriages that are considered "pretty good". The authors suggest that with consistent communication your marriage can transform from "pretty good" into "envy-of-all-the-neighbors amazing" and who wouldn't want that?! 

The tone of the book is relaxed. Sometimes when you think about discussions with your spouse things can suddenly turn serious. Often in marriage we do have to discuss serious things, but this book focusses on talking beyond just problems. Discussing hopes, dreams, preferences etc. are part of what should be included in regular conversations with your spouse.
The challenge is flexible. If your family calendar doesn't provide a chance for solid conversation time one week – no worries! Just pick up where you left off and keep going.You can always move through the book at your own pace.
This book and the challenges within it offer structure to everyone's goal of strengthening their marriage. A goal of communicating more with your spouse is somewhat vague without some practical application, which is why this book is so great. The book gives you a place to start and an excuse to start talking too!
As the book itself states: "Better marriages don't just happen, they take time and work. But you might be surprised at how much you can accomplish in just a little bit of time and just a bit more effort."
That is all it takes. A little bit of time and a bit more effort. So are you up for the challenge? One hour a week, once a week toward a better marriage.
You can get the book HERE
.
or enter our giveaway where one lucky winner will get the book for FREE!
For another great way to get the conversation rolling check out these conversation starters for couples!
* * * * * * * * *
WANNA WIN???
One lucky reader will win a copy of "The Marriage Challenge" book! Enter this giveaway via the Rafflecopter widget below. Good luck to you!!
Giveaway has ended! Congratulations to our Winner!