The Ultimate List of Free Love Fonts
This is the all-time best list of free love fonts–we have links to download and examples of each!
I am completely obsessed with love fonts because they convey such powerful emotion behind them! Additionally, I love to change up my handwriting and doodle letters. Most importantly, I love using beautiful love fonts when making computer designs. Simply put, fonts just make everything more beautiful. There is no denying that, right?
Luckily, I have found several websites that offer FREE love fonts for personal use. Firstly, if you are looking for free wedding fonts, I got 'em! What about over-the-top romantic fonts? Check! Needing an "I love you" font? Look here! In the end, I love them all and you will too! So, one that note, check out my favorite free love fonts below. Unquestionably, each is perfect for anything related to love!

Disclaimer: This post contains affiliate links. To learn more about 'em, click here.
Bride, Lovey Dovey, Love, Engagement, Dearest, Crush, Smooch, Flirting, Ring, Sexy, Smitten, Cake, Eye Candy, Passion, Proposal, Bear Hug, Beautiful, Wedding, Puppy Love, Adore, Secret Admirer, Kissing, Invitations, Beloved, Cutie, Reception, Love Letter, Dreamy, Swooning, Registry, Butterflies, Infatuated, Dress, Darling, Butterflies, Mushy, Groom, Heart, True Love, Cupid, Love Song, Veil, Candy,  Cuddle, Honeymoon, Love You, Date, Marriage, Sweetie,  Couple, Cute, Seating Chart, Be Mine,  Adore,  First Dance, Valentine, Sweetheart, Tuxedo,  Flowers, Kiss, Flowers, Cards, Rose, Snuggle, Romantic, Forever, Gifts,  Cutie, Gorgeous
Firstly, I've collected over 80 gorgeous and free romantic fonts (free to whomever as long as it is for personal use). To clarify, most of the free love fonts listed here come from Dafont.com. Secondly, I have found a lot of beautiful "I love you" fonts at 1001freefonts.com, fontsquirrel.com, and KevinandAmanda.com. If you want to download any of these free romantic fonts, then simply click on the title of the font located beneath each graphic. Then, it will take you directly to the site where you can download them for free!
Additionally, this ultimate list of free love fonts includes the following 3 categories:
By the way, any of the ideas below can be used as love letter fonts should you want to write up a sweet and sentimental love letter. Although, I do understand that not all will be used for love letters. No worries! Certainly, they can be used as "I love you" fonts for ANY lovey-dovey project!
Also, I want to share a few tips with you for diving into a project that would potentially require fonts from this list below. Firstly, come up with a project idea. Secondly, pick a theme. In short, it can be ANY theme. However, I recommend trying to be consistent throughout your project. Thirdly, find complementary fonts that go together. In general, it's good to stick with a maximum of two fonts per project. Fourthly, go to town testing out these fonts to see what looks good with your project! Unquestionably, you'll create something magical that everyone will love!
At this point, it's time to get started on the ultimate list of free love fonts! So, in honor of the holiday that brings on the most love, let's kick off this list with the best free Valentine's love fonts!
Free Love Fonts for Valentine's Day
If you're looking to create a message or project for Valentine's Day that screams your love, then you're going to need an "I love you" font. For example, fonts that are cute, fun and have little hearts dotting the I's are perfect for any Valentine's Day project you are working on! Surprisingly, I love the ones that resemble those candy hearts that you always see around the holiday of love. Aren't they just so cute? All things considered, you couldn't go wrong with any of these romantic fonts on a Valentine's Day project. Not to mention, you could use any of these as a love letter font to double as a Valentine's Day card! In reality, we know it will be hard to choose just one. So, best of luck!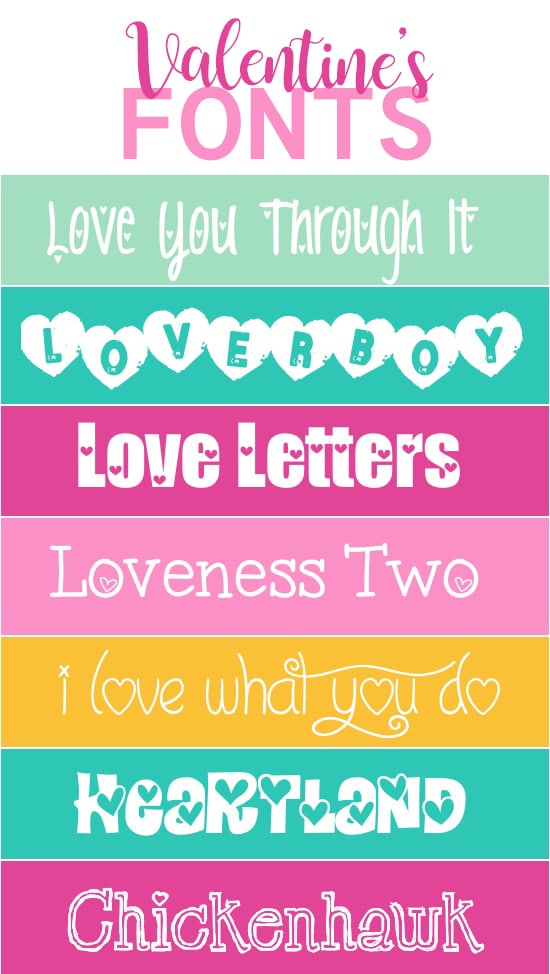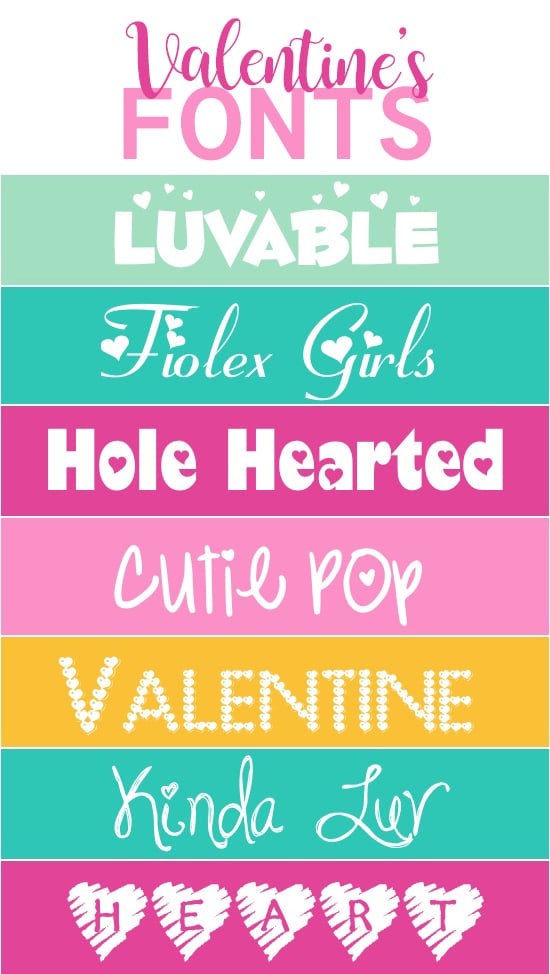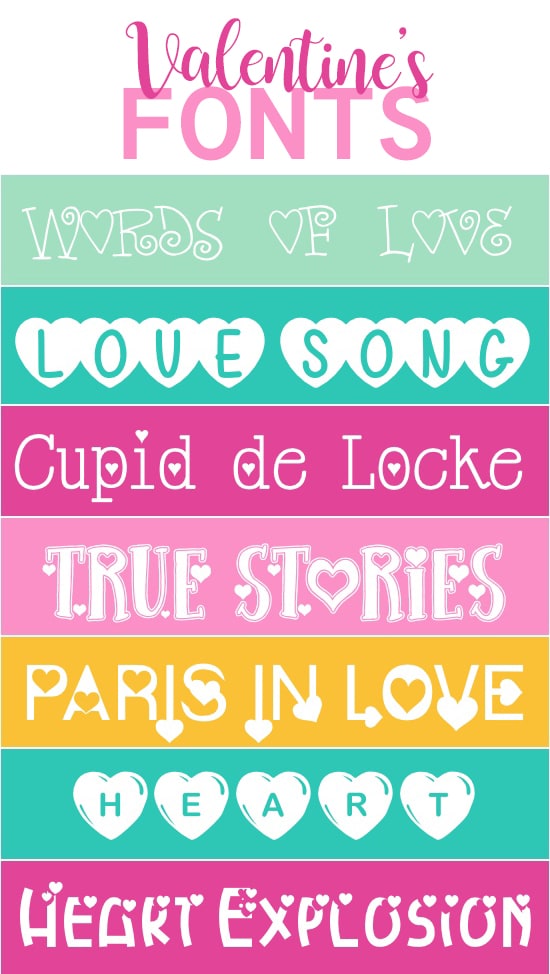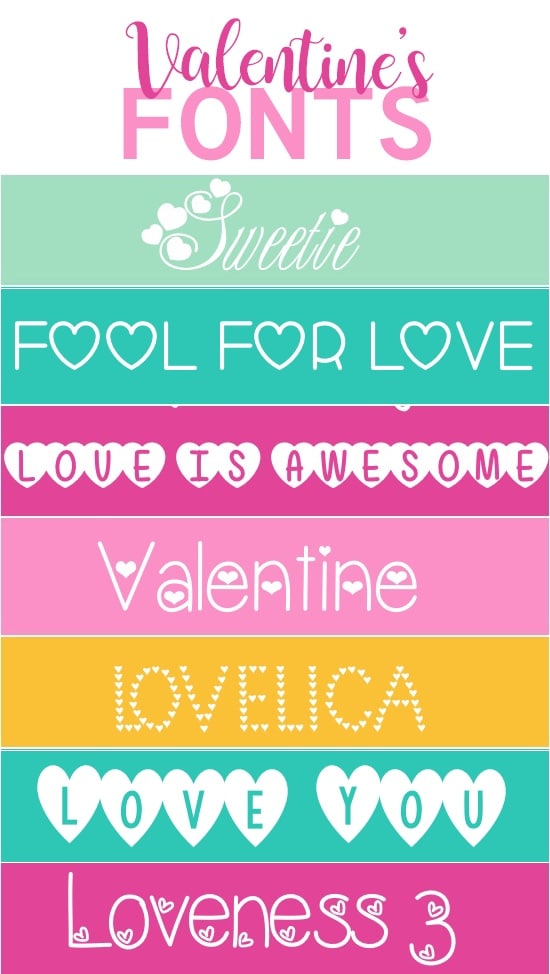 In addition, you could also use any of the fonts below for a Valentine's Day project! Seeing that Valentine's Day and romance go hand in hand, ALL of the fonts on this list should be perfect! However, I think it would be just darling to create your OWN Valentine's using the fonts above. In a word, they are all CLASSIC. Surely you would enjoy creating the timeless tradition of Valentine's using any of these love fonts, right? Right! At any rate, let's get into our next batch of fonts!
Free Romantic Fonts
Most importantly, any of these beautiful and free romantic fonts would be perfect as a love letter font! In short, scan the options below, click to download, and you're ready to start writing your love letter! Additionally, there are countless "I love you" fonts below that would work perfectly for other types of projects. Basically, you could use them on designs for your kids, spouse, or even friends! Ultimately, I believe that a love letter font (or simply, a romantic font) should be used often! To that end, take a look at all these beautiful and lovely fonts below. If one captures your heart with romance, then whip up a love letter with it! As I have said, romantic fonts convey your feelings in true romantic fashion. Undeniably, I am all about that! So, here are my favorite free love fonts that perfectly capture the essence of romance!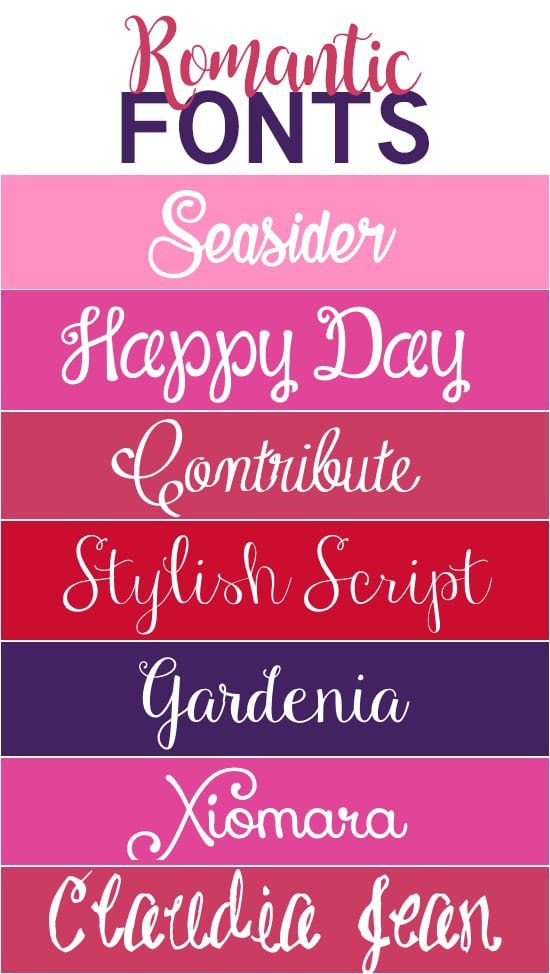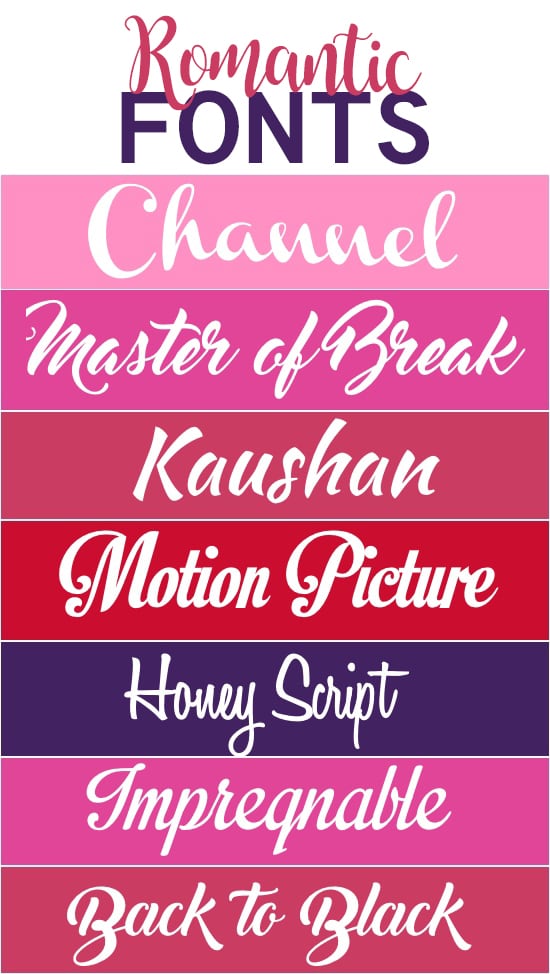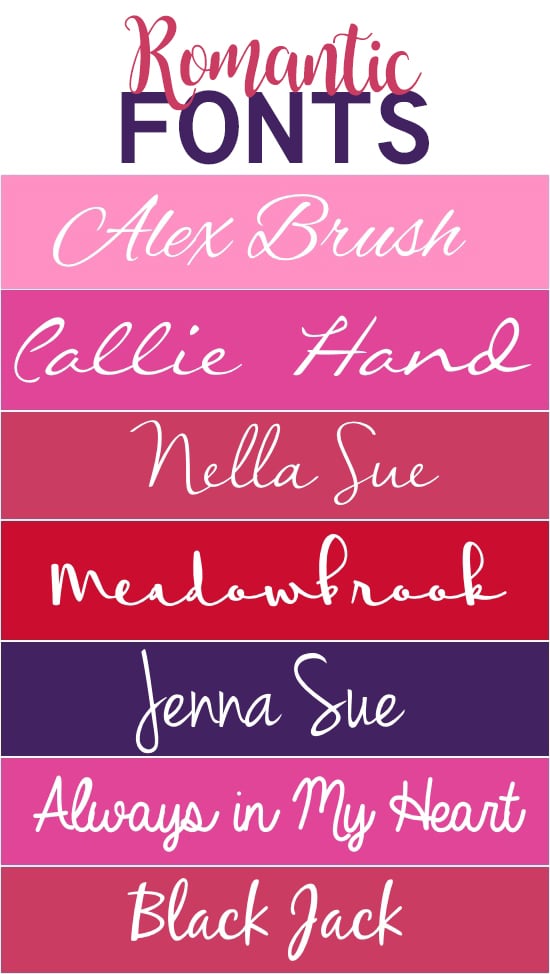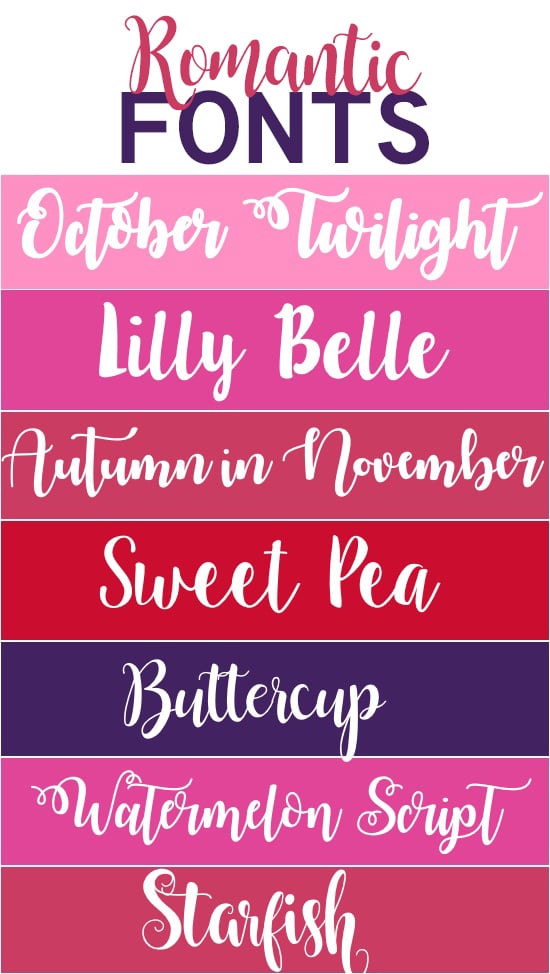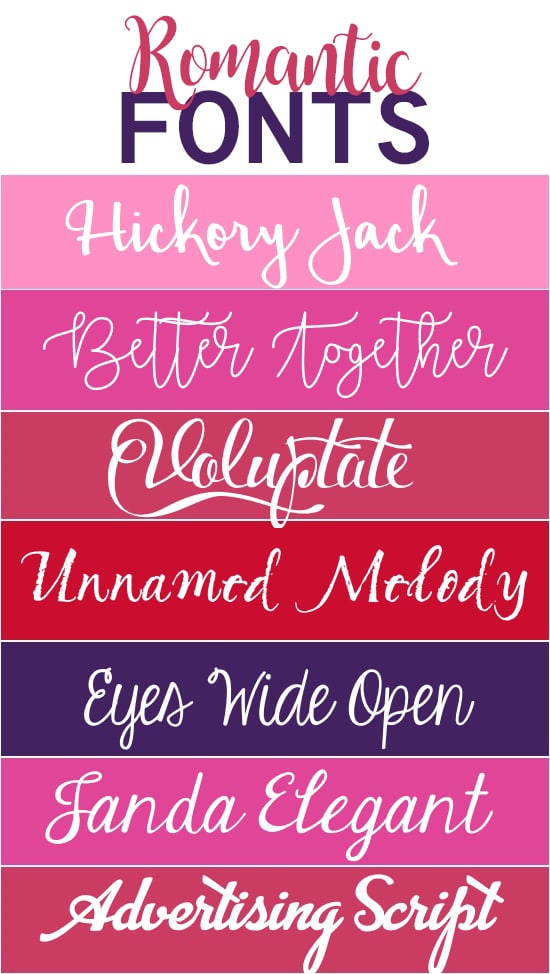 While it may be true that romance can be spelled in countless ways, we just KNOW that these romantic fonts above deliver the message loud and clear. To put it another way, whether you're designing a huge project OR a simple love note for your sweetie, these fonts will 100% do the job at saying "I adore you!" Additionally, they have such romantic names! For example, Darling? Swoon! Then, Honey Script? Love! Not to mention, Buttercup? That's a princess name! Above all, my favorite would have to be Autumn in November. It just screams ROMANCE to me! Nevertheless, we still have more fonts to check out!
Free Wedding Fonts
In general, you need great wedding fonts to set the tone for your wedding! From invitations to thank you notes, you truly need the perfect font for everything! With this in mind, I've found all the BEST wedding fonts to suit your every wedding need. On that note, remember that a wedding invitation or thank you note should first and foremost display the happy couple. As a matter of fact, that should be the BIGGEST emphasis! However, the coordinating font should ultimately show off the love in their eyes! So, check out a few of our favorite free wedding fonts below. Without a doubt, they are the perfect fit for all your wedding projects! (To clarify, you could use ANY one of these fonts, or NOT, and your wedding will still be absolutely amazing!)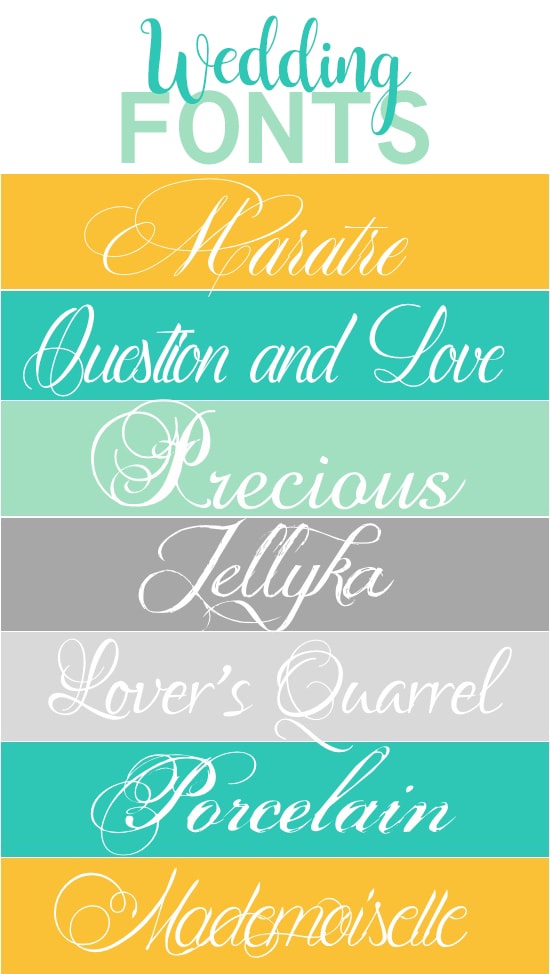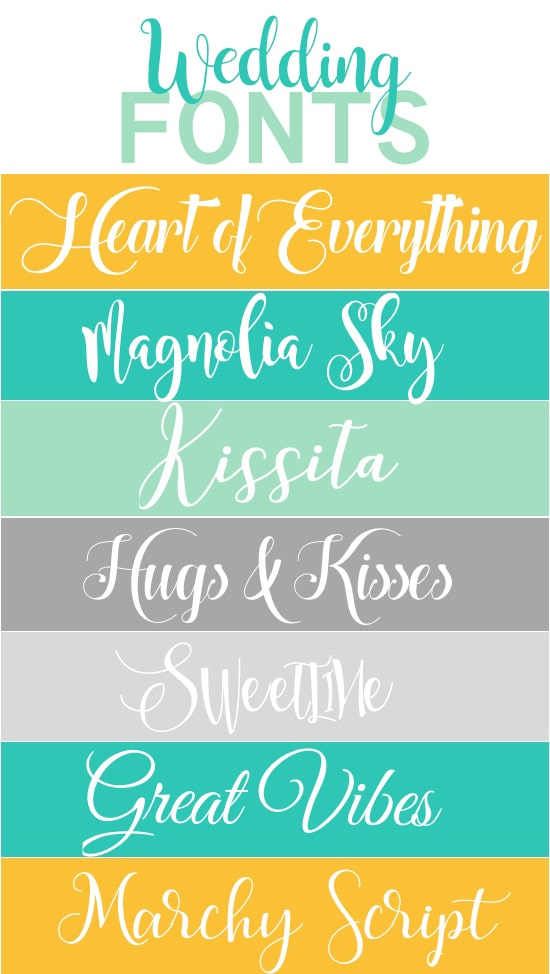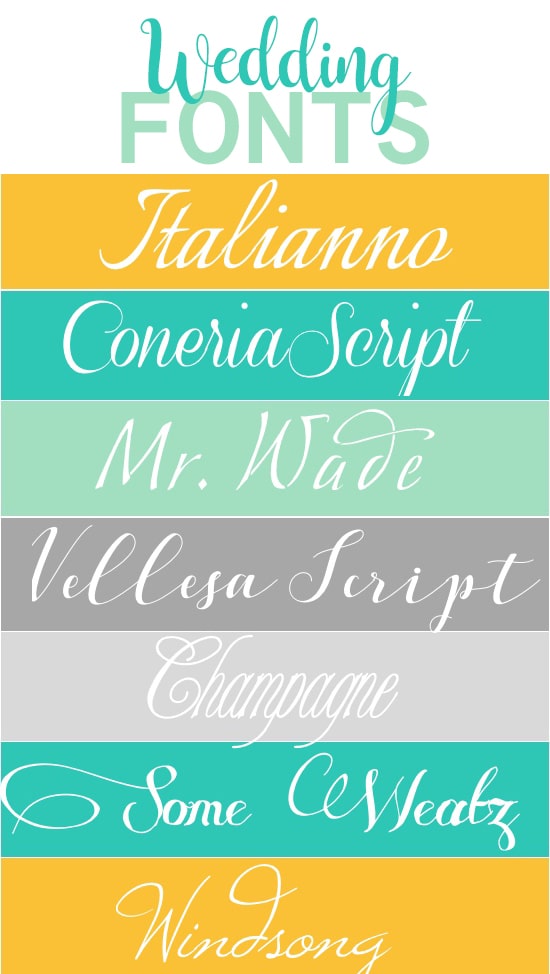 So, are you in love with love fonts like I am yet? Presently, I own every single one of these beautiful free love fonts (no shame!) On the one hand, I can tell you that without a doubt, they do not disappoint! On the other hand, I've compared, and this is definitely the best list of romantic fonts out there. Basically, it's perfect for every love note, wedding invite, and every Valentine's Day project you could ever create! However, the hardest part will be choosing which one of these romantic fonts to showcase in your project! So… you better start crackin'!
Additionally, if you are not overloaded with free love font choices already, we have a whole Pinterest Board full of free fonts! On top of that, we absolutely love what Creative Fabrica has on their site. Whenever possible, browse those resources and go ahead and fuel your own addiction! 😉 Also, you could use one of the fonts above when creating your own Personalized Love Print!
Lastly, have you ever considered trying your hand at creating these free love fonts on your own, sans-computer? In short, we all wish to have that talent! Despite being a challenge, try it out using this calligraphy set. Then, let us know how it goes!
In conclusion, I hope you enjoy these free love fonts as much as I have. Without a doubt, I've made countless creations using these beauties. Equally, I've enjoyed the creating process as much as the end result! So, take it from me: Pin this post to refer back to time and time again! In reality, you'll need it often!