My hubby takes the day of our anniversary off every year.  So I knew that I would have the entire day to work with. Lucky for us, this year our anniversary fell on a Friday. Because of that, I decided to utilize Saturday too! I wanted to go BIG this year by pulling out all the stops for this date.  In order to individualize the date for you, I've included many suggestions on how to adjust it to your liking! Woo-hoo for you! That way, you can make it as BIG or $mall as you want! This date is basically one ginormous Jungle Safari! It consists of seven clues and gifts to play into it being our 7th year of marriage.
I came up with some clever little rhymes and riddles for all the clues and such. Then I had my friend, Colette dress them up!
Once they were printed off I cut them out, glued the clue # to the front of a small envelope, put the clue inside, and folded it like so: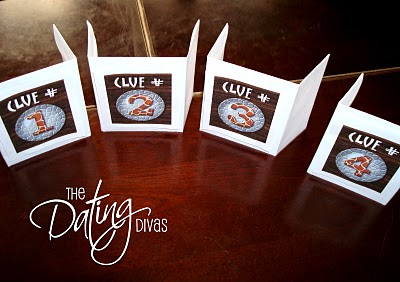 (…you will need seven envelopes in all…)
The night before the big day I set up everything possible by putting them in their proper hiding places. The stage was set!
 He came across Clue #1 when he awoke. It's no secret that the first thing you might visit when you wake up is the "watering hole." When he entered, he found a riddle written on our mirror! You could also write this note on any mirror or window around your house that you know he would see first thing in the morning.
 *Hint*- Using a dry erase marker is key to an easy clean up 🙂
THE RIDDLE:
"Good morning my King, get ready for a wild ride! Your 'Jungle Safari' begins, when you take a look 'inside'! Enjoy 7 stops along the way, for each one has a prize. To kick it all off, try this thing on for size!"
I made him a king crown out of a border that I found while shopping. It was meant to be used on a classroom wall  (aka deco trim). It only cost me a buck at the dollar store. The great thing is that I can make 10+ more…ummm, I feel a family fun activity coming on. 🙂 Watch for that post later on!
Alternate Crown Options:
You could easily make your own crown with paper, scissors, and a little tape that you already have around the house.
Check with your local Burger King!
Most party stores keep their crowns stocked!
I had to position the crown juuust-right, because with it he found the very first clue!
Which led him to this:
Other options could be:
The Mayan restaurant in Sandy, UT.
Outside of Utah?….Find your own restaurant with jungle surroundings by using dexknows.
Staying Home? On a budget?…..You could easily have a home cooked meal or even take-out.
Instead of finding a gift card, he would find a stuffed animal with a dinner invite attached. Asking him to join you and the animal for dinner in YOUR jungle! Just dress up your dining table with leaves made from green paper. Better yet, gather some up from outside and bring them in! Put stuffed animals on the empty chairs or just surrounding you! Wah-la! You've just created your very own Jungle dining environment! Be creative with it!!
While in the kitchen we went ahead and ate breakfast. YUM! Being his first stop on the Safari, it was that time day!
After breakfast, he was then allowed to open Clue #2:
(I wrote on the back of each envelope….to give specific instructions about when to open the clue.)
Which led him to this:
Another gift card! This one was for an overnight stay at this great little Inn that isn't too far from where we live. We just happened to stay in the jungle-themed room. Perfect, right? Yes! Except it's not the cheapest way to go.
Other Options:
Check your local hotels for Amazon themed rooms or just good pricing.
Keepin' it completely pocketbook friendly?….Turn your own room into a jungle!
In fact, either one of these options can be transformed into The Amazon. Remember those leaves and animals that you used for dinner? Whether your staying in, or reserving a room, take them with you! If you do this on a day that he works, you could transform the room while he's gone. If you're staying the night at a hotel, check in early without him. That way you can get it all set up before you both officially arrive.
When the time came to open up Clue #3 he searched and searched until he found this:
This gift was hidden in one of our four bathrooms.  He really had to hunt to find this one! Though he did eventually stumble upon this fabulous, jam-packed, Romance Kit! It was so easy to put together and turned out cute too! I just gathered the items, filled up a good size basket, tossed in some artificial rose petals, wrapped it in cellophane and threw a ribbon around it! My romance kit is equipped with the following:
Mud scrub
Bubble bath
Massage lotion
Hand held Massager
His & Hers stemware (tutorial)
Bottle of Bubbly
"Wild about You" Tin (tutorial)
"I Love You" eye cover
Options:
You can probably find most of the above for a buck at your local dollar store
Don't want to buy anything? Look through your closets and cabinets (I did)! Chances are, you just might have enough lotions, scrubs and misc. to put together your own

romance

 

kit without having to spend a dime! 🙂
Next up was Clue #4. This was a really tricky one for him! He walked right past the gift without even spotting it! But don't you worry after a few passes later and I finally pointed him in the right direction.
I just had to find a nightie that fit the theme! Thank goodness for Ross and a price tag of only $9.99! Not too shabby. Maybe you're lucky enough to already own one of these little numbers. Either way, gift it to him in some kind of fashion. Lay it out, Hang it up, or even wrap it up! Anticipation is a wonderful thing! 😉
 At this point it was time for us to pack up and get ready for our night out! So I wrote this on the envelope of Clue #5:
"Watch out! The elephants are crossing our path. They're stopping right here, to take a bath! Because of this predicament, we'll just have to wait. But don't you worry, we'll be on the road before 8. Now go pack your bags, we don't have all day. Didn't you hear? The babysitter's on her way!"
Just for 'de fun of it, I stumbled upon these sassy things! And thought they tied in perfectly with my theme! They would be my shoes for the evening. Do you have any animal print clothing you could wear on this date?
When we were all ready to go, (babysitter in place) I let him know that it's time by having him open Clue #5.
Which took him to this:
I set this little arrangement up in the car because this safari was on the move again! We set the mood by listening to The Lion King soundtrack.
*If you are doing this date at home put in a jungle-themed CD and do some dancing!
We headed to dinner and then to our hotel for the rest of the evening..dot..dot..dot.
When we woke the next morning breakfast was waiting for us. I just love having breakfast in bed! 🙂
(Since I had both Friday and Saturday to work with, I decided to carry the adventure into the next day. Surely you could finish out your evening with all seven clues. Tailor them to fit YOUR date!)
Dom had gotten Clue #6 the night before but he wasn't allowed to open it until the next morning. He read the clue as we finished breakfast. While we were getting ready we snapped a few pictures………
…………which is when he found this:
Our Lion King tickets!!!  This was totally a BIGGIE for us! I totally splurged because it was one of the elements of my date that I wanted to include. With that said, there are soooo many other options to put in its place.
Alternate ideas:
Broadways The Lion King tour dates. Also on stage in Las Vegas and New York.
For those of you who want something a little more money friendly. Rent the actual Disney movie (or maybe you even already own it or could even borrow it). If you're staying at a hotel….take the flick with you to enjoy!
Here are two options for purchasing the entertainment of your choice:
*The Lion King – book
*The Lion King – movie
*Even if you can't get your hands on something "lion king" there are still other movie options for this part of the date.
The Jungle Book
Tarzan
Bambi
George of the Jungle
We then headed to Capitol Theatre in good old SLC. The show was spectacular! We both just loved it!
Other Ice Cream Options:
Make home-made ice cream together.
Share a bowl of store bought ice cream at home!
Why not make a raft for your ice cream to float on! You could use chocolate bars, graham crackers, animal cookies, Oreos, bananas or even ALL of the above to do the trick! The options are endless.
Upon completing his charming task of whispering in my ear that he loves and adores me 🙂  THEN, and only then, did I gave him his final gift! I saved the BEST for last! I personalized a mini scrapbook using pictures and memories from each one of our seven "WILD" years of marriage.
You can make your very own too!  Check out this fabulous tutorial that Charlene did on these mini scrapbooks!
Find a pic from each year and write a memory about that pic or year on the back. Gift all the pics to him!
Make or buy a card and list a memory from each year of your marriage.