March Madness Date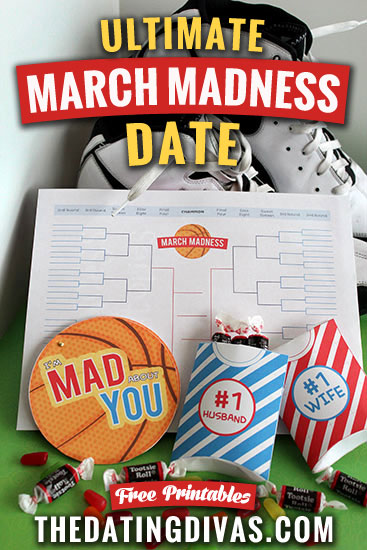 My husband loooooooves sports and since we have been married, I have been lucky enough to enjoy a LOT more sports watching with him. I've had fun doing lots of sports-themed dates with him over the last few years. When I found out that the March Madness Championship games were going to be within driving distance for us this year, I got really excited and thought about how fun it would be to surprise him with tickets to the final games! Yep, and then I looked up the prices. Gulp. And changed my mind.
I decided an at-home date would be a LOT more affordable and still super fun! (OK, maybe not quite as awesome as actually going to the games but we are on a budget here people- not to mention that we have a nursing baby and I made the mistake to take a 6 month old to a jam-packed NFL game once and as loud as the fans were, my son was DEFINITELY heard over them- oh, my the looks I got!! Live and learn!)
Back to the date!
The Invite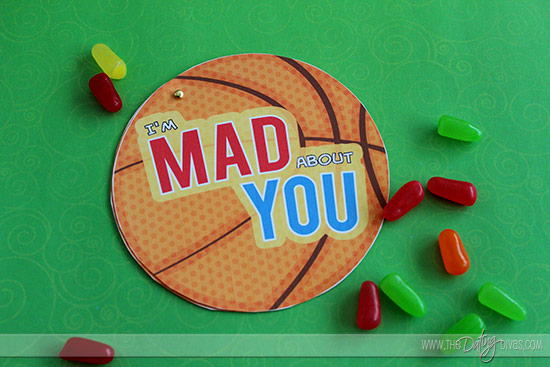 Cut out your fun "I'm Mad About You" basketball invitation. You are going to need a little fastener or brad to poke through so that it will be able to twist open to reveal the date details. I absolutely LOVE how this turned out!! Tasha at Whimsicle Design Studio created the printables for this date, she is so great you will love all her designs!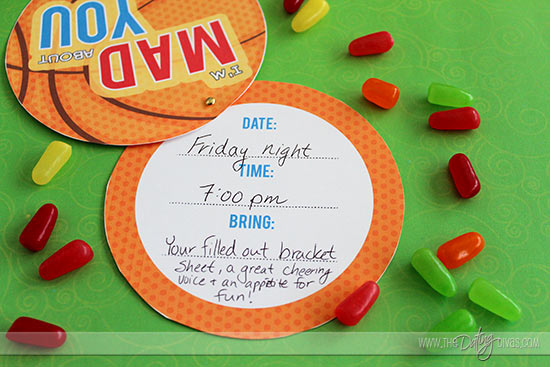 The Competition
Check out the game schedule online to find the game (or games!) that look the most appealing to you or work best with your schedule.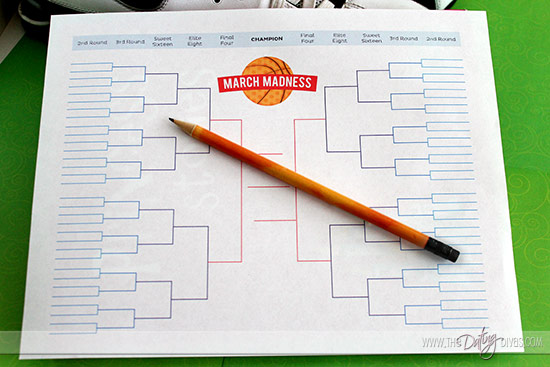 Now comes the challenge! Print up 2 of these brackets one for you and one for your honey to fill out ahead of time. Just head over to this site to get information on the teams that will be playing. Decide together how you want to award 'points' for correct game winners. For example 2 points for 3rd round winners, 5 points for correct Sweet Sixteen winners, 10 points for correct Elite Eight winners, 20 points for correct Final Four winners, then 50 points for the getting the Champions right! Have fun with how the winner gets a 'prize' for the highest points. As you can tell, the winner won't be known right away since there are so many games to be played. There will be some fun competition in your house as the games progress!
The Treats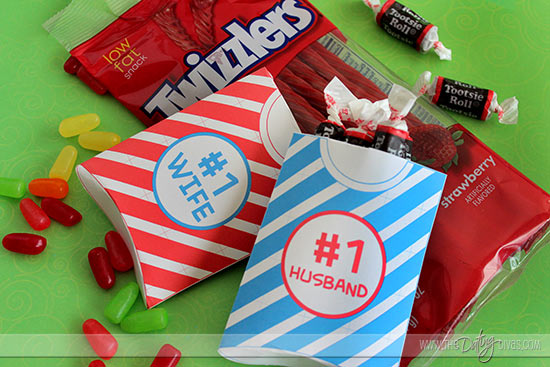 Every good game has great treats! Check out these darling pillow boxes that Tasha created to look like little basketball jerseys! How fun are they?!?! Pick out your favorite little treats to pop into these and have them out when the game starts. You could even tuck in a sentimental little love note to up the sweetness factor of this date:)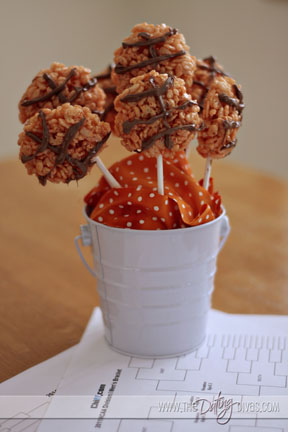 If you want things to get even sweeter you can also whip up these tasty basketball pops that Erika created as a March Madness Treat. These look so fun, you are probably going to want to make a bunch of extras to bribe your kids with so they will go to bed early:)
Speaking of getting your kids to bed early…
Post Game
Nothing will finish your date off like a round of  Horse…Diva-Style! You are going to love this sassy twist on the classic game that Paige came up with:)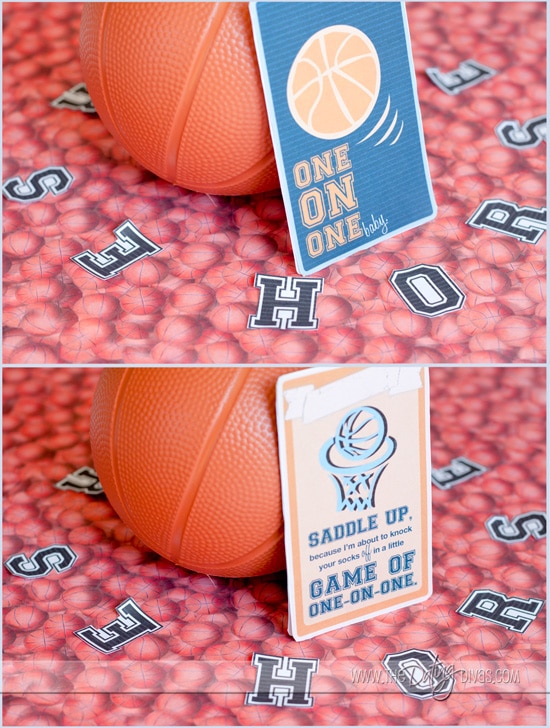 If you are looking for some fun games to try during commercials, Corie has some fun ideas in A Date That Scores! or check out Candice's post 12 Super Sporty Dates Your Man Will Love that includes ideas for every month of the year!
Then you don't want to miss Cami's AH-MAZING roundup of 45+ March Madness Ideas. Whoot Whoot- you are never going to run out of fun basketball ideas with this amazing list!!
March Madness Date Printables
Printables Designed by Tasha @ Whimsicle Design Studio Exclusively for The Dating Divas