Vacation the World Gift Boxes
What is better than taking an awesome trip with someone you love? How about SURPRISING someone you love with an amazing vacation in a box? If you like the sound of that, you are going to LOVE this cute gift idea! Trust me, you are going to want to get your hands on these darling free printables. We've got everything you need to create TWO vacation-the-world boxes.
Let's get right to it!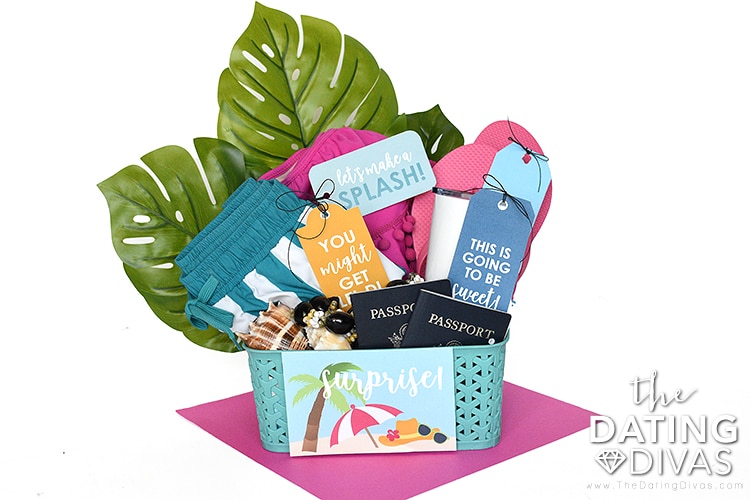 Disclaimer: This post contains affiliate links. To learn more about 'em, click here.
Vacation Gift Boxes
You may be wondering why you would want to use world boxes when planning a vacation. It's actually so you can surprise someone (or someones) with the destination of your trip!
Imagine gifting a box full of clues and details for a surprise vacation planned for you and your sweetie. Their excitement will be off the charts! And again imagine gifting a vacation-in-a-box to your kids, telling them where you will soon take a family vacation. I'm sure there would be screams of delight!
So, we created TWO perfect printable vacation box sets for you to use. We created two darling themes for two very different vacations. One is more tropical-themed, and the other is theme park-themed. (I bet you can already imagine the types of locations these could work for!)
Think of these as surprise vacation-the-world boxes to gift your loved ones, and use our free printables to make the gift extra adorable and special!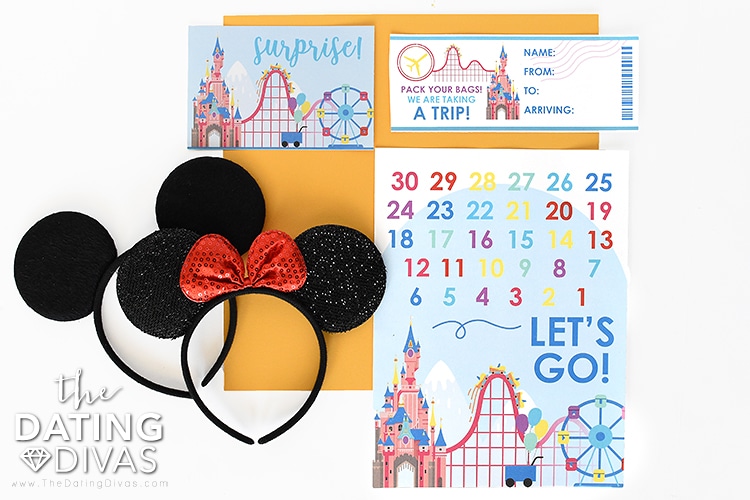 Vacation Gift Box Printables
So, what do you get with the FREE printables? Check it out!
Tropical-Themed Gift Box:
Box Cover: Surprise! Perfect to stick to the front of whatever box, envelope, etc., you decide to use!
Vacation Ticket: Fill out this cute airline-style ticket to show that lucky someone just when and where you are taking your vacation.
Gift Tags: These tags are so cute, and add a little something extra to your travel box! Here are our suggestions for fun, simple gifts you can attach the tags to: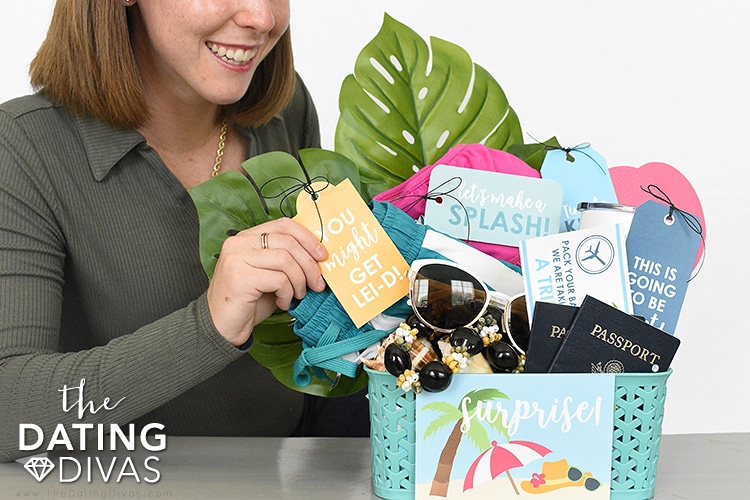 That's not all! Check out what is included in our
Theme Park-Themed Gift Box:
Box Cover: Surprise! Use this cute printable to decorate the front of your gift box.
Vacation Ticket: Fill out this darling ticket to tell your family when and where you are going. This is the cutest addition to your gift travel box!
Countdown Page: Build the excitement with this adorable countdown page! Add a sticker when each day is through, or simply cross them off as the days get closer!
I'm a little jealous already! Grab your free printables below and go surprise someone you love with a vacation in a box and a trip you will never forget!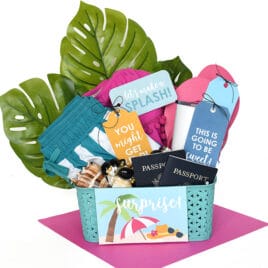 Vacation in a Box
Printables Designed By Courtney Exclusively For The Dating Divas