Valentine's Day Cookie Decorating Kit
Who's excited for all things hearts? We sure are! Valentine's Day means giving ALL the sweeties in our lives a whole lot of loving and what could be better than that?! To help sweeten the deal even further, we've come up with a Valentine's Day Cookie Party that's heavy on the fun (and the frosting too!). Our cupid-themed printable pack contains everything you'll need to turn an ordinary stack of cookies into a magical event for friends, family, or both! Ready to 'bake' up some fun? Good. Let's get cooking!

Disclaimer: This post contains affiliate links. To learn more about 'em, click here.
Speaking of sweet, we're all sorts of heart-eyed over these printables designed by the fabulous Carisa of Messes to Memories. She is seriously amazing and we couldn't have done it without her. Save this party idea on Pinterest!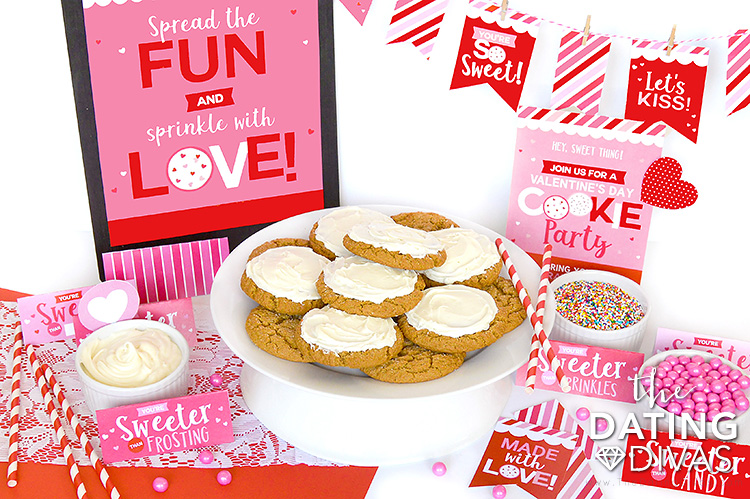 Alright, are you ready for a little bit of sweetness and a lotta bit of cookies? We sure are! Begin by getting your hands on a healthy amount of (unfrosted) sugar cookies. We went with pre-made from a local bakery but feel free to whip up a recipe favorite!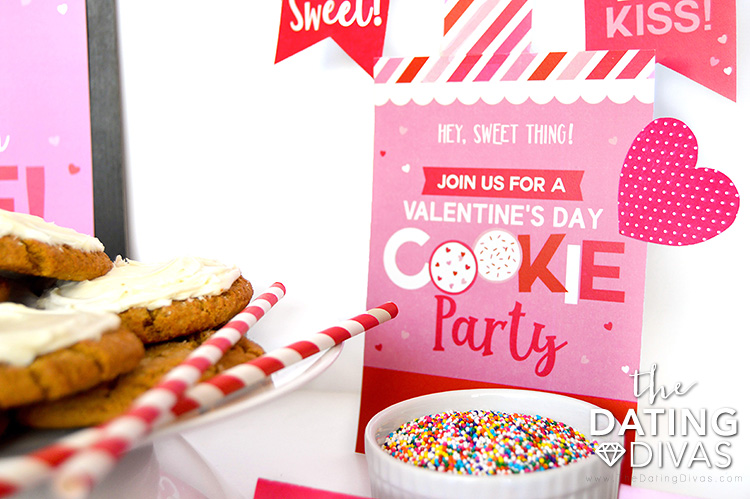 Next up, the invite! Get everyone on your guest list extra excited with our heart-themed invite that has all the deets. It's totally cookie-themed and beyond adorable so they'll know they're in for a fantastic time. Be sure to seal with a kiss!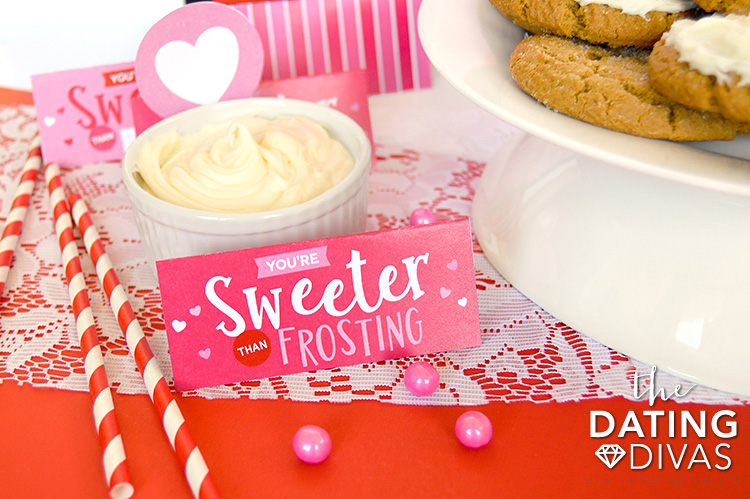 We want your hearty-party to run as smoothly as possible, and we're about to turn your kitchen table into a one-of-a-kind cookie palooza! Grab yourself some classic cookie toppings – frosting (vanilla was the name of the game for our party but strawberry would also be an excellent addition!), sprinkles, candy, and the like and hit print. Our printable pack will make the rest of the process easy breezy!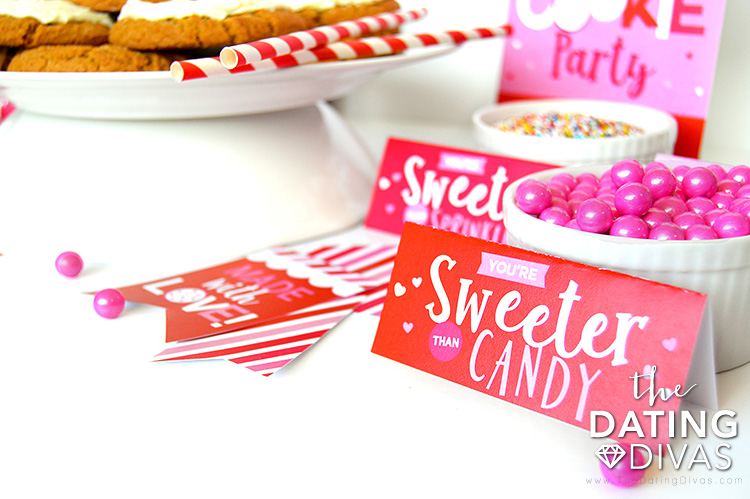 Be sure to keep those edible goodies in check with our topping tents! They not only add a healthy dose of hearts but have a Valentine message that's just as sweet as can be. We've also included several blank tents so your topping options are literally endless! Those bare-baked bad boys are about to be the cutest Valentine cookies on the block.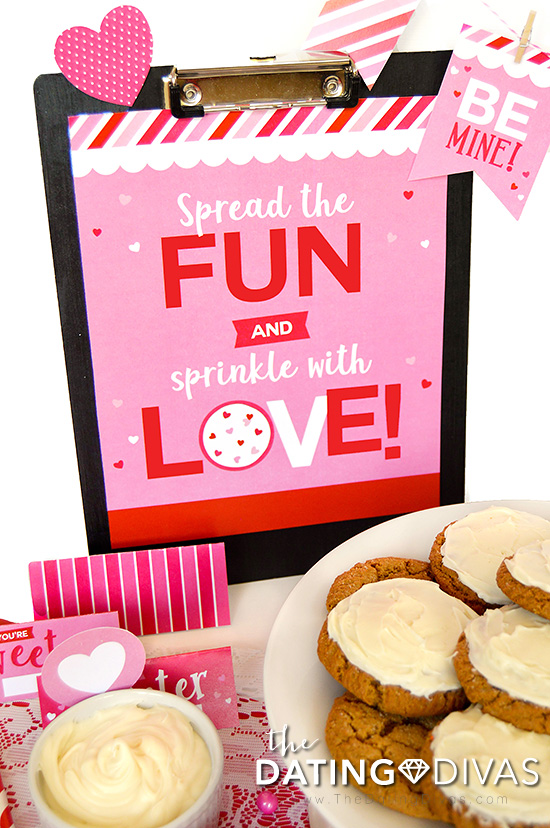 Time to decorate! Gather everyone 'round the table or work surface and have them unleash their inner cookie Picasso. Keep the mood light and the party power strong with our 8×10 frameable print that helps everyone know what's what. But seriously, how cute?! We may or may not keep this one up year round…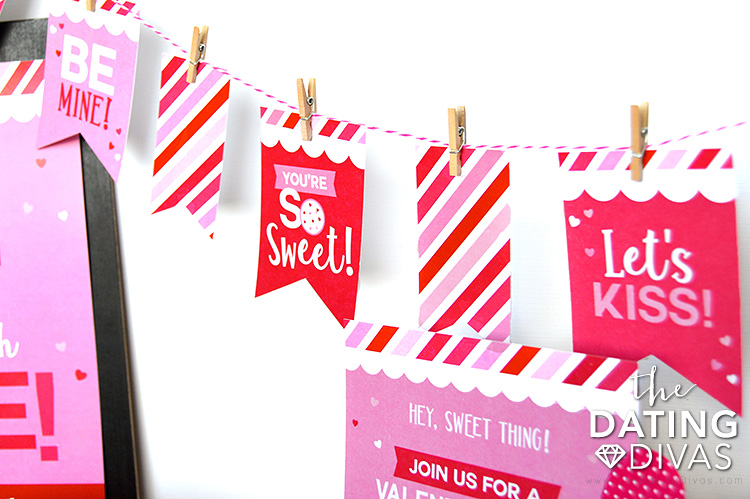 Once everyone's inner artist has had a chance to shine, it's time to dig in. After a little bit of mingling and a lot a bit of munching, consider taking some goodies to the neighbors! Our printable Valentine Banner not only works as a fantastic decor item but doubles as gift tags that are too cute for words.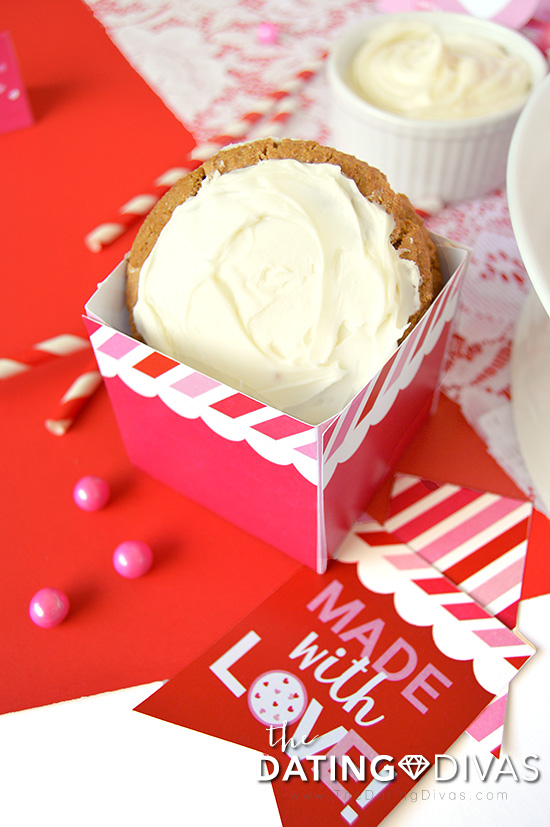 In the case of leftovers or an "I'll save this for later," box up those baked goods with our clever printable cookie containers! Save these cute printables on Pinterest! PS. These nifty little guys can also be used for toppings or treats. Adorable!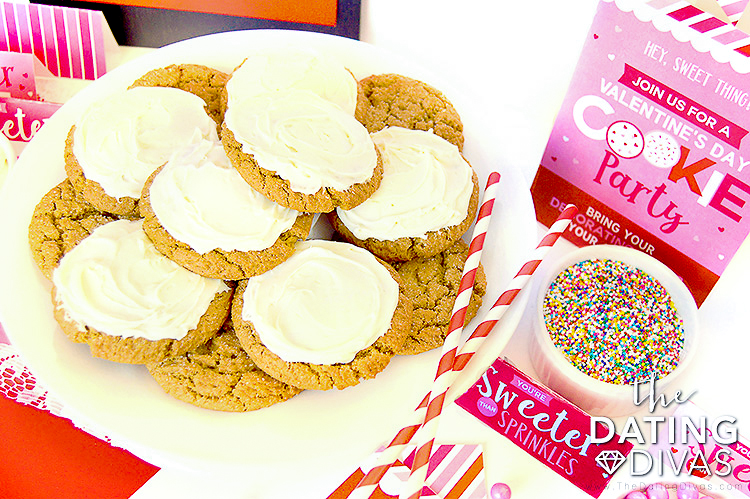 What did we tell you?! This is one Valentine's Day Party to fall in love with. Happy Heart's Day!
Valentine's Day Cookie Party
Printables Designed by Carisa @ Messes to Memories Exclusively for The Dating Divas