Two Unique Valentine's Day Lunch Ideas
Valentine's Day is the perfect time to shower your loved ones with extra love and attention. We are on the countdown to Valentine's Day and let me tell you, we could not be more excited! If you are looking for a quick and easy way to really "wow" your loved ones this year, consider making their Valentine's Day lunch special. Can you imagine their surprise as they open what they think is an ordinary lunch only to discover that this Valentine's Day lunch is anything but ordinary? They will feel oh-so-special and loved! With our quick and easy Valentine's day lunch ideas and unique printables for both your sweetie and your kids, doing something special for their Valentine's lunch is super easy to do!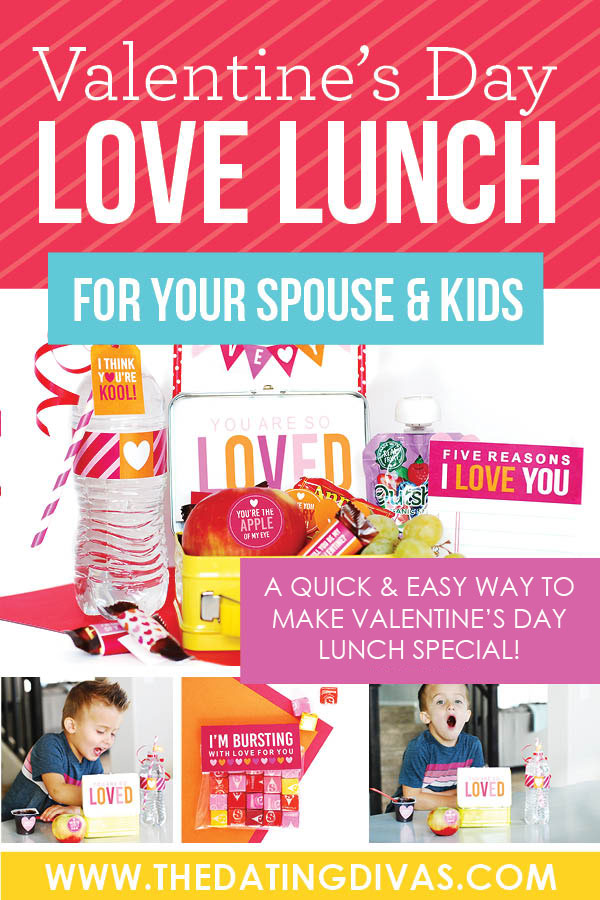 Disclaimer: This post contains affiliate links. To learn more about 'em, click here.
Here at The Dating Divas, we LOVE Valentine's Day! It gives me the chance to recognize the people I love and the relationships I cherish in my life! I have to admit though, sometimes it is a little hard to celebrate Valentine's in our home due to our busy lives and schedules! When I look for something special to do for my family, I am all about finding something that is cute, but more importantly something that is quick and easy to implement. These Valentine's Day lunch printables are incredible cute (thanks to the talented
Courtney of All Things Bright and Beautiful.
More importantly, these Valentine's lunch ideas are SO quick and easy to put together. All you need to do is print, cut and add to their lunchbox!
Valentine's Day Lunch Printables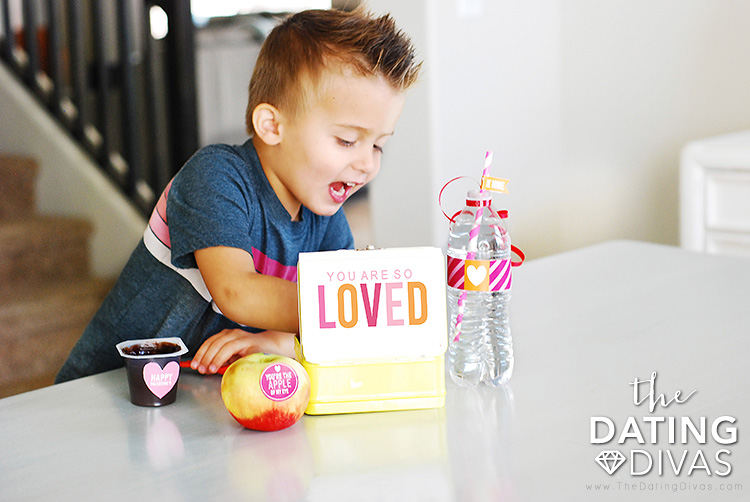 We wanted to create simple, cute printables that could easily be added to any lunch. These Valentine's lunch printables can easily be adapted to any lunch you make or send with your loved ones. The free printable download includes:
Printable lunch tags
Valentine's Day jokes
Love notes
Fruit labels
Straw flags
Lunchbox labels
Treat wraps
Message Banner
Love Coupons
It really is so simple to make Valentine's Day lunch special and is guaranteed to put a smile on your kid's and sweetheart's faces!
Valentine's Day Lunch Ideas for Kids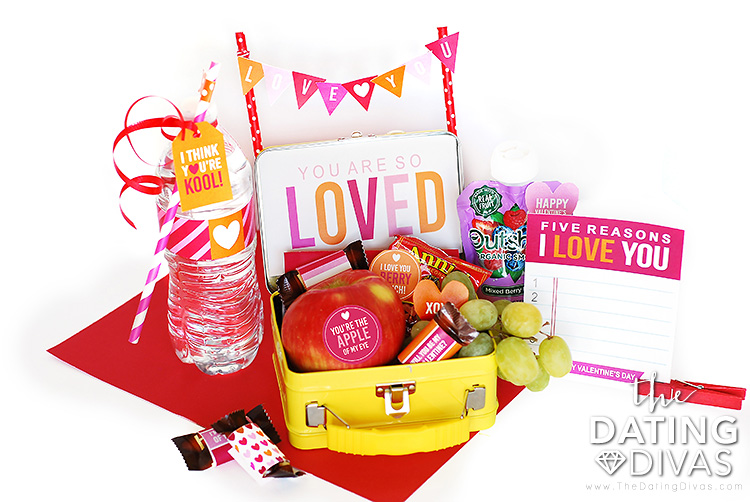 Your kids are going to love this fun surprise when they open up their lunch boxes this Valentine's day! Prepare their lunch as you normally would and then simply add a few of our adorable Valentine's lunch printables to your child's lunch. It is a perfect surprise!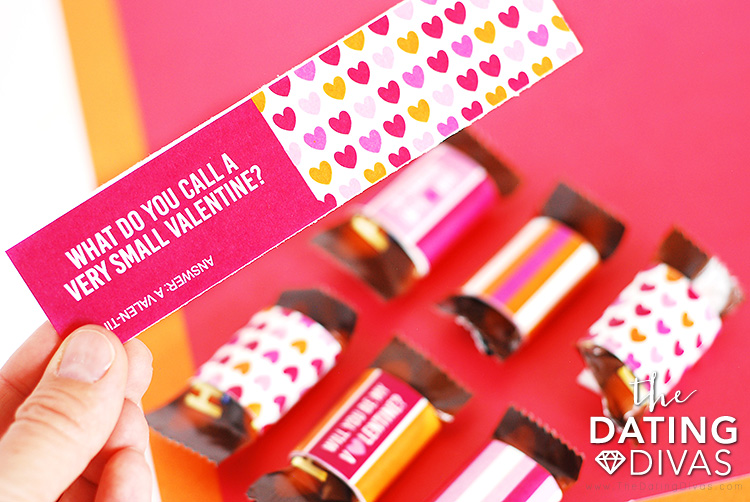 Here are a few things you can do with the printables:
Place the fun tags with corresponding food items such as "You're Kool" (paired with Koolaid), "I'm Bursting with Love for You" (paired with Starburst), and funny fruit labels (paired with fruit – of course!)
Throw in some of your favorite Valentine's jokes printables. You can wrap the jokes around bite-sized chocolate bars. When the candies are all wrapped up, they will only show a cute pattern. Once your child unwraps the candy bars they will find a silly Valentine's joke inside!
Add in a heartfelt love note on top and you are set! We love the darling printable card that gives you space to write down five reasons why you love your child!
Valentine's Day Lunch Ideas for Your Spouse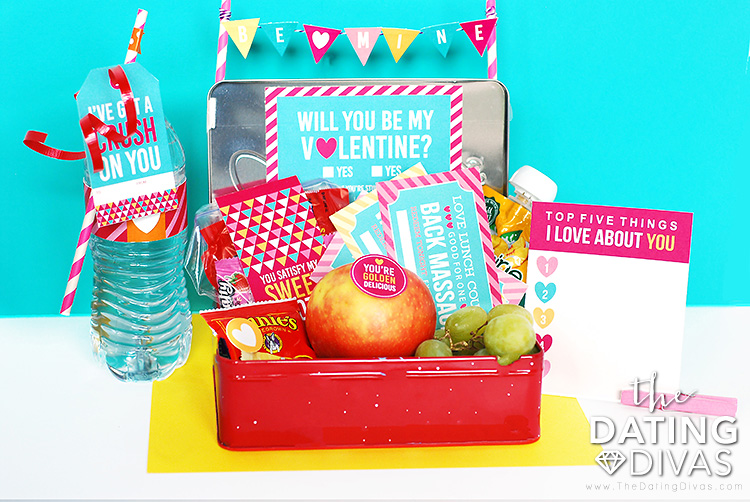 Making Valentine's lunch special isn't just for the kiddos, it is also a great idea for your spouse! Adding a little something special to your spouse's Valentine's lunch is so easy to do and is a great way to celebrate on an actual day. It takes so little effort to put together, but it can really make your sweetie feel loved. And with our specific printable Valentine's lunch ideas just for a spouse – it doesn't get any easier!
Here are a few things you can do with the printables:
Attach the tags to food items that best correspond to the text such as "We're quite the Pear" (paired with a pear), "You're Golden Delicious" (paired with apples), "Orange You Glad We're Together" (paired with an orange).
Insert Valentine's lunch coupons for a little gift surprise.
Fill out the printable journaling prompts to share the top 5 things you love about your spouse and hide it in the lunch bag.
Finally, have fun with leaving out their Valentine's lunch for them to find. Perhaps in the fridge with a special label, or on the seat of their car for them to find on their way to work. Your spouse is going to be so surprised and is going to love it!
What We Love About These Printables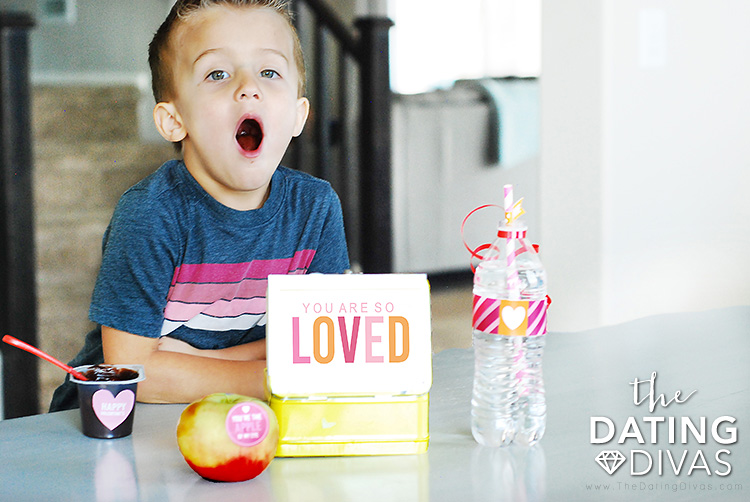 A lot of people have fun traditions in their families for Valentine's day, but with school and work sometimes you don't see each other very much during the day. A Valentine's Day Lunch is a great way to make more memories even when you are apart from each other. Here are a few other things that we love about these Valentine's Day lunch printables:
The printables are gorgeous – it is a visual surprise when they open their lunchbox.
There is so much included in the pack. You can use some of it or all of it – it is up to you.
The printables are completely free (just click the download button below.)
There are two versions (kids and spouse) so you can customize your Valentine's lunch ideas to fit your intended receiver.
It is so easy to do, but it will make a big difference!
Show Your Kids & Spouse Love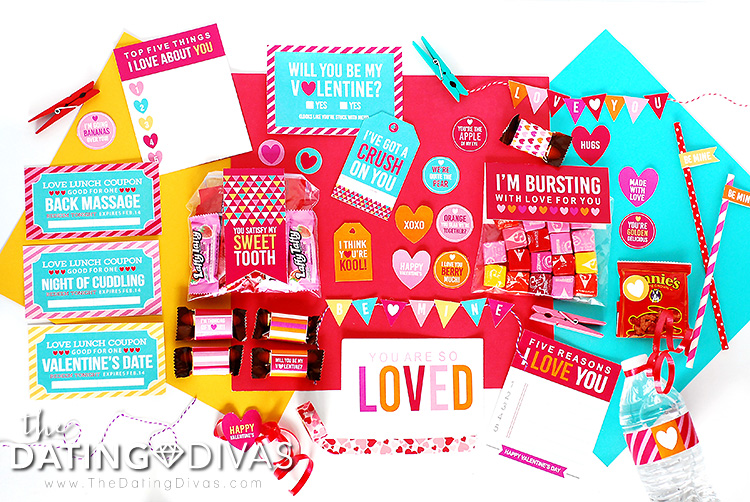 We hope you enjoy these Valentine's Day lunch ideas and printables. However you decide you customize the idea to fit your family, we hope that it brings many smiles and surprises to your loved ones! Enjoy!
If you are looking for additional items to add to your love lunch, don't forget to check out our additional post with 100 Lunch Box Notes and our 14 Unique Valentine's Day Cards!
Kids Love Lunch Printables
Printables Designed by Courtney @ All Things Bright and Beautiful Exclusively for The Dating Divas
Spouse Love Lunch Printables
Printables Designed by Courtney @ All Things Bright and Beautiful Exclusively for The Dating Divas