We are on the countdown to Valentine's day and let me tell you, I could not be more excited!!! If you are looking for a quick and easy idea to really "wow" your loved ones this year, we've totally got your back! Make this Valentine's Day EXTRA special with our
Adorable Valentine's Lunch Surprise!!!
We have even included 2 versions – 1 for your sweetie and 1 for your kids!!!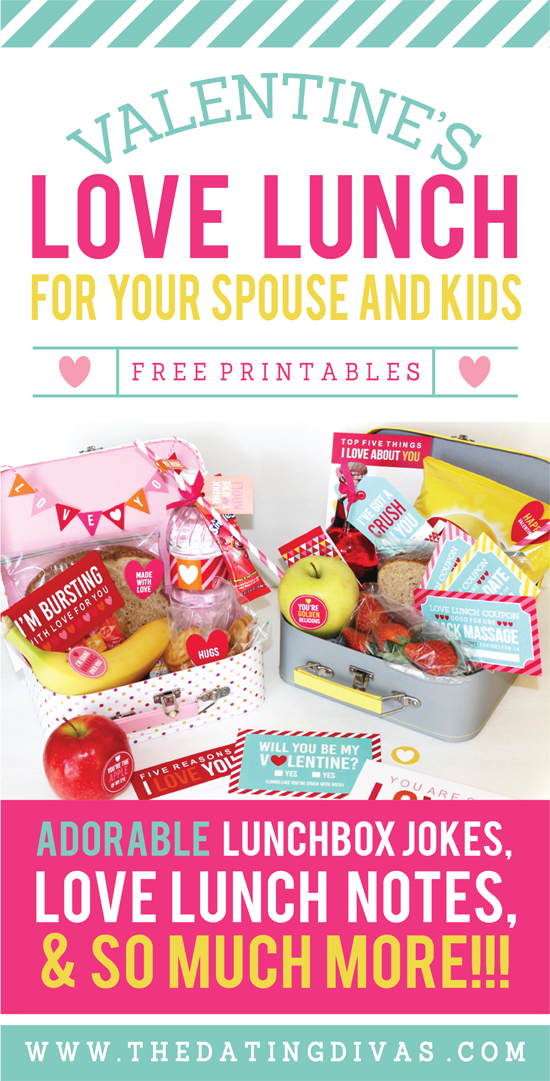 Disclaimer: This post contains affiliate links. To learn more about 'em, click here.
I don't know about you, but I LOVE Valentine's day!!! It gives me the chance to recognize the people I love and the relationships I cherish in my life! I have to admit though… sometimes it is a little hard to celebrate Valentine's in our home due to our busy lives and schedules! That is why I am all about quick and easy ideas (Oh! And cute – can't forget that!), and decided to design this fun Valentine's Love Lunch idea for all of YOU!
Our Valentine's Love Lunch is perfect because it is SO quick and easy to put together — all you need to do is PRESS PRINT and "voila"!
We have created printable lunch tags, Valentine's jokes, love notes, fruit labels, AND SO MUCH MORE, guaranteed to put a smile on your kids' and sweetheart's faces!
Let's start out with the kid version…

 Your kids are going to LOVE this fun surprise when they open up their lunch boxes this Valentine's day!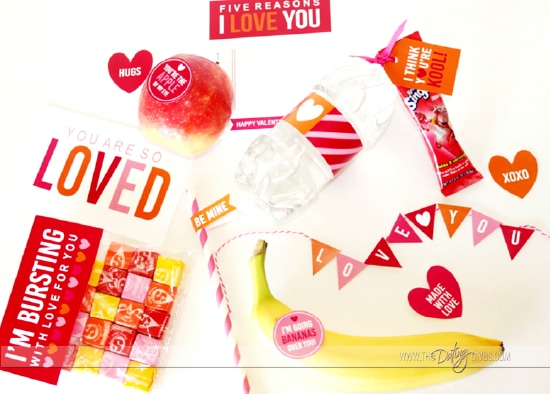 Simply add a few of our adorable Valentine's Love Lunch printables to your child's lunch and you will have created the perfect surprise! They will love reading all the fun tags including ones that read, "You're Kool" (paired with Koolaid), "I'm Bursting with Love for You" (paired with Starburst), and funny fruit labels.
We have also included some secret Love Lunch jokes in our printable Valentine's pack! Simply wrap the jokes around bite-sized Hershey chocolate bars. When the candies are all wrapped up, they will only show a cute pattern. Once your child unwraps the candy bars they will find a silly Valentine's joke inside!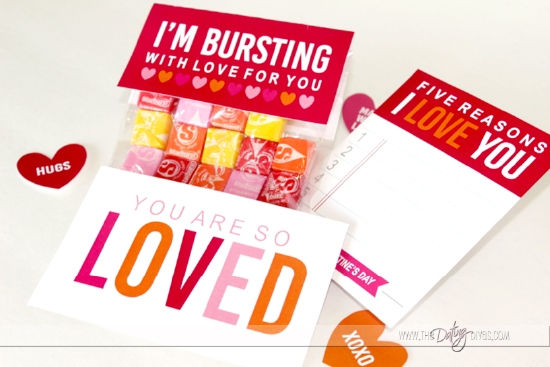 Don't forget to include a heartfelt note in your kidlet's lunch box! We have even provided a DARLING printable card that gives you space to write down five reasons why you love your child!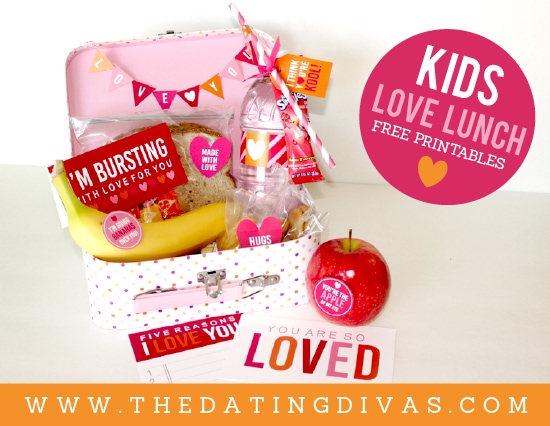 Not only is our Valentine's Love Lunch PERFECT for your kids, but it's also a great idea for your spouse!

As I mentioned before, my husband and I both have pretty crazy schedules. Sometimes, we have to postpone our actual Valentine's date to a different day (most often the weekend) when we are both free from stresses and are able to spend some great quality time together! However, I LOVE the holidays and I still want to do something quick and easy to show my hubby that I love him on the actual day of Valentine's! That is why this Valentine's Love Lunch idea is so perfect—it takes so little effort to put together!
My plan this year is to pack up this Valentine's Love lunch and leave it on the seat of my husband's car before he heads to work (shhhhh… keep it on the down low!) I can't wait for him find this adorable surprise waiting! I know he is going to LOVE it!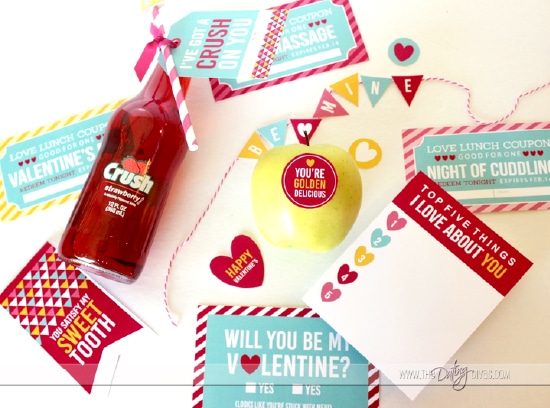 You can surprise your sweetheart too, with our DARLING Valentine's Love Lunch printables. For this version, we have included gorgeous tags, love lunch coupons, and fun printable journaling cards! Everything you need to surprise your sweetheart with the PERFECT Valentine's lunch surprise!
 ** All designs were made by me, Courtney of All Things Bright and Beautiful, check out my site to see more!**