Printable for Mixed CD of Love Songs
Feel like you're running out of time for a Valentine's gift, but want still want it to be meaningful? AND you don't exactly have a ton of time or money to spare? Well, stop your fretting, we've got you covered – make your honey a creative and thoughtful CD mix filled with the best love songs! Plus, what a great Valentine's gift idea to help set the mood for the entire night!

Disclaimer: This post contains affiliate links. To learn more about 'em, click here.
Printables
Crystal from A Well-Feathered Nest created some super cute printable options for your CD packaging. I love the simplicity of Crystal's designs – they're gorgeous, but SO versatile! Go check out the rest of her incredible designs – you're sure to find something else you LOVE, too!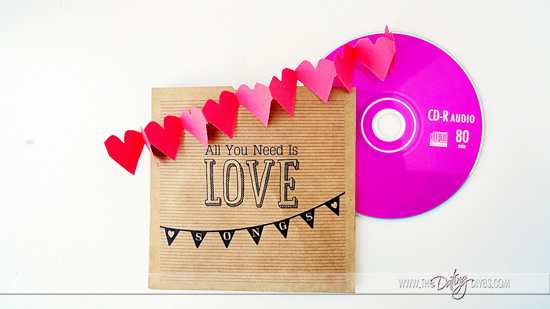 I printed mine on the back of a brown paper grocery bag – talk about upcycling!! BUT if you don't have those just lying around, Kraft Paper
 would definitely give you the same look. They would also be SO cute on a Bright Color Paper
 or even just White Cardstock
 – see, versatile!! I also had to use some colorful CDs
 to match the designs – I just couldn't help myself!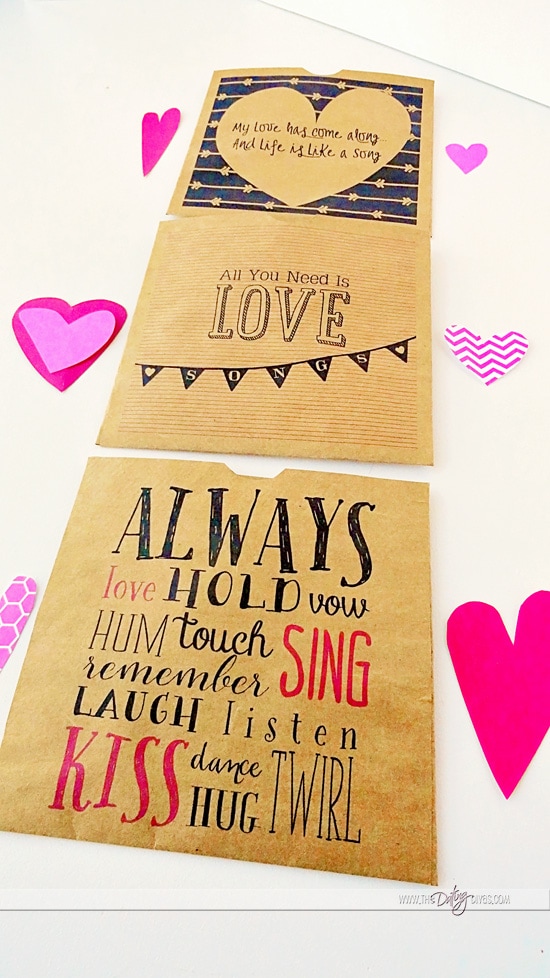 Give a CD as part of a personalized Valentine's gift by grabbing your totally and completely FREE printables, right here (and right NOW!) – you've got a few options to choose from… or if you're feeling especially motivated, you can snag all three at the bottom of this post!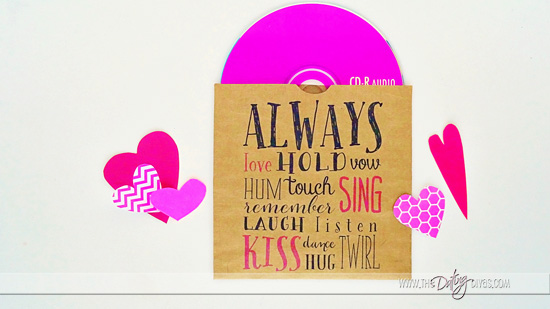 Here are a few tips for printing:
If you want to replicate the brown paper bag look, just cut a piece of a large bag to be the size of a regular sheet of paper and feed it into your printer! A heavy duty cardstock works best for a more sturdy sleeve, but any paper will do the job!
Look for the box in your printer menu that says "Fit to Page" and make sure it is NOT checked or your sleeve might print out the wrong size!

Playlists

To make this Valentine's gift even easier for you to give, the divas have come up with some of their favorite romantic and fun love songs. All you have to do is click to grab these songs and put them on a CD for your love. We've created three different song mixes to choose from (but you can totally feel free to mix and match or even create your own from scratch to make a completely personalized gift).
(Distributing copyrighted material without the permission of the owner is against Federal Law in the U.S. Please don't distribute music unless you own it, or have permission from the copyright holder.)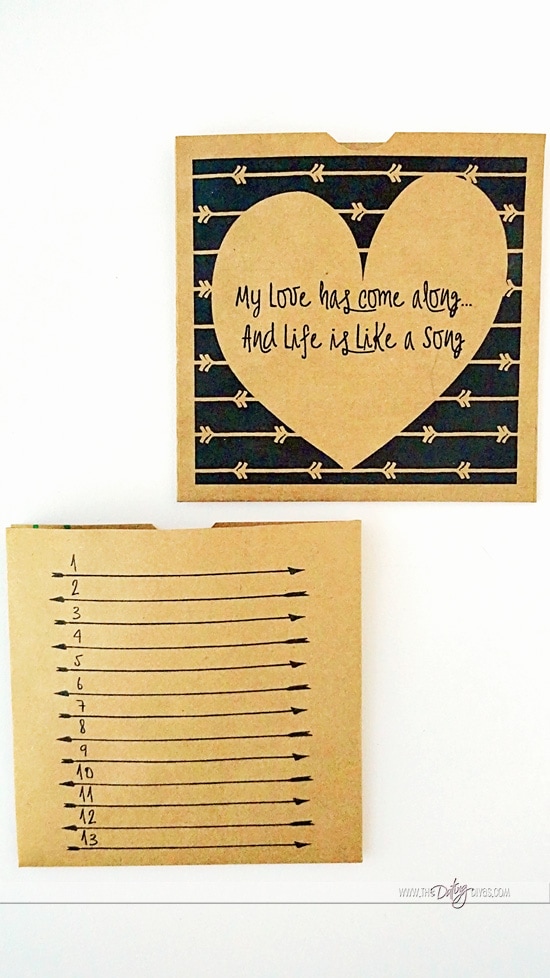 Marriage Songs Playlist
A collection of songs designed to remind you what marriage is really about! These songs are all about forever and the importance of the one you love!! I think pairing this playlist with the "Always" CD sleeve would be the perfect fit!
1. Always Erasure
2. Marry Me Train
3. Just Say Yes Snow Patrol
4. How Forever Feels Kenny Chesney
5. Happy Secrets in Stereo
6. Our Love is Here to Stay Nat King Cole
7. Home Phillip Phillips
8. All My Life K-Ci and JoJo
9. She's Everything Brad Paisley
10. Overwhelmed Tim McMorris
11. Let's Stay Together Al Green
12. I and Love and You Avett Brothers
Slow-Dance Songs Playlist
Choose this mix if you want to spend your Valentine's day wrapped in each other's arms, dancing cheek to cheek. Look deep into each other's eyes and remember why you fell in love in the first place. This romantic playlist is a sweet complement to the second CD sleeve, "My Love Has Come Along."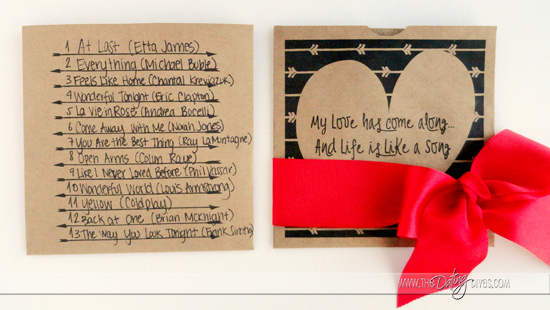 1. At Last Etta James
2. Everything Michael Buble
3. Feels Like Home Chantal Kreviazuk
4. Wonderful Tonight Eric Clapton
5. La Vie en Rose Andrea Bocelli
6. Come Away With Me Norah Jones
7. You Are the Best Thing Ray LaMontagne
8. Open Arms Collin Raye
9. Like I Never Loved Before Phil Vassar
10. What a Wonderful World Louis Armstrong
11. Yellow Coldplay
12. Back at One Brian McKnight
13. The Way You Look Tonight Frank Sinatra
Upbeat Songs Playlist
Perfect for singing to the one you love! These songs are fun and are meant to be belted out directly to (and with) your Valentine! They would really coordinate with the third CD sleeve option, "All You Need is Love… Songs."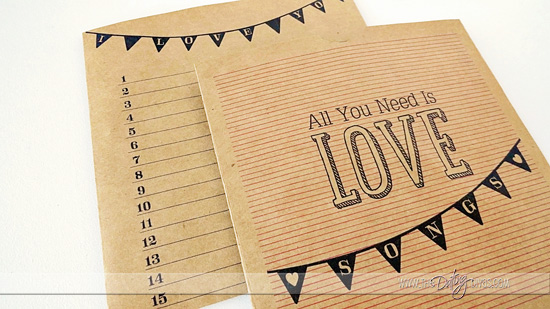 1. All You Need is Love The Beatles
2. Still Into You Paramore
3. Better Together Jack Johnson
4. How Sweet It Is (To Be Loved by You) James Taylor
5. Wanted Hunter Hayes
6. Amazed Lonestar
7. I Will Always Love You Whitney Houston
8. Everlasting Light Black Keys
9. Honey, I'm Good Andy Grammer
10. Crazy in Love Beyonce
11. Can't Help Falling in Love With You Elvis Presley
12. Somewhere Only We Know Keane
13. I'll Make Love to You Boyz II Men
14. Let's Get it On Marvin Gaye
15. Your Body is a Wonderland John Mayer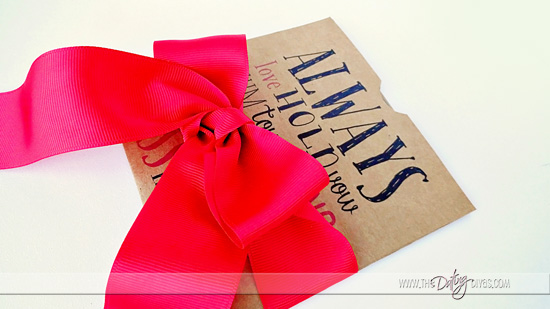 Here's a fun idea to make your CD even more special – put a secret or hidden track on your CD! How fun would it be to add a song that's NOT listed on the back and would be a total surprise to your spouse as they're listening?! It would be so romantic to include their favorite love song or the song from your first dance as a married couple! If you're looking for a few bonus tracks or want something different to add in, here are just a few more, classic Diva favorites!
Put together these playlists as just one part of a romantic Valentine's day! Add a few more quick and easy touches by checking out these hysterical Valentine's Day Cards (these seriously had me laughing SO hard) and planning a Romantic Valentine's Dinner at Home for the total package this Valentine's day.
Valentine's Day CD Sleeves
Printables Designed by Crystal Nale @ A Well-Feathered Nest Exclusively for The Dating Divas