Whose Line Is It Anyway?
Whose Line is it Anyway? is one of my husband and mine's favorite shows to watch. The things those improv actors come up with on the spot are amazing AND hilarious! If my husband or I are having a rough day – watching some of these episodes does the trick! It doesn't take long to crack a smile or get a chuckle. Sometimes we make a whole night of it!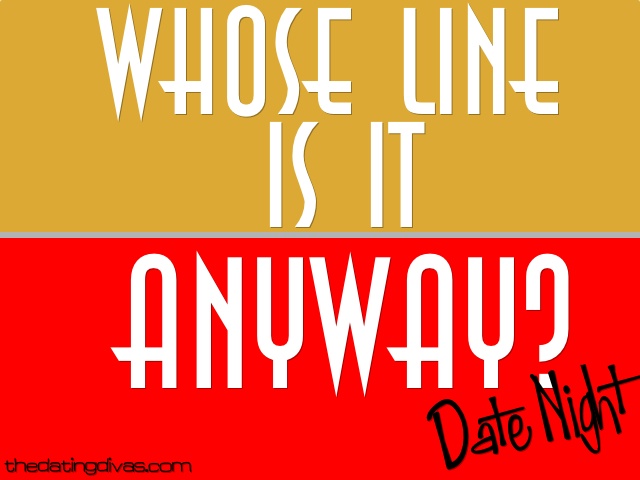 Disclaimer: This post contains affiliate links. To learn more about 'em, click here.
Improvisation is not just for the professionals! Many of the games are simple and with a little help from the Dating Divas can be played right in your own home! With a little creativity, and some fabulous company – this date night could uncover some hidden talents you didn't know your spouse had!
There are hundreds of improv games, but for this date I tried to choose games that required little to no prep and could be played with only 2 players but some will require an invite for your quirkiest friends!
Ready to play?
************************
Props
 This game requires players to think outside of the box and get creative! Players are divided into 2 teams. If you are playing with only your spouse – it is you vs. your spouse. Each team chooses a random item for the other team. This can be any household item, a kitchen utensil, a toy, ANYTHING! The wackier the prop – the greater the possibilities. Each team alternates back and forth "using" their prop in a way OTHER THAN WHAT IT IS INTENDED FOR. In this game a coat hanger is no longer for hanging clothing but rather a hook for Captain Hook's hand or an interesting nose ring.
A-Z 
This game asks players to act out a scene in which the first word they speak begins with the next letter of the alphabet. The dialogue should propel the action forward and ultimately conclude by the last letter. For an added variation – try doing it within a time limit! Such as this clip:
90 second alphabet!
Similar to the game A-Z, this game requires a scene with alternating dialogue but this time rather than focussing on a specific letter players speak only in questions!
Here is an example:
1 player is chosen to be a special guest at a news press conference -only that player doesn't even know who they are! The player must answer the reporter's pointed questions until he/she figures out who they are and what they did! When playing with 2 people – 1 is the reporter and the other the special guest.
Here is one of my favorites:
Here are a few games that are best played in a GROUP setting:
Let's Make a Date 
One player is a contestant on a date-type game show. The other players take on the part of bachelors or bachelorettes with extreme quirks to their personalities. After a series of the contestant questioning each of the potential dates – the contest attempts to guess who each person is.
Party Quirks 
One performer is chosen to host a party. Guests enter one at a time with a unique quirk or personality. As the host interacts and observes each of his guests he guesses until he figures out each personality.
Here is an example:
Having fun yet? Can't get enough? Improv comedy troops are becoming more and more popular ESPECIALLY for date night! Nothing beats a night of laughing at the seams to create new inside jokes between you and your spouse! Do a search in your local listings to find a comedy sports or Improv show near you!
Looking for more ways to get a laugh? Try our
Youtube Date Night
 which includes classic funny youtube videos!