Winter Car Picnic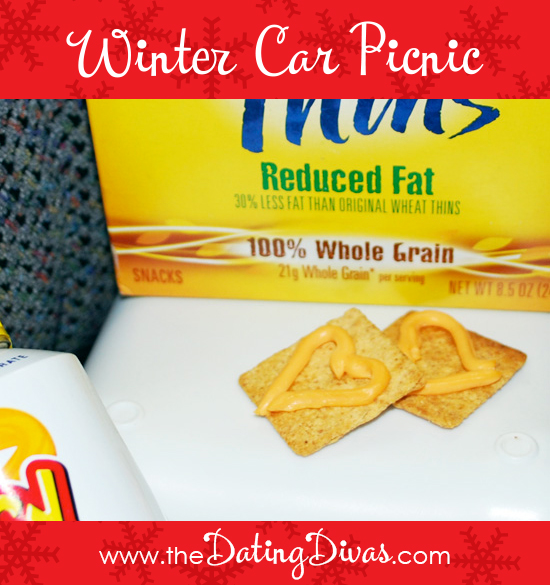 Merry Christmas!!
To all of our readers out there, we hope this special holiday finds you warm in your homes surrounded by your family, and feeling the spirit of Christmas! We know that the holidays can get very overwhelming and sometimes… let's be honest… you just need a little alone time with your spouse to reconnect! So we've got the perfect quick and easy date night idea that you can do today! Just grab some of that delicious holiday grub and head out to your car for a little quiet alone time!
The snow is falling, the sun sets at 5:00 p.m., the roads are slick and the stores are busy. Must be the perfect day for a picnic! Yup, that's what I said. Just because it's freezing cold and it's winter time doesn't mean you can't have a quiet dinner for two without having to spend a fortune eating out. But I don't condone getting frostbite so this picnic will be in the cozy warmth of your front seat!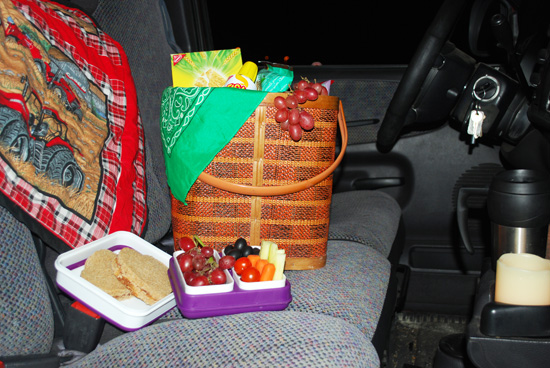 Get your favorite mix-disc of love songs pack a dinner and some cocoa, and find a peaceful, secluded spot somewhere to share the evening. Sometimes it's nice to shut the world out and zero in on just the two of you. If you want to be extra cute, and slightly cheesy, use your spray cheese to write loves notes on your crackers! It doesn't take a big effort or a fancy plan to reconnect, it just takes a simple evening and the opportunity to to have some peace and quiet. Best part of this date if you have a newborn–they can sleep soundly in the back seat while you snuggle in the front, no hauling them in and out of the car! Enjoy! ~Michelle H.