Halloween Date
When is Halloween? Right around the corner! It's time to cram in all of the festive fall fun you can with Halloween date ideas, spooky Halloween decorations, and everything in boo-tween. Every year on October 31st the streets are filled with ghosts, pumpkins, and princesses galore. Get your house ready and have a Halloween date at the same time!
We have scoured the web for the top 10 best DIY Halloween decorations. Linked below you will find Halloween decorations that will inspire your own! After you find a spooky project, scroll down further to see our fun date idea and the free printables to go with it!
Disclaimer: This post contains affiliate links. To learn more about 'em, click here.
DIY Halloween Decorations
Halloween decorations are the best way to celebrate spooky season! And since this isn't a prim and proper holiday, making DIY Halloween decorations is super simple because the rougher around the edges, the better!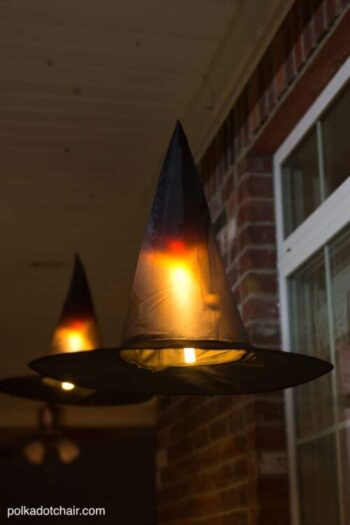 Give your house an instant Halloween makeover with these witch hat luminaries.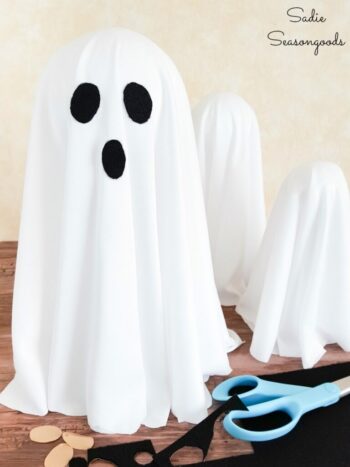 Cute, cheap, and easy–these DIY ghosts are the perfect project for a Halloween date.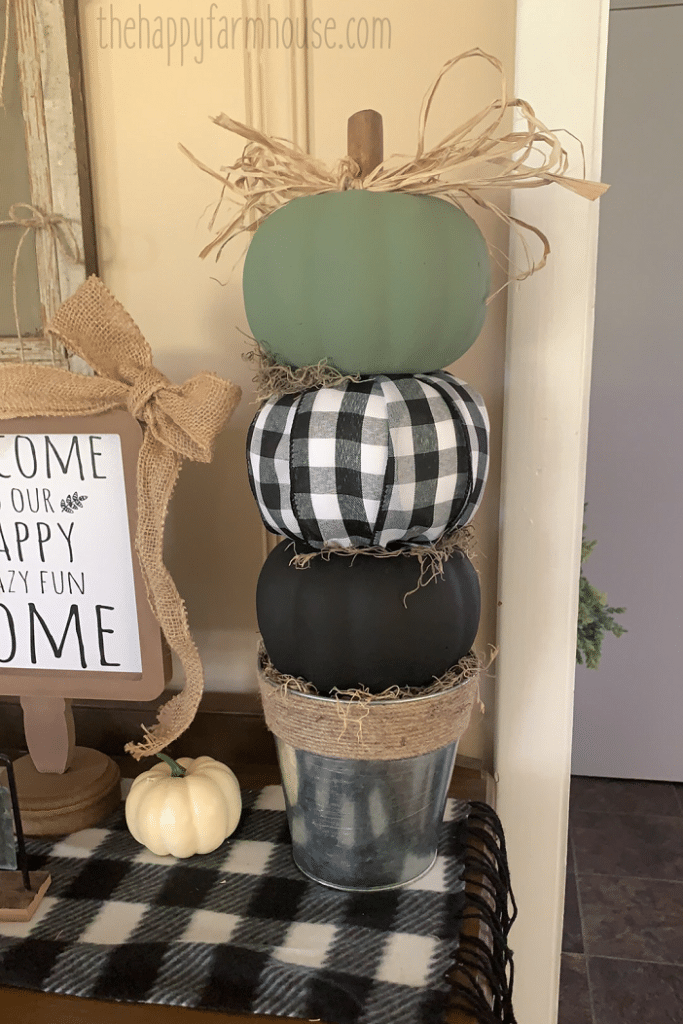 Any dollar store Halloween craft is a winner in our book–these fall pumpkins are no exception.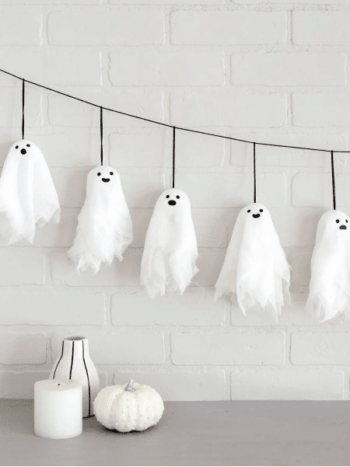 If you shy away from the guts and gore, these little beauties are the perfect simple Halloween decorations for your home.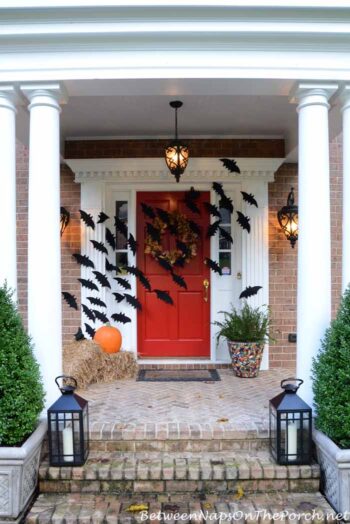 Grab some stiff felt and follow the tutorial linked above for classy DIY Halloween decorations you can use year after year.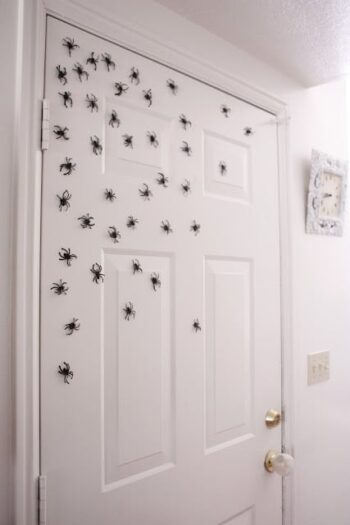 A sudden spider infestation would be our worst nightmare… But this DIY Halloween decoration could be a fun element to your spooky set up!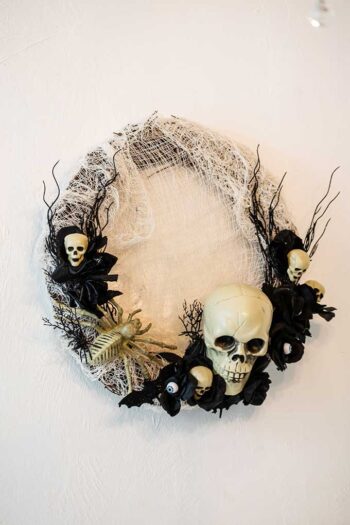 Sit down with your sweetheart and craft your own Halloween wreaths! This would make a super fun Halloween date idea OR girls night idea!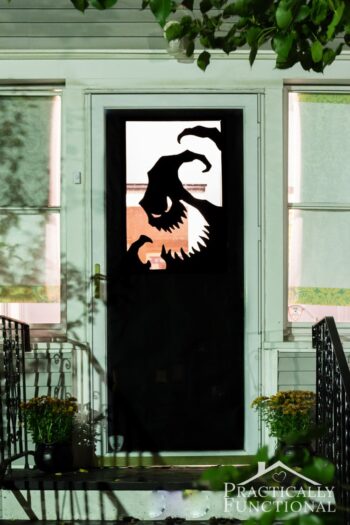 Decorate your storm door or front door with a spooky shadow or vinyl cut out.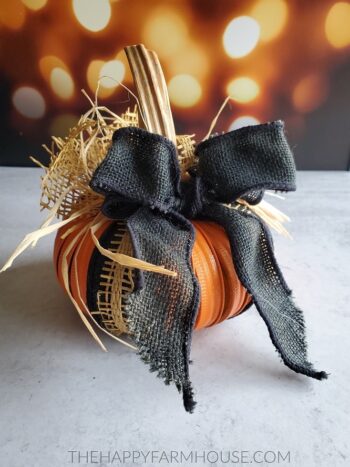 This is a simple DIY Halloween decoration idea your kids can get in on! Get out the paint and let them go wild!
10. Witch Legs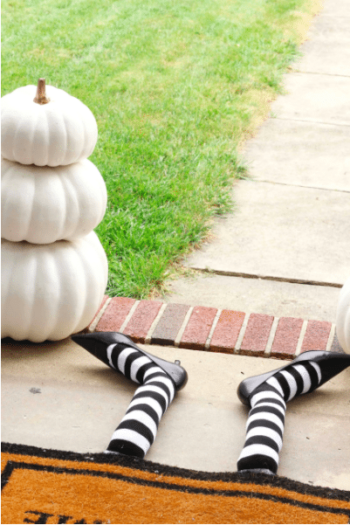 This is a real winner–simply stuff some festive socks with garbage bags and slip some witch-like shoes on them!
Halloween Date Ideas
Go on a Halloween date with your sweetie! Start by printing the free printables below and giving the invite to your spouse.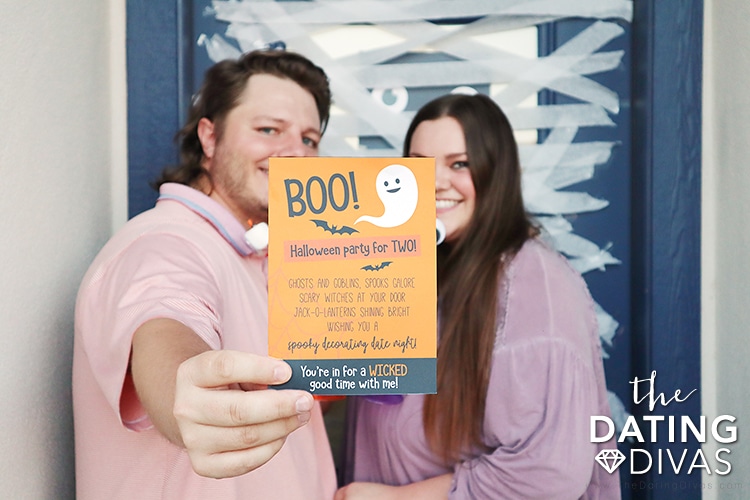 The invite is a Halloween poem that reads:
BOO!
Halloween party for TWO!
Ghosts and goblins, spooks galore,
Scary witches at your door,
Jack-o-lanterns shining bright,
Wishing you a Spooky Decorating Date Night!
You're in for a WICKED good time with me!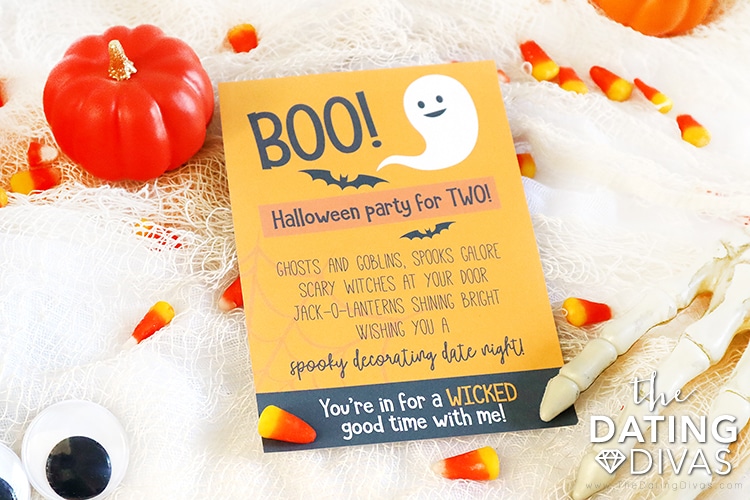 Scarily Easy Halloween Punch
Kick-off your Halloween decorations date with a bang–and some punch in some spooky Halloween goblets! Check out the printable Halloween punch recipe cards for all the details.
For the first punch recipe, simply grab some sprite and pour in a box of Nerds. Add candy eyeballs and worms for even more of a thrill!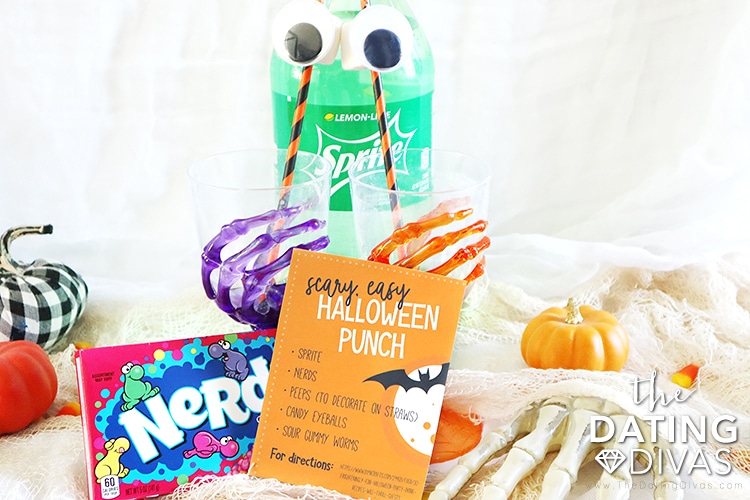 If just one isn't enough, try the Glow-in-the-Dark Skeleton Juice by pouring cranberry juice into a glass, adding ice, then gently adding tonic water and ginger ale. Turn on a black light and you will have a dazzling Halloween date drink!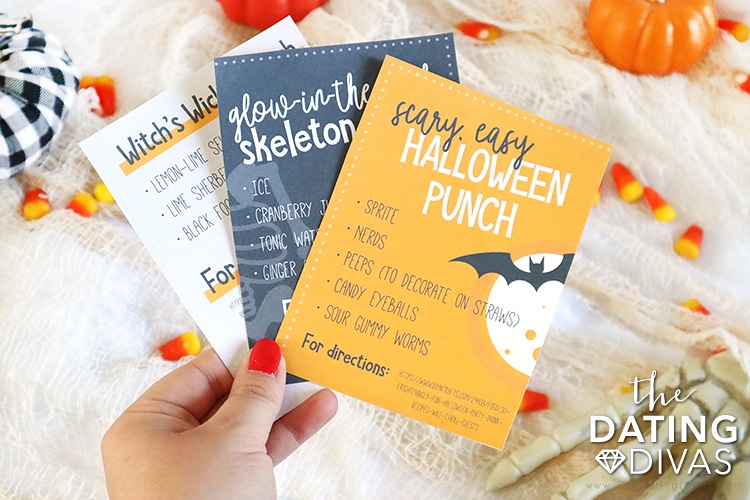 You could also brew Witches Wicked Punch by mixing sherbet and seltzer in a punch bowl. Place a few scoops of sherbet on the top and then pour more seltzer over the scoops to create a foam.
Decorating Halloween Date
Now that you have some punch in your belly, it's time to transform your space with Halloween decorations! Choose some from the list above, set up your own, and / or make a mummy door to top it all off! We created a super easy tutorial for whipping up a mummy door that is perfect to do as a couple!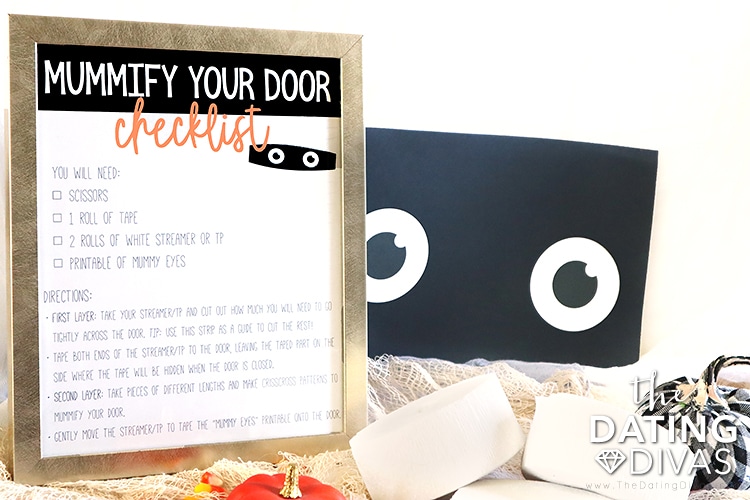 This is such an easy DIY Halloween decoration for your Halloween date! Grab a few supplies from the printable checklist, and print the mummy eye printable. Then, wrap your door according to the printable directions and you have a festive, fun Halloween door!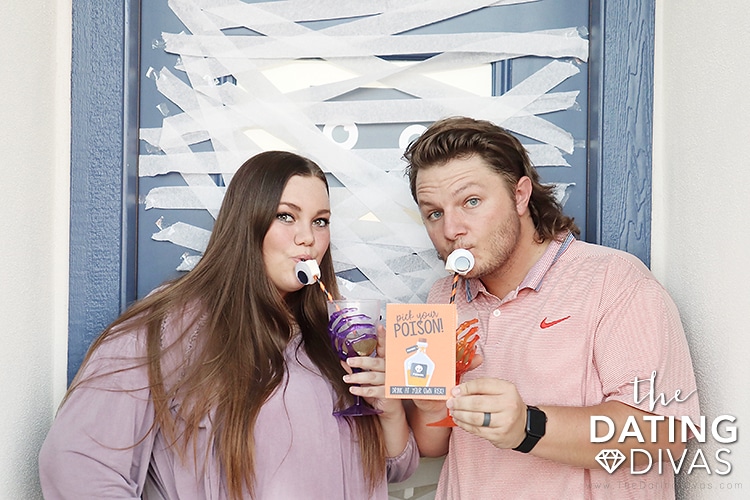 Sexy Halloween Intimacy Game
On to the best part of this Halloween date… some sexy fun! Cover the bedroom with the "creepy" tasks contained in the free printables below. Each spouse takes five different cards and hides them in the room. The other searches. When you find one, you must complete the action before finding the next printable! After you have collected all 5, switch!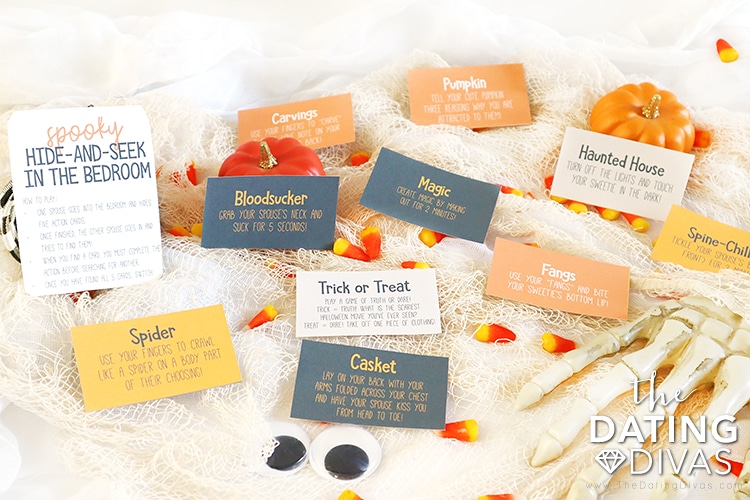 The cards are super fun and will make for a Halloween date you will never forget! Click the download button below to print them yourself!
Here are the intimate activities you will find on each of the cards:
Haunted House – Turn off the lights and touch your sweetie in the dark!
Bloodsucker – Grab your spouse's neck and suck for 5 seconds!
Fangs – Use your "fangs" and bite your sweetie's bottom lip!
Spine-Chilling – Tickle your spouse's back (or front) for 3 minutes!
Trick or Treat – Play a game of truth or dare! Trick = TRUTH! What is the scariest Halloween movie you've ever seen? Treat = DARE! Take off one piece of clothing!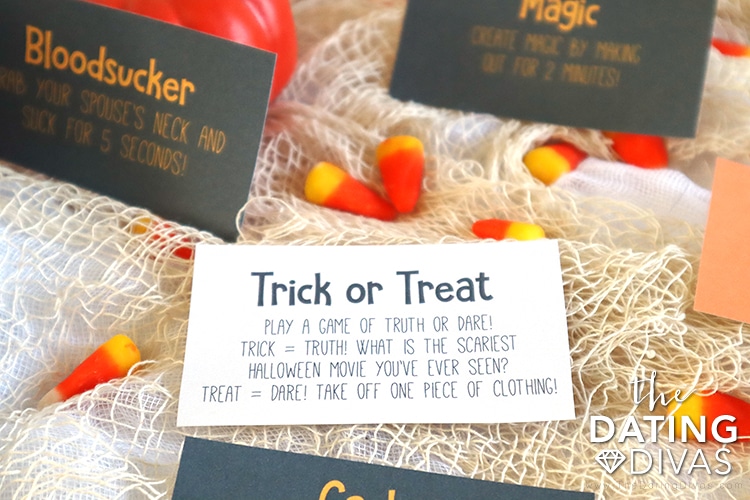 Casket – Lay on your back with your arms folded across your chest and have your spouse kiss you from head to toe!
Pumpkin – Tell your cute pumpkin three reasons why you are attracted to them!
Spider – Use your fingers to crawl like a spider on a body part of their choosing!
Carvings – Use your fingers to "carve" a small love note on your sweetie's back!
Magic – Create magic by making out for 2 minutes!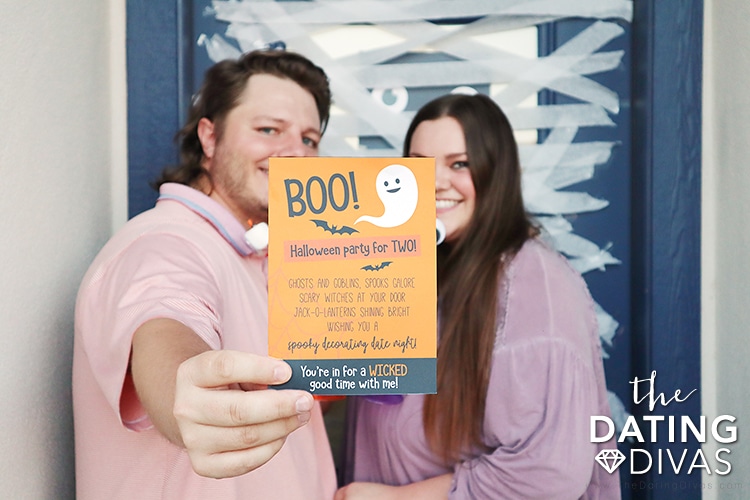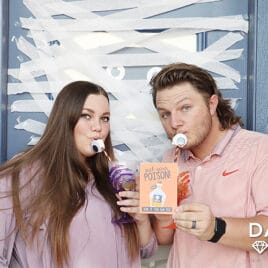 Halloween Date & Decorations for Two
Printables Designed by Courtney Exclusively for The Dating Divas