How to Make a Reasons Why I Love You Sticky Note Heart
100 reasons why i love you, reasons i love you list
How special would your spouse feel to walk into the bathroom, after waking up, to find you wrote down the 100 reasons why I love you? There are many occasions you might be looking for a creative way to let your spouse know that you love and adore them. Birthdays, anniversaries and Valentine's Day are all perfect occasions for showering your sweetie with love. Or, perhaps your spouse is going through a really hard time and could use a pick-me-up. Whatever the occasion—we have a creative, fun and easy way to let your spouse know you love them by sharing not just one, but 100 things you love about them!

Disclaimer: This post contains affiliate links. To learn more about 'em, click here.
A Loving Wake Up Surprise
I'm sure you've heard of making a "100 Things I Love About You Jar", right? Well, a jar is still a wonderful idea but imagine your spouse waking up in the morning to find the mirror plastered with brightly colored sticky notes and filled with adoring words from you! 100 handwritten things you love about your spouse! There is no way they could see that and not feel so loved! I recently did this for my spouse's birthday (which also happened to land during a tough time for him) and this was exactly what he needed! He was absolutely thrilled and a week has passed and he still hasn't taken it down!
If you did want to go the route of making a "100 Things I Love About You Jar", you can easy print these on regular paper, cut them out and place them in a jar! This way, your spouse would be able to take their time going through them and open them one by one (rather than seeing them all at once). There are fun benefits to both ideas, so you can decide which way is best for you!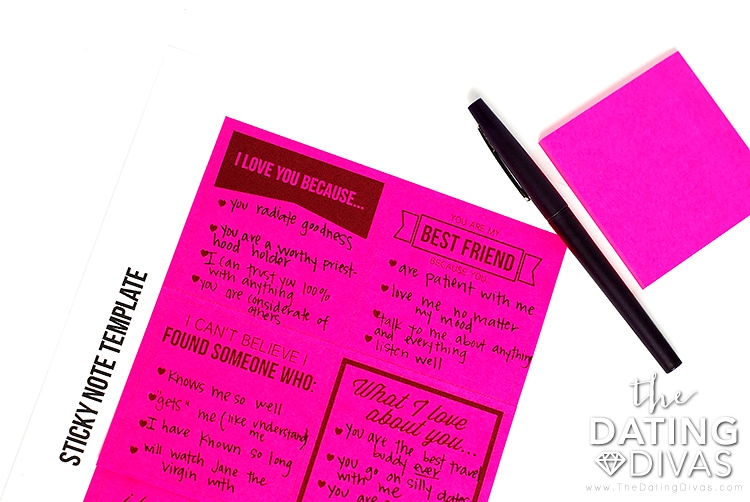 The best part? It is really easy to do! We were lucky to have Carisa from Messes to Memories dream up some beautiful designs that you can print directly onto 4×4 sticky notes. Each design includes a prompt which makes coming up with 100 things you love about your spouse super easy to do.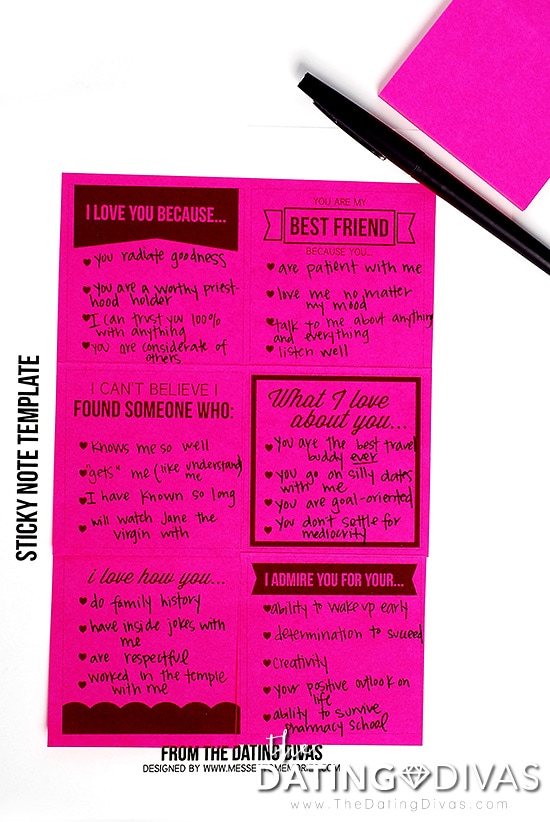 Why Do You Love Them?
Then, all you have to do is fill in the template with all of your own personal reasons why you love your spouse! The bullet points under each template equal out to 100 – so prepare yourself for a lot of writing. I was pleasantly surprised how quickly I was able to fill it out. In fact, one of my answers on a sticky note was "You are easy to fill out 100 things for!"
If you do need a little inspiration to get the wheels turning, you can find a collection of over 150 ideas here.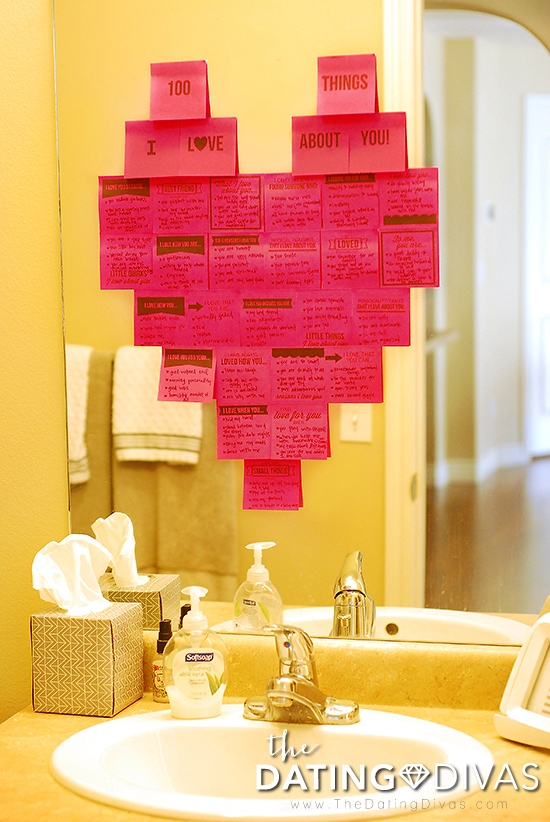 Finally, and this is my favorite part, you can place the sticky notes in the shape of a heart! We have even included a diagram for you to show you how to do it! So easy and special!
To print off your own sticky note designs, just click the link below!
And make sure to show off your sticky note surprise by tagging us on Instagram @datingdivas and #datingdivas
SaveSave
100 Things I Love About You Sticky Notes
Printables Designed by Carisa @ Messes to Memories Exclusively for The Dating Divas