The Best Easter Desserts
Bunnies, and chickies, and rainbows – oh my! The Easter season has got our hearts (and taste buds!) in an absolute trance. That's why we've put together a list of over one hundred fun Easter desserts that will please both young and old alike. Filled with color and packed with fresh springtime flavor, these Easter treats will bring spring into full swing. Are you ready to take a look at all of the Easter treat ideas? Let's get cooking!

Disclaimer: This post contains affiliate links. To learn more about 'em, click here.
Table of Contents
Easter Dessert Munchies
Munchy, crunchy, and the perfect snack-y treat, these Easter desserts are as fun to eat as they are tasty!

1 . Chocolate Swirl Bark (Five Heart Home) – Creamy, swirly, and packed with Easter fillings, this is the way bark was meant to be.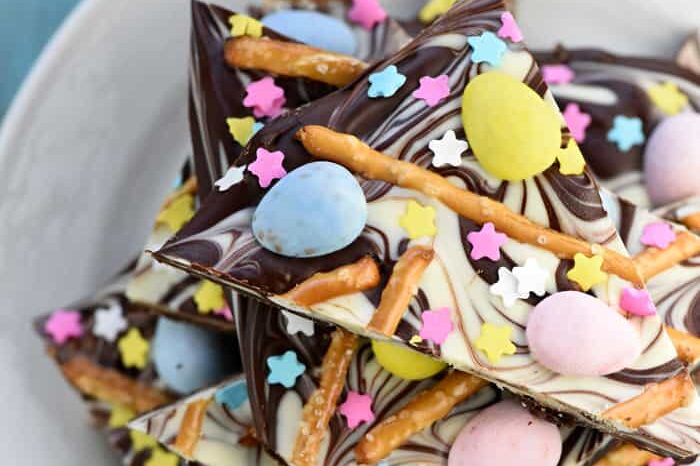 2 . Pastel Popcorn (Mom Foodie) – Embracing all the colors of springtime, this is one Easter treat you won't be able to keep your hands off of!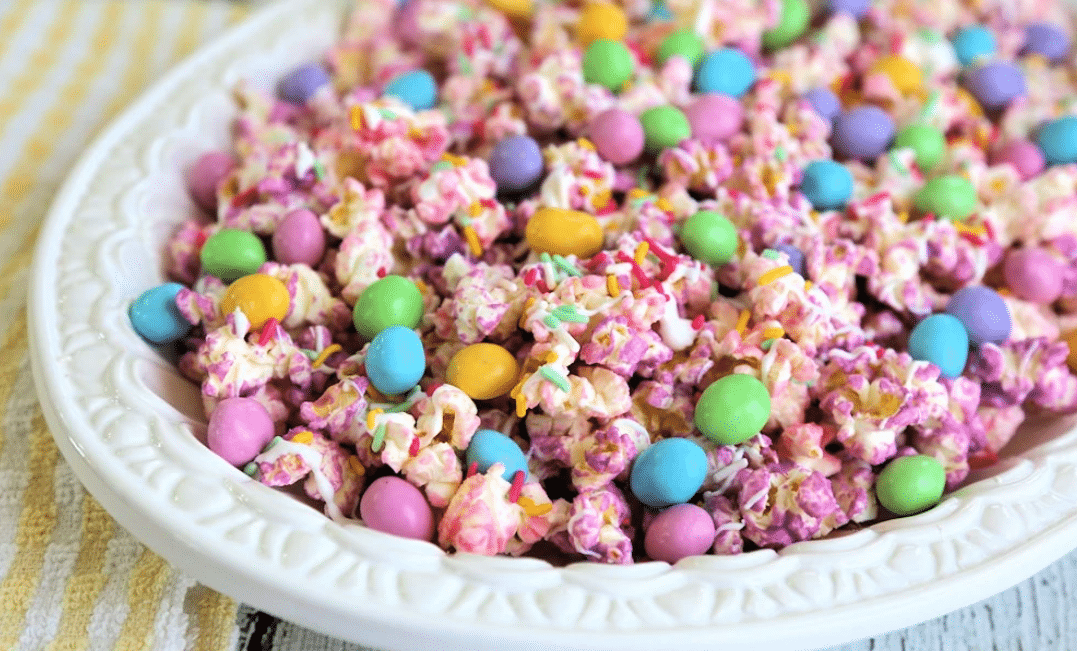 3 . Bunny Chow (Suburban Simplicity) – Crispy, crunchy, and oh-so-munchy, little and big bunnies alike will be in love with this mix!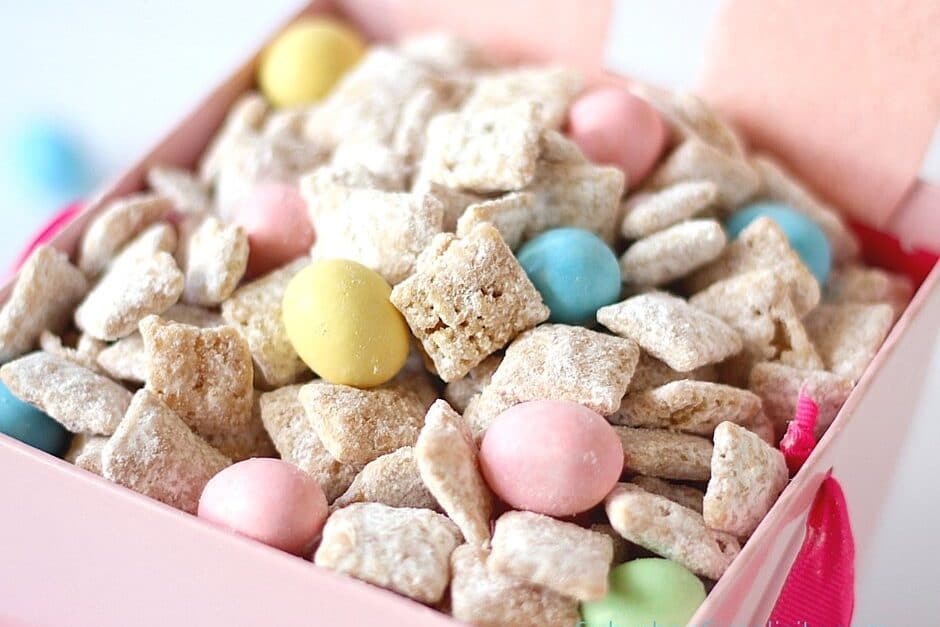 4 . Bunny Munch (Moritz Fine Designs) – Filled with kid-friendly ingredients like pretzels and candies, this treat is the perfect addition to any Easter spread.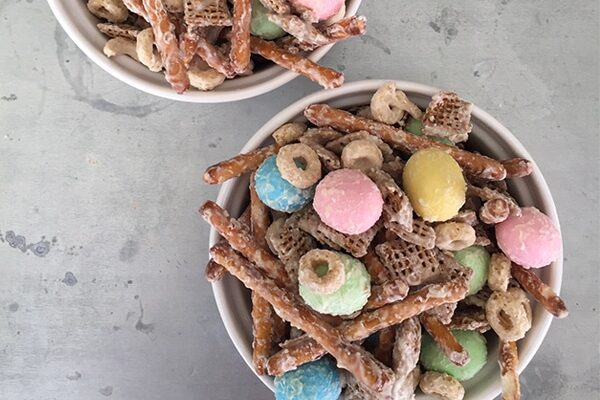 5 . Jelly Bean Popcorn (Two Sisters Crafting) – Jelly beans are poppin' (and so is the corn!) in this colorful candied treat!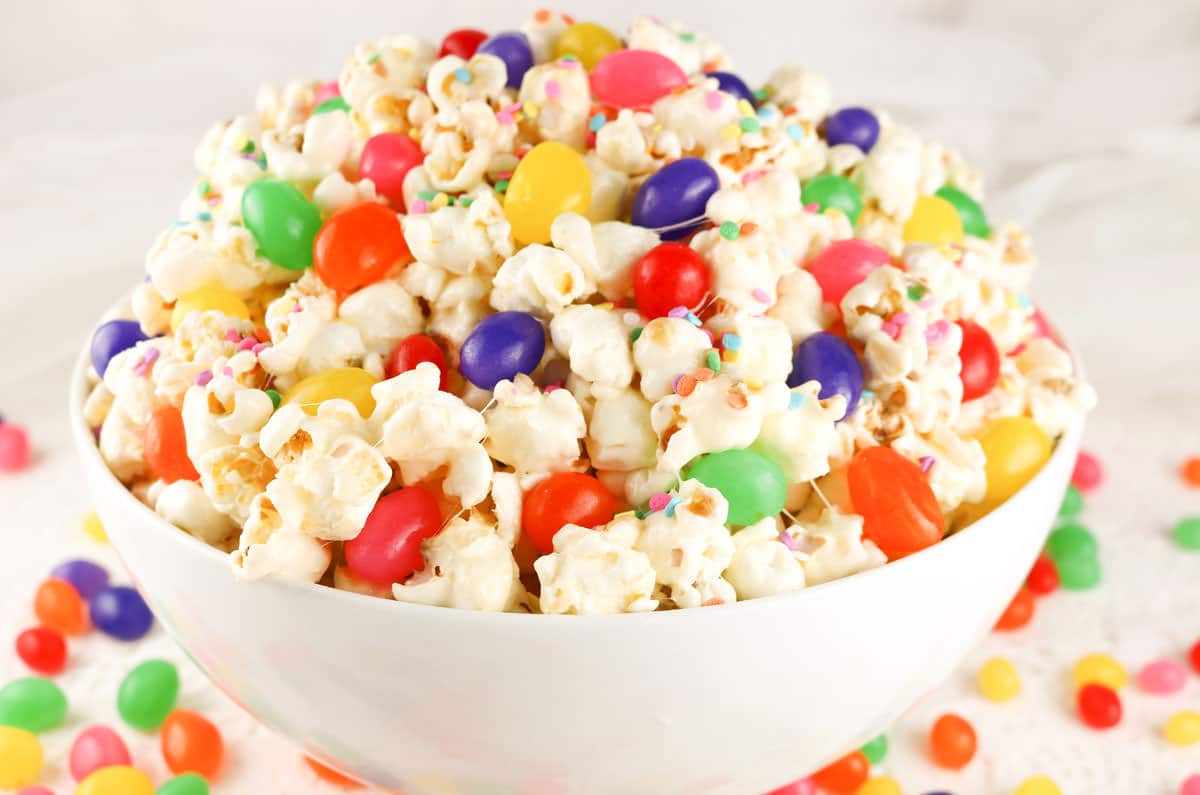 6 . Easter Oreo Bark (Lil' Luna) – We're all about Oreos, so this cookie-infused bark is a definite must!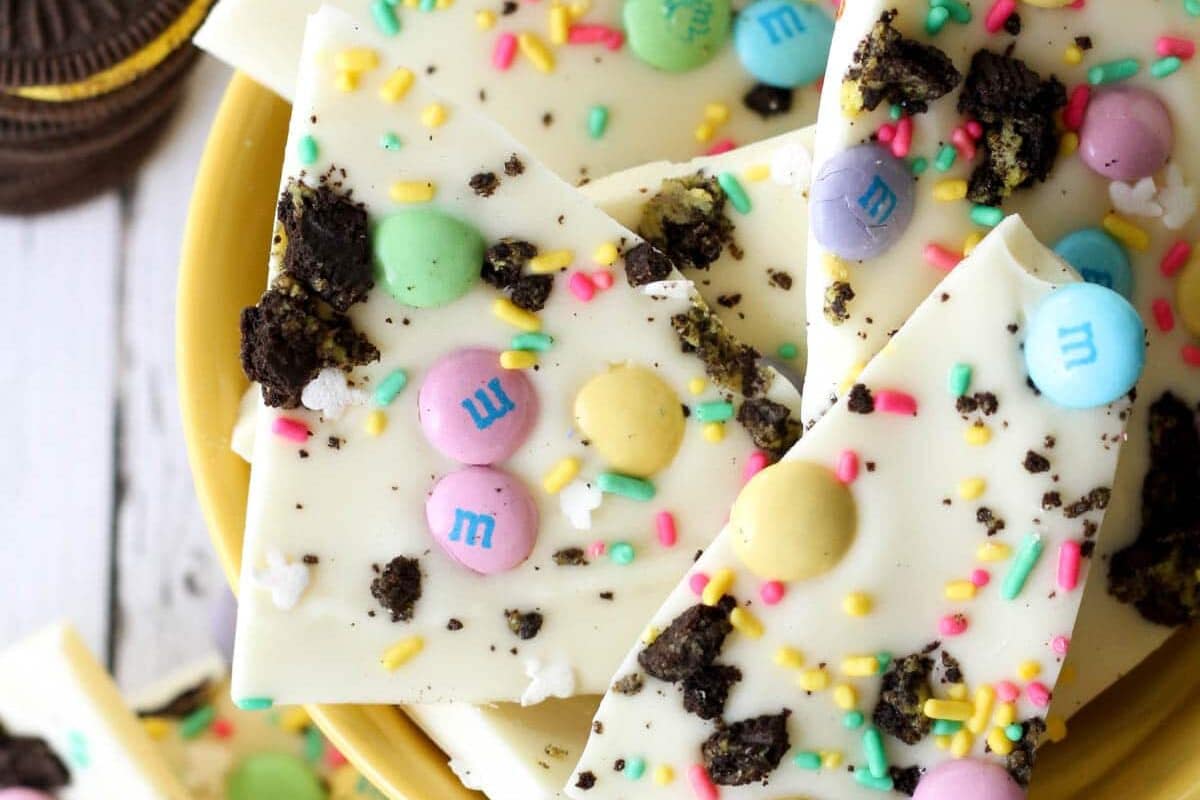 7 . Easter Popcorn (Bake. Eat. Repeat.) – Light, bright, and totally right, this is one popcorn you won't get tired of!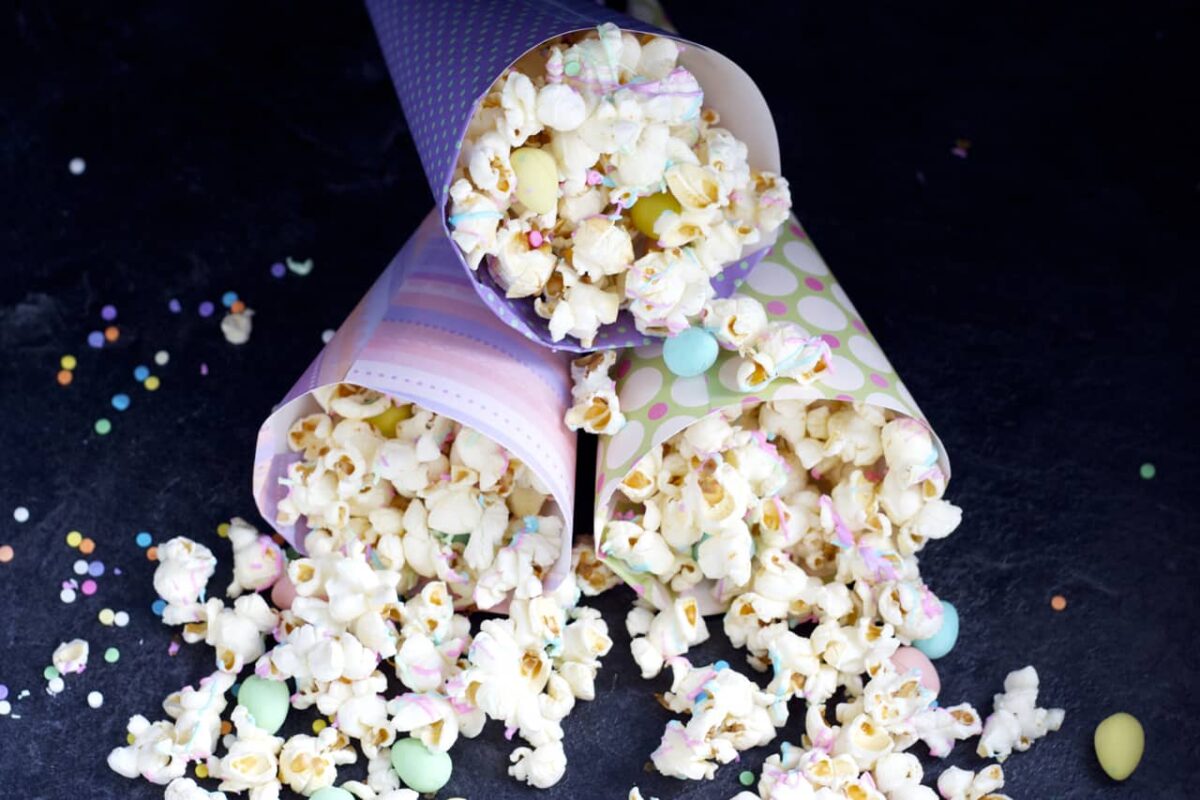 8 . Pretzel Popcorn (Sunny Sweet Days) – Packed with pretzels, popcorn, and the perfect shade of pink, this fabulous grabby-food makes an excellent snack!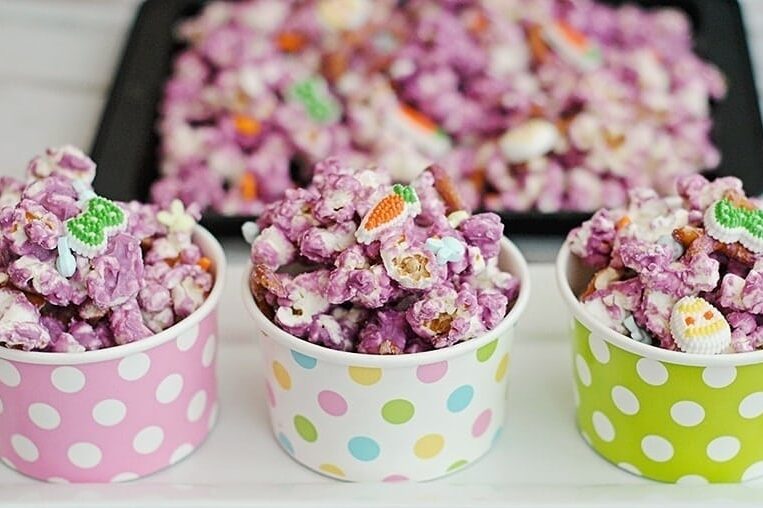 9 . Muddy Buddies (Frugal Mom Eh!) – True muddy buddy fans will love giving this Easter rendition a go!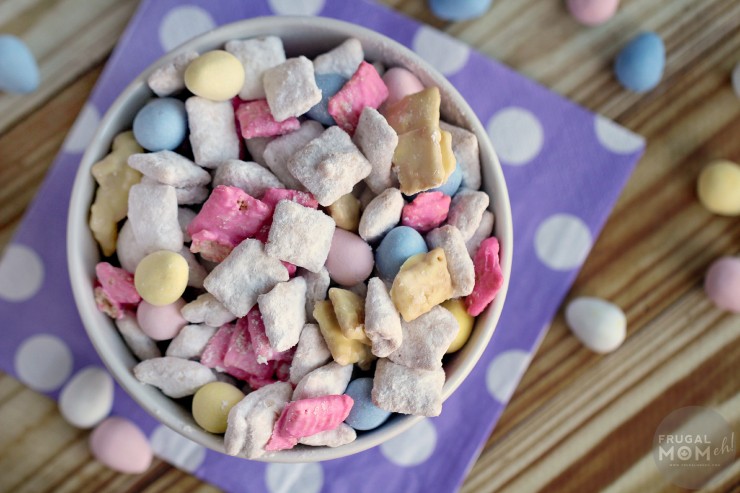 10 . Bunny Bait (Food, Folks and Fun) – Cute as can be (and with a name to match!) this colorful bunny bait will leave everyone smiling.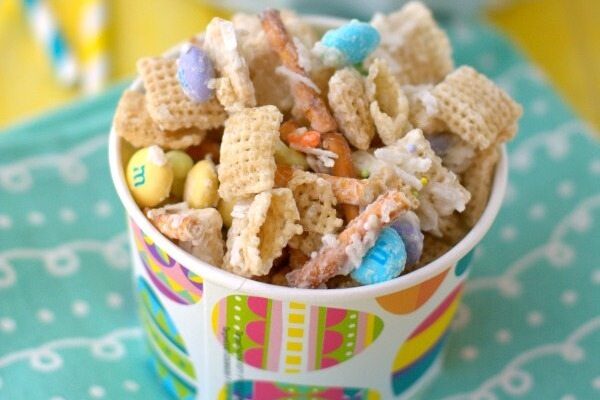 11 . Easter Egg Chow (Life, Love and Sugar) – Filled with goodness and a healthy dose of YUM, this springtime chow has certainly made our list!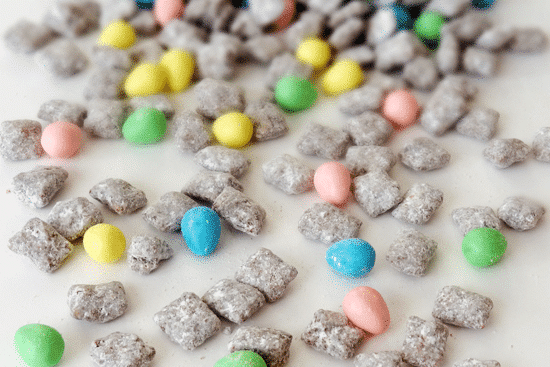 12 . Candy Popcorn (Two Sisters Crafting) – Looking for popcorn the Easter Bunny himself would love? You've found it!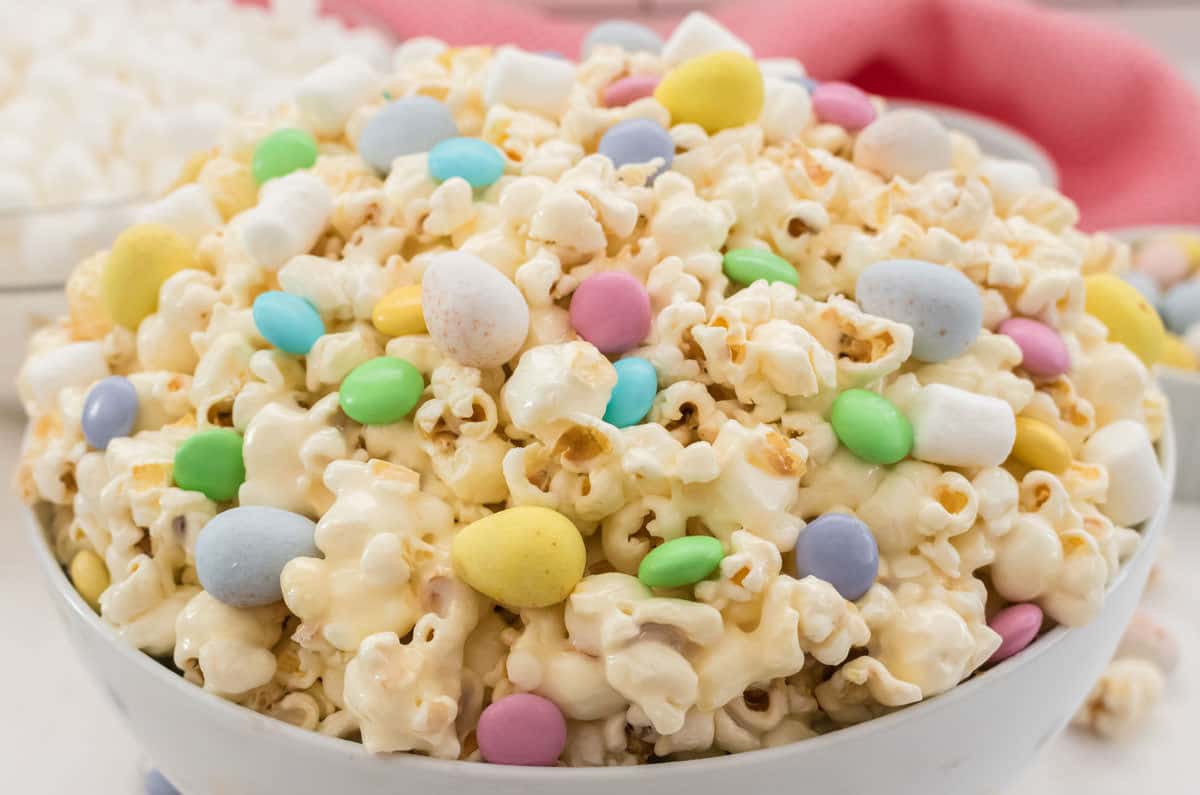 13 . Bunny Tails Mix (The Foodies' Kitchen) – Drizzled with pink and just bursting with fun, this mix definitely won't last for long!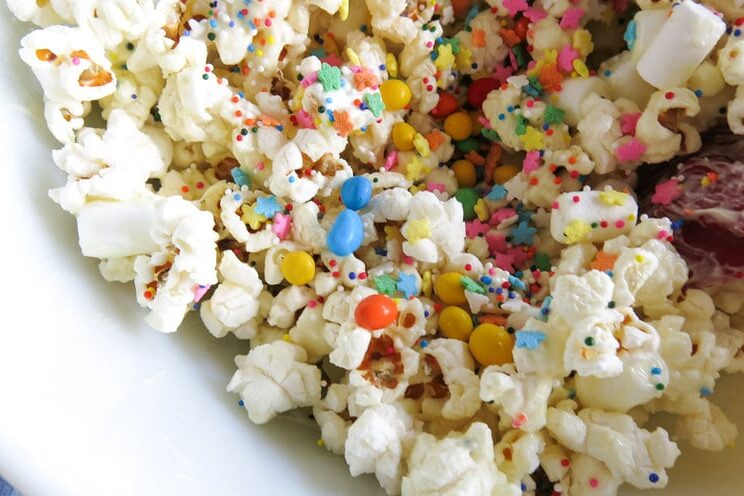 14 . Jelly Bean Bark (The Domestic Rebel) – Bedazzled with jelly beans and bursting with flavor, this jelly bean bark looks positively delish!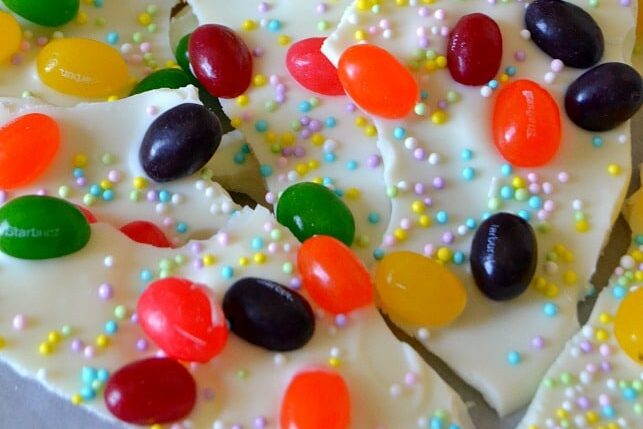 15 . Spring Muddy Buddies (The Rebel Chick) – Say "hello" to spring in the yummiest way possible with this quick and easy treat!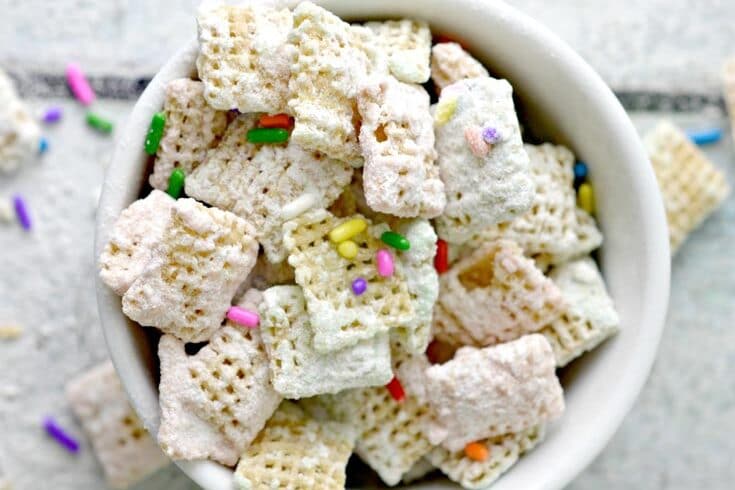 16 . Bunny Bark (Sally's Baking Addiction) – Sweet, color-packed, and so perfectly Easter-y, this bunny bark will be gone in a jiff!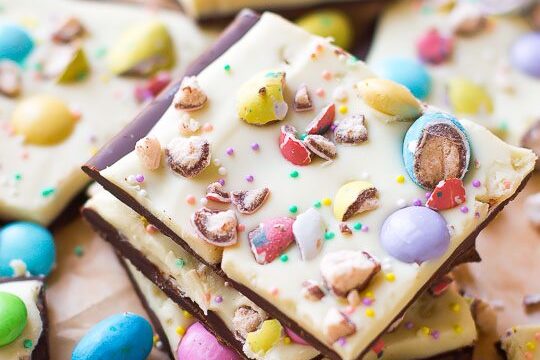 Easter Dessert Cookies & Bars
The perfect complement to a glass of milk, these baked goodies are delightfully Easter-y and impossibly cute!

17 . Lucky Charms Bars (A Pumpkin & A Princess) – Hearts, stars, and horseshoes (and a few other secret ingredients) combine to make these bars not only lucky but finger-lickin' good!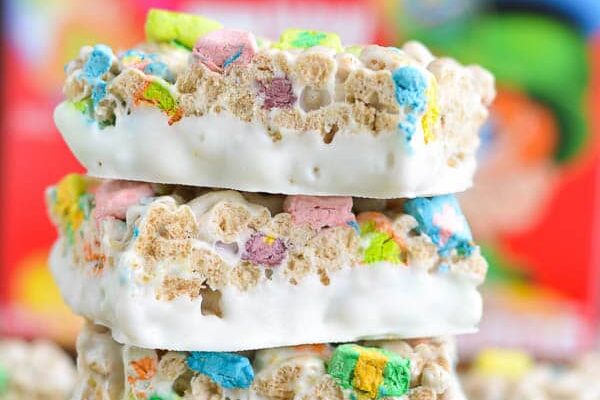 18 . Oreo Sheep (Kitchen Fun With My Three Sons) – Covered in fluff and almost too good to eat, these Oreo Easter treats have stolen our hearts!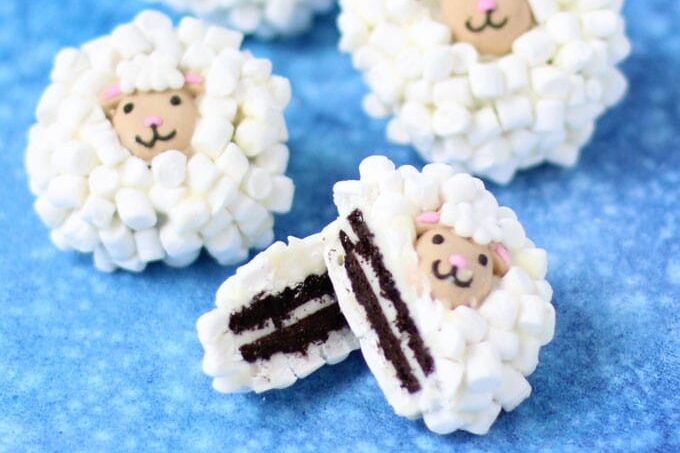 19 . Spring Confetti Bars (Chelsea's Messy Apron) – Add a little dash of springtime pizazz to your holiday with these oh-so-cute confetti bars.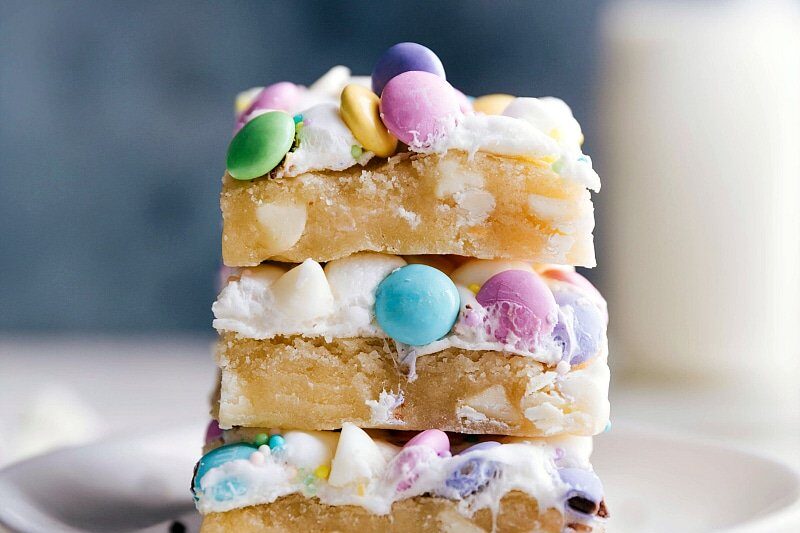 20 . Spring Daisy Cookies (Naomi Cakes) – So fabulously floral, these daisy-themed cookies make for the perfect dessert!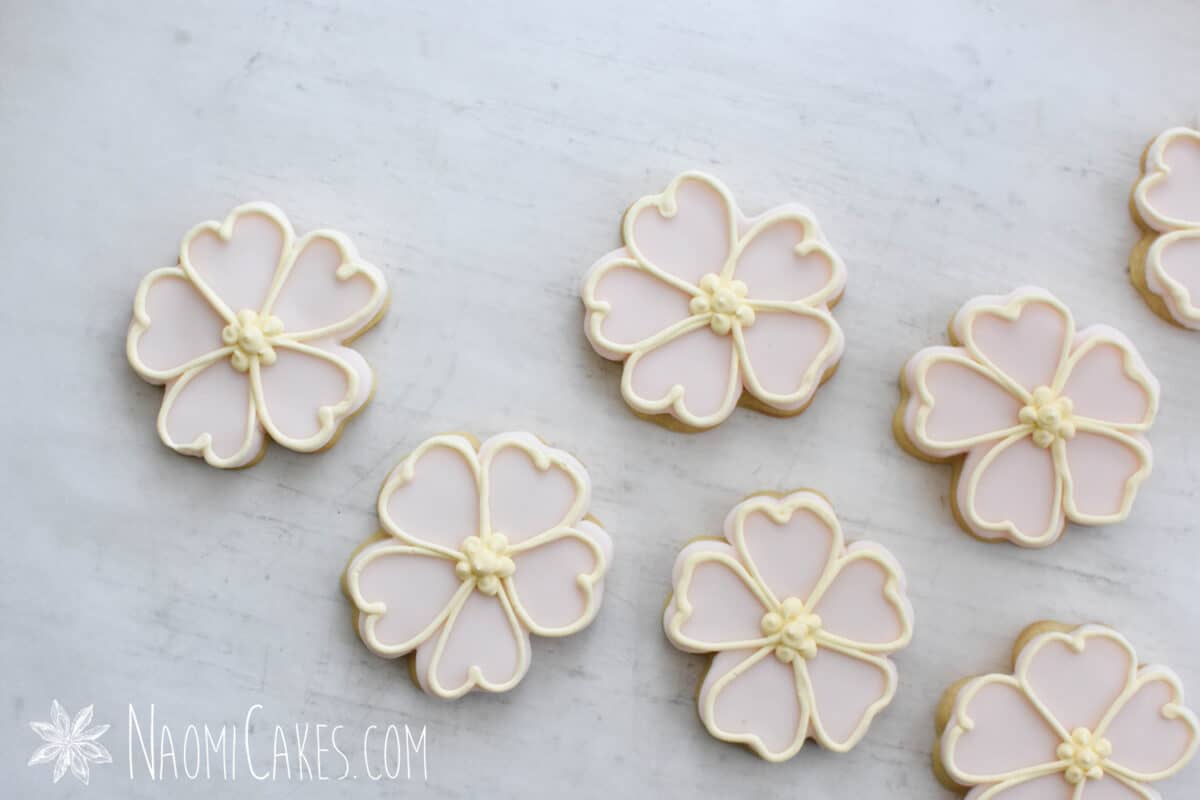 21 . Easter Egg Cookies (A Pretty Life In The Suburbs) – Give plain cookies the boot in favor of these cute and colorful egg-adorned ones!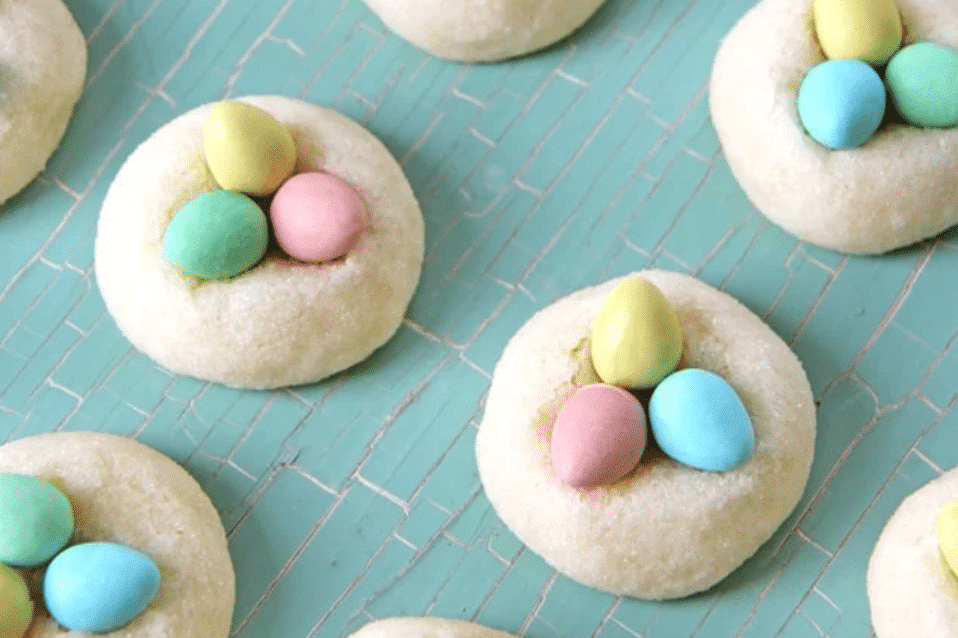 22 . Bird's Nest Cookies (About A Mom) – So totally clever, and tasty too, these birdy-themed treats will get you extra applause!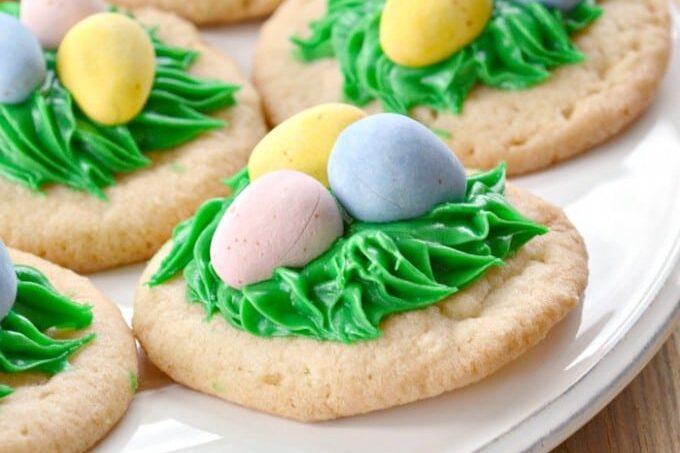 23 . Easter Sugar Cookies (Two Twenty One) – Hunting for eggs will take a backseat to these egg-themed cookies!
24 . Easter Cookie Cups (Diethood) – Filled with buttercream frosting and lots of love, these cookie cups will take center stage.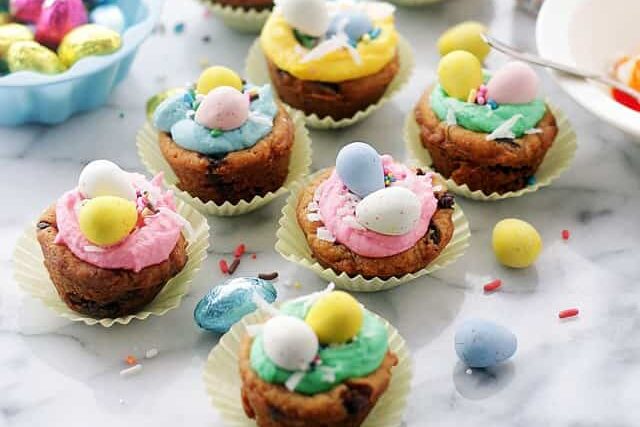 25 . Rice Krispie Eggs (Two Sisters Crafting) – What do you get when you put an Easter spin on a classic crispy treat? These bad boys!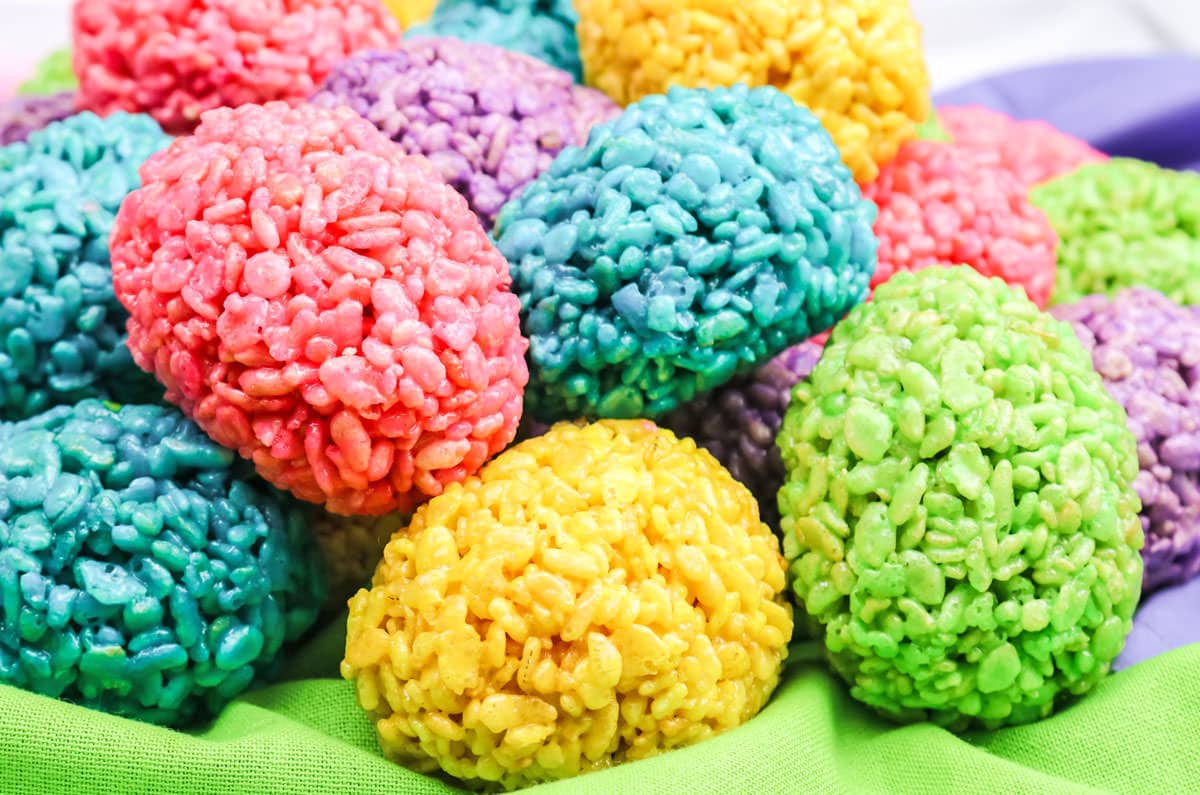 26 . Egg Macarons (What Should I Make For…) – Elegant and egg-cellent, these chic treats are the perfect touch to your holiday table. Grab one of these to make macaron-making a breeze!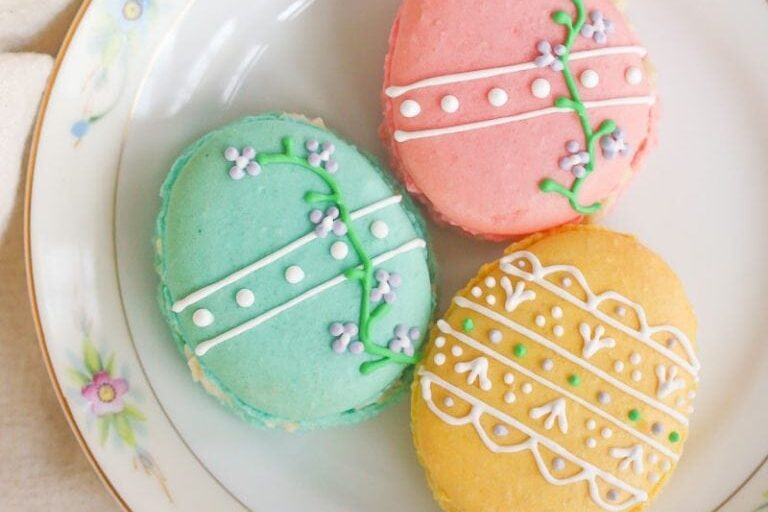 27 . Egg Sugar Cookie Bars (Julie's Eats & Treats) – Sweet, simple, and bunny-approved, this is one recipe you don't want to miss.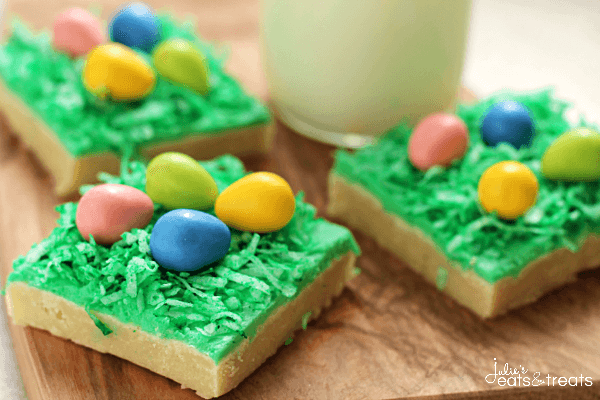 28 . White Fudge Oreos (Picky Palate) – Give ordinary Oreos a sleek and chic spin with this clever rendition.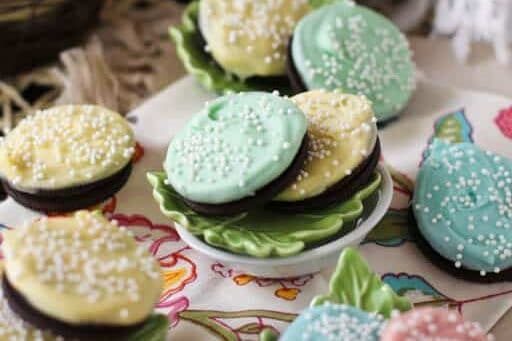 29 . Blossom Cookies (My Kitchen Craze) – Colorful, creative, and topped with a kiss, these cookie treats will get everyone a'hoppin'!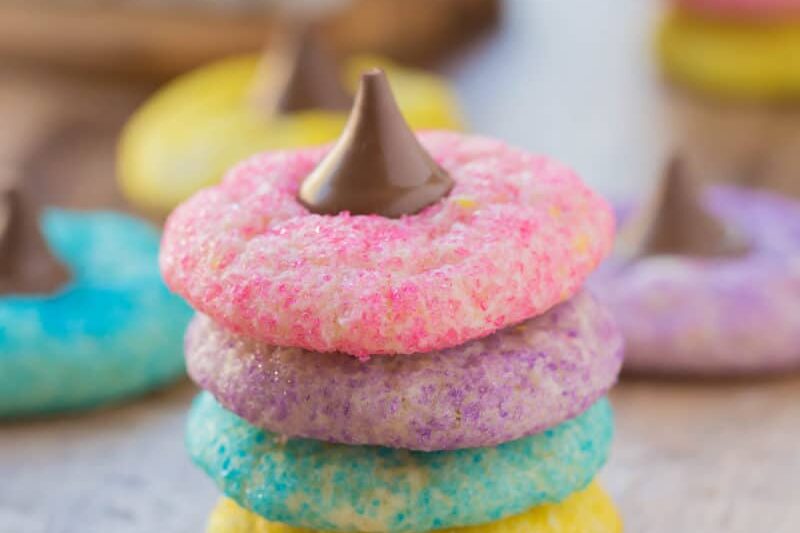 30 . Chocolate Nests (I Heart Naptime) – Packed with baby-blue eggs and surrounded by a sweet chocolate nest, we just can't get enough of this Easter treat idea!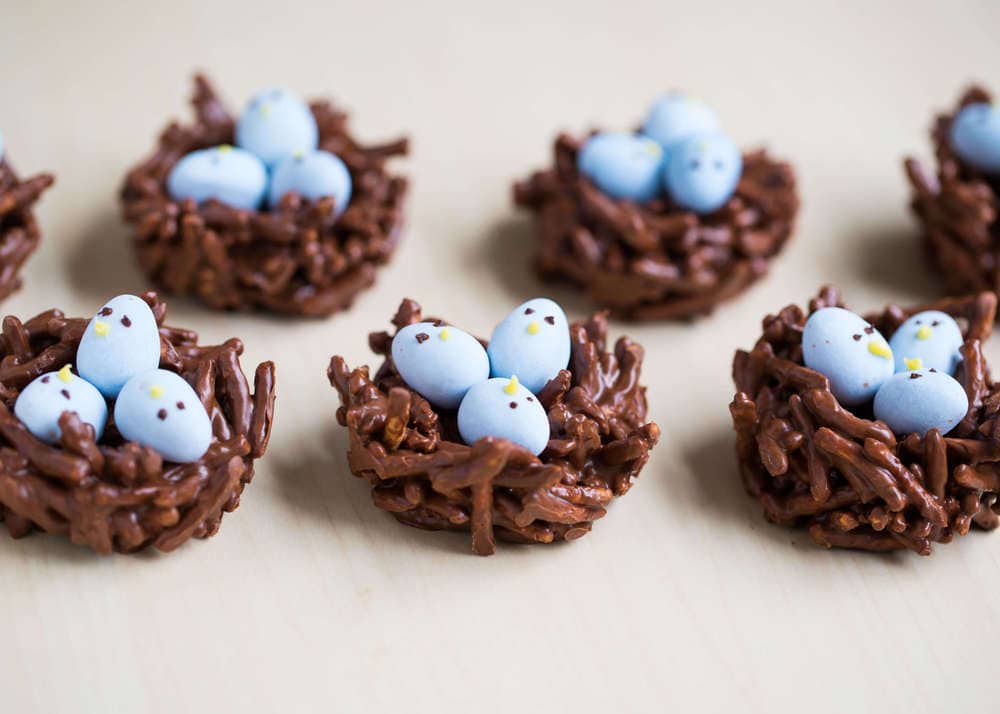 31 . Spring Chick Oreos (Thirty Handmade Days) – Light, bright, and so fantastically fun, these spring Oreos are sure to be a hit!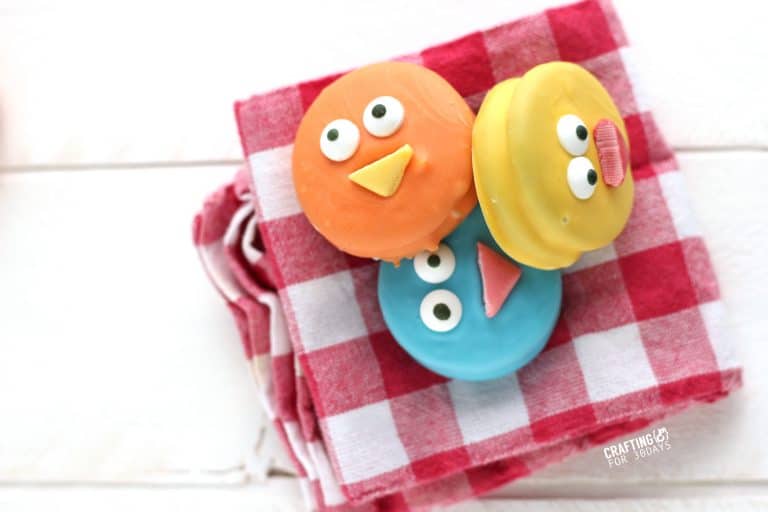 32 . Nutter Butter Chicks (Passion For Savings) – All it takes is a little dippin' and decoratin' to turn a classic peanut butter cookie into something so totally Easter.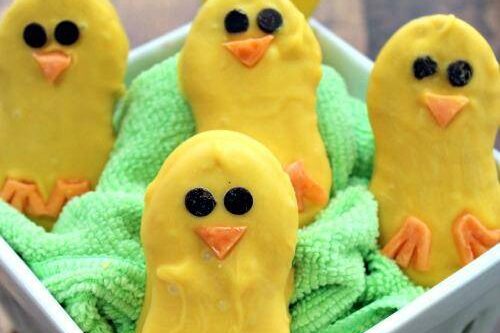 33 . Bunny Butt Cookies (Pillsbury) – Who knew bunny butts could be so cute?!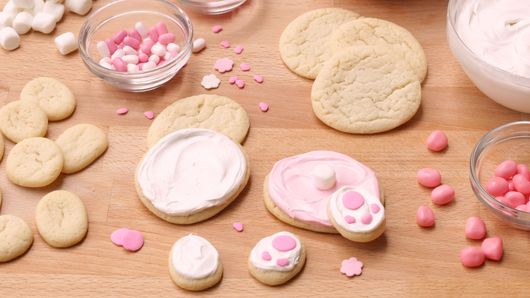 34 . Easy Easter Cookies (Kids Activities) – It doesn't get much easier than this, folks! Be sure to give these simple goodies a try!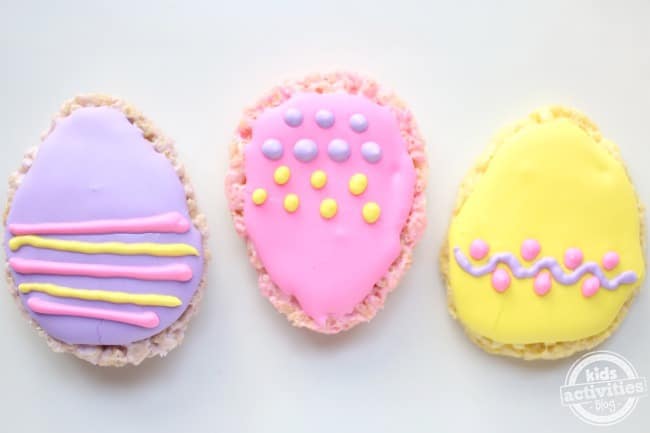 35 . Lemon Chick Cookies (The Gold Lining Girl) – With just a hint of citrus and a big dash of "Aww!" these lemony cookies are chipper and chicky!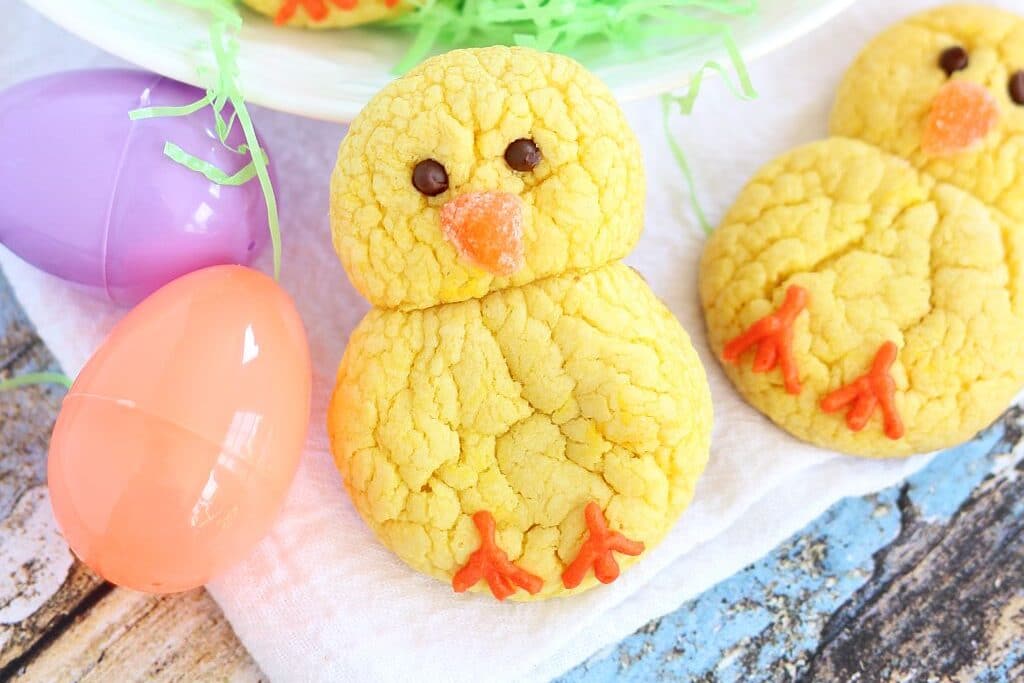 36 . Funfetti Cake Cookies (The 36th Avenue) – Infuse everyone's favorite cake flavor into these creative cookies and watch them disappear in seconds!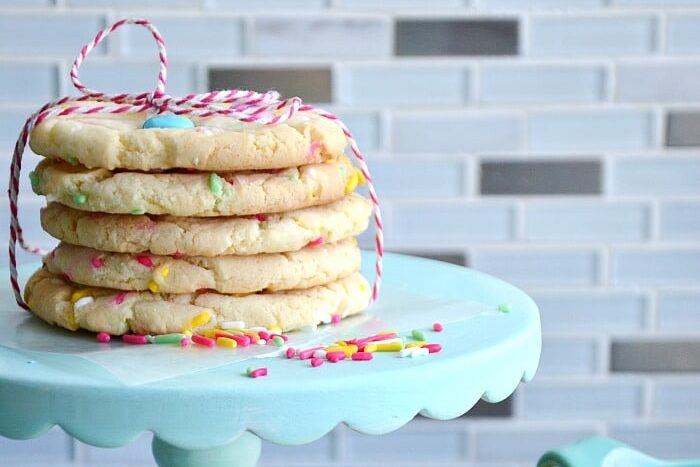 37 . M&Ms Thumbprint Cookies (The Rebel Chick) – Topped oh-so-perfectly with a pastel colored M&M, these simple treats are simply drool-worthy.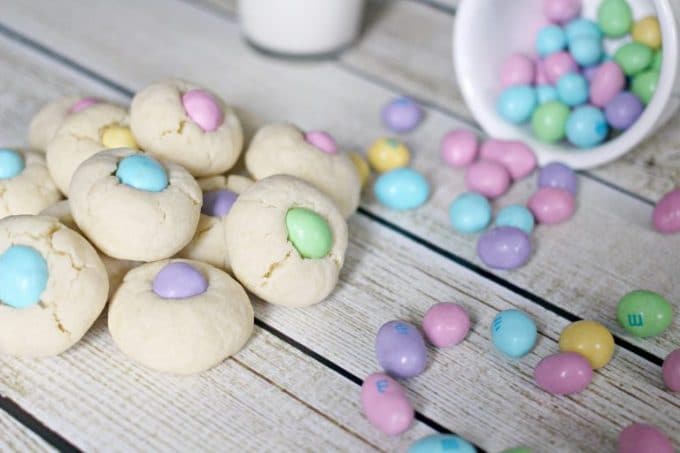 38 . Cadbury Egg Brownies (Pass the Cookies) – Chocolate, rich, and with the perfect addition, these Cadbury-infused brownies look simply divine.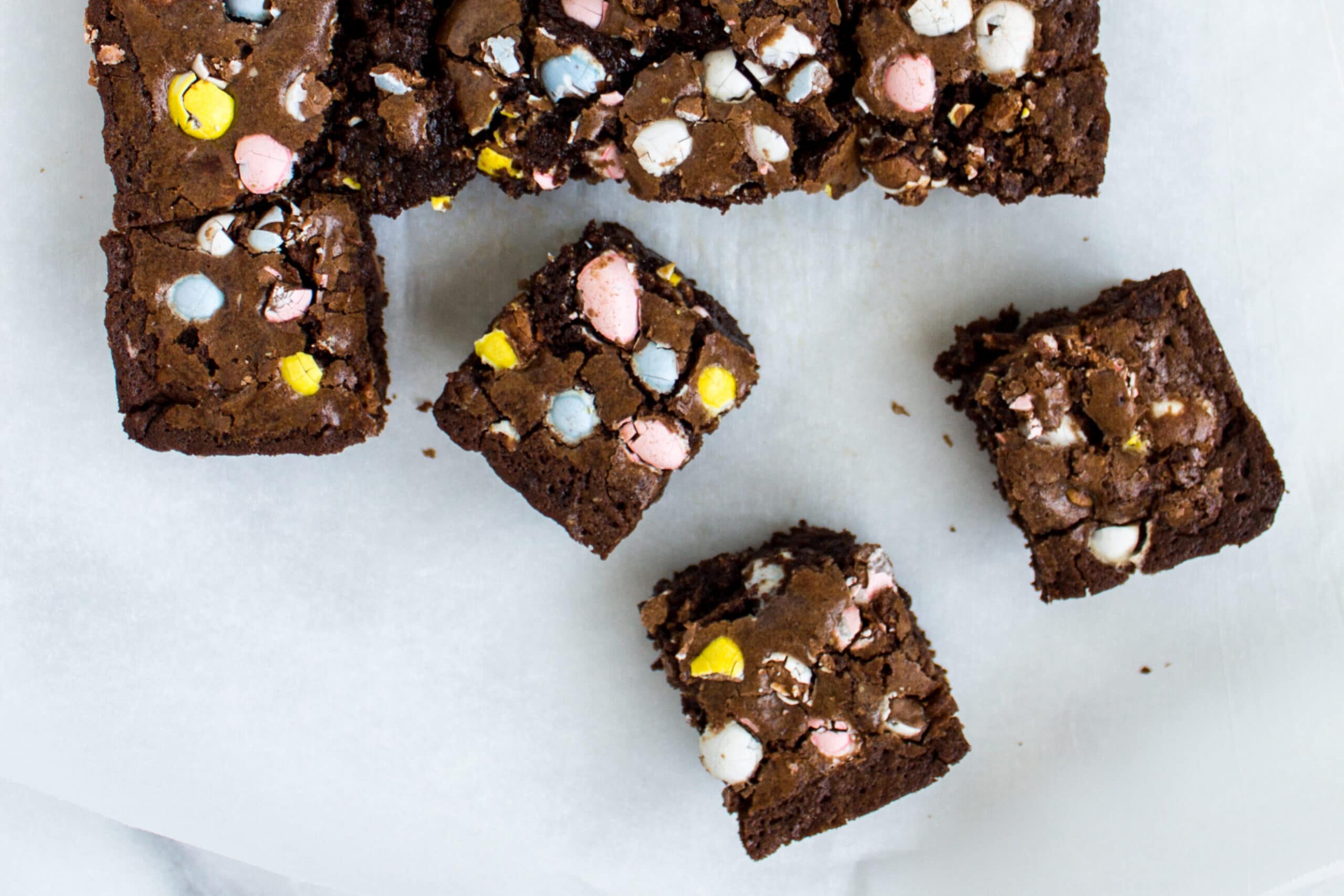 Easter Treat Cakes
Slice, chew, swallow – repeat! These Easter cakes taste as good as they look and are adorable to boot!

39 . Pineapple Carrot Cake(Just a Taste) – Who knew carrots could be so tasty?!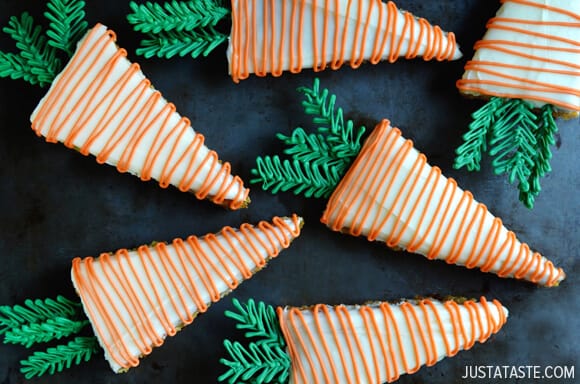 40 . Easter Bunny Cake (The Cake Blog) – Topped with a chocolate bunny that's as cute as it is tasty, this is one cake that will have everyone begging for seconds.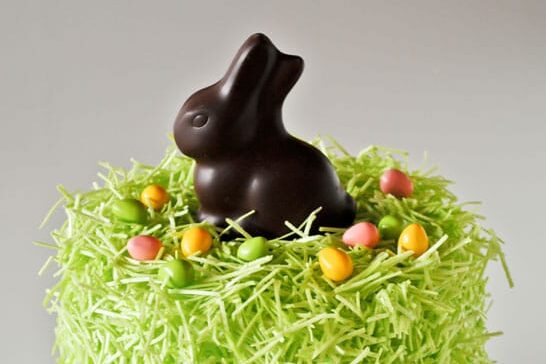 41 . Spring Krispie Cake (Delightful E Made) – Sweet, splattered, and SO much fun, we can't wait to try out this Krispie Cake!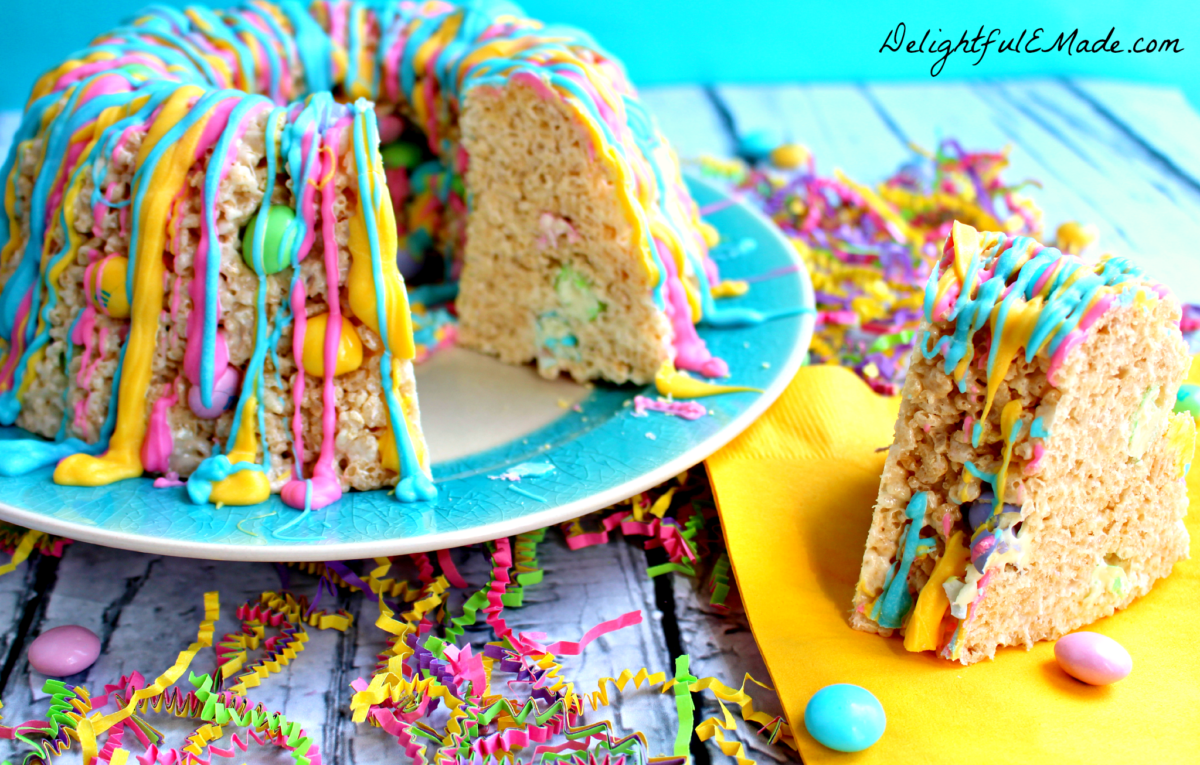 42 . Coconut Cupcakes (The Novice Chef) – Coconut-topped cupcakes? Where do we sign up?!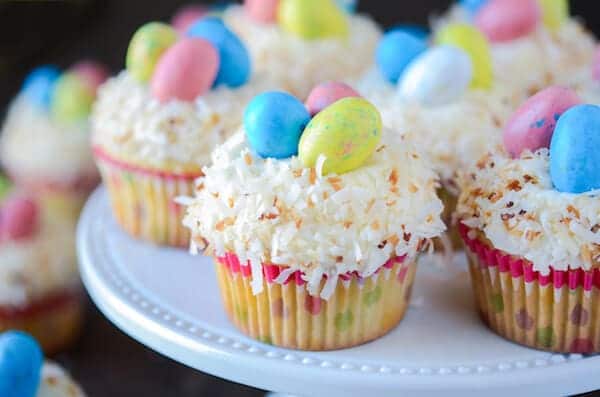 43 . Cupcake In a Jar (Two Sisters Crafting) – Turn regular cupcakes on their heads with this jar-based version that looks as sweet as it tastes!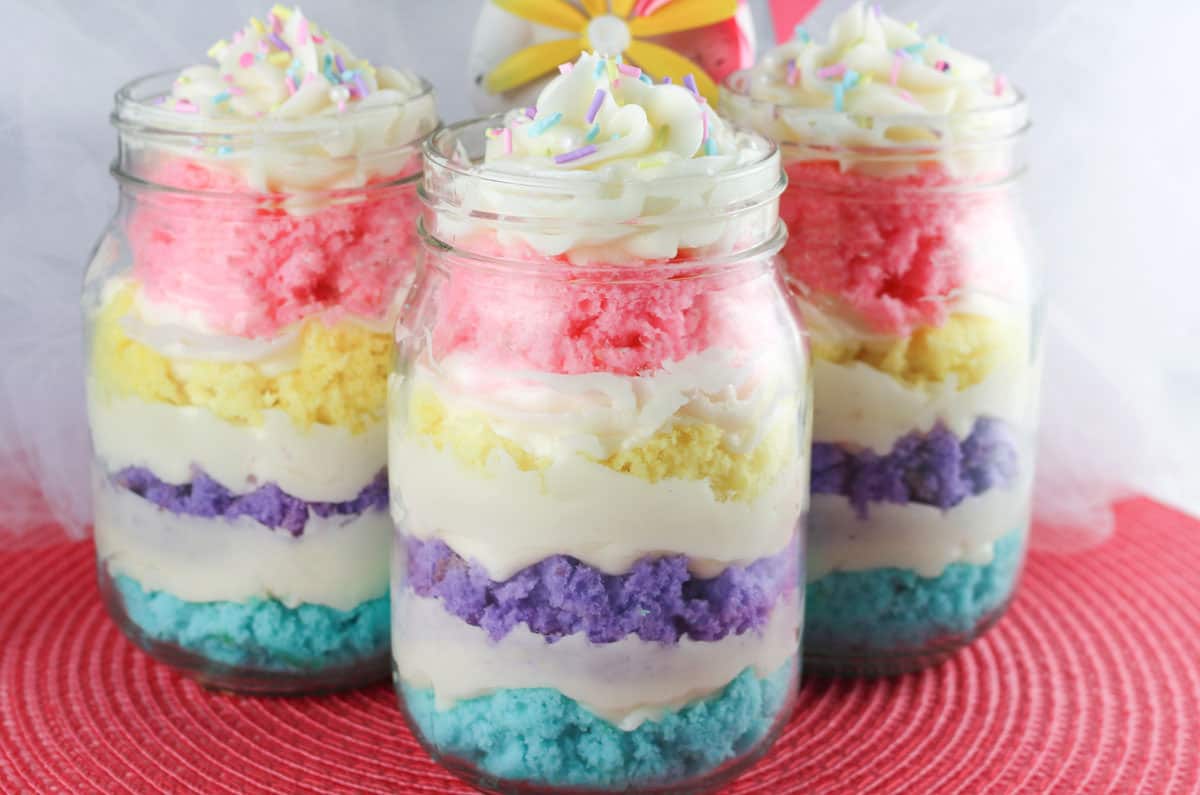 44 . Easter Basket Cake (Something Swanky) – As pretty as a picture (and yummy too!), this basket-themed cake is simply adorable.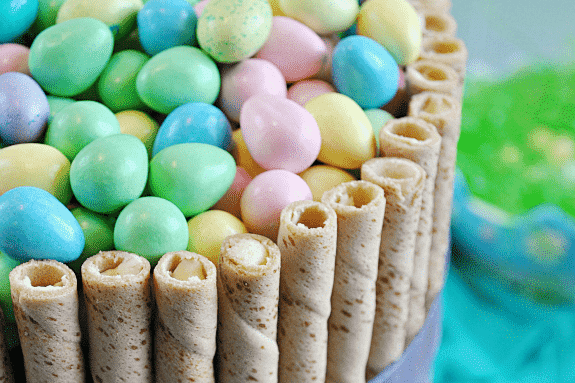 45 . Sheep Cupcakes (Cincy Shopper) – With a baa baa here and a munch munch there, these sheep-themed cupcakes are going to be a smash!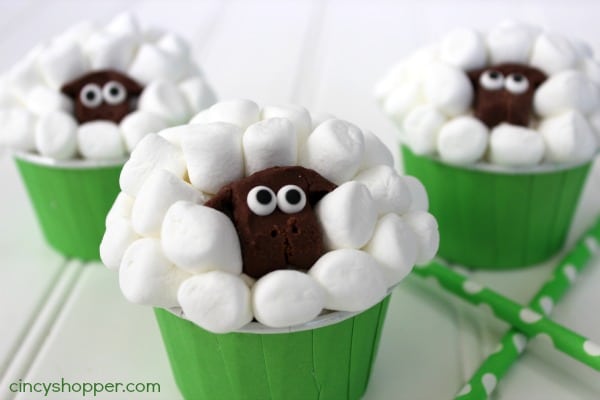 46 . Mini Donut Rabbits (It's Always Autumn) – Turn everyone's favorite powdery treat into Easter desserts little ones will love with this clever recipe!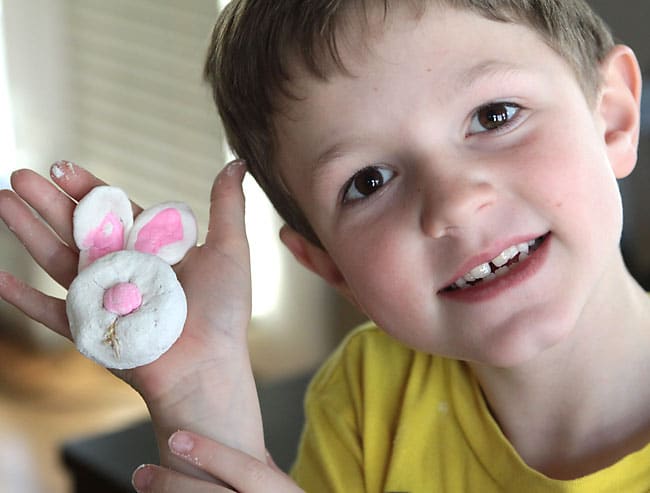 47 . Carrot Cupcakes (I Heart Naptime) – Are you a fan of carrot cake? You'll adore this cupcake version!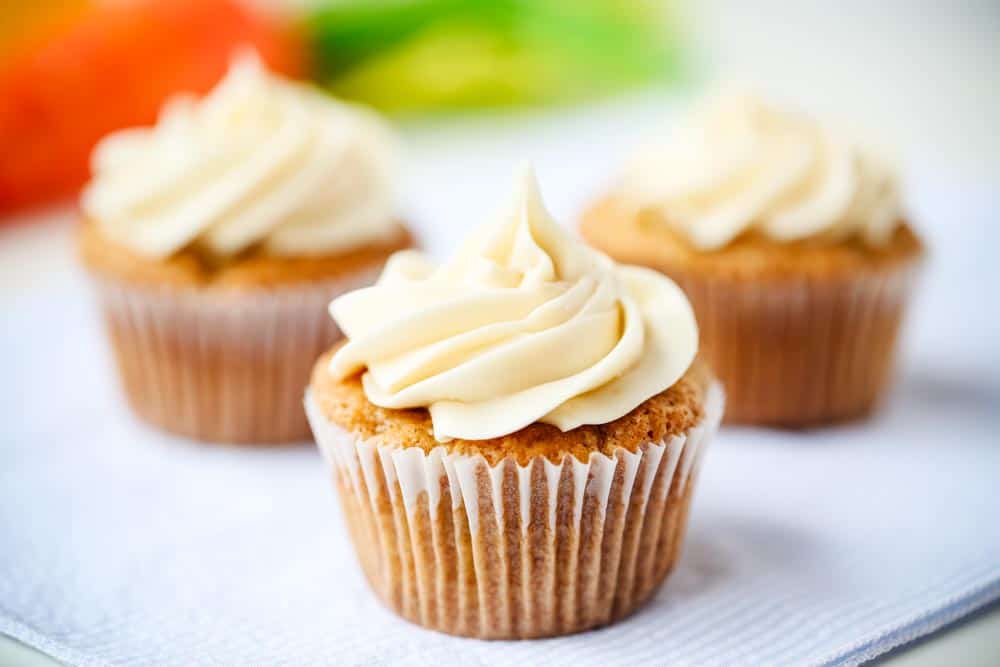 48 . Happy Bunny Cupcakes (Pillsbury) – Happy and hoppity, these bunny cupcakes give us all the feels.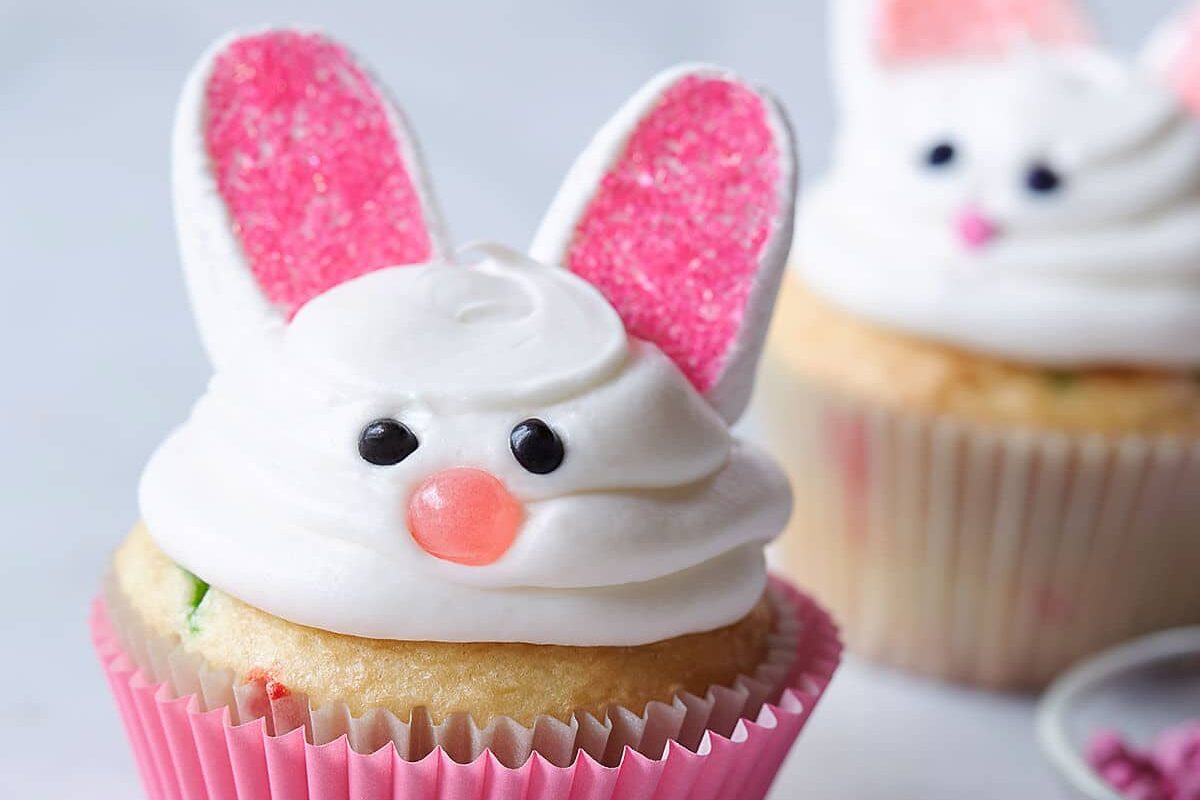 49 . Easter Sheep Cupcakes (Crazy Adventures in Parenting) – Fans of the farm-themed food will be especially in love with these Easter Sheep Cupcakes!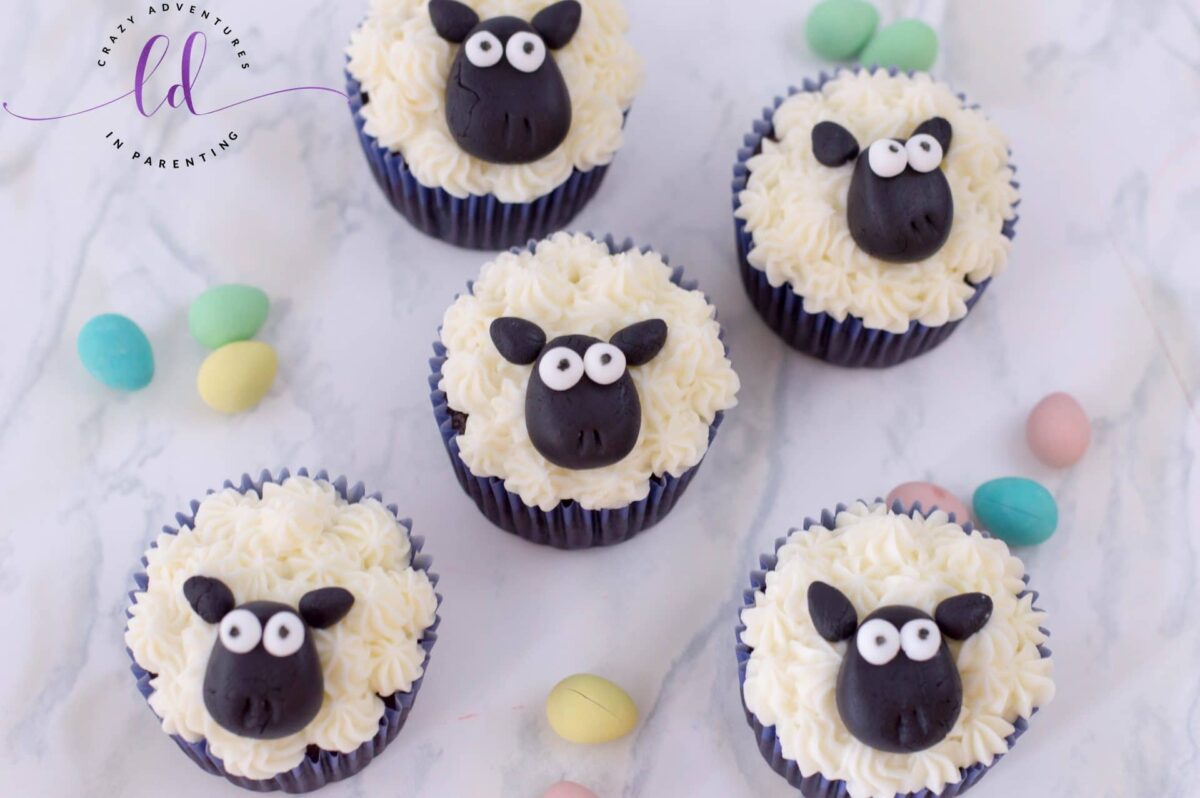 50 . Easter Cake (The Gunny Sack) – A perfect rainbow of color, this sweet layered cake is the perfect addition to any Easter meal!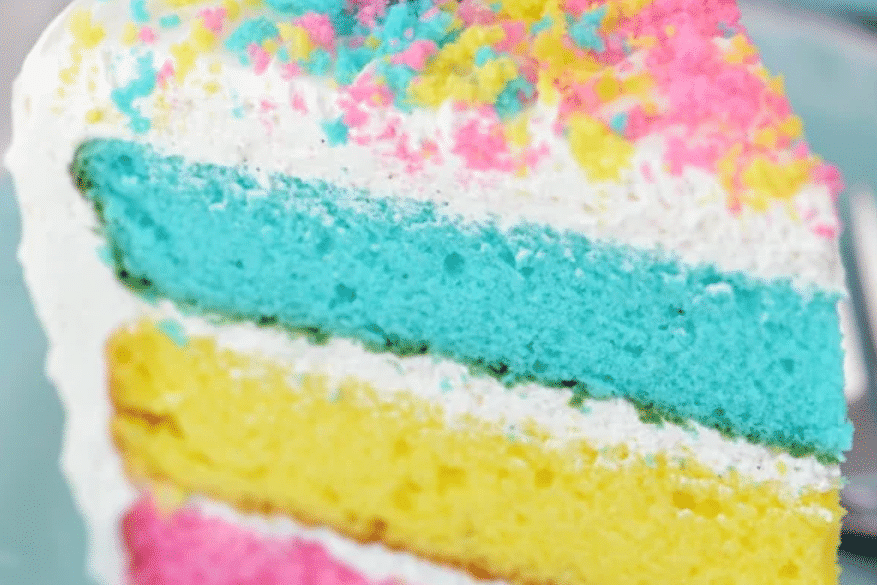 51 . Chick Cupcakes (The Simple, Sweet Life) – All we can say is how perfectly CUTE!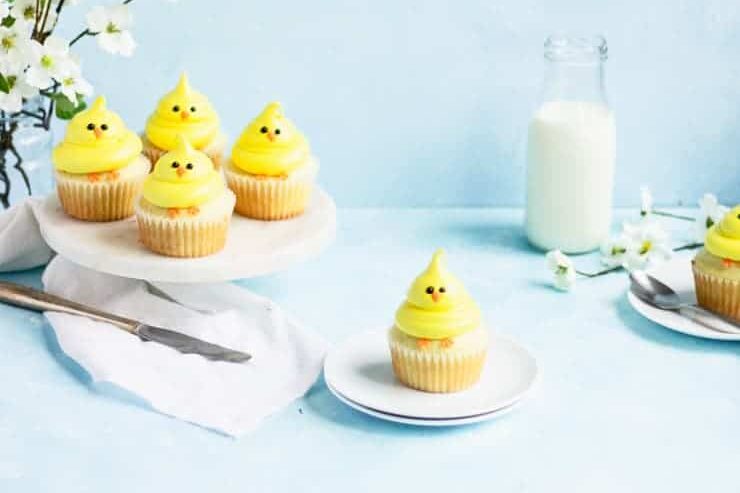 52 . Mini Easter Egg Cakes (The Cake Blog) – Forego large cakes for these precious mini versions that taste as good as they look!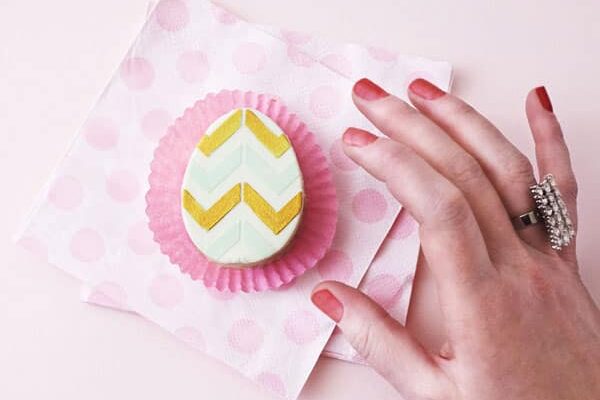 53 . Easter Dirt Cake (Lil' Luna) – A perfect Easter garden doubles as a dessert with this one-of-a-kind cake.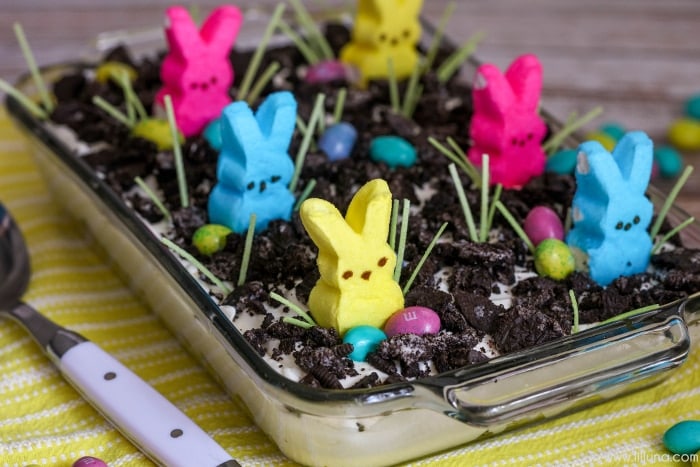 54 . Carrots-Dirt Cupcakes (Something Swanky) – Whip up some 'dirt' cupcakes (with a carrot on top!) for a springtime treat that can't be beat!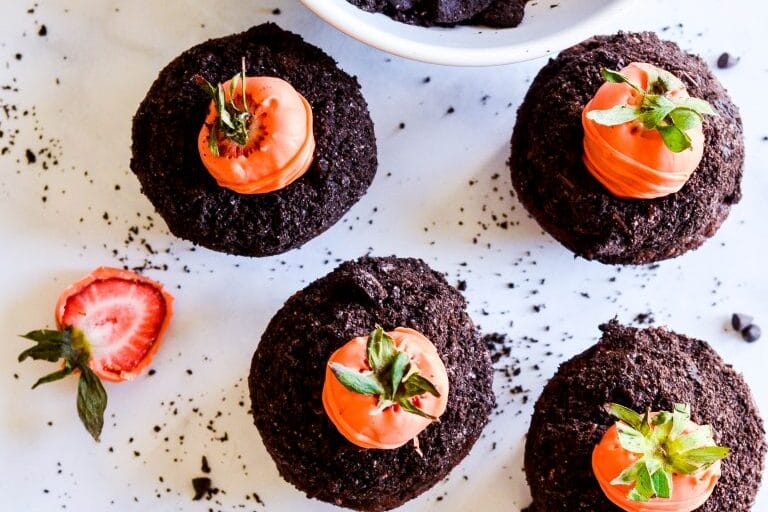 55 . Bunny Mini Cakes (Two Sisters Crafting) – Give these rainbow stacked treats a whirl and watch the smiles!
56 . Easter Bunny Cupcakes (My Kitchen Escapades) – Topped with ears and filled with flavor, these easy cupcakes will be everybunny's favorite!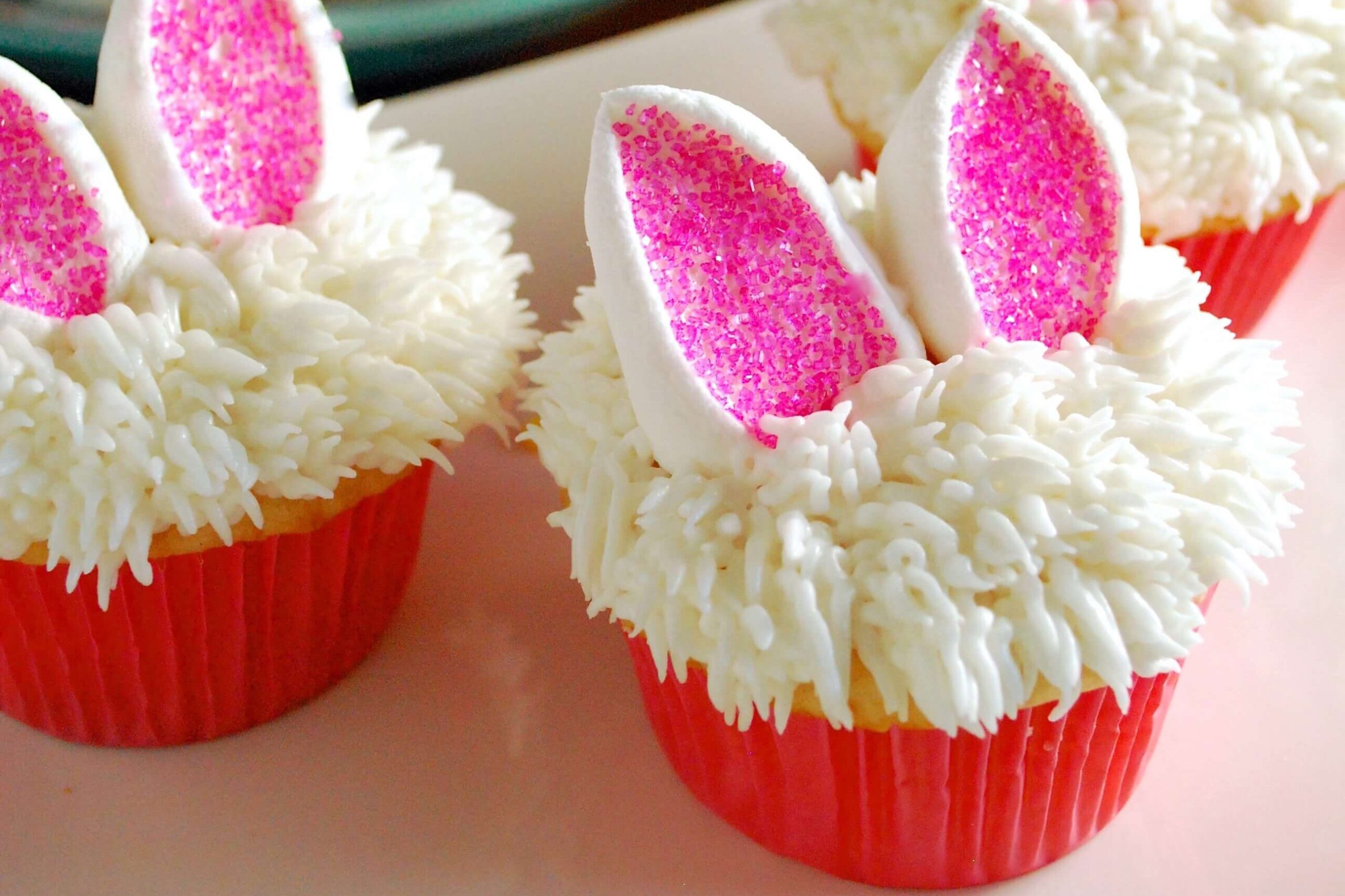 57 . Sno Balls Bunnies (Eighteen25) – Turn ordinary Hostess Sno Balls into excellent Easter treat ideas and you're as good as gold!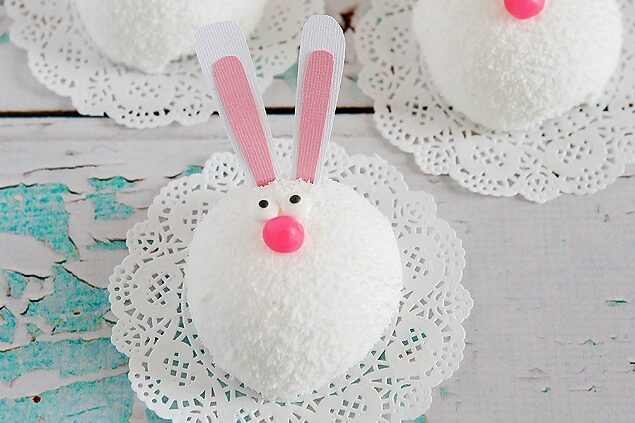 58 . Funfetti Cupcakes (Kleinworth & Co.) – Filled with funfetti flavor and topped with colorful goodness, these cupcakes are a must, must, must!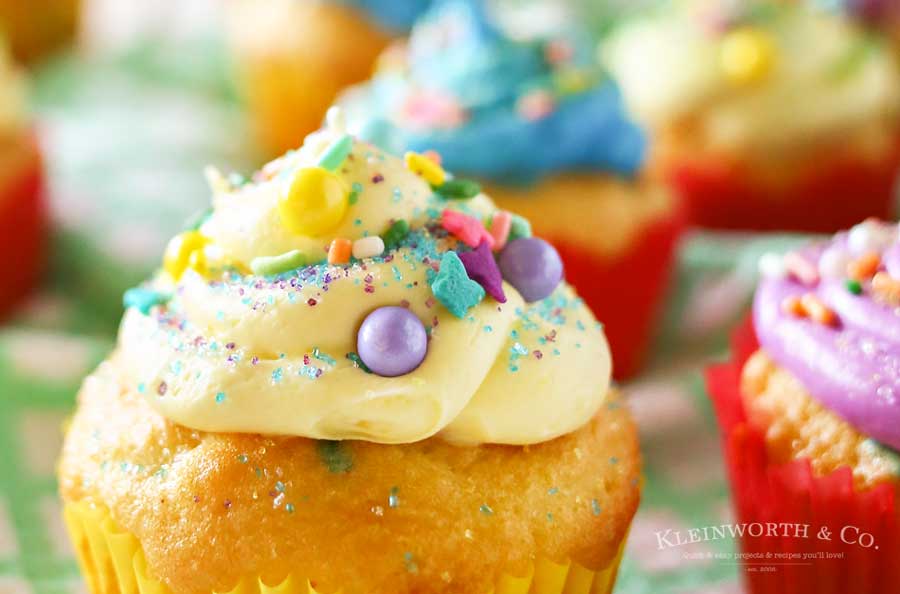 59 . Easter Egg Layered Cake (I Heart Naptime) – If this tastes even half as good as it looks (which we're sure it does!), it's a win-win in our book!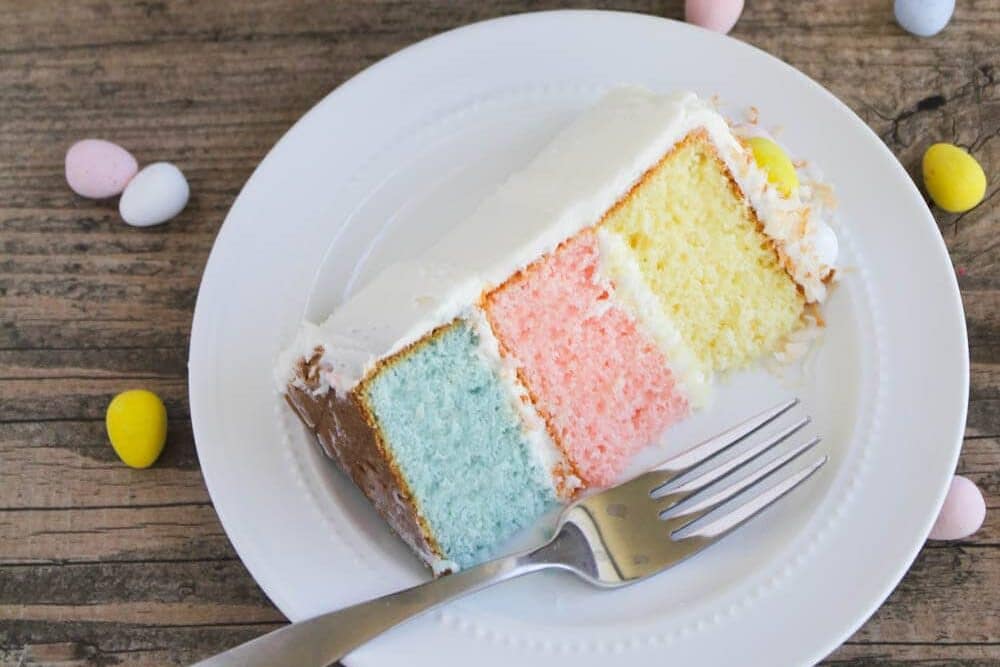 60 . Basket Cupcakes (Nest of Posies) – Chocolate bunnies adorn a makeshift Easter basket in this adorable treat!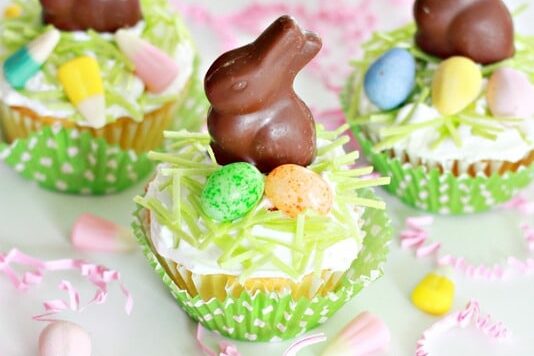 61 . Best Carrot Cake (Gimme Some Oven) – Looking for the best carrot cake recipe ever? You may have just found it!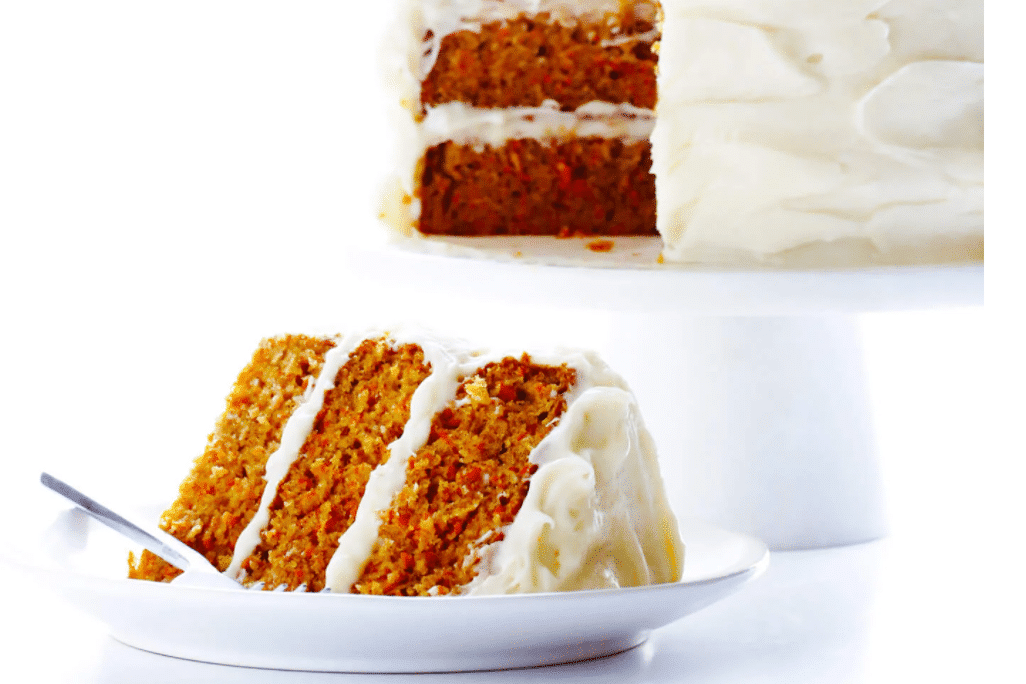 62 . Cheesecake Carrots (Hungry Happenings) – Give flour the boot and whip up these Cheesecake Carrots for a unique treat!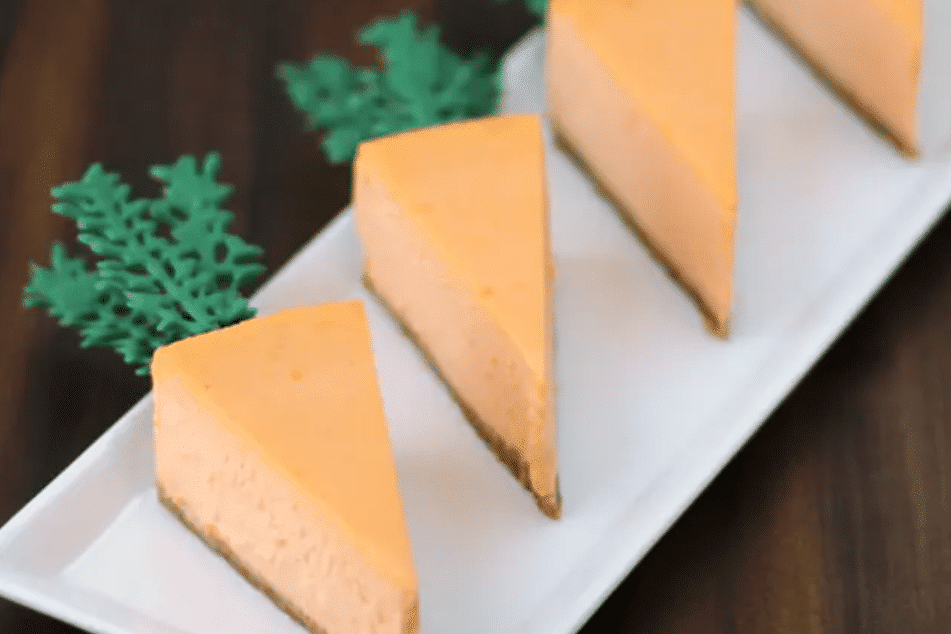 63 . Bunny Cupcakes (Two Sisters Crafting) – Complete with ears and a nose, these Bunny Cupcakes look absolutely delish!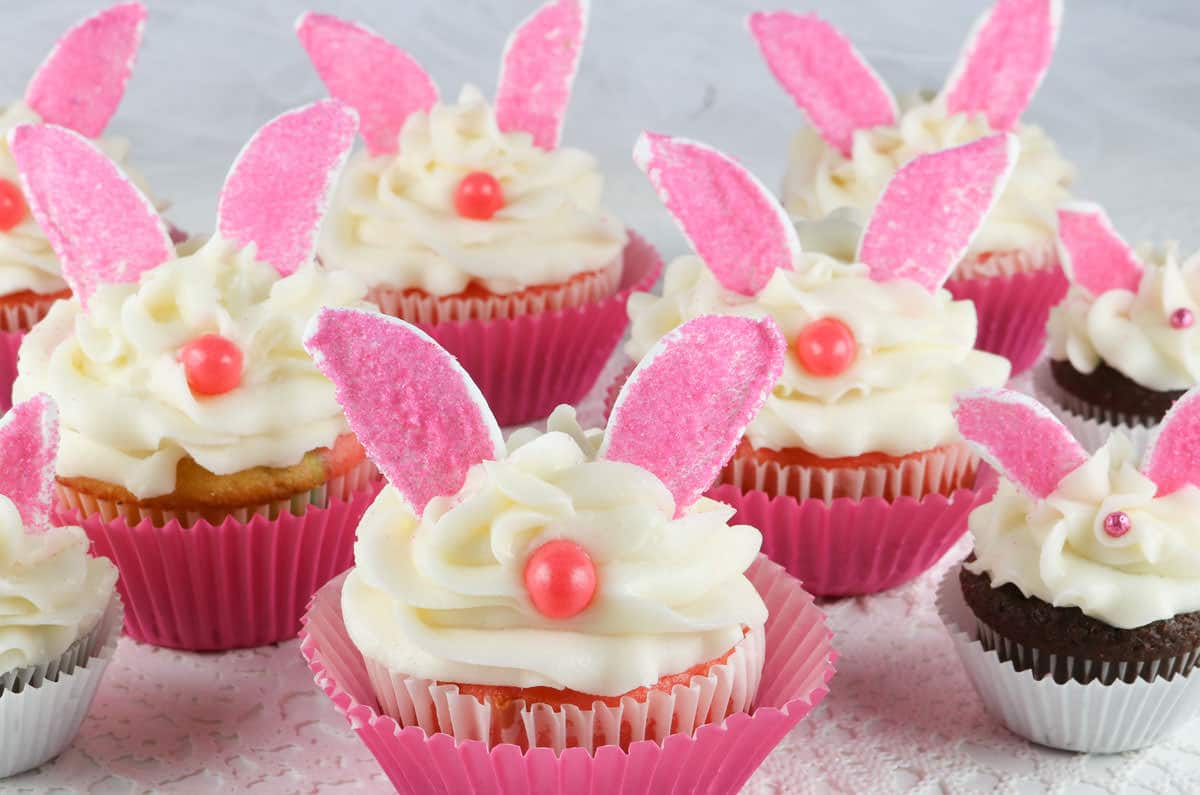 64 . Fluffy Lamb Cake (Coco Cake Land for Handmade Charlotte) – Sweet, smiling, and just the cutest little lamb cake we've ever seen, you're going to want to give this dessert a go!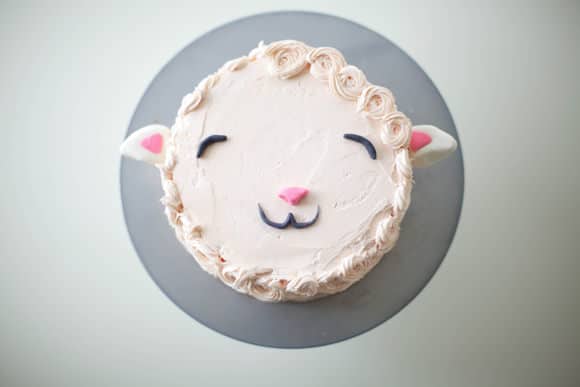 Easter Treat Pops
What do you get when you take a sweet Easter treat and slip in a stick? A perfectly 'pop'able dessert that's as fun to eat as it is to make!

65 . Easter Cake Pops (Niner Bakes) – Colorful, cakey, and topped with a stick, these Easter treats are a definite yes!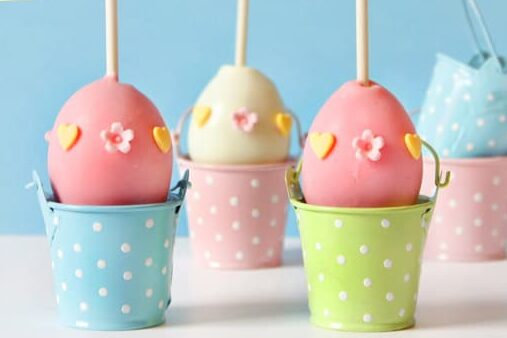 66 . Oreo Pops (It's Always Autumn) – It's Oreos to the rescue again with these oh-so-clever treats on a stick!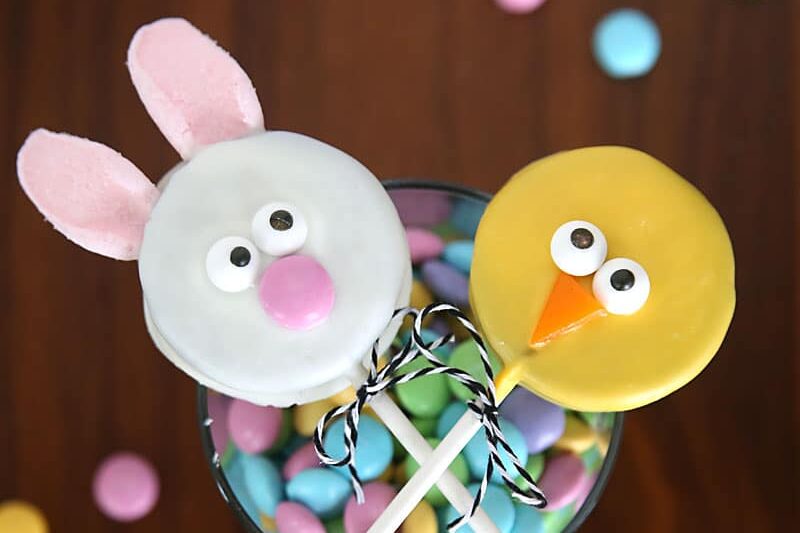 67 . Peeps On A Stick (Your Homebased Mom) – Pop open the Peeps and make yourself a handheld dessert that everyone will love.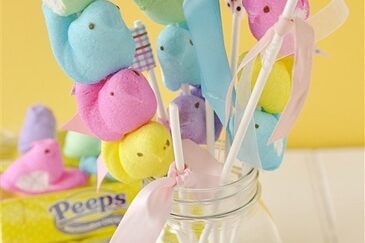 68 . Chick Egg Cake Pops (Baking Mad) – Covered in buttercream, these pops take the cake – literally!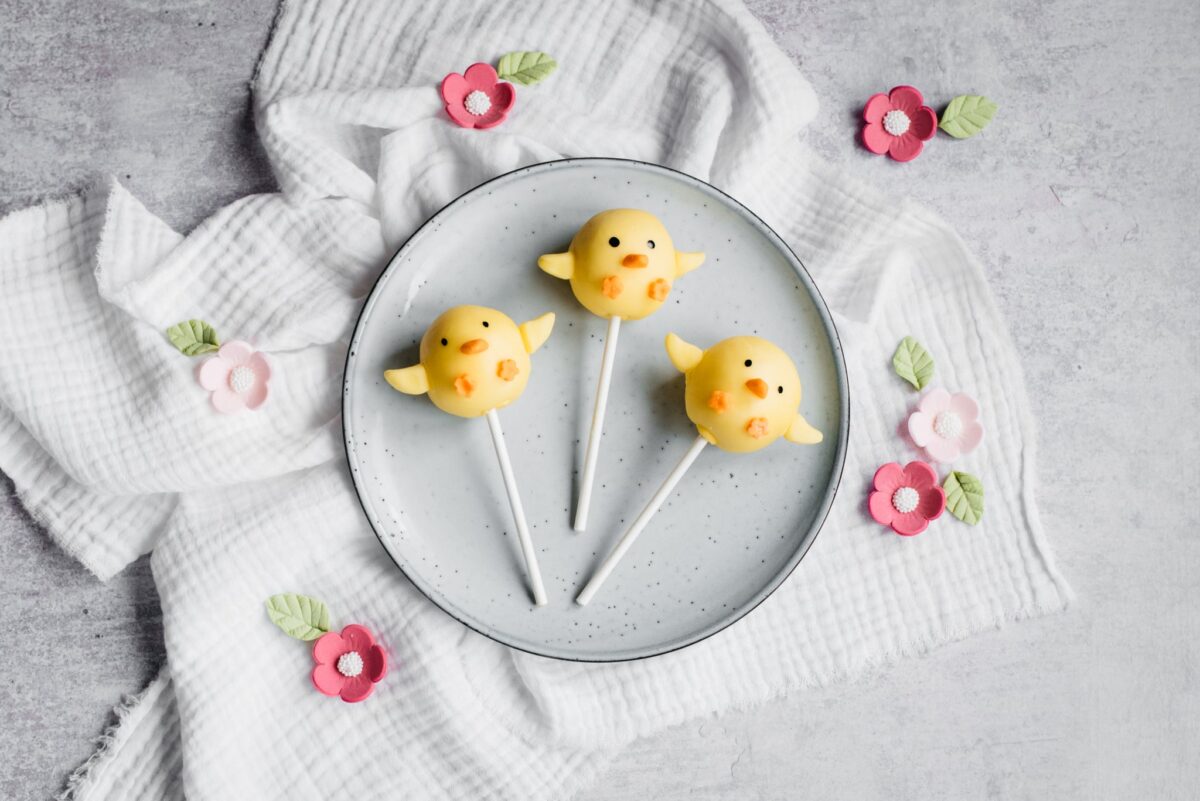 69 . Lamb Pretzel Pops (Hungry Happenings) – You won't feel sheepish when you present these Easter goodies to family and friends!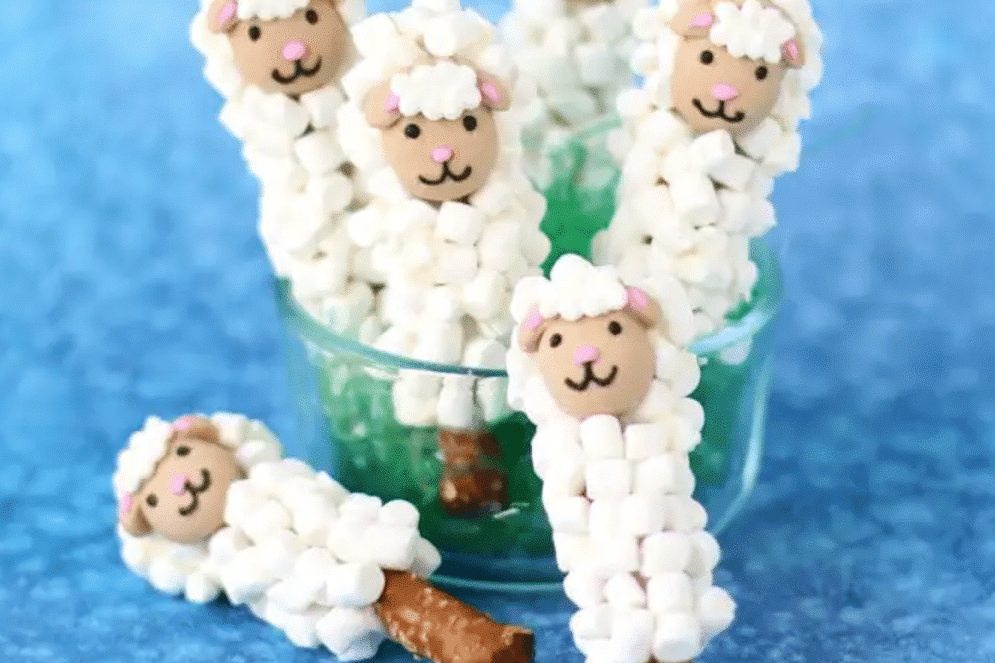 70 . Layered Peeps Pops (Yellow Bliss Road) – Layered with color and full of Rice Krispies magic, these pops are eye-catching and simply delicious!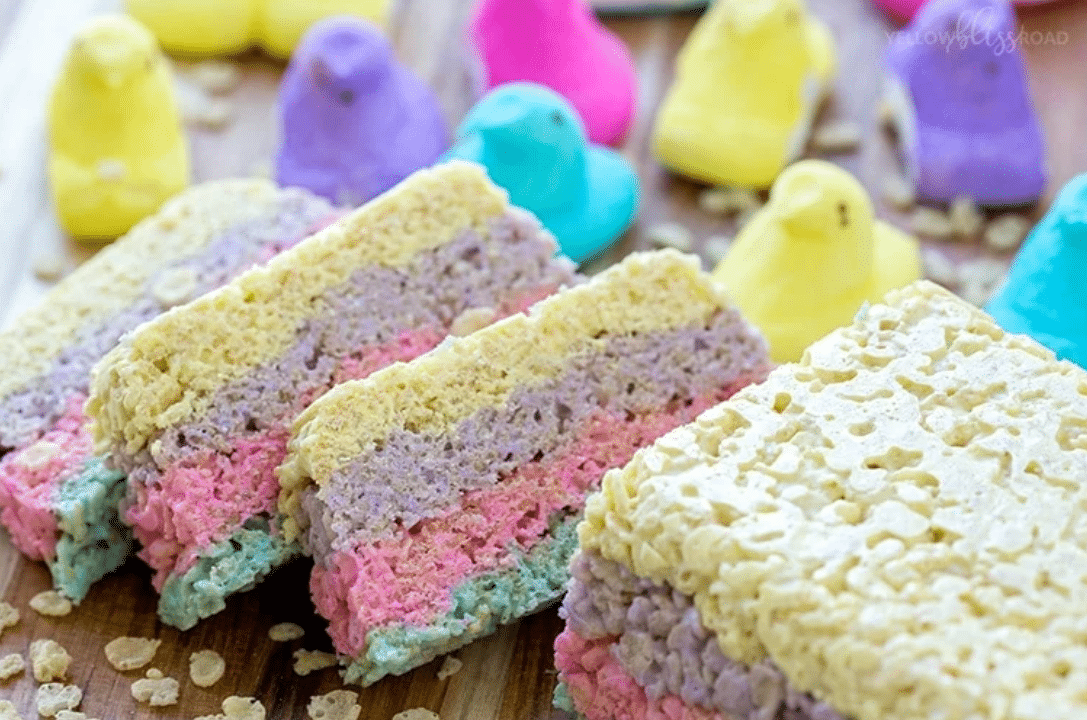 71 . Marshmallow Wands (Two Sisters Crafting) – Give a little spruce to a traditional marshmallow and you've got yourself a treat fit for a king!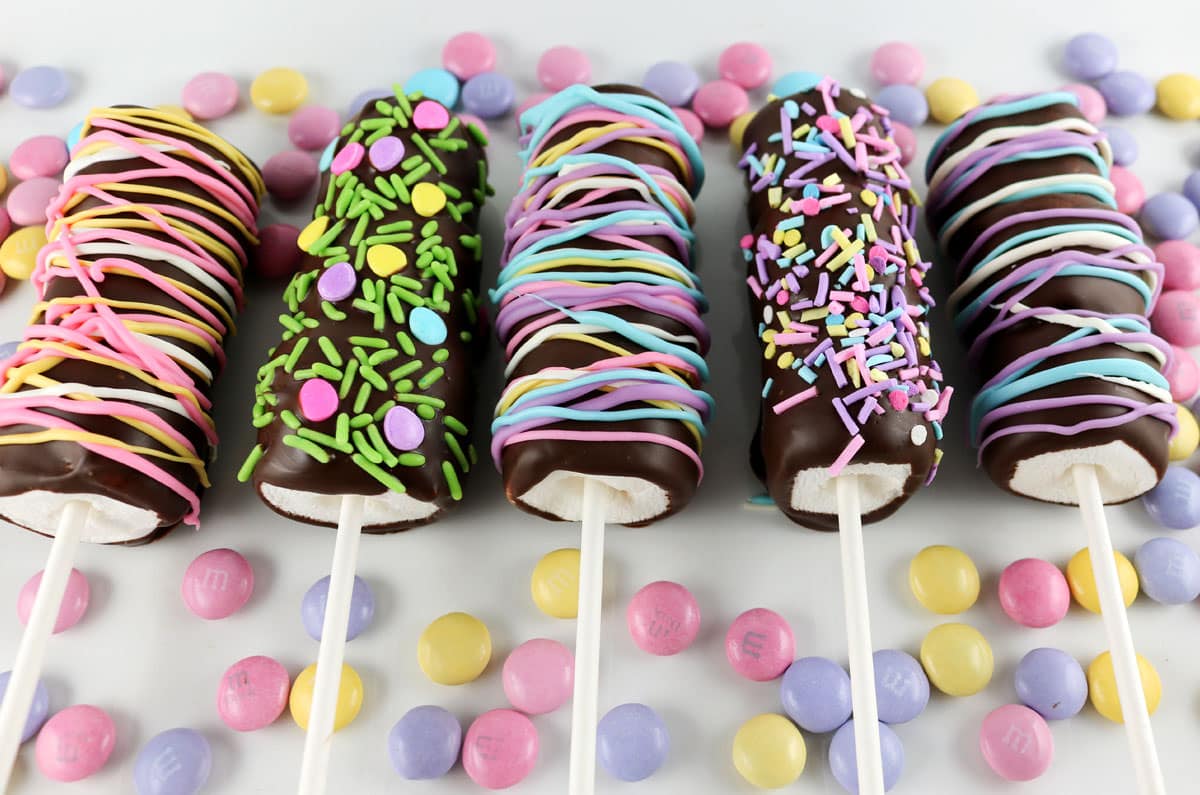 72 . Peeps Brownie Pops (Kate's Recipe Box) – We think Peep-topped brownies make perfect Easter treat ideas.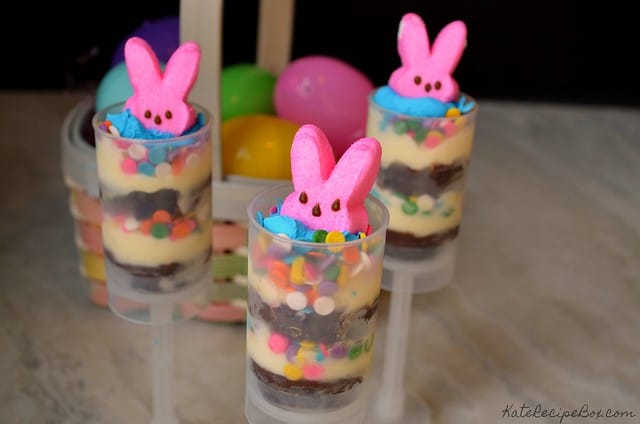 73. Push Pop Peeps (Love From The Oven) – So totally creative in display and design, these Push-Pop Peeps are both festive AND fun!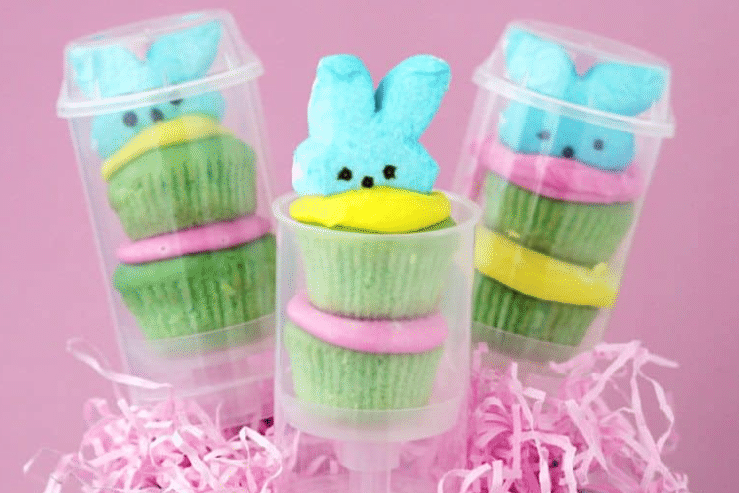 74 . Reese's Chick Treats (I Heart Naptime) – Let sweet baby chicks help herald in the Easter season with these Reese's treats.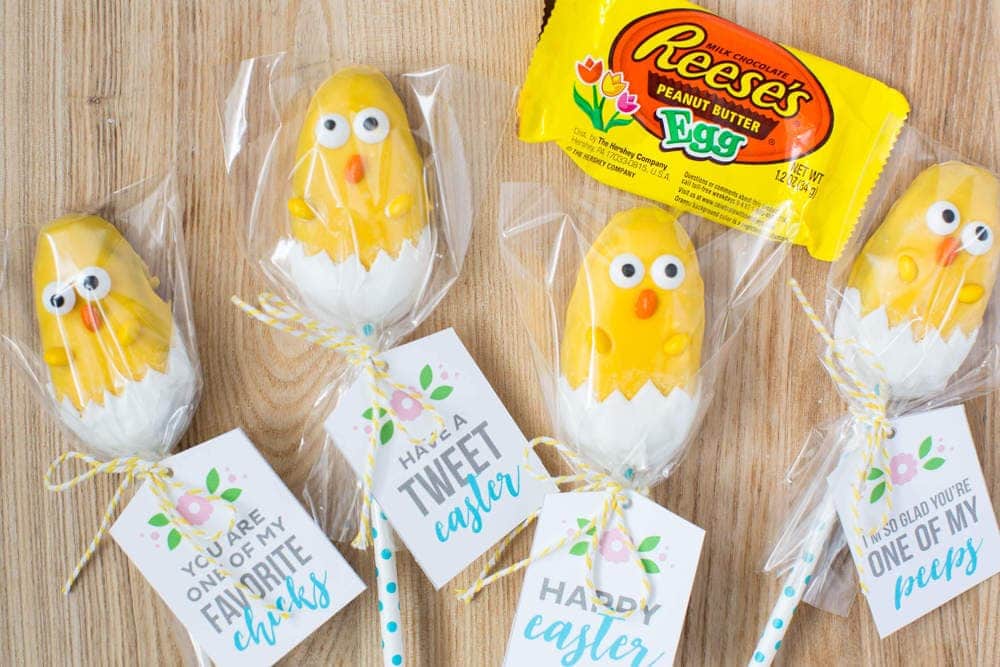 75 . Breakfast Pops (Eats Amazing) – Give breakfast time a little holiday flair with these egg-themed popsicles!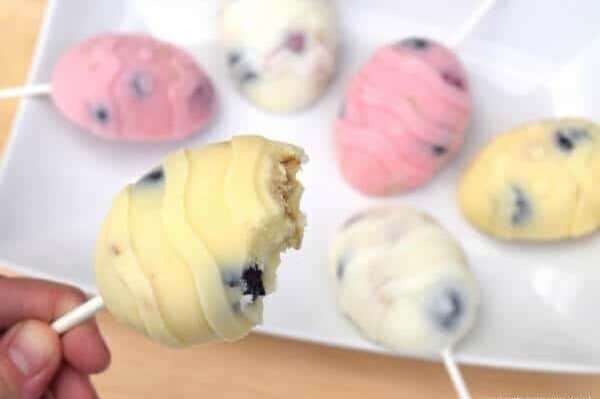 76 . Peep Fruit Kabobs (Amee's Savory Dish) – Layer store-bought Peeps with a healthier fruit option and you've got yourself some pops that are fun and FAST.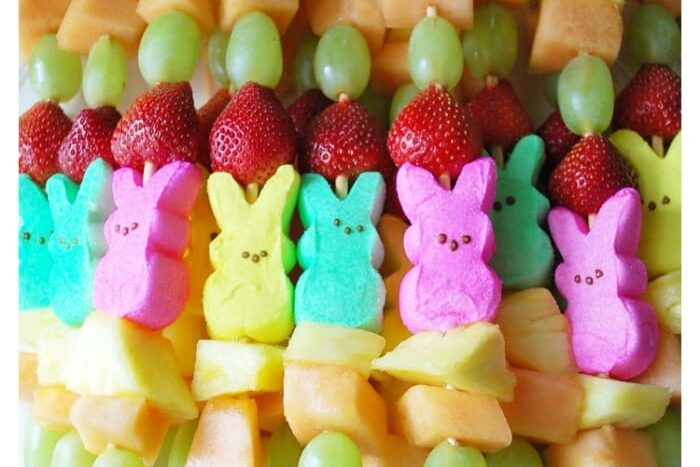 77 . Rice Krispie Pops (Passion For Savings) – Drizzled with color and filled with everyone's favorite treat, these Rice Krispie Pops just scream, "Happy Easter!"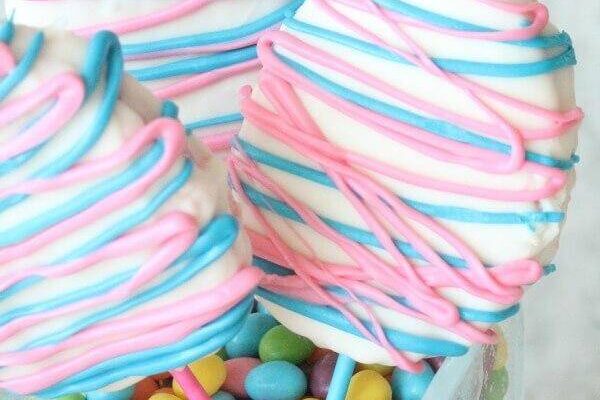 78 . Marshmallow Pops (Living Locurto) – A fantastic gift for friends and loved ones, these marshmallow pops are both pretty and delicious!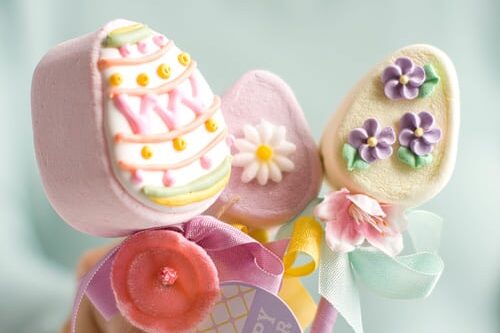 79 . Easter Banana Pops (Echoes Of Laughter) – These colorful banana pops take Easter eating to a whole new level!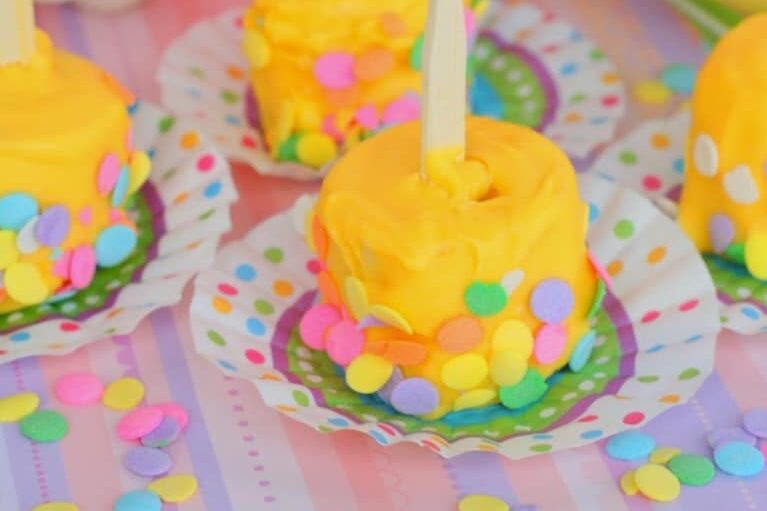 80 . Peeps Pops (Gimme Some Oven) – Dip a Peep in a little candy coating and you've got yourself a pop that is simply scrumptious!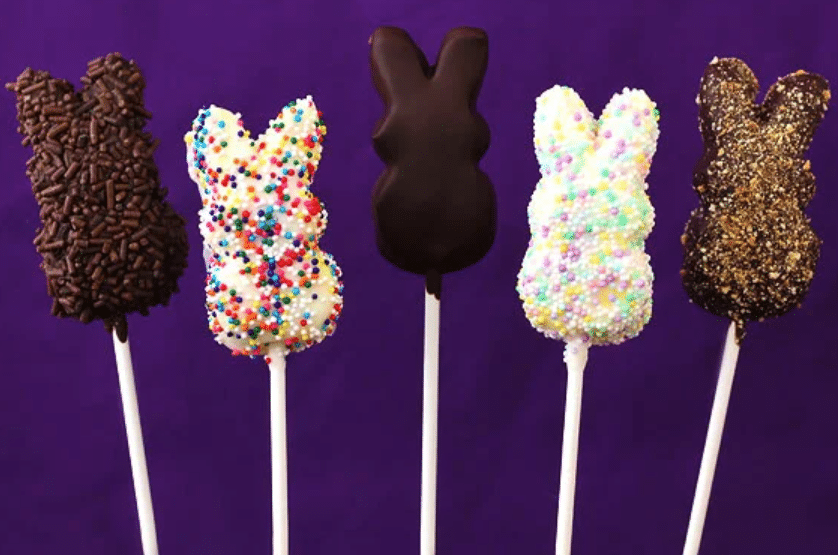 81 . Bunny Peeps Pops (Love From The Oven) – We can't get over how cute these bunnies are and neither will you!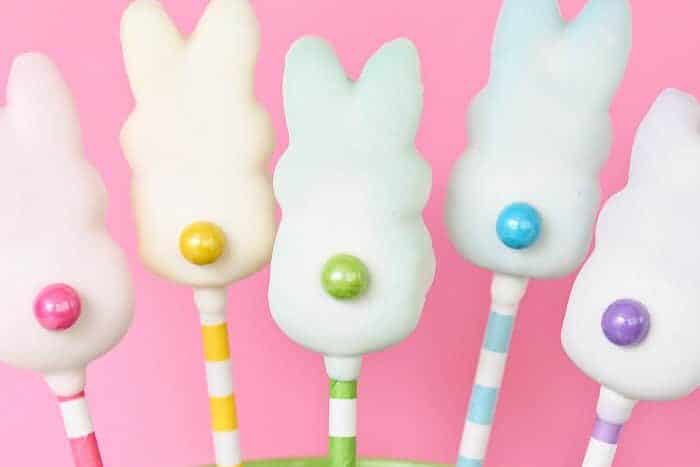 Easter Dessert Bites
Sweet, small, and beautifully bite-sized, these Eastery niblets beg to be eaten by the handful!

82 . Oreo Truffle Eggs (Sugar Apron) – Ooey, gooey and downright delicious, these truffle eggs are to die for.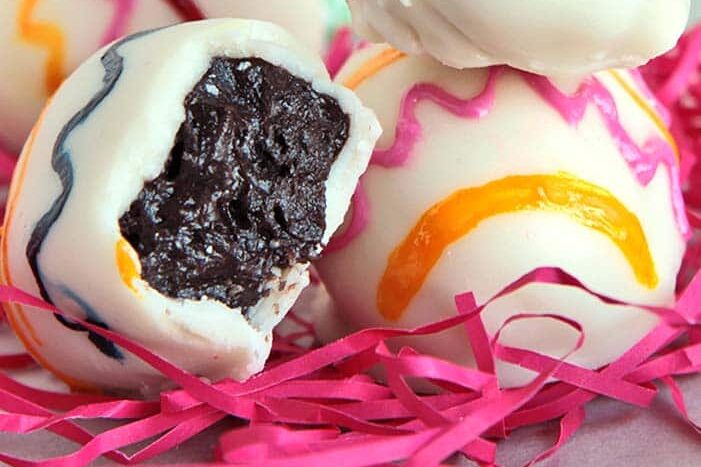 83 . Dipped Marshmallows (Give Recipe) – Top a marshmallow with chocolate and we are THERE.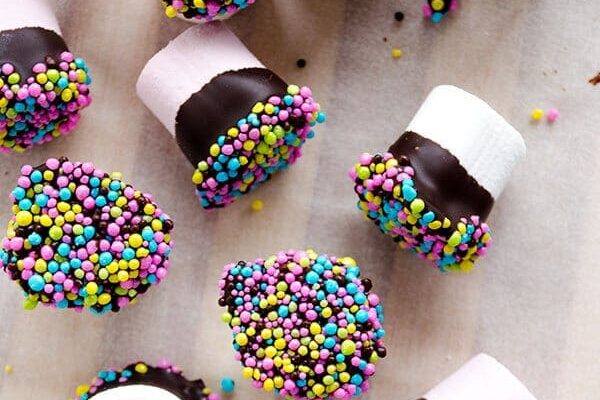 84 . Nest Bites (The Kid's Fun Review) – Kids will love these bite-sized treats that resemble birds nests, and we do too!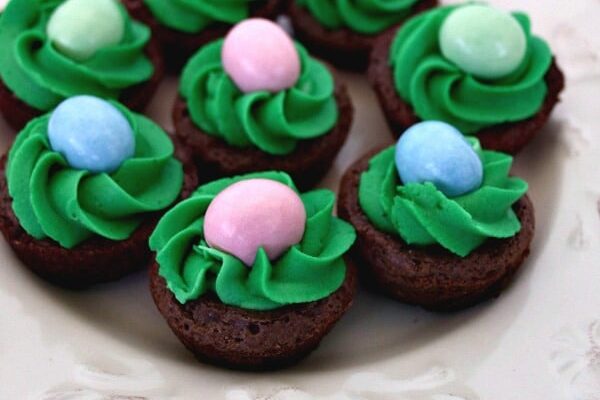 85 . Mini Easter Baskets (Lil' Luna) – How cute are these mini baskets?! Answer: very.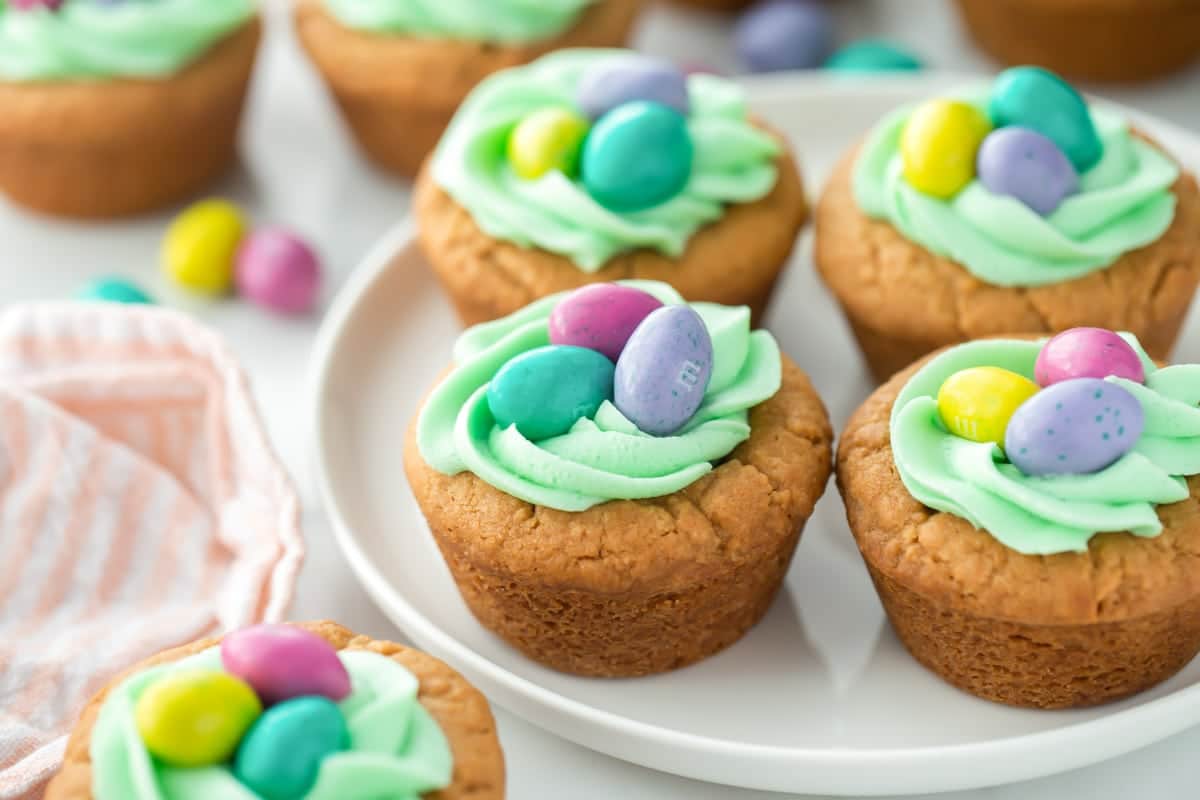 86 . Chocolate Bunnies (The Idea Room) – All you need is a little white chocolate and strawberries to create your very own chocolate bunnies!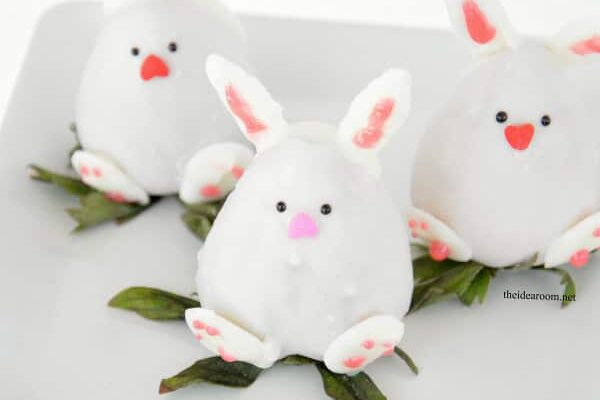 87 . Carrot Strawberries (Lil' Luna) – We think carrots are a lot tastier when there's secretly a strawberry hiding underneath.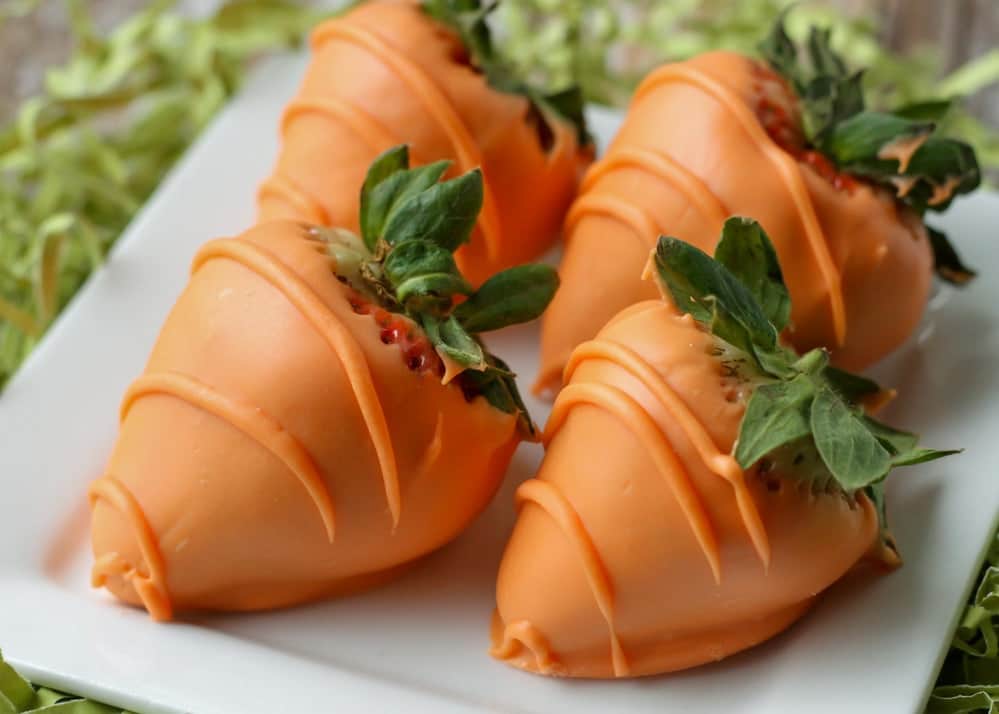 88 . Flower Pretzel Bites (Freebie Finding Mom) – Ever seen a flower that looked THIS delicious? We didn't think so.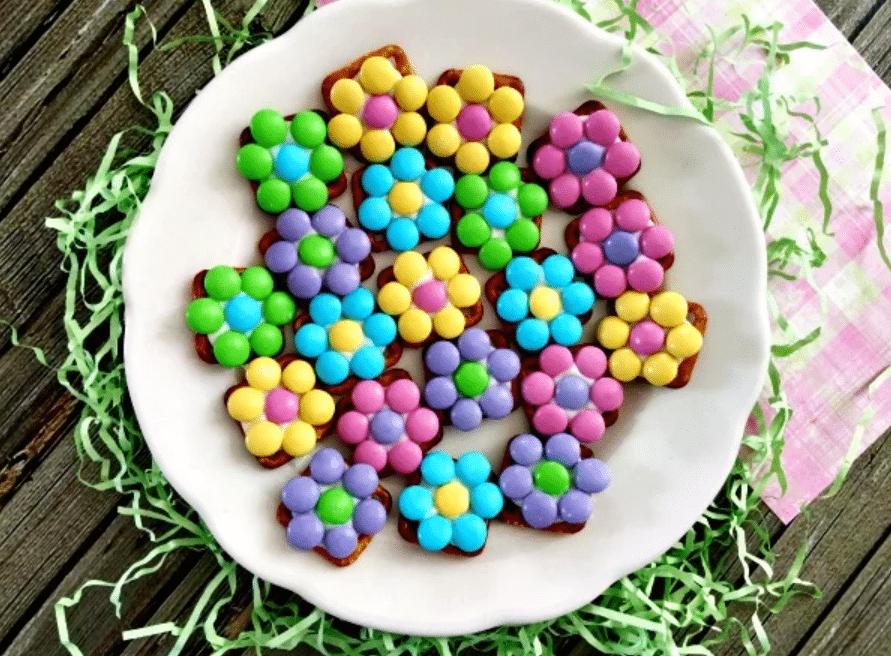 89 . Confetti Eggs (Clean & Scentsible) – These chocolate eggs have a secret inside that we know you'll love!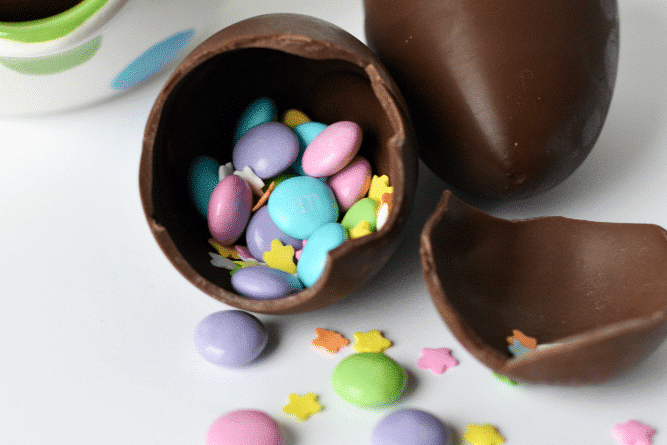 90 . Skinny Cake Balls (Skinnytaste) – Have all of the flavor but fewer calories with these skinny treats!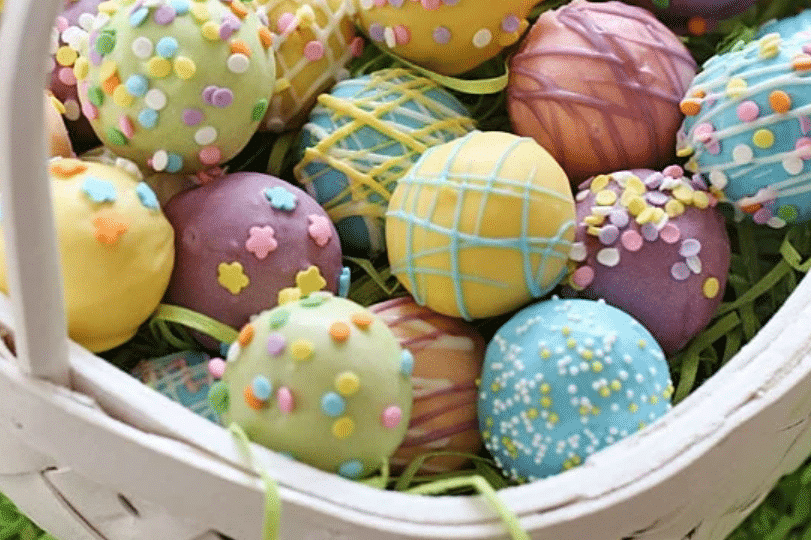 91 . Bunny Tails (Kids Activities Blog) – Perfectly round and covered in 'fluff,' these bunny tails have just the right 'bite' to them.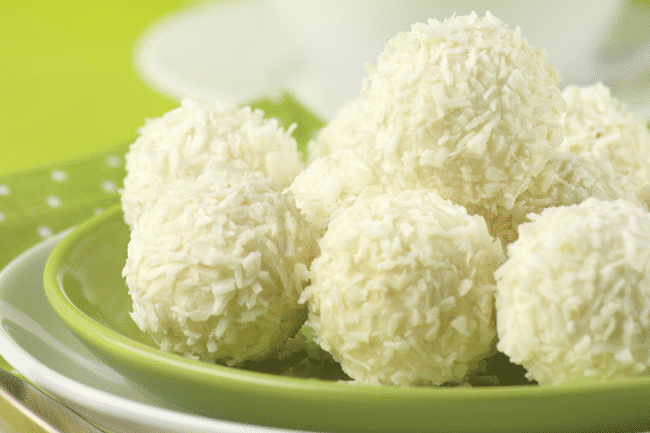 92 . Marshmallow Peeps (Keys To Inspiration) – Forego the store-bought version with these homemade Peeps that are to die for.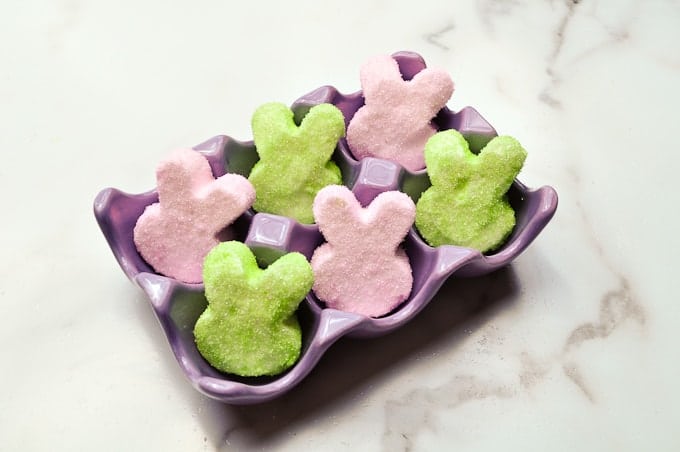 93 . Pastel Mint Patties (Mom On Timeout) – Minty-delicious and so perfectly pastel, these patties are at the top of our list!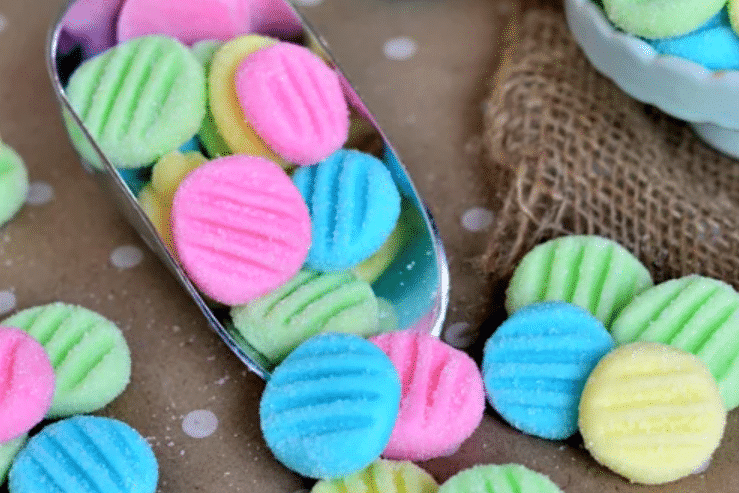 94 . Marshmallow Eggs (Mel's Kitchen Cafe) – Covered in chocolate and drizzled with fun, these Easter desserts get an A++!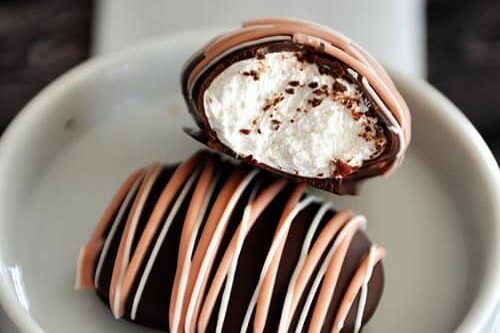 95 . Nutella Cream Eggs (Inside Bru Crew Life) – Everyone's favorite hazelnut filling takes center stage in these creamy dessert eggs.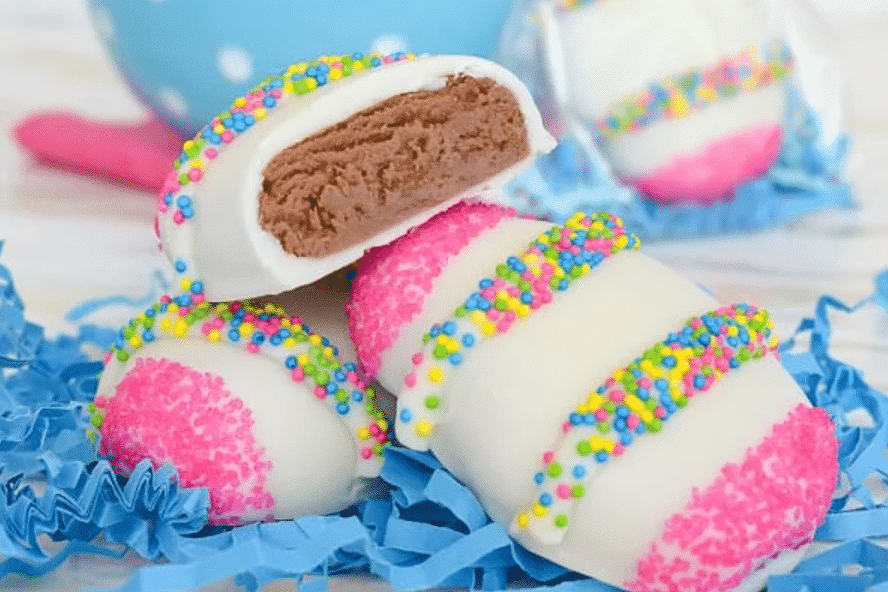 96 . Bunny Butt Pretzels (Hungry Happenings) – More cute bunny butts are on the way with these pretzel bites.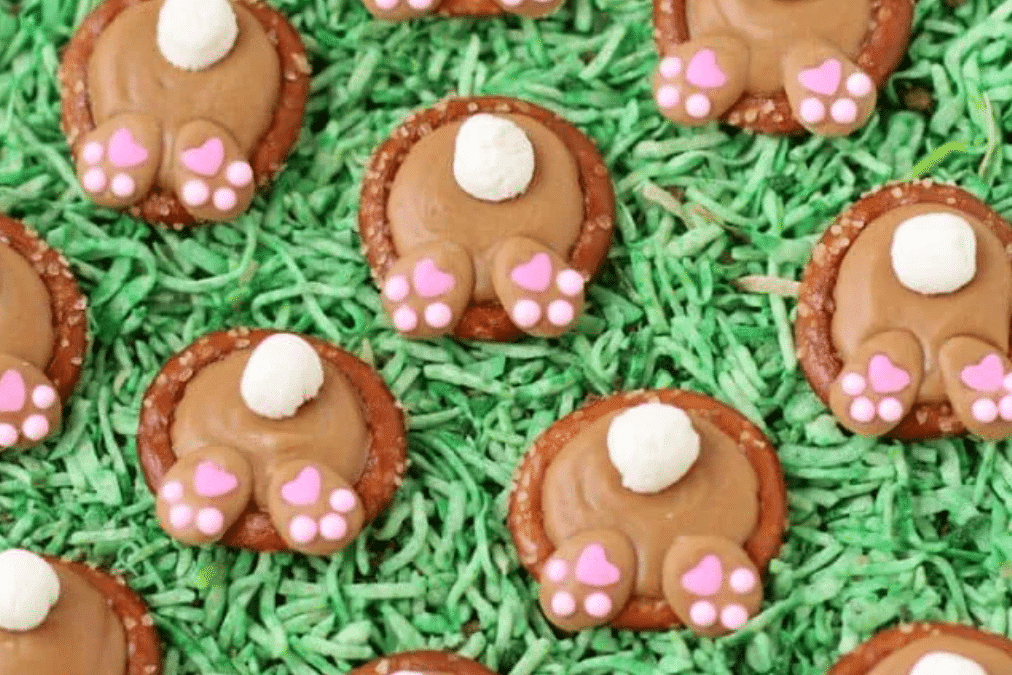 97 . Krispies Easter Cups (Lil' Luna) – Filled with flavor and crusted with Krispies, these Easter cups are a hit with young and old alike!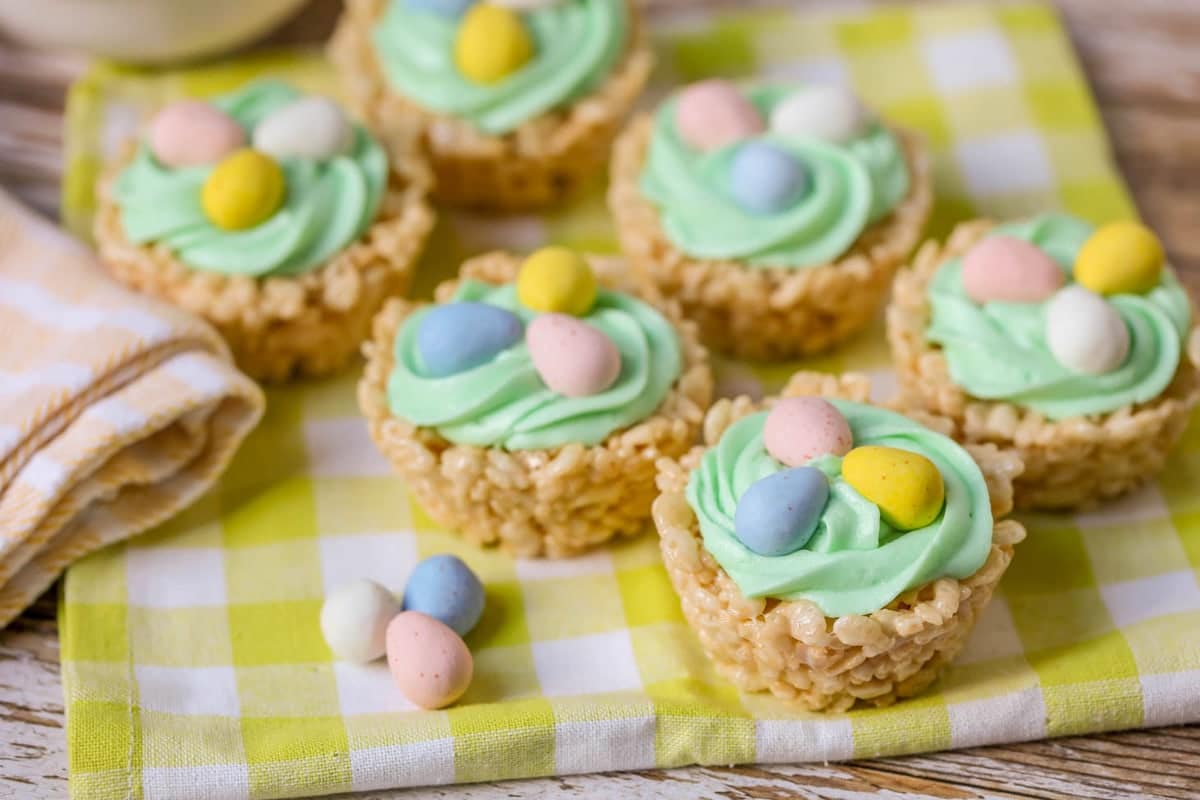 98 . Peanut Butter Eggs (It's Always Autumn) – PB and chocolate – two ingredients that make for an egg-cellent treat.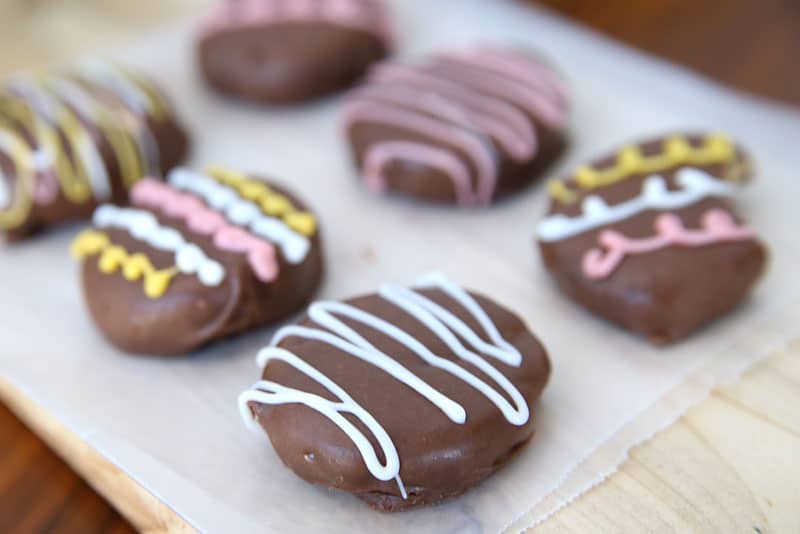 99 . Bunny Tail Truffles (Pizzazzerie) – It doesn't get much better than these bunny tail treats, and you should find out why!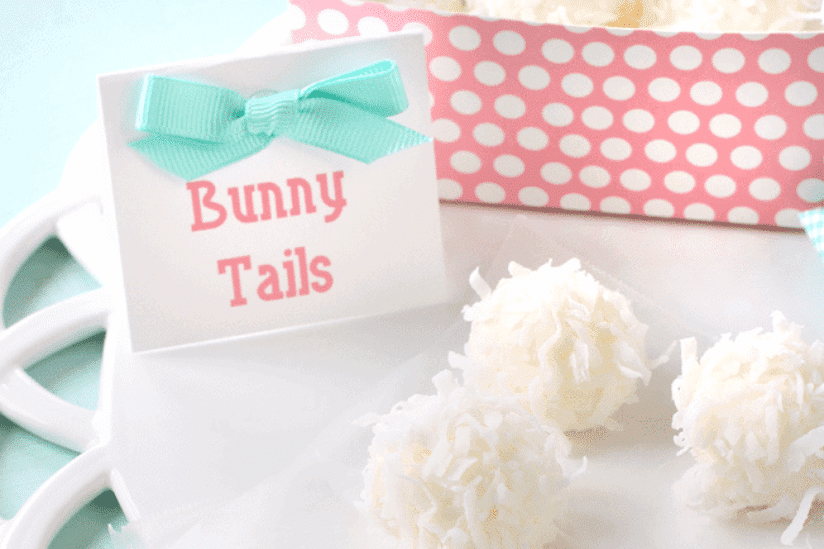 100 . Cookie Dough Truffles (Wine And Glue) – Break out the cookie dough and turn up the taste with these a-dough-able bites.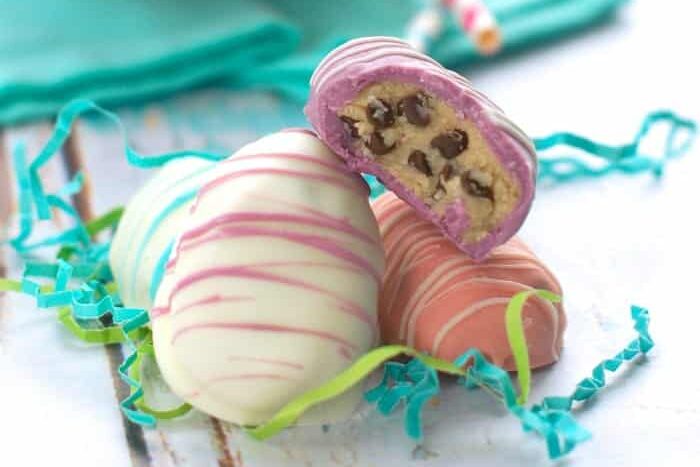 101 . Decorated Eggs (The Decorated Cookie) – Take egg decorating to a whole new level with these Cadbury treats that are cute and creamy!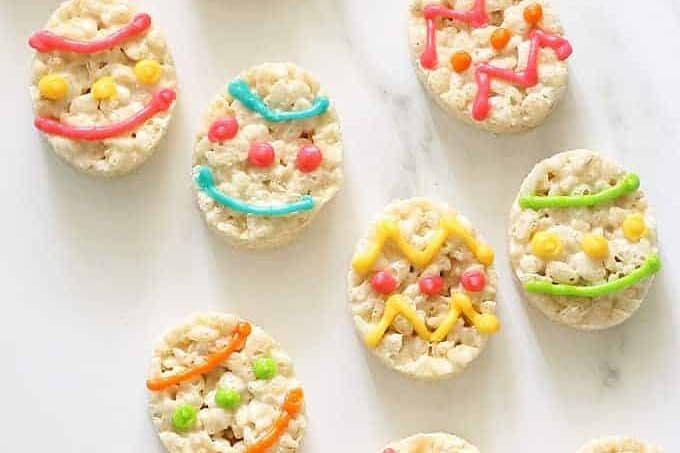 Wishing you and your loved ones a very Happy Easter!
For even more Easter treats, be sure and check out our Easter Candy Surprise for Your Spouse and 100 Candy-Free Easter Basket Ideas.