Sexy Easter Candy Gift Idea
An Easter candy surprise with a sexy twist?! Could there be anything better?! For your enjoyment (okay, and ours too), we created a sexy bedroom Easter egg hunt that will lead your spouse to 11 eggs filled with something much better than candy. Use the darling printables we've included below, and together we'll help you create a holiday you'll never forget!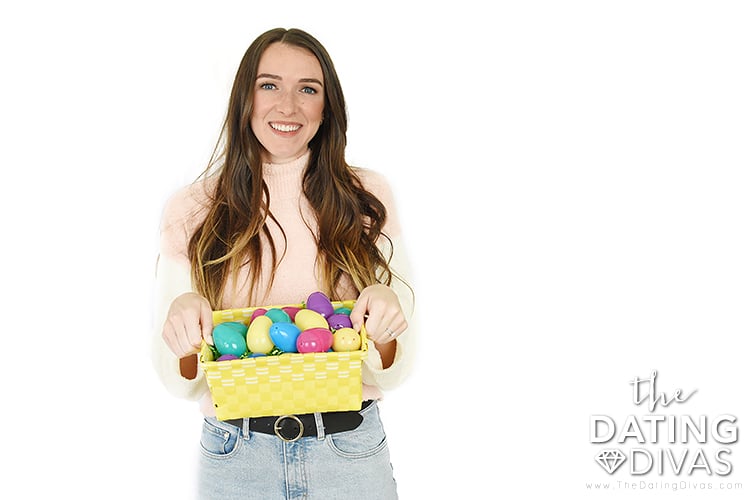 Disclaimer: This post contains affiliate links. To learn more about 'em, click here.

Table of Contents
Sexy Easter Egg Hunt Printables
Easter time is all about candy and egg hunts. So this year, we thought adding a little spice to your springtime with a sexy Easter egg hunt would be fun!
The FREE printables include a poster to hang on your bedroom door (or anywhere in your bedroom) as well as ten flirty notes that you can stuff into some Easter eggs (along with a little the Easter egg candy if you'd like!)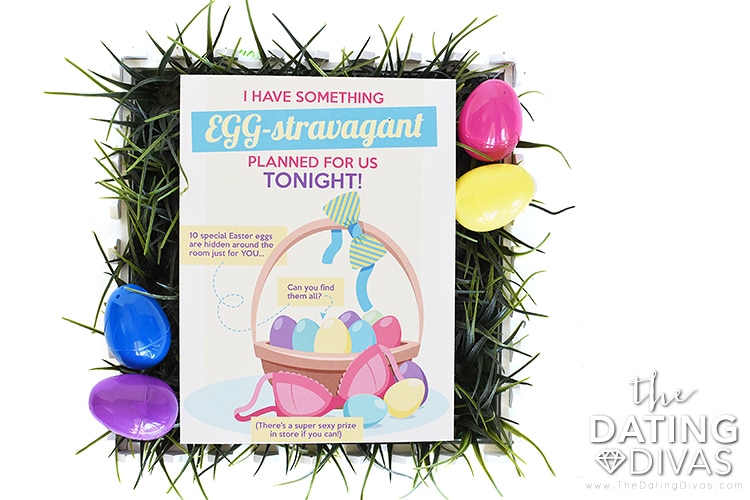 Once your sweetie has gathered all the eggs, they will open the eggs in order. Inside the final egg will be a note where you've written the location of a super sexy Easter basket for the two of you to enjoy together!
By the way, this is an egg hunt you won't want your kids around for, so we suggest waiting until after bedtime!
Sexy Easter Egg Notes
Check out what the adorable sexy Easter notes say that you can easily print below and stuff inside some plastic Easter eggs to make up your hunt!
You are so EGG-stremely sexy!
Some bunny loves you….in bed!
I love your body a choco-LOT!
For peep's sake, let's make out already!
You are an EGG-cellent lover!
Spring Showers
Peep Show
The Bunny Hop
Let's try something new! Redeem this for some EGG-citing sexy time!
Long day? Redeem this for an EGG-cellent sexy massage!
(Fill in with the location of the final hunt prize)
Now, let's dive into the notes!
Numbers 1-5 are flirty and perfect for setting the mood. Who doesn't love hearing how sexy they are?!
Numbers 6-8 are spicy sexy time prompts. You can interpret them however you'd like, but here are some suggestions:

Spring Showers = Sexy time in the shower
Peep Show = Lingerie and a little strip tease
The Bunny Hop = A position idea! We'll let you decide how to execute that position 😉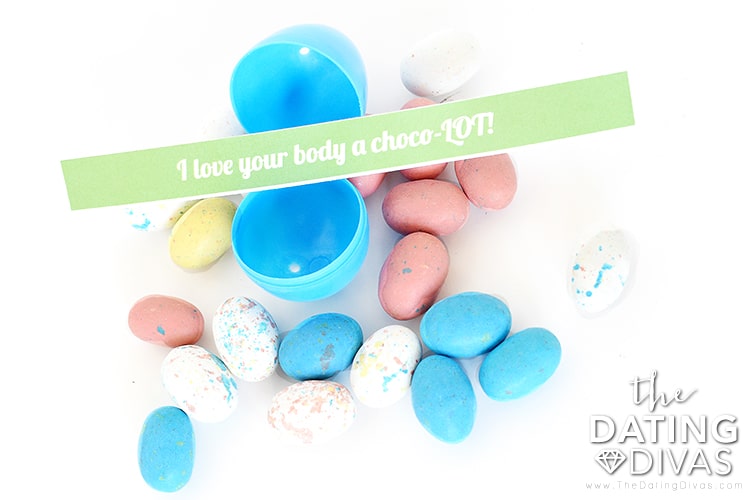 Numbers 9 and 10 are coupons that your spouse can redeem whenever they'd like. Ooh la la!
And finally, number 11 is left blank on purpose. This will be the note you'll use to write the location of the sexy Easter basket surprise!
Of course, you can't have an egg hunt without Easter egg candy. This chocolate assortment Easter candy bag is perfect for chocolate lovers, and this Easter candy bag includes several different sweet/sour candy options. We love how each piece from both options is perfectly sized to fit inside an egg!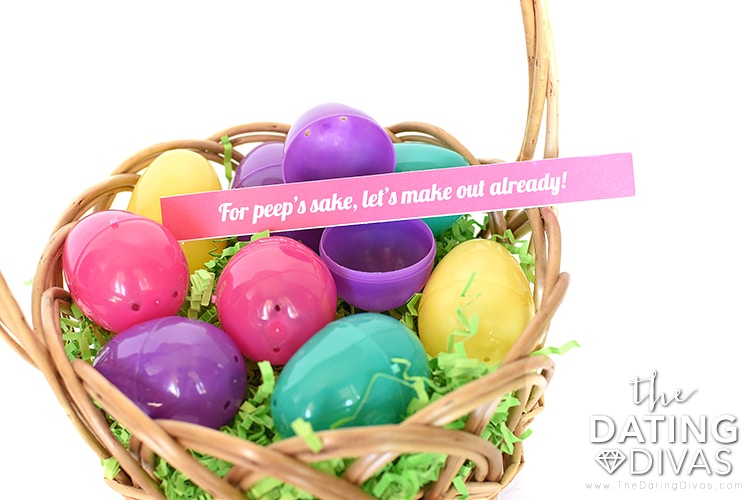 Setting Up Your Sexy Easter Egg Hunt
First things first: assemble the surprise sexy Easter basket. This is the reward your spouse is working for during the egg hunt. Remember, the 11th and final egg will lead them straight to this EGG-citing surprise!
Now it's time to set up the egg hunt. Number and fill each egg with one of the ten notes we've provided and some Easter candy. We recommend using a sharpie to write on the outside of the egg.
Then write the location of where you'll hide the sexy basket on the blank note. Once you've done so, stuff the 11th note into the final egg. Next, hide the 11 eggs around your bedroom, hide the basket, and hang the poster on the door.
Tip: don't hide the basket in a place that's *too* difficult. You'll want your spouse to find it quickly so you can use the basket together ASAP!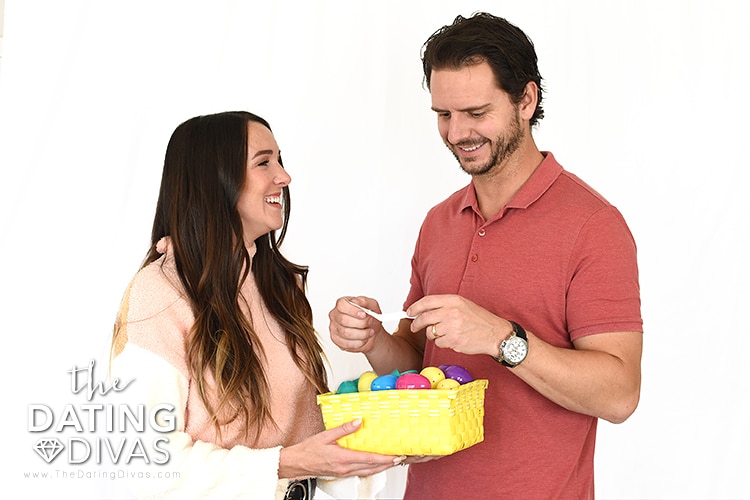 Remember to tell your spouse that they have to find all 11 eggs and open them in order! That final egg will lead to QUITE the surprise, don't you think? 🙂
8 Sexy Easter Basket Ideas
Here are eight ideas we think would be EGG-cellent for your spouse's sexy Easter basket!
1. Wet Desserts Whipped Cream Flavored Lubricant – Nearly every Easter dinner ends in dessert! Why not use dessert as inspiration for this sexy basket? There are several flavors to choose from, and some have warming sensations!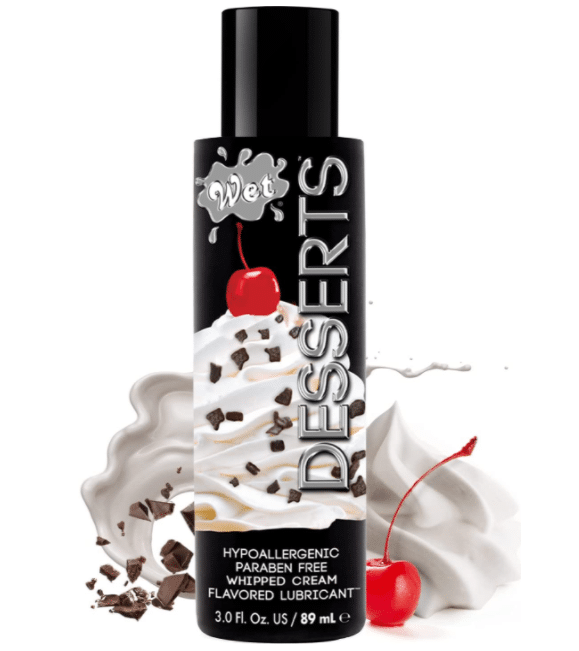 2. Tri Me Lubricants Triple Set Gelato Flavors – Who doesn't love chocolate in their Easter basket?! This lubricant set comes with Salted Caramel, Creme Brulee, and Mint Chocolate flavors. Perfect for those chocolate lovers!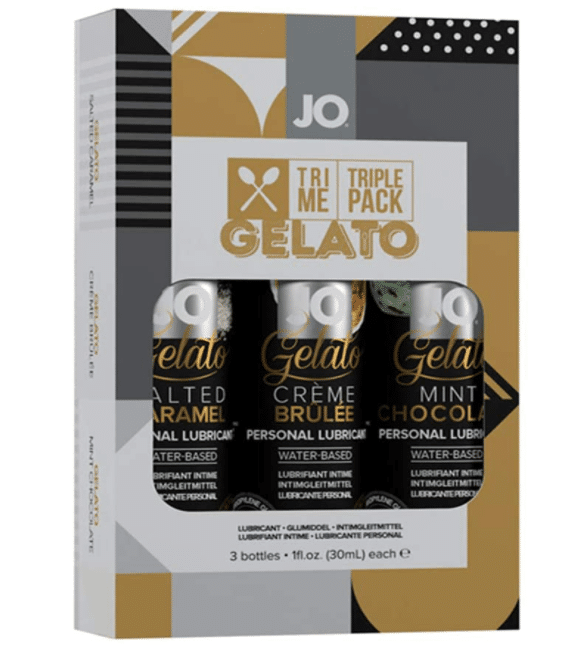 3. Lovers Edible Body Paints – How fun are these?! Perfect for sparking some exciting sexy time!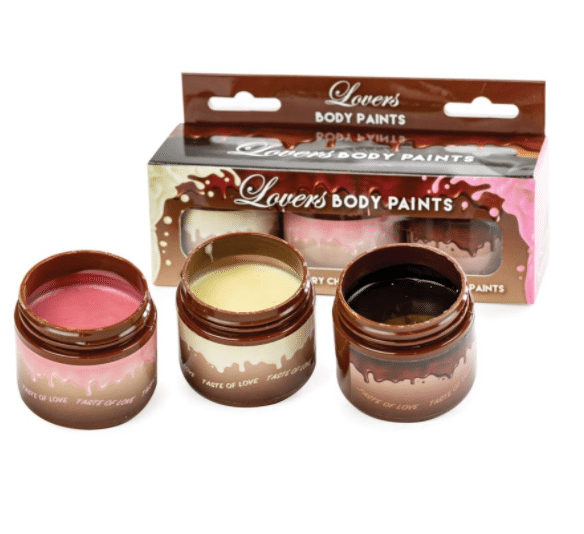 4. Passion Sensual Massage Oil – This massage oil would pair perfectly with note #10!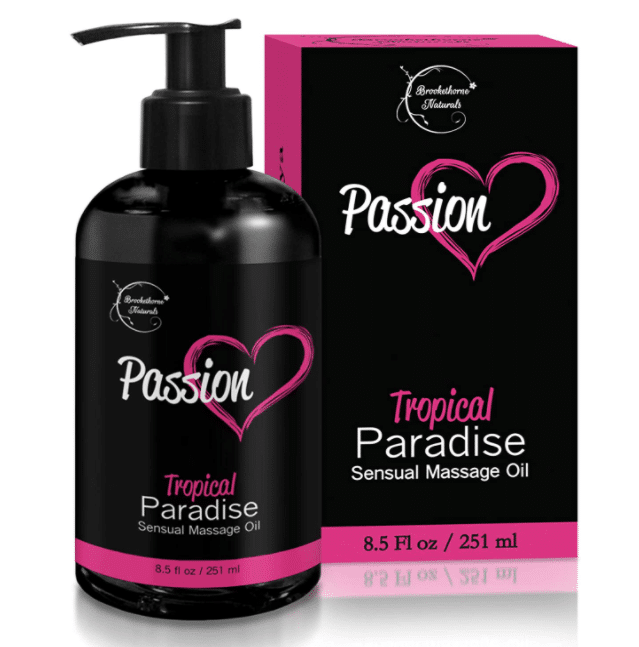 5. Spicy Dice – Adventurous, sexy time left to the fate of dice? YES, PLEASE! These dice bring the heat, and they're a perfect addition to a sexy Easter basket!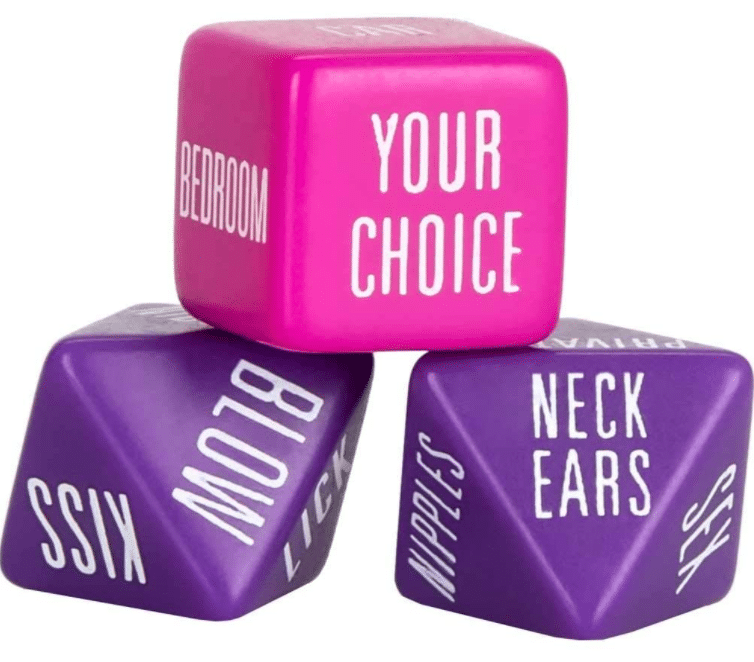 6. 25 Best Sex Positions In A Jar – If you're up for printing a few more pages of printables, this is a MUST for your sexy Easter basket. These would pair great with note #9!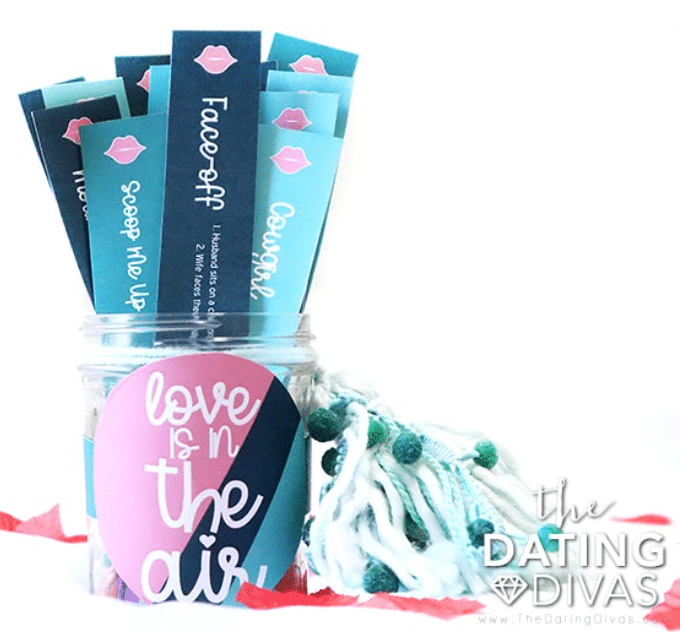 7. Waterproof Mini Massager – This mini massager is the perfect way to add some steam to your Spring Showers!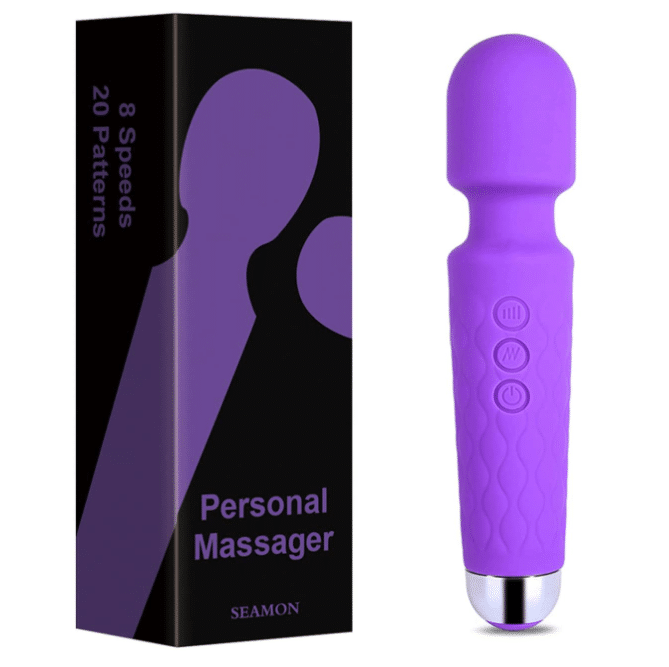 8. Floral Sexy Satin Pajama Sets Lace Trim Cami – The saying goes, "April showers bring May flowers." That means floral lingerie is a MUST for springtime!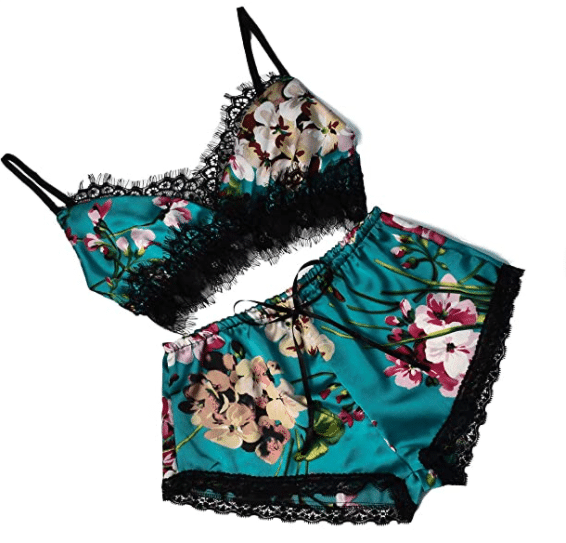 9. Spring Easter Pattern Wrapping Paper – Try wrapping the sexy surprises with Easter wrapping paper to keep things a little more mysterious! It also helps you stay within the Easter theme. Bonus!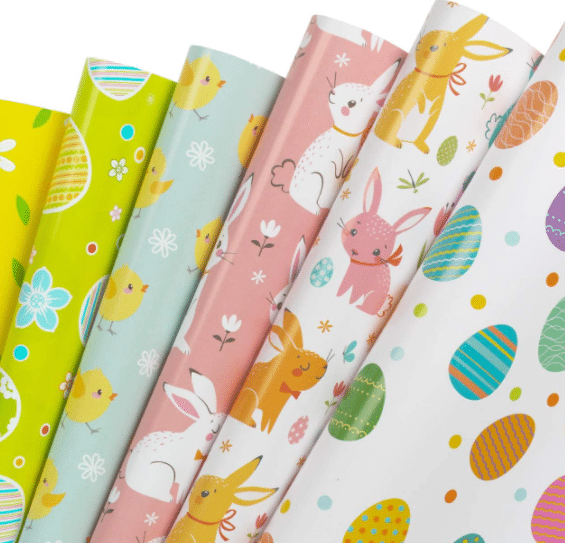 10. Bunny Wrapping Paper – Are we the only ones who didn't know Easter bunny wrapping paper was a thing? Oh, good! Here's another cute option for wrapping the sexy goodies.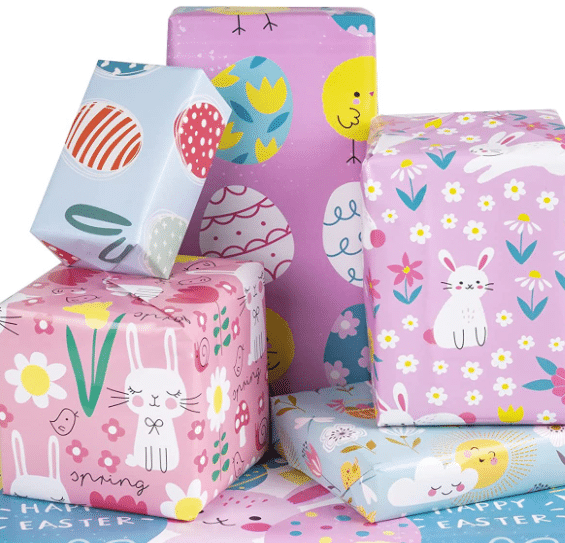 Don't forget a basket! Of course, you can use any basket you have lying around the house, but here is a cute basket you can use for storage once your date night has ended. It even matches the colors of the printables!
We think any of these ideas would be great for your sexy Easter basket! Now it's time to hop to it! Enjoy this Easter-themed night with your sweetie!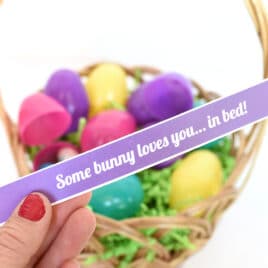 Sexy Easter Candy Date
Printables Designed by Lucette Exclusively for The Dating Divas