The Best Camping Hacks
Do you have a camping trip coming up that's causing you stress? Are you wondering what to bring? What about camp setup ideas? Perhaps you're on the hunt for fun camping ideas that will entertain the entire family. Well, look no further because your outdoor adventure is about to get SO much easier thanks to these brilliant camping hacks! We've included camping hacks for packing, camping meals, kids camping activities, and more. Let's take a look!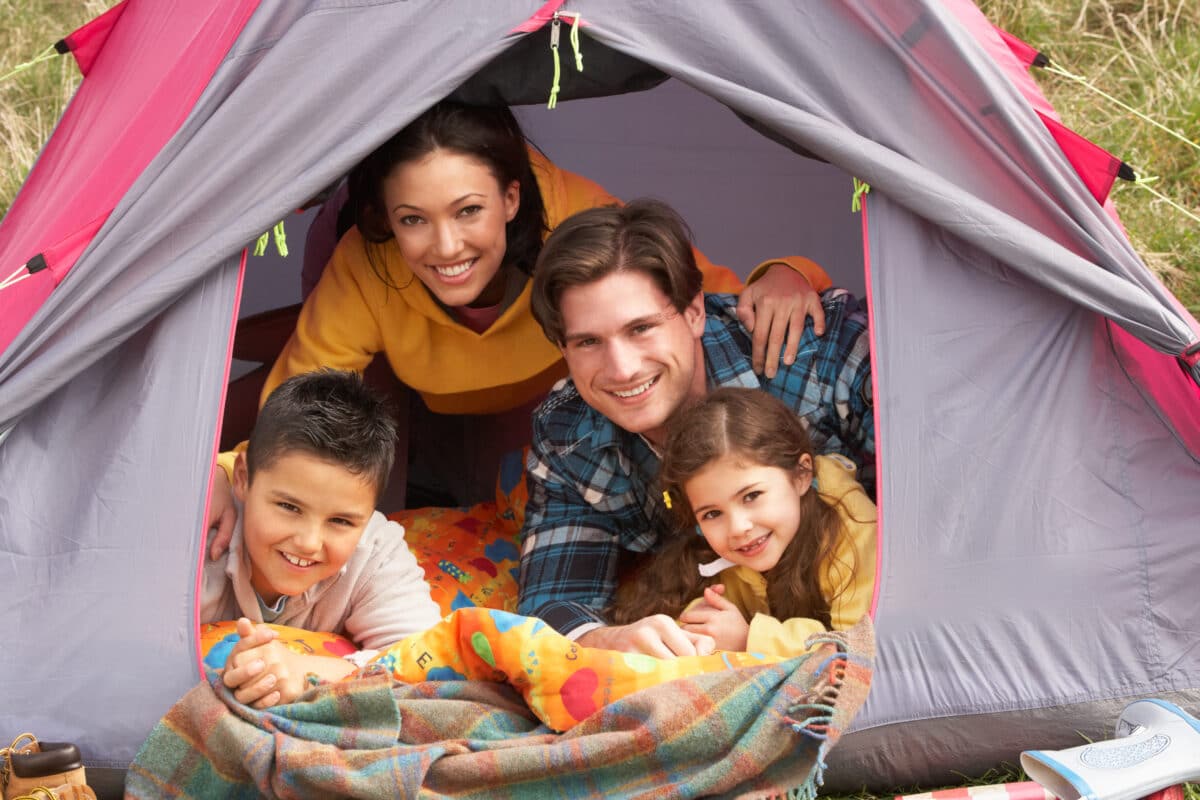 Disclaimer: This post contains affiliate links. To learn more about 'em, click here.
This epic list includes:
Camping Hacks for Easy Packing
Deciding what to bring on a camping trip can feel a bit stressful, but these camping hacks will help you determine exactly what you'll need (and how to get them to where you're going)!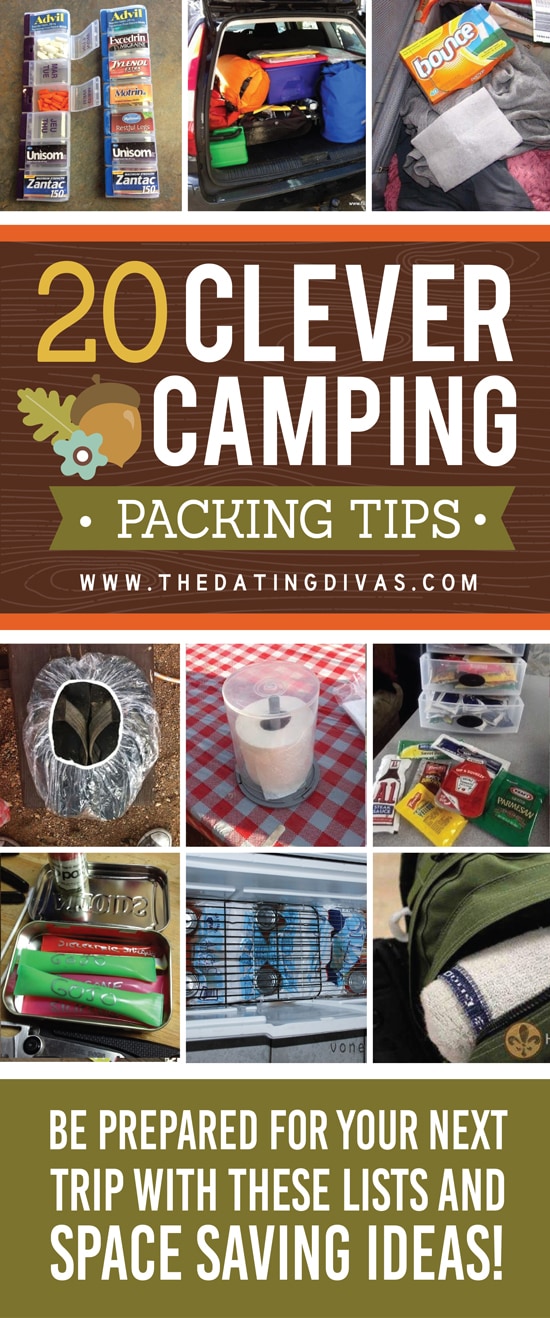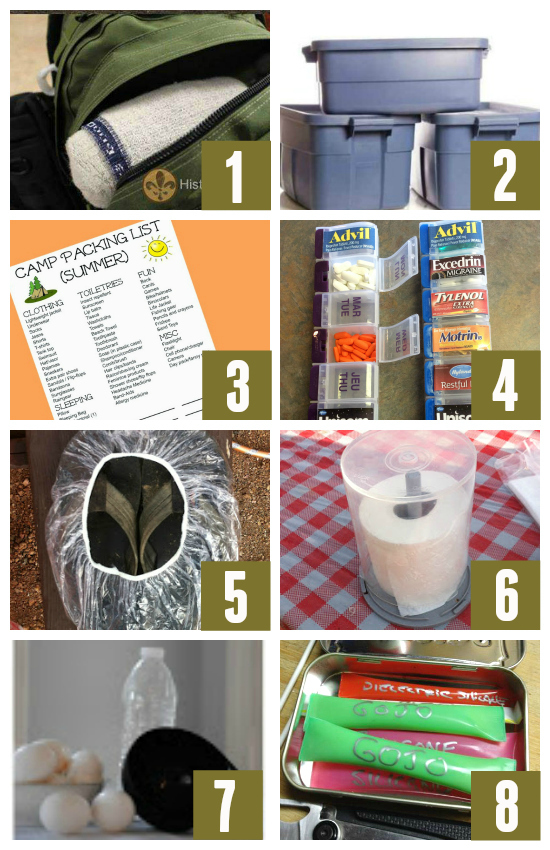 1. Roll Your Clothes (Flavorverse) – Save space in your suitcase by rolling your outfits together. This is an especially brilliant idea for kiddos!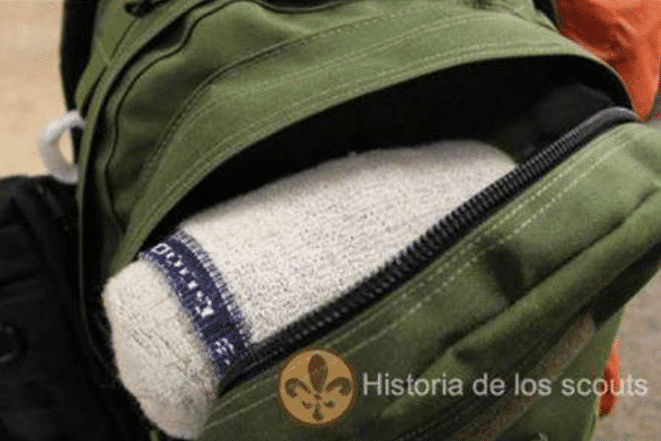 2. Family Packing List (Childhood 101) – Check out these tips and a printable list to help you be prepared instead of scared.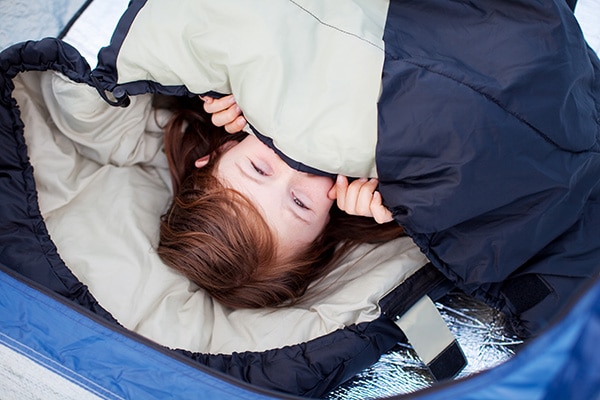 3. Personal Packing Lists (Our Handcrafted Life) – Print out one list for your entire family, and watch the stress melt away.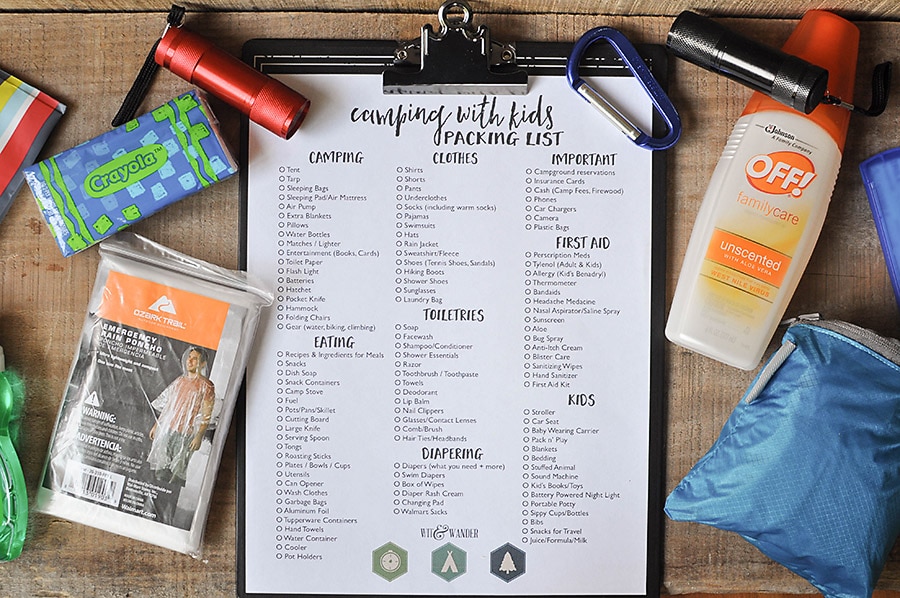 4. DIY First Aid Kit (Gettin' My Healthy On) – Taking tons of bottles on trips will take up a lot of space, but this DIY kit is compact and efficient!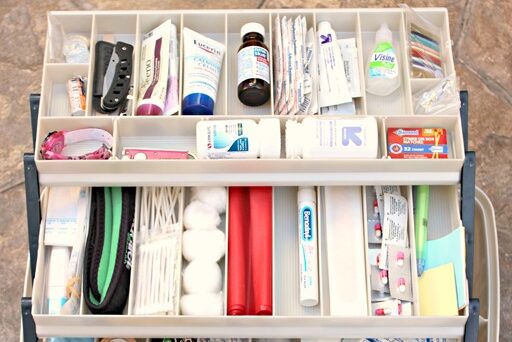 5. Shower Cap Covers (Mom Always Finds Out) – Use this camping hack to keep all of the camping dirt in its place.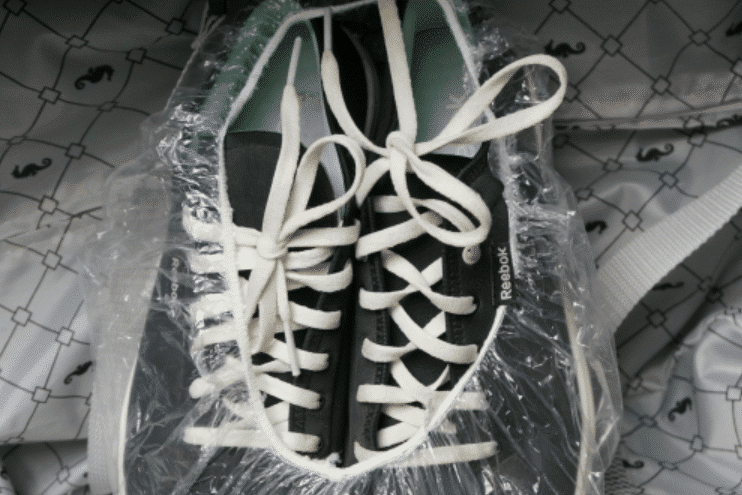 6. Packing T.P. (The Family Handyman) – Keep your toilet paper dry with this clever trick!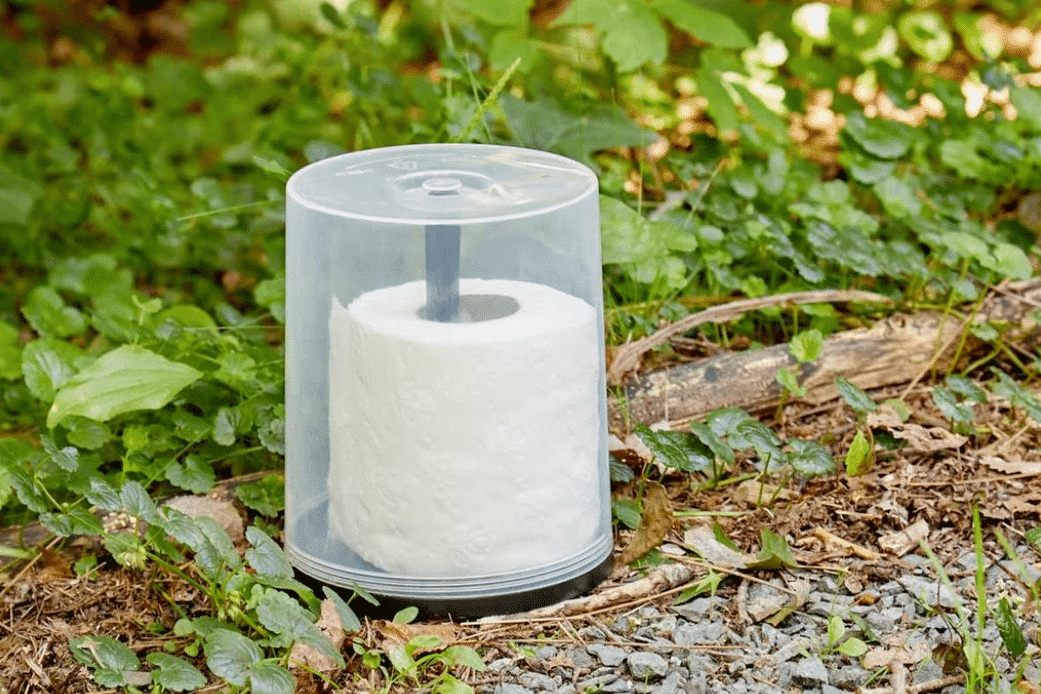 7. Eggs in a Bottle (Fit Foodie Finds) – Instead of worrying about breaking eggs along the way, crack all the eggs prior to your trip and funnel them into a bottle!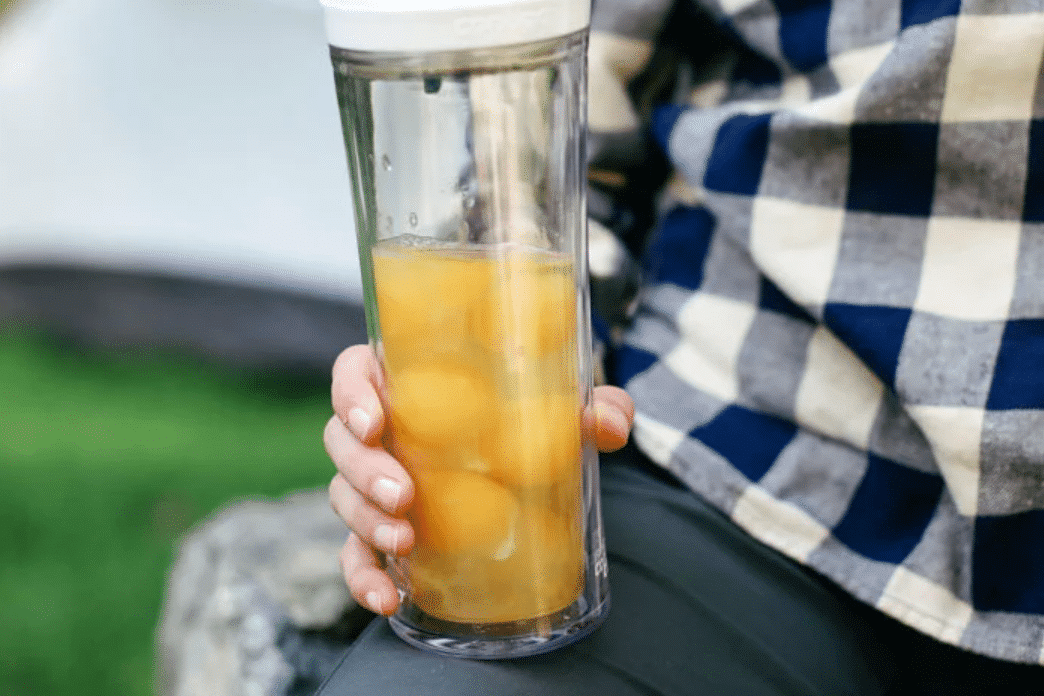 8. Straws (Mighty Girl) – Pack medicine, spices, cosmetics, etc. in straws and seal the ends with heat.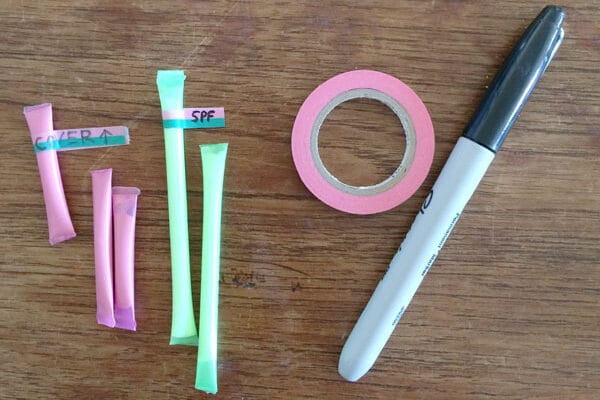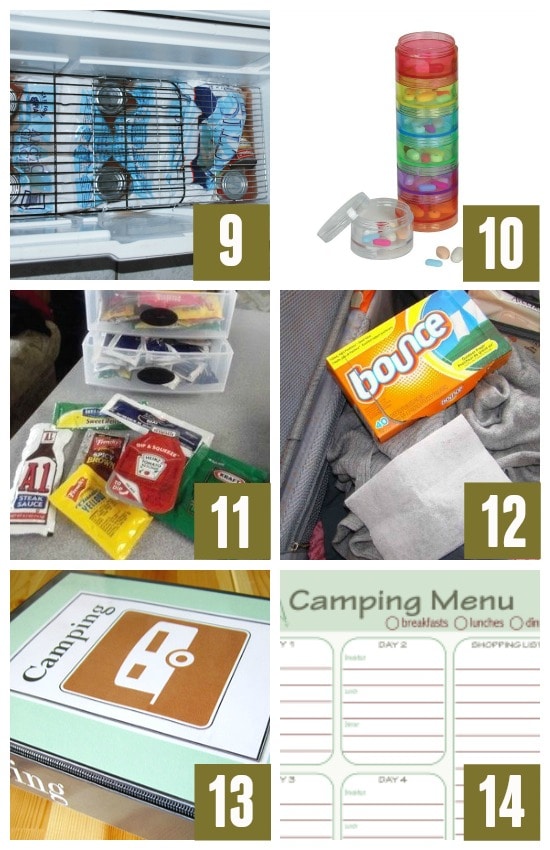 9. Cooler with Rack (Amazon) – This snazzy cooler will keep your food safe and dry. The included cooling rack is an added bonus!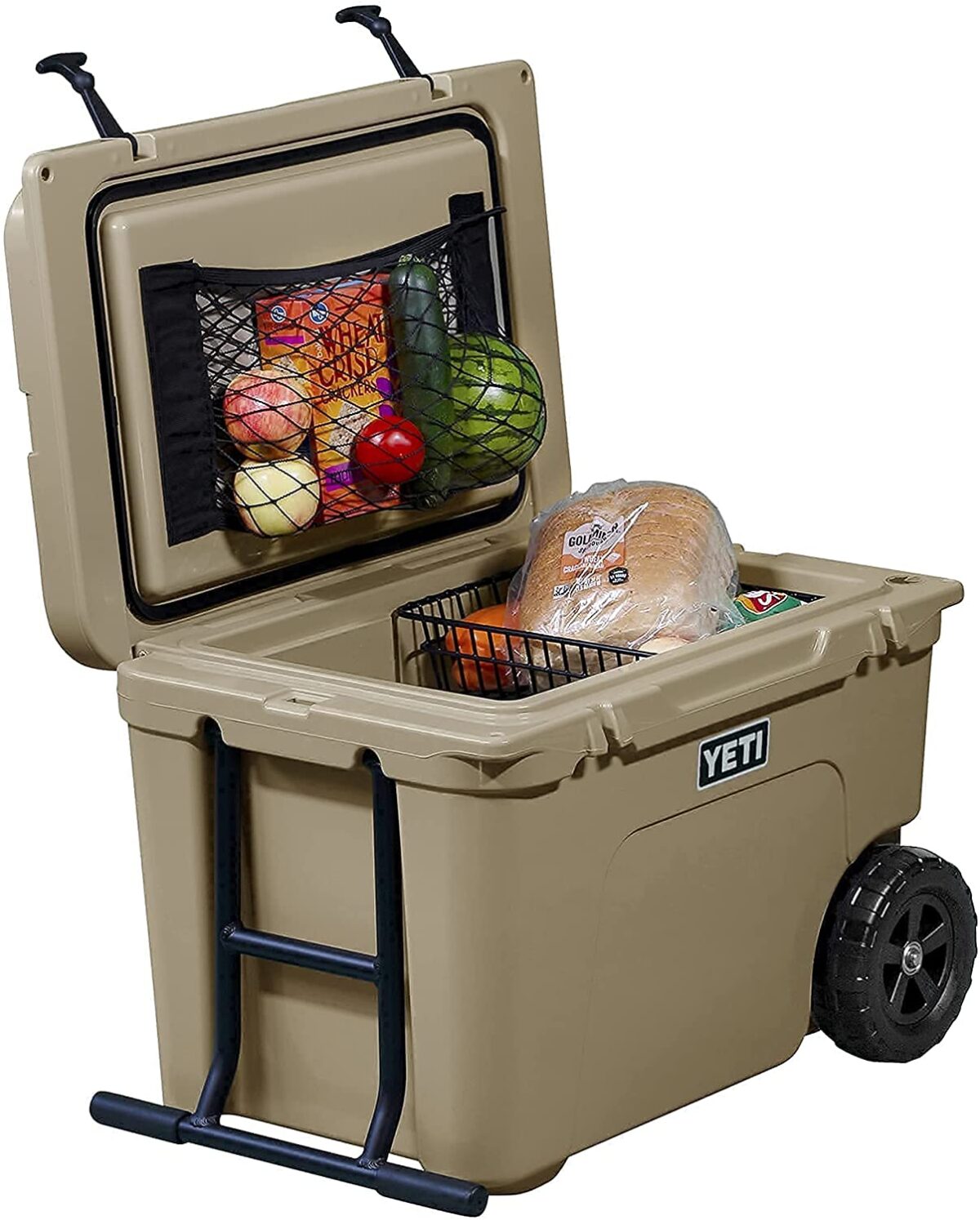 10. Pack Spices (Amazon) – These containers are perfect for pills, condiments, or spices!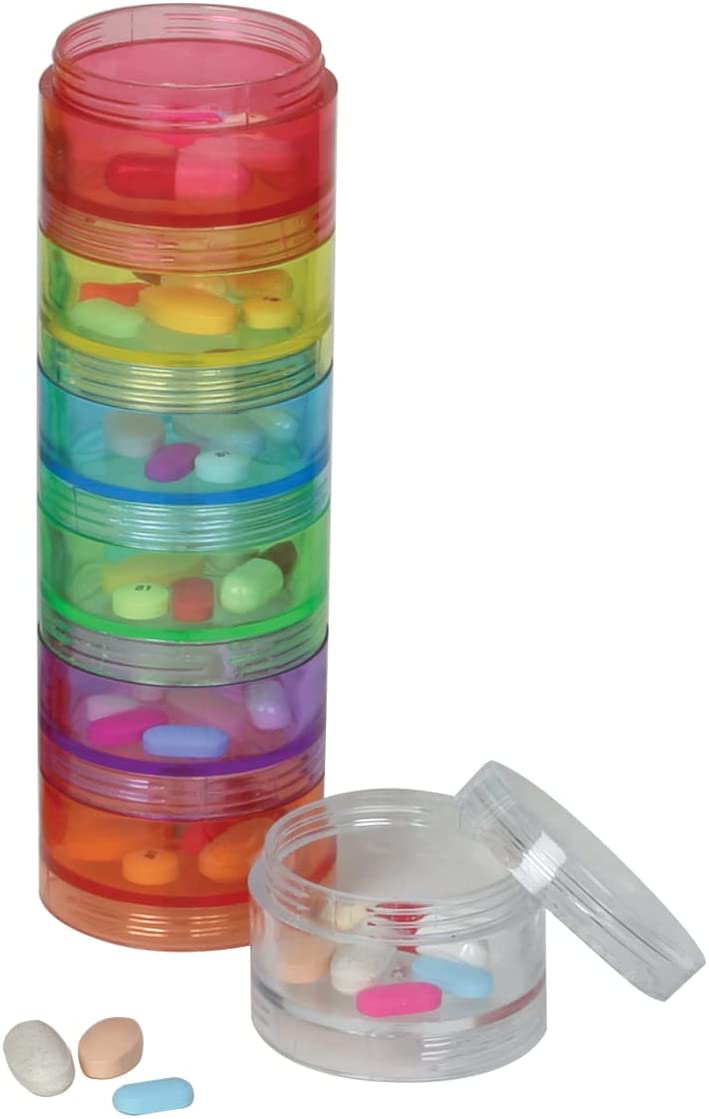 11. Packing Condiments (The Foodies Fit Home) – Keep the small packets from restaurants, and put them in a little container to bring with you on your camping trip.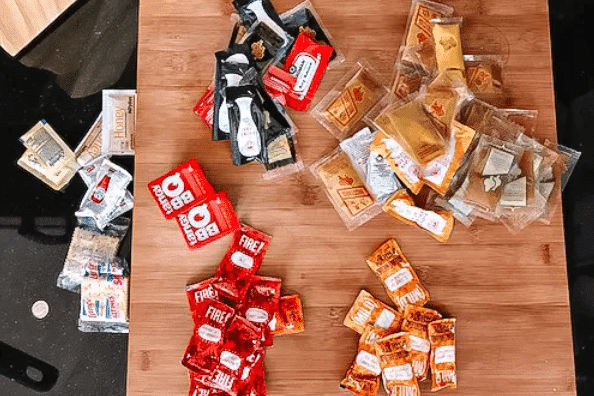 12. Pack Dryer Sheets (Buzzfeed) – Stick dryer sheets in your bag to prevent unpleasant odors. You can also place them under the tablecloth to keep bees away!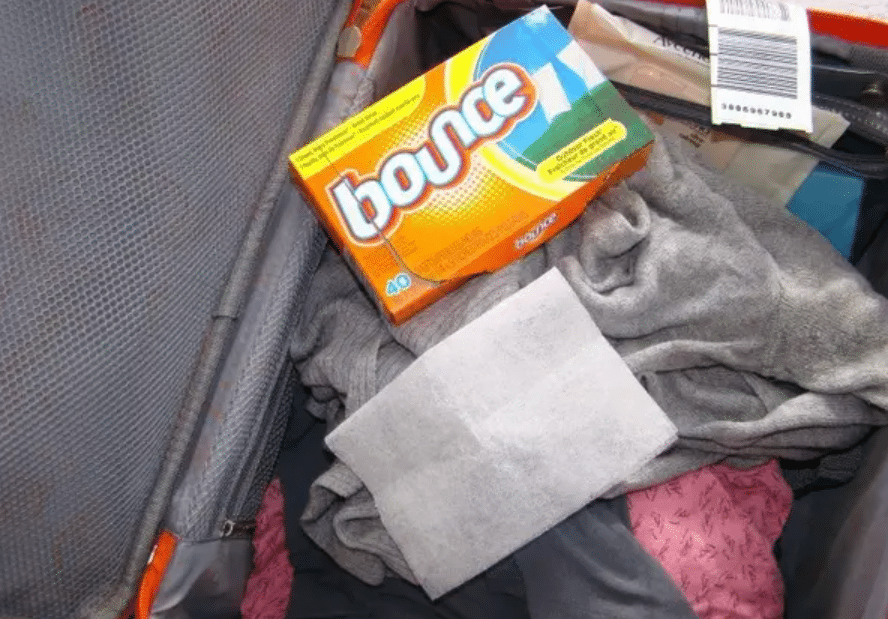 13. Camping Notebook (All Those Details) – This is one of the best camping ideas yet! Create a notebook with EVERYTHING you need to store in one place.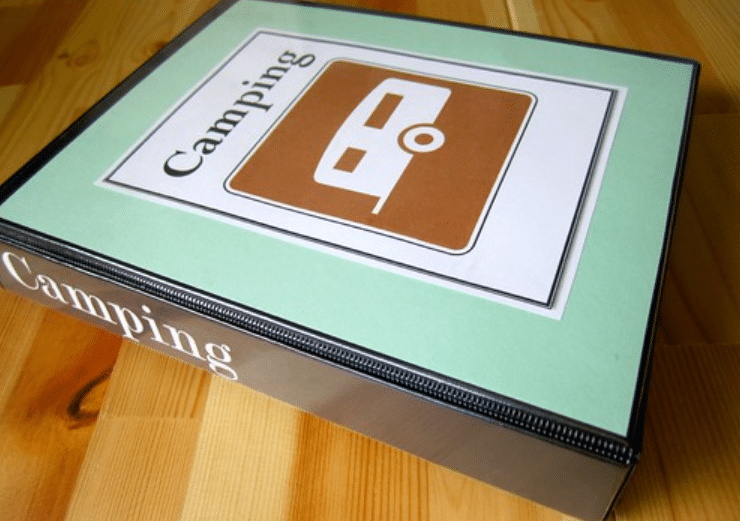 14. Menu Planning (Stuffed Suitcase) – These printables are perfect for helping you organize your camping meals.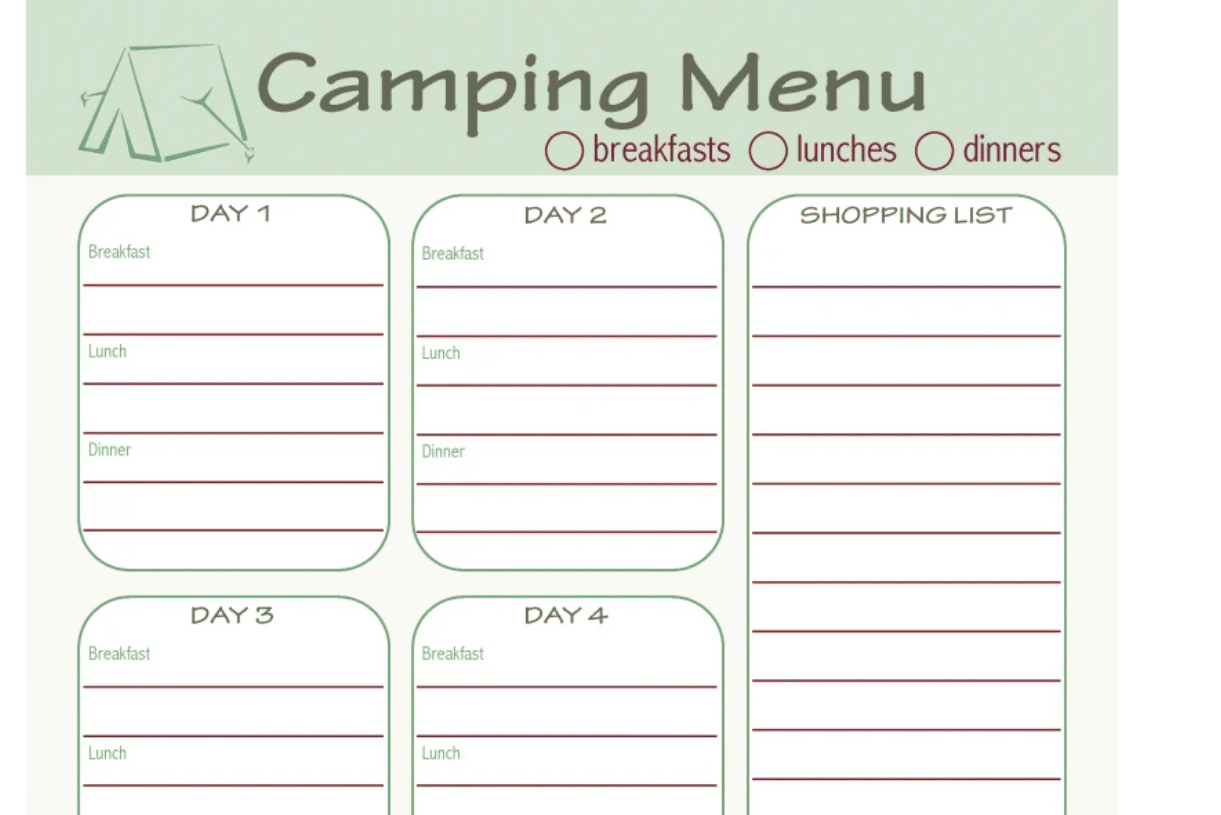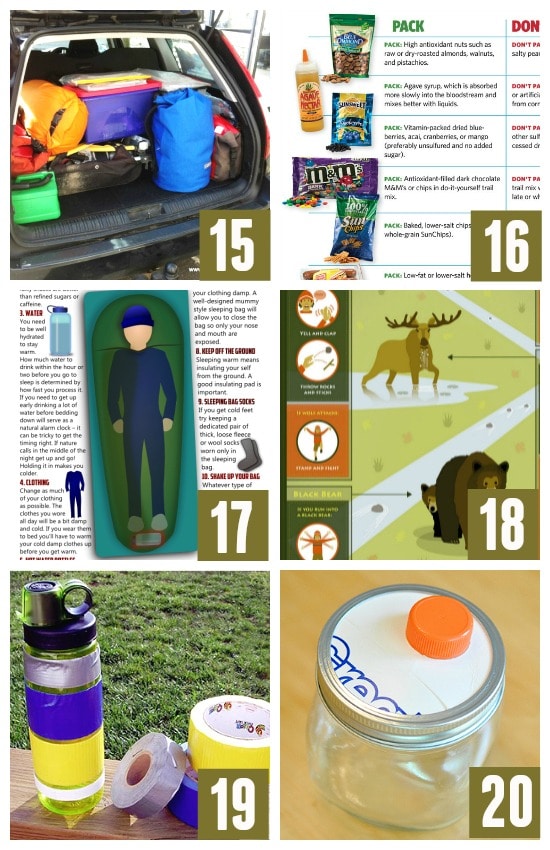 15. More Packing Ideas (Family Adventure Project) – Check out all these ideas for packing.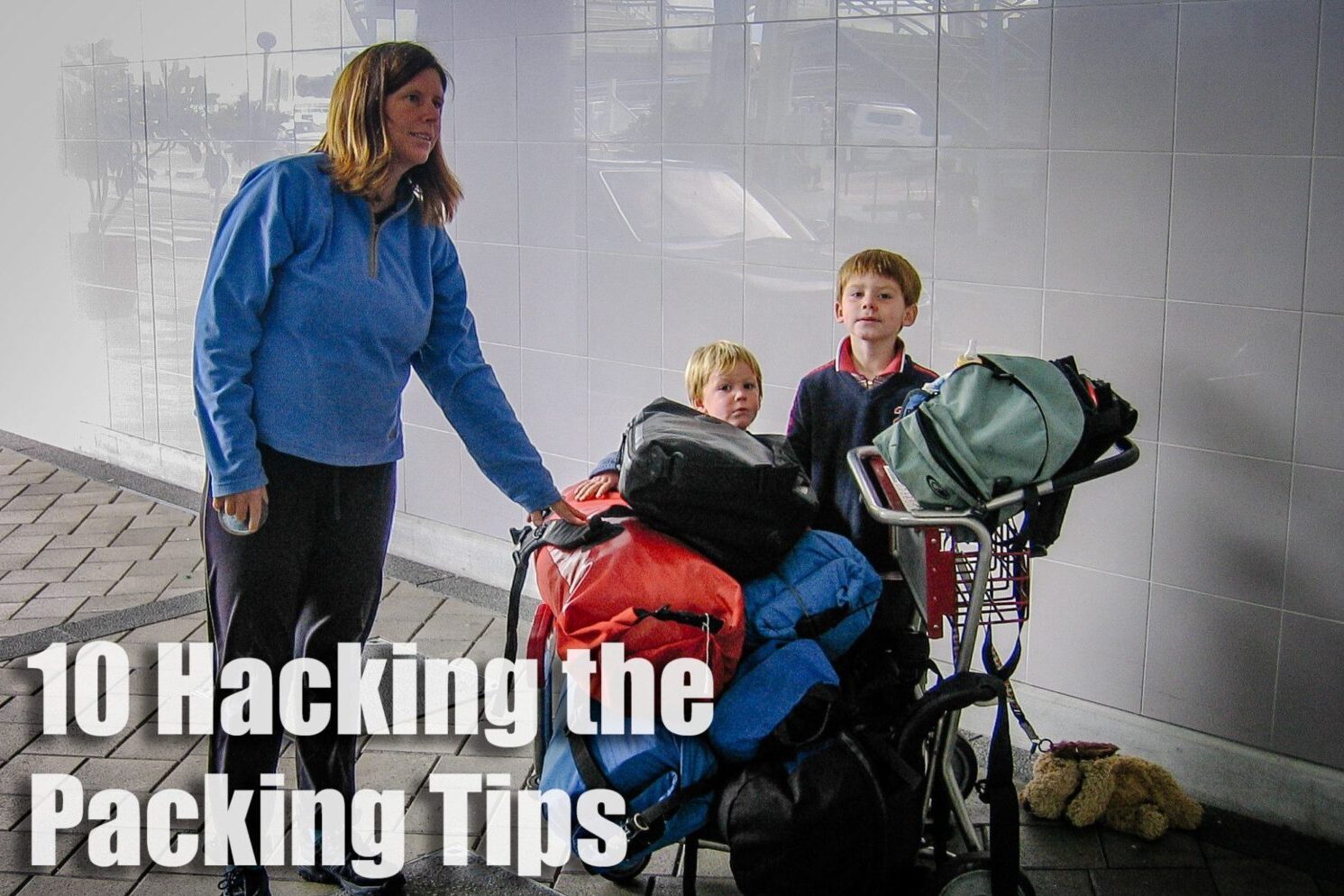 16. Snacks to Pack (Scouting Magazine) – These are some fantastic tips on what to bring and what to leave at home.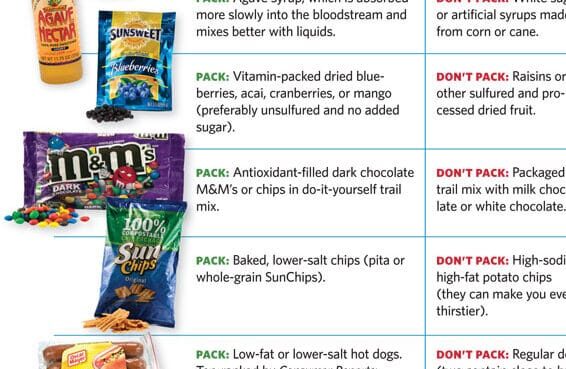 17. Sleep Warm (Scoutmaster CG) – This article lists everything you'll need to bring and what you need to know in order to sleep at night.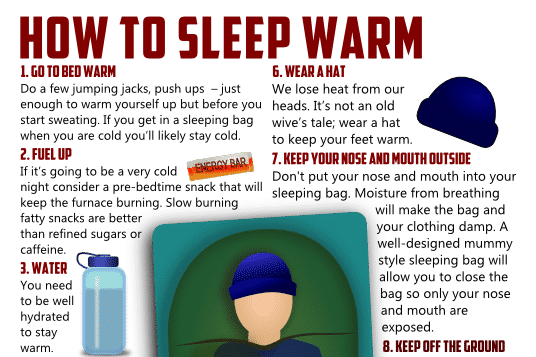 18. Animal Tracks Flashcards (Exploration America) – Bring these printable flashcards along to help you and your little ones identify animal tracks.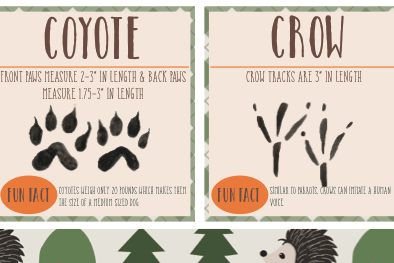 19. Duct Taped Holder (Field & Stream) – Pack some duct tape by attaching it to a water bottle or lighters. After all, "Duct tape fixes everything."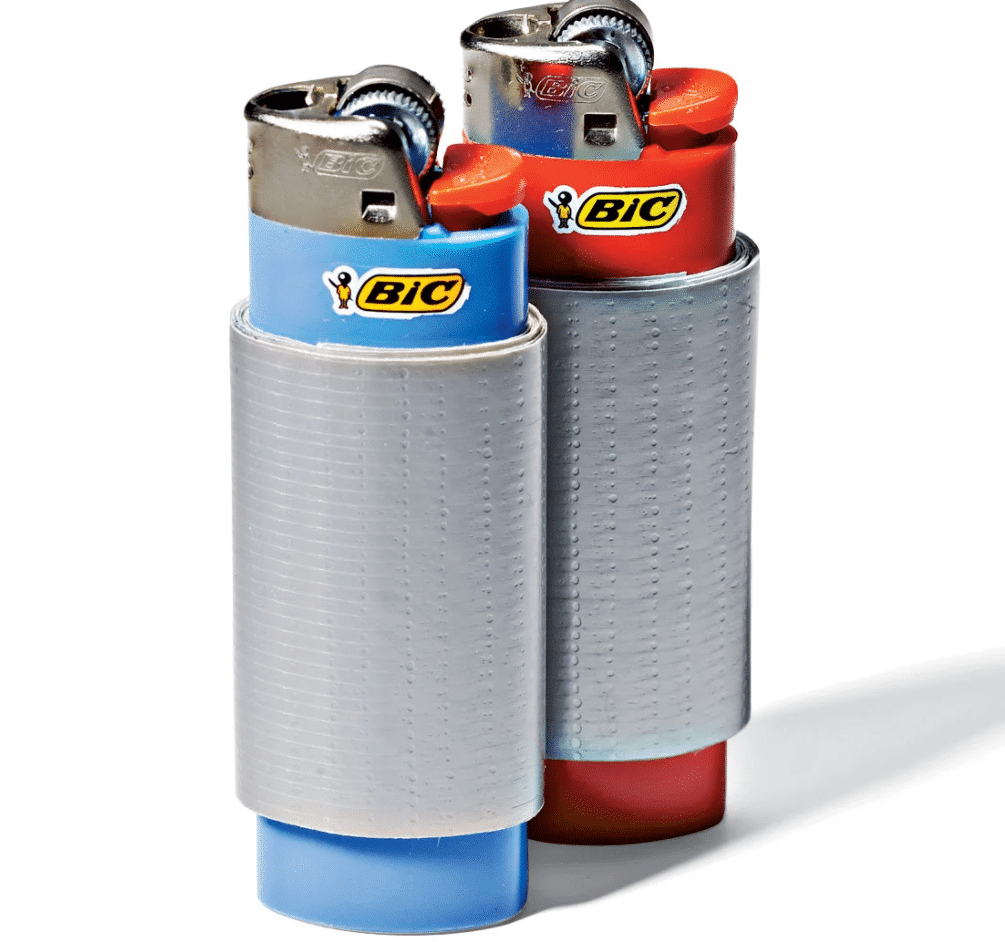 20. Mason Jar Dispenser (One Good Thing by Jillee) – Perfect for down-sizing any liquid, this mason jar camping hack is EASY to make and saves so much space!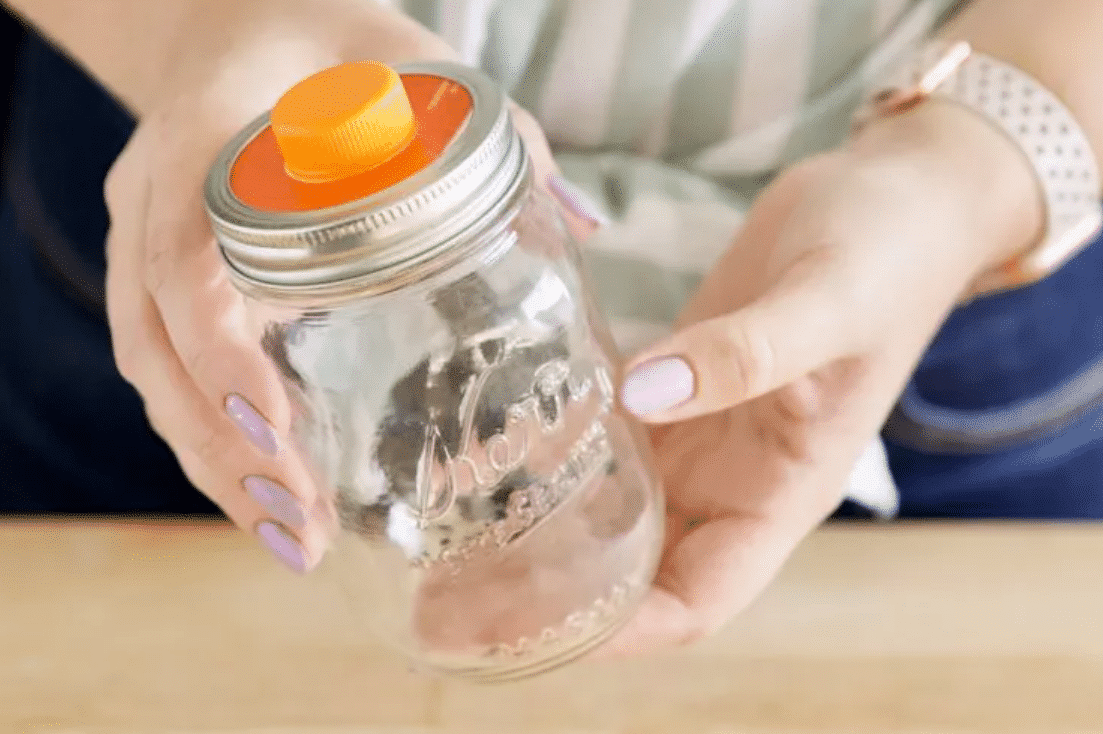 For even more ideas on what to bring camping, check out this comprehensive resource of camping essentials!
Camping Hacks & Supplies
You never know what might happen out in the wild, but these camping hacks will ensure you are prepared and ready for anything.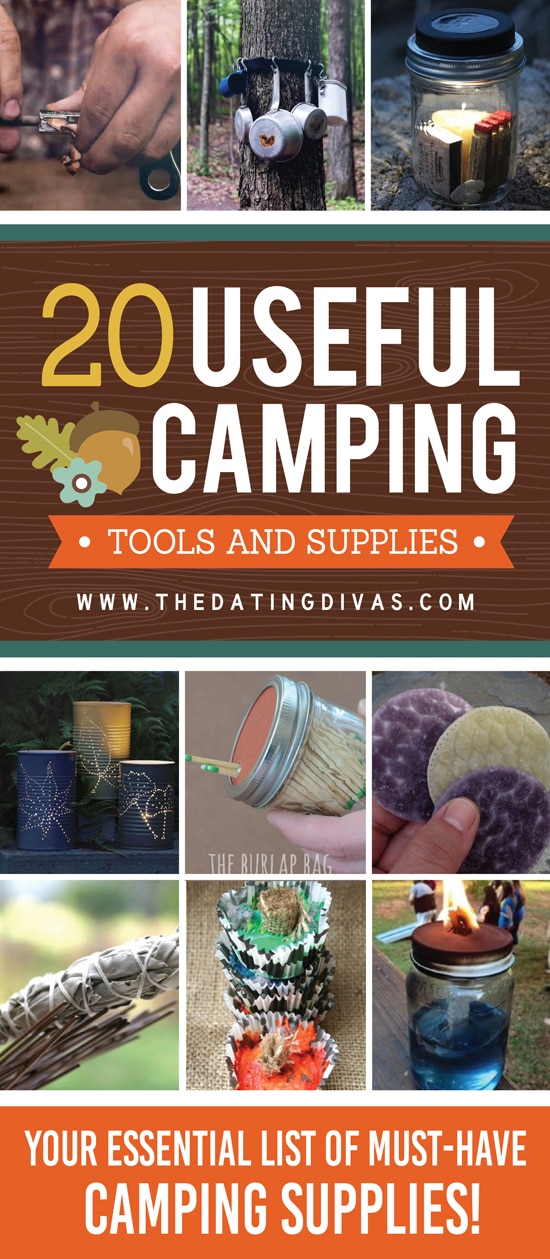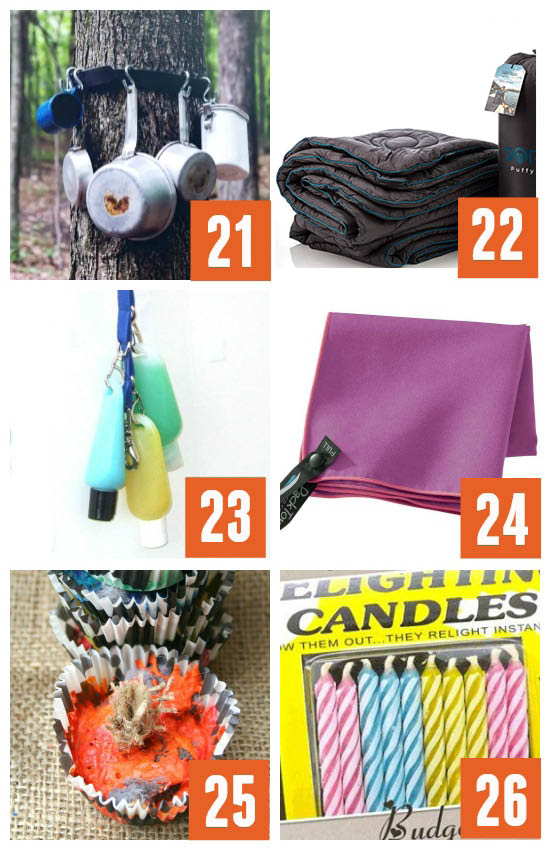 21. Pot Holder (Pinterest) – Use a belt and S hooks to store your kitchen essentials safely and conveniently.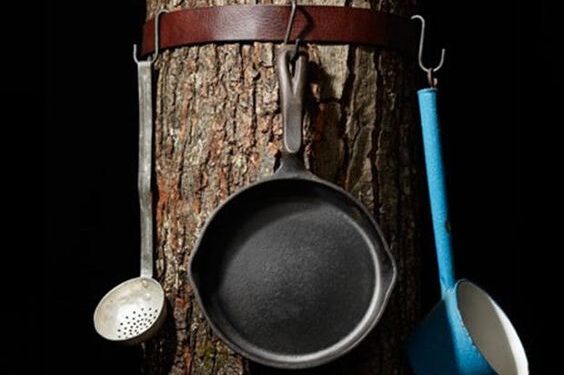 22. Camping Blanket (Amazon) – This cold weather, ultra-warm camping blanket is a MUST-HAVE on your camping supplies list.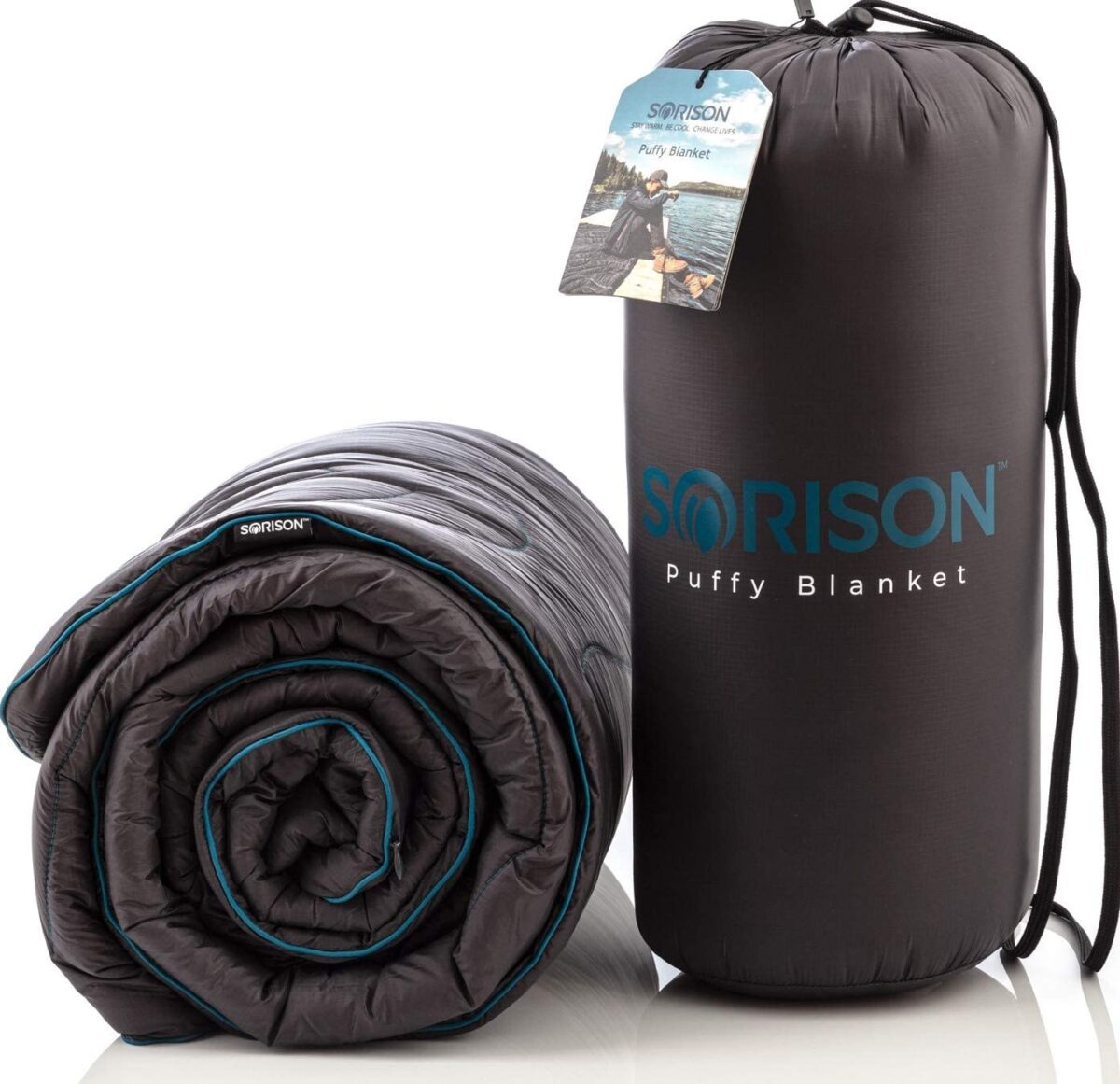 23. Shower Lanyard (Amazon) – This lanyard will help you keep everything you need for a trip to the bathroom in one handy place!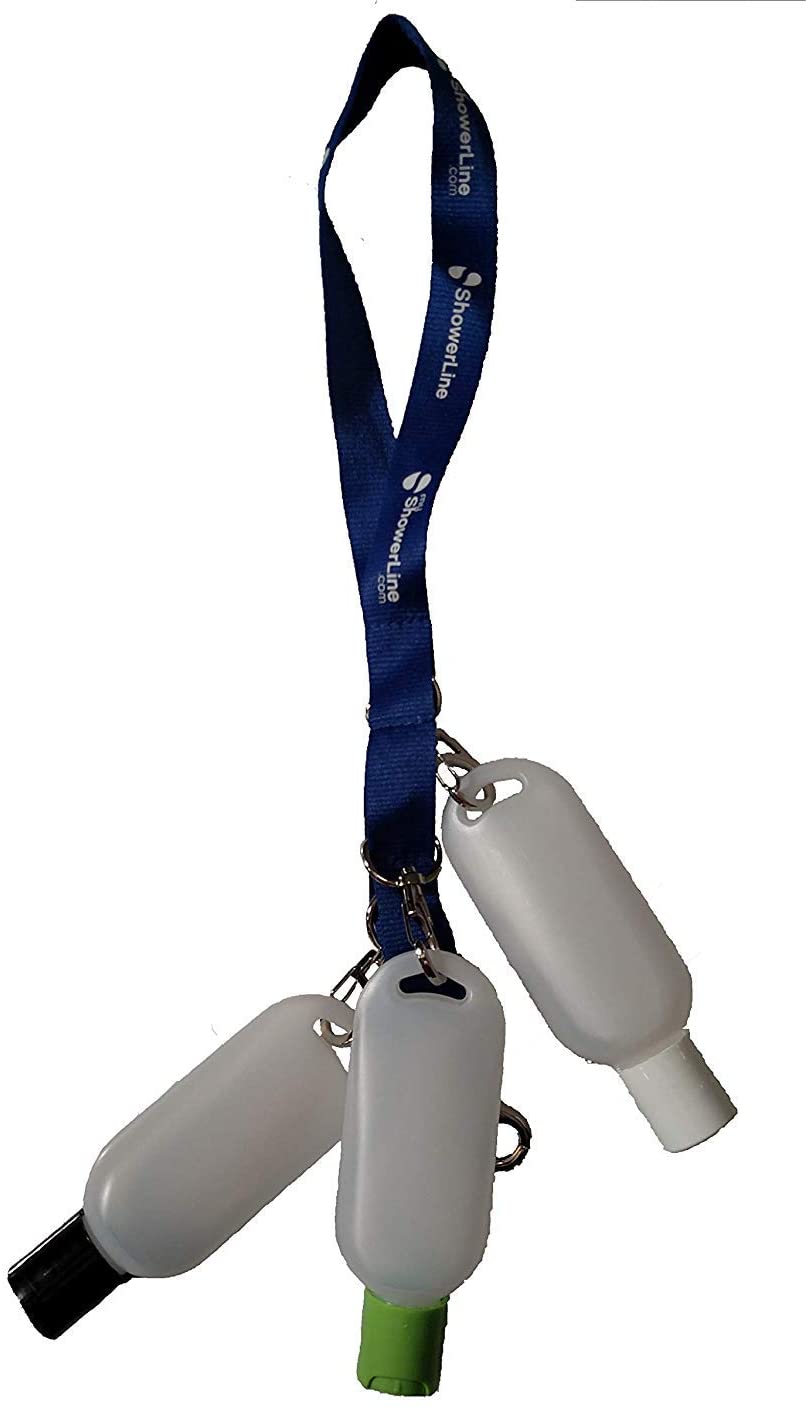 24. Microfiber Towel (Amazon) – Regular towels take up a lot of space, but these little ones are space-efficient and fast drying!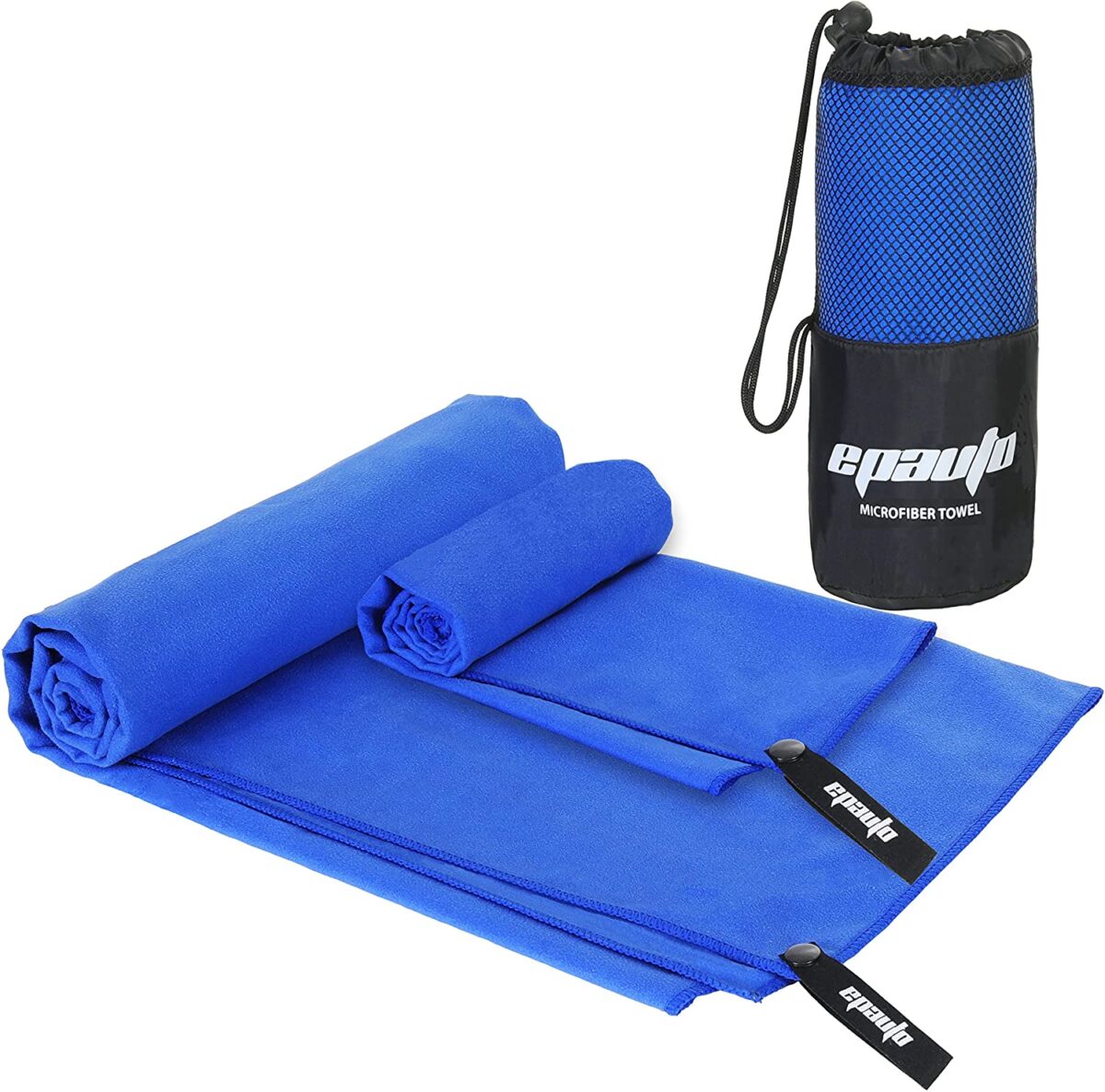 25. Crayon Fire Starters (Dukes and Duchesses) – Make use of old or broken crayons at your next camp outing.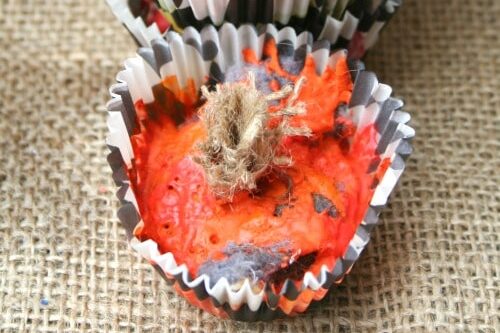 26. Trick Candles (Amazon) – Pack trick candles for windy camping trips so that if the wind blows them out, they'll relight themselves!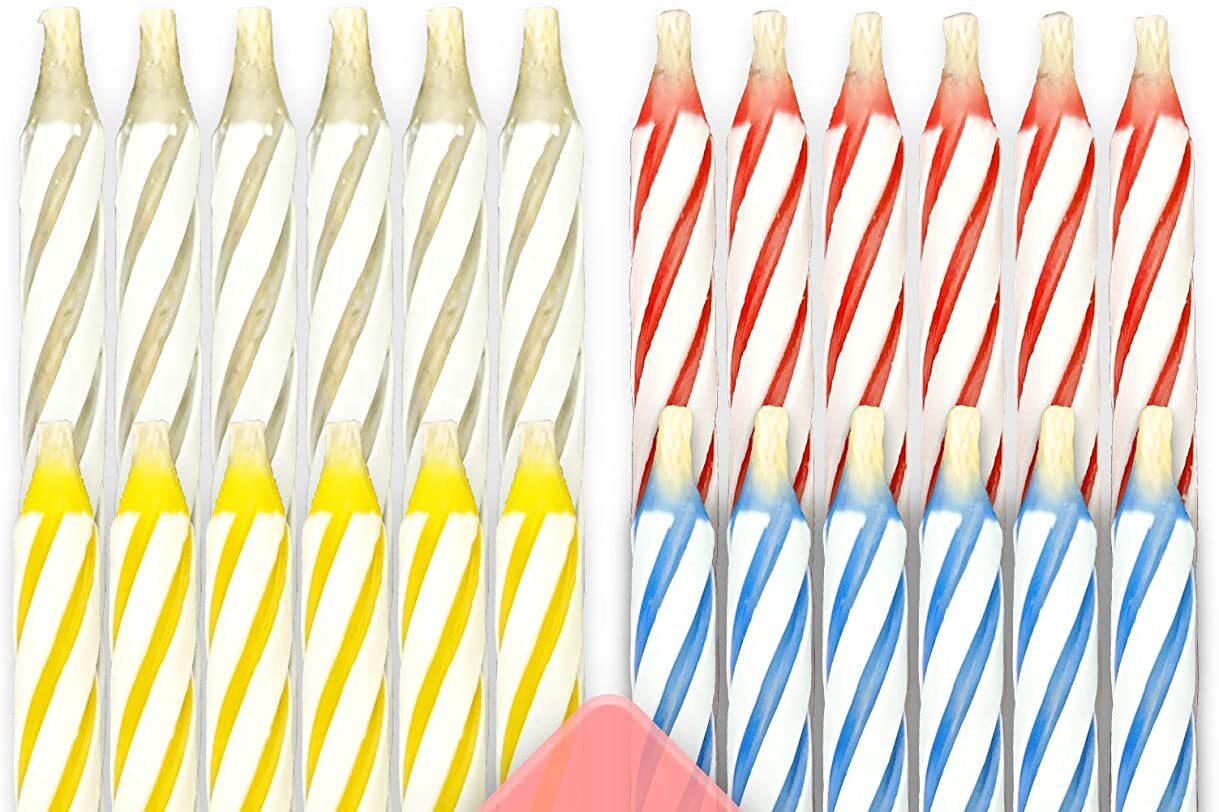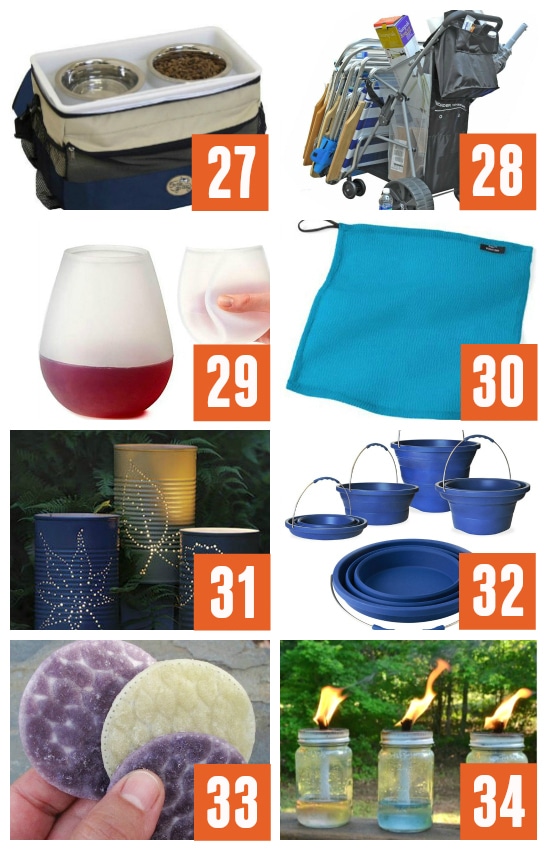 27. Pet Bowls (Amazon) – Isn't it great that camping is pet friendly? These portable bowls are perfect for your four-footed friends.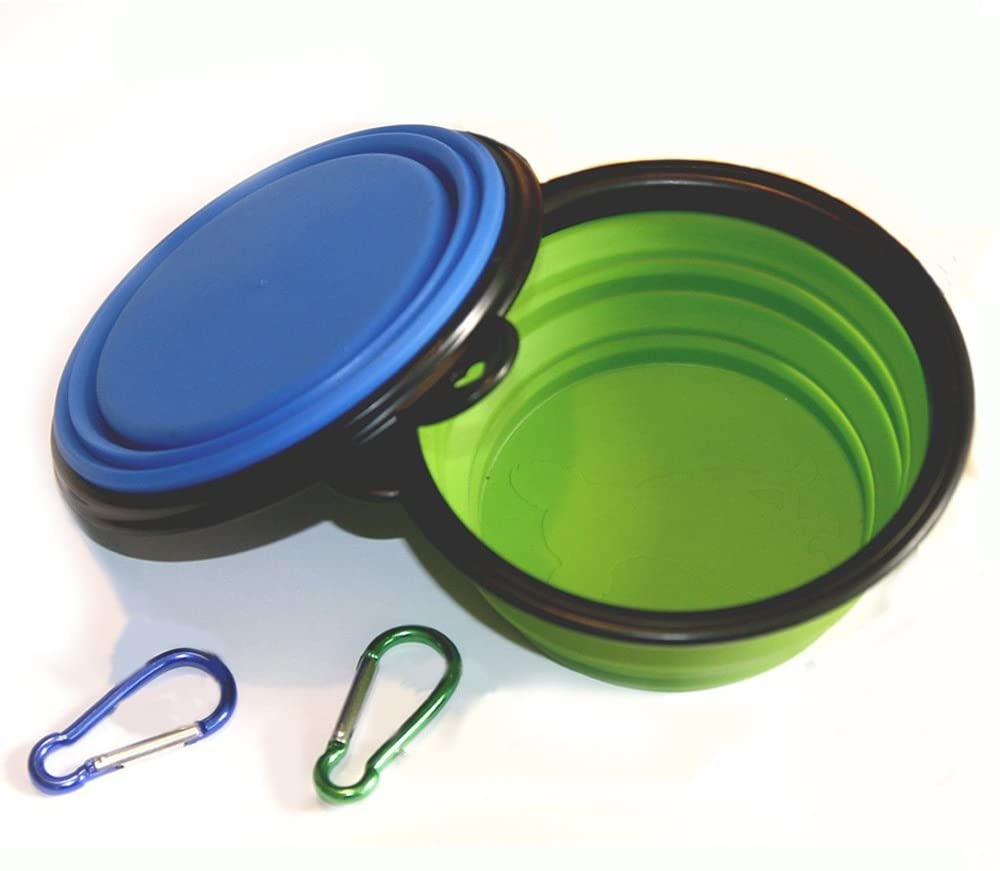 28. Cart (Amazon) – This cart is ideal for any outdoor adventure!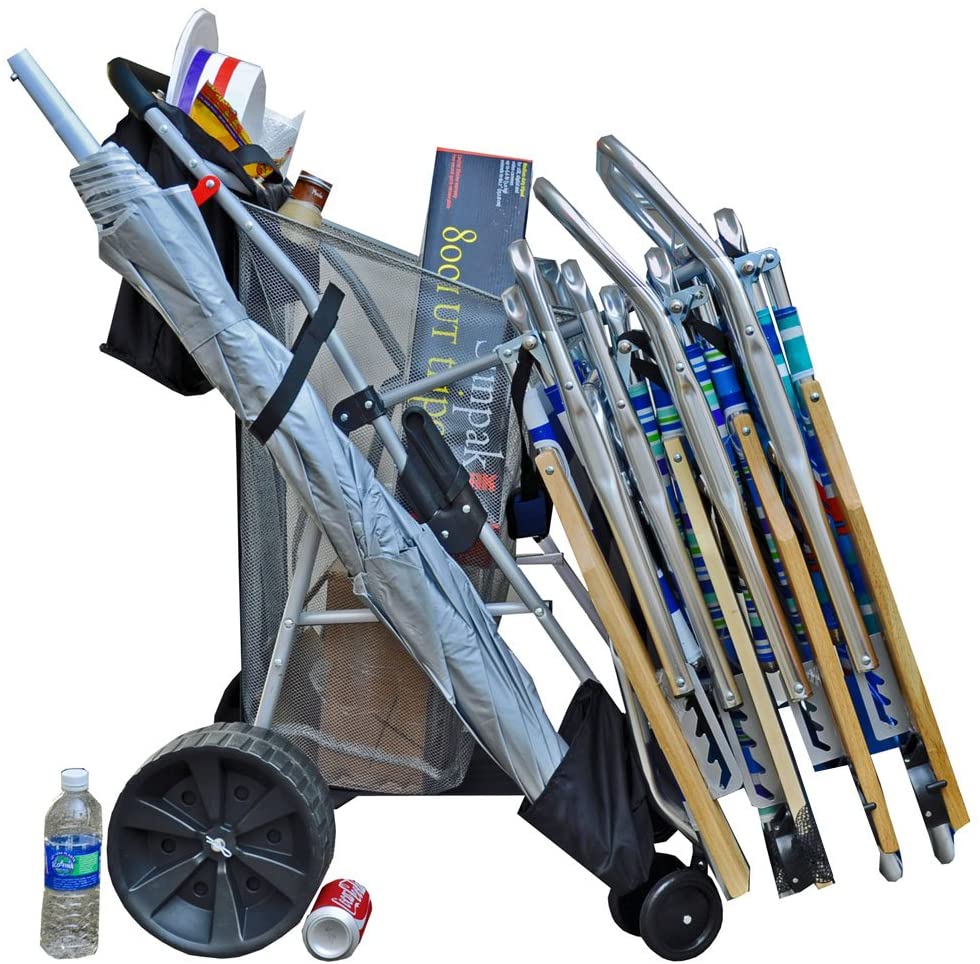 29. Unbreakable Cups (Amazon) – These stress-free cups are the perfect addition to your camping cookware.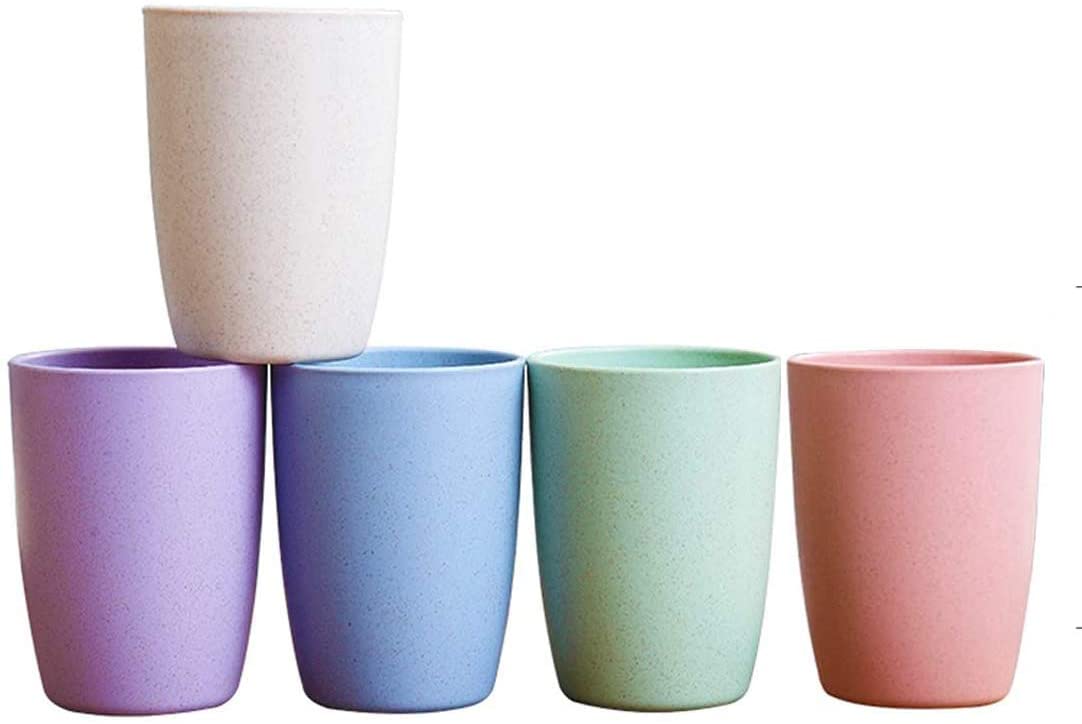 30. Disposable Bathing Wipes (Amazon) – When a bath isn't exactly easy to come by, these rinse-free bath sponges will keep you feeling fresh.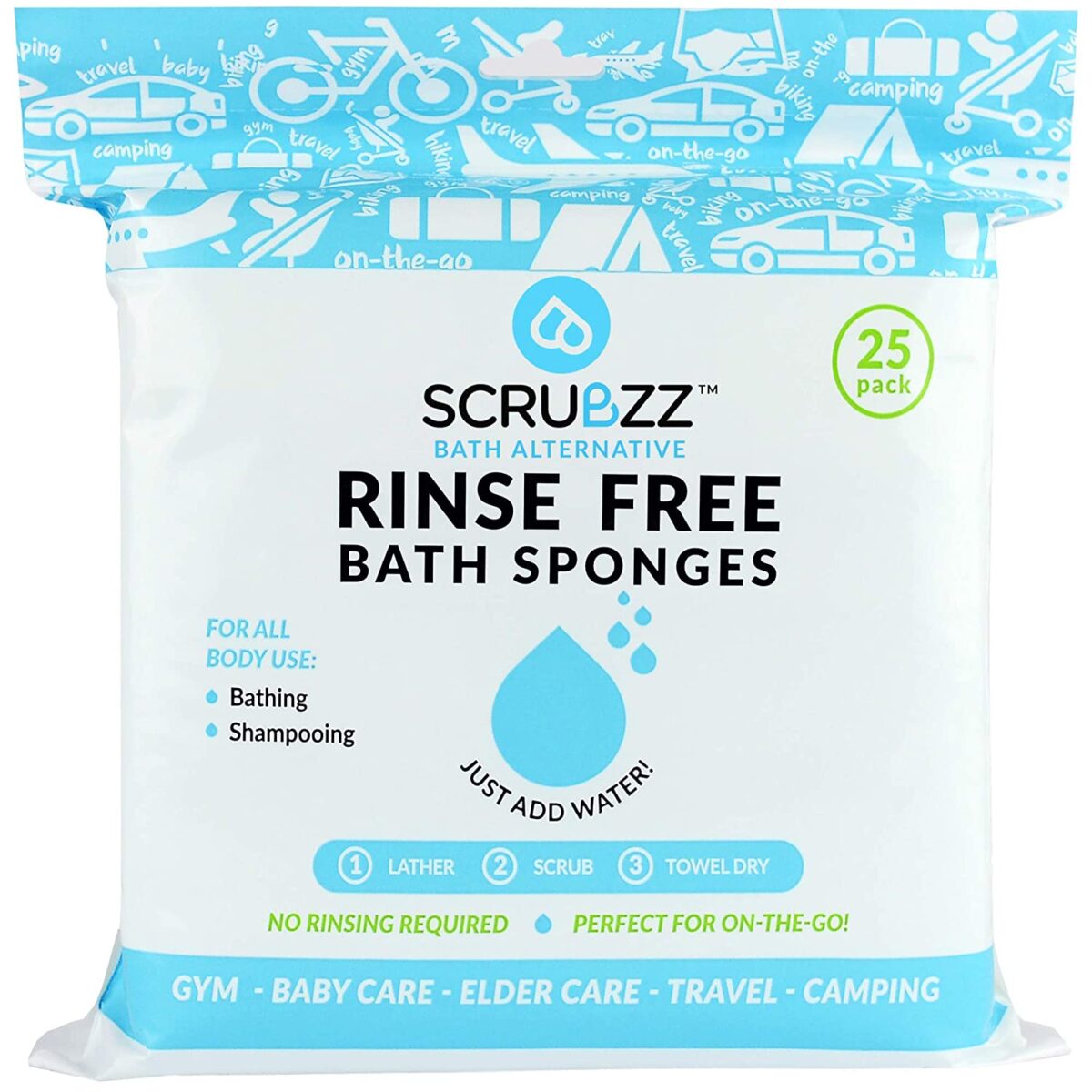 31. Tent Lights (Amazon) – The CUTEST way to light up your campsite.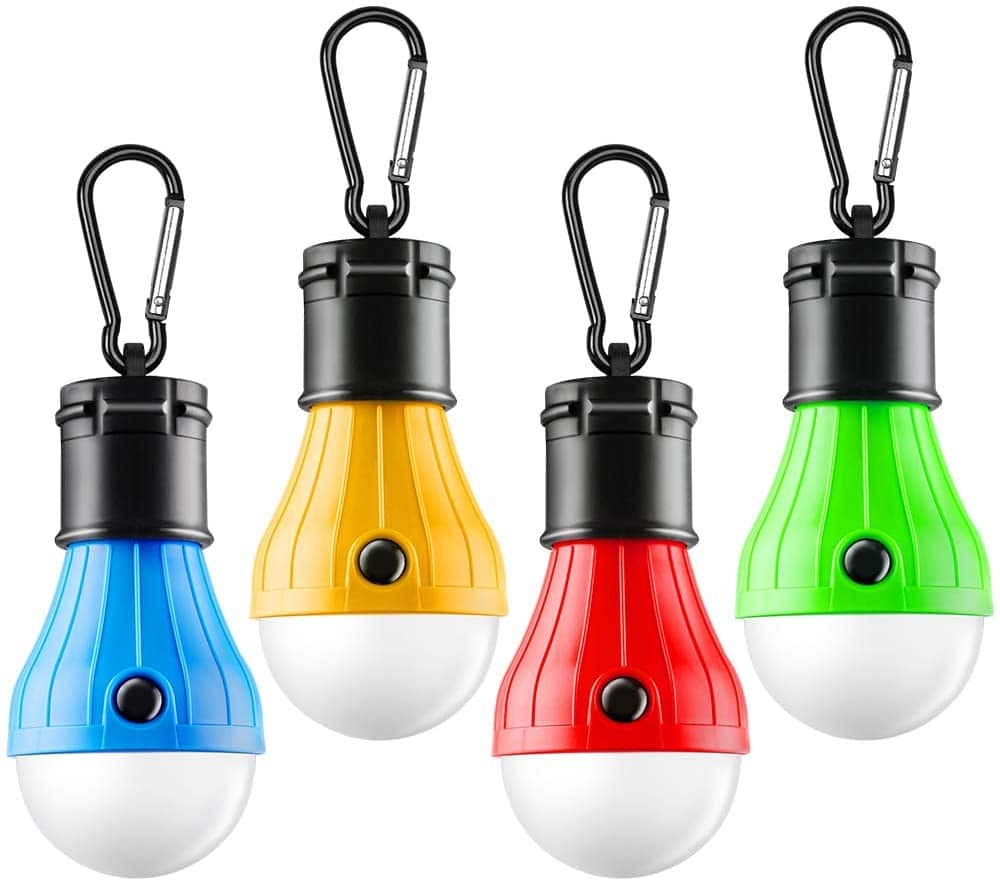 32. Collapsible Bucket (Amazon) – Buckets can take up a lot of space, but this one is collapsible and convenient!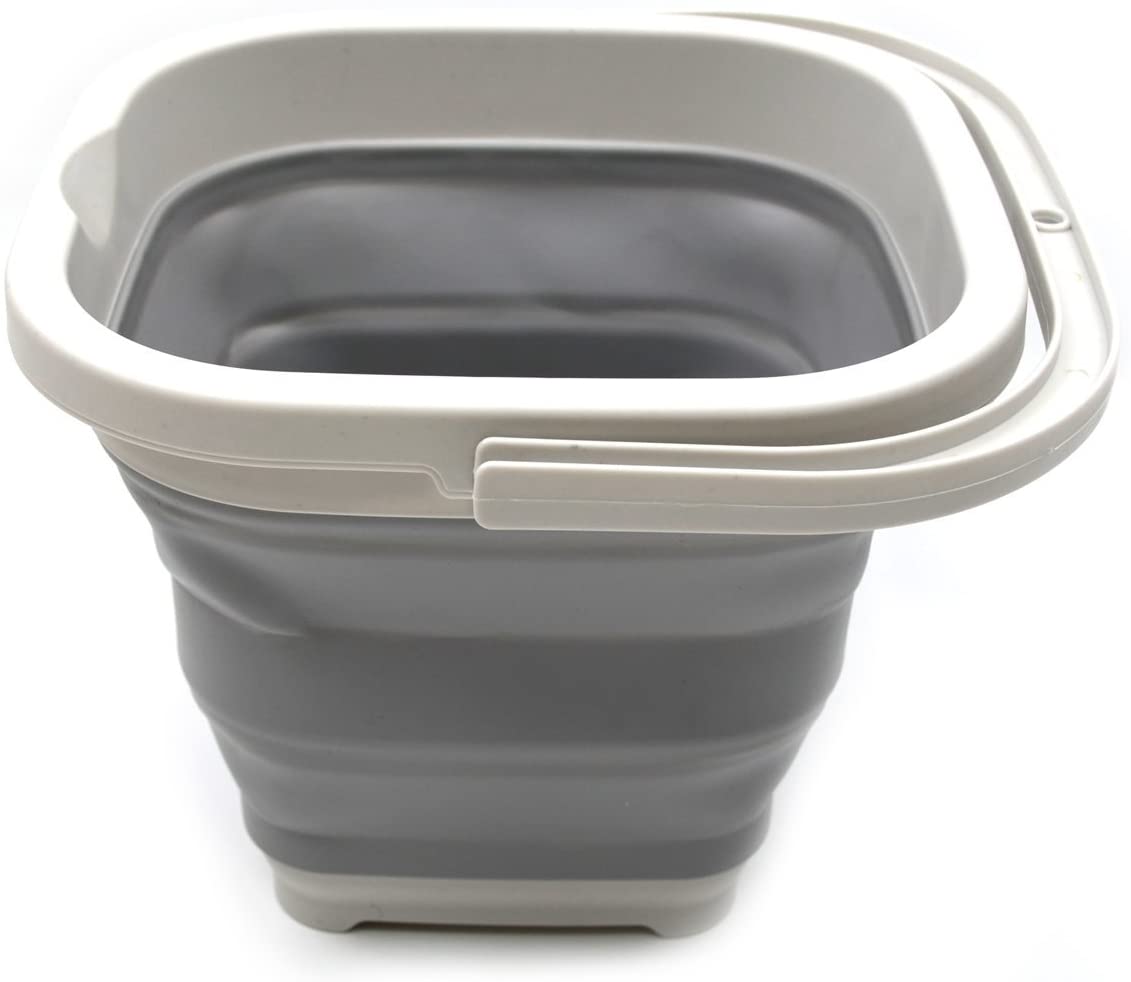 33. Wax Fire Starters (DIY & Crafts) – Be sure and check out this simple technique for starting a fire using cotton facial pads.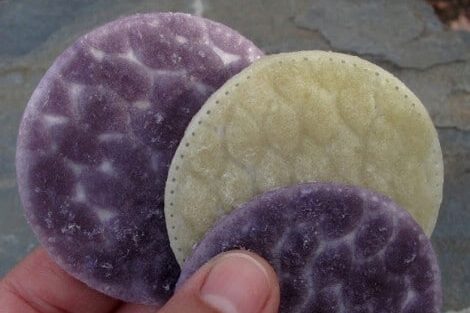 34. DIY Tiki Torches (The Frugal Homemaker) – Fill these jars with insect-repellent tiki oils.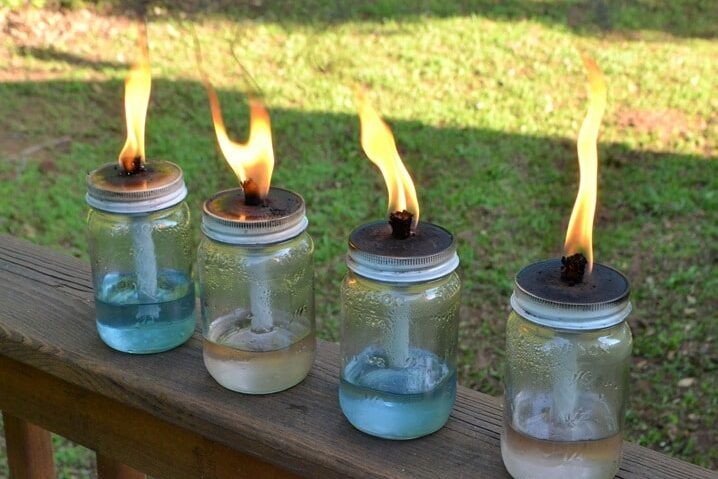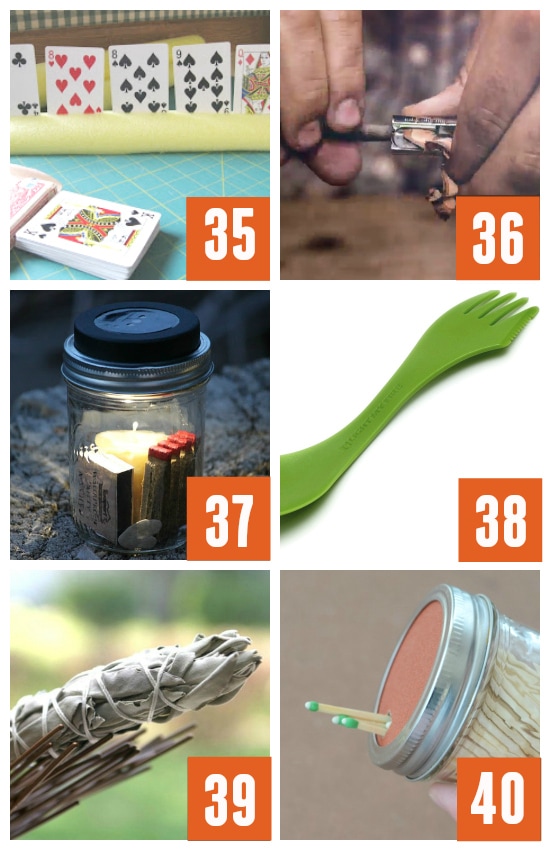 35. Pool Noodles (Amazon) – Bring pool noodles cut into smaller sections with a slit down one side. They're perfect for storing cords, hanging towels, and holding cards.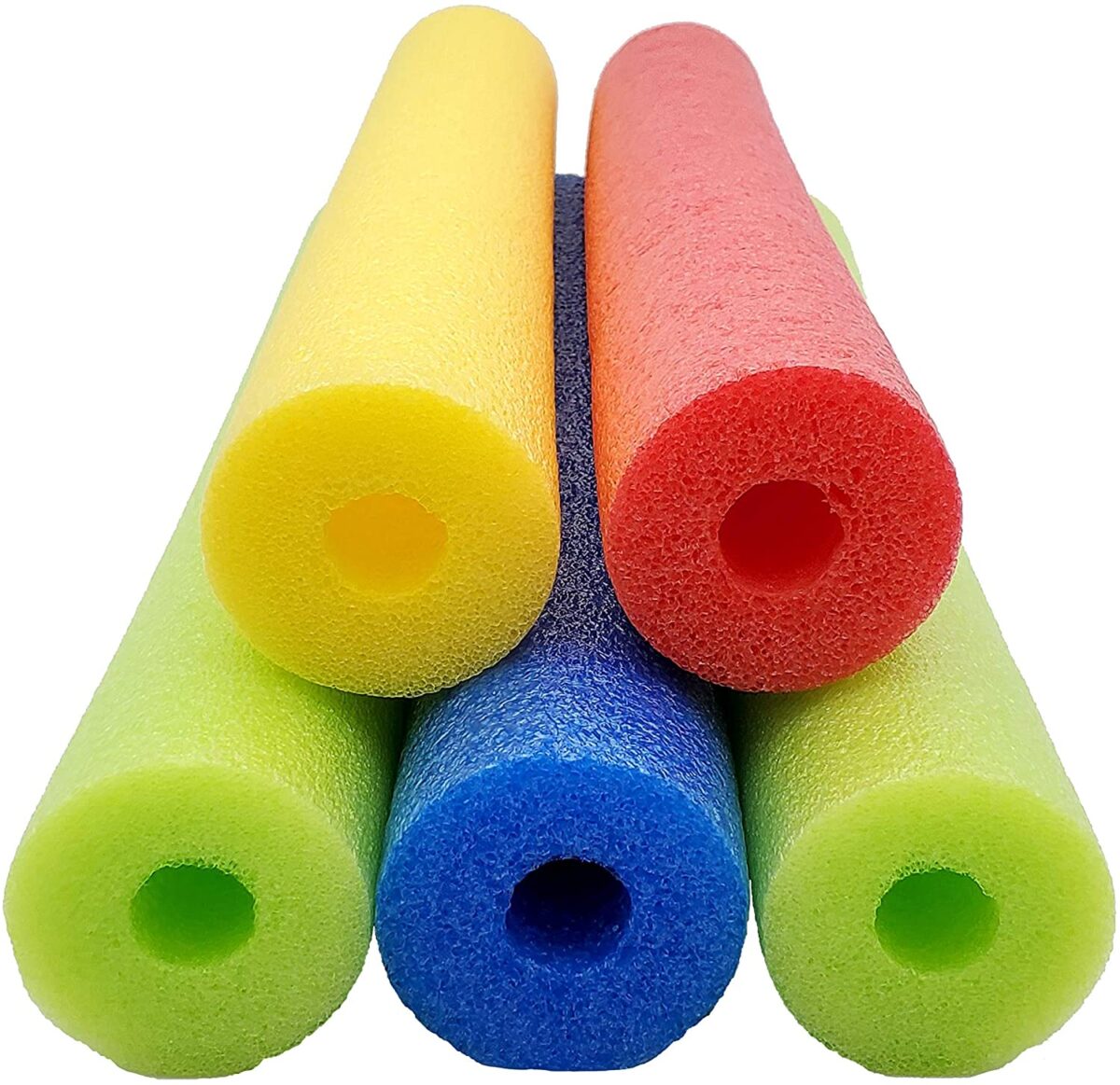 36. Pencil Sharpener Fire Starter (Sarah Jane's Craft Blog) – Trying using pencil shavings to create the perfect kindling.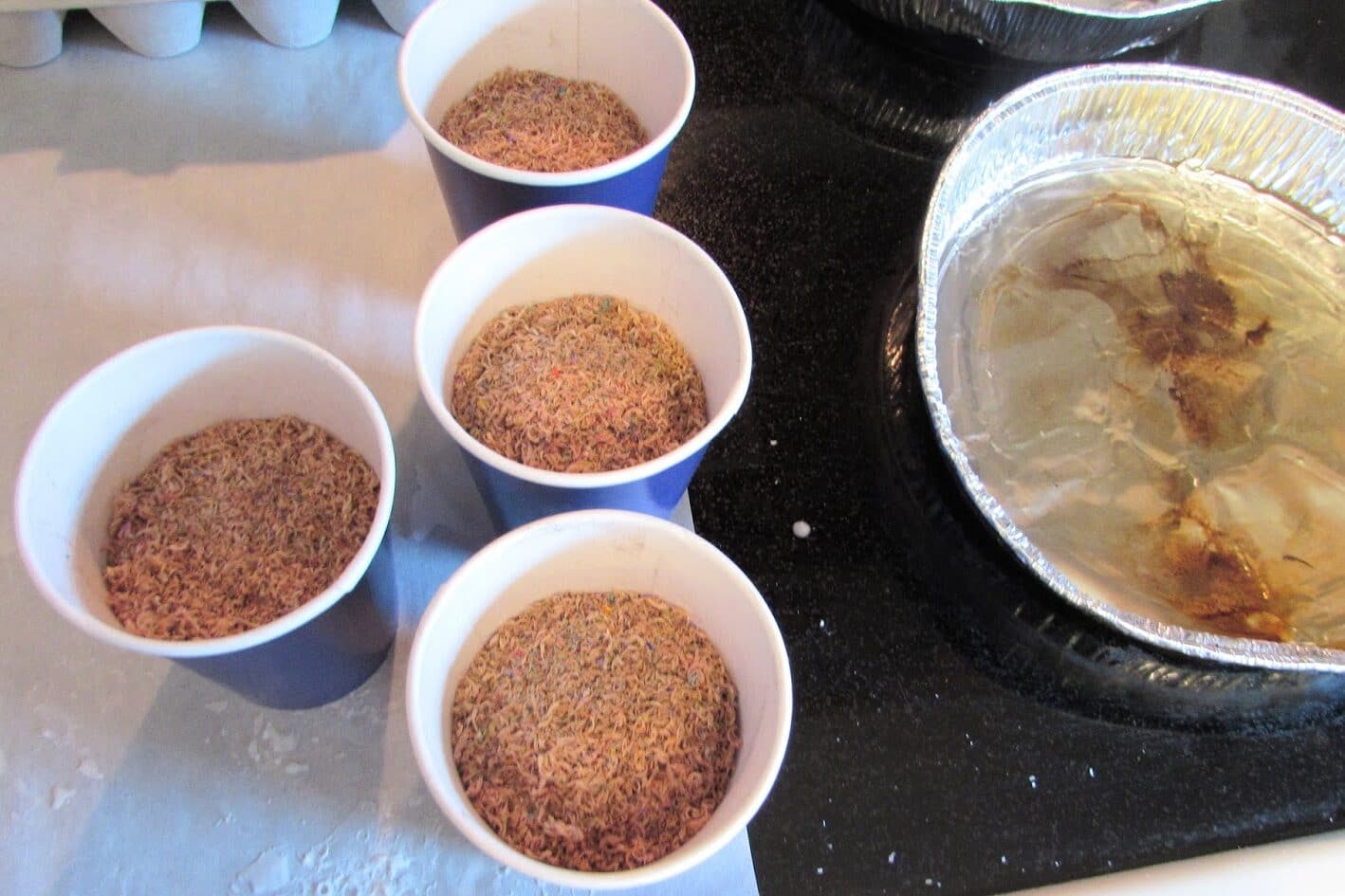 37. Solar Lanterns (Camp Wander) – No electricity is needed to keep your campsite well-lit.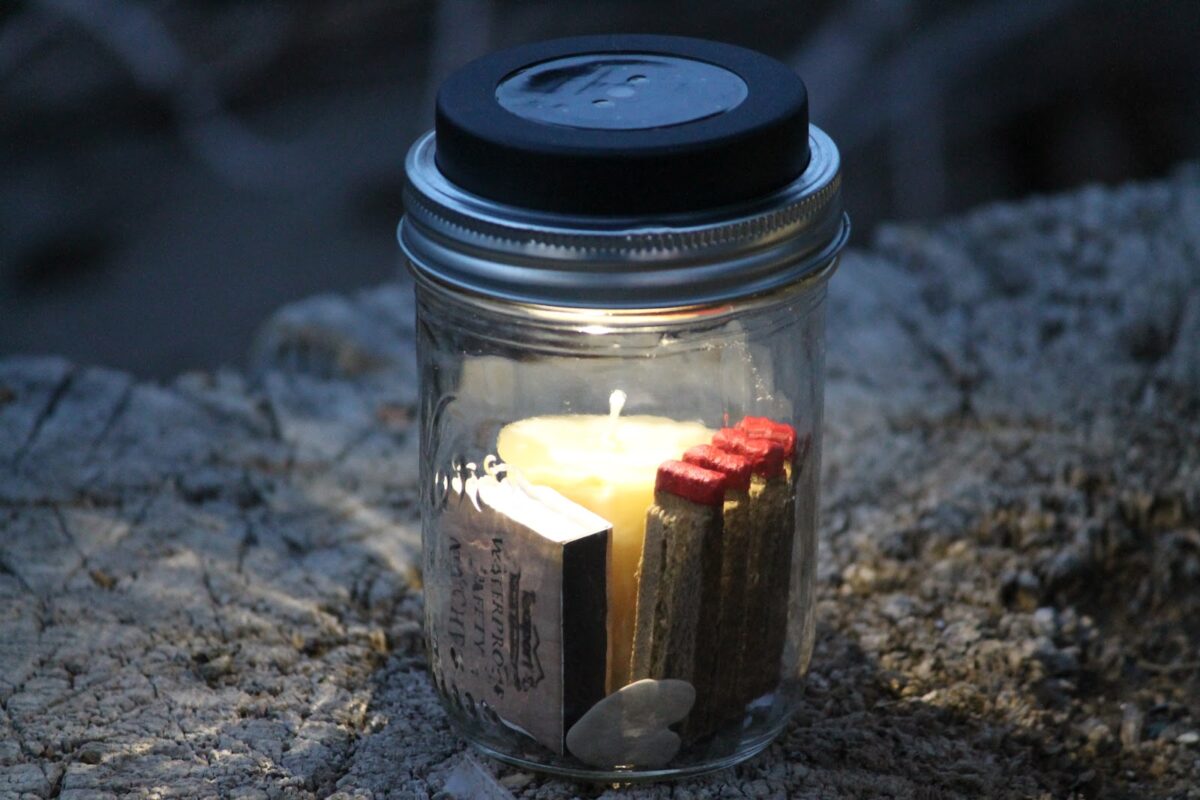 38. Utility Spork (Amazon) – Cut down on the utensils you need to bring with this all-in-one tool!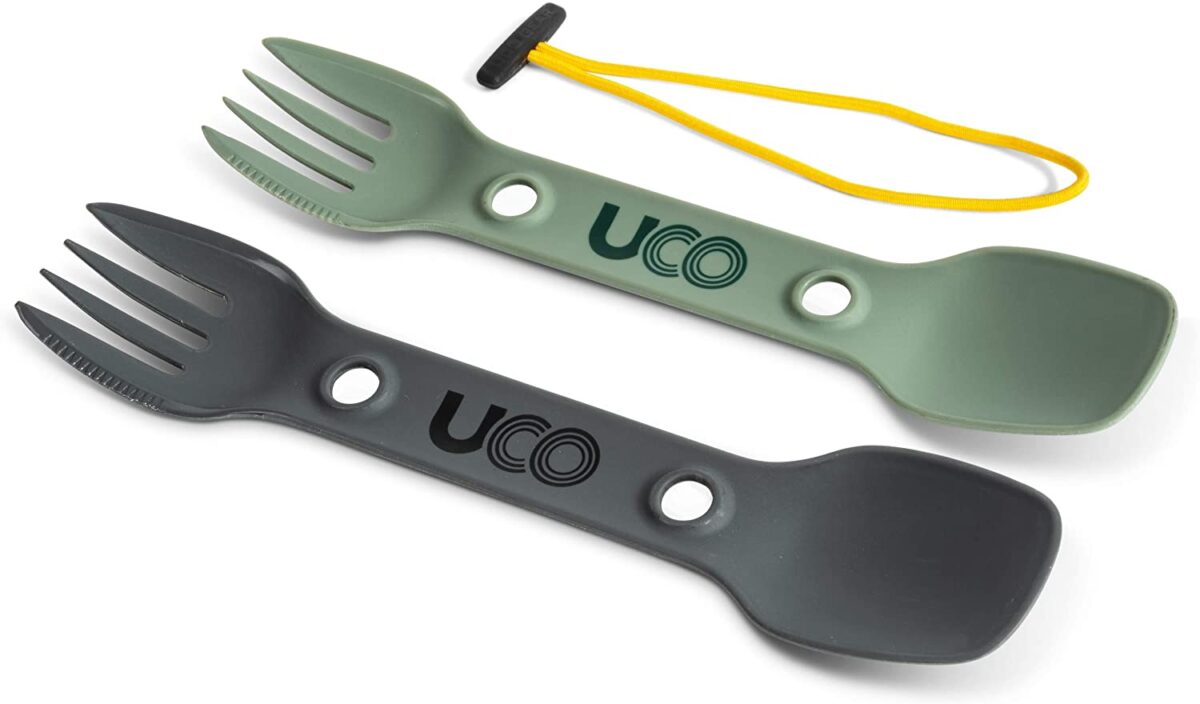 39. Campfire Sage (DIY & Crafts) – Sage is a natural insect repellent, so why not use it to make a more inviting camp atmosphere.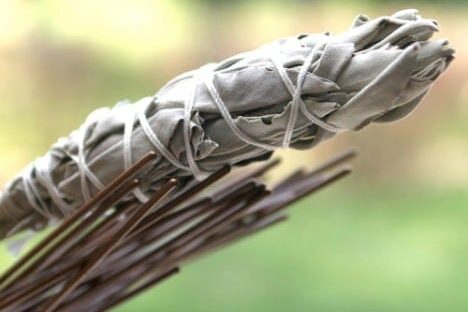 40. Windproof & Waterproof Matches (Amazon) – Keep matches together and waterproof so your fire is ready right away.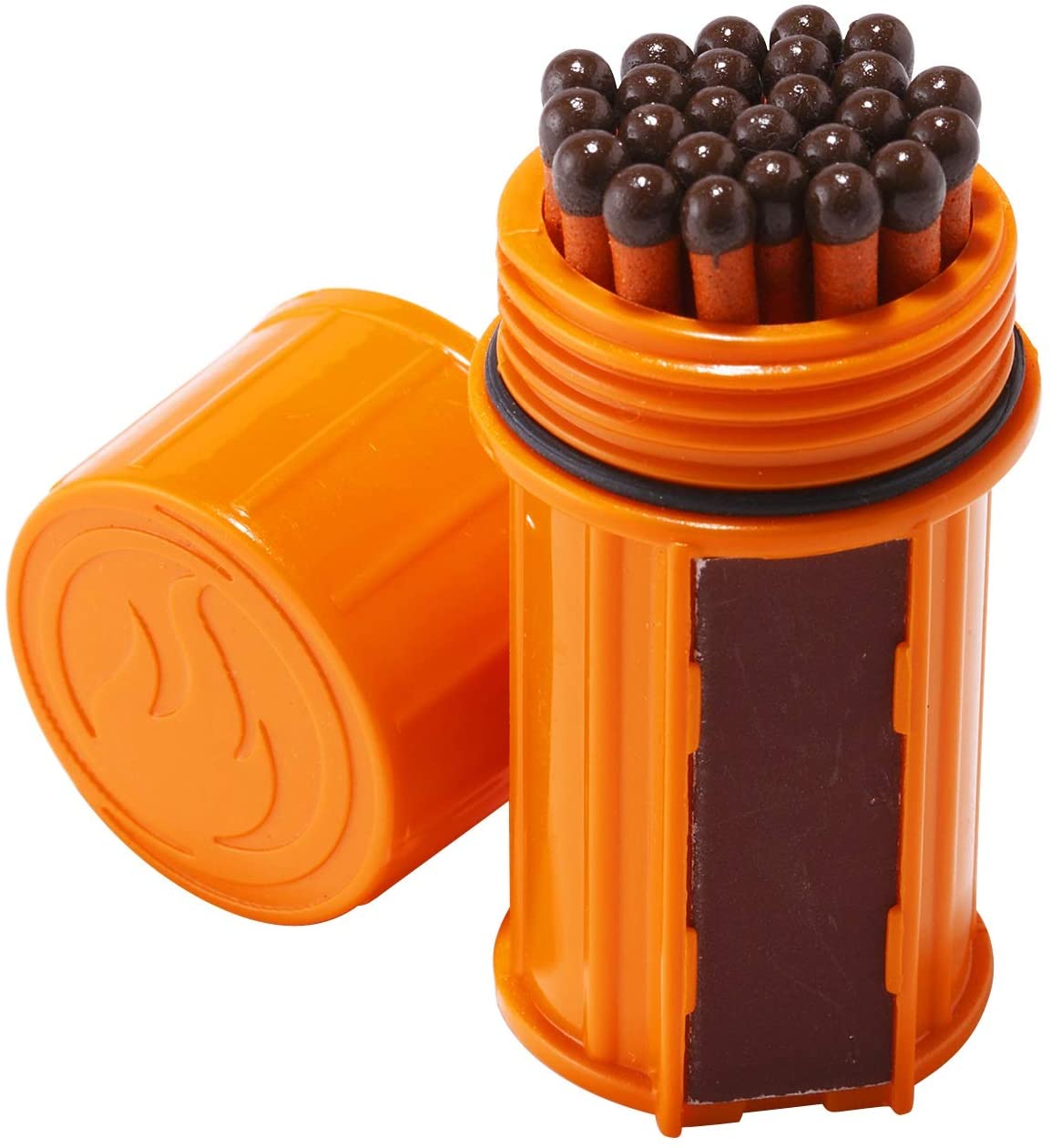 Camping Hacks for Families
Camping with little ones can be tricky, but these camping hacks will help things go as smoothly as possible!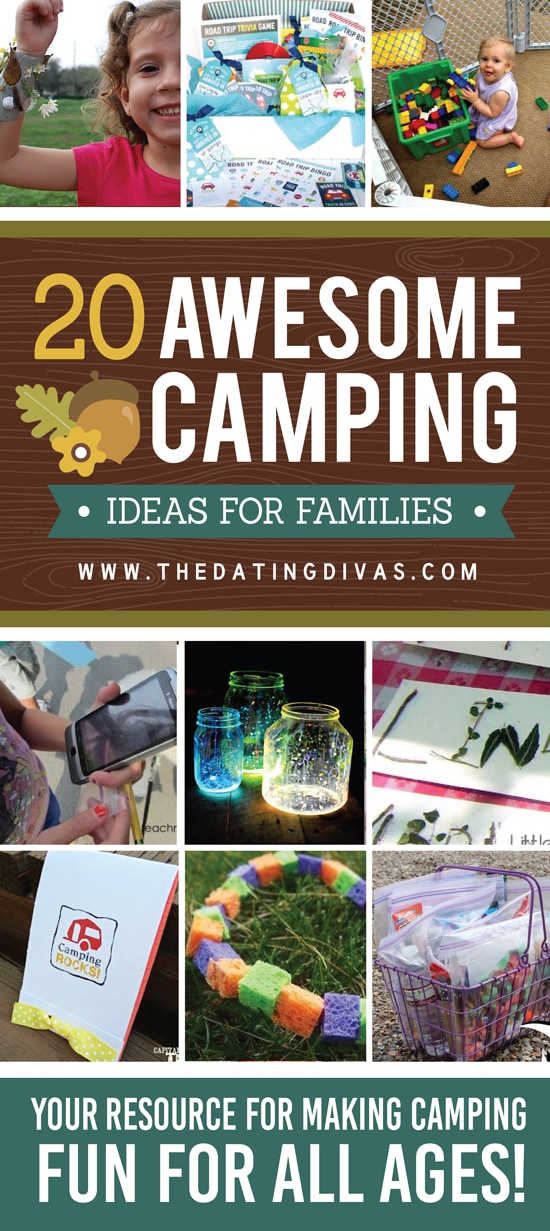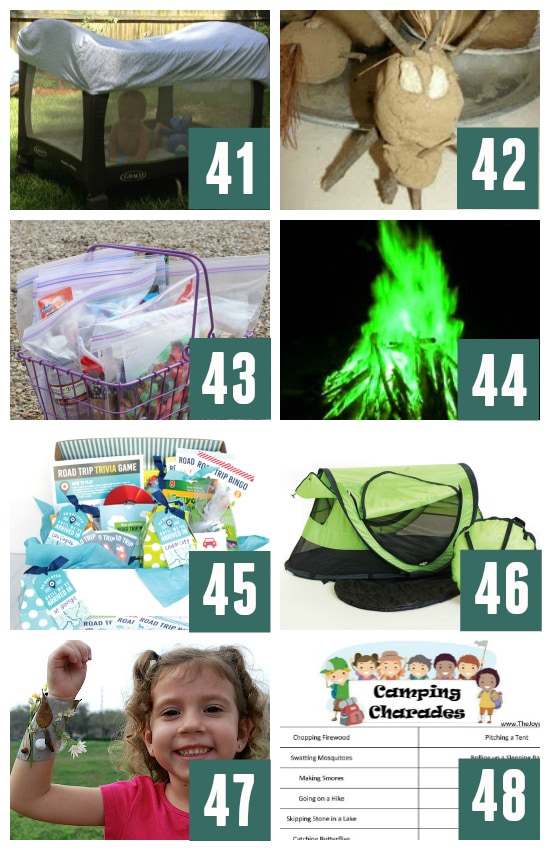 41. Fitted Sheet Hack (The Krazy Coupon Lady) – Bring a fitted sheet and keep your little ones safe from sun and bugs.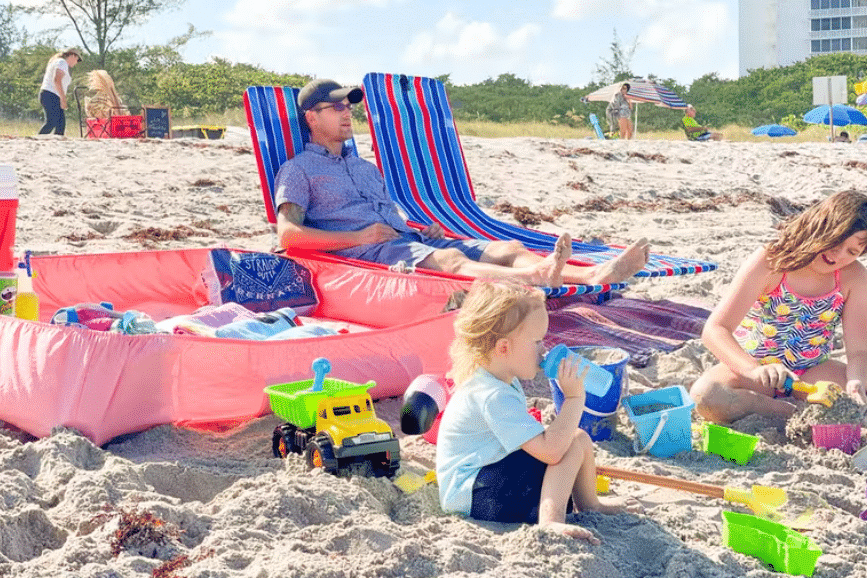 42. Activities in the Dirt (Hands on as We Grow) – Let the kids embrace the dirt with this fun activity!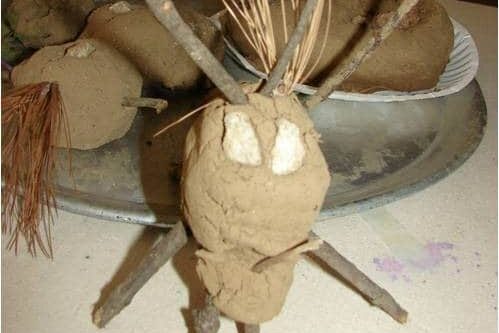 43. Activity Bags (Powerful Mothering) – When creating your own busy bags, try thinking of creative activities that will encourage imagination.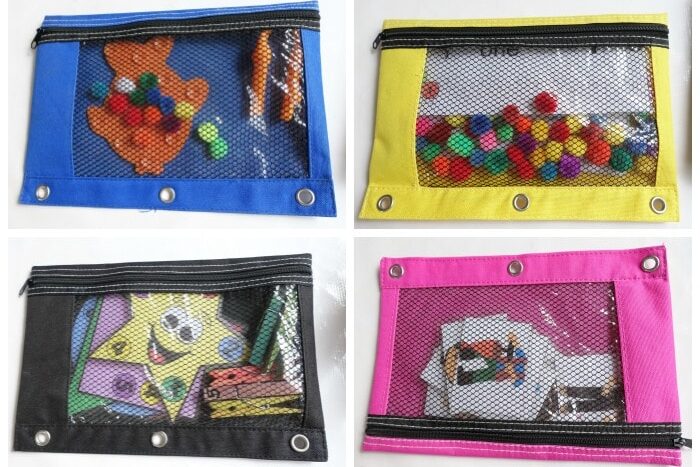 44. Color Fires (Life Hackings) – As if the fire wasn't cool enough… make it glow in fun colors!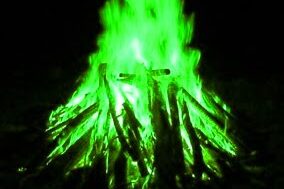 45. Road Trip in a Box (The Dating Divas) – Be sure and bring this entertainment kit for the trip TO the campsite!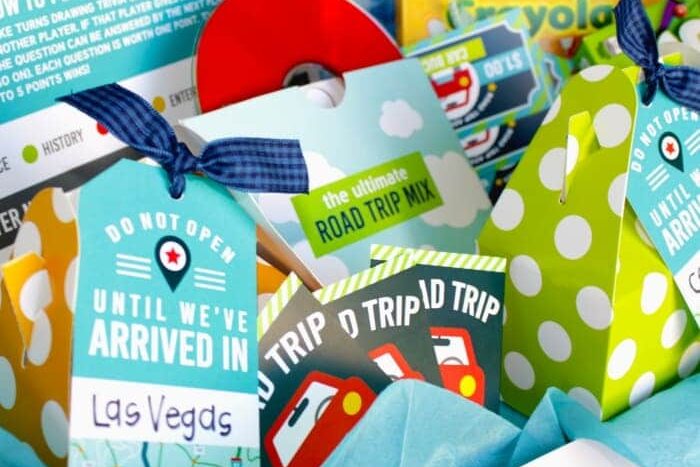 46. Camping Kid Bed (Amazon) – We promise you'll use this nifty bed even if you're not camping. If you're taking bigger kids camping, be sure and check out these bunk beds!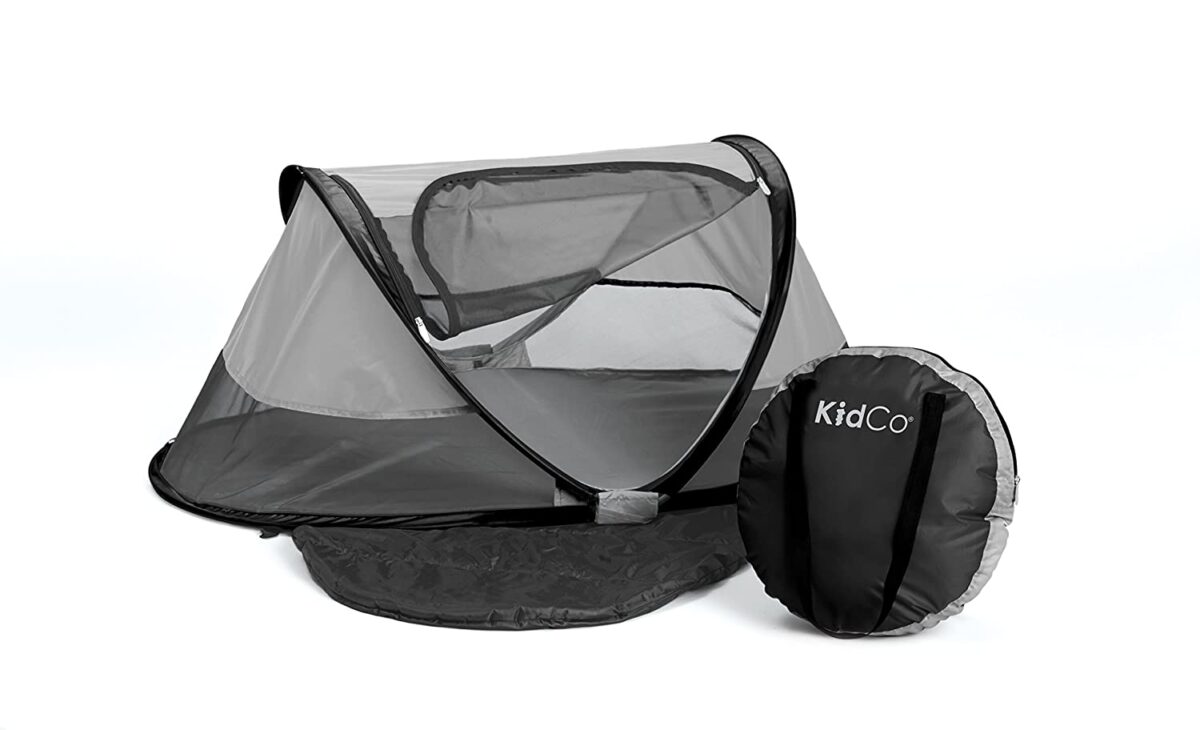 47. Nature Hike Bracelet (Kid World Citizen) – There's no way that this craft could be easier!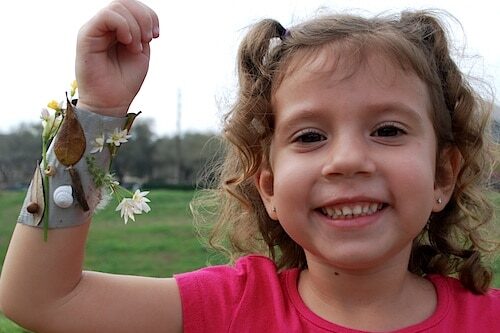 48. Camping Kit (The Dating Divas) – This kit has EVERYTHING you need for a fun and fabulous camping trip.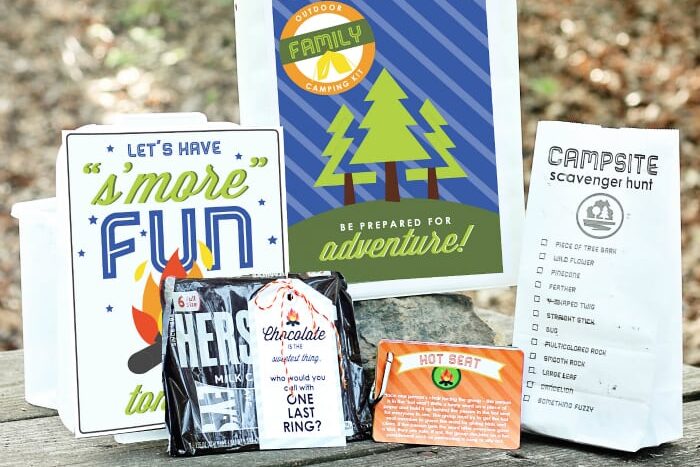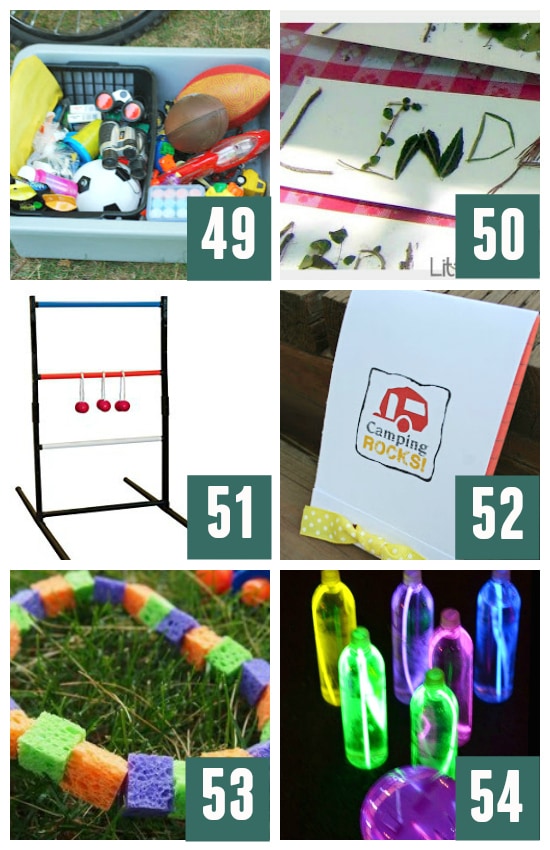 49. Toy Tub (To the Rock Homeschool) – This toy tub is the perfect go-to place for outdoor entertainment.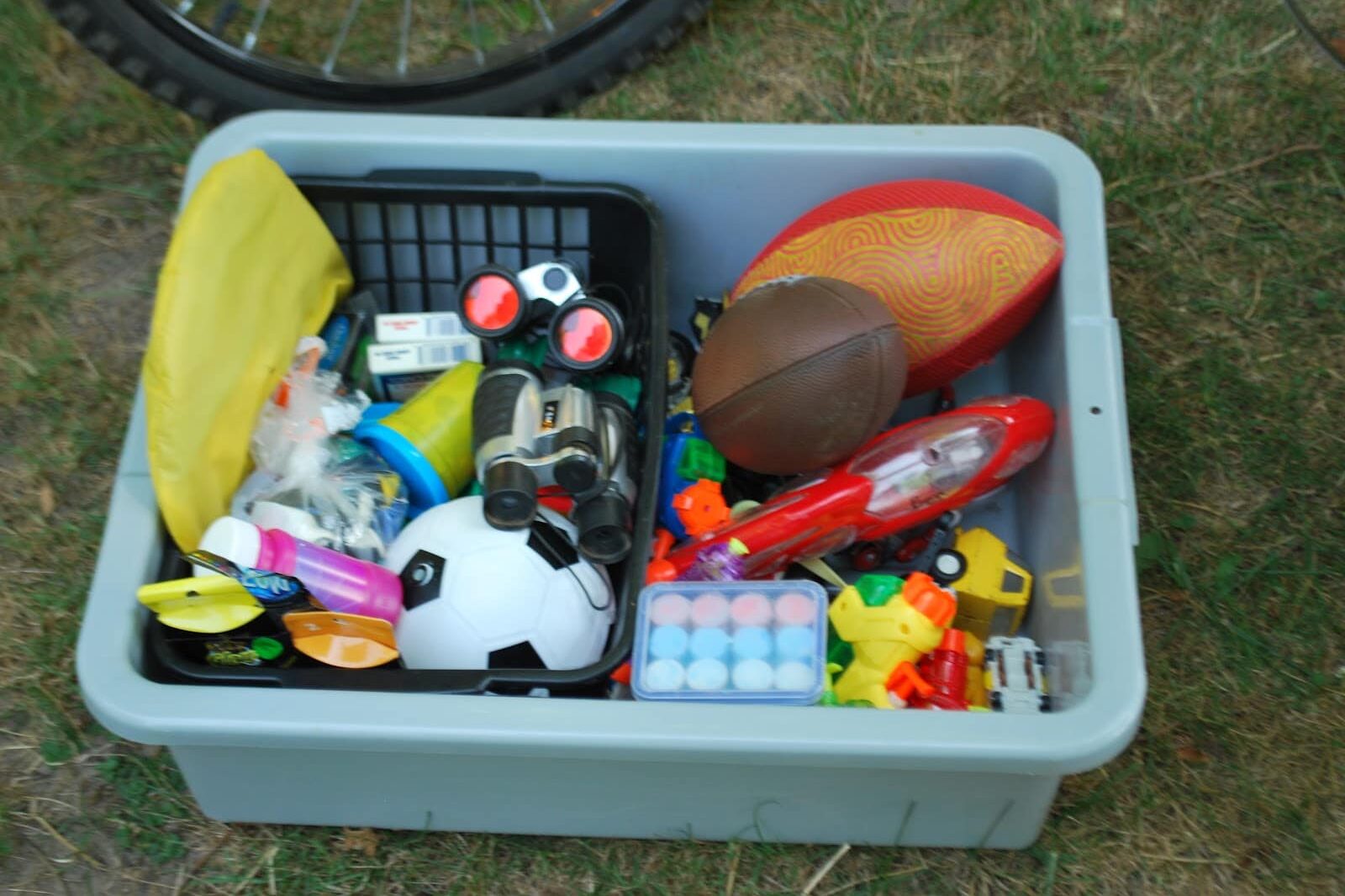 50. Nature Names Craft (Little Family Fun) – This camping craft is both fun and personalized!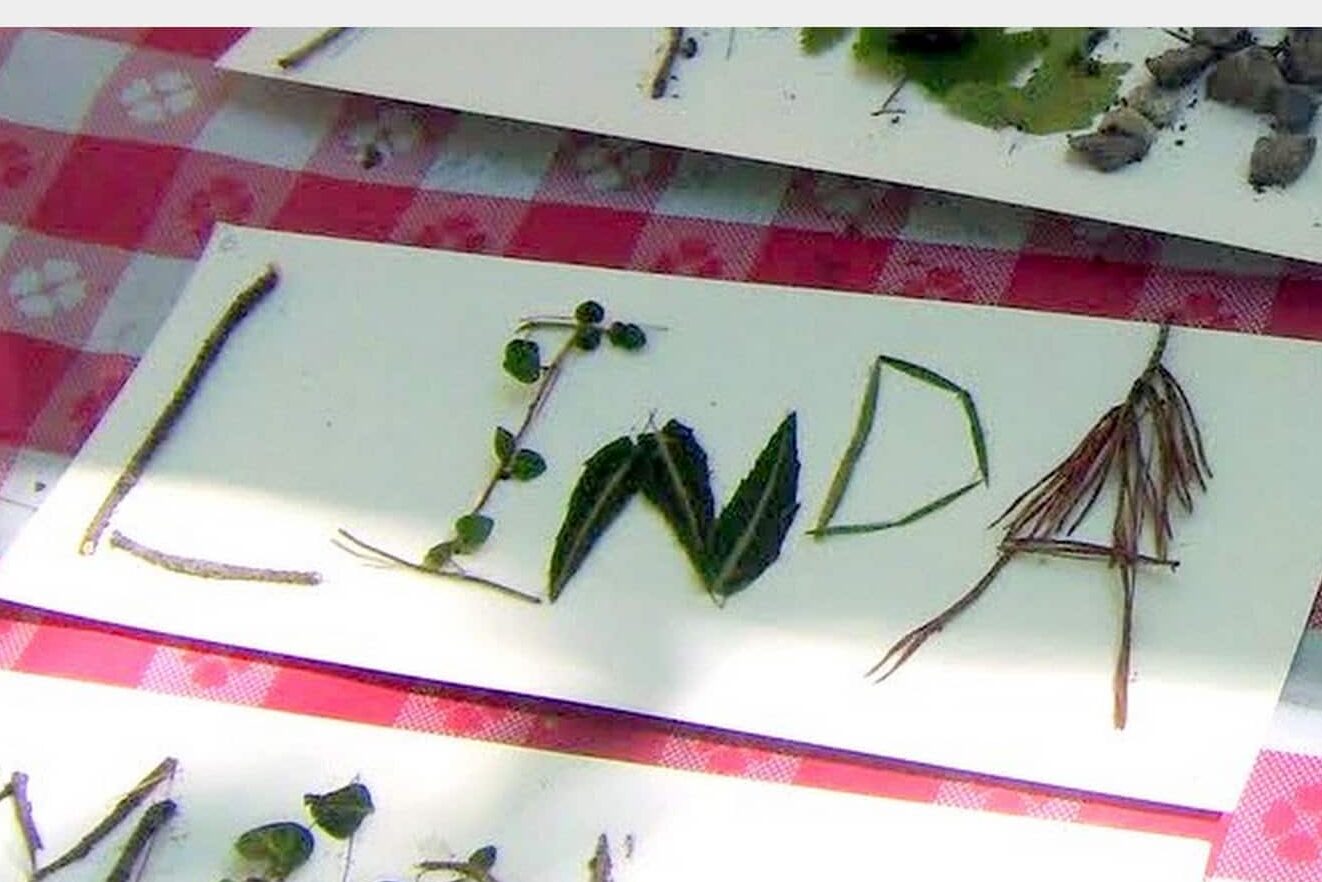 51. Ladderball (Amazon) – This is one family-friendly game that everyone will love. And if you like lawn games, you'll get a kick out of our Yard Olympics!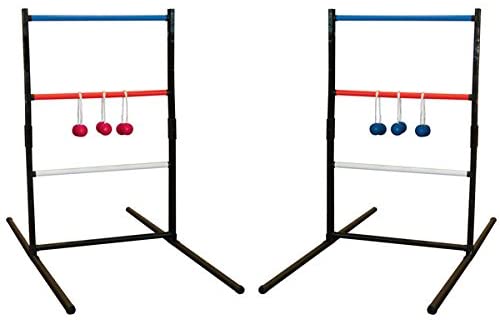 52. Camping Notebooks (Glamper Life) – We adore these cute ideas for recording your camping memories and finds!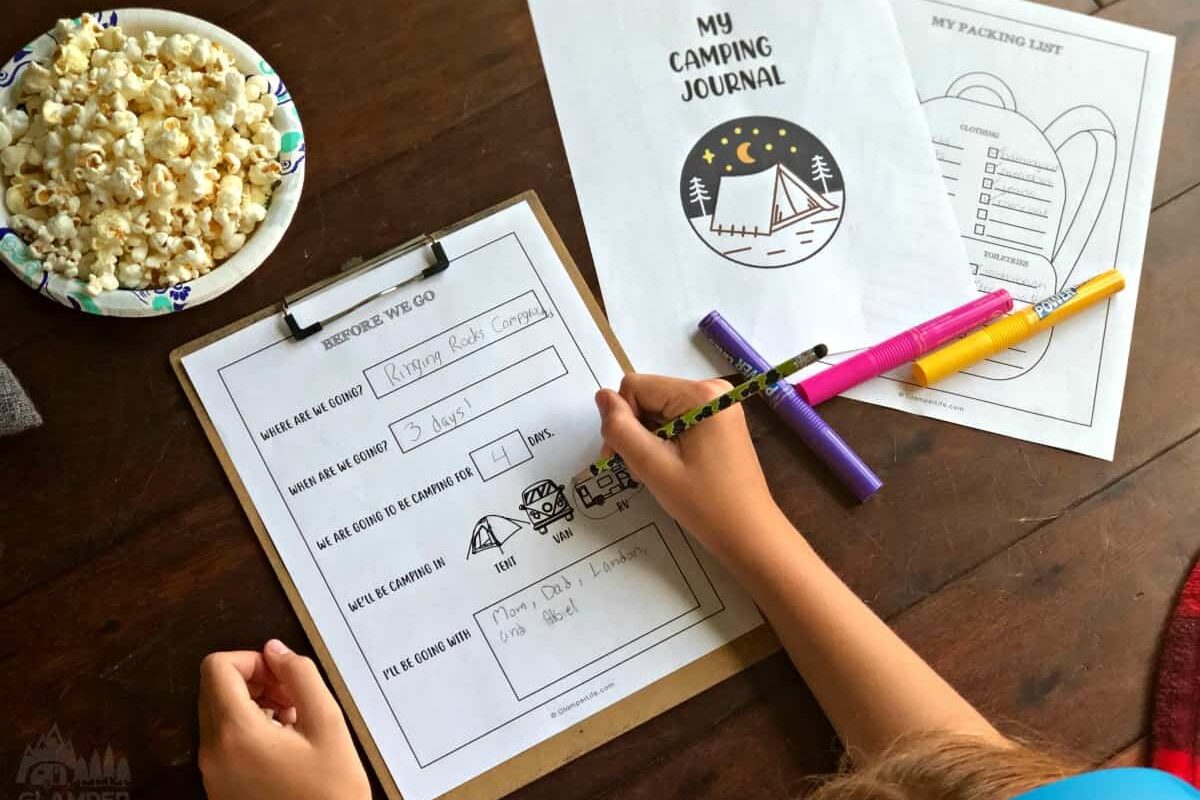 53. Cool Off Necklace (The Crafty Crow) – Help your kiddos make this sponge necklace that is both fun and functional.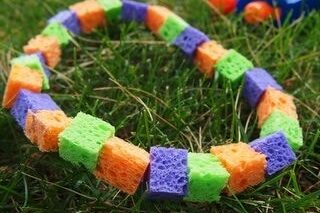 54. Glow Bowling (Growing a Jeweled Rose) – Glowing games are perfect when the sun goes down. All it takes is some glow sticks and some other simple supplies.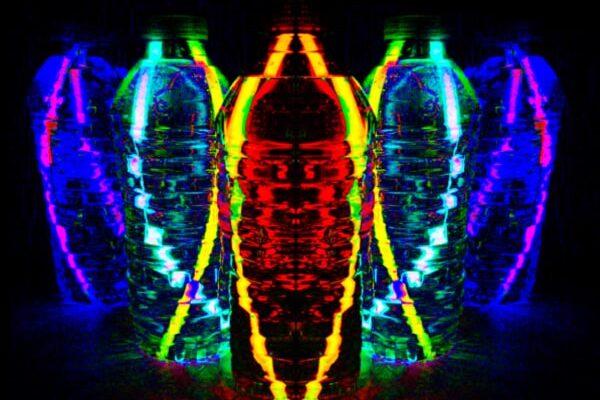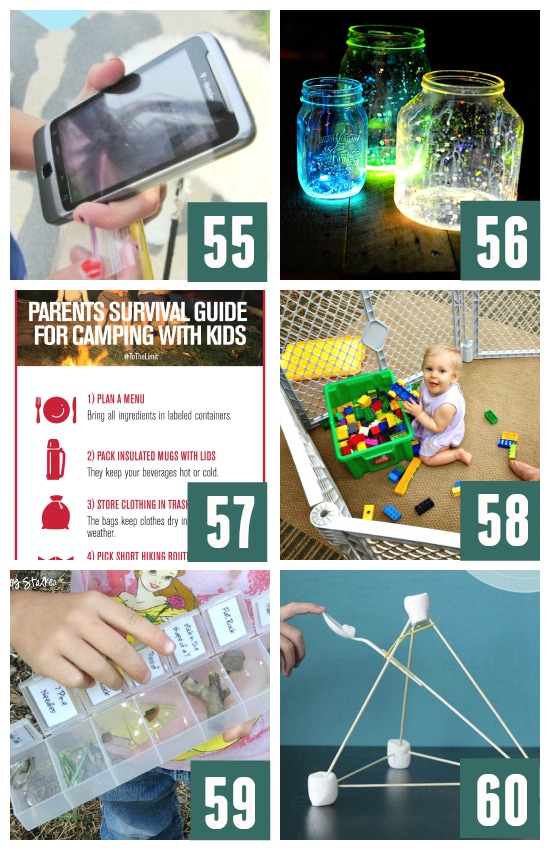 55. Geocaching (Teach Mama) – Geocaching is like a treasure hunt with a map that gets you to the exact location.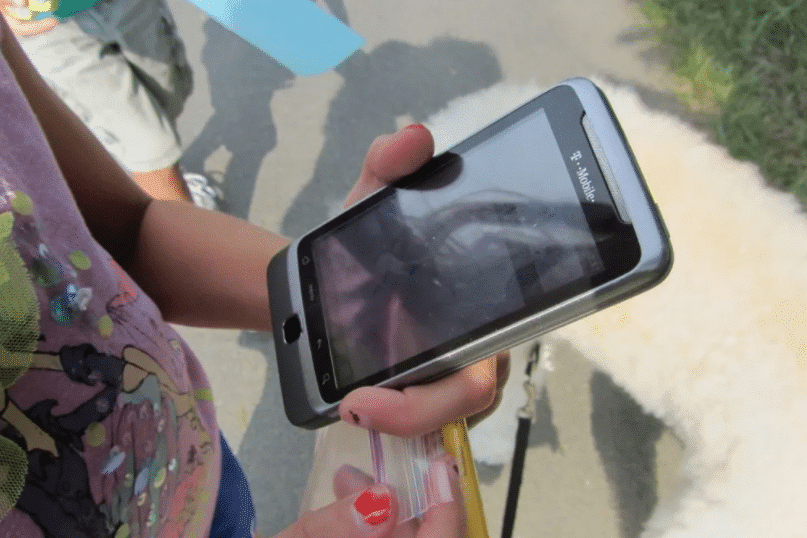 56. Glow Jars (Intimate Weddings) – Glowing mason jars probably weren't on your list of camping hacks but after seeing these, they will be!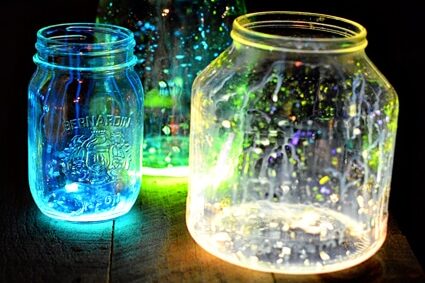 57. Parent Survival Tips (The Dating Divas) – We love this list of the TOP hints for making family camping more manageable.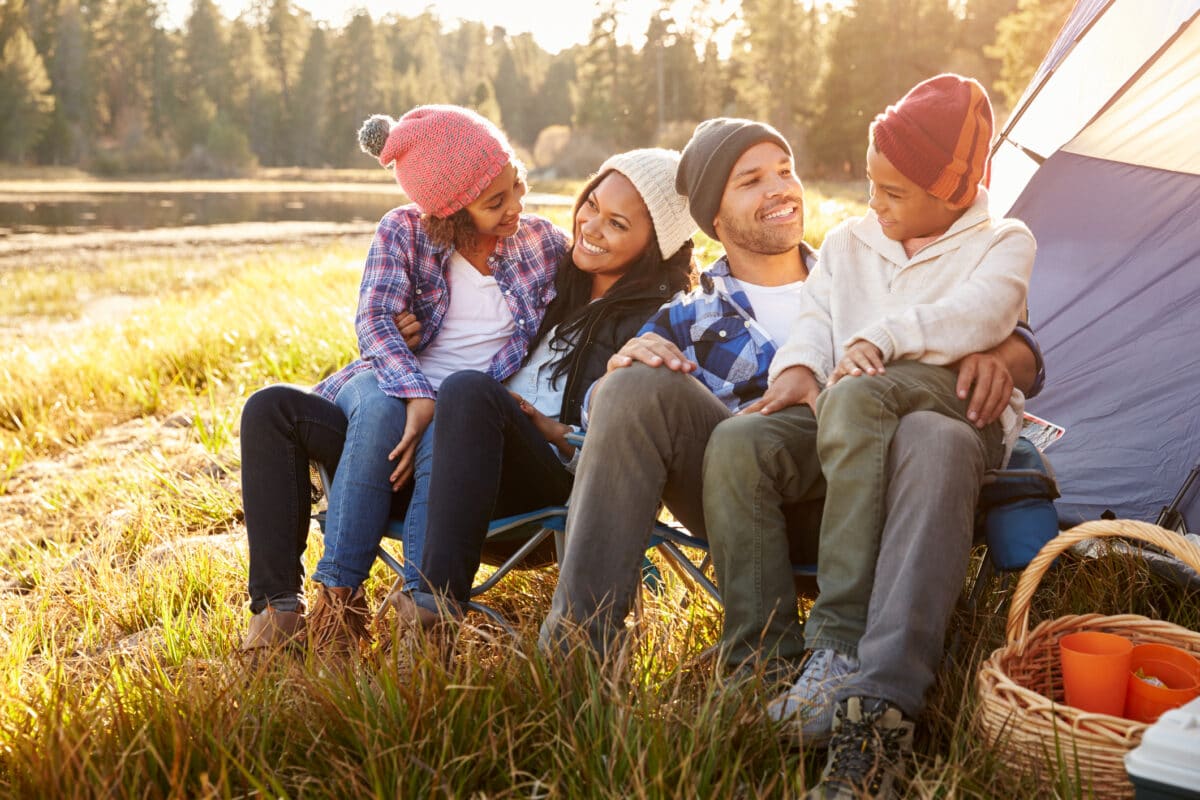 58. Outdoor Play Pen (Amazon) – This kids camping playpen is a great way to keep the littlest members of the family safe.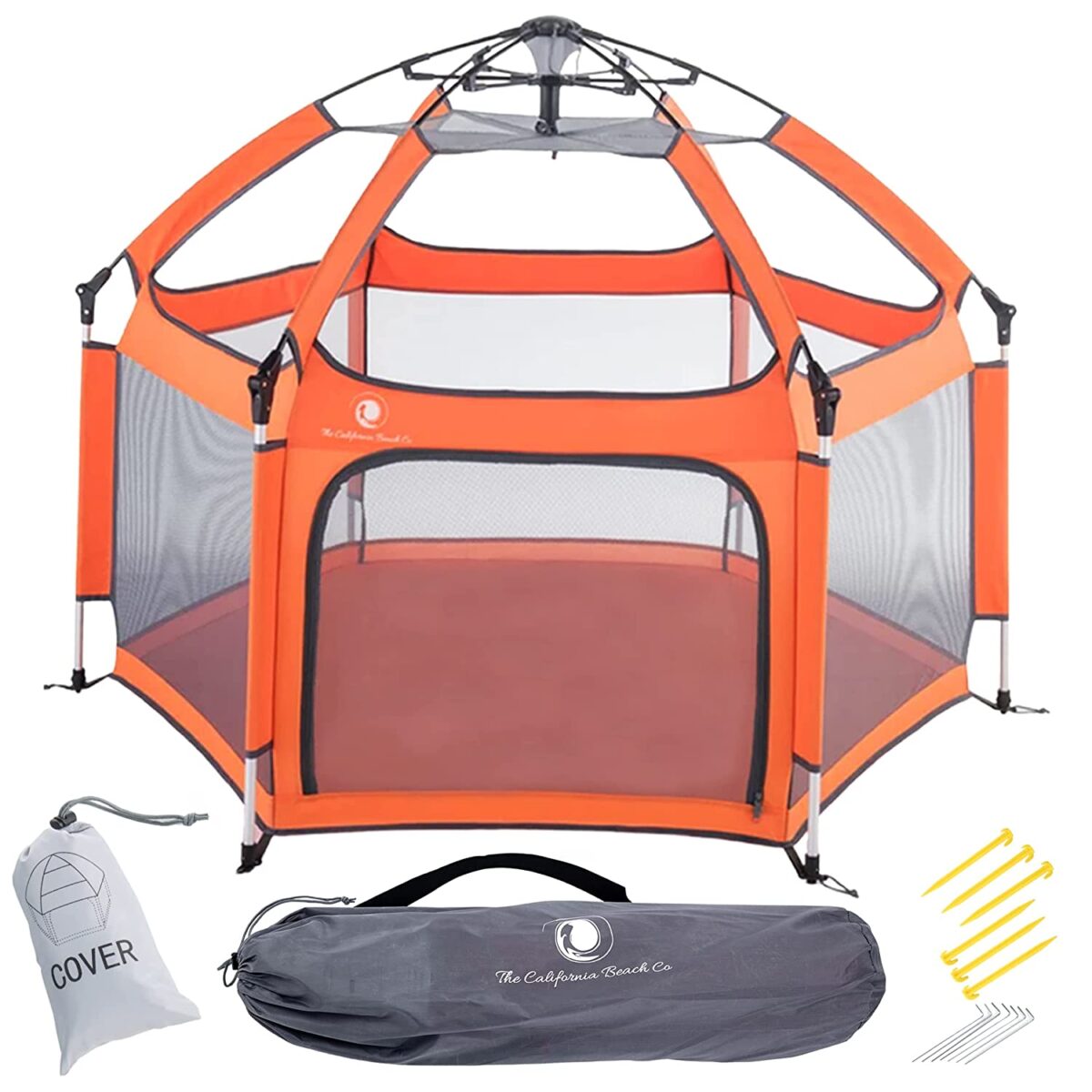 59. Scavenger Hunt (The Crafty Blog Stalker) – This scavenger hunt is SO fun and includes a carrying case for all your treasures.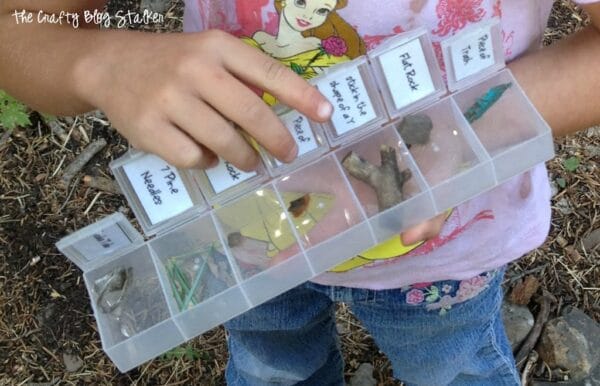 60. Marshmallow Catapults (It's Always Autumn) – Marshmallows and camping go hand-in-hand, but in this activity you'll be flinging them across the campsite instead of eating them. How fun!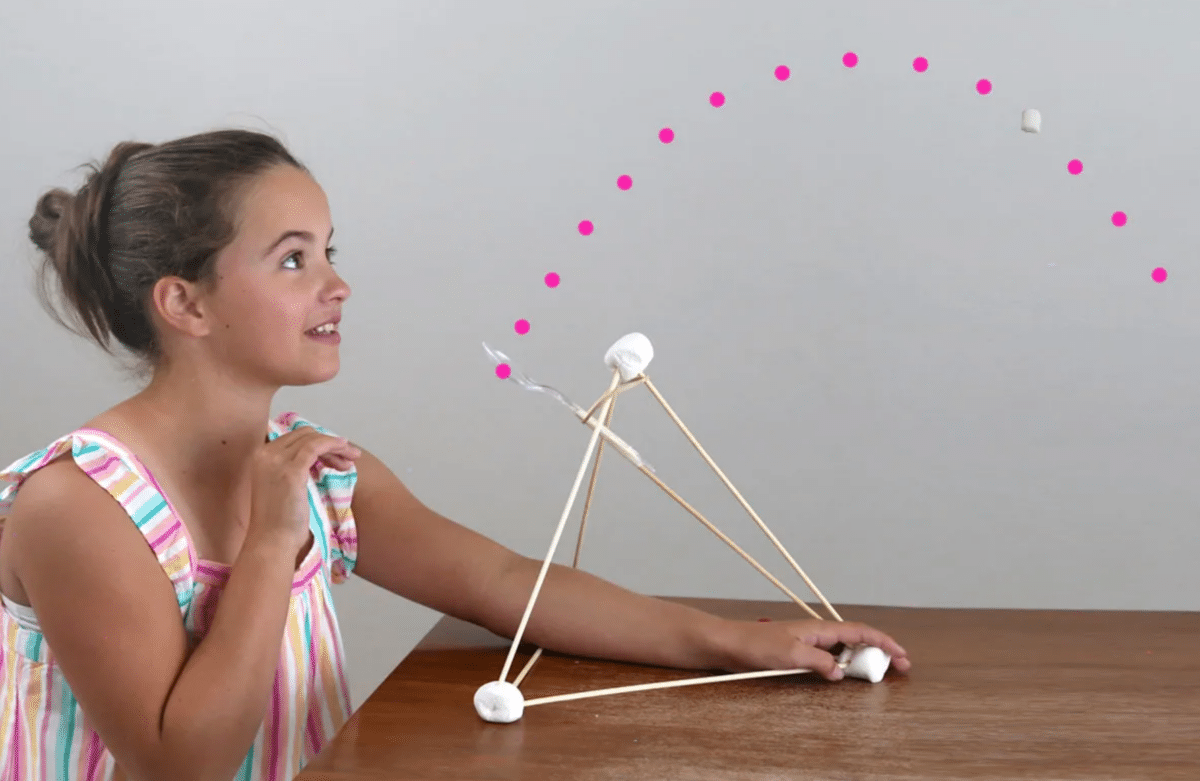 Cheap Camping Ideas
Camping is already pretty budget-friendly, but if you want to stretch your resources even further, be sure and check out these inexpensive camping hacks!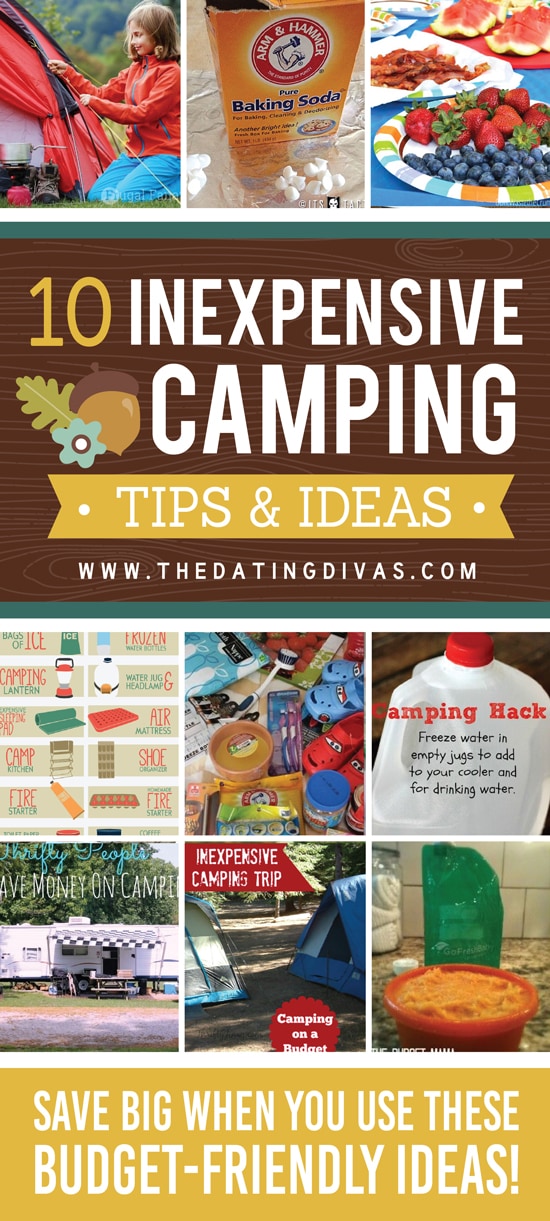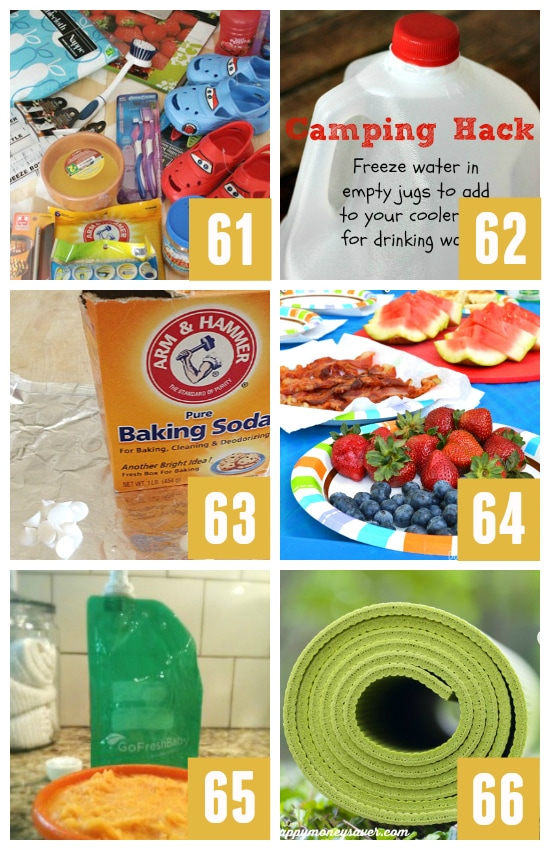 61. Dollar Store Camping Supplies (Mama Cheaps) – Head to your nearest dollar store and stock up on these great deals!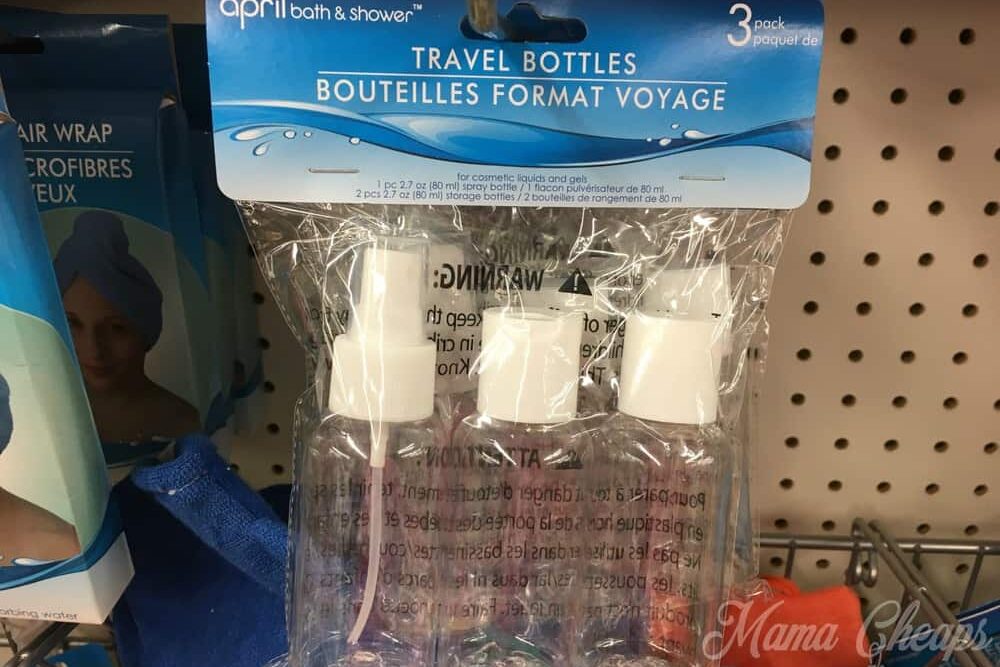 62. Milk Jug Ice (Happy Money Saver) – You already have a lot of things to take camping, so don't make bagged ice one of them.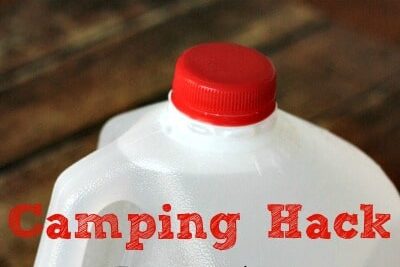 63. Toothpaste Dots (It's Tactical) – These dots mean you won't have to argue over one tube of toothpaste!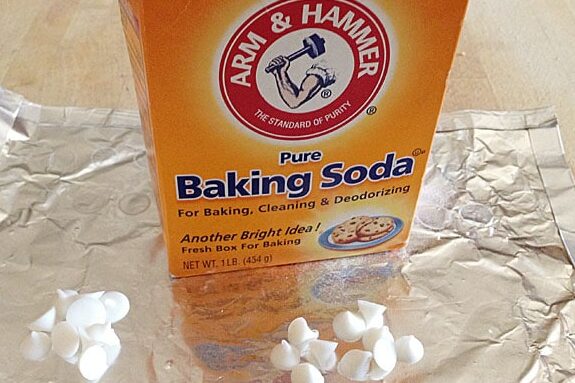 64. Simple Camping for Real Foodies (Don't Waste the Crumbs) – Creating yummy camping meals doesn't mean you have to sacrifice your family's health.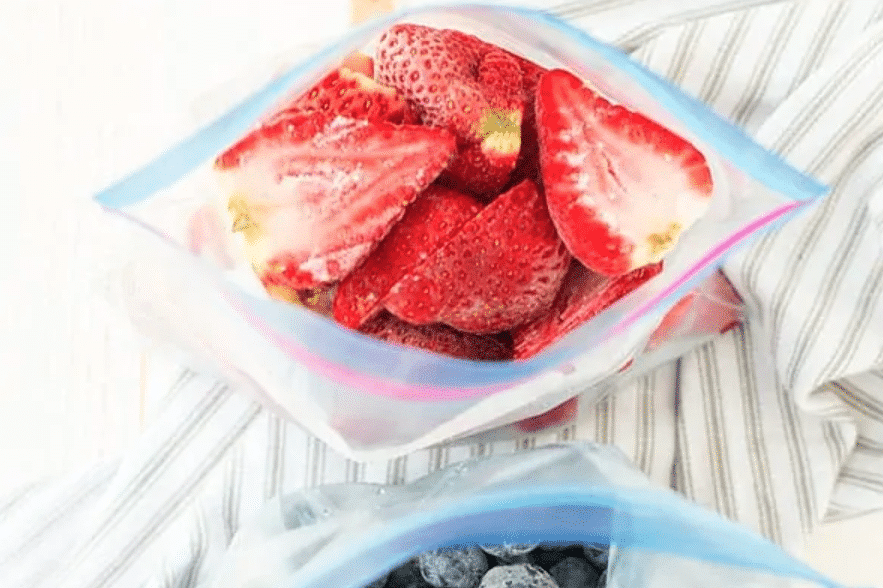 65. Camping on Zero Budget (The Budget Mama) – When you really can't spend a dime, use these tips to make your next camp-out even less expensive.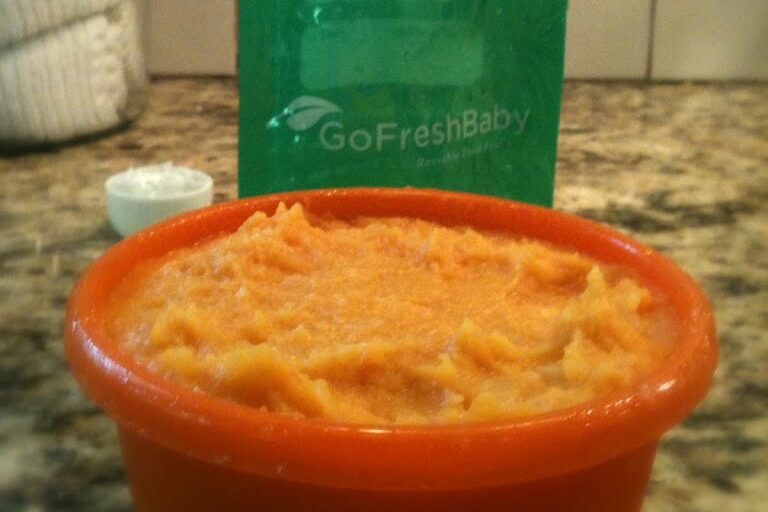 66. Yoga Mat Sleeping Pad (Happy Money Saver) – Instead of purchasing an expensive sleeping mat, try a yoga mat. Especially if you already have one lying around!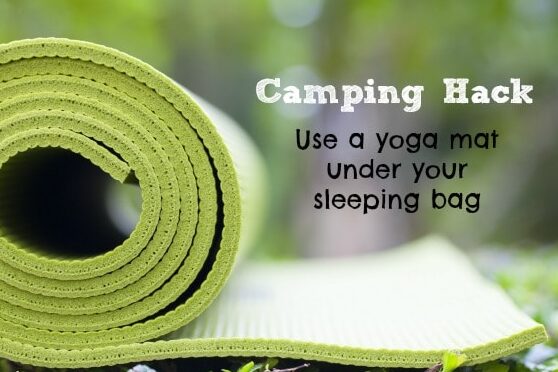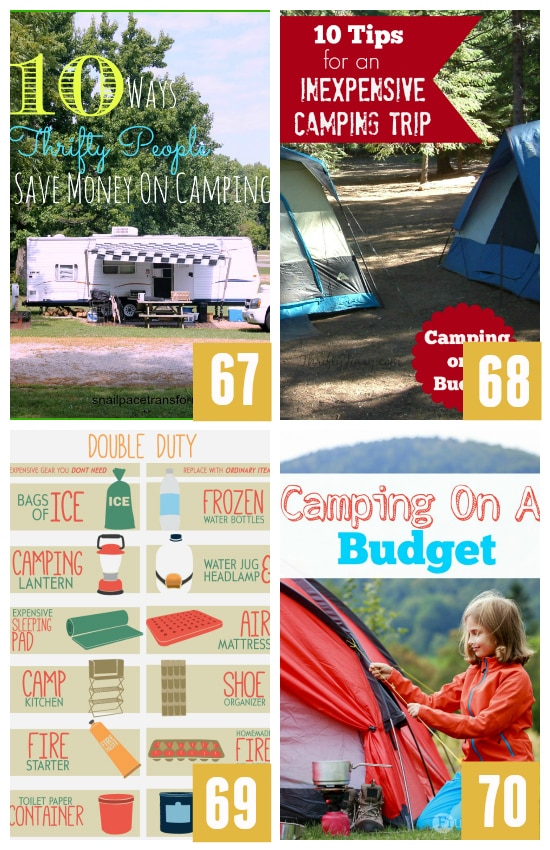 67. Thrifty Camping Ideas (Snail Pace Transformations) – These are some great ideas for collecting supplies without going over budget.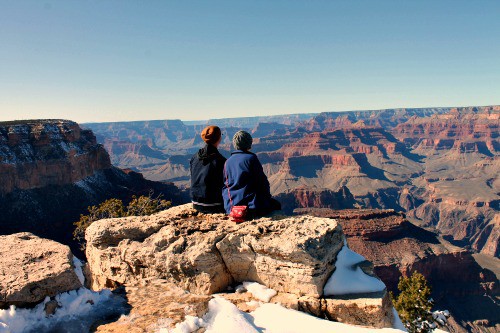 68. Tips for an Inexpensive Trip (Thrifty Jinxy) – Give this article a read for some great thoughts on food storage and meal planning.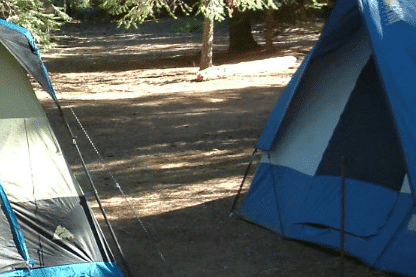 69. Camping Hacks Breakdown (Fix) – Check out the must-haves and don't-needs in this list of camping hacks to help you save.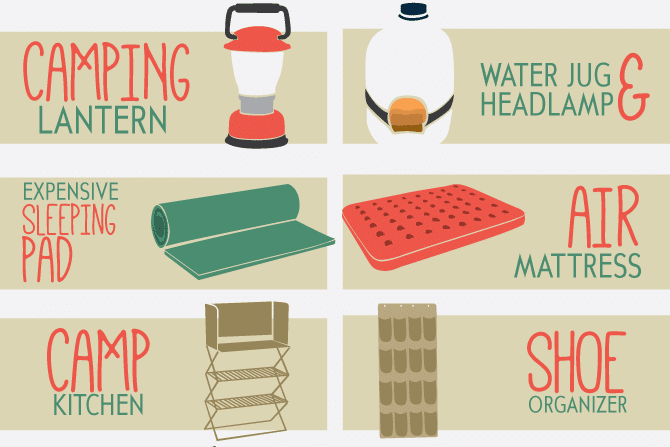 70. Camping on a Budget (Frugal Fanatic) – We love these great ideas for finding inexpensive gear and free campsites.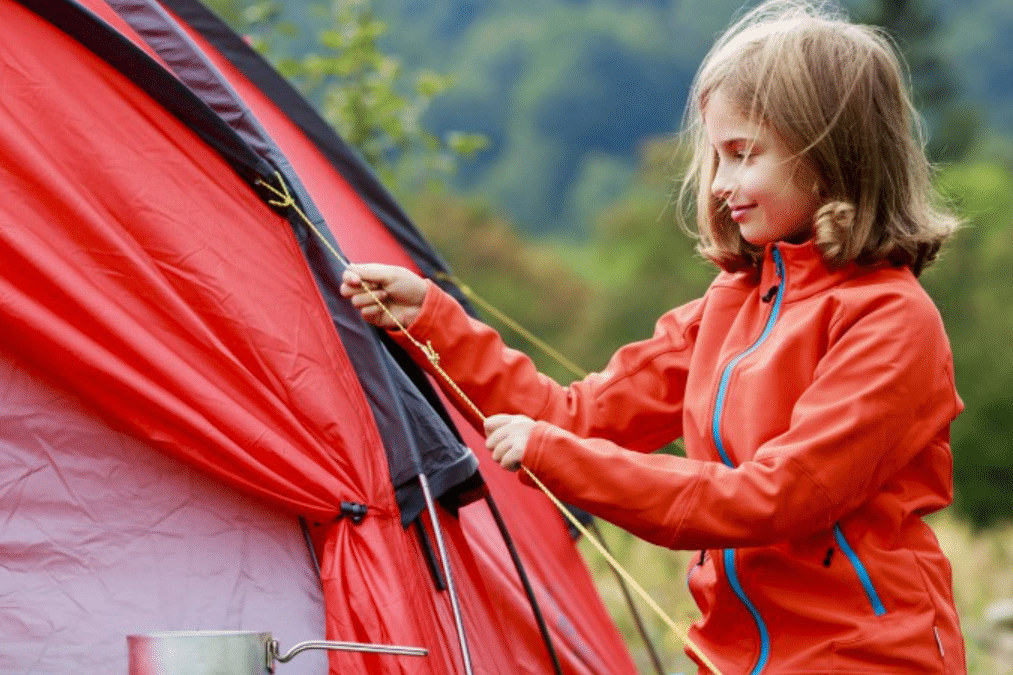 Easy Camping Meals
Our list wouldn't be complete without including some tasty and easy camping meals! We promise there is something for everyone. As a note, be sure and check local requirements about how to store food when not in use.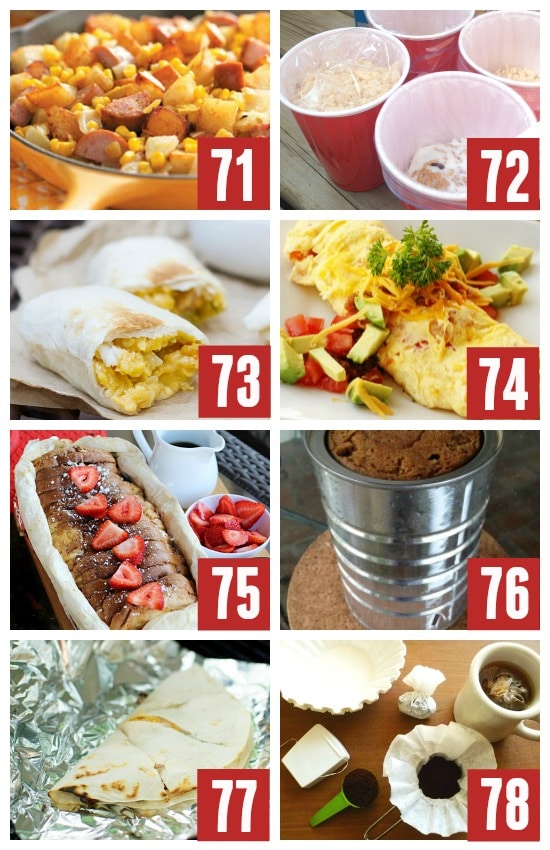 71. Campfire Hashbrowns (Noshing with the Nolands) – Fully loaded, these potatoes make the perfect side dish or even a complete meal.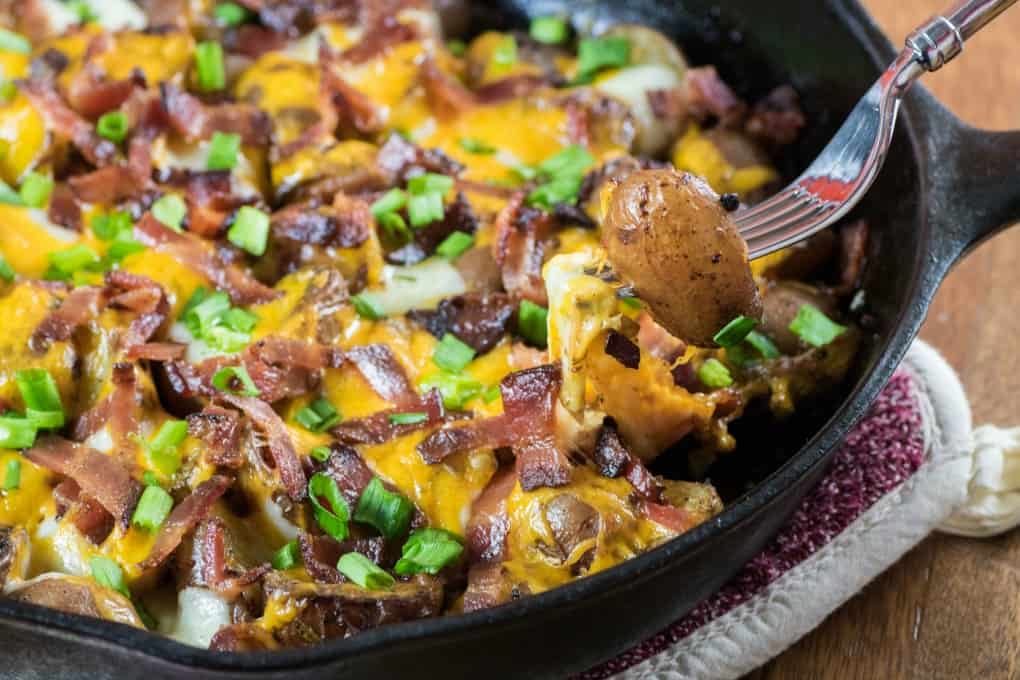 72. Cereal in a Bag (Fresh Off the Grid) – Before leaving, fill Ziploc bags with granola. At breakfast time, unzip, and add milk!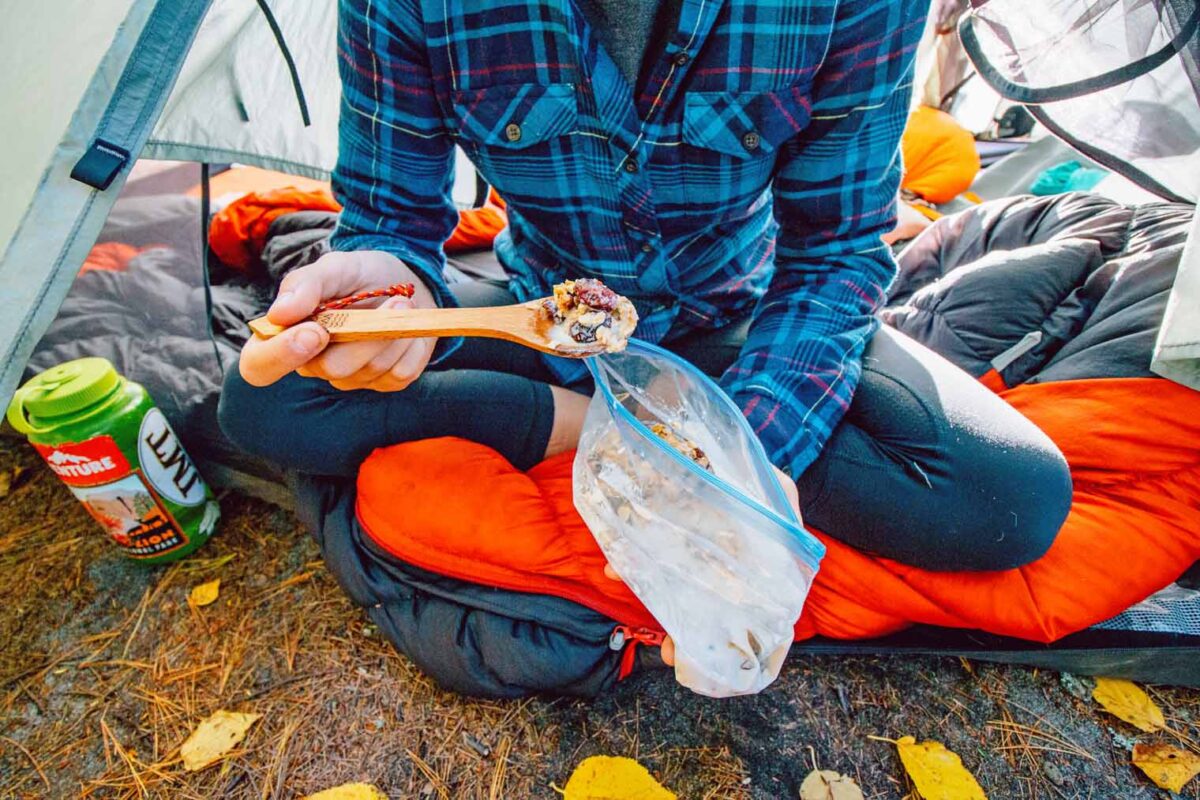 73. Breakfast Burritos (Taste and Tell) – These tasty burritos just need to be warmed by the fire.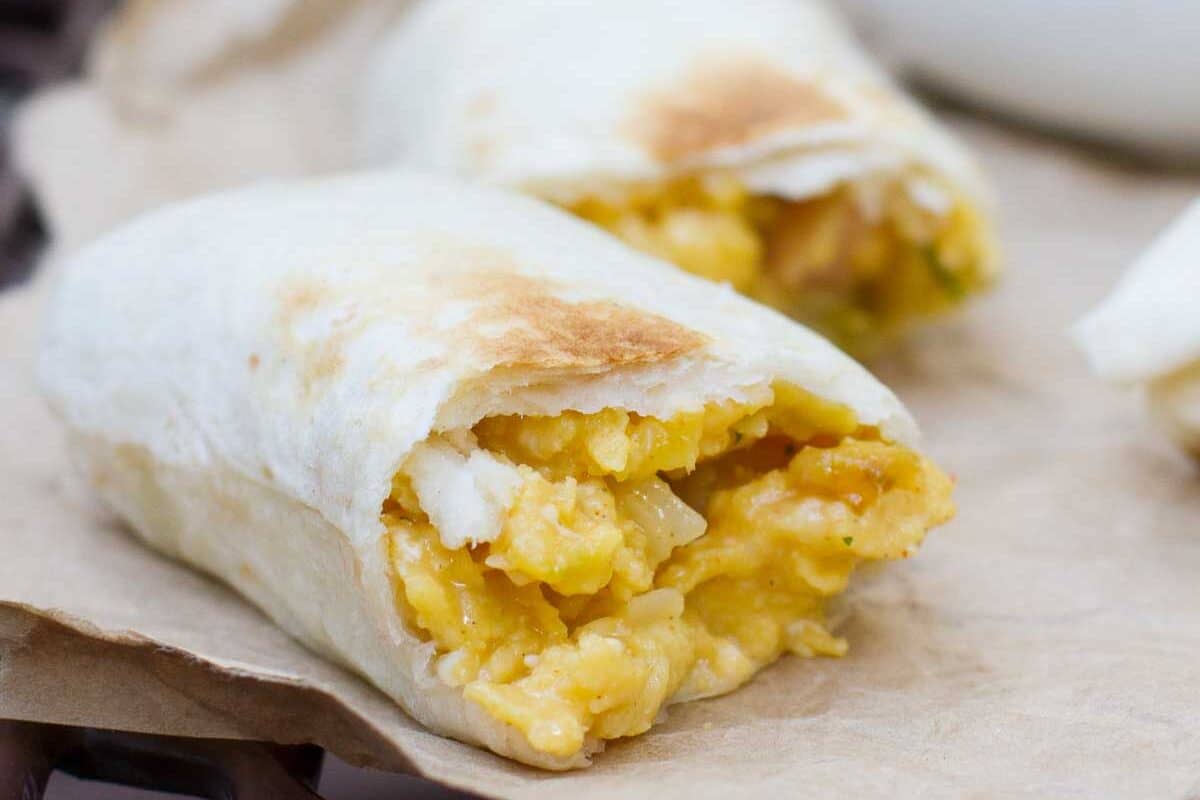 74. Omelette in a Bag (Fav Family Recipes) – Try scrambling your eggs in a bag for some extra fun!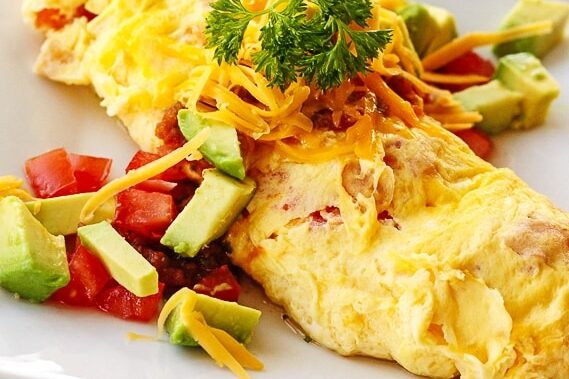 75. Campfire French Toast (This Lil Piglet) – Isn't this the most gourmet campfire meal you've ever seen?!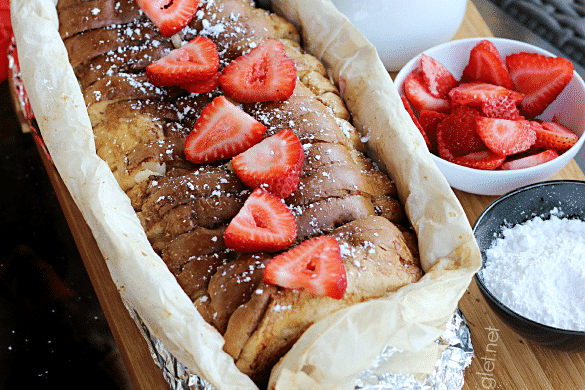 76. Bread in a Can (The Make Your Own Zone) – We love how compact and simple this bread is–a total win!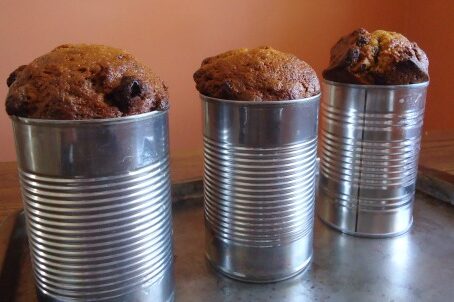 77. Camping Quesadillas (Cupcake Diaries Blog) – Quesadillas are always such a versatile option especially during a camping trip.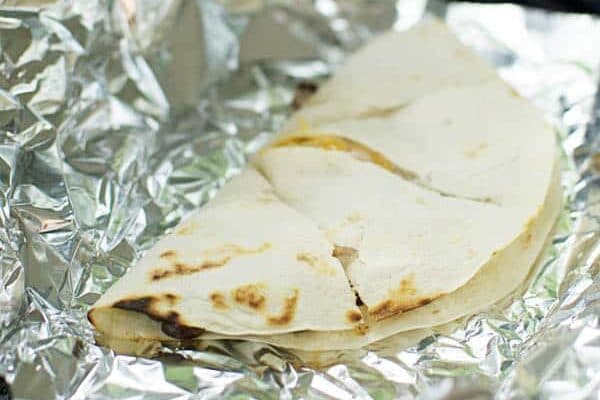 78. Individual Coffee Bags (Little House Living) – Can't stand the thought of camping without your daily cup of joe? Use this hack to create dippable coffee bags!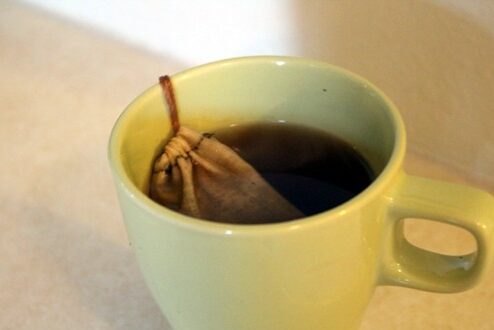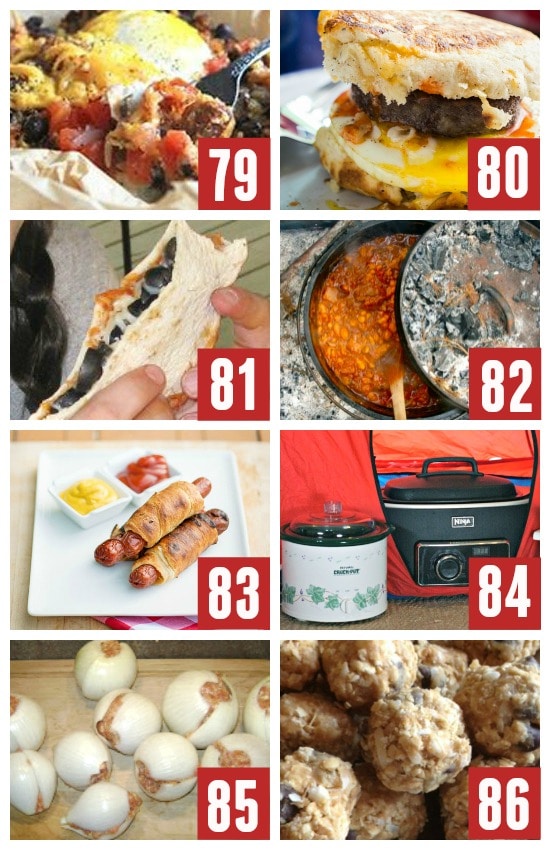 79. Steak and Eggs Pack (Julie's Eats & Treats) – A foil packet makes this meal easy to clean up.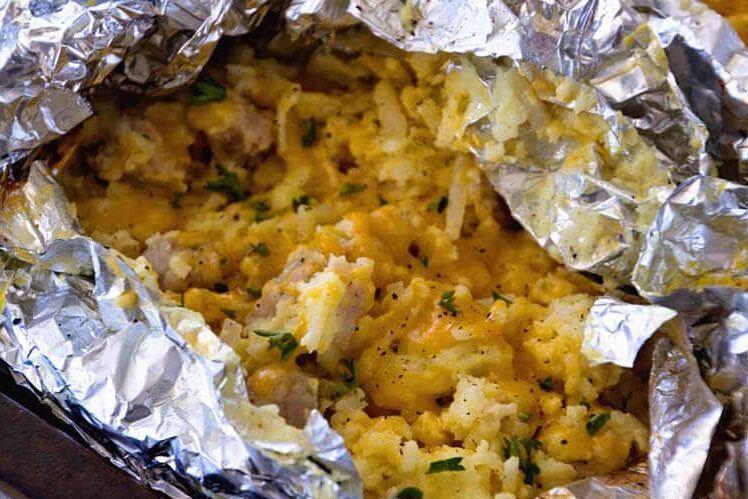 80. Breakfast Burgers (Jelly Toast Blog) – Create the best camping hack sandwich over a campfire!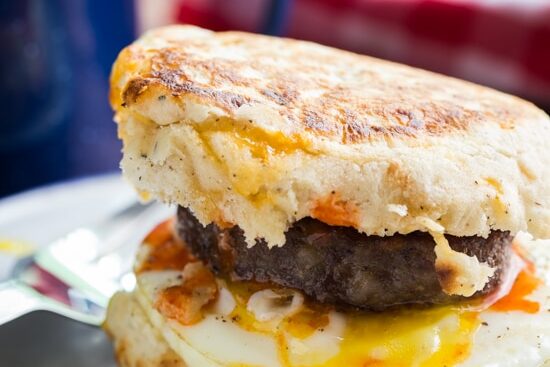 81. Pizza Pockets (Fresh Off the Grid) – In addition to being portable, these pizza pockets are easy and delicious.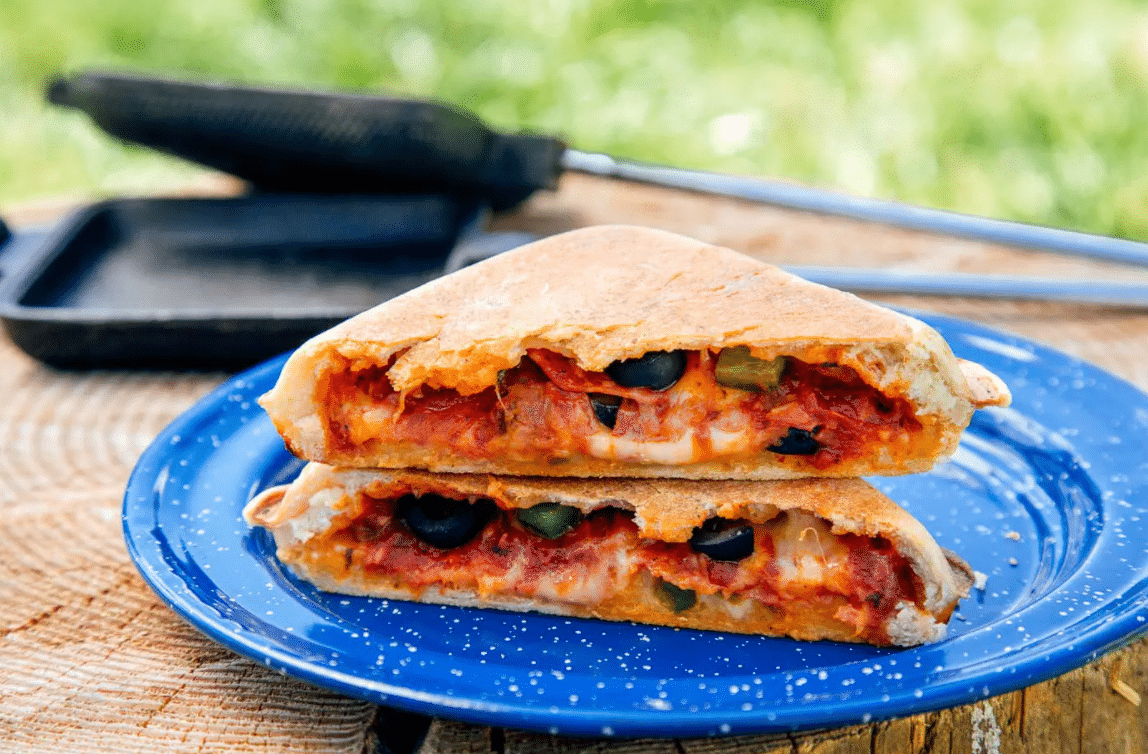 82. Campfire Chili (Serious Eats) – This dutch oven chili is so simple to throw together, and you can make a lot without making individual portions.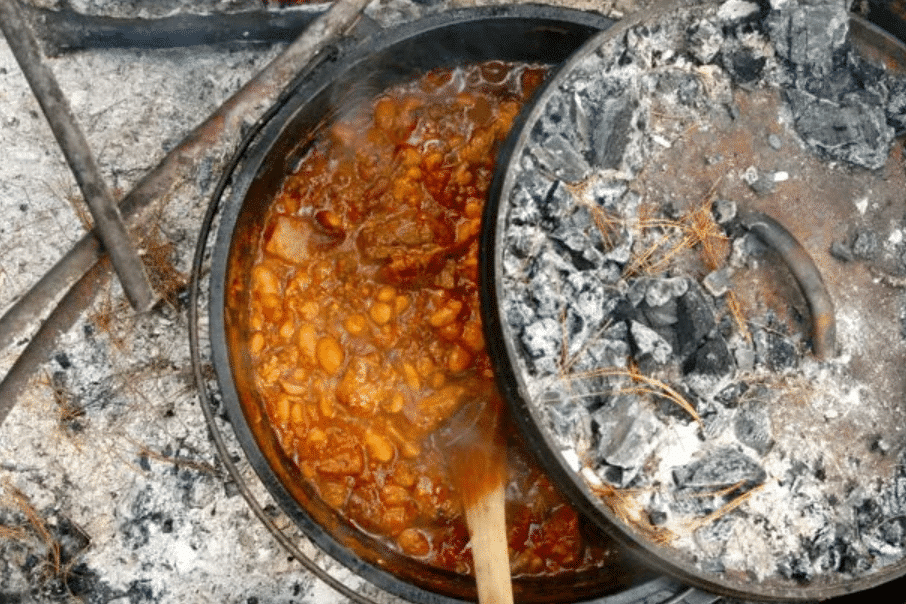 83. Camp Crescent Dogs (Pillsbury) – Grab your s'mores stick and get dinner going.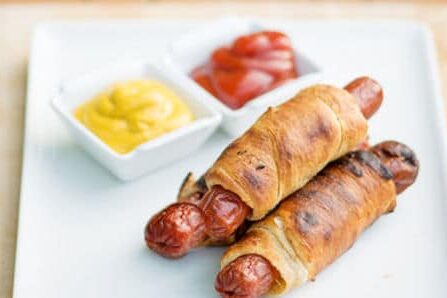 84. Slow Cooker Camping (A Year of Slow Cooking) – Here's another spectacular option for a crowd. It also includes great tips for making easy camping meals with a slow cooker!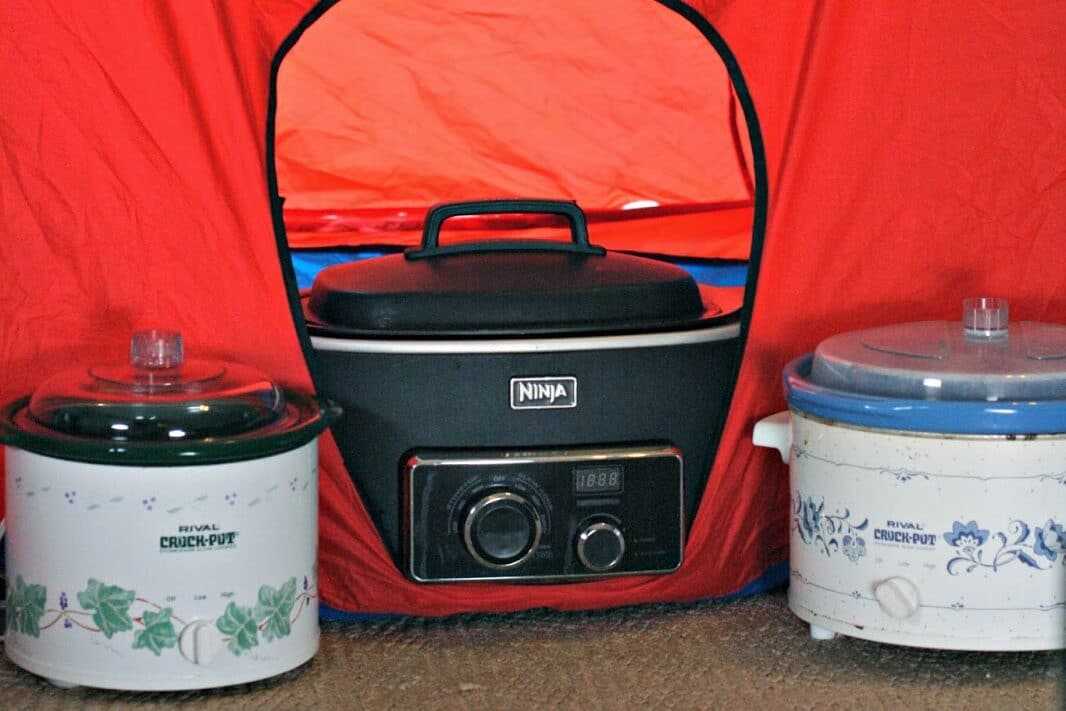 85. Onion Bombs (Eating in Neverland) – Meatloaf inside an onion, wrapped in foil, and baked over the fire? Yes, please!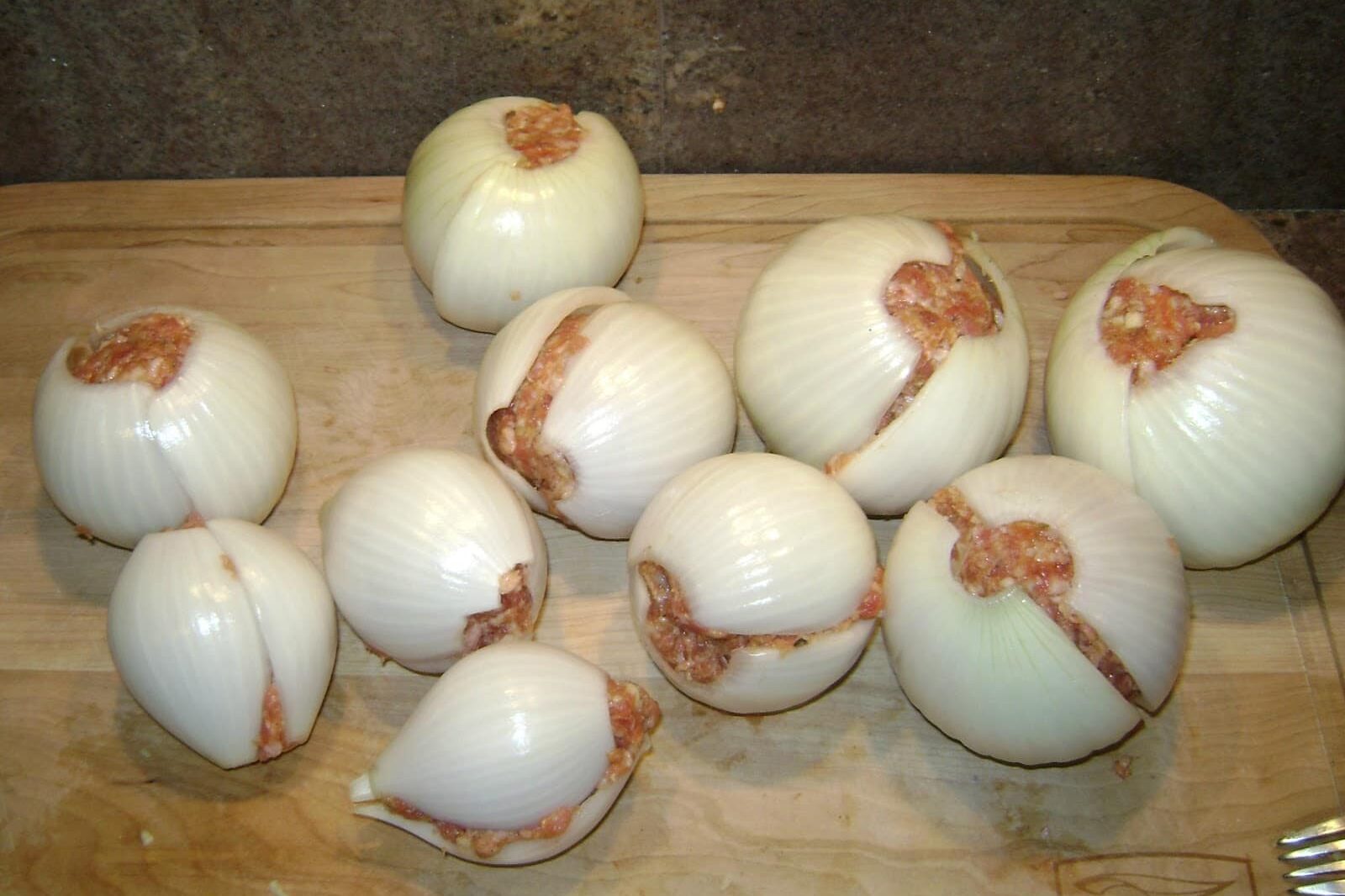 86. Oatmeal Energy Clusters (My Crazy Good Life) – It's always a good idea to have some easy-to-grab snacks on hand.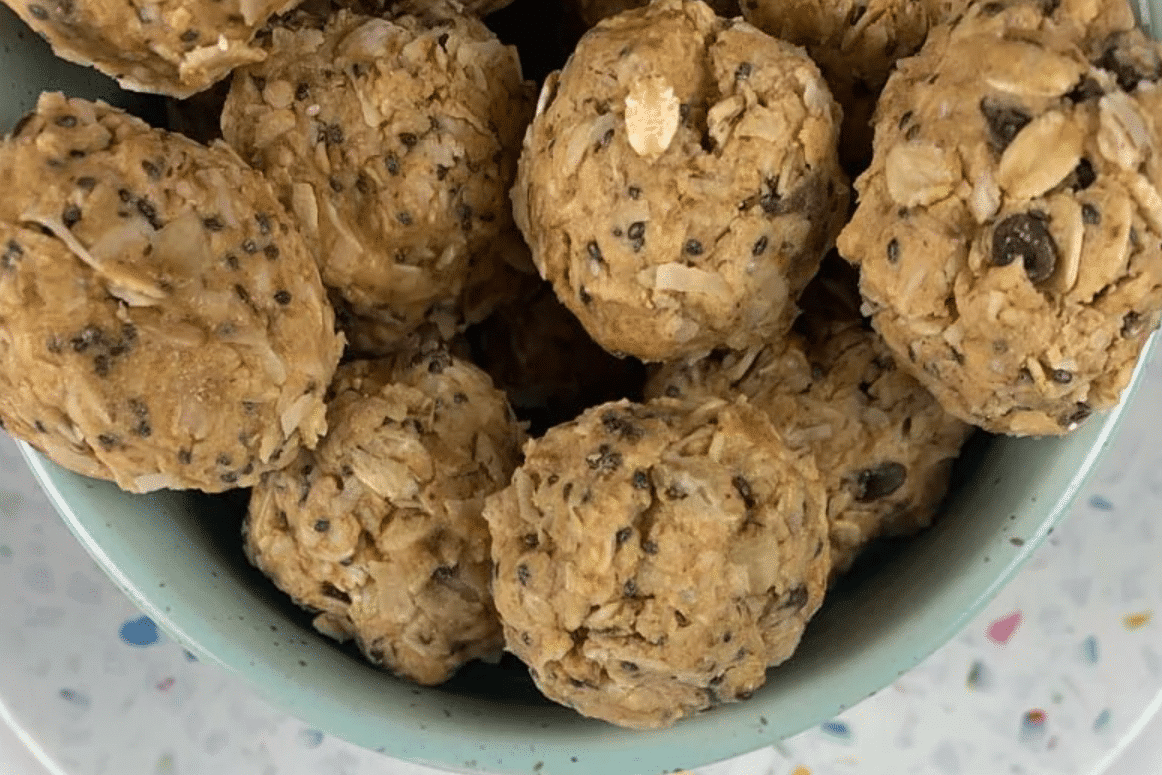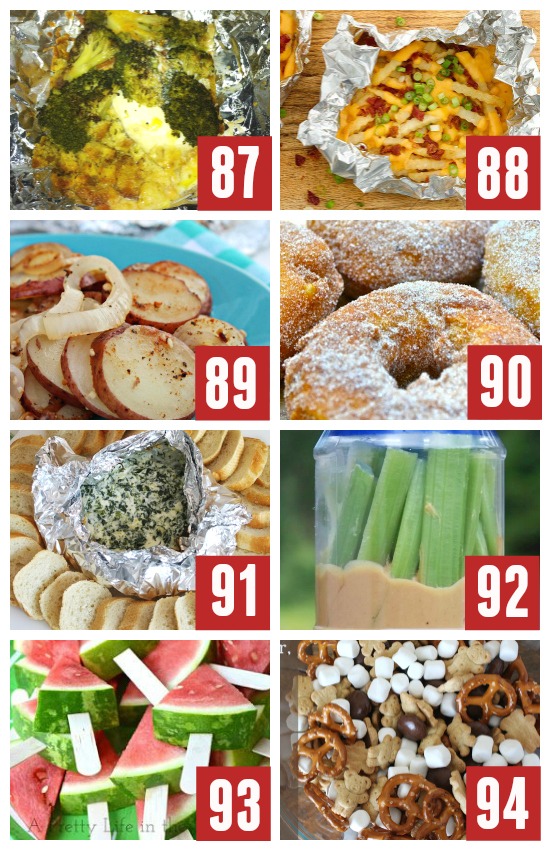 87. Broccoli Foil Packs (Cheslea's Messy Apron) – Now THIS is how you get the kids to eat their veggies!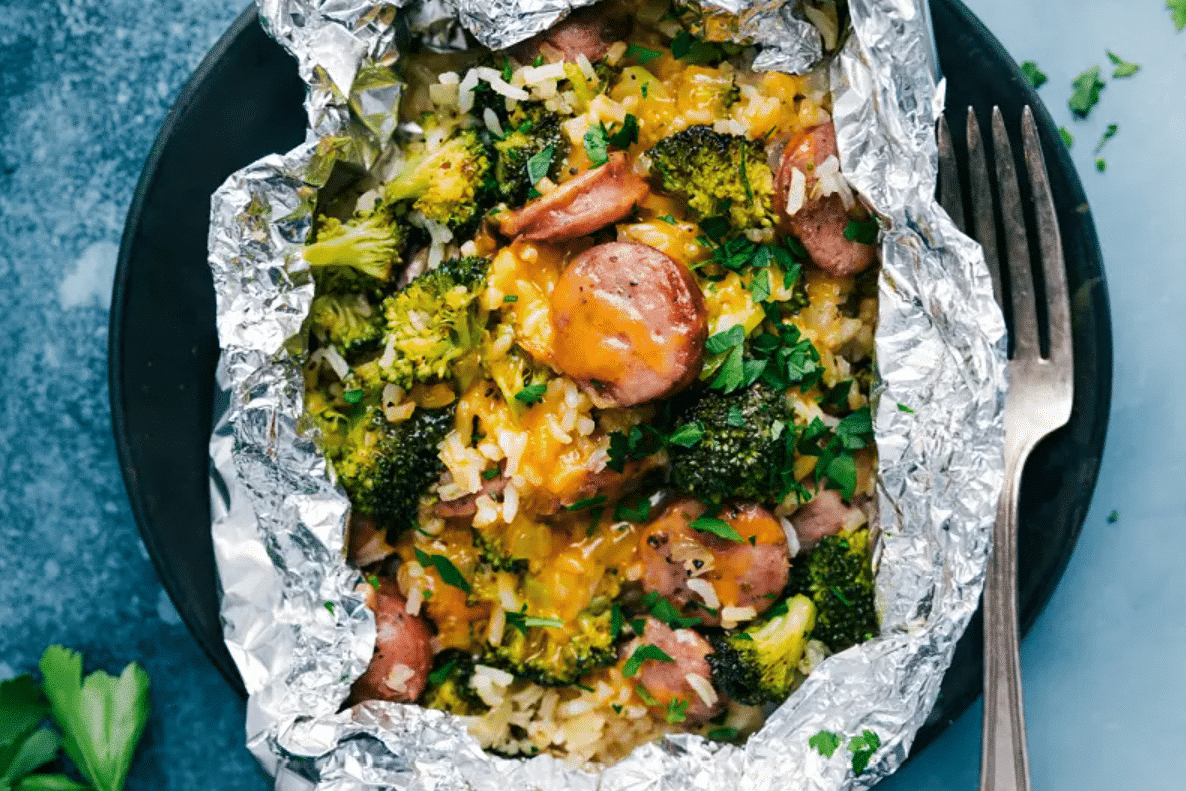 88. Grilled Foil Cheese Fries (Recipe Goldmine) – There is nothing we love more than cheese fries.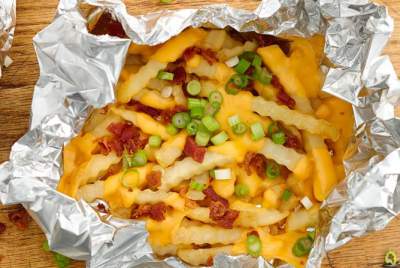 89. Campfire Potatoes (Savory Nothings) -Potatoes are the perfect, fail-proof side dish. They go with anything, and everyone loves them!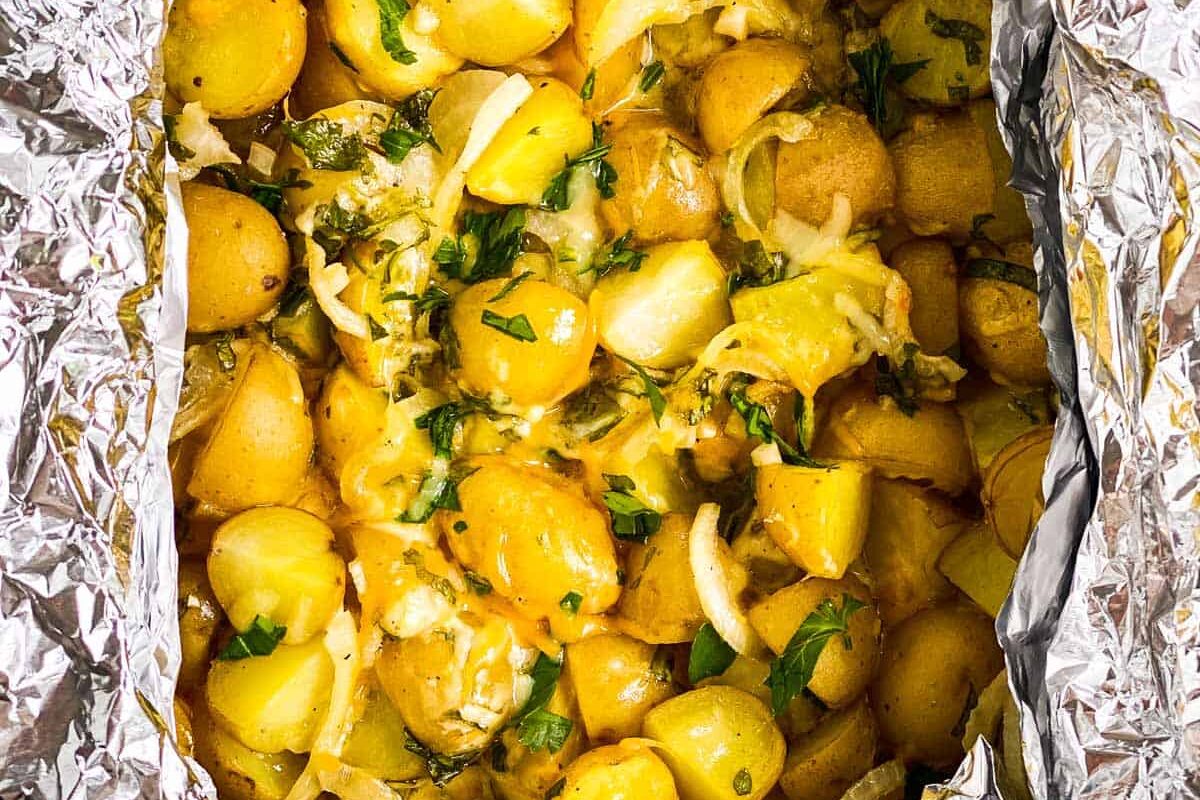 90. Campfire Doughnuts (Must Have Mom) – We're drooling over these camping hack doughnuts made from canned biscuits!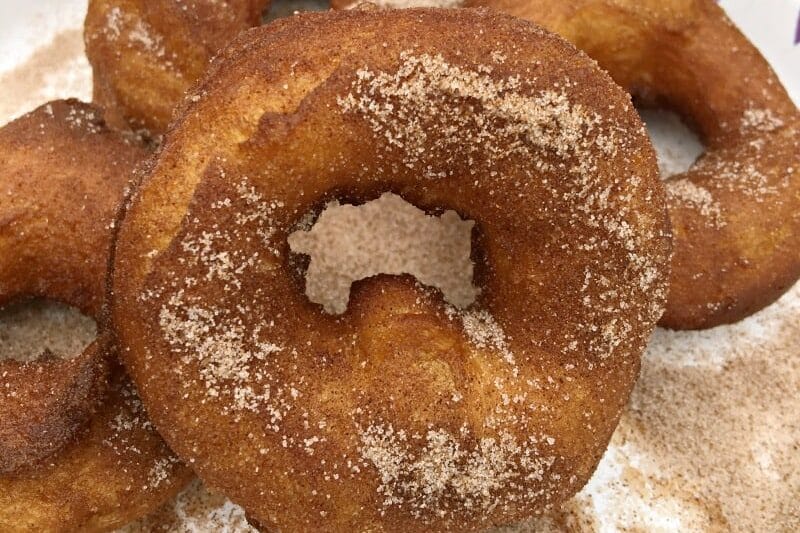 91. Campfire Spinach Dip (Outdoor Connection) – Who doesn't love a good spinach dip–especially when eaten in the great outdoors?!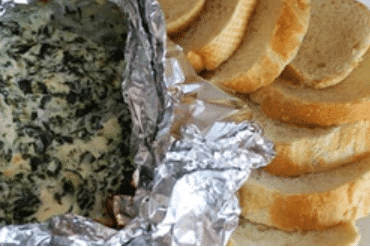 92. Dip Snacks in a Jar (Choose to Thrive) – Celery and peanut butter, hummus and carrots… the options are endless.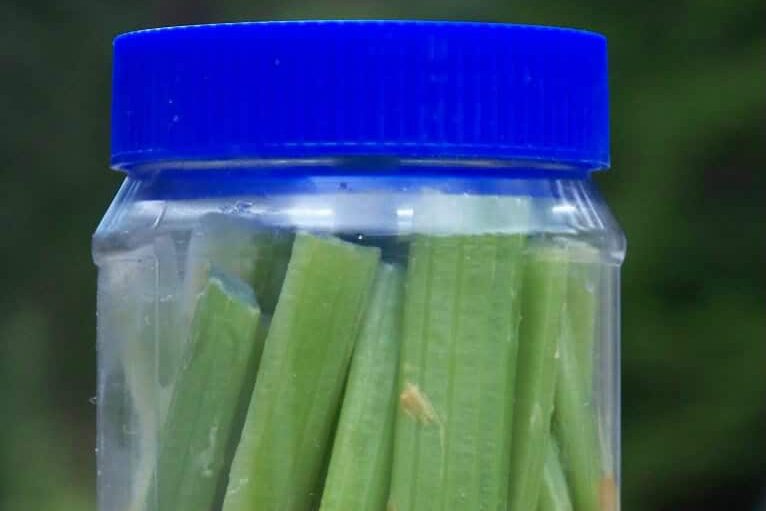 93. Watermelon Popsicle Sticks (A Pretty Life in the Suburbs) – A simple little hack to make snacking even more fun!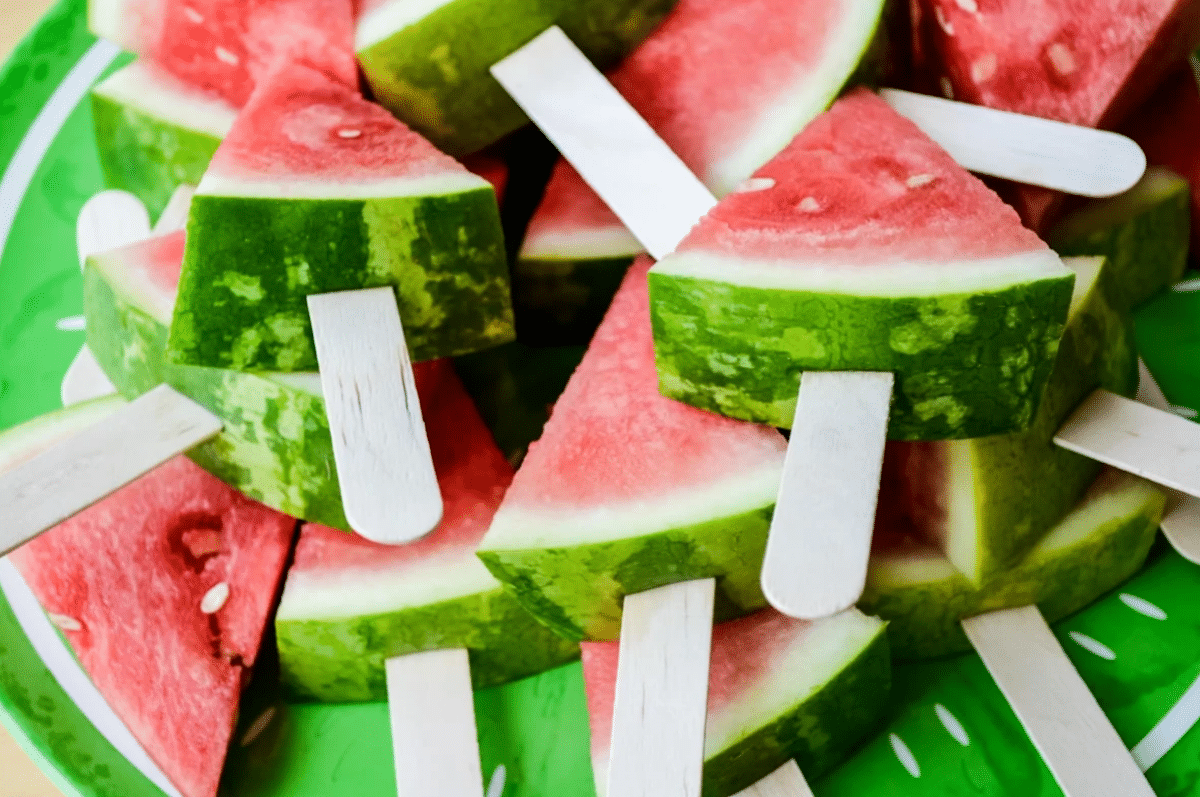 94. S'mores Trail Mix (The Sensible Mom) – Add this to your list of snacks that will be gone before you know it.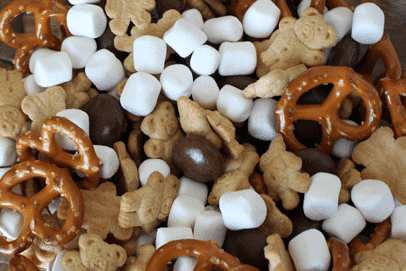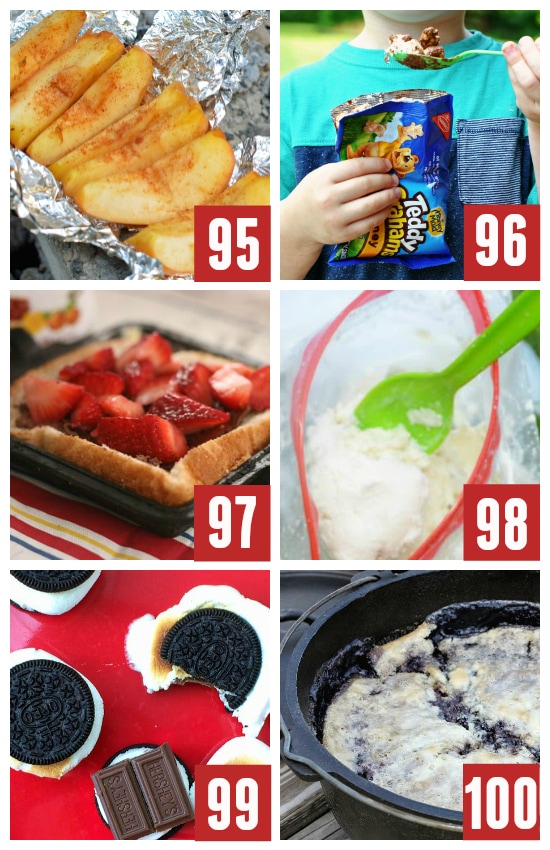 95. Baked Apples (Super Healthy Kids) – On a cooler night, warm apples with a pinch of cinnamon will totally hit the spot.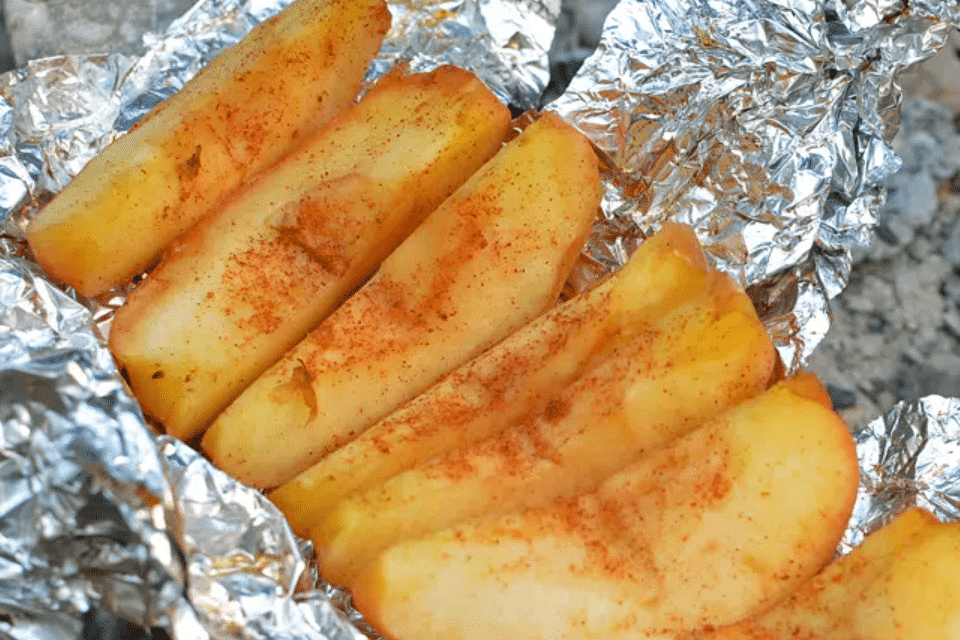 96. Less Mess S'mores (Pizzazzerie) – This bag of s'mores (without all the cleanup) is one of our favorite camping ideas.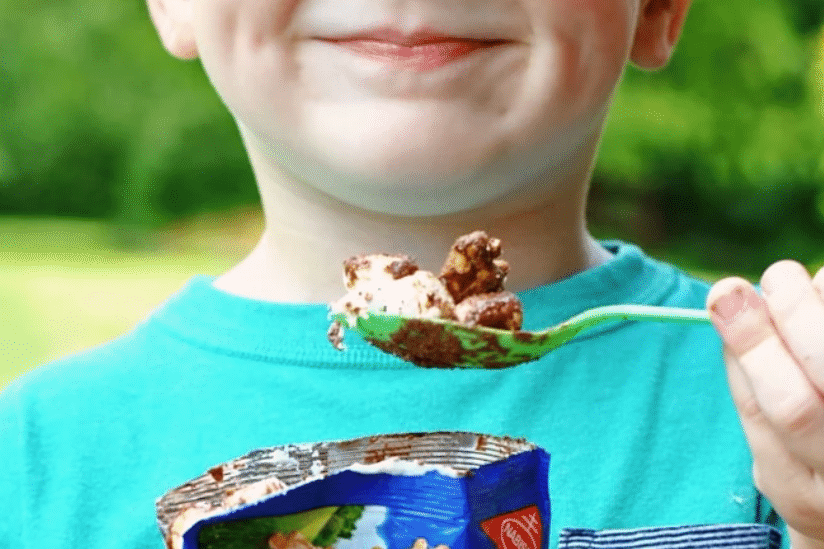 97. Strawberry & Nutella Sandwich (Mustard Seeds) – We can't imagine anything more delicious than gooey Nutella paired with strawberries.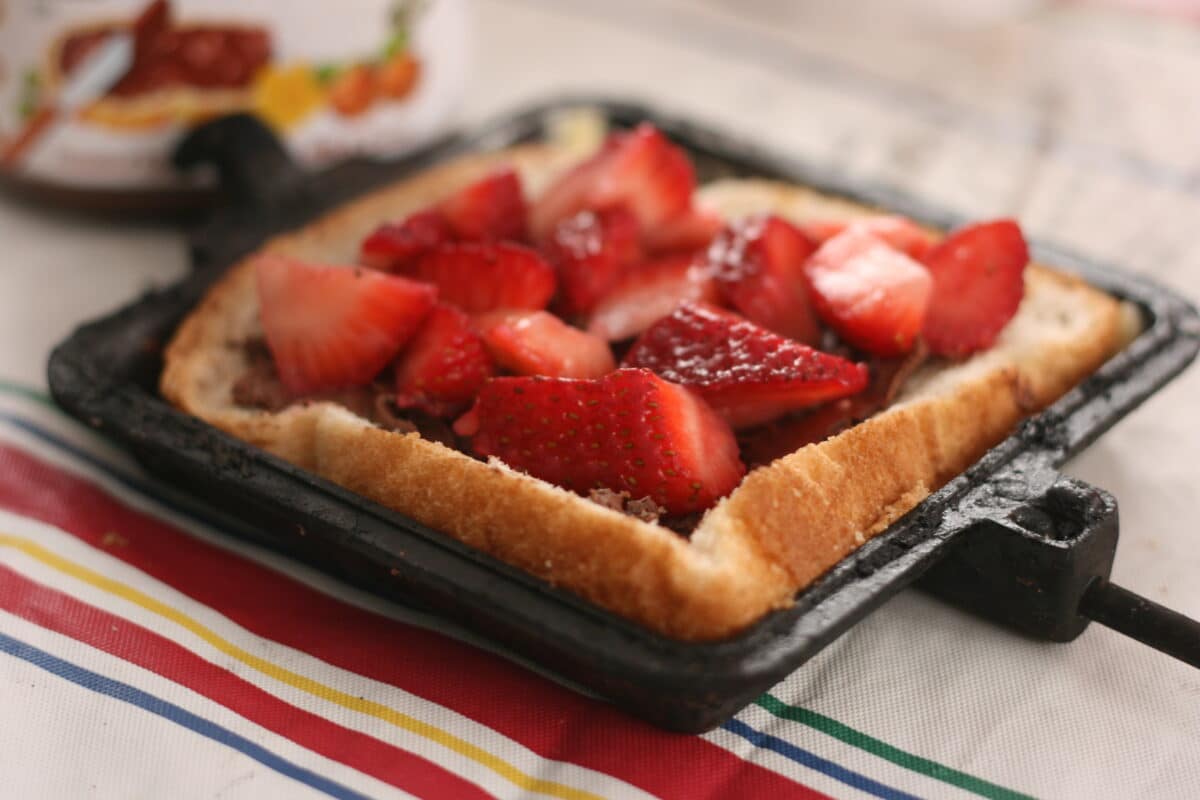 98. Ice Cream in a Bag (Growing a Jeweled Rose) – This would be the perfect cool camping hack to do on a hot summer night!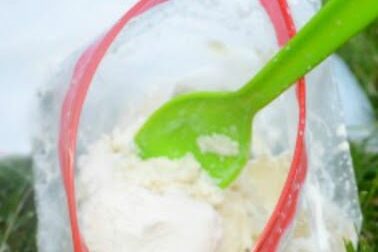 99. Oreo S'mores (Be Different Act Normal) – Who knew that s'mores could be even better?!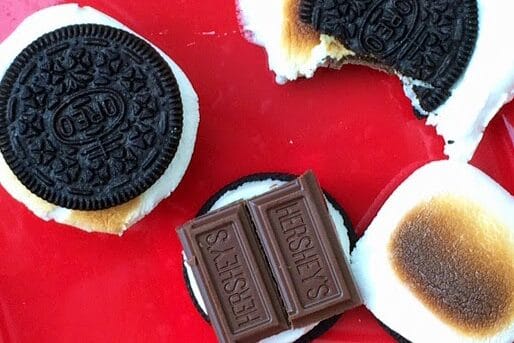 100. Blackberry Cobbler (Gingersnap Crafts) – This cobbler makes for sweet and cozy comfort food in the great outdoors.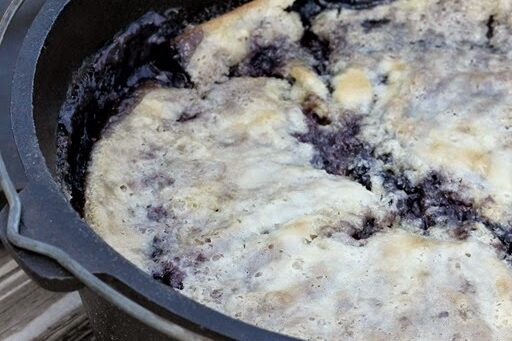 101. Camping Cookbook (Amazon) – Be sure and check out this mouthwatering recipe book! It's the perfect tool for helping you come up with even more great camping meals.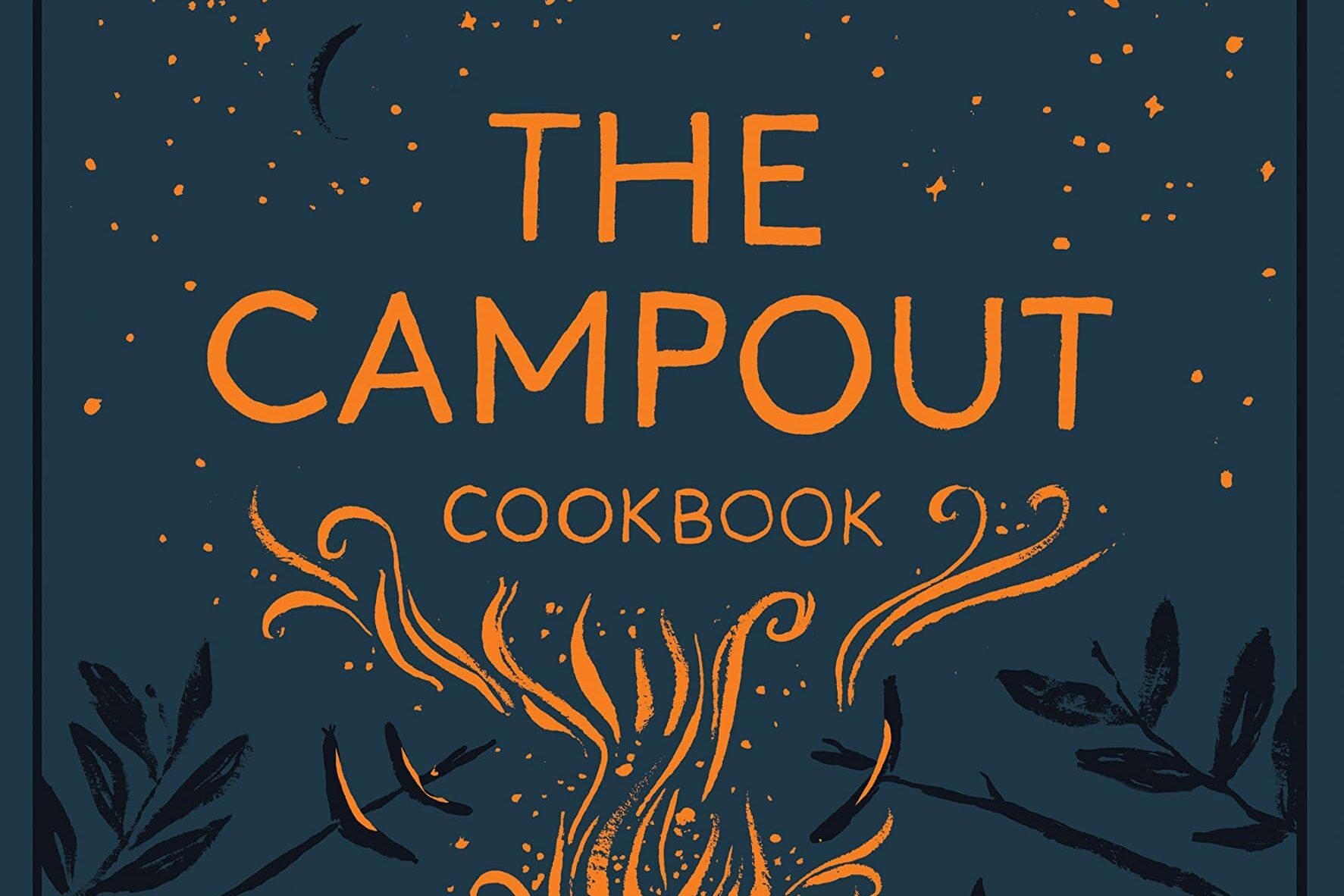 Is that a great list or what?! For more ideas, check out our list of more camping tips and tricks, not to mention our list of the best family vacations. You could even plan some camping time for just you and your sweetheart with this campout idea. And finally, you have to take a look at some of the best camping gadgets!