101 Fun & Creative Halloween Costume Ideas
That spooky time of year is back, and that means that it is time to start searching for that epic Halloween costume! Well, look no further because we have rounded up over 100 of the most exciting Halloween costumes out there! Halloween lovers, we give you…

Disclaimer: This post contains affiliate links. To learn more about 'em, click here.
We've come up with a healthy mix of costumes that are sure to make your Halloween spooktacular! And better yet, many of these ideas are totally something you can do yourself! That's right! DIY! Just in case you don't want to do a costume yourself this year, though, we've included a ton of affiliate links to ready-made, done-for-you costume options that you can grab online! You're welcome. 🙂
We've organized the costumes into categories, which include:
25 Fantastic Costumes for Couples

10 Creative Costumes for Pregnancy

20 Cute Costumes for Baby

25 Fun Costumes for Kids

15 Group Costumes for Families

6 Darling Costume for Dogs
We've got all the bases covered! Lets begin with…
Halloween Couples Costume Ideas
We know you are going to be going on a Halloween date this season, so here are plenty of couples costume ideas for you and your BOO!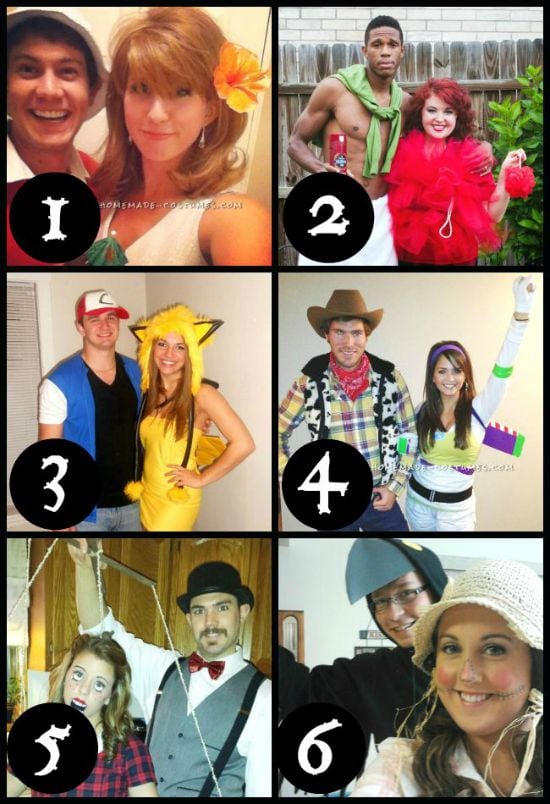 1.
Gilligan & Ginger –
 Who doesn't love these darling shipmates! You can grab
Gilligan
 and
Ginger's
 costumes online to make things easy-peasy!
2. Old Spice Guy & Soap Scrub – Sexy and clean. Enough said.
3. Ash & Pikachu – We know you were collecting the Pokemon cards back in the day! Ash is pretty easy to put together, and you can grab your Pikachu costume here!
4. Woody & Buzz – It's "to infinity and beyond!" with these awesome Pixar characters! Get your Woody costume here and a female Buzz costume here.
5. Puppet & Puppeteer – It's all about the puppet makeup with this simple costume!
6. Scarecrow & Crow – This costume is an easy DIY. Now all you have to do is decide who will be the "scare" and who will be the crow!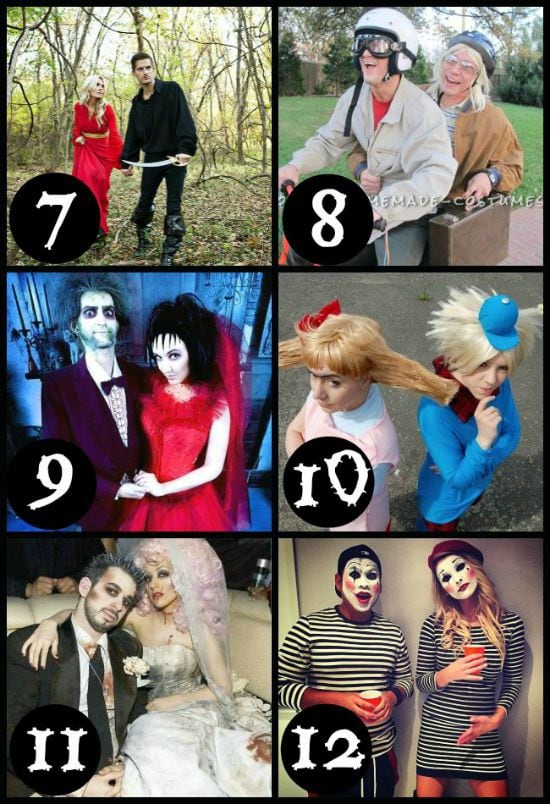 7. Westley & Buttercup – "Aaaaaaaas you wiiiiish!" If you choose this costume, do watch out for those R.O.U.S.'s!
8. Dumb & Dumber – This easy DIY costume is an absolute classic! Think of all the fun you will have quoting the movie all night long! If you want to go big or go home this year, grab the classic tux's for Harry and Lloyd!
9. Beetlejuice & Lydia – What makes a DIY costume great is definitely the makeup & hair, so get out your green hair spray! You can get Beetlejuices' regular get-up here, or you can grab some of those iconic masks from the film here and here.
10. Arnold & Helga – Cartoon characters are always an excellent route. Don't forget to color in that unibrow!
11. Zombie Bride & Groom – Who said you'll never wear your wedding dress again?! If you don't feel like mucking yours up, you can always grab one like this and a tux like this!
12. He & She Mimes – Stripes & makeup is all you need to pull off an awesome mime costume! You can also get this super cute jumpsuit for females, or this classic mime costume for males.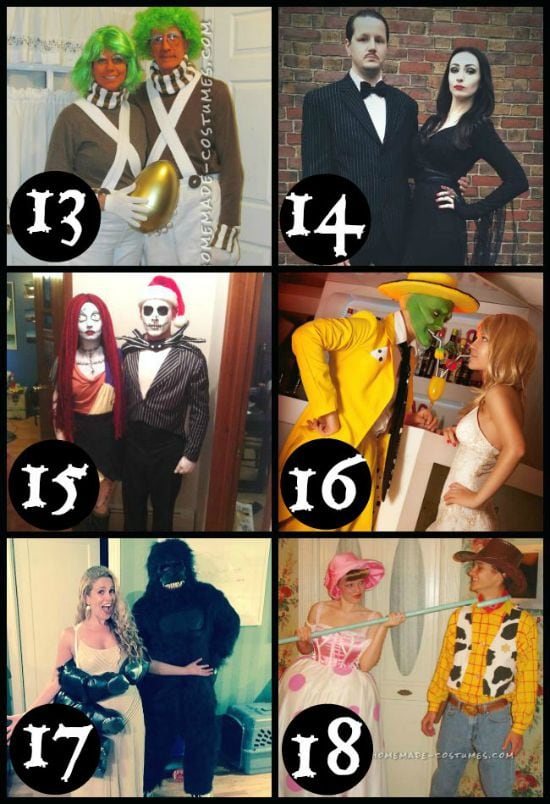 13. Oompa Lumpas – Be sure to show up to your party with a song and a dance prepared! Grab ready-made costumes for males and females, too!
14. Morticia & Gomez Addams – The Mr. & Mrs. Halloween classic.
15. Jack Skellington & Sally – Another classic Halloween couple! You can pick up the costumes for Jack Skellington and Sally if you want the pre-done version!
16. The Mask & Tina –  This costume would be a show stopper, or pick up The Mask done for you!
17. King Kong & Ann – Every man has to wear a gorilla suit at least once in his life. Grab an already done King Kong to make it even easier!
18. Woody & Bo Peep – The most important detail of this costume is the snake in Woody's boots.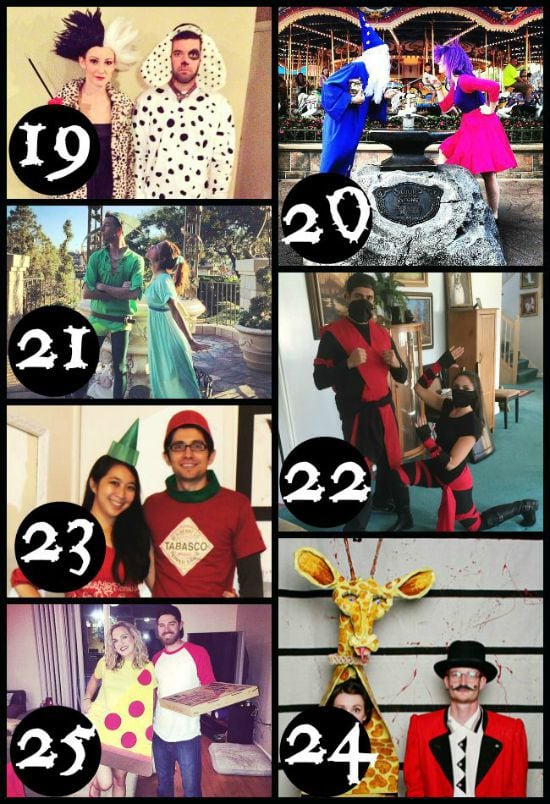 19. Cruella De Vil & Dalmation Puppy – NO puppies were hurt in the making of this costume. To be sure though, you can always grab the ones done for you of Cruella De Vil and the Dalmatian Puppy.
20. Merlin & Mad Madam Mim –  This bright and colorful costume would stand out in the crowd! Grab an already done Merlin!
21. Peter Pan & Wendy – There is nothing more sexy than a man in tights! Here are some costumes to purchase for those who aren't big into DIY – Peter Pan and Wendy
22. Ninjas – All you need for this DIY costume is a few strips of fabric and black clothing. Done! Thanks to one of our lovely Divas for letting us use her photo!
23. Sriracha & Tobasco Sauce – Celebrate cultural cooking with these delicious sauces! You can even get a done-for-you Sriracha costume here!
24. Giraffe & Circus Master – This circus couple totally nailed it! You can get a circus master costume here, and a giraffe costume here.
25. Pizza & Delivery Boy – If you're looking for something quick and easy, this would be a great option. Delicious, too! Make it even easier by grabbing this pizza costume!
Maternity Halloween Costume Ideas
It's not every year you get to sport the bump! Make it memorable with one of these darling costumes!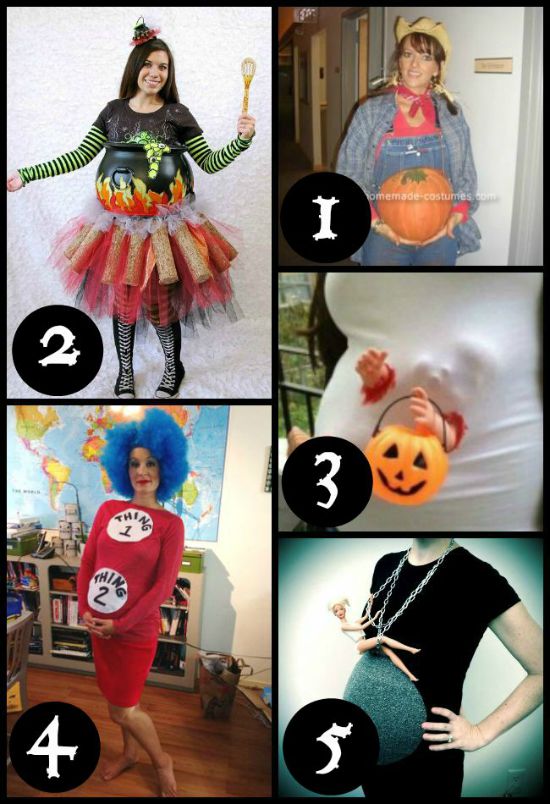 1. Pumpkin Farmer – Overalls, braids, and a big round belly!
2. Witch's Cauldron – Who doesn't want to wear a tutu!?
3. Trick-or-Treat Baby – Okay guys… this is a little creepy… and awesome!
4. Thing 1 & Thing 2 – Need a quick last minute costume? Dr. Seuss never fails!
5. Miley Cyrus Wrecking Ball – Or should we say Barbie Cyrus?!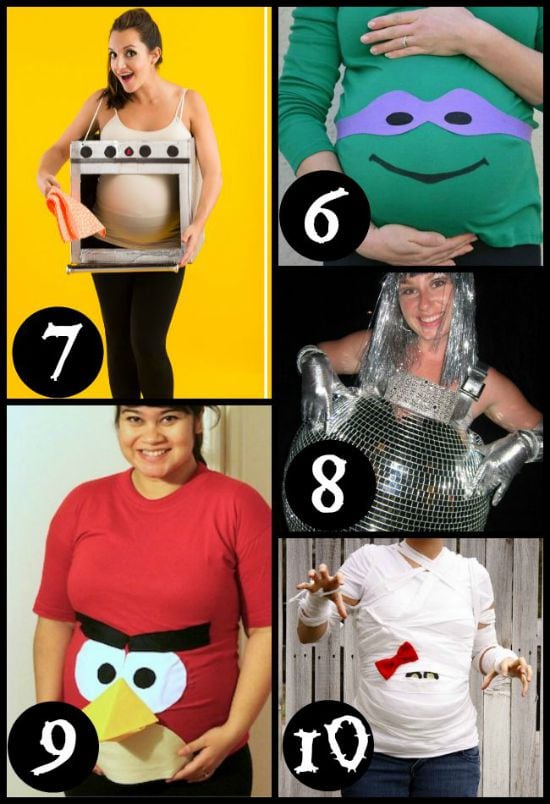 6. Ninja Turtle– Especially darling DIY if you are having a boy!
7. Bun in the Oven – This is the best Bun in the Oven costume out there! An easy DIY too! You can also grab a ready-made one here!
8. Disco Ball – The party doesn't start until someone shows up as a Disco Ball.
9. Angry Bird – Get them pigs!
10. Mummy Mommy – The perfect mummy costume for mommy!
>>You can see some other ready-made costume ideas here!
Halloween Costume Ideas for Babies
There is nothing cuter than a baby in costume! Here are 20 of the best!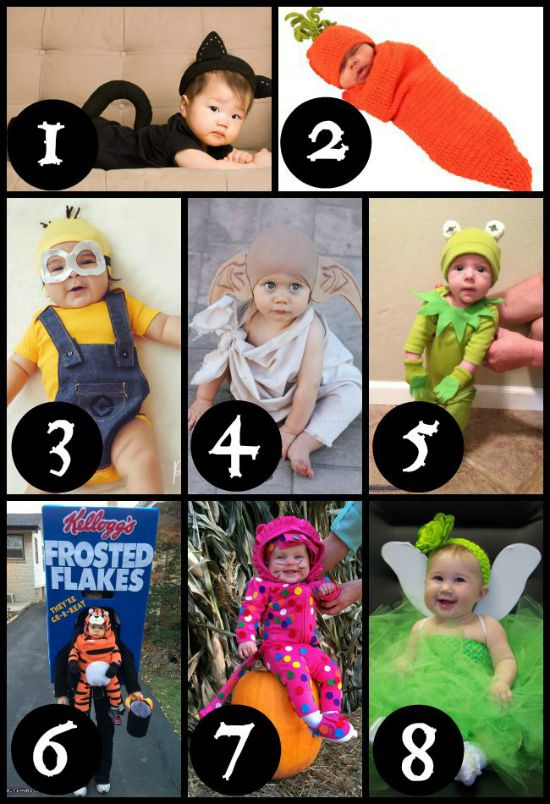 1. Black Kitten – The classic black cat costume, kitten style! You could also get a done-for-you costume here!
2. Baby Carrot – Perfect for your newborn that wants to be nice and cozy!
3. Minion – So cute! You could use some denim overalls and a yellow onesie, or even this ready-made costume!
4. Baby Dobby – This works especially well if your baby is a little mischievous.
5. Kermit the Frog – It ain't easy being green, but it is so darn cute! You can get a little Kermit costume here.
6. Tony the Tiger – This costume is GRRRREAT for a chilly evening of trick-or-treating!
7. Circus Animal Cookie – Keep a close eye on that baby, so no one eats her up!
8. Tinker Bell – Nothing cuter than a little pixie baby! Get the costume here.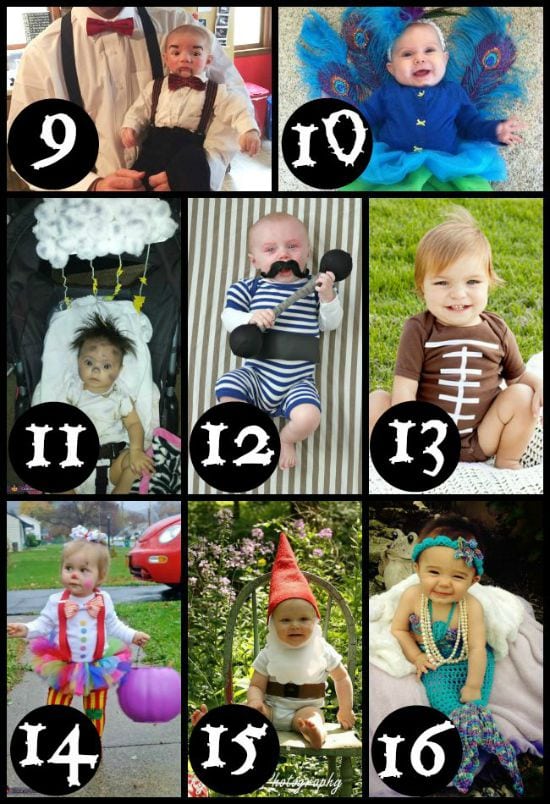 9. Ventriloquist & Dummy – This costume looks so real!
10. Peacock – For all you proud parents out there! I can't even believe this costume is real – so cute!
11. Struck by Lightning – NO babies were hurt in the making of this costume!
12. Strong Man – Daddy's tough guy! But really, that mustache! LOVE!
13. Football – Down! Set! Hike! You can get that darling onesie here.
14. Baby Clown – Cutest. Clown. Ever. Period. Loving this colorful costume, too!
15. Gnome – A little felt goes a long way with this darling DIY! If you'd rather buy it online, you can get it here.
16. Mermaid – Now you know what to do with those seashells you got on your last vacation! Get a sweet little costume online.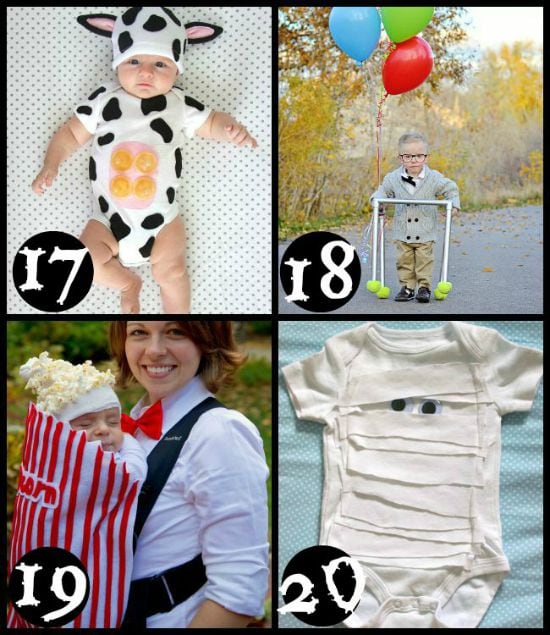 17. Baby Cow – This simple DIY costume is "utterly" adorable! You can get one ready-made here.
18. Carl from Up – Babies as old men. So. Stinkin'. Cute!
19. Popcorn & Vendor – Keep that baby close, and have a snack too!
20. Mommy's Little Mummy – Simple, easy, DIY. Love it, love it, love it!
Kids Halloween Costume Ideas
These costumes are sure to be part of your kid's childhood memories for years to come!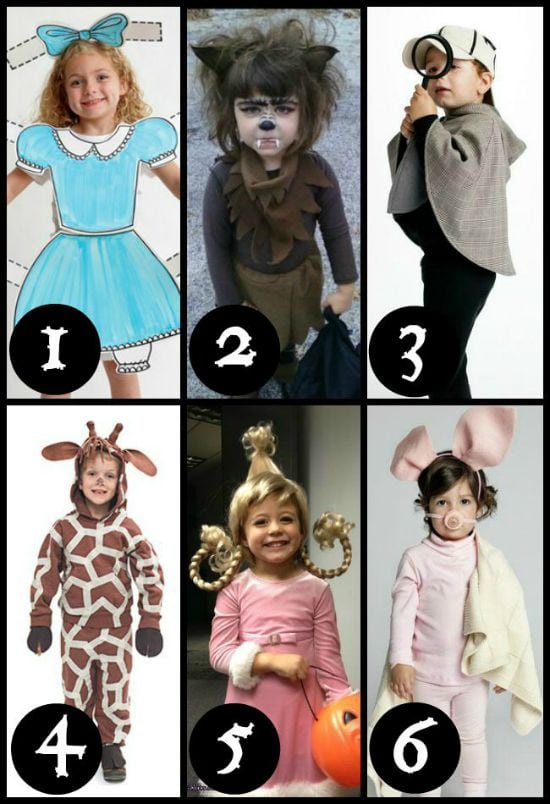 1. Paper Doll – Anyone can pull off this cute DIY costume! Your kid will love decorating the dress, too!
2. Werewolf –  Could this kid be any cuter! It's wild! Grab an already done werewolf costume for a super quick Halloween!
3. Detective – Cloak. Hat. Magnifying glass. DONE!
4. Giraffe – Masking tape never looked so good!
5. Cindy Lou Who – All about that darling hair!
6. Pig in a Blanket – Nose. Ears. Blanket. Pink. DONE!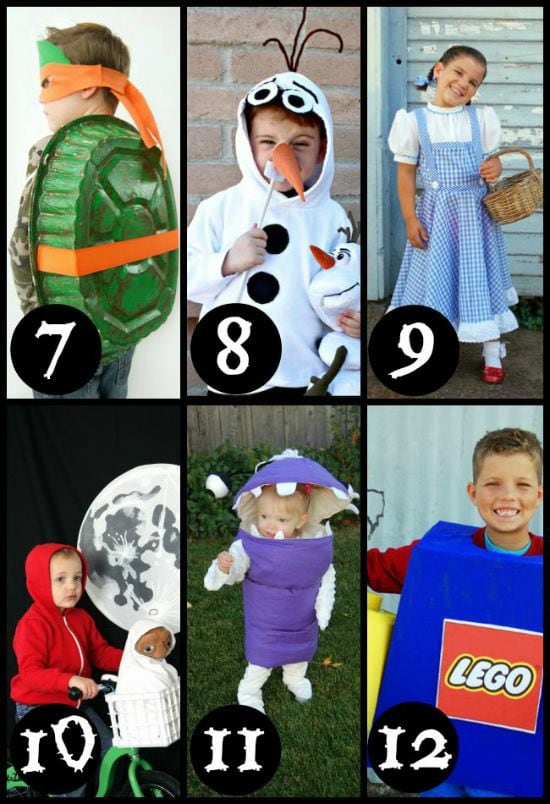 7. Teenage Mutant Ninja Turtle – Your kid will be looking like one tubular dude in this simple DIY! If you'd prefer to buy it, you can get it here.
8. Olaf – Do you want to build a snowman? Here is a great done-for-you costume!
9. Dorothy – Your little Dorothy will be clicking her heels all night long with this fun costume!
10. Elliot & E.T. – Bike. Hoodie. Moon. Creepy alien. DONE!
11. Boo – This little cutie from Monster's Inc. will melt your heart!
12. Lego Man – A cardboard box never looked so good!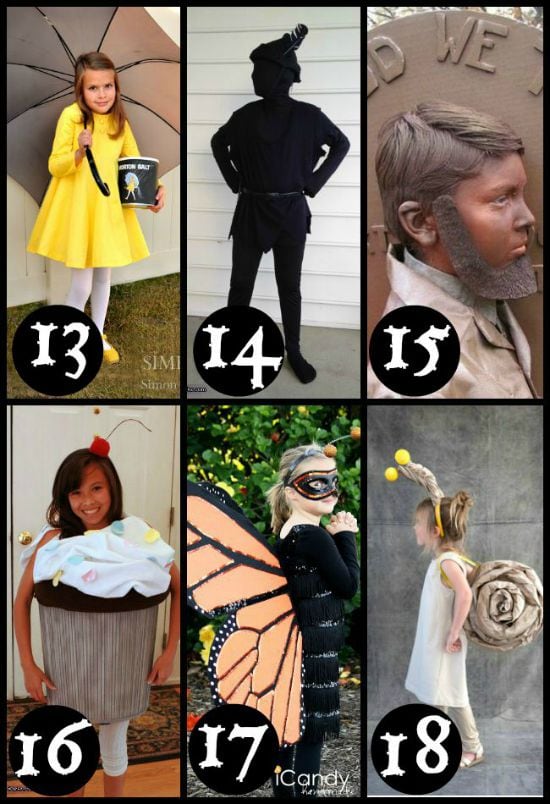 13. Morton Salt Girl – Darling! Yellow dress. Umbrella. Salt. DONE!
14. Peter Pan's Shadow – This is such a fun idea! Using a black morph suit (Amazon has all sizes!), you can totally cover your body (and still be able to see!). Someone with twins needs to do this with a Peter Pan costume together!
15. Lincoln on the Penny – Okay, this costume is awesome! Cardboard. Paint. Felt. DONE!
16. Cupcake – To satisfy your sweet tooth! Don't forget the cherry on top!
17. Butterfly – Your little monarch will have a great time flapping their wings in this cute Halloween costume! This particular one is a DIY, but to simplify a little, you can grab a ready-made one here.
18. Snail – This is a totally unique and adorable costume! And completely DIY!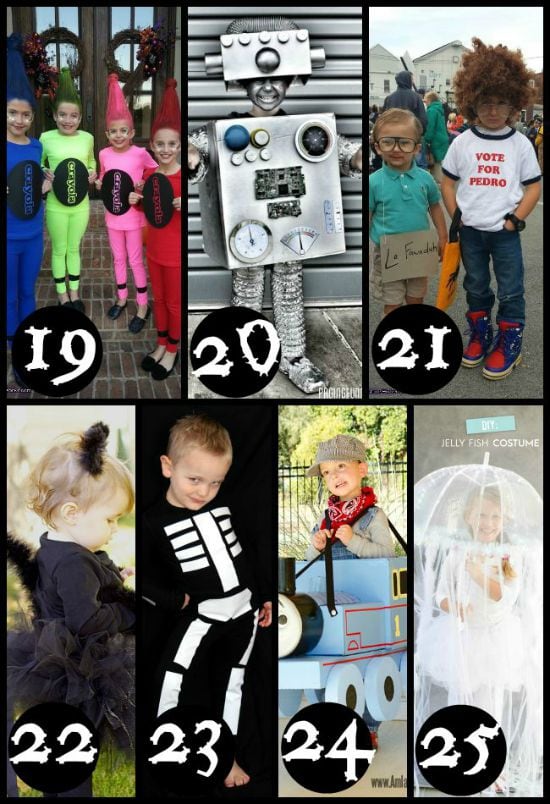 19. Crayons – This awesome DIY can easily be done with a group of friends. There are TON of fun sizing and color options here if you'd rather get it online!
20. Robot – This would be such a fun project with your child! They will love being creative with objects you find around the house. You also can get this cute retro robot costume done-for-you, right here!
21. Kip & Napoleon – These kids are so dang cute! And, you should be able to find most of those clothes around the house!
22. Black Cat – Little girls in tutus! Cuteness overload!
23. Skeleton – Black clothes and tape. Yup, that's all it takes!
24. Thomas the Train – I think your kid would love you forever if you made that train for him! This is a DIY, but you can get one online here.
25. Jellyfish – So unique, so easy, so adorable! PS – how genius is a clear kids umbrella?
Family Halloween Costume Ideas
The family that dresses up together, stays together!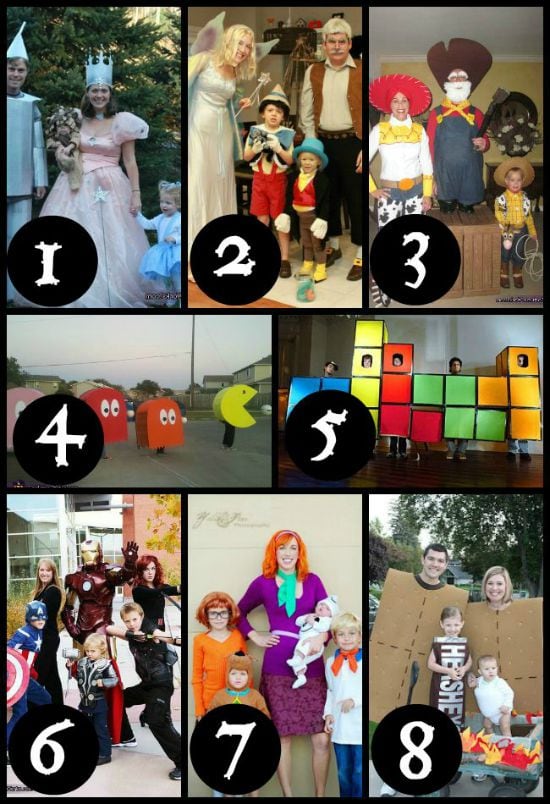 1. The Wizard of Oz Characters – Lots of fun characters to choose from! Just follow that yellow brick road!
2. Pinocchio & Friends – Everyone is happy if mom gets to be the Good Fairy! Loving this Geppetto costume, too! Grab Pinocchio to finish it off!
3. Woody's Round Up – Howdy, there partner! What kid doesn't love Woody!? Don't forget Jessie! (PS – I'm DYING over this toddler Jessie costume!)
4. Pac Man & Ghosts – Cardboard. Paint. Chomp, chomp, chomp!
5. Tetris Pieces – Your family fits together perfectly in this awesome DIY costume!
6. The Avengers – Taking it up a notch with the Avengers! You can get all of the costumes you need here.
7. Scooby Doo Crew – How cute is this?! Love the ghost baby! You can get Scooby, Velma, Daphne, Fred, and Shaggy all online!
8. S'mores – Even the wagon gets a costume in this darling DIY!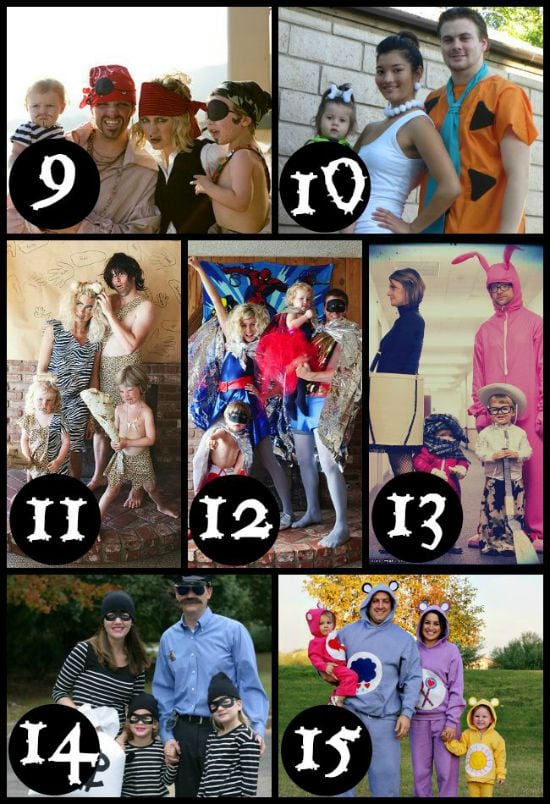 9. Pirate Shipmates – Arrrgh, matey! Eye patches and bandanas. Totally authentic!
10. The Flintstones – Another awesome costume! Yabba dabba doo!!! All of the costumes you need to pull off this look are right here.
11. Cavemen – You don't even have to brush your hair as part of this cute caveman family (scroll down a bit in the link for the pictures)! You can grab a caveman costume here, a cave woman costume here, and one for the kiddos here!
12. Super Heroes – No shirt, and underwear outside of their pants. Your kids will be thrilled! (scroll down a bit in the link for the pictures)
13. A Christmas Story – Love that mom is the leg lamp! You can get a leg lamp costume here, and the infamous children's bunny costume here. They have one for adults, too!
14. Burglars & Cop – Dad is keeping this rowdy bunch in line tonight! Make it easy with these costumes for the burglars and the ocop.
15. Care Bears – So many cute bears to choose from! Easy, too!
Halloween Costume Ideas for Dogs
Whether you have a dog or not, these costumes are sure to put a smile on your face!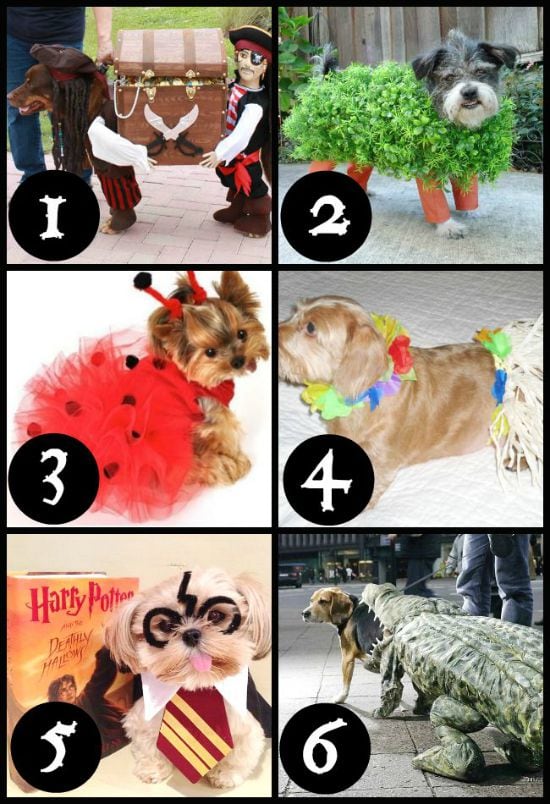 1. Looting Pirate – This costume is amazing! Loving it! Grab a done for you puppy pirate costume to make it even easier!
2. Chia Pet – Ch-ch-ch-chia! So easy and so, so cute!
3. Lady Bug Puppy – Tutu's aren't just for ballerinas! You can get a similar one here.
4. Hula Hound – This little fur ball is ready to hit the beach! This costume is cracking me up!
5. Harry Pupper – Hairy is right! This little pup is looking like he's ready to defeat Voldemort!
6. Beagle for Lunch – This costume is a total crack up!!! You can get a giant alligator here if you want to pull off the look yourself!
Yippee! Looks like you are all set for a fun, festive, and exciting Halloween!
Not enough for you!? Well check out our original post: 101 Creative Halloween Costume Ideas.
Also check out our 50 FUN Halloween Foods. YUM!
Happy haunting!
AND if you're looking for some fun Halloween Party Ideas… look no further! Introducing…
Our NEW Whodunit Mystery Detective Game!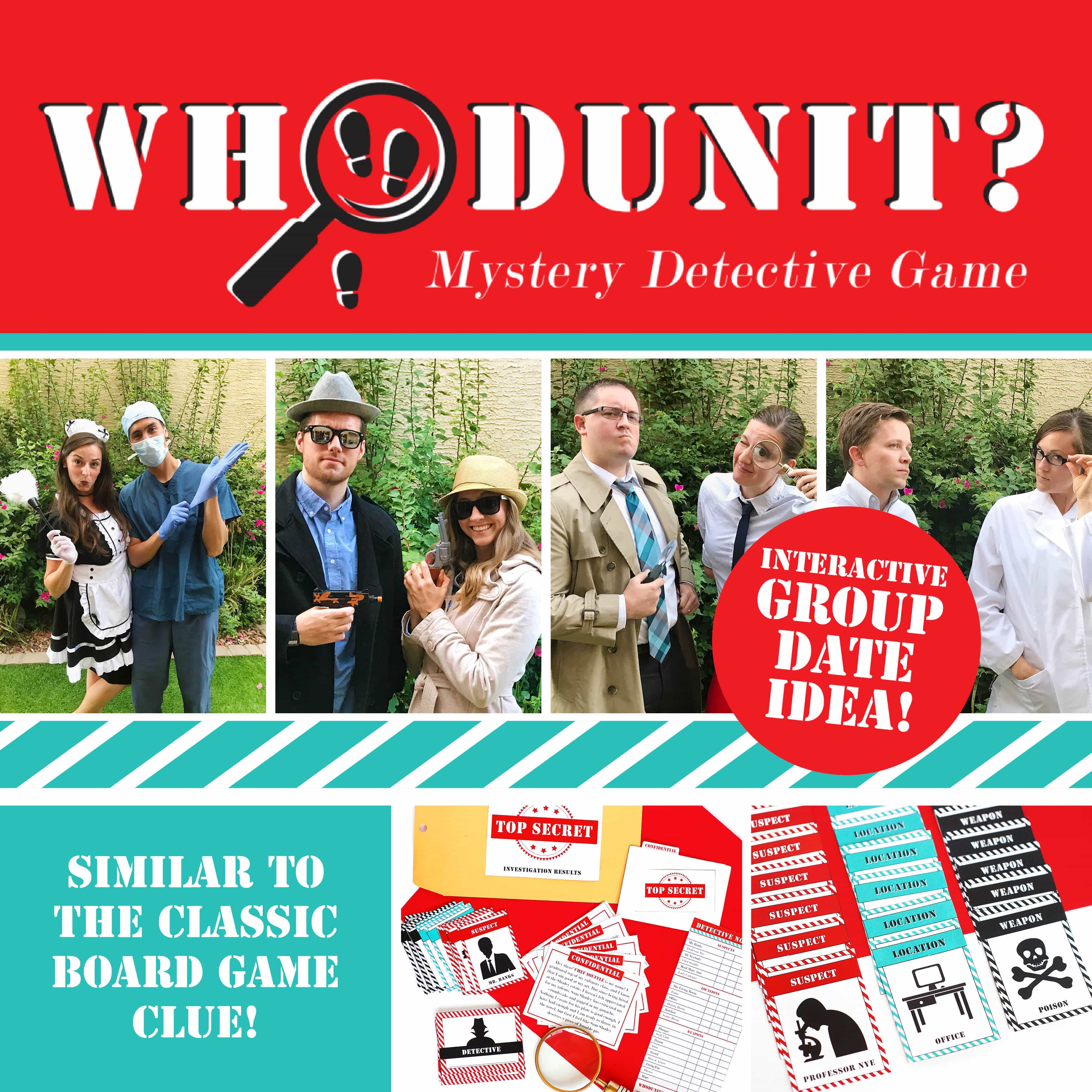 Here are all of the amazing resources available in this kit: 
Host's Guide – to make party planning a breeze
Invitations – includes both a paper and a digital version!
Name Tags – to identify each unique character
Character Role Cards – gives your guests a character background
Suspect, Location and Weapon Cards – to determine the crime committed
Room Labels – for the designated suspect areas
Detective Clue Sheets – To assist the detectives in solving the crime
Character Introduction Cards – for introductions at the party
Host Check List – to keep track of your party preparations
Guest List – to organize your guests and assign characters
Top Secret Envelope Labels – where the suspect's clues will be revealed
AND if you loved this, you HAVE to try our Murder Mystery Kit!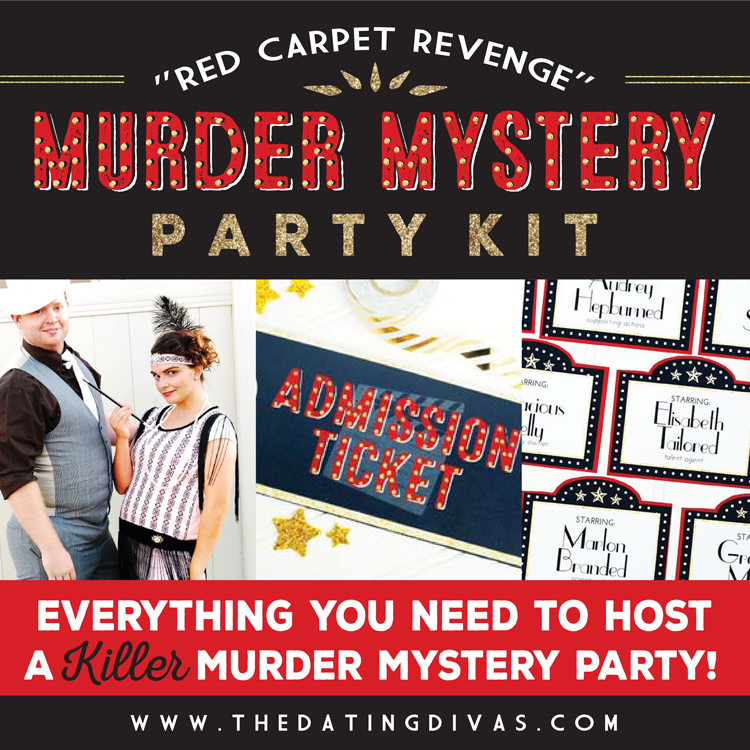 This 80 Page Murder Mystery Party Kit includes:
Hosting Ideas & Suggestions to make party planning a breeze.
Invitations personalized for each character with costume ideas!
Character Biographies to set the stage and story.
Name Tags to identify each unique character.
Table Cards & Food Tents to use if playing over dinner.
Task Cards for the characters to complete in each round.
Evidence Pieces to add intrigue and suspense!
Voting Ballots and Awards to vote for your favorite characters & suspects.
and much MORE!
HAPPY HALLOWEEN!