101 Quick Gift Ideas for Your Neighbors
With Christmas being right around the corner, life gets super crazy. Let us help ease some of the stress with this list of over 100 Holiday Gifts for Your Neighbors!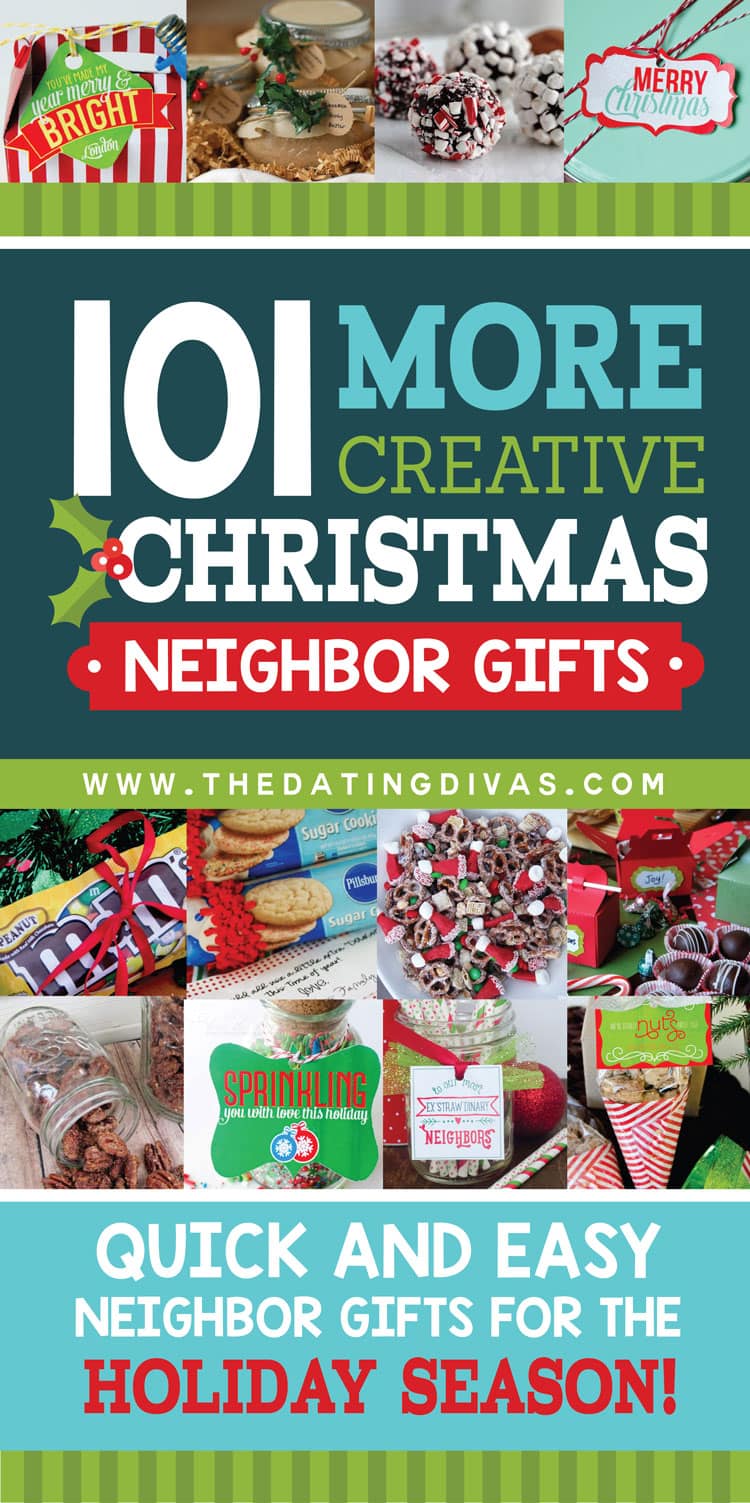 Disclaimer: This post contains affiliate links. To learn more about 'em, click here.
These aren't just any gift ideas, these are gifts that are QUICK and EASY to put together, so your stress is less!
Peruse through these 5 categories to pick your favorites so you have awesome gifts for friends and neighbors.
27 Home Baked Christmas Neighbor Gifts
13 Christmas Decoration Neighbor Gifts
31 No-Bake Christmas Neighbor Gifts
15 Super Useful Neighbor Gifts
15 Cards, Tags, and Bags for Neighbor Gifts
You excited yet?! Good! Let's get started!
27 Home Baked Christmas Neighbor Gifts
Sometimes the best neighbor gifts are homemade sweet treats. Yummy!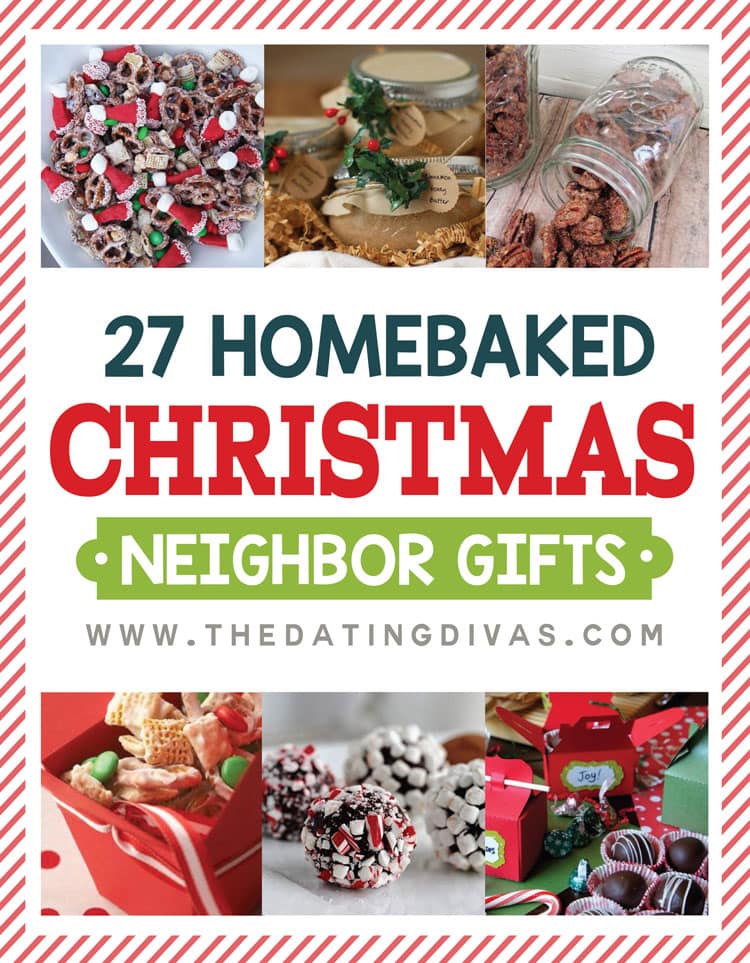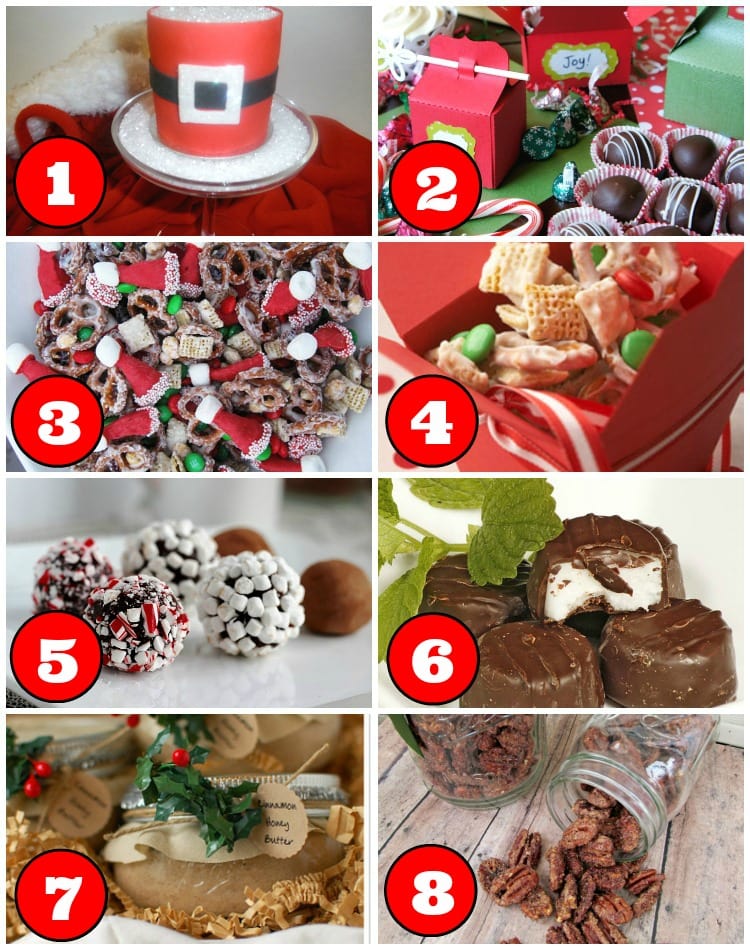 1. Mini Santa Cake – Make these deliciously cute Santa cakes for your perfect neighbor gift this year.
2. Peppermint Fudge or Chocolate Caramel Truffles – Whip up a batch of peppermint fudge or the chocolate, caramel truffles and put them in some cute treat boxes!
3. Santa Party Mix – Just stir together a few simple ingredients to create this yummy party mix for a great neighbor gift. These bags are perfect for packaging!
4. Snowflake Mix – For an easy, yet impressive present, make this Christmas spirited Chex mix.
5. Hot Chocolate Truffles – These truffles look super delicious and divine! Mmmmm… Pair them with hot chocolate and a mug and you've got yourself a perfect neighbor gift!
6.  Peppermint Patties – Give your neighbors these succulent peppermint patties!
7. Cinnamon Honey Butter – Make this mouth-watering honey butter for your neighbor gifts this year!
8. Candied Pecans – Turn some ordinary pecans into a delicious treat during the holidays. These festive jars are the perfect way to package them!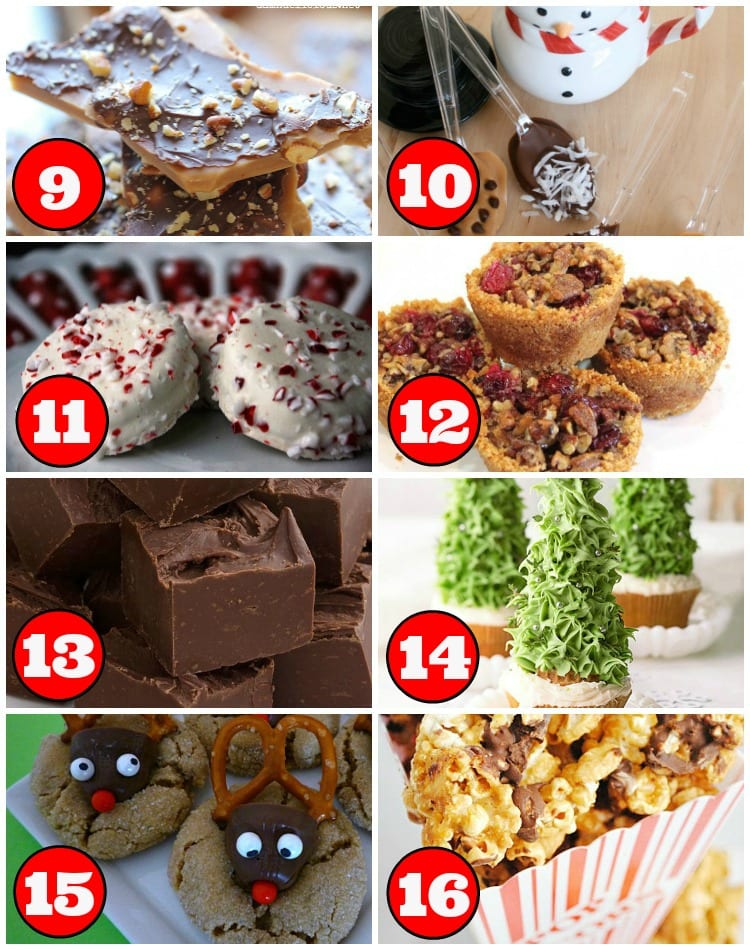 9. Toffee – Toffee is a favorite around Christmastime and this recipe really is easy (the hardest part letting it cool for 2 hours – patience is a virtue when it comes to amazing food!).  This makes a very easy and very yummy gift for your neighbors.
10. Chocolate Dipped Spoons – These adorable spoons not only give you variety for your neighbor gifts, but they are super easy to make and delicious! You just need some plastic spoons!
11. White Chocolate Peppermint Oreos – Take a delicious Oreo cookie, dip it in melted white chocolate, sprinkle with peppermint chunks, and voila – fantastically yummy, easy gift.
12. Mini Cranberry Pecan Pies – Ooooo, my mouth is watering just thinking about these! Make sure you give them away and don't keep them for yourself! (Ok, maybe keep a few…)
13. Fudge – This amazing recipe has only 2 ingredients! 2 ingredients = easy and awesome!
14. Christmas Tree Cupcakes – Make some mini cupcakes, top them with a waffle cone, and decorate the cone to look like a Christmas tree. What a cute and easy neighbor gift. Just grab some Christmas muffin liners and you're good to go!
15. Peanut Butter & Chocolate Reindeer Cookies – Turn some of your favorite peanut butter cookies into an extraordinary gift using chocolates, candy embellishments and pretzels. Display them on a festive holiday platter for parties too!
16. Moose Munch – Sometimes a homemade, fit in your hand, treat is just calling your name. Make this delicious snack for your neighbors – they will thank you with every bite!
17. Berry Merry Strawberry Santa Treats – These cute Santa treats are just what you need to make the yummiest, cutest, most extraordinary gift for your neighbors.
18. Butterscotch Marshmallow Bites – Use a marshmallow and pretzel as the base for this sweet delight and give them away as great neighbor gifts.
19. Peppermint Chocolate-Covered Pretzels – Everyone loves pretzels, so this treat will be a hit! Spruce up a regular, old pretzel with chocolate and Andes mints and create something fabulous!
20. Gingerbread Oreo Truffles – Make a unique batch of Oreo balls with this great recipe and give them away as wonderful gifts.
21. Peanut Butter Cups – If you have a neighbor who loves chocolate, then this is the gift for them! Just grab some Christmas muffin liners and you're good to go!
22. Gum Drop Nose Reindeer – Transform a regular doughnut into an adorable reindeer for this yummy refreshment.
23. Peanut Butter Christmas Trees – Make these fantastic treats that are both perfect for Christmas and great tasting, too!
24. Chocolate Caramel Pretzels – Turn some great pretzel sticks into a delectable goody for an excellent holiday gift.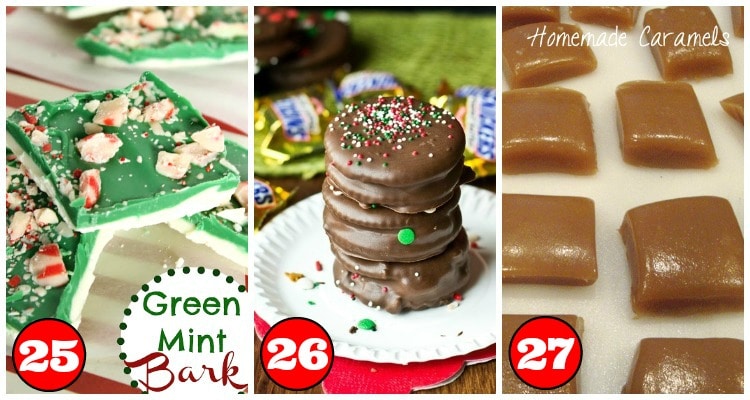 25. Green Peppermint Holiday Bark – Make this yummy holiday peppermint bark and give it away to your neighbors as a fantastic gift.
26. Peanut Butter Snicker Sandwiches – Give the gift of yumminess with this delicious treat.
27. Caramels – Everybody loves caramel. Make these wonderfully delicious caramels to give to your neighbors during the holidays. The best part?! There's a chocolate covered version too if you wanted to go that direction. Get some holiday wax paper to wrap around them!
13 Christmas Decoration Neighbor Gifts
Help your neighbors with their Christmas decorations using these fun gifts.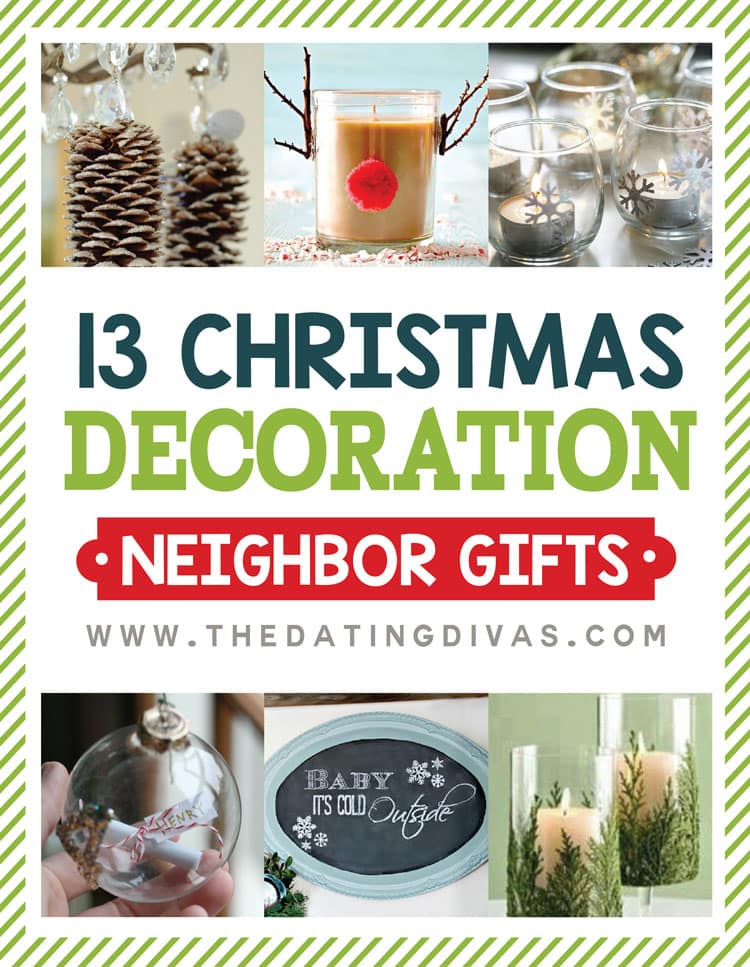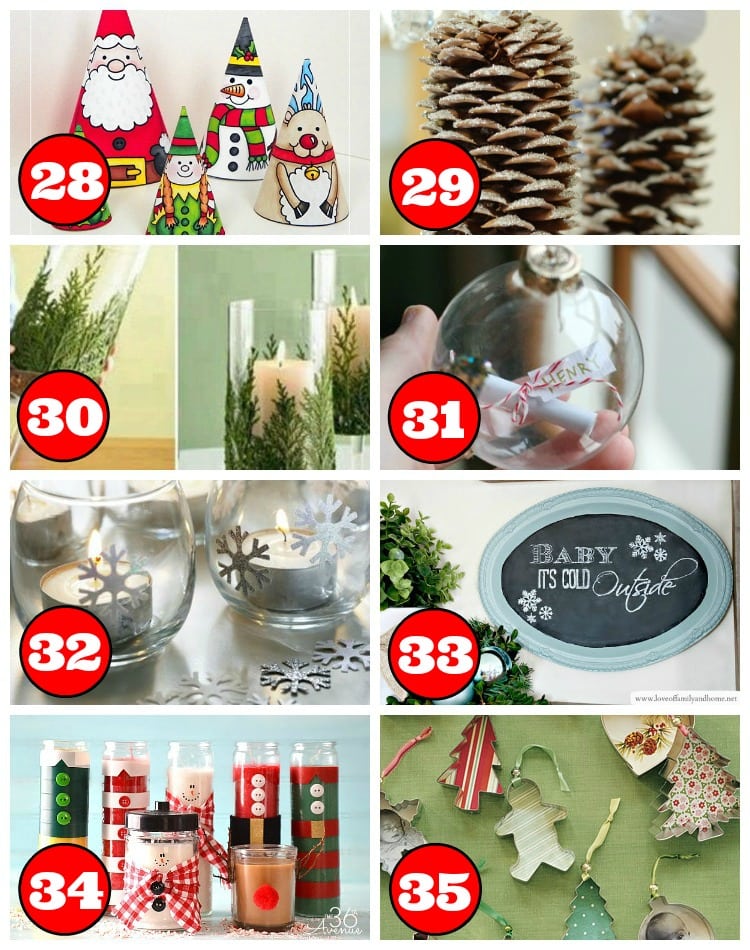 28.
Christmas Cones
 – Print off these fantastically cute cones and turn them into decorations or even ornaments for your neighbor gifts this year! Make sure to do it on
heavy cardstock
so they are more durable.
29. Glittery Pine Cones – With some pine cones, glue and glass glitter you can make this adorable flourish. You can even turn them into ornaments for their tree. Awesome!
30. Candle Votives – Give a gift to your neighbor in the form of a cool Christmas garnish. Make this simple yet creative candle votive for your awesome neighbor to use during the holidays. You can find a cool vase here and pine branches outside to make this gift extra frugal!
31. Glass Ornament – Make a time capsule ornament as a gift for your closest friends. Put small items that they will remember you by. Super easy and super memorable! You can get clear glass ornaments here!
32. Frosty Lights – Get some small glass votives (we suggest 2-3 per neighbor), cover them with frosty snowflakes, add a tea tree candle, and voila!
33. Chalkboard Tray – Get a serving tray from your local Dollar Store, paint on some chalkboard paint, add a cute Christmas saying to it, and give it away for a fantastic and easy gift.
34. Christmas Candles – Turn a regular candle into a great Christmas decoration as a great present.
35. Cookie Cutter Ornaments – Make these super cute ornaments as adornments for your neighbor's Christmas trees. They are a unique and easy gift to give.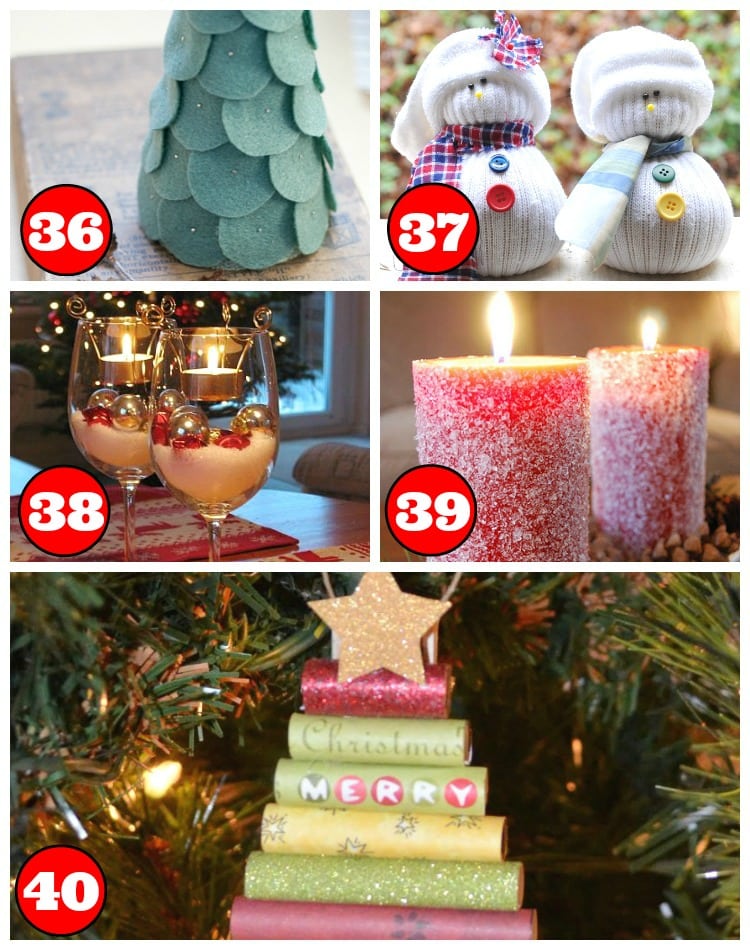 36. Felt Christmas Tree – Make this cute Christmas tree trimming as a great and super unique neighbor gift.
37. Sock Snowmen – These are some seriously adorable Christmas decorations that any neighbor would love to receive. What's best is you don't have to be crafty to make them!
38. Tea Light Christmas Decoration – Have some wine glasses lying around? Turn them into a creative Christmas decoration for your neighbors. If you don't have wine glasses, head on over the the Dollar Store as a sensible option to this neighbor present.
39. Snow Candles – These snow candles are quick and easy to make and are a great gift during the holiday season.
40. Rolled Paper Christmas Tree Ornament – This is a seriously cute present to create for your neighbors. Add another adorable touch by using sticker embellishments with the year of when you are giving them the ornament and maybe their name on it. So cute and super frugal, too!
31 No-Bake Christmas Neighbor Gifts
If baking is just not for you, then these super easy and delicious gifts for your neighbors.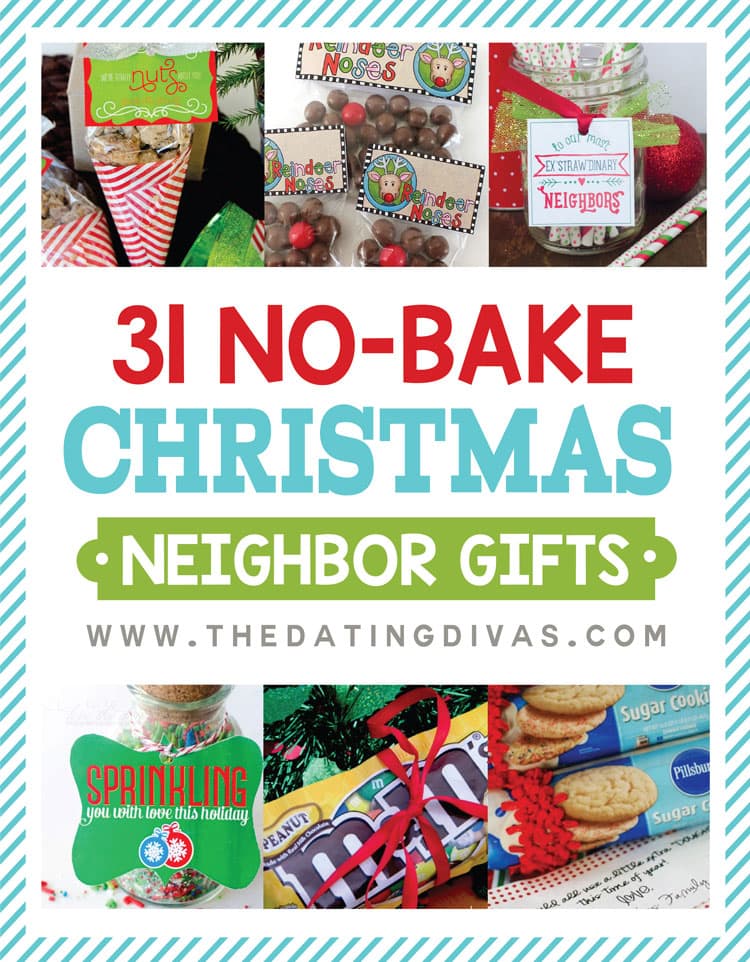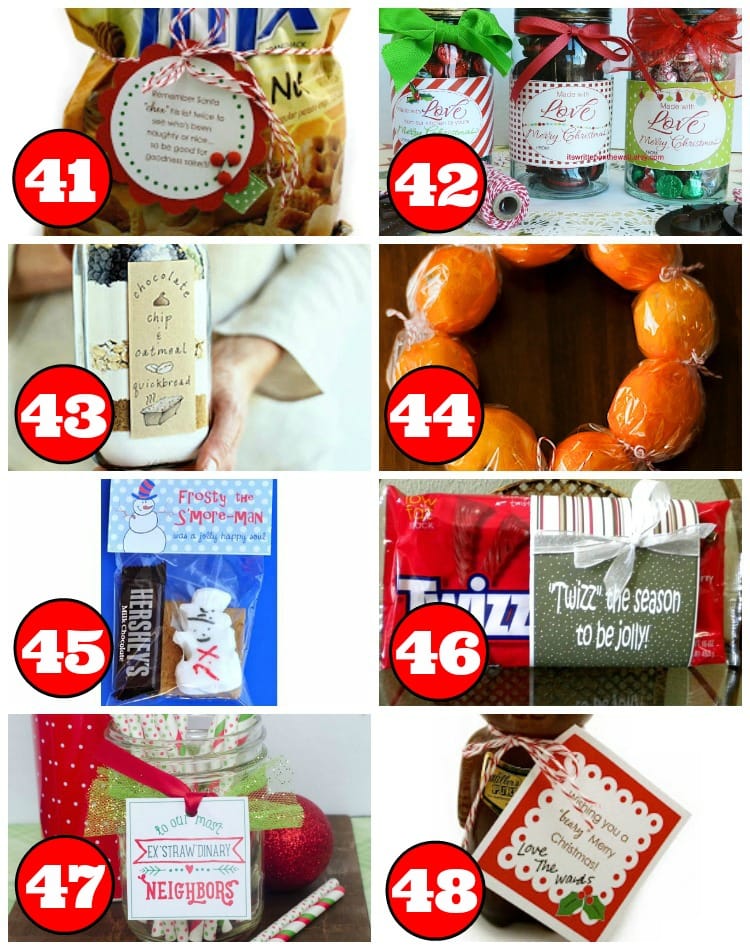 41. Naughty or Nice – This is a cute tagline to use on Chex-mix! Help your neighbors choose to be nice with this fun and easy holiday present. We love baker's twine to attach gift tags!
42. Made With Love – As a quick and easy gift, fill a mason jar with a yummy treat and add the adorable printable tag that is provided to make a great gift for your favorite neighbors.
43. Quick Bread in a Bottle – Put a gorgeous jar together with the yummy quick bread recipe as a great neighbor gift.
44. DIY Clementine Wreath – Use this super popular fruit to make an awesome wreath for your great friends and neighbors. Make sure to have some baker's twine!
45. Frosty the S'more Man – Make this darling idea with a cute gift tag and s'mores ingredients with a snowman peep for the marshmallow. Adorable!
46. "Twizz" the Season – Get some yummy Twizzlers, attach the cute FREE printable tag with some holiday ribbon, and voila – perfect present for your neighbors!
47. Most Ex'Straw'dinary Neighbors – Get some cute decorative straws, put them in a mason jar, cellophane bag, or attach them to some hot chocolate to make this great neighbor gift.
48. "Berry" Merry Christmas – All you need is a jar of honey and a cute tag. Awesome right?!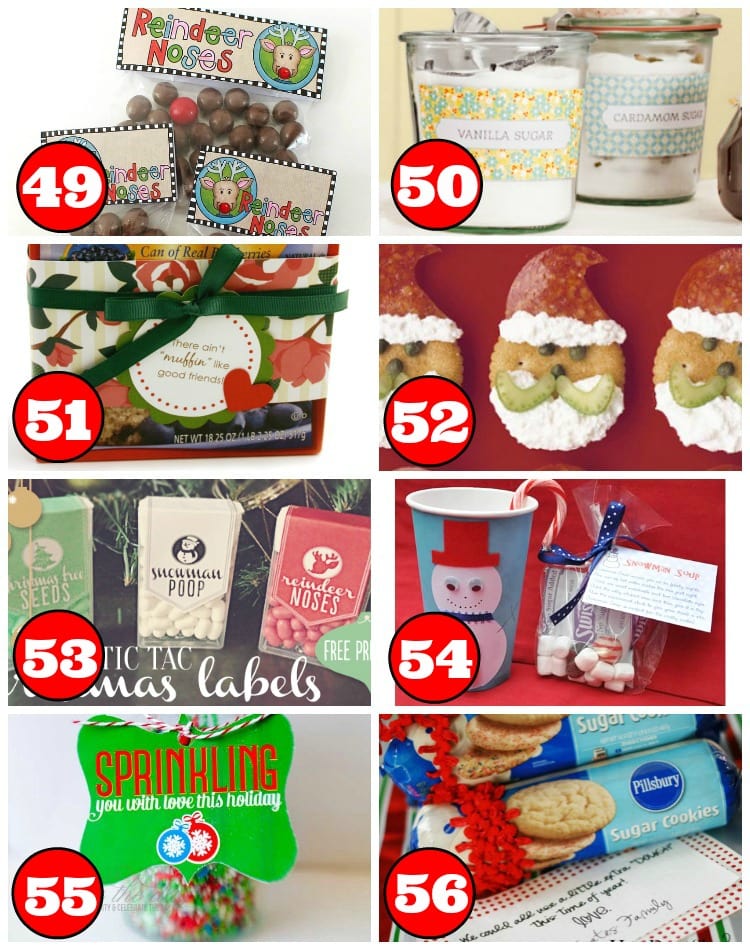 49. Reindeer Noses – Use these cute bag toppers with some yummy treats to make your neighbor's gifts this year.
50. Flavored Sugar – Create these awesome flavored sugars, put them into air tight jars, wrap the jars in decorative paper to have a great gift to give to away to friends.
51. "Muffin" Like Good Friends – All you need for this gift is a box of your favorite muffin mix with a great gift tag. You could pair it with some cute muffin liners to make it even more fun!
52. Santa Claus Crackers – This is a super cute and easy homemade gift that is savory (sometimes there are just too many sweet things going around this time of year!). Make these awesome and yummy snacks for your neighbor gifts for a holly, jolly Christmas!
53. Breath Mints Christmas Labels – Who doesn't like a little something extra to freshen your breath? Buy some breath mints, glue on adorable labels, and you have just made a super simple and yet fantastic holiday gift.
54. Snowman Soup – Make your neighbor a yummy gift with a cute snowman cup and a hot chocolate kit!
55. Sprinkling You with Love – Use this cute printable tag with some fun sprinkles! Love it!
56. Little Extra Dough – Get some cookie dough and attach this cute gift tag as a silly and easy present.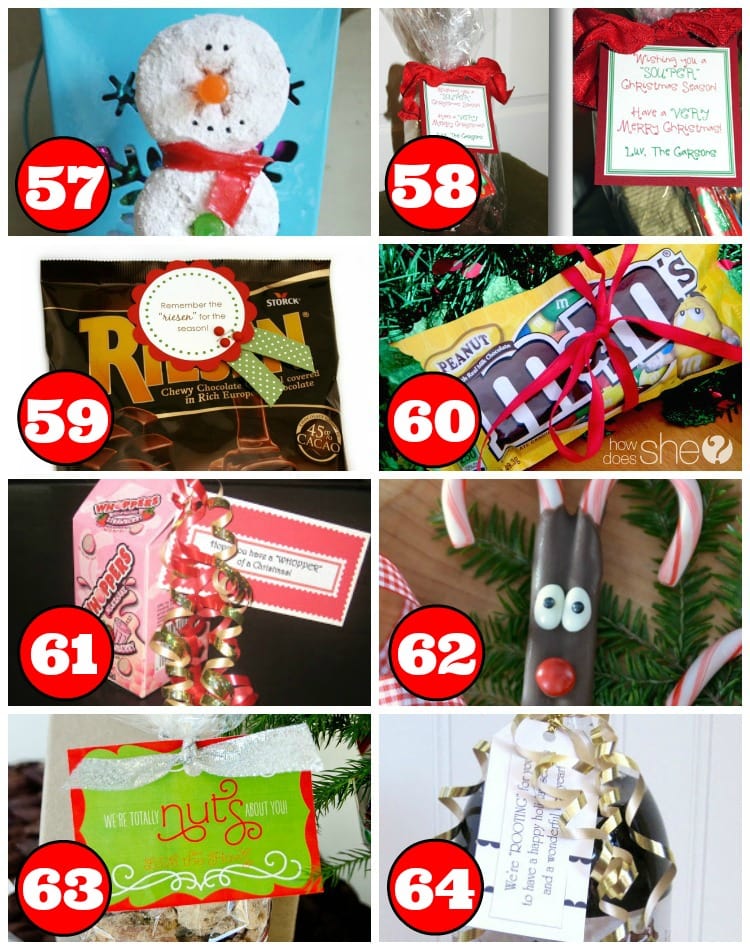 57. Snowman on a Stick – Make a cute snowman using powdered donuts, a few candies, and a BBQ skewer. Such a cute idea and so easy to do.
58. Have a "Souper" Christmas – Put this cute soup kit together as a warm gift to your neighbors.
59. Riesen for the Season – Add an adorable tag to a bag of Riesen candy for a wonderful neighbor gift.
60. Nativity Reminder Treat – Remind your neighbors of the true meaning of Christmas with this simple neighbor gift. Get a bag of M&M's and attach the poem provided to help them remember why we celebrate Christmas every year. For chocolate lovers, our Santa Baby Candy Wraps are adorable and easy, too!
61. Whopper of a Christmas – Any Whopper fans out there?!? What a cute way to use them!
62. Chocolate Covered Candy Canes – Make ordinary candy canes into awesome neighbor presents by dipping them in melted chocolate for your neighbor to eat plain, or stir into some hot chocolate. If your neighbors have kids, make 2 of the candy canes into cute reindeer. So much fun.
63. Nuts about You – Get a super yummy jar of nuts, decorate it with some cute paper, add a little tag, and voila – perfect and easy neighbor gift.
64. We're 'Rooting' for You – This is a really easy neighbor gift! Get a 2 liter of Rootbeer and attach a cute poem tag wishing your neighbor happy holidays. Easy peasy!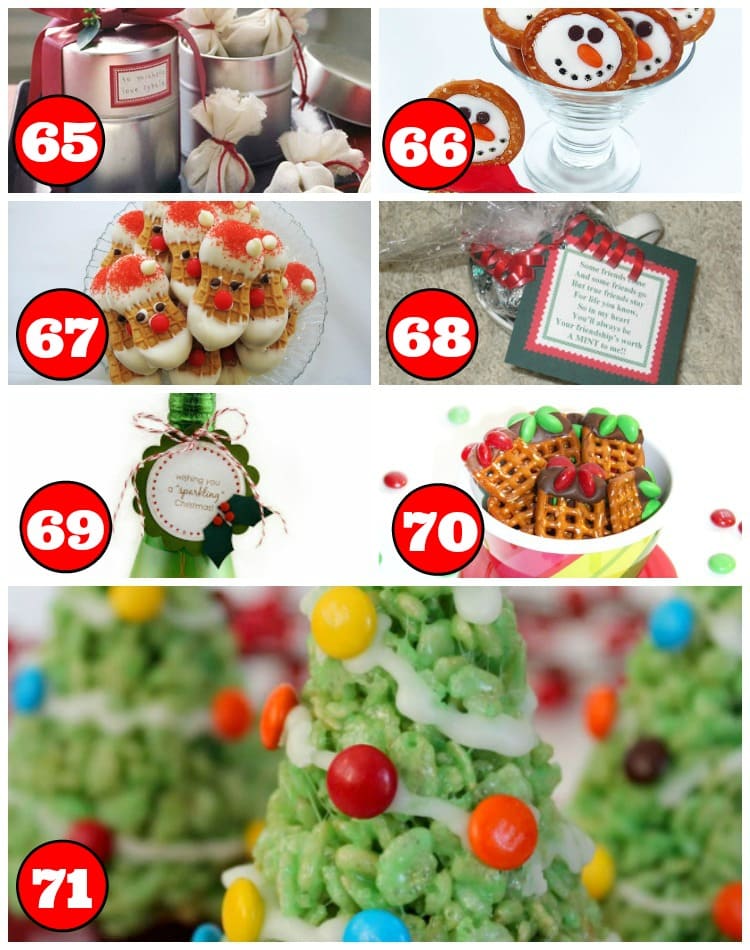 65. Spice Bundles for Apple Cider – Make several of these wonderful sachets for your neighbor gift this year.
66. Frosty the Snowman – Make a simple and yummy present with pretzels, confectioners chocolate, fruit roll ups, orange candy, and mini chocolate chips.
67. Santa Nutter Butters – Get some Nutter Butters, dip both ends in melted white chocolate, use sprinkles for the hat, icing to hold mini chocolate chips in place for the eyes, a white chocolate chip on the hat and a red hot for the nose. So cute!
68. Your Friendship's Worth a Mint to Me – Buy some yummy mint candies and chocolates, put them in a a cute bag along with this sweet poem to make a perfect gift for the holidays.
69. Wishing You a "Sparkling" Christmas – Pair an adorable gift tag to a bottle of sparkling juice! A different take on a tasty drink.
70. Christmas Present Pretzels – Turn your ordinary pretzels into a sweet and salty refreshment for a great Christmas gift.
71. Krispie Treat Christmas Trees – Everyone loves this yummy treat. What a fun way to make it for the holidays!
15 Super Useful Christmas Neighbor Gifts
Give gifts your neighbors can use every day!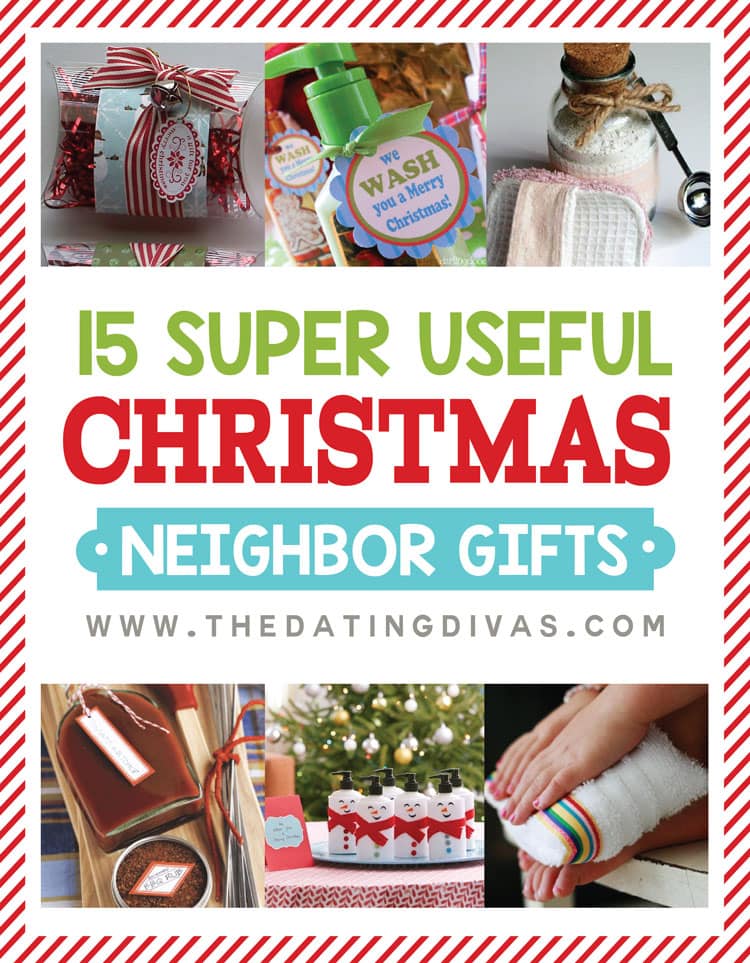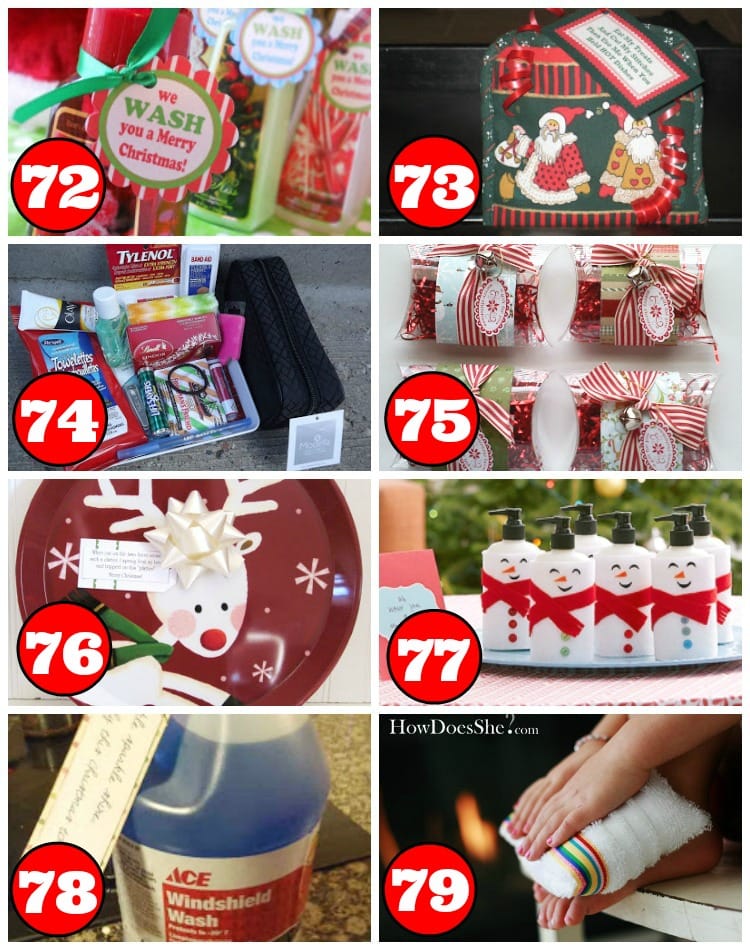 72.
We Wash you a Merry Christmas
 – Pair some
hand soap
with a cute printable tag for a darling and easy present.
73. Hot Pads and Treats – Stitch some hot pads together, fill them with treats, and attach a cute poem to make a great gift that your friends can both eat and use in their holiday cooking.
74. Mom's Survival Kit – This is perfect for any neighbors that are moms. Moms spend a ton of time in the car, so put this cute gift together to make their time in the car a lot easier!
75. Cute Gift Card Box – Spice up a great gift card with a cute box and ribbons. Get a clear pillow box, fill it with tinsel and top it with a cute ribbon for an excellent gift!
76. Merry Christmas Platter – Buy a cute Christmas platter like this one and add the cute poem to it! Easy and useful!
77. Snowman Soap – Purchase a white colored hand soap, add some embellishments to turn it into a snowman, and give it to your neighbors as a cute, creative and useful gift for the holidays. The original idea we had here no longer exists, so we found another option for you!
78. Windshield Wiper Fluid – Be a practical gift giver with this gift and help your neighbor's windshield stay extra clean during the dirty winter months. Make it extra cute with a coordinating poem.
79. Hand and Foot Warmers – All you need are some dish towels and rice — all they need is a microwave! Perfect!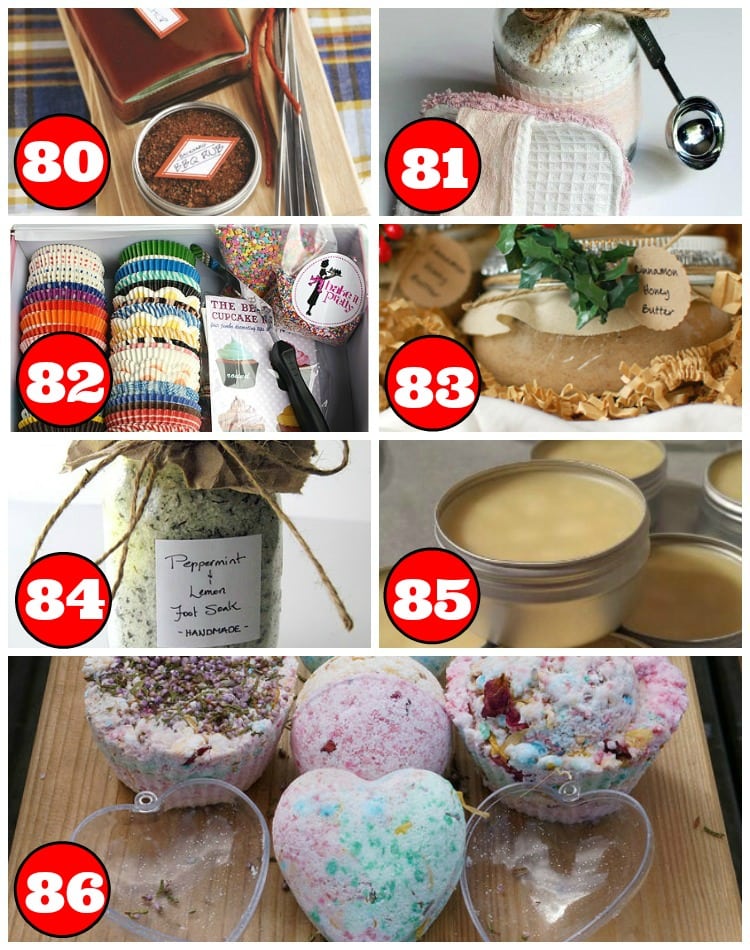 80. Grilling Kit – This present is perfect for the grilling masters of the neighborhood. Get (or make) some yummy sauce, BBQ rub, skewers, basting brush, and a cutting board to complete this great BBQ kit.
81. Tropical Bath Tea Soak – Ummm, do I really need to say anything more? Who doesn't love a little relaxation in their lives?
82. Baking Kit – Put this awesome cupcake baking kit together for a perfect Christmas gift.
83. Cinnamon Honey Butter – Make this deliciously sweet, honey butter as your practical neighbor gift this year. They will be blown away with the flavor and never go back to normal butter!
84. Peppermint and Lemon Foot Soak – Give your neighbors the gift of relaxation with this excellent DIY foot soak.
85. Frankincense and Cinnamon Lip Balm – During winter months, keeping your lips soft can be difficult. Make your own lip balm and give them away! You could also grab the Kiss-mas tag (or either of the other ideas) from these 3 Last Minute Christmas Gifts.
86. Bath Bombs – Give your neighbors the gift of relaxation with these bath bombs. They won't be able to thank you enough for this super helpful and thoughtful gift.
15 Cards, Bags, and Gift Tags for Neighbor Gifts
Use these as inspiration for your own cards, bags, and gift tags! (Though, some of them include free printables, YAY!)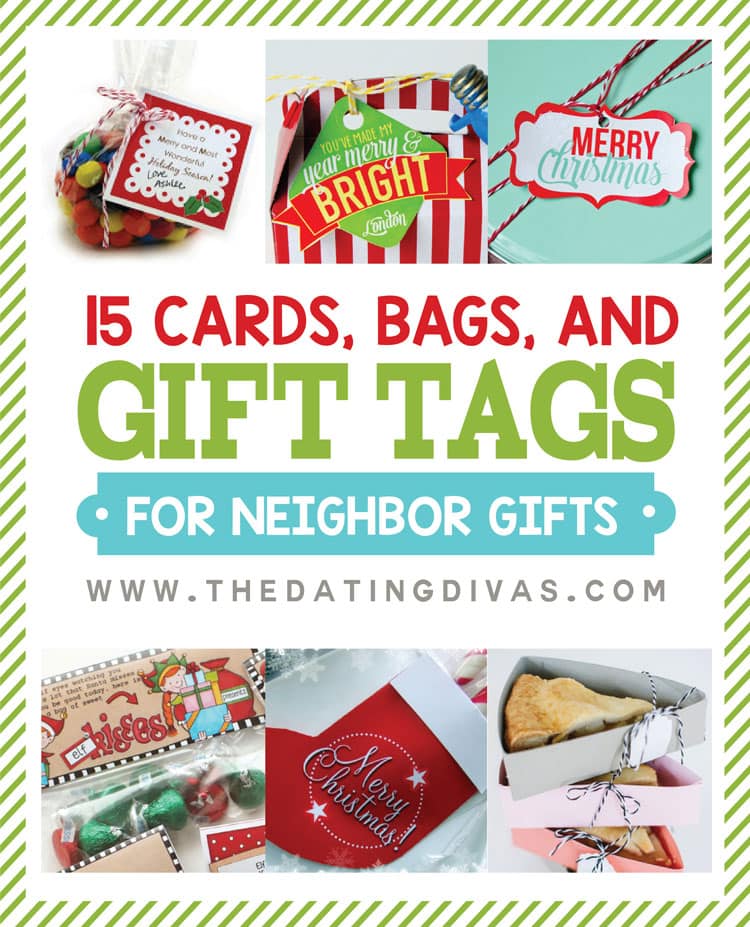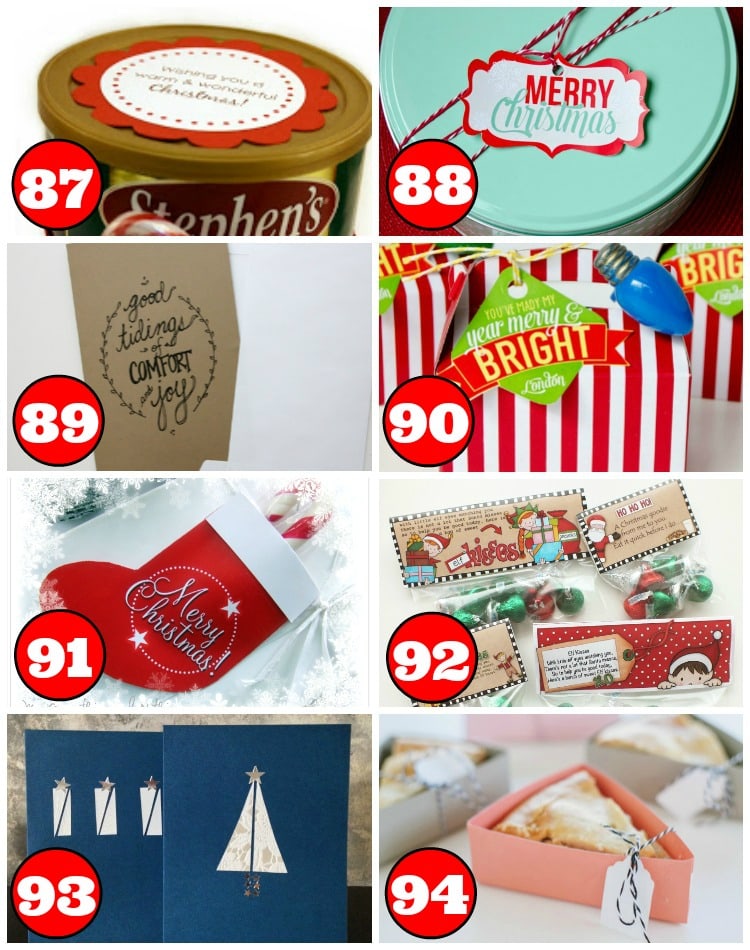 87.
Merry and Wonderful Christmas
 – Attach this cute sign to just about any awesome gift. A
great can of hot chocolate
is always a good option.
88. Merry Christmas – Use this cute tag to really make your neighbor present perfect.
89. Printable Christmas Cards – Sometimes words are all that are needed to make someone feel special.
90. Merry and Bright – Buy a cute holiday box, fill it with goodies, attach the wonderful printable gift tag to make a fantastic neighbor gift.
91. Stocking Gift Bags – Use these cute bags paired with a yummy treat or maybe some travel sized essentials (lip balm, lotion, or hand sanitizer) to make an excellent and easy neighbor gift.
92. Elf Kisses, Santa Kisses and Snowman Poop – Take one (or more!) of these cute bag toppers, pair it with the appropriate treat, and ta-da!
93. DIY Christmas Card – Add a little something extra to your neighbor gifts this holiday season with these DIY Christmas cards.
94. Printable Pie Box – Use this adorable pie box for your gifts this year. What's great is you can get a store bought pie to slice up, or if you are a baking machine, make your own to hand out.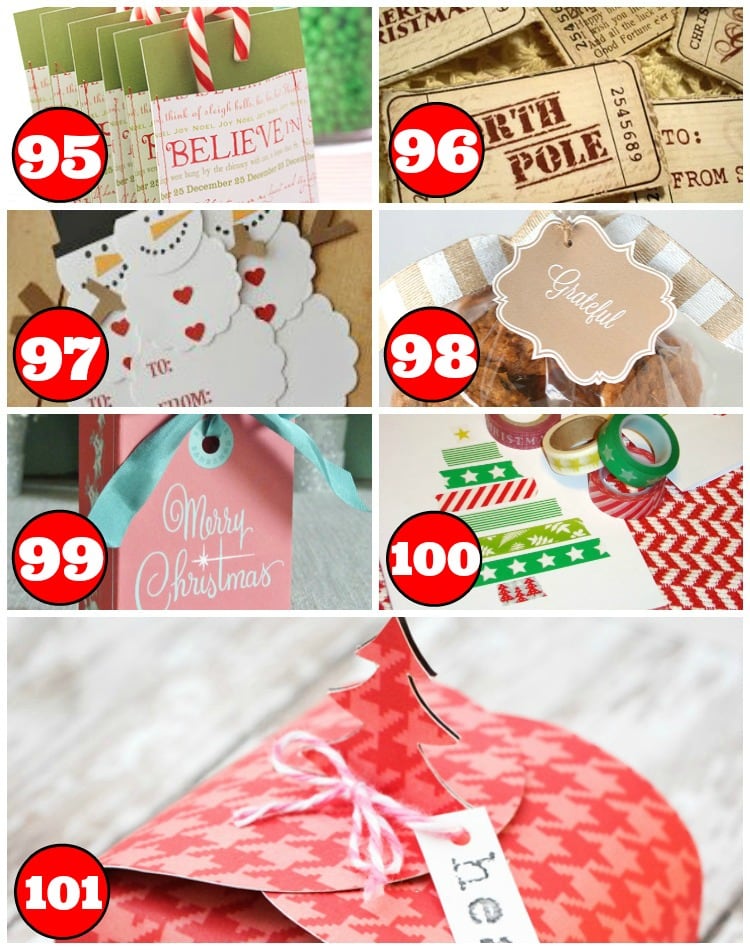 95. Scrapbook Paper Bags – Get out your scrapbook paper, cut to size, sew two pieces together, and now you have a great bag perfect for your neighbor gifts (like candy canes, a small treat, or gift cards). For more adorable ways to wrap gift cards, check out these Gift Card Holders.
96. Vintage Gift Tags – Use these super unique, vintage styled, gift tags as a great way to dress up your Christmas. For our English speakers, click to translate the page so you can read the post!
97. Snowman Tag – Use this adorably cute, snowman tag to decorate your neighbor gifts this year. We've got all kinds of snowy gift tags in our Christmas Care Package, too!
98. Grateful – Get some cellophane bags, fill them with special treats, and give 'em to your friends during the holidays.
99. Merry Christmas Gift Box – Print off this adorable box and fill it with a gift card or other small item for your neighbors this year.
100. Washi Tape Christmas Tree Cards – Get some washi tape to decorate these cute Christmas cards. Cards are a great way to let people know how much they mean to you!
101. Christmas Tree Paper Box – What an adorable way to deliver a gift – in this printable box! So cute and perfect for any of your gifts this holiday season.
Aren't these ideas awesome?! If you like this post then check out Becca's 101 Quick and Easy Christmas Neighbor Gifts or 10 Romantic Christmas Cards for Him. If you want to give the neighbors a secret surprise, try out the details in our You've Been Jingled post.
And for some last minute and EASY ideas, grab the Christmas Neighborhood Gifts Printable Pack!